With the season now over and despite the slightly disappointing way it finished for us U's supporters, this doesn't stop us missing the silly game we all devote probably a bit too much time and money to. And with a World Cup just over a month away, we naturally go looking for any old football to watch, just to bridge the gap inbetween. 'Cos when the WC is done, it'll be pre-season again! This is why I'm currently 'watching' Sevilla v Benfica on ITV (of all channels) as I write this. And Andy Townsend is summarising.
I can't fucking stand Andy Townsend.
However, it also helps when our Youth and Reserve setups are just damping down the embers of their own campaigns as it means losers like us can carry on watching Sutton United for a couple of weeks more without having to resort to shit on a pony channel like ITV. Thankfully last night provided such an opportunity, with the Youth Team in a Cup final against Potters Bar Town. Even better is it's at GGL. Hey! We know where that is!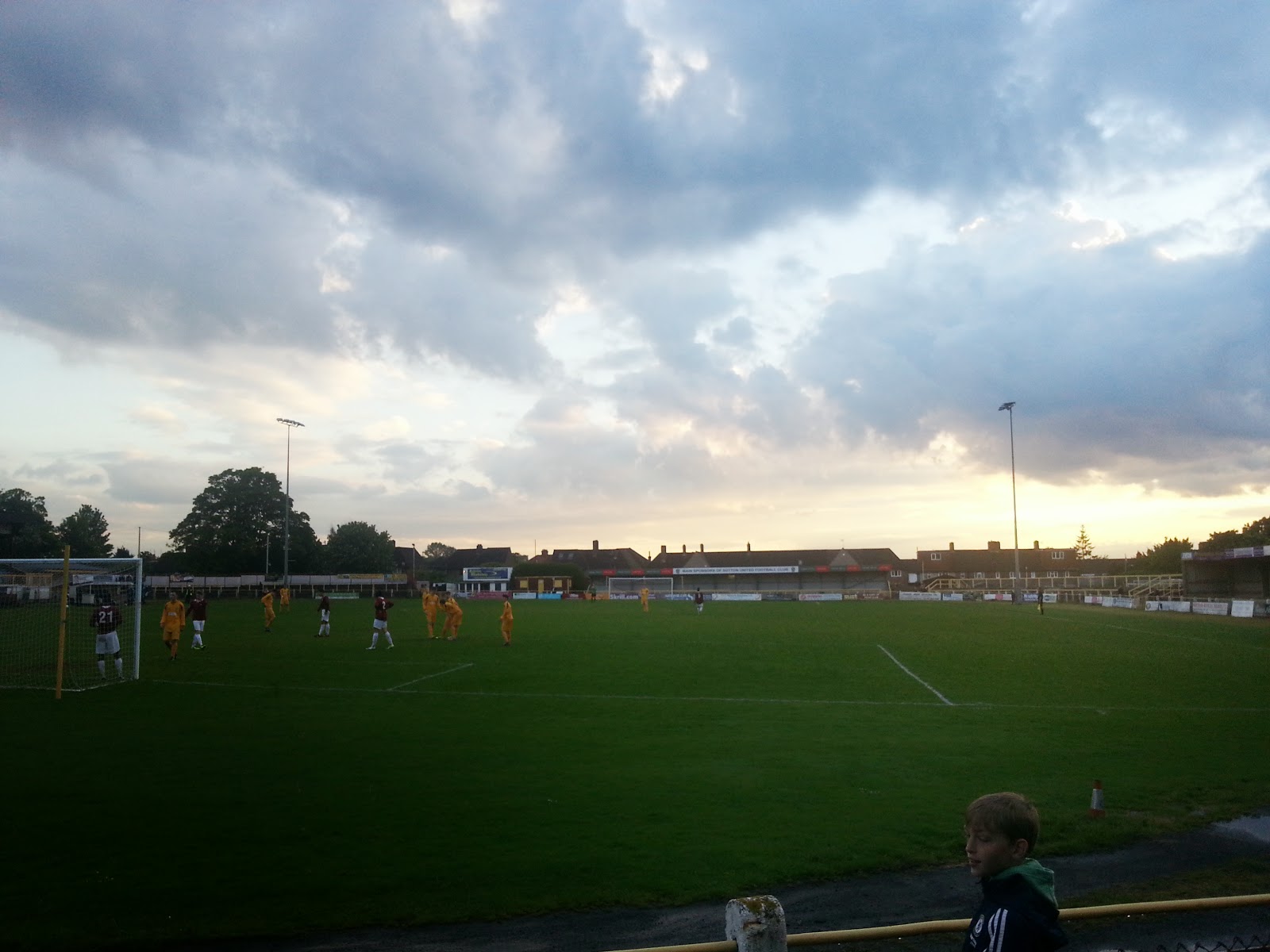 One last view from the Curva….
Now, normally, I'd have no reservations about going to check out our youngsters if the opportunity presents itself. Especially in a Cup Final at home. Sadly, my previous visit to see this exciting young team in action didn't go well. Having been unbeaten for some 19 months in the Ryman Youth League and spending most weeks handing out the sort of hidings to sides that would get them a lot worse than detention were they over the age of 18, Dukey and I decided to swan on down to see them lash our local neighbours, Carshalton. I even said I'd do a write up to celebrate their no doubt comfy win.
Sadly, the lads left their shooting boots at home, missed a hatful and got caught with a sucker punch late on to surrender over a year and a half of league unbeaten-ness. Ooops. Now, Dukey does catch the odd game at Banstead, so it was decided that the Jonah was me and I was to blame for the defeat. I didn't do a write up either.
Thankfully, the lads recovered from the shock, went out and beat Northwood 7-2 in the next game and then won every one after that. This included them winning the Ryman Youth League Central title and also the Surrey Floodlit Cup. So a win in tonights League Cup (also known as the Lucas Fettes Cup) would constitute a 'Treble'.
Yeah, I might have been a Jonah before, but fuck it, I'm having some of that. Besides, it gives me an opportunity to watch a proper game from the Collingwood Curva one last time before the builders move in in a couple of weeks time. To the Tazmobile!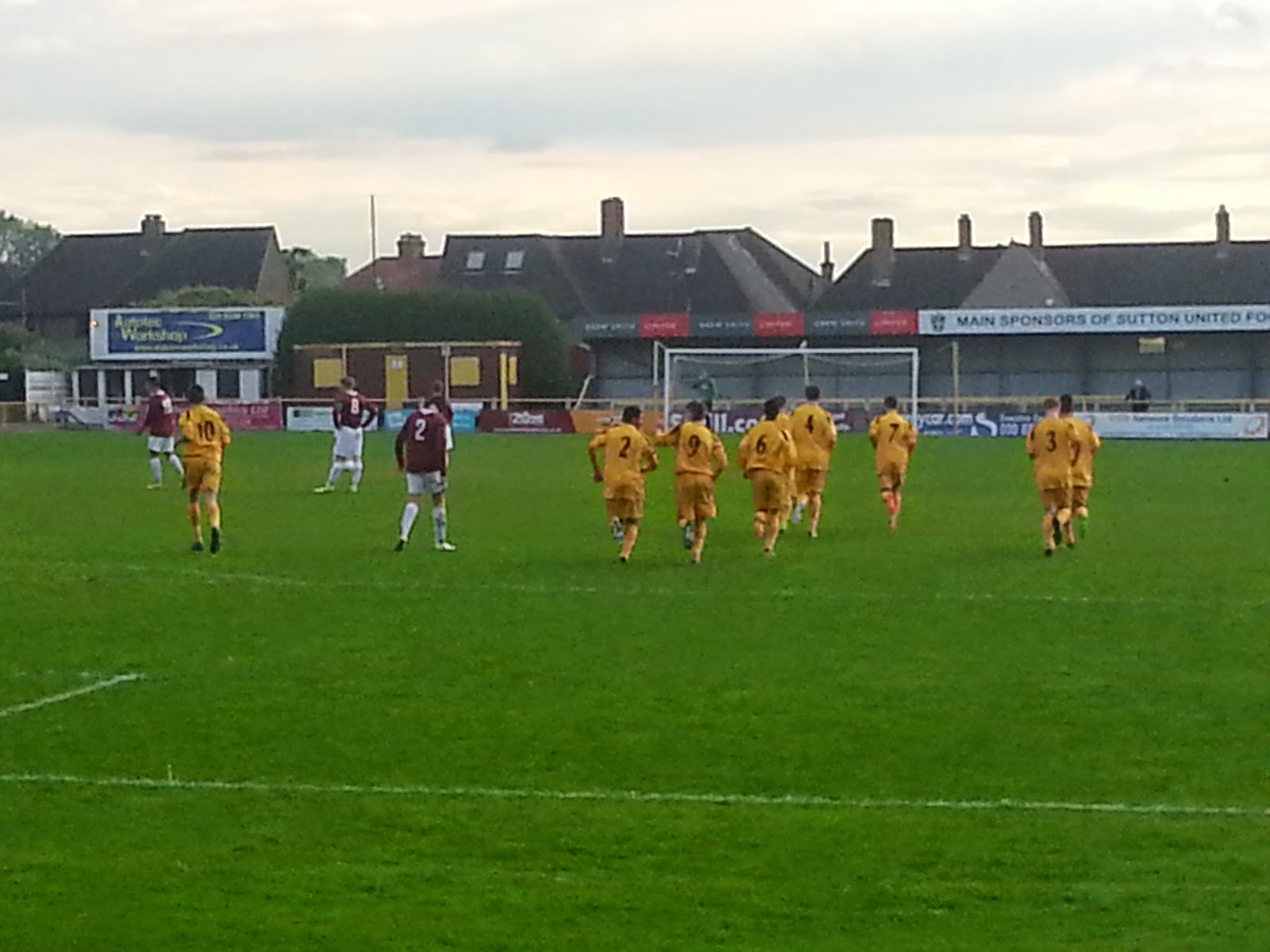 Back to the start again after Ollie Sitch makes it 2-0.
A quick change after work and I'm parked up at GGL with 10miutes to kick off. Perfect. In the bar, I find Dukey already lurking and offering me a cuppa. Good lad! As we're queueing, we spy Juan making his way in, but Duke's fears he'd see us and he'd have to splash out for a 3rd cup of Rosie are unfounded and we stroll out up the tunnel discussing Dos' first bits of post-season business with a new 'keeper signed and Gav and Sinclair heading out the door.
There's a few other familiar sad cases in attendance as well tonight. No doubt all in the same boat as us and simply trying to keep the season alive for a few days more! Outgoing HonSec Millsy is one, no doubt trying to get as much mileage out of his SUFC blazer before he has to hand it back.
The lads elect to shoot towards the Collingwood Rec end first half, so Dukey and I trot round to join Juan and his old man in the customary Rec end viewing point. The game starts at a fair old lick and barely a minute gone, the Potters Bar 'keeper is being called into action to push a fierce effort low round his near post. We've not long settled in on the 'Juan Step' (don't ask!) before the U's frantic start is rewarded. The lethal Ollie Sitch is sent clear by a lovely ball from midfield and despite the keeper managing to make a desperate save, he's helpless to stop Ayman El-Mogharbel from tucking away the loose ball to give Sutton the lead after just 4 mins.

A half time Juan-orama. And that bloody big 'orrible cloud….
An early goal doesn't do much for the Potters Bar nerves and they're all at sea for a little while. One cheeky little chip from the left being touched onto the bar at full stretch by the keeper and another good save coming from a header are all that stops the visitors being dead and buried before 10 minutes are up. The pressure finally tells though after just 9 mins when a left sided defender leaves a backpass well short and Sitch nips in to slot past the exposed 'keeper for 2-0. At this point, a bit of a rout looks likely if I'm honest. Whilst the Potters are looking alright on the ball in our half, their defence is a bit ragged already and the Sutton boys really should put the match to bed. But some wasteful finishing combined with over eagerness to shoot from range when taking a touch would help matters keeps the score down and lets the visitors find their feet. However for all their hard work, all they have to show for it is a free-kick planted comfortably into Andrew Johnson's midriff from about 25 yards out.
Two up at the break, we head round to try & claim a half time cuppa, but the queue is massive and I soon sack this off, heading back out to admire the blazing sunset over Collingwood Rec. Although it doesn't prevent me from noticing the fucking dirty great black cloud looming from the same direction. With a couple of hefty downpours during the day, the pitch is a bit soggy and the last thing we need is some Old Testament style rain to top that off. Eyeing the cloud nervously, I saunter round to the GGL end and park at one end near the back, just in case.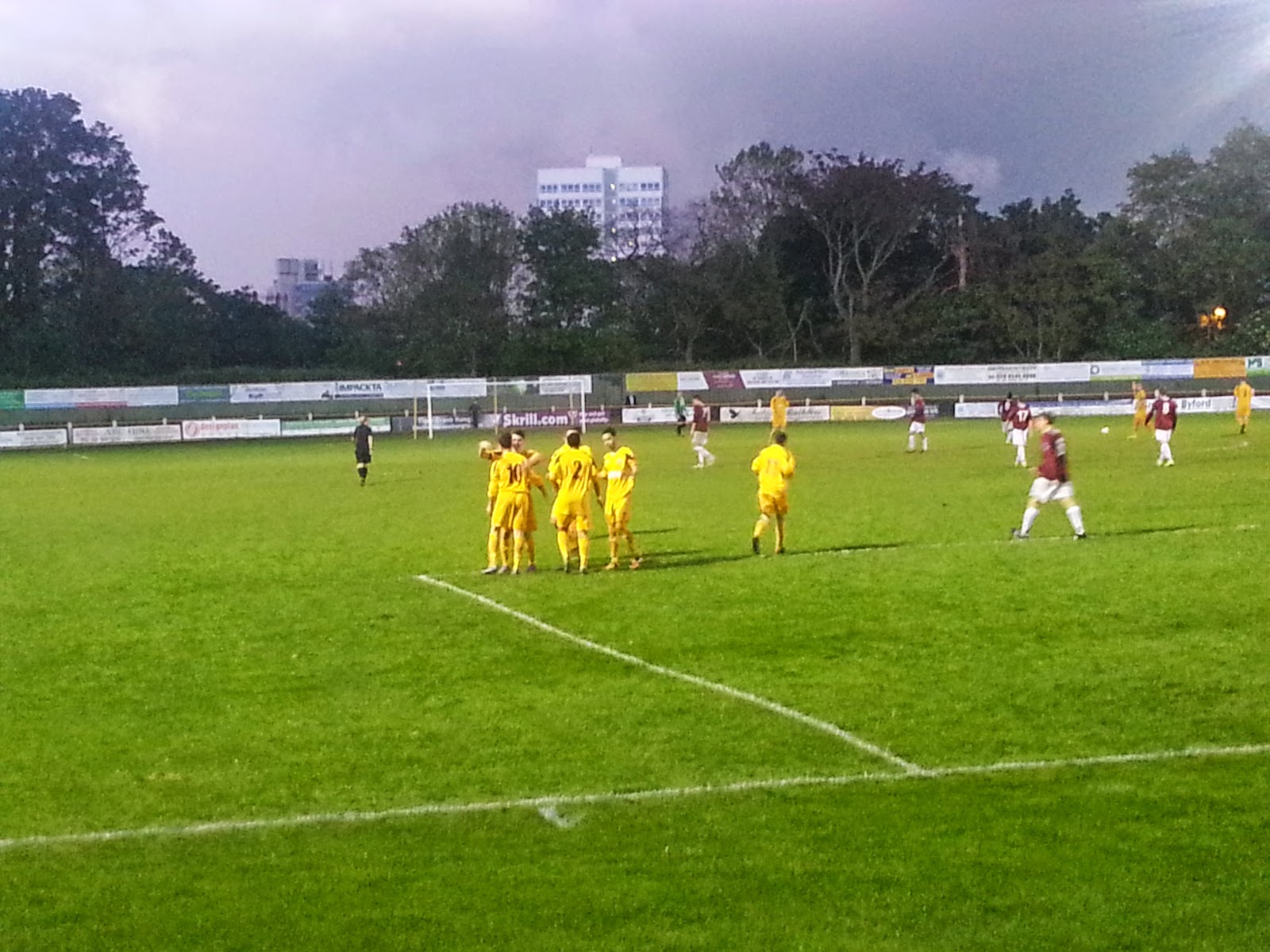 Salama makes it 3-0….
The second half starts as lively as the first and again it's our youngsters making the running, clearly looking for a 3rd and killer goal to give them some breathing space. Although it's from a near miss at the other end that we break and Emil Salama races onto a defence splitting pass to tuck the ball into the corner and make it 3-0. Understandably, Sutton then decide that they've probably done enough haring about like madmen and drop off 10 yards to soak up any pressure and hit Potters Bar on the break. This understandably leads to the visitors seeing far more of the ball than they had previously and starting to exert some extended spells of pressure. And as we'd thought 1st half, they're not a bad little side, playing the right way through midfield and getting it wide for crosses into the box. A couple zip across without anyone getting a touch before one finally runs their way and there's a Maroon shirt to tuck in at the far post. 3-1. Game on?
Much of the half is then Potters Bar pressing, us clearing and breaking. Their keeper again keeps his side afloat with 2-3 good stops, whilst the U's defence deals with much of the ball into their box without too much trouble. The huge angry cloud above dumps a bit of rain, but not the biblical style level we'd expected whilst Millsy and Juan's old man talk legal stuff I don't understand. Then before we know it, there's one last chance for Sutton, the keeper saves and the ref decides that's enough, finally blowing for time.
We mooch round to the stand to watch the presentations and the lads deservedly lift their 3rd bit of silverware this season. Sadly though, it's the final act in a very successful campaign as earlier we'd been told that the winter weather had caused such a pile up that the end of season 'play offs' to find the overall Ryman Youth winners have been binned. And it's almost certain our lads won't even finish their full fixture list as Whyteleafe seem unlikely to host their final game. Shame.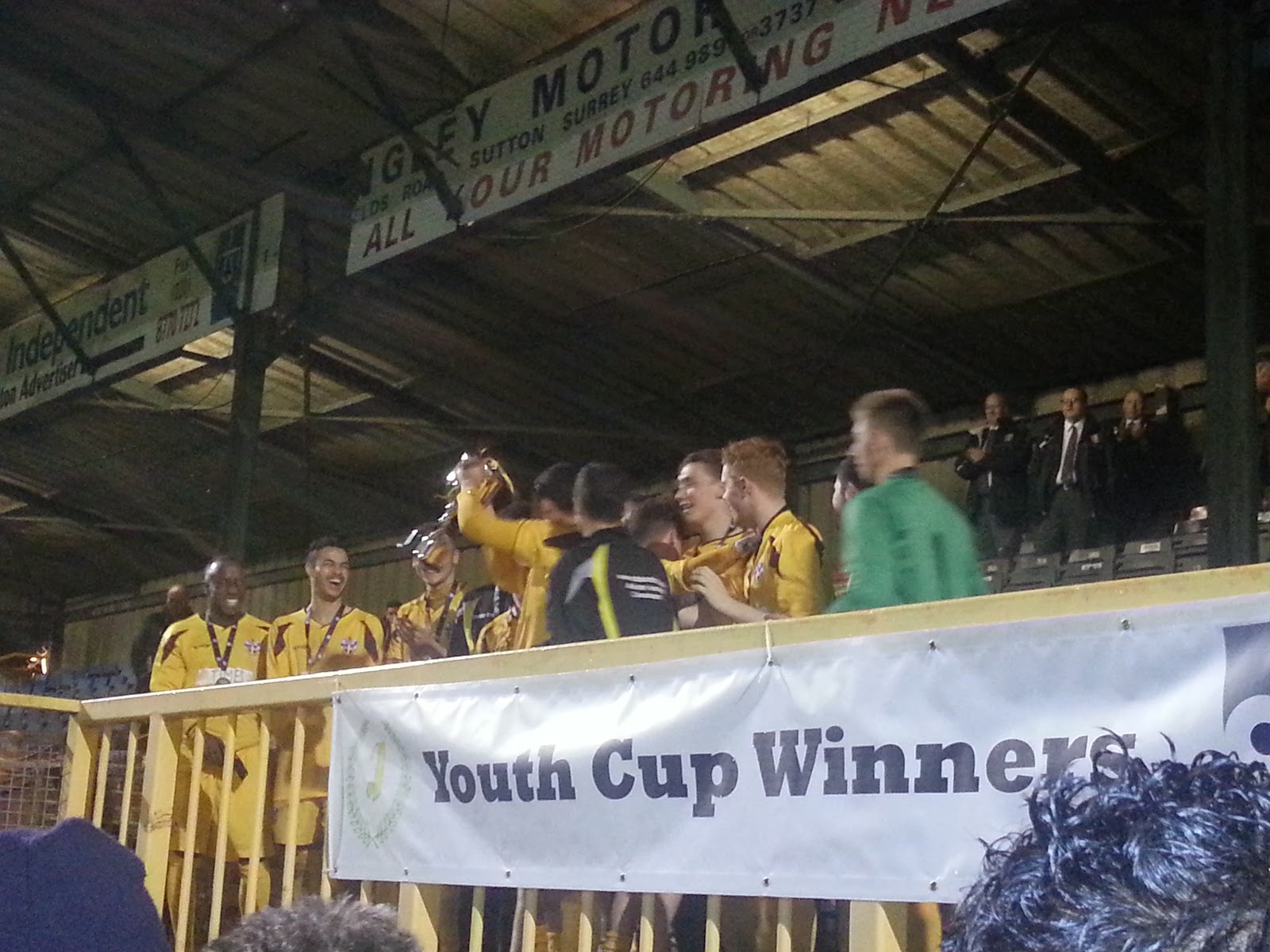 Championes, championes ole ole ole!
Still, it's another successful season for James Bracken's boys. And the challenge starts again for him this summer as many of the lads will be moving into adult football, hopefully with our Reserves.
Europa League Final? Bollocks. Give me the Lucas Fettes Cup any day. It's not on fucking ITV for starters….