The season is over and despite finishing the season like a train, we've bollocksed it up at home in the play offs again and we're all really quite depressed. So what better way to alleviate the misery than to have a read of our Season Review and re-live all the highs, the lows and the constant bollocks Richard Hill spouted all over again?
Hmmm. We're not really selling this very well are we?
PRE-SEASON
As is the way with Dos, we had a lot of the starting squad in place at the end of the previous campaign along with some key additions before we'd barely started wearing shorts for the summer. This year though, rather than spend most of the warm ups on the road, we set up some crowd pulling matches against top oppo.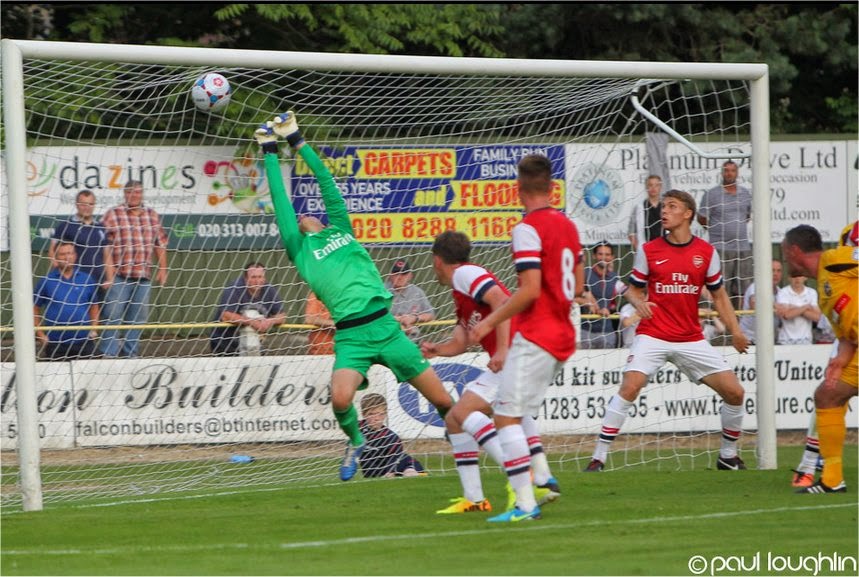 Jamie Stuart powers home against Arsenal.
First up at GGL is an Arsenal XI that produces an end to end contest in front of 2000+ that ends 4-3 to the Gooners. Our night is soured slightly by new signing Jamie Taylor lasting just 8 minutes. We then have a Fulham XI visit on a baking hot day where a dull game ends 1-0 to the visitors. AFC Wimbledon are up next, but using too many players there's little continuity from the U's as they are well beaten (4-0). Another money spinner follows with a Chelsea XI drawing 2500+ through the gate, but once more it's a comfortable win (4-0) for the visitors, albeit with 2 goals coming in the last couple of minutes. There's improvement against Cambridge United with a 2-1 defeat, but sloppy goals are the order of the day. Finally, our pre-season programme comes to life with a 3-2 win, albeit having come from behind to 2 early Aldershot goals. At last! A win! We then wrap up with a rather pointless trip to Farnborough (2-0), who are in our own division and in their usual financial turmoil. 2 goals in a couple of minutes means we finish P7 W1 L6.
Maybe not the greatest preperation on the field, but certainly not half bad from a bank balance perspective! This is probably what prompts Eastleigh's Richard Hill to declare us favourites for the title, ridiculously claiming we have a much larger budget than he does despite having signed the likes of Stuart Fleetwood from Luton. Cock.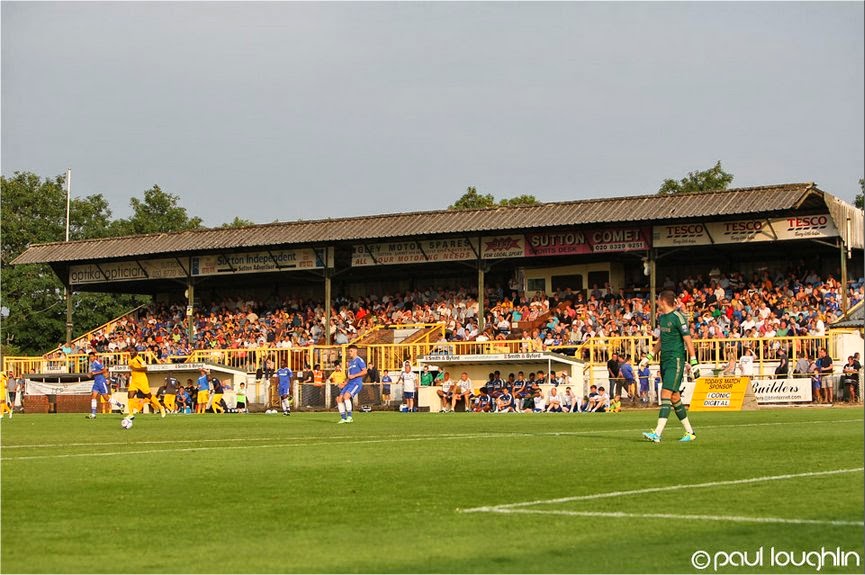 One or two in for the Chelsea game we see….
AUGUST
All supporters want a nice away day to get their season off to a cracking start. Unfortunately, the Conference decide we've done something terrible to make them hate us and we're rewarded with a trip to fucking Eastleigh (1-0) in the newly christened 'Skrill South'. A largely dour game is settled by a single goal to the even-more-expensively-assembled-than-us home side, with them making far harder work of us than they probably should have. Still, their manager Richard Hill is well pleased with the win given we've got a much much bigger wage bill than he has.
And no, we've not got a bloody clue what a 'Skrill' is either by the way.
Our first home game brings Staines to the Lane and the side clicks how we'd hoped they would, running the 10 man visitors ragged with some superb passing in a 4-1 win which sees Jamie Taylor off the mark with a brace. Any hopes this would be the kick up the backside we needed are dashed slightly with a 2-1 home defeat to a young & rather too lively for our taste Bishops Stortford who nick the points with a cracking long range winner late on. Next up is the now seemingly customary dull 0-0 at Concord. Although Binnsy misses a sitter at the death to nick all 3 points. Before we see out the month with a trouble free & much needed win (2-0) at home to early basement boys Whitehawk thanks to goals from Jamie Stuart and Dundo.
JT soars over Staines and gets the U's 1st league goal…
SEPTEMBER
Month 2 of the season starts little better as we stutter again in a 1-1 draw at Tonbridge. Our goal coming courtesy of an oppo player, which now means that 'own goal' leads the way in our top scorers chart with 3. Something just isn't quite clicking at the moment. Next up is Farnborough (3-3), who due to their usual financial shambles and a subsequent involvement with betting firm Paddy Power where their not at all tacky attempt to change the team's names to that of famous footballers by deed poll (vetoed by the league unsurprisingly!) are only playing their second game of the season having been suspended for the first 5 matches whilst they got their monetary based shit together.
Despite this, they're disappointingly not very rusty. We lead & are then 2-1 down in a 5 minute spell before Dundo and Folkes put us ahead once more late on, only for 2 more points to go walkies a couple of minutes before the end. Like last year, consistency at the back is again proving hard to come by, so Dos moves on that front by picking up centre back Charlie Clough from Dorch for a fee. He debuts in the the improved performance that gives us a 1-0 home win over Dover, although it should be by more than Dean McDonald's early goal. The game also sees the first start for Jamie Slabber who's a big feature in the subsequently slightly surprising 5-0 demolition of Havant 4 days later, with the big man opening his account with a brace against one of his former clubs.
We then wrap up September with a typically boozed up trip to the coast with Whitehawk away in the FA Cup. A very-flattering-for-the-oppo 1-0 win in a sparse ground mostly furnished with left over bits of Brighton's stint at the Withdean is the end result. We spend much of the day on the piss with the Dover crew, who are just up the road in Lancing playing Guernsey. Which means Mr X finally gets his SUFC beanie back from last season! Eastleigh's Richard Hill continues to claim we have a bigger budget than them. We continue to laugh at his fat little face in response.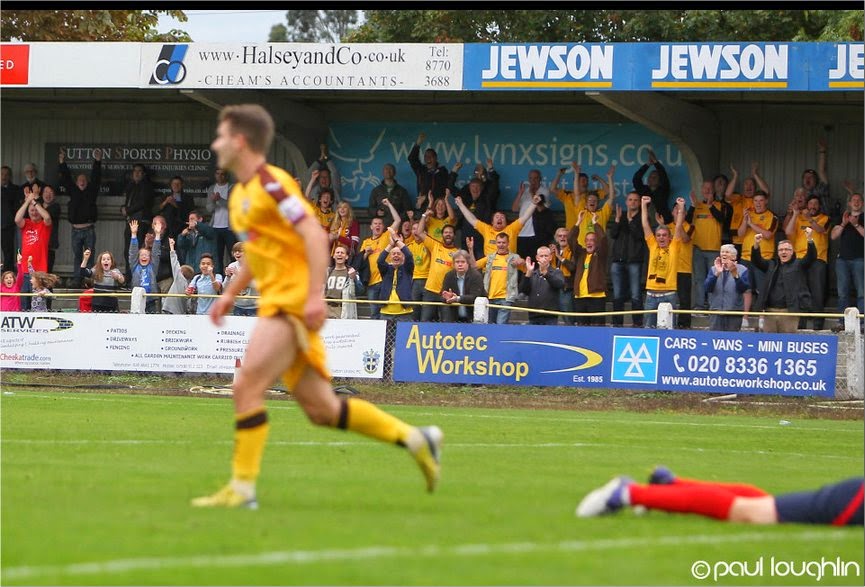 Everyone happy after Jamie puts us 2 up against Eastbourne….
In other news, 2 former U's in Nick McKoy and David Obaze are nicked in Australia on suspicion of match fixing in the Victorian Premier League. Which gets us all thinking back to the start of last season when Mr McKoy featured in the not-winning-any-of-our-first-9-games run. Our lawyers have advised us to say no more on the matter.
OCTOBER
The sudden glut of goals in the league continues, with a saucy 4-0 pumping of Eastbourne at home with another brace, this time from their old boy Taylor. Taz is not best pleased by this result as he's missed both this and the Havant game due to other commitments. The rest of the crew are of course not remotely sympathetic. It's then back to FA Cup action with some more Sussex drinking carnage down in Lewes. The crew suspect that like the Conference, they've done something to offend the FA and they're trying to kill them via the medium of alcohol poisoning. Ha! Didn't work! Ner ner ner ner ner!
Much like the last round, it's a 1-0 battering with Slabber scoring early and the oppo offering little or nothing in the way of threat. Oddly, Sussex Constabulary release details later in the week that an assault took place in town that night and that they suspect Sutton fans were responsible. Which is very generous of them. Weren't us guv, we were in the pub! We then nick another Slabber 1-0 over surprise early pacesetters Bromley in the league to make it 6 wins on the bounce. Form! We have FORM! Our next challenge is then away to Hemel Hempstead in the FA Cup who are pissing it at the top of the Southern Prem. A pulsating tie (3-3) sees the U's behind after 2 mins, 3-1 ahead after half an hour and then pegged back by 2 penalties either side of the break before Slabber misses one of his own to spurn the chance of nicking the win.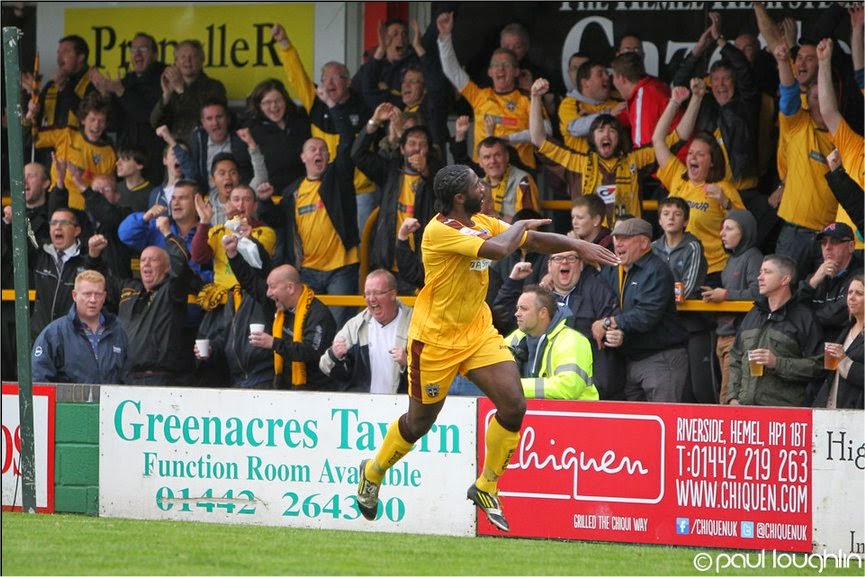 Dundo dusts off Hemel away in the FA Cup….
The replay is somewhat less exciting and the visitors, who only arrive minutes before a KO already delayed to 8pm due to hold ups on the M25, never really get going and are comfortably seen off (2-0) although it takes Dundo until the last minute to finally finish the contest. Their fans arrive even later some 20 mins into the game and get a 'friendly' welcome from some outside stewards we've brought in for the night for some reason. Eastleigh's Richard Hill once more makes further comments about our budget being bigger than theirs, just in case someone with an interest in the Conference South hasn't heard his tedious bollocks yet.
We're also still none the wiser as to what the fuck a 'Skrill' actually is.
So tune in to the next thrilling episode to find out if we ever do find out. Anything. Ever. Who are you? Where are we?? Is is Christmas yet?