In part one of our thrilling, no holds barred expose of just slightly below the cutting edge of English Non-League football, we took you through another slow start, some goals, a bit of form and mentioned some drunkness. Can it continue? Do we find out what a Skrill is? Do you honestly care? Anyway, here's Part Two of the Gandermonium Season Review.
Hey! That rhymes!
NOVEMBER
After the promise of September & October, November provides a nice bit of misery for us seasoned Non-Leaguers to get our teeth into. Although we start promisingly with a 1-1 home draw against stupendously dour league leaders Eastleigh. Despite playing with 10 men for nearly 70 minutes after Mitchell Nelson is sent off, the U's absolutely batter their lofty opponents but in the end, Dundo's 2nd half pen is all we have to cancel out their one and only shot on target. Richard Hill declares himself well pleased with the away point, given the huge financial resources we have compared to him and the fact they'd managed to score despite not actually trying to or having intended trying to over 90 mins.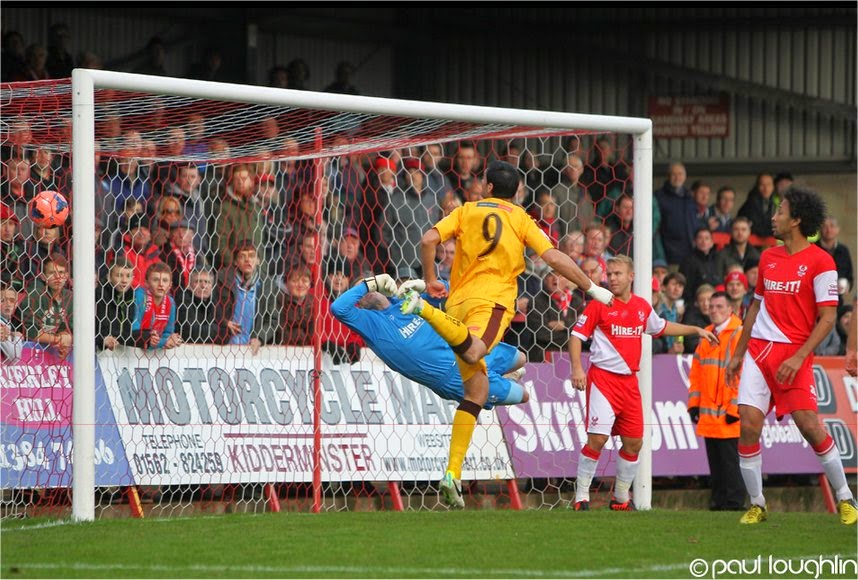 Cloughie makes Kiddy angry…
Next we're off to Kidderminster in the FA Cup First round and after Clough gives us an early lead to make the big boys angry, they take over and ultimately run out comfy winners (4-1). The supporters coach takes a somewhat odd route only just making KO and the crew then are stranded for an hour on the way home thanks to a points failure, with just some properly racist twats for company. Truly an interesting day out.
With the cup out of the way for another year, we make a lengthy trip to Bath 72 hrs later. Here we deservedly lead 2-0 well into the second half before we tire badly and some iffy defending means we're pegged back. Only a last minute penalty save from Lovelock preserves a point (2-2). Taz subsequently celebrates by later trepassing on Bath's Rugby ground near his hotel that night after a skinful. He claims it's not his fault that someone left a gate open. No, never is. Idiot.
Havant gain a measure of revenge for the bumming we gave them at their place, with a 2-1 win at GGL in the FA Trophy. Very little of interest happens apart from an outrageous dive by their man to win the penalty that gives them a first half lead. Further misery follows with Dorchester Town making their customary 'have one attack and score' visit whilst we have 3475 efforts on goal and still manage to lose 1-0. We then make another long midweek trip to Weston (1-1) and once more having worked hard for a lead, defend poorly near the end and chuck 2 more points onto the November waste pile.
Richard Hill. Budget bigger than his. Boring cunt. Blah blah blah.
DECEMBER
The slightly resigned air at our fast fading promotion challenge is made worse as another former Sutton player, Michael Boateng, is nicked on suspicion of match fixing, this time at Whitehawk. Again, having seen him play a bit…..er, what's that Mr Lawyer? Shut up? Oh, ok then. To add to the depression, we're not only knocked out of the SSC at home to K's (1-0) which of course makes Dukey nigh on suicidal, their fuckwitted fans once more prove what a bunch of special cases they are by unfortunately managing to provoke a violent response from goalkeeping coach Wayne Shaw prior to kick off, which leads to his inevitable release by the club. Still, it wasn't their fault, as per fucking usual. Never is eh lads?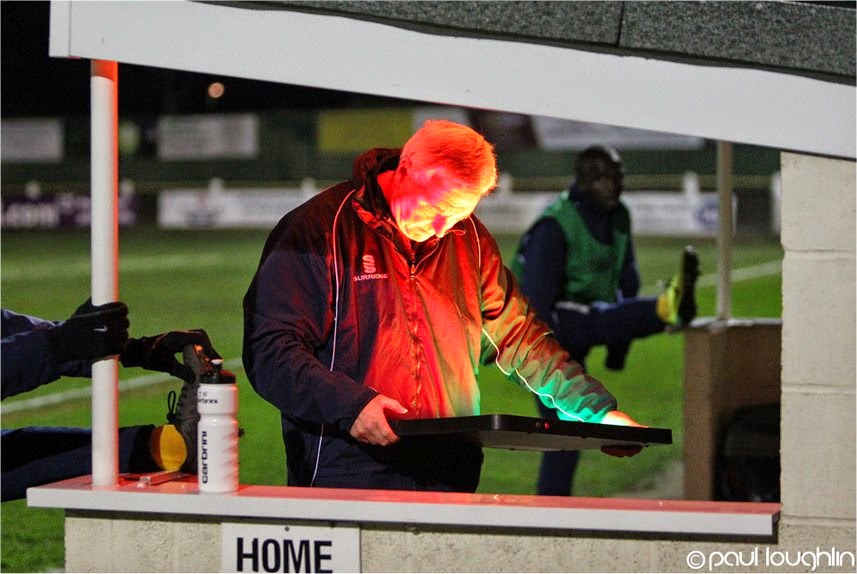 Clive tries to get the sub board to say something rude to the K's fans….
A Slabber brace helps see off a sprightly, but struggling Maidenhead at GGL next (3-2) where we lead twice only to be pegged back quickly both times. In the end, Dundo settles matters as Dundo usually does. We then claim a hard earned 3 points at Boreham Wood midweek with a 3-1 win where we get battered for 40 mins, nick one against the run of play and then see out the win fairly comfortably. The joy is short lived however. As we stroll away from the ground, Dukey receives news from home that he's been burgled and they've not only nicked his car, but his tinfoil Surrey Senior Cup that was in the back. Gandermonium declares 2 days of mourning at this terrible news, although the club refuses our request for a minutes silence at the next home match.
The revival is short but sweet. Our old mates Tonbridge continue their good form at GGL with a 2-1 win against another lacklustre Sutton performance, including a first goal so poor it would give small children nightmares. Next up is a first trip to Gravesend to play the team that used to be Gravesend & Northfleet, but are now Ebbsfleet (2-0) which is basically the name of a big fucking car park for a train station. We play ok, but 2 mistakes are punished, the second coming moments after Sinclair has missed an open goal from 5 yards after a Barca tiki-taka 234 pass move. Our own day is mainly spent drunk, wet and briefly detained by the British Transport Police for having bought the wrong train tickets.
Still, at least it's Christmas and we can get royally pissed. And we do. Thankfully, the weather isn't too shite and we even get a Boxing Day game on! A routine 2-0 win over a rather poor Hayes side, whose only contribution to proceedings is to warm up on the pitch pre-match despite being politely asked not to, thus ploughing up a nice section of the GGL turf. The fucking twats.
The month sees Dos responding to our indifferent campaign so far by swinging the axe and several departures follow, mainly to Margate. With skipper Jamie Stuart leading the exodus to the dead seaside town along with Sam Rents and Anthony Riviere. A misfiring Jamie Taylor is also shipped out, albeit on loan to Eastbourne.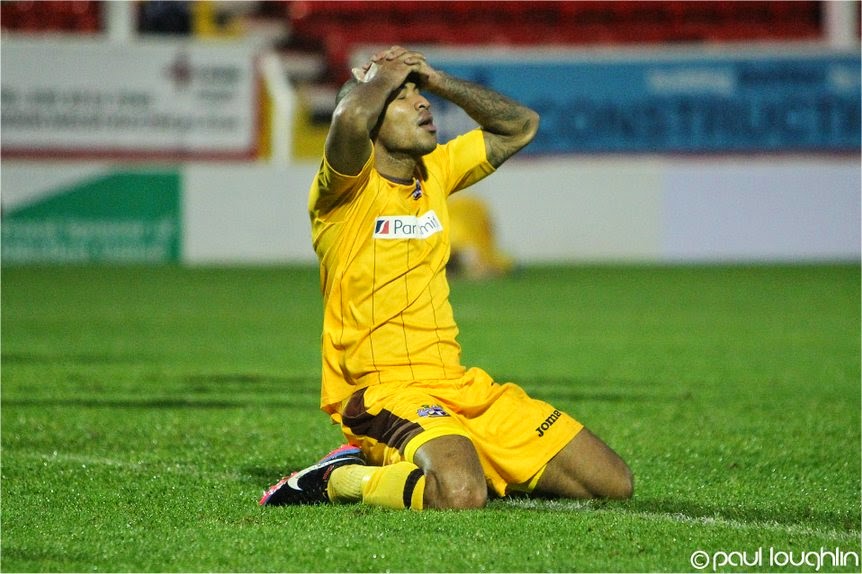 Yeah, we couldn't believe you missed either Deano….
True to form, we end the year with a whimper as we go down 2-1 to Staines with 2 very poor goals. Naturally, we get to endure the crowing of that fat wanker in the stand as a reward. Reports this is actually Eastleigh's Richard Hill going on and on and on about how we've got a bigger budget than them are unconfirmed. We meanwhile go back to eating and drinking far too much in the hope 2014 will see our season spark into life.
JANUARY
The start of 2014 proves to be a quiet one, mainly as it's continuously fucking raining and no one can actually get any games played. Dos makes the most of the break and continues swinging the axe, trimming Ali Fuseni and Mitchell Johnson from the squad and bringing in 3 loaners, including a keeper from Palace (Tom Lovelock's mistake against Staines sadly seemingly proving to be one too many) and Rhys Weston, a midfielder from AFC Wimbledon.
11 days into the month, we finally get a game and a new look line up goes to Chelmsford, works hard and then pulls away in the second half to win 2-0 thanks to goals from Slabber and Binns and pick up 3 very welcome points. Sadly, the weather continues to be a complete twat and it's another 2 weeks before we're in action again, this time at Basingstoke in shocking conditions. Thankfully, a revived Jamie Taylor returns and rifles one in for another 3 good points (1-0). The gang are also kept amused by slaughtering Carshalton's Chairmanownerex-manager and chief egomaniac on twitter after he unwisely gives it the biggun about our community efforts. His account is protected soon after.
The shite weather pushes the club to put forward a motion for the Conference EGM for the league to vote on allowing clubs to use artificial surfaces. Also, our loan keeper's spell is up despite him hardly having played due to the weather. Dos brings in vastly experienced Jason Brown, who has Welsh International caps to his name. This means with Rhys Weston and Gavin MacCallum, we're fielding no less than 3 full internationals. Which is just plain bloody odd if you ask us.
We're not sure if Richard Hill made any mention of our budget in comparison to Eastleigh's this month. Although we might have missed it.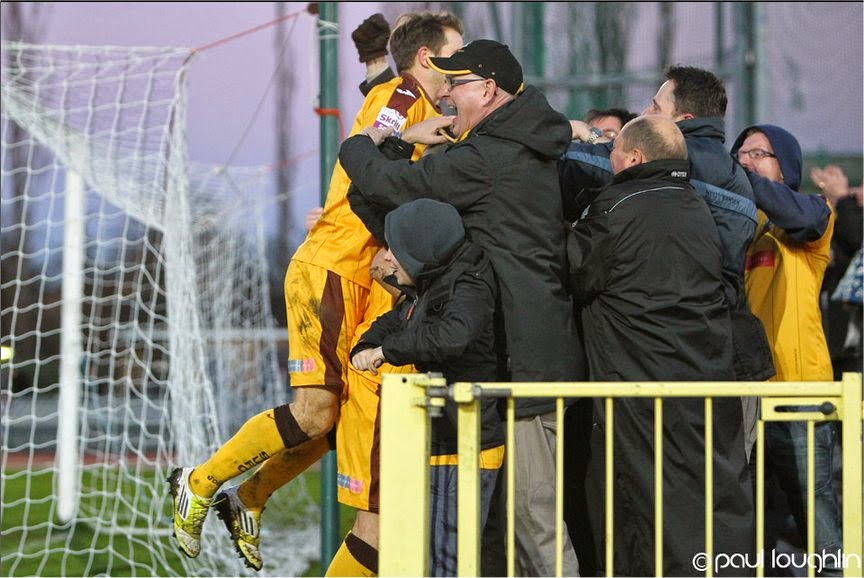 Slabbs celebrates with little fanfare at former club Chelmsford….
Dos wins manager of the month despite us only having played twice and him only having been around for one of those games. This makes us chuckle.
Tune in at some point in the very near, short term future for the final thrillng installment! Oh look, the pubs are open. Whose round is it?