Welcome to the eagerly awaited final part of our review of the season that was, that just happened and what has not long just ended. Did we make the play offs? Are we going to Bristol Rovers or Boreham Wood next season? And why are we asking all these questions when you probably already full well know the answers?
Eh? It's called 'setting the scene'? Load of old bollocks if you ask us. We give up. Here's Part 3.
FEBRUARY
A packed month awaits with no less than 8 games scheduled. Sadly, the weather continues to wiggle it's bottom, fart in our general direction and tell us our mother was a hamster as more rain means more postponements. A farcical game at Gosport in ridiculous conditions being played at about the 16th attempt, provides a 2-2 draw to kick things off. Not bad all things considered as we trail 2-0 at the break to the struggling south coast outfit. It's then another 10 days before we play again and manage to host our first game at GGL since Boxing Day. Weston being comfortably seen off 3-0 with 3 cracking goals, including a brace from Taylor as our new look 'on loan' line up starts to really click and do the business.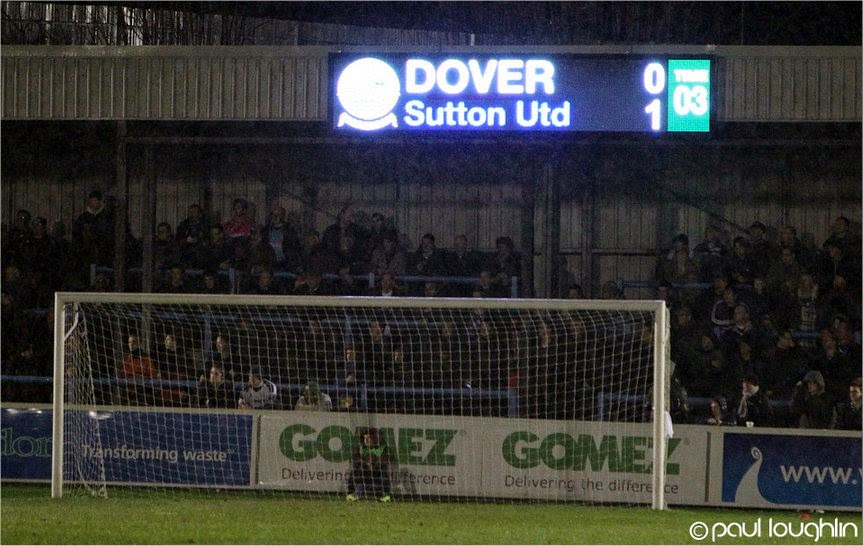 What? You'd like 87 minutes of time wasting? Really?? Ok then!
Thankfully, our next game is away to Dover (1-0) whose home perched atop a massive chalk based mountain means their pitch drains a bit better than most. Dundo pops up to give us an early lead and we then mostly wind the clock down for the remaining 80 mins or so, much to the annoyance of the locals. Despite this, we still create the better chances and it's a well earned win that should be by more than the single goal.
We then end the shortest month of the year with a boozy trip to Eastbourne (1-1). Where we find our favourite pub has shut, there's almost as many annoying Chelsea fans around as back at home, the home fans have started using a drum again and the annoying fucking 'wrong end' kids are also back. Still, despite these horrors, Slabs nods home to cancel out their first half opener and we end up playing with 10 for the final 25 mins as Rhys Weston goes down awkwardly and is stretchered off after we've already used all our subs. We head to Lewes for drinkies after and once more plaster the place in stickers whilst terrorising the locals. The last bit isn't true by the way if anyone from Sussex Constabulary is reading.
Weston's injury is later revealed to be a bad one and season ending. Which is a bit of a blow to be honest.
Oh and Dos wins manager of the month again.
MARCH
The U's enter their 3rd month without defeat as Chelmsford are doubled (2-0) thanks to goals in the first and last minutes of a pretty dire encounter. Dundo's blistering 30 yard strike in injury time being a particular moment of rare quality. We then head to league leaders Bromley for a big 6 pointer. In a pulsating game, Slabber fires us ahead before the hosts hit back either side of the break to lead. Late on with the lads looking a bit short of ideas, Sinclair curls in a worldy to level and then Dundo hits 'em on the break in the last minute before Sinclair notches again in injury time to seal a frankly breathless 4-2 win. And all of a sudden, we start thinking "Bloody hell, can we win this?".
It's off to Farnborough next (2-1). And on a shocking pitch we weather an early storm before Scannell puts us ahead, Clough is then sent off for a professional foul before Taylor doubles our lead. They pull one back very late on but we hang in there for the win and with results elsewhere going our way, it seems we're definitely on the fringes of a title race. Uh oh!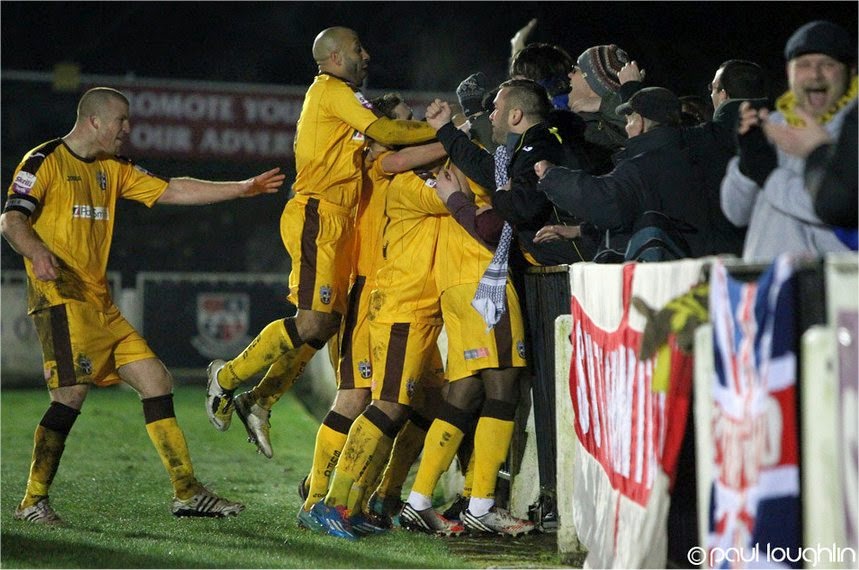 Last minute bundle at Bromley and Dukey looking special. Perfect.
Dos adds further to the squad, bringing in Mickey Spillane, a free-agent after his release from Cambridge Utd in January. A dire Basingstoke are then thrashed 4-0 with a rampant display in front of over 2000 on a sunny community day and Trophy finalists Gosport then dispatched 2-0 midweek including a strike from a ridiculous angle from MacCallum to keep up the charge of 9 wins and 2 draws since the New Year. Of course, just as we've started to get excited and decided that "Yes, we are in a title race" we then go to rock bottom Dorchester and draw 0-0 with a rather lacklustre showing, followed by a trip to struggling Hayes where we also draw a blank (0-0) with goals suddenly at a premium. And as suddenly as it arrived, that little glimmer of hope for the title has gone again. To confirm it's not in our hands any more, we then close out the month with another draw, this time against Bath (2-2) at GGL with a last minute equaliser from Dundo celebrating his 300th appearance. Strangely, Richard Hill has kept his trap shut this month. Probably something to do with us having won shitloads of games which means he's actually concentrating on doing his fucking job for a change, which is nice.
We also wave goodbye to Coach Paul Telfer, who moves to the USA to take up a coaching position with NASL side 'Indy Eleven' in Indinapolis. Bye Telfs! Former Premier League player Jamie Lawrence comes in to help boost the coaching staff in his place.
Despite the draw based hiccup, Dos is forced to order a new re-inforced mantlepiece to accommodate the weight of all the manager of the month awards as he picks up the gong for an unprecedented 3rd straight month.
APRIL
Settling down for securing play offs, we start a busy week with tired looking, but hard fought home wins over Boreham Wood (1-0) and play off chasing Havant (3-1), the latter being one of the better sides we've met this season. But with the top 2 still not having pulled away as expected, we suddenly find ourselves in 2nd spot and 2 points behind Eastleigh (albeit having played 2 more). Hmmm. Are we in a title race or not? Does anyone know? Oh fuck it, let's just keep going and check the table at the end of April…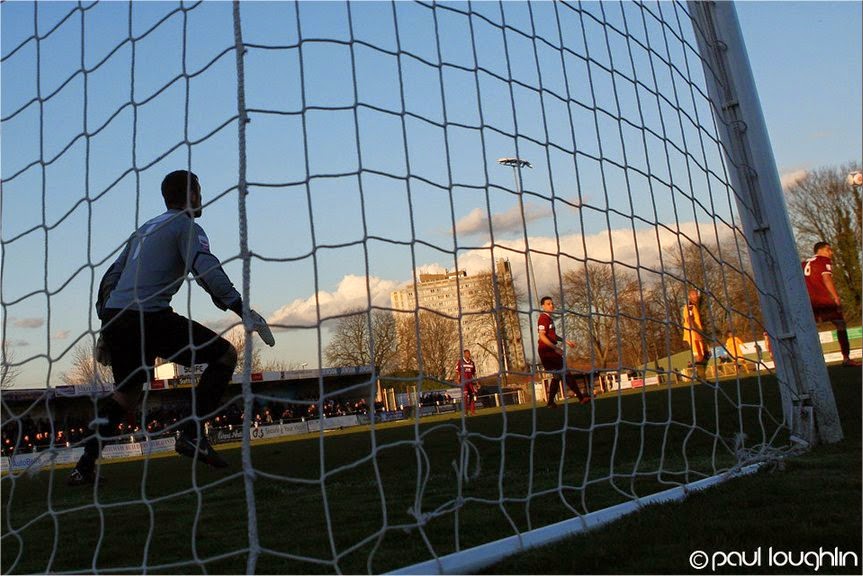 Dundo's absolute melter en route to the top corner v. Chelmo….
Sadly, having once more asked 'that' question, we soon get the "No we're not" answer again as our first defeat of 2014 comes at struggling Maidenhead (3-2). Twice ahead through Jamie Taylor, some shocking officiating mixed with ropey defending does the damage. Unfortunately, Eastleigh win at home to Whitehawk and the gap is now 5pts and us having played a couple more. Game over really. There's better news during the week as Carshalton's draw with Grays combined with Enfield's win means the Bobbins are relegated with 5 games still to play. All at Gandermonium HQ are of course gutted to hear this and tweet their condolences to the club and it's benevolent community focused god of an owner. The lads bounce back with a 3-1 home win over fellow play-off placers Ebbsfleet. Going behind early 2nd half, the U's roar back with goals from Taylor and Downer. The win is tainted though by skipper Charlie Clough limping off with a hamstring injury early in the first half. However results elsewhere do confirm our Play Off spot.
The Easter weekend is next, starting out with Eastleigh finally closing out the Championship at home to Basingstoke on the Friday, which is a massive upset given they've got such a teeny tiny budget compared to us. This means the visit to the not-very-happy hunting ground of Bishops Stortford (at whose relatively new-ish Woodspring Park ground we've never won) only has play-off position jostling riding on it. Still, having gone behind to a pen, Gav MacCallum and then a Dundo bundler in the last minute soon put that hoodoo to bed (2-1). A makeshift defence then faces up to Concord (1-0) at home on the Monday for our last home game. They stand firm however, ably assisted by a couple of worldies from Jason Brown and once again, Dundo is on hand to make sure all 3pts stay at GGL, the win all but securing 2nd place and home advantage in the play-offs. It's then back down to Whitehawk for a seriously boozy final match of the regular season.
The hosts need something from the game to be sure of staying up and the match swings one way and then the other before ending 3-3. Hayes defeat to an 87th minute penalty at home to Dover sends them down, saves the Hawks and means we'll be meeting the Kent side in the play offs. What drama! The gang celebrates by getting really quite pissed and persuading random people to 'Do the Binnsy' on Brighton Pier. We may have told them it was for Soccer AM or something. Oops.
So, to the end of season cup match type lottery known as the play-offs! The first leg of the semi-final at Crabble is a tense affair. The U's recall Binns and Clough from injury and make the perfect start, Dundo bulleting in a header from Scans cross after just 46 seconds! The Frenchies level shortly before half time as Brown can only palm away a long throw leaving a tap in for the equaliser. Both sides have chances and the U's finish strongly but the match finishes all square 1-1.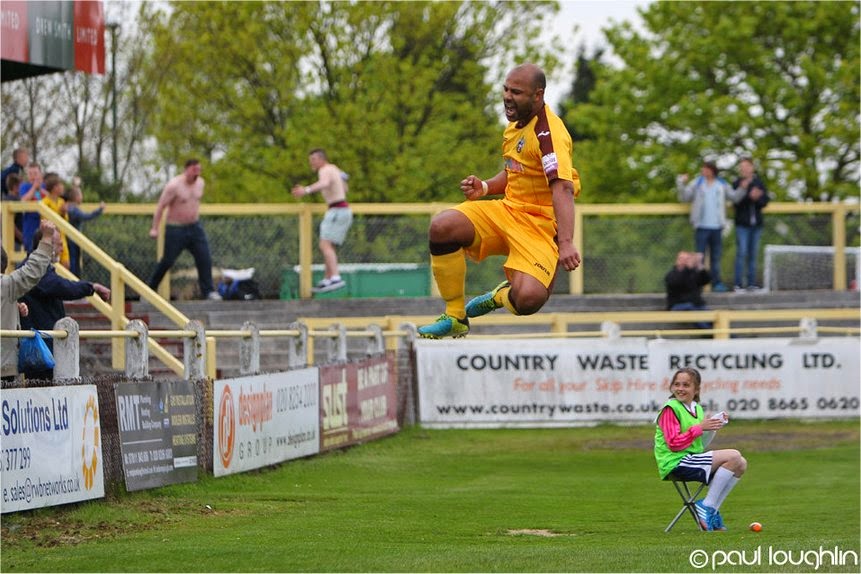 Downs bests his previous 'Ballgirl High Jump' PB v.Ebbsfleet.
MAY
The second leg at GGL is played in glorious sunshine in front of over 1600 and again, there's an early twist with the visitors reduced to 10 after just 3 minutes when Stone brings down Dundo on the edge of the box as he's clean through and about to pull the trigger. Sadly, the U's then procede to fuck up yet another play-off match by looking like they're the side with a man less and plodding about creating very little at all as the lack of fitness to key players becomes glaringly obvious. Then just before the hour, they concede the inevitable rubbish goal and it's game over. Two more follow in quick succession with 10 to play meaning the season ends with the footballing equivalent of a wet, rancid fart (3-0). The sort where you're not quite sure if you've soiled yourself or not and are a little too scared to check.
Still, at least we found out what a 'Skrill' was in the end. Sadly, it wasn't space aliens or some some type of organisation that James Bond has to take down as they aim for world domination. Nope. It was a sort of PayPal online payment thingy. Booooring! And they're not going to be sponsoring the league next year for some reason. Maybe the top 2 tiers of English Non-League football failed to give them the global marketing reach they were expecting? Who'da thunk it eh?
With the season done and dusted, there's other changes afoot, as 1st Team coach Steve McKimm strides out on his own, taking the vacant managers job at relegated Tonbridge, meaning we have to kind of like them a bit now. At the end of season Dundo awards ceremony, Dundo walks away with just the Players Player of the Year and Goal of the Season, much to the relief of his mantlepiece and no doubt his missus who probably has to dust all these shiny trinkets he keeps bringing home every May. Charlie Clough deservedly takes Player of the Season and Kane Haysman's contribution to the cause is suitably recognised with the Young Player award. We then go out and get smashed, ending the evening bumping into Cloughie on the way to the taxi rank. He kindly lets us have butchers at his Conference South Runners-Up medal while he scoffs his burger and chips. What a nice man. Yarp.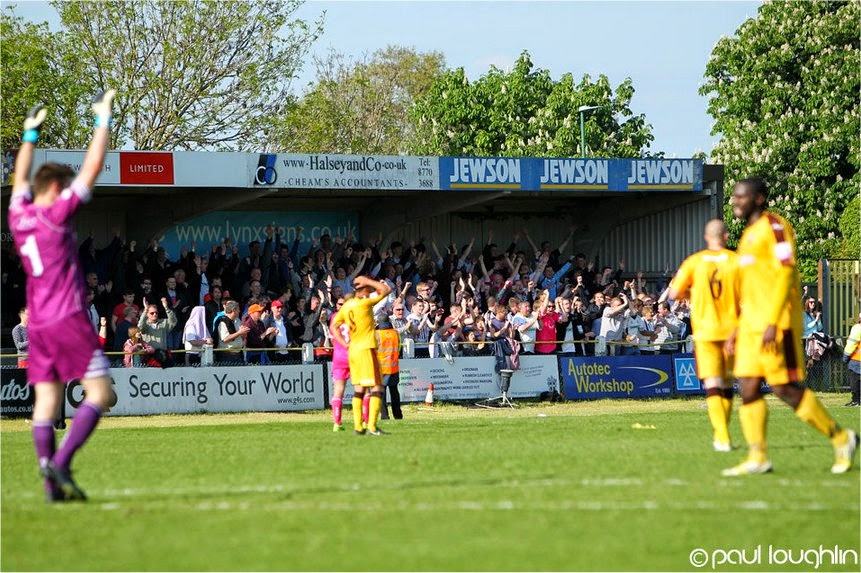 Bastarding, bollocking, twatting fuck. Another failed play off.
In the Conf South Play-Off final, Dover sneak past Ebbsfleet. Whilst Wealdstone win the Ryman title with Lowestoft finally winning a PO at about the 10th attempt, beating Hornchurch. Hemel win the Southern, with St Albans coming up through the play-offs there. Disappearing down the Conf South plughole are our friends Dorchester, some mob called Tonbridge and still homeless Hayes and Yeading.
Right, we're off to Serbia. After which we plan to go and hide in a darkened room, preferably one that has a bar. Let us know when the World Cup starts eh?