Happy Coventry Day one and all! Unless of course you hail from the aforementioned City in the Midlands. In which case, you'll probably be having a bit of a sad frowny face on, especially if you've stumbled across our twitter account today.
Now, we didn't do an archive report at the weekend for several reasons after the Gosport game was called off. The main one being I'm a lazy bastard and I couldn't make my mind up on what load of old tat to use instead. Yeah, sorry about that. 'Dedicated' was never a word used in conjunction with us here at Gandermonium, unless it involved trying to get another round in at 1 minute to last orders in a packed bar of course. Still, seeing as Dover was off tonight, we think we'd better give you something to read before you forget about us, Sutton United and football in general what with this shite weather.
For our latest blast from the past, we're going back to a favourite old stomping ground of ours, Weymouth. Favourite not because we get results there, because we never ever do, but favourite because it's a nice town by the sea with lots of pubs for us to get fucked up in. And this occasion was no exception.
It's October 2004 and the amazing Ryman runners-up side is now a slowly fading memory. The likes of Bailey and Nurse have all had it on their toes to bigger and better things and we've replaced them with the likes of Nigel Brake and Peter Fear. With losing such a vibrant young squad, we're naturally finding life in the new Conference South a bit hard with only 3 wins to our name in the league so far. Still, who gives a toss, we were off to get ruined….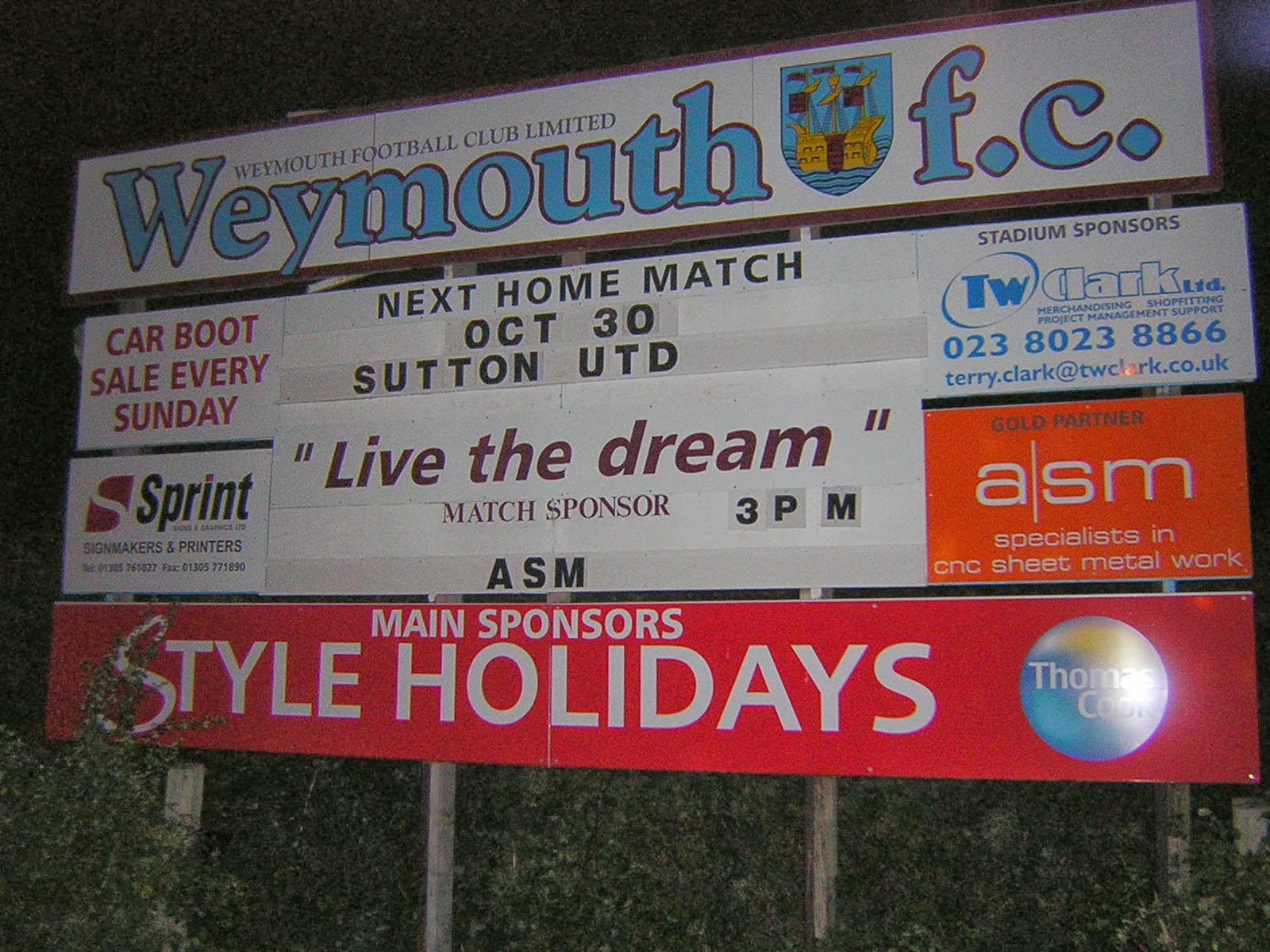 Yes! Live the Dream! Until you go skint……
WEYMOUTH – 1 SUTTON UNITED – 1
Conference South – Saturday 30th October 2004
Way back in July when the fixtures were announced, we naturally looked for all the seasidey trips first. So imagine our delight when we discovered one of our favourites, Weymouth was scheduled for a Saturday. Ok, so it's in October, but who cares! Then imagine our disappointment when we then discover the set date is also FA Cup 4th Qualifying day. Arse.
Naturally, given our recent record in that competition, we weren't expecting to still be involved in all that by this stage. But Weymouth with several new signings made by manager Steve Claridge would surely be a bit more of a shoe in? As it turned out, our prediction about our own progress wasn't far wrong, although it was a close run thing with the U's making it to the 3rd Qualifier before stumbling out in miserably depressing fashion to Bromley in a replay. But, those nice people in Dorset promptly went & gave us something to cheer us up by also getting dumped out by a team 2 divisions lower than themselves in a replay. A result that also resulted in Mr Claridge getting the ol' 'Spanish archer' at the Wessex Stadium. Ooops! With the hosts still struggling to find any real form after this upheaval and our lads finally getting a home win on the Tuesday night, we felt a little more confident of getting some sort of result.
Now with the fixture only being confirmed 10 days before, the travelling crew is a little depleted and only myself, Greek, Windy & the Chalmers make the trip. Millsy wussing out the Monday before. Bah! Just can't handle the pace that lad! Windy volunteers to drive us down and at a disgracefully early hour, GreekCabs calls to transport us all to Mr Millers, where tea & bacon butties await.
An uneventful drive down and we're in the fair town of Weymouth for 10 to 12. Returning to the B&B we visited last time, Windy is happy to see his friend 'Sugar' the dog, of SUFC matchday programme 'Caption Competition' fame, once more. By 10 past, we're settled into the Hogshead for beer and a spot of lunch. The Brum-Palarse game in on the box and whilst watching, we notice the locals displaying a rather puzzling dislike of the home team. Our ponderings as to why this should be the case given the disparity in location between the two places and the fact that in a footballing sense they inhabit different planets helps pass the best part of an hour it takes for our scoff to appear.
Eventually it's time to grab cabs and head to the game. Thankfully despite our luncheon delay, we arrive with a good 20 mins to spare which is more than enough time to hit the bar for a pre-match livener. With Matty Gray suspended, JR has decided to put Scott Booth down the right instead. Apart from this, the line up is the same one that mullered Margate on Tuesday.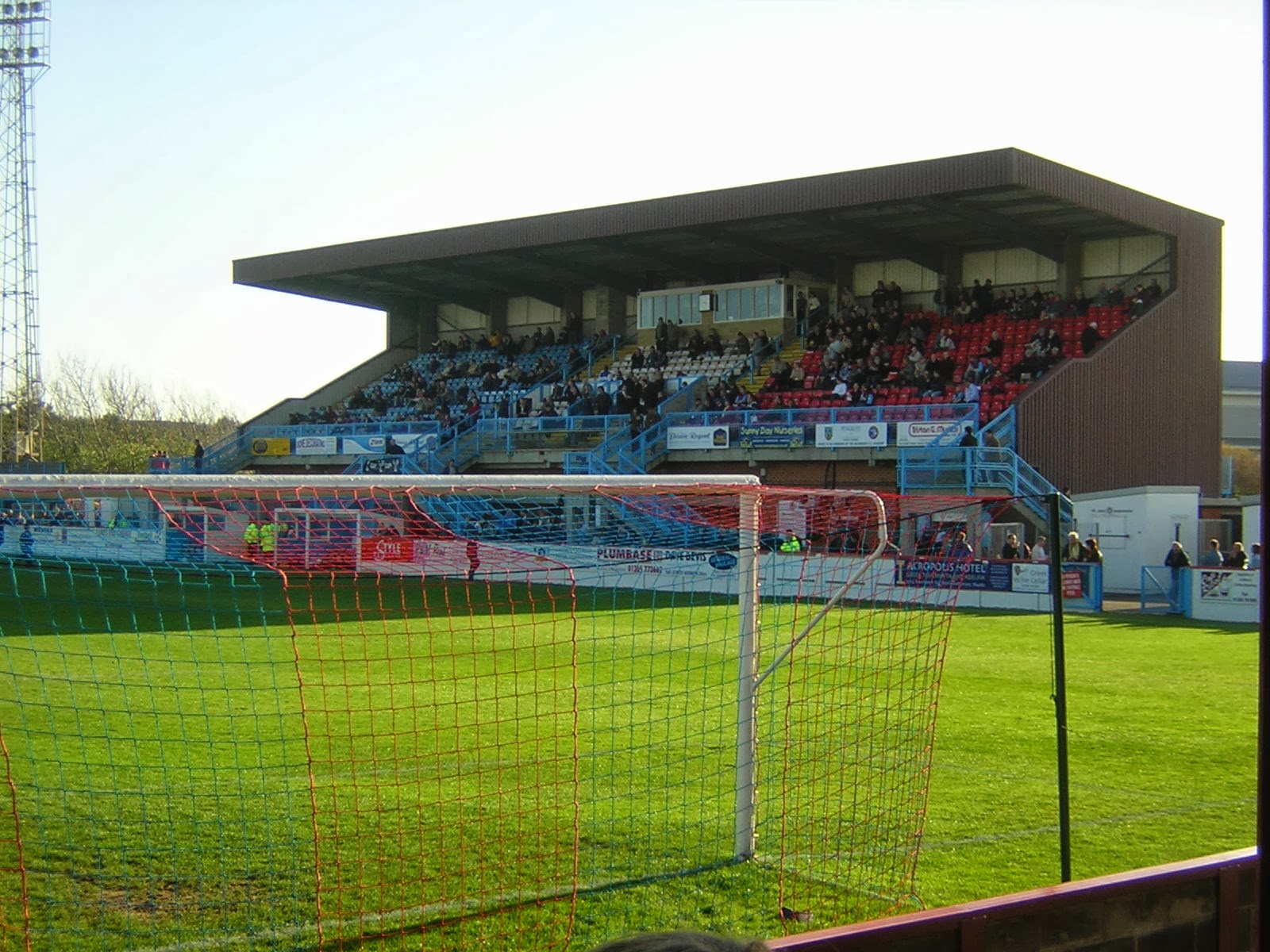 Not the cheap seats….
The 'Terras' start in a very lively fashion and after a couple of minutes, Phil Wilson is beating away an angled shot after a ball down our left sees an attacker cut in and try his luck. We respond in kind after 8 minutes, Nigel Brake sweeping a lovely low angled ball in across the box that evades 2 defenders and picks out Scott Booth at the far post. But his low shot is parried by the 'keeper and out for a corner. But the linesman on that side then gives us a taster of his ability by signalling a goal kick. Twat.
He's soon making himself even more popular with the travelling support behind the goal when within a couple of minutes Haughton chases onto a through ball on the right only to be pulled back by the Weymouth no2. Nothing given. Another minute later and exactly the same scenario. Haughton goes for a ball over the defence into space, or at least tries to as the no2 is once more impeding him by trying to tear the shirt off his back. Naturally, our man & theirs end up in a heap. The ref blows up and it's seemingly an open and shut case of a foul for denying a goalscoring oppo and a dead certain red card. Not according to the lino it's not though. The guy who a few minutes ago had no idea what constituted a fucking corner has the bare faced cheek to flag for a free-kick AGAINST the Sutton man. The ref decides to have a chat with him and then overrules the assistant, before then making himself just as popular with the U's support and brandishing only a yellow card for the offender. If I wasn't so astounded by this decision, I'd have called him a fucking clueless two-bob fucktard. Oh, hang on……………I did.
Having allowed matey to stay on the field, the only other form of reward is to score from the free-kick. And Fearo makes sure retribution is drawn to the maximum. Curling the kick in from the right, it clips the end of the defensive wall and loops over the now stranded 'keeper and into the far corner. Celebrations naturally ensue before we get back to abusing Mr Cocklesswonder patrolling the touchline to our left. Sadly for him, the stick is now in full Dolby ProLogic 5.1 Surround sound as the 'Muff fans on the terrace down that side have also decided he's really not very good and needs his parentage questioning, amongst other things. More questionable officiating follows rapidly as Tony Quinton is laughably booked out on the right touchline for a completely innocuous shoulder to shoulder challenge that doesn't even look like a foul.
A good 5 minutes after this and whilst taking a gentle jog up the line the lino pulls up injured. Seeming to indicate that he has some sort of a problem with his leg. My arse he has. He's hardly given the ref time to stop the game and acknowledge his distressed flagging before he's limping across the pitch towards the tunnel like a second rate Herr Flick in shorts. Leesten vary carfully, I shall sey zis only wunce……
Fuck off.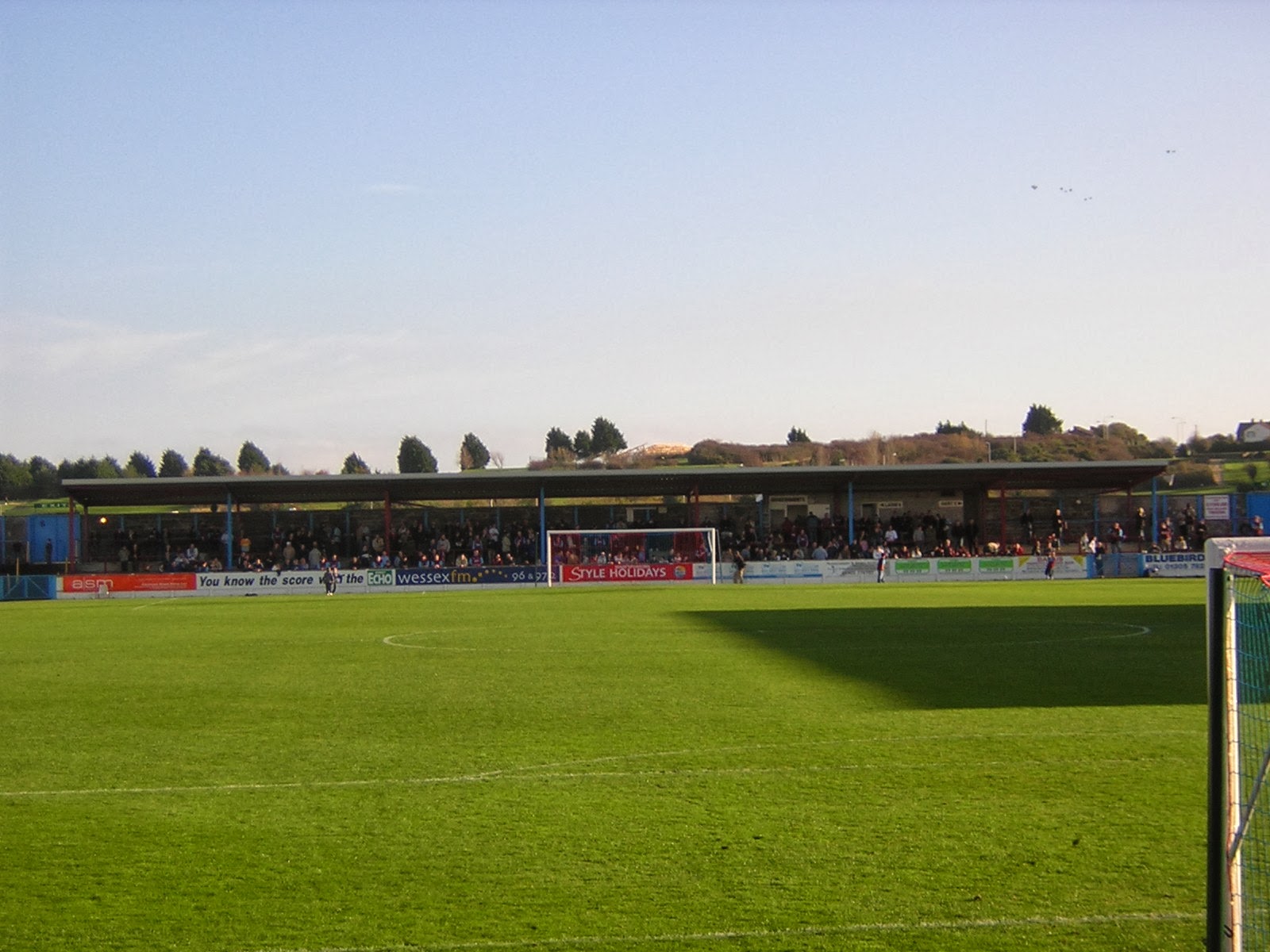 Is that all you get at home?
Naturally the shout goes out over the PA for a qualified official to replace the buffoon we've just seen depart. Greek & Windy take this as the cue for booze and swiftly disappear off to the bar for a quick bevvy. Personally, I can't be arsed and park myself on the terrace.
After what seems an age (40 minutes to be precise) they've finally decided on a replacement. Weymouth's secretary who we're told is a recently retired level 5 official. Some people at our end understandably moan about him being biased towards the home side, but to be honest he really couldn't be any worse than the fool he's replacing, even if he tried. The game eventually restarts at 7 minutes to 4 by my watch and already I'm cursing having to write this bloody report about such a chaotic match.
Now, dear reader, I shall ask you to bear with me from here on in. As due to the delay in proceedings explained above, keeping track of the time events actually happened during the match was somewhat difficult. All I'll add is, think yourselves lucky I didn't go to the bar with the other two!
Eight minutes into the resumed half (22mins played?) a Weymouth free-kick from the right is swung into the box. Wilson comes for it, but arrives a shade after an attacker who heads on goal. Fortunately Phil gets a hand to it and Quinton tidies up by thumping the ball clear from inside the 6 yard box behind him.
The 'Muff no9 then earns himself a talking to for a rather rash challenge on Gonsalves out on the left. Something that incenses us a couple of moments later as Quinton innoculously trips the same player and the ref immediately calls him over, hand in pocket ready to brandish a card. It's a nothing challenge and a free-kick at best, but he's off. We know he's off, Quincy knows he's off, the crowd & everyone else on the pitch know he's off.
But the ref doesn't seem to.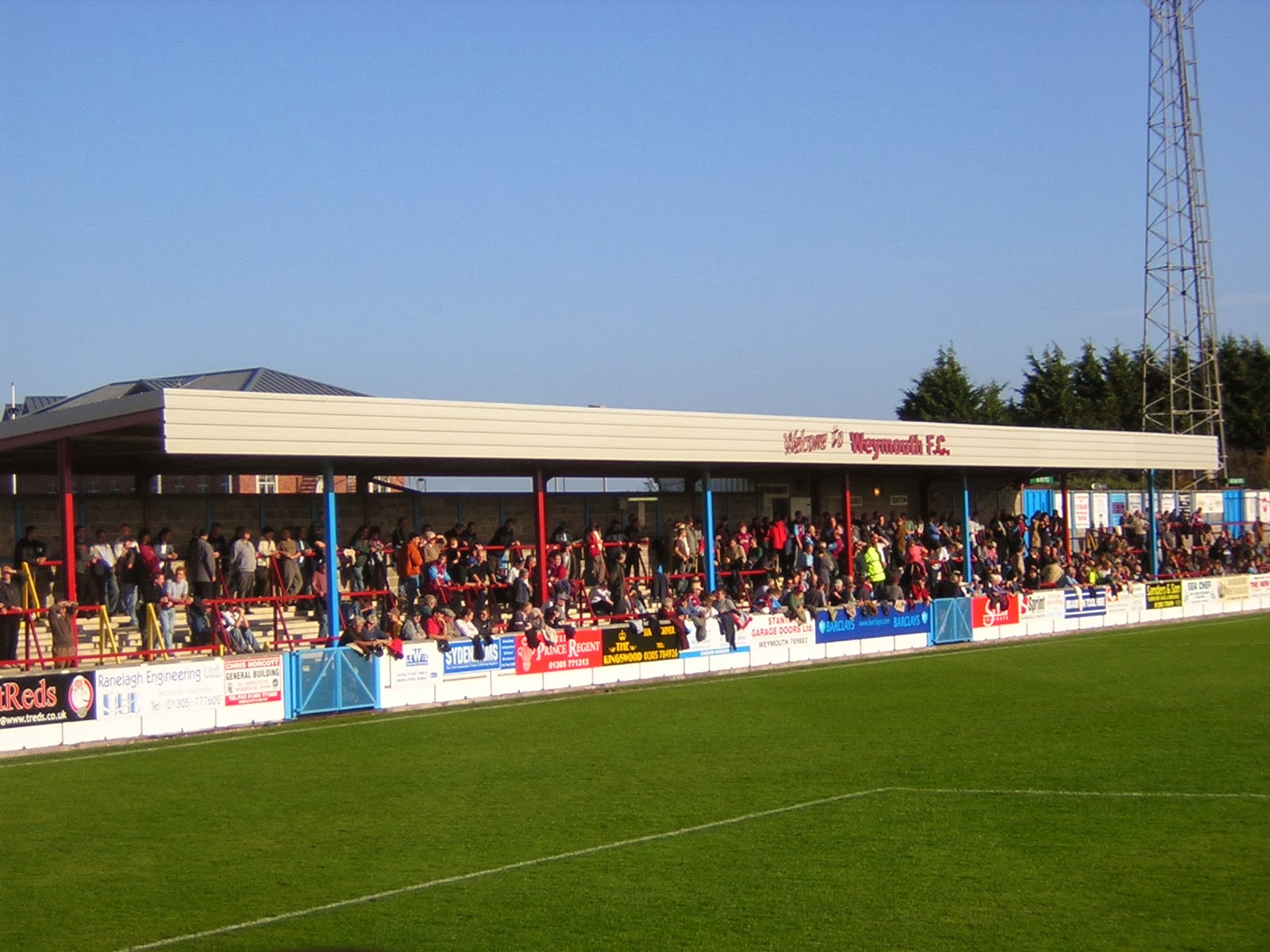 Warning. May cause lino muscle pulls….
Producing a yellow, he then fails to show the expected red card. A bit bemused, Tony shrugs his shoulders and jogs off back into the box. As he gives it legs, behind him the ref has been surrounded by 'Muff players trying to point out his error. Sadly, the error they're not pointing out is the fact he's given a caution for a nothing challenge and eventually prompted to check his paperwork by most of the oppo's outfield players and the baying crowd, the idiot discovers his mistake and calls TQ back over, finally showing the red card with some ridiculous aplomb and pointing to the tunnel in a sort of "Ooops, really fucked up there, better re-assert my authority by looking like a pompous fuckwit when showing the card and hope nobody noticed" sort of way.
Now down to 10 men, we're in big trouble. JR reshuffles the side slightly and Paul Honey drops deeper to try & help protect our now understrength defence. Naturally, this leaves plenty of space for the home side to exploit. Despite this advantage, 'Muff's build up and tempo is dreadfully slow. There's no real bite or drive about their play and they fail to manage an effort of any note for the remaining 20 minutes of the half.
The usual walk round to the other end is full of shaking heads and naughty words used in conjunction with the official's name. Although one 'hilarious' moment occurs about halfway round. "Bring the ref with you did ya?" comments a Weymouth fan as he walks past.
There's a moment's contemplation before we burst out laughing and remind this fucking genius just which side is currently a man down thanks to 'our' ref. Knobber.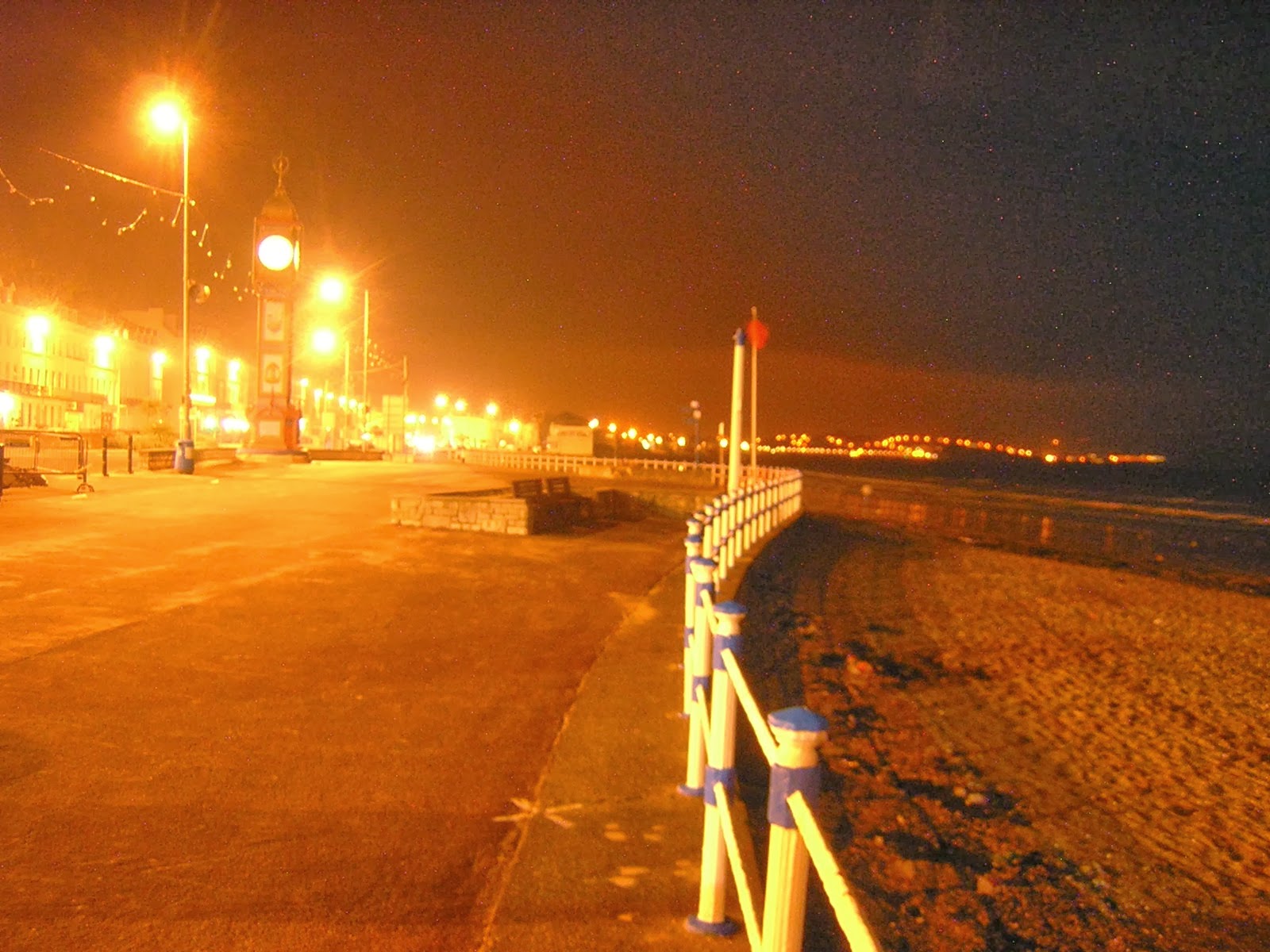 Nothing like a stroll on the seafront at 3am….
At the far end, flags are raised and tea is consumed. As I await the restart, a confused looking lady approaches me. "Why on earth has a team from south of London got a Guernsey flag??" she enquires, pointing at the absent Oscars St Georges cross tied to the barrier in front of me. I chuckle and explain none of us are from the aforementioned island and that the flag was purchased years ago because it's basically English and Mark thought it 'looked nice'. Seemingly satisfied with the explanation, but I'm sure still a little puzzled, she strolls off shaking her head leaving me to my half time brew.
For the second half, JR makes an obvious change. Boosey is sacrificed for Vansittart, who slots into the defence to help give us some more cover. No doubt we're looking to dig in and try to protect that lead we have. Christ this is going to be a long 45 minutes!
To our relief, the hosts once again seem to lack any urgency or drive and despite having loads of time to bring the ball forwards, they also seem to lack the invention required to prise open the massed Green & White defensive lines. It takes them a good 20 minutes before Wilson is seriously tested and despite being largely inactive apart from the odd cross, he's alert to make a brilliant one handed save after a low cross in from the right finds an attacker in space at the back post. His fierce effort unable to find its way past the U's stopper who pushes it over for a corner. This signals a brief purple patch for the home side and soon after they have the ball in the net, but the linesmans flag on the far side has long been raised and much to the frustration of the home fans, not for the first time this half either.
Their brief spell of pressure pays off though when the U's struggle to clear their lines and a corner is conceded. It's played in from the left and the defence goes to sleep allowing the 'Terras' no11 a free diving header that he guides inside the far post. Bugger it.
However, the expected onslaught fails to materialise and Sutton manage to find their feet again. The next reasonable chance for the hosts comes with around 10-15 minutes to go. Booth is clattered out on the right, but naturally play is allowed to continue by our great friend the ref. A low cross in from the right finds it's man 10 yards out at the near post and he drives in a low shot that Wilson gets down well to and manages to help on it's way round the post. True to form, the ref awards a goal kick despite being no more than 10 yards from the incident and having a clear view. At the other end, we can't help but laugh at his utter incompetence and an ironic chorus of "You don't know what you're doing" is the only required response. Meanwhile the home support does it's collective nut on the other 3 sides of the ground.
Craig Watkins is introduced for a knackered Haughton for the last few minutes, just to chase & harry the home defenders a little more, but to be honest, he should have saved his breath as Weymouth's ponderous approach results in little more than the ball being switched left to right and back again around 25-30 yards out from goal or over hit passes going straight through to Wilson or for goal kicks. Oh and then there's the several hundred offsides their players are pulled up for. By their lino.
Their last chance to snatch a win they really don't deserve comes with a minute or so left. The ball being switched left to right across the box and ending in a pretty fierce shot from the no14 that's at the perfect height for Phil to beat out. Finally, the ref gets a rare decision right and blows up to signal a hard won point for the lads and we amble our way round to the bar for a much needed drink. Here, we find that the locals are very sporting about the result. They also unsurprisingly agree that the man in the middle was a useless donkey raping shiteater.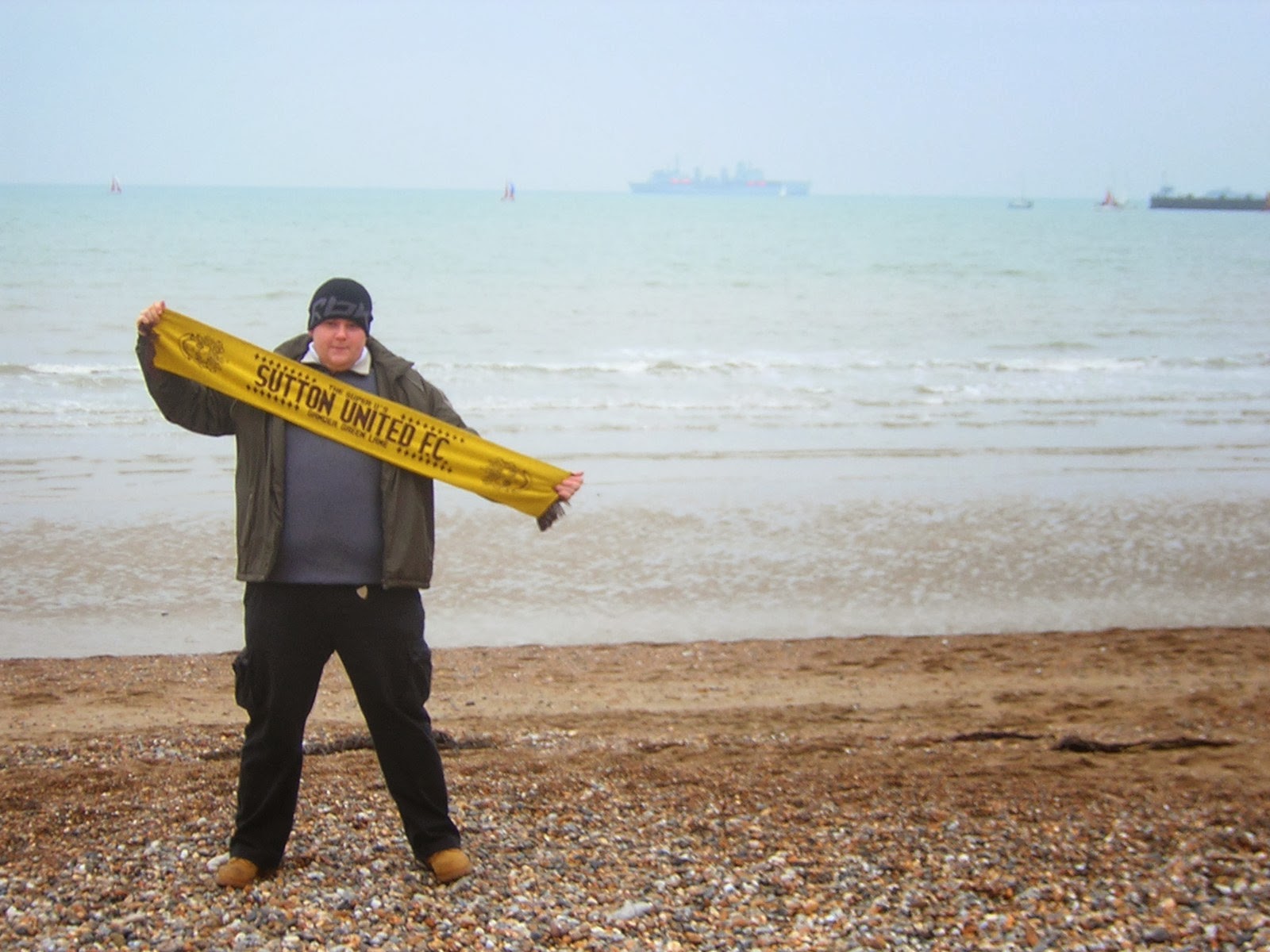 Fat bloke. On a beach.
A large amount of drink later in the club talking about crap referreeing, we decide we'd better get back to the B&B and hit the town. There follows a further large intake of alcohol, unsubtle attempts at secret photography of very attractive local ladies and a rammed bar that takes 30 frigging minutes to get served at, which then leads to a doubling and then trebling of the round. Still, Greek takes the opportunity to impress the fuck out of some equally thirsty Royal Marines at the bar when our drinks arrive by doing his 'strawpedo' trick with some Orange Reefs.
We eventually roll in at some naughty hour and Greek demands the keys to the room. I hand them over as I really can't be arsed to argue and the big fella disappears up the stairs. Now earlier, it had been discovered that the lock on our door was a bit iffy, with a combination of the key and a bit of light 'persuasion' on the door itself being required (as recommended by the landlady!) to open it. As I wend my way up the staircase, I can hear the scratching sound of the big man trying to get the key in the lock. Suddenly followed by a loud bang.
"Twat!" I mutter as I get towards the top, half expecting a sheepish Mediterranean fool to be waiting there for me holding the door, entirely seperate from the frame. Thankfully, this proves not to be the case and he's instead sat on Windy's bed giggling like a small child with the door still attached to it's hinges. The following morning, a huge breakfast helps soak up the evenings excesses and we wander off up the front to 'Treasure Island' for the latest round of the SHIT mini-golf competition. To everyone's delight, Windy is victorious and we spend much of the journey vowing revenge when we go to Weston in December.
Weekenders. Love 'em.