Now, normally when we get a game called off, I'll pop down into the basement here at HQ and have a sift through some of our old records from the previous incarnation of Gandermonium to bung on here as filler. Well, this time the game called off was on New Year's Day, you know, the one that follows the evening you spent getting absolutely munted under the excuse of ushering in another year.
Well, yeah. We went and got absolutely munted at Mr X's palatial residence under the excuse of ushering in another year. So munted in fact that some of us (eg. me) only raised our heads to read the text telling us the game was off before burrowing back under our duvets until nearly 2pm. Which is why 24hrs after we'd normally do this, we're doing this.
For this latest bit of internet based time travel, we've again gone back to the fucking shithouse that was the 2007/2008 season. Yeah, I know. Misery attracts us I guess. It's like a scab we can't stop picking at. Still, to be fair I have at least picked a rare moment of joy from that miserable campaign. The other half of our only back to back wins all season. St Albans away.
G'WON HARRY!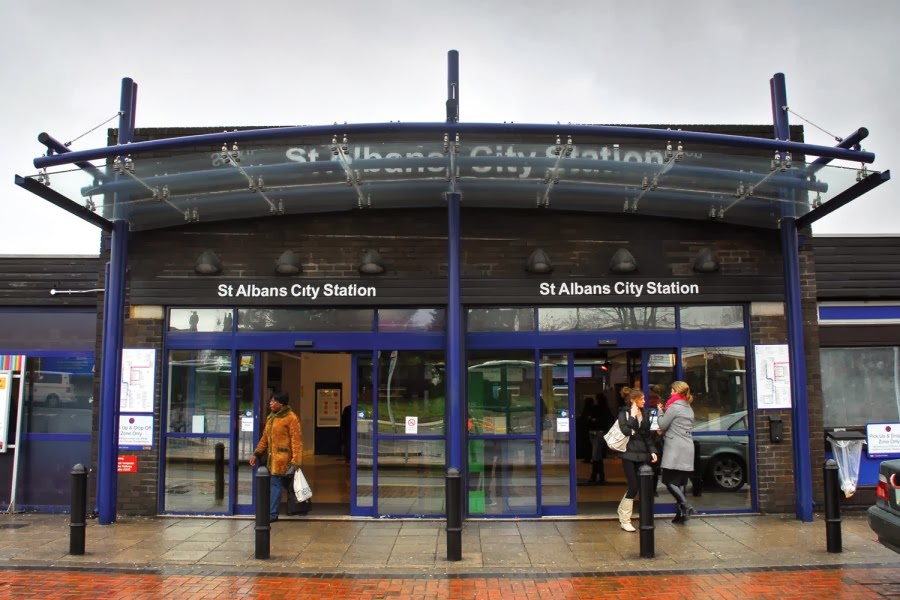 Choo choo!
ST ALBANS CITY – 1 SUTTON UNITED – 2
Conference South – Saturday 5th January 2008
With 2008 underway somewhat more successfully than 2007 after the nerve shredding 2-1 win over Hampton on New Years Day, things are starting to look vaguely more hopeful. With results going our way, we suddenly find ourselves no long cast adrift at the foot of the table and seemingly miles from safety, but a paltry 3 points behind 3rd bottom St Albans and within spitting distance of the almost sanctuary-esque 19th place. Not that it gets any easier though, as having overcome play-off chasing oppo, we find ourselves faced with a full on, class a relegation six pointer 4 days later as we have to travel to the aforementioned Stalebuns.
Oh mummy.
We've reason to be confident though, City have had a pretty miserable Crimbo and after a 4-0 gubbing at Cambridge on NYD, their chairman has decided to fire his second manager of the season. After just 11 games in charge. Cheers mate.
Normally, St Albans would be an eagerly awaited away fixture, as there's plenty of pubs here and there to thoroughly ensure that if the game is shite, then you'll be really too mashed to remember much of it anyway. Unfortunately for my good self, a suspected kindey complaint means I'm currently off the beer. Which in our current on-pitch predicament, isn't good. Because it means I'll not only miss out on the piss up, but I'll have to watch the game sober. Sod the kidneys, it's a sodding heart bypass I'm more worried I'll need after this one.
Still, I'm on the early train with the rest of the mob at 10am and I endure over an hours worth of parroting on by Windy & PC regarding my shocking teetotalism today before we land up at our destination. Then it's the customary stroll down the road to the Farmers Boy, our favoured haunt in this former Roman settlement.
Sadly, we are dealt a blow when we turn up outside and find the fecker well and truly shut. PC questions this briefly, but is soon convinced by the argument from the others that chairs on the tables and the door being locked usually indicates to even the supidest or the most inebriated that the licencsed premises in question is indeed not open for business. So, it's a stroll we take up the road, heading towards the bottom end of town. Searching for a pub that is open and a cash machine, as I've just realised I'm carrying enough cash to just about purchase a pack of polos. Oops.
We finally find a place a few minutes walk away that has boards out advertising breakfast. Which is promising. Fortunately, this gaff is a tadge less closed than the FB was and we partake in a quick round to wet the whistle. Bravely and to shut up the PCWindy sobriety based moans, I try a pint of some german wheat beer. Which whilst it fails to make my kidneys drop out, it does go down really quite slowly. Seems my taste buds might be out in sympathy. Our next stop is the high street, where money is procured and we head for a pub on the corner, where Windy via PC manages to break the large screen tv by requesting the Chasetown – Cardiff cup tie be shown. Unfortunately, in flipping through the channels to find a game that isn't actually being broadcast, the barman somehow loses the signal altogether. Windy slumps low in his seat in the hope no one will notice it was the bloke in the green & white shirt that asked for the channel to be changed in the first place. Helpfully, PC & I point this out quite loudly several times, just to make him feel more at ease.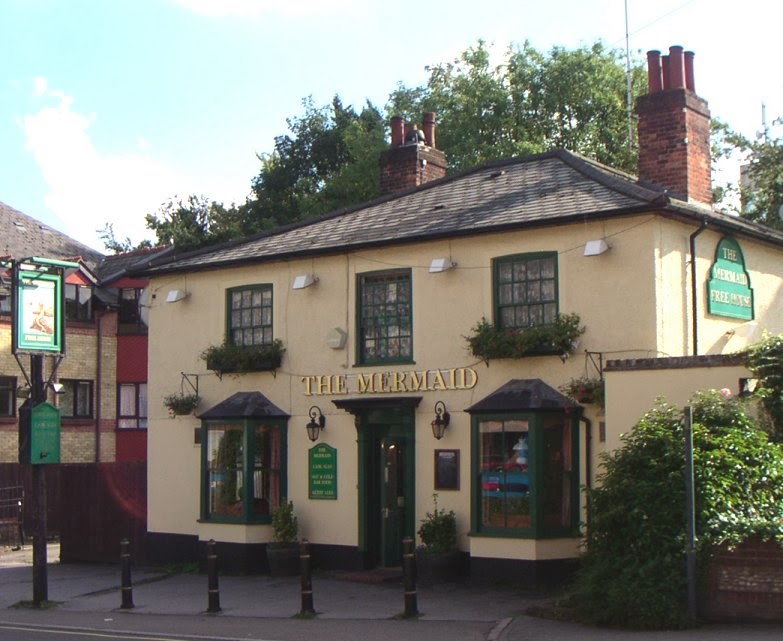 A Gandermonium favourite…..
A quick drink here and we head on up the hill towards the ground and another Stalebuns favourite, the Mermaid. Where Millsy famously upset one of the locals by calling him a wanker as we departed following a 'discussion' over a disputed result a couple of years back. Still, the beer selection is good and the clever t'internet based jukebox keeps us amused for ages. But before long, it's game time and we amble a bit further up the road to Clarence Park. One quick visit to the bar (and a J20 later for me) we're back out in the cold damp January air for probably our biggest game of the season so far. It seems the team is the same as the one that finally got that desperately needed and long awaited first home win on NYD, which is good as we really haven't got anything to field that's any better.
Just to make the occasion a bit more miserable, the rain starts to fall as we kick off and a stiff chilly breeze helpfully blows it into our faces. Which is nice. Slightly nicer is the contingent from Stortford who have decided to waste their day off by coming to watch this 6 pointer (by their reasoning, relegation games tend to be exciting!) no doubt feeling a little guilty about the 3 points they disgracefully thieved off us prior to Xmas, they're hoping that backing us today will suffice as a penance.
Less nice though is the way we start this huge, massive, gargantuan, utterly vital to our survival bid, six pointer. As we start like complete retards who've never seen a football before. Whilst neither side seems like they are particularly up for it a couple of days after the New Year, at least the home side are giving their latest caretaker manager bloke reason to be happy by trying to press forward from the off. A couple of early corners setting the tone for what will be a somewhat frustrating half for those of us with that rain blowing in our faces.
That frustration briefly turns to despair 5 minutes or so in. The defence is caught dozing and a short corner from the left is played in. The ball lands around the penalty spot and kicks up, striking an outstretched arm. Now, from my spot at the far end, I don't have a clue who it hit, but it was definitely an arm! Of course, the ref spots it and points to the spot.
And now we are fucked.
The hosts top scorer and skipper steps up to take the kick and tries one of those clever, fool the 'keeper, stuttered type run ups. Unfortunately, as he stutters, it appears he not so much completely forgets what he intended to do with the pen, more "what the fuck is a penalty? Who am I and where am I?" and proceeds to stub a pathetically weak effort perfectly into the arms of Wilson. Having not moved a single inch from his position dead in the centre of his goal. What the fuck Was THAT? Not quite as stylish as Antonin Panenka there chief!
At our end, some celebrate the um…..well, whatever it was (as it's far too shit to be labelled a 'miss'), whilst some stand there laughing nervously like they've just had a near death experience, the rest just look at each other in bemusement. I personally feel quite proud at having witnessed a piece of history. Like those who remember where they were when kennedy was shot or man landed on the moon, in years to come I'll be able to tell my grandkids that yes, grandad was indeed actually there when, without a doubt the worst penalty ever seen anywhere in the world in the entire history of mankind was taken. Sadly, any expectations we may have had that such a huge, albeit hilarious, bit of luck would kickstart the afternoon for us prove misplaced as we continue to toil away with very little success at all. It's not until the 13th minute that we get something to shout about. A throw on the right is teed up for Sammut and he swings the cross in to the far post. McBean is stretching, but manages to direct a header back across the face of goal. But a defender manages to recover his ground and nod clear just ahead of the arriving Jason Henry.
Clarence Park…..
City pretty much boss the rest of the half, but despite showing some promising signs, they really fail to create a huge amount in the final third despite a very healthy share of possession and territory. Still, why should they need to when we're around to set them up? After 25 minutes, a long ball forward is rather casually chased down and as Wilson comes off his line to gather, Haverson lifts the ball over him under pressure from an attacker. Fortunately for us, the effort plops wide of the near post, rather than inside it. 10 minutes later, St Albans are cursing a double miss. A silly free-kick conceeded out on the left is played high into the box. A Yellow shirt gets up highest by the near post and directs a firm header down. It looks in, but somehow, Wilson gets down to palm it onto the inside of the post and it then trickles along the line without going in before Scooby thrashes it clear in the centre of goal.
Oh god, I really don't think I can take much more of this.
Still, we have at least something to give us hope before the whistle. Twice in the last couple of minutes Honey delivers excellent balls into the box, first from the right, then the left that cause problems. The first is cleared desperately after a poor touch by the defender plays it dangerously back across the box and the next picks out Jason Henry at the far post. But try as he might, he can't quite stretch several more inches of height out of his diminutive frame and can only direct his header wide of the upright. Ho hum. Good news is that at least we'll have the fence at our backs to keep us drier in the second half. Our rent-a-crowd from Stortford try to remain positive about the fare dished up in the first 45 and offer words of encouragement along the lines of "At least you're not losing!". But we all know it, we were shit and a huge improvement is required after the restart.
The second 45 gets underway and lacks even more than the 1st half. The hosts are still the better of the 2 sides on display, but thats really not saying much! In fact, it takes until almost the hour mark for us to fashion the first really threatening moment of the half. A quick throw on the left and a 1-2 is exchanged, which plays Alimi in by the byeline. He clips a teasing little ball into the danger area, but there's no one near post and the 'keeper claims the cross without too much fuss. Within a minute, St Albans really should be in front. A quick break down our right flank catches us napping again. The resulting low ball across the 18 yard box is just begging to be tucked away, but the no9 charges in and blazes well over the target. Bizarrely, this earns him a corner. The officials no doubt feeling sorry for him due to the quality of finishing. But as the half wears on, it seems both sides realise what is at stake and things start to pick up a little. Which is a huge improvement in our case. On 64 mins, a Paul Honey free-kick from the right isn't cleared and Scooby tries his luck from about 18 yards. But he doesn't quite catch the shot sweetly and the 'keeper is able to gather low at his near post without too much trouble. It's a start I suppose.
Alimi then has an effort soon after when after good play down the left, Dundas lays the ball into his path 18 yards out. But his first time shot flashes a couple of feet wide of the near post. Despite this, it's still the home side you feel are more likely to score first, if at all. And they go close again on 66 mins when their no4 is allowed to carry the ball miles upfield and across from the left to the right pretty much unchallenged. Thankfully his low strike back across goal is wide of the far post, with the ref awarding another of those mysterious corners. Ernie makes a change and replaces the ineffective Maskell with Greene, but this only serves to weaken the midfield more and inside a couple of minutes, we're looking like we'll be lucky to get out of our own half, let alone try & win the game before the final whistle.
One such example occurs with 20 minutes left when Wilson tips over a thumping 18 yard volley after we're simply not strong enough on the left and lose possession. Understandably we're starting to get a little bit nervy by this point and on 71 minutes, we're even more nervy. Greene and the Stlaebuns no8 tussle strongly for the ball out on the right touchline. Nicky must be a tad overeager in his challenge as the City man suddenly lashes out, catching the U's man a glancing blow on the top of the head. Stupidly, Greene reacts and takes a swing himself, but misses. Even more stupidly is that fact that they've started swinging their handbags within 5 yards of the ref and in plain sight.
He instantly flashes a red card, but doesn't seem to direct it at anyone in particular. And for a few horrible moments, we think only our man has been dismissed as Nicky trudges off. But thankfully, the ref makes the decision clearer and the no8 is soon on his way too. And we breathe a sigh of relief.
But that relief only lasts a short while. With Ottaway stripped and waiting to come on as Ernie goes for his last throw of the dice, we go and concede that dreaded goal. A manic goalmouth scramble after 72 mins gives us a taster as we somehow block one header on the line and throw bodies desperately in the way to block 2 follow up efforts before clearing, but with a tad over 15 left, the goal arrives. The defence fails to clear it's lines and the confusion at the back leaves Sammut exposed. The Saints take advantage and attack that flank. Getting to the byeline, the cross is clipped in perfectly for their man to arrive at the far post and head past the desperate dive of Wilson from no more than 2 yards out.
Oh fuck.
While the celebrations take place at the far end, we mostly stand and try to work out just how big that goal could prove to be. The general consensus is that the fact it effectively puts us right back where we were before Xmas, 6 points behind this lot and about 10 from safety means that, yes, we are indeed in a whole load of shit. Harry comes on anyway, with us now definitely needing a goal and his first job is to help restart from the centre spot. But strangely, the goal seems to trigger a nervous reaction in the hosts and a renewed vigour in our lot. As with the midfield now a little less congested, the ineffective McBean off and two forwards attacking, we start to show some life. The minutes tick by very slowly as we desperately try to drag our lot on with all the support we can muster. And it works, as with 10 minutes left, we're once again hauled up out of the poo by the man who's done it so many times already since signing. Craig Dundas.
The big fella has had a quiet day by his standards, but his strength and persistance finally pays off. Bringing down a high ball forward, he holds and waits for possession, before turning and looking to offload. Alimi gives him the best option as he zips past, darting into the box. Dundas obliges by threading a perfect ball into the channel for him, but just as Bash takes a touch, the no2 cuts across and checks his run, knocking him flying. PENALTY!!! The ref takes a long hard look and points to the spot. Thank christ for that!
He then does us another favour by pulling the offender to one side and showing him a second yellow for the challenge, followed by a red. What makes the card so comical is the bloke's ridiculous booking 15 mins or so before for an incredibly childish bit of dissent. Still, who gives a shit? Advantage us! Ta ra mate. He drags it out though, taking an age to trudge off as Craig stands over the pen. But eventually he gets the nod and despite not striking the spot kick particularly well, he sends the 'keeper the wrong way and levels the scores, much to the rabid delight of us lot on the terrace.
Right, 10 of us, nine of them with 10 minutes left? I make that 3 points o'clock gentlemen. NOW GET INTO 'EM!!!
The hosts are understandably a little bit stunned by events and really start to struggle as we try to make that man advantage count as much as possible and throw ourselves at their defence. All the Stalebuns players can do is to try to fend off our attacking efforts and hammer the ball as far forward as possible to clear their lines whenever possible. To an extent, this does work, although Honey does have a good chance to snatch the win inside the last 5 minutes when a revitalised Dundas flicks on down the right, sending the midfielder scampering in behind the defence. He hits a fierce angled half volley from about 10 yards that the 'keeper does well to push away. Then with the 90 minutes expiring, Dundas twists and turns his way into the box, working a shooting opportunity, but off balance slightly, he can't quite get enough behind it and the 'keeper manages to smother the effort on the edge of his 6 yard box.
Injury time ticks by and as we're starting to think it's a point apiece, this stupid season gets just that little bit stupider. A desperate ball forward is headed away even more desperately on the edge of the box by a defender. It drops about 25 yards out to Ottaway to the right. He brings it under control and advances forward, only to find his way barred by 2 yellow shirts. He turns inside, but finds his options limited and as we start screaming for someone, fucking anyone to get out there and help him, he turns 180 degrees and simply skips between the two men, both offering a half hearted challenge at best. Harry scampers into space and into the box before looking up and picking out the figure of John Scarborough, of all people, towards the near post. There's an almost interminable silence as the away support holds it's breath (and no doubt tries to work out just what the hell Scooby is actually doing there!) and then explodes in complete and utter delirium and Scarbs cooly slots beyond the 'keeper and into the back of the net.
YEEEEEEEEEEEEEEESSSSSSSSSSSSSSSSSSSS!!!!!
Naturally, things get a bit mental here and a mass bundle ensues at the fence as Scarbs, Dundas and Jack Haverson all pile in to join in the celebrations where grown men are leaping bout like 2 year olds after too many E-numbers and generally losing their minds. It's brilliant I can tell you.
We somehow manage to see out the last minute or so of stoppage time and when the final whistle blows, it's back to jumping about like idiots. The team are pretty pleased as well and once more pop over to join in the celebrations. Mostly because with that result, we've finally moved off the bottom of the table. After a couple of minutes, the euphoria seems to die off and quite a few of us stand about for a little while, a bit bewildered by it all. I think it's the fact that we'd played really quite poorly, yet somehow managed to steal a massive massive win in what was a very important game. Still trying to figure things out, we wander off up the Mermaid to celebrate, with the Stortford lot in tow. When we get there, they reveal the good news that one of the lads has managed to capture not only the penalty, but the winner as well on his mobile phone!
Suddenly, about 20 bluetooth functions are switched on and waiting to receive.
Once distributed, Windy in off outside for a fag and god knows what else while watching numerous re-runs of the goal on his trusty Nokia. Right, iffy kidneys or not, I need a fucking pint. Barman! A few drinks are sunk with our guests from Essex and it suddenly dawns on us that the biggest question of the day still remains unanswered. Just what the hell WAS Scooby doing that far forward??? So, we decide it must be answered and Millsy obliges by dropping the big man a text asking exactly that. A few minutes later and a call is recieved from the skipper with his explination. Apparently he's been laid up all week with flu and a dodgy chest, so he was quite simply knackered and couldn't get back! I think the term he used was 'Lungs like Dot Cotton'. Although, scoring isn't all good news for him, it's already cost him his goal bonus in buying a round for everyone in the bar afterwards!
Price of fame Scarbs old son. Price of fame.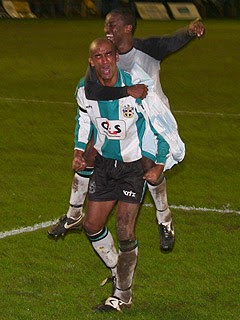 Scarbs yet to discover that his win bonus is as good as spent…..
The Stortford lads eventually take their leave, having pretty much made up for the pre-xmas mugging at GGL with their support today and providing some pretty good clips. We're not that far behind, popping along to the station in typically 'just in time' fashion to catch a train all the way back to sunny Sutton. The rest of the mob are up for picking up a chinese and diving into the club for a scoff and more beer, but with my lower back reminding me that booze is really not a good idea this evening, I elect to instead get back to the High Street and get a cab down to an old mates 40th birthday in Ewell. Everything goes to plan, even getting into the fortress like TA centre where the do is taking place, but I'm slightly depressed in my not-really-drinking state to find that the bar is quite possibly the cheapest in the known world. Still, at least I've not got to suffer watching the other bastards getting completely shedded for about 2 quid. It's not much, but it helps console me as I sip my J20. Still, there is the really rather well stocked buffet to hoover up and I am absolutely starving as it happens.
Dear god. Only another 4 months of this football relegation battle type nonsense to go. Oh well, where's my mobile? Just one more look at that clip of the winner……