Another postponement, another dull old archive report. This weather is a bit of a pisser really. I think we'll need to have a word with the league about this 3G pitch stuff, as if we're going to get 3-4 weeks off every winter because of our new found monsoon season we seem to be getting we're gonna run out of archive stuff pretty quickly. We hope you like this one as I had to shift the Smugometer out of the way in the basement earlier to get to it. No fun when you've been on the piss two nights running, it's bloody heavy.
For today's little skip down memory lane, we're off almost as far back as we can possibly go and a somewhat lengthy trip up to Morecambe in the Conference National. Where we got soundly bummed. What fun.
MORECAMBE – 6 SUTTON UNITED – 2
Conference National – Saturday 4th December 1999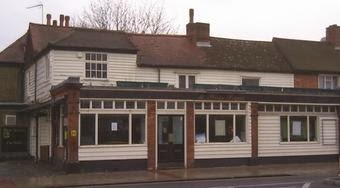 A long day lies ahead…..
So, just 7 days after doling out a welcome spanking to Salisbury in the Trophy, it seems it was our turn to get a right good hiding. The result was probably a little unfair given the U's overall performance on the day, but it did expose the rather woeful lack of cover we have in defence. Also, as this was the longest trip so far this season, this is gonna be the longest report so far!! So I'd get the the kettle on if I was you……
It's 8am and the Sutton United formation drinking team assembles outside the Sutton Firkin for ourlongest schlep of what promises to be a long old season. Today, we're bound for the apparently snowcapped hills and dales of 'sunny' Morcambe. Apparently the weather had been a bit shit oop north over the last couple of days, so we thought it best to leave our shades and sun lotion at home and instead put another warm pully on.
The journey passes in a blur and precisely 3 hours later, we've rolled into Preston looking for refreshment of a liquid variety. Sadly the boozer we want isn't open, however there's a cracking little cafe opposite and we instead decide to line the stomachs and scoff a late brekkie of Sausage & chips, washed down with a lovely steaming mug of northern tea. Then we dart back over to the now open pub for a swift pint and a bit of a watch of the Arsenal – Leicester game. Next stop, Lancaster!
This beer stop is a bit of a milestone for yours truly. As you may know, we 'collect' Firkin pubs as we roam the English countryside in the name of Non-League football and the one in Lancaster just so happens to be my 100th! It turns out to be an old church housing the pub along the main road and it's bloody huge. A truly memorable place to bring up the century. Because of this, Bob calls me a jammy get, probably out of jealousy 'cos his 100th was some right dingy shithole in a desolate part of Wolverhampton. Unlucky mate!
After a couple of beers in Lancaster it's the short drive a little further up the coast into Morcambe itself. The ground is quite impressive. Covered on 3 sides, with huge terracing behind both goals. Ah! Time for a swifty before kick off? Where's the bar?
As Bob gets the round in, a huge hulking local taps me on the shoulder. "Any big black lads in your side?" he asks. Er, that's a strange question! Despite this, I inform him that we only have Mark Watson and he's "not that big". "Nah mate, I saw a huge bloke get off yer coach" says my new found friend. Then it clicks. Ah! he means Nko! "He's normally a sub, you're alright there!" I assure him. "Good" he says. "Our lot can't handle big black blokes". That's hand to know! Now, where's JR? This could be a match winning bit of intelligence. Or maybe not.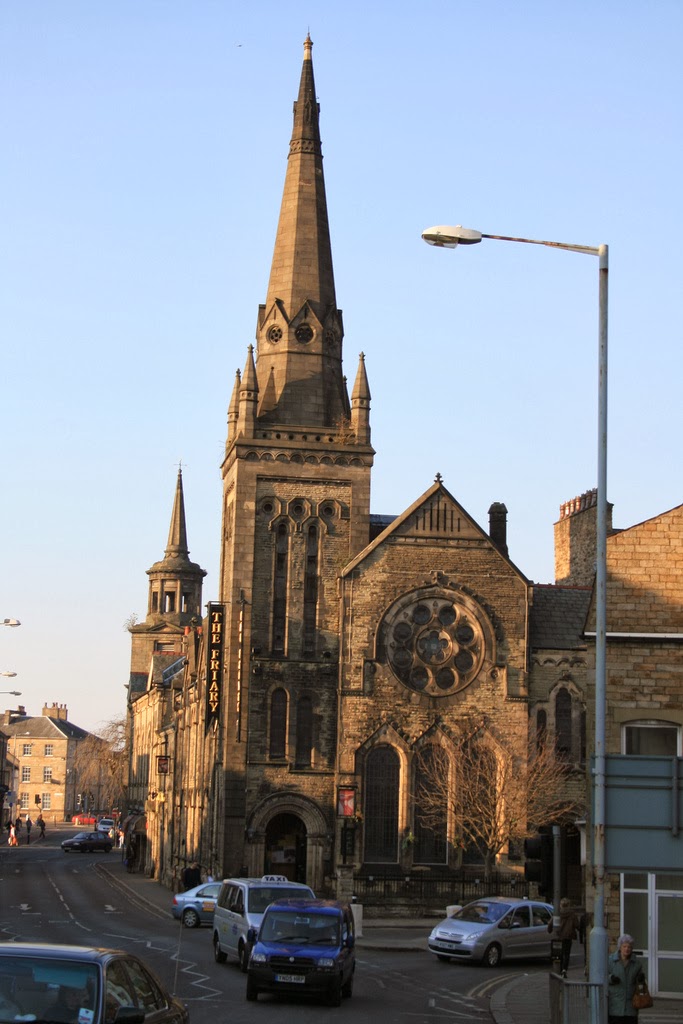 Quite an understated place…..
So to the game (at last!) No big shocks in the line up, with Bazza still suspended, Riley filling in at centre back is our only change. We kick off and then spend the first 20 minutes bored rigid by a severe lack of any action. Most of the home sides attacks are floundering on our offside trap. "That's bound to go to ratshit at some point" says Col, getting knowing nods from all. Then Morecambe have their first real attack. A break down the flank sees the wide player cut in and fire a shot dangerously close to the far post. A couple more of these opportunities is then followed by the 'Shrimps' taking the lead. A corner is flicked on at the near post and Eastwood arrives to head home unchallenged from 8 yards. This at least fires our lot up and we start to attack a little more interspersed with swift counterattacks from our hosts. Our best chance falls to Harford 10 minutes from half time when Watson heads down a Skelly cross. I'm not sure if he tried to flick it or volley it, but whatever it was the ball ended up in the arms of a grateful goalkeeper and not the back of the net.
Then the U's charitable side rears it's ugly head (also known as 'It's nearly half time, let's give the oppo a goal'). Our defence goes to sleep, they catch us rather flat and Mr Eastwood is waiting to slot the ball past Howells from a low pass into the box. Another poxy goal right on half-time. If I had a pound for every time that's happened this season, I'd have, ooooh, about enough for a couple of rounds.
Chalmers buggers off to the bar to obtain pies for the crew. Mark back home texts me to say Chelsea are 4-0 down at Sunderland. Ha! Just wait till he gets back with the grub! Then I decide I can't wait that long, so I call him on his mobile. Everyone else laughs their arses off as they watch poor old Chalmers reaction from a distance as I break the news. It involves 2 fingers. Pied up, we stagger round to the other end to await the restart as PC launches into a tirade about "Fucking Notherners and their fucking gravy with everything". It seems he wasn't impressed by the offer to have some with his pie. Who says we don't immerse ourselves in local culture?
When the action does resume, it's quite apparent that JR has burned a few lugholes with his teamtalk as the lads seem a lot more up for it. Just how up for it they are is made apparent just minutes in. A decent move down the left and Sears plays a ball towards Sammy on the edge of the box. The little forward steps over the pass and allows it to run to Watson just behind him who has a clear sight of goal and his firm low shot spins in off the near post and nestles in the far corner. Woo Hoo! Meanwhile, the Morecambe back 4 look a little bemused by our petulant display of resistance. The goal definitely rocks the home side as the U's really start to look half decent and a few more promising moves later, we get the feeling we could possibly get something out of this weekend other than a storming hangover. Then, just after the hour we win a corner and JR takes the opportunity to introduce Nko to the action. We chuckle amongst ourselves, remembering my brief conversation in the bar with the large bloke.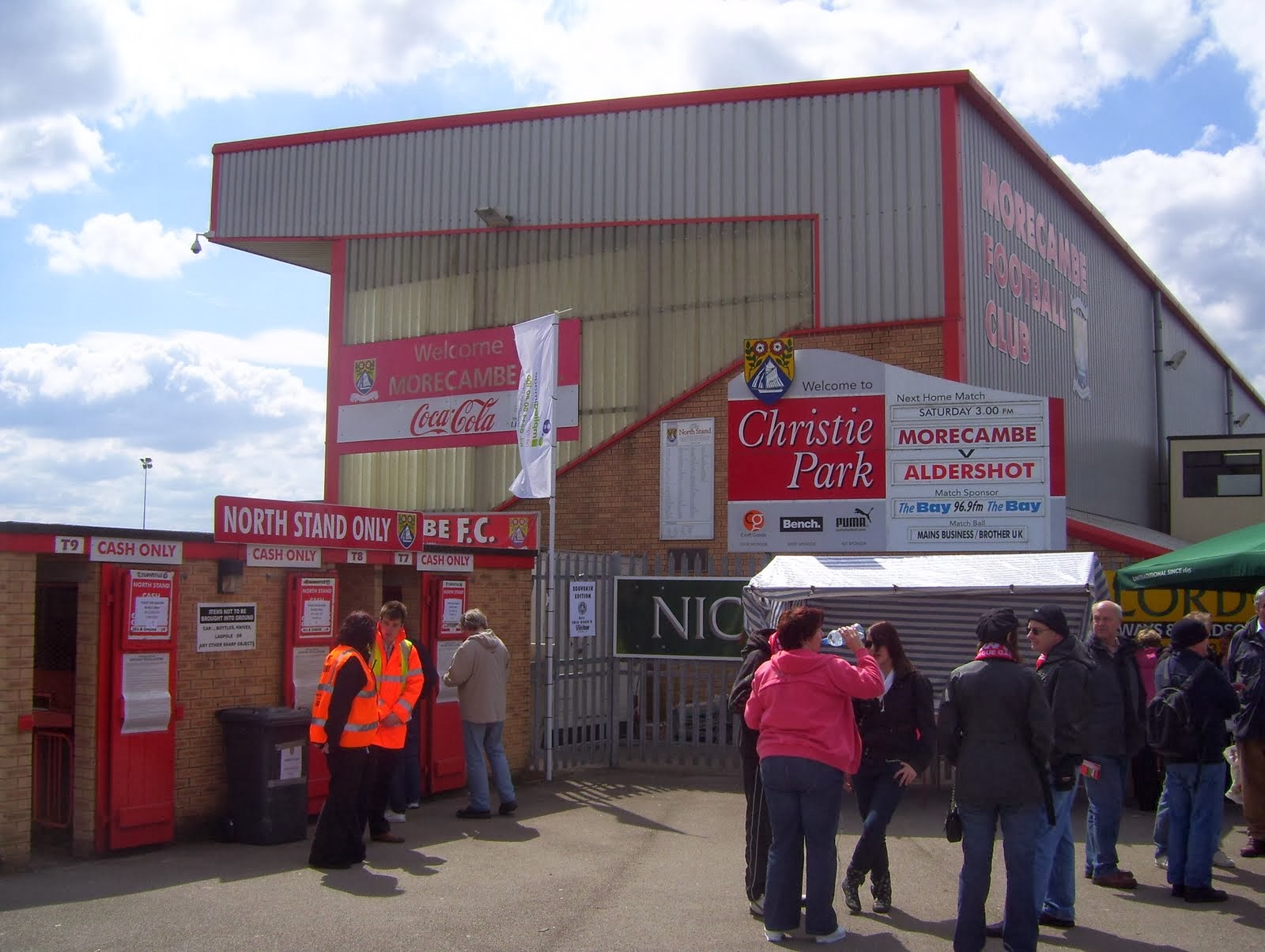 Welcome to Christie Park….
We chuckle a little louder when the entire Morcambe back four takes a look at our huge substitute. It breaks into hysterics moments later, when it appears the defenders still have their minds on Nko. As they're all stood looking at him, probably thinking "Fuck me, he's a large chap" the corner is pinged to the near post, flicked on and Andy Riley arrives totally unmarked to head powerfully down and past the 'keeper for 2-2. Understandably we all go mental (well, if you'd travelled 285 miles, so would you) and bounce about on the terrace a bit.
Now we're seriously looking like we'll win this. The home defence looks a little ragged and we're getting plenty of time on the ball. Paul Harford almost nods us in front when Brookers cross has him challenging the 'keeper in the air. He wins out, but his cushioned header drops a fraction wide of the post. However, we'd forgotten Morcambe's pacy frontmen and our offside thingy and they're getting more and more threatening as the moments tick away. They eventually stready the ship and get the lead back when the midfield fails to make a challenge, backs off and exposes the defence. Riley makes a telling tackle on the edge of the box, but the ball drops to Jackson and he crashes the ball into the top far corner. The 4 stewards stood at our end go nuts. You lads don't happen to have relatives in Yeovil do you by any chance?
Still, tather than fold, the lads roll up their sleeves and get stuck in. Jimmy Dack makes his only serious contribution in one attack. His volley 8 yards out from an angle beats the 'keeper but shaves the top of the bar. But almost straight away, a lightning attack catches out the less than pacy Riley and Berry at the back. Drummond tears into the box and hammers the ball past a helpless Howells in off the underside of the bar. Now the home side really have their tails up and 3 minutes later it's 5-2. Another ball over our high defensive line is latched onto by Smith and he draws Howells before slotting home. In between this little flurry of onion baggage Howells has been staging another act in his one man crusade to keep us in the Conference with 3 brilliant stops from one-on-one's to add to the 3 wonderful saves he'd made in the first half. Sadly, despite his outstanding efforts our gallant goalie is left exposed one more time by his defenders. A badly organised wall faces a free kick from 20 yards out. Lyons steps up and thumps the ball round it and beyond Gareth and into the far corner. Oh dear.
Still, to be fair, despite having had our joy snuffed out by such ruthlessness, the boys keep trying to play and pressing for another goal, maybe just to give us loons behind the goal something more to shout about. Unfortunately despite their valiant effort they fail in their quest and this match will no doubt just be seen by an outsider as a really good hiding. (OK Yes 6-2 is a hiding, we admit it). But it really doesn't give credit to how hard the boys really worked. To be honest, the 'shrimps' forwards were on fire today and they'd have given anyone a good going over, but I just can't help wondering what would have happened if we'd gone 3-2 up or levelled at 3-3. But that's life eh? Ho Hum.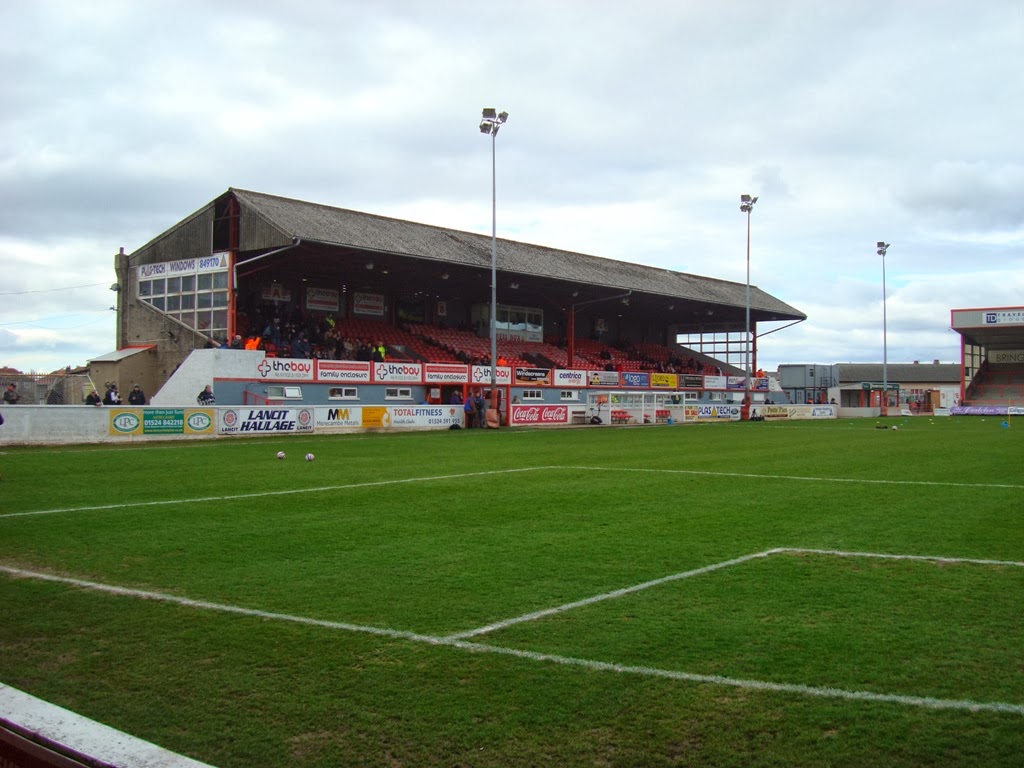 Anyone seen Jim Bowen yet?
Right, football done, it's time for the proper piss up to start. Given the distance from home, we've arranged to stay overnight at Bob's uncle's house in Sheffield. So we decide to head down towards Manchester and then hook a left over the Pennines. Sadly we fuck it up somewhere along the way and manage to end up in Huddersfield rather than our planned and hoped for destination of Barnsley. Still, not wishing to waste the opportunity, we locate the Huddersfield Firkin and scratch it off the list! Right, now are we absolutely sure this is the way to Barnsley?
Firkin pubs aren't renowned for being trendy watering holes full of 'Gary & Tracy' types, they're more your studenty, pissed up Sutton supporter kinda boozer. Not the Barnsley one. We walk into an atmosphere best described as a tarts windowbox. Have you ever walked into the perfume department at a big store and choked half to death on a lethal cocktail of Yves Saint Laurent, Tommy Hilfiger and Calvin Klein?? Well that was just like this pub. And that was just the blokes. It would have been less offensive if someone had tear gassed the place. So, choking on the noxious fumes and blinded by 'shiny shirts' as Col calls them, we stagger hankies over our faces to the bar. There we find that the choice is again a wonderful selection of either Tetleys, Tetleys or errrr, Tetleys.
I think we'll have 4 pints of Tetleys please.
Whilst we sup, sat by the window gazing out onto the bottom end of Barnsleys main drag, I educate my colleagues on the meaning of the term 'Barnsley overcoat' by pointing to the streams of birds tottering down towards the brighter lights in near freezing temperatures wearing the sort of outfits that might make you enquire "Aren't you chilly in that love?" at the height of summer in Ibiza.
Eyes streaming, we escape the lethal Brut atmosphere of the pub and head next to our digs for the night in Sheffield, where 3 more Firkins await. It's a somewhat painful journey for me as I spend it nursing a mangled hand after Bob shuts the car door on it. Fortunately, he's better at navigating that operating car doors and thanks to his vague knowledge of the area he guides us in. Sadly, our first port of call, the 'Floozy & Firkin' is no more. Another victim of the great Bass bastardisation of the Firkin chain. Despite this we have a beer in its memory. Tetleys of course, but the smoothflow shite rather than proper stuff (which is spectacular as it manages to make an already crap beer even worse). Mine is particularly bad and leaves me feeling a bit rough. We hit the last 2 Sheffield Firkins (more fucking Tetleys of course) and retire to our lodgings via the take-away.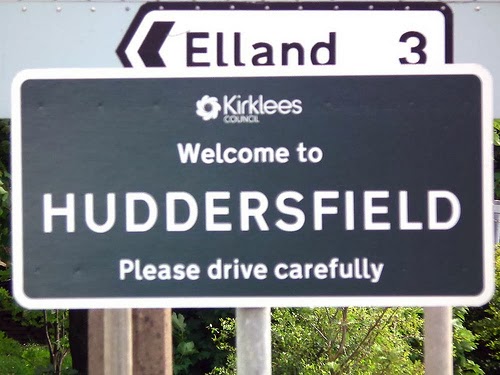 Oooops. Wrong turn….
Next morning there's some fuzzy heads, but that's soon solved by a vast Colin fry up and industrial quantities of tea. We then thank our landlord for letting us make his sitting room look scruffy for the night and sod off home down the M1. Via 2 more Firkins of course, with Ashby-De-La-Zouche and Rugby also being crossed off the ever diminishing list. And thankfully without having to suffer yet more Tetleys.
This travelling lark is hard work. Still, at least we're at bloody home next week….