Ah, the Surrey Senior Cup, the hostess with the mostest, the bounty of the county, the one true prestigious trophy to have in your cabinet at the end of the season.
It is in this competition that I hold dear to my heart that tonight's game was going to played. For years now I've loved and looked after this cup waiting with baited breath to finally join level with Dulwich Hamlets on sixteen wins apiece. Ever since Duke was taken down to the "theatre of dreams" by Father Duke at the back end of the 92/93 season to see us win against our so called "friendly" rivals Carshalton have I seen us get closer and closer to Dulwich.
Wins in 94/95, 98/99 and 02/03 have seen us appear euphoric with victory. The bitter taste of defeat in the finals of 93/94, 03/04,09/10, 11/12 and 12/13 have only but strengthened my desire and commitment to the true cause. That is to say that the Surrey Senior Cup is not the only competition I care for. I was blessed enough to see us claim a Full Members Cup in 95/96 and an Isthmian League Cup in 97/98. It was a shame I wasn't around for the London Senior Cup and the Challenge Cup wins.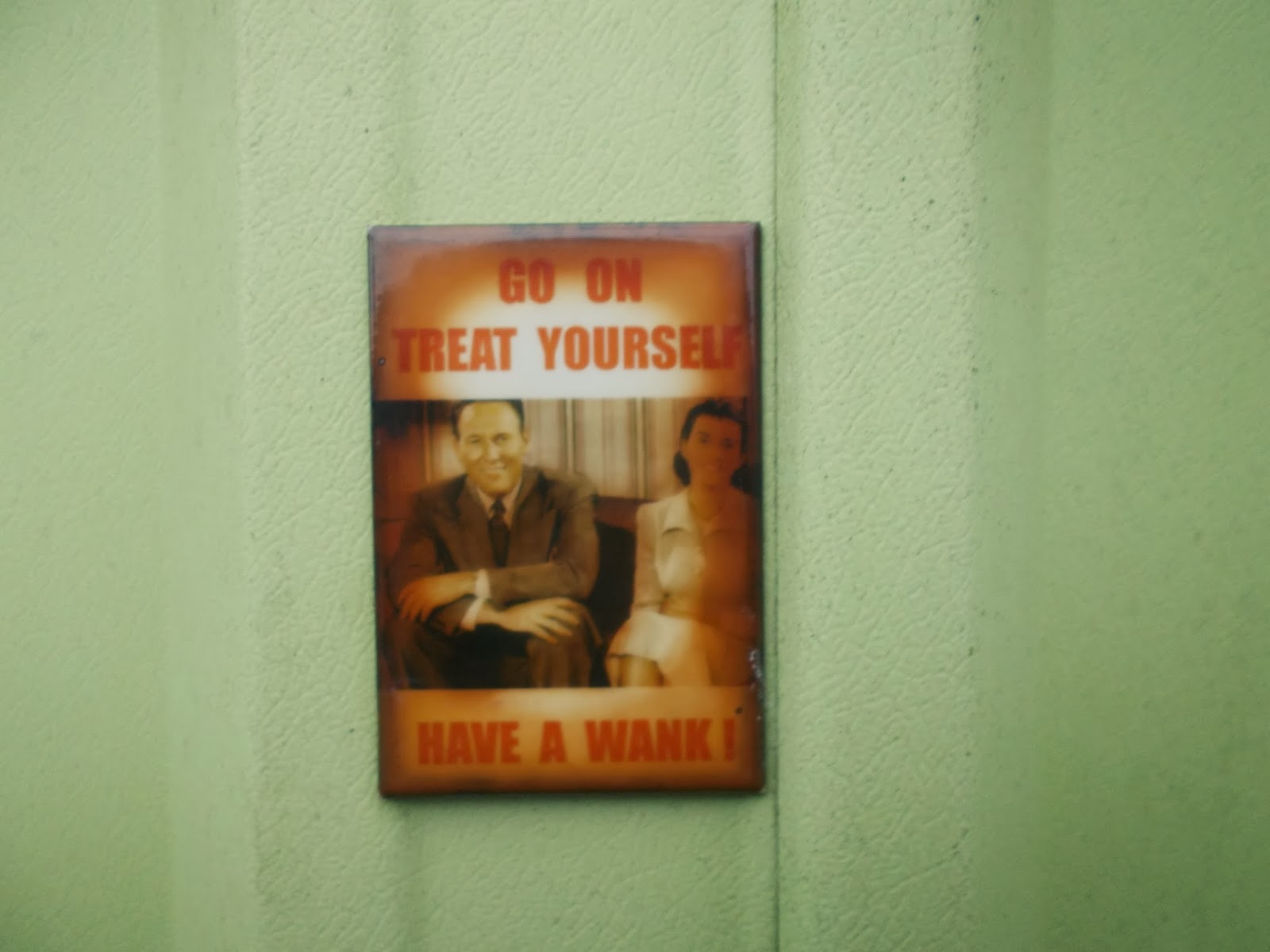 No wanking after this result….
It has always amazed me that my passion for this trophy has never seemed to be passed onto those around me. Don't worry I won't give up on that as some of you will eventually get infected, just to get me to shut up about it. But the way that I saw this forthcoming game was from two stand points. The first being that at this current point of time we haven't won a game since our FA Cup replay against Hemel Hempstead on 29th October. Since then we've played six, losing three of them, to the point that we now have lost more games at home then away (so much for fortress Gander Green Lane me thinks). So to get any win to stop this temporary blip in our season has to be a positive, regardless of the cost. The amount of times that I've been told by people that "I'd rather win the league then the SSC" which really is not a fair comparison. I can see a difference between a forty-two game season and a five match cup competition. But let's not dwell on that too much and head off to the K's match.
The buzz before the game had started early, well for me at least. That is because as I leave work I am forced to go past Kingsmeadow. But this time it felt different, Why? Oh yeah, we were drawn away at our rivals, but for some reason the game had to be played down the lane that night. So I flip the bird at the sign and speed off into the sunset. Once I've arrived home the rituals begin. The car insurance can wait, my coursework has been put on hold and Christmas has been temporarily suspended as there are more important things to worry about, where is my bloody scarf!
I leave home a little early and head off down the A217, contemplating weather the roadworks are still in place down Gander Green Lane. At this moment the old Duke box in my car decides to play The Hives "Hate to Say I Told You So" from 2002 and I realise someone told me at the weekend that tonight's game would be like the Dorchester game last Saturday. You wait till I see that wanker! A quick bevvie and I'm out there like a shot excited by the news of the line up:-


Badiali, Nelson, Rents, Clough, Downer, Sinclair, Haysman, Dundas, Slabber, Taylor, Binns
Warming the Bench tonight:- Riviere, Telfer, Folkes, Fuseini, Shaw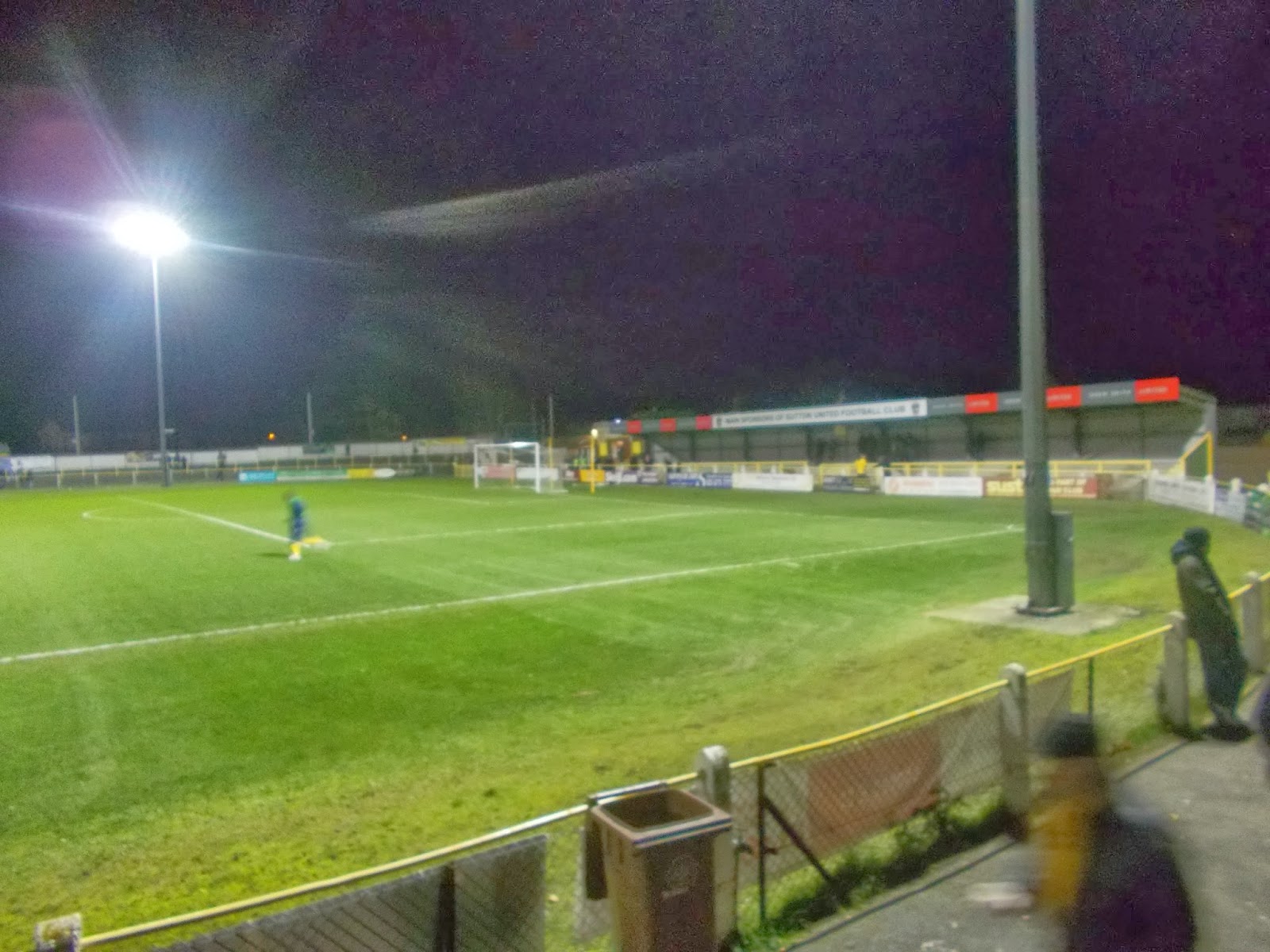 GGL under lights. Dreamy….
I wander past the tunnel when a loud voice from the stand summons me nearer, it Baker Junior asking me how we should be announced (Well I am the ball sponsor) I reply in perfect English "The Duke & Juan Shit" are you sure the reply was, well of course I am. It was just after this point as I made my way past the tea stand that I hear the words "You Fat Ginger Cunt!" I look towards were the Ks supporters and I see them shouting at Shaw who was warming up. Oh dear, I think the special bus has arrived, I quickly look for a certain someone else who didn't seem to be about and next thing I know Shaw is having a few words with the reprobates. I wouldn't add to this but half a dozen on one is not really a fair barney, and handbags at dawn ensue. Every time Shaw tried to walk away another one pipes up, one person in particular. Don't worry no doubt they will claim their shit don't stink as always. Its funny really but the Ks wing nuts have had it in for a certain someone for an "alleged" incident over a decade ago and every time we meet they do seem to not like us that much.
The players arrive on to the pitch to the usual chants from the Ks support of "Sutton shit" and "Piss and Shit army" plus the now boring "We 'ate Sutton!". Some ticker tape has been thrown in the air and an attempt has been made to throw thirty toilet rolls onto the pitch. I say attempted because none made it onto the pitch proper and a half dozen even hit the roof of the terrace! The first half was very much all us, the only incident I could remember from the other end was when after a mix up between Badiali and one of his defenders either side of a Ks forward the ball eventually was put towards goal with I think Clough scooping the ball off the line. Down our end we got to see plenty of chances, the difference between this half and the one against Dorchester is that most of the cross actually made it into the box.
The only let down was the finishing with shot after shot going wide of the goal. The best shot I can think of was the one that Dundo connected with, leading to an outside stretch from Tolfrey (He can't be 26, surely?) down to his right side post. Other shots from Slabber and Taylor never just seemed to go in. The highlight from a rivals point of view is when after supporting their team for around only fifteen minutes a chant of "Can you hear the home team sing?". We look at each other in amazement, are they not officially the home team? Sums them up really. After the whistle goes, the feeling that this could be another Dorchester all over again begin to take root.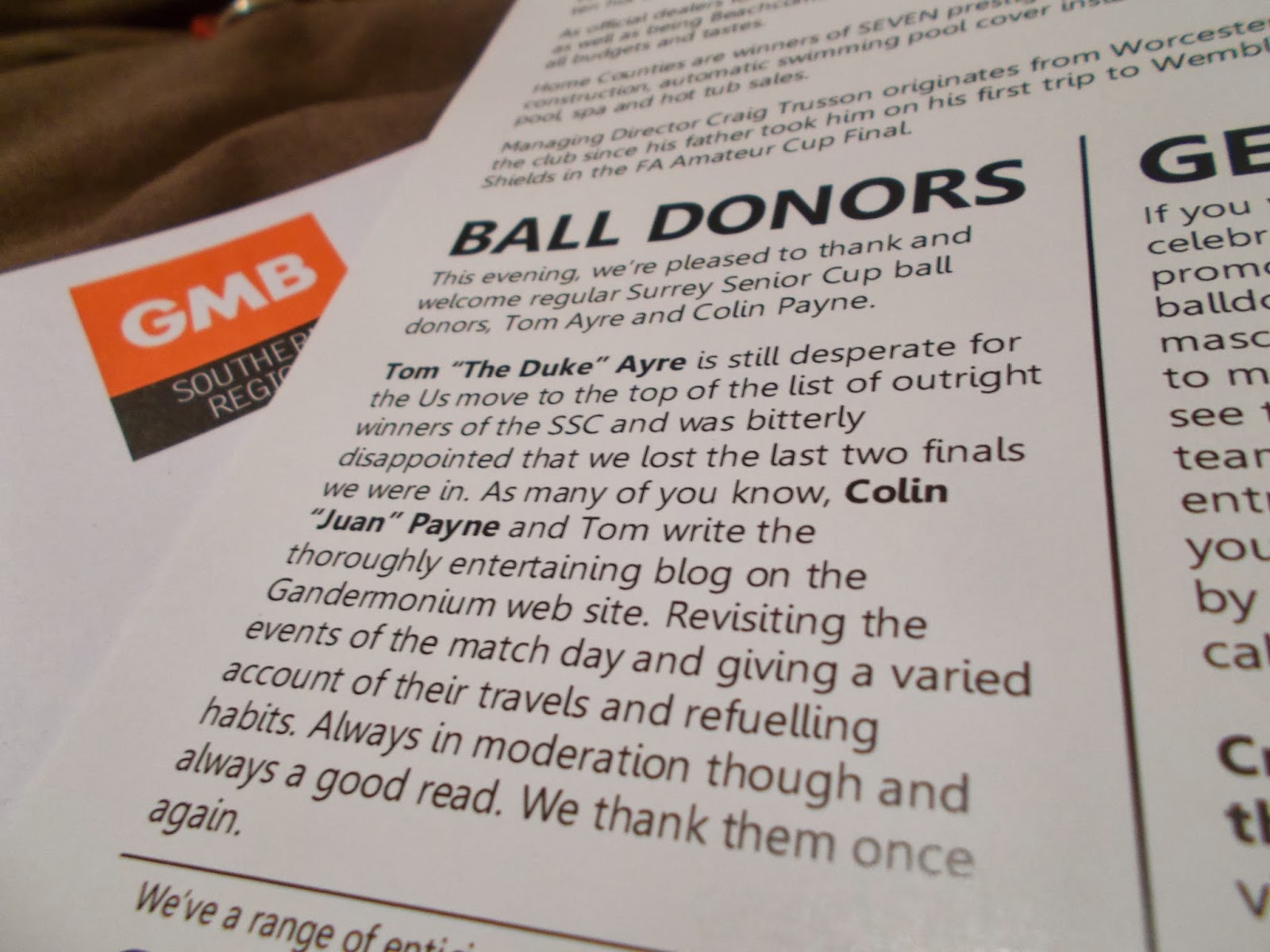 Juan & Dukey add to the list of things they 'donate'…..
Instead of heading to the bar I decided to make a bee line for a nice cup of tea. Luckily the Editor-in-Chief offers to get me one and I take a spot on the shoe-box. This is where we are now regaled to flights of fancy of before the game from a very strange Kingstonian fan. He is clearly not the sharpest tool in the box because why would you do this in front of opposition fans? When he was asked this question by fellow supporter all he could respond to was the "tone" of the question. While this is happening a right argument has begun in the queue for Rose's between some members of the Firm and some of the Happy Valley Ks supporters. One of them had retrieved the thrown bog rolls from the start of the game, maybe he needs to take them home before his mum finds out. Now some of you will be frequented with the term "Godwin's Law" Well to some still at school if you use "I swear on my mother's life" line then you now it ain't going to be totally honest. I mean really aren't we supposed to be grown ups now?, on second thoughts don't answer that!
At half time Binns is taken off for Folkes and lets just say the second half was a total write off. Telfer comes on for Downer and Ali takes over from Taylor. We never really got going in the second half and the writing was on the wall when another defence mishap gave the ball to a Kingstonian fan who slotted the ball home in the 76th minute. A little cheer is heard from the other stand (plus a load more shredded paper and bog rolls) and the realisation that I the Duke will have to wait another year becomes a reality. So onto the man in black and once again he really didn't do anything right by my book. For one thing, how can he give only two minutes of injury time when there were five substitutions and two stoppages for injuries? We are definitely in a blip at the moment and hopefully this might end come Saturday. The ref blows his whistle and that is it. Once again we are out of all cup competitions before Christmas.
Dejected I headed into the bar and a quick one as I didn't want to mope around the place. I spoke to a few of the players and a few of the staff to pledge my unwavering loyalty and then with Maidenhead at home on Saturday I head off to home to cry myself to sleep in the total darkness of despair. I even managed to take a quick butchers at the Ks forum, oh deary me, I might even be commented after this blog goes live, but have you got permission to use the Duke's words I wonder…..
That's Taz unable to see the game then!
Duke
Att. 246