Well, what a shit week that was eh? A rather lame exit from the County Cup, the loss of a well liked member of staff thanks to off the field events caused by utter weapons and then very recent ex-U Michael Boateng being nicked and subsequently charged as part of the match fixing enquiry launched a couple of weeks back. As Totts said on Twitter. "What next? Jenny the Giraffe nicked for possessing class A's?"
Add to this the release of James Folkes and Dean McDonald and the loaning of Jamie Taylor to Eastbourne late in the week and needless to say, there's proper sorry frowns all round.
Still, like the blindy stupid fools troopers we are, we dust ourselves down and once more dive headlong into the hustle & bustle of the Skrill South. But with Juan once more unable to break free from the shackles of love (no permission slip from the missus) and us not wanting to punish the already fragile mental state of Dukey after the Surrey Cup loss during the week, it's down to me to once more step into the breach and shore up the currently creaking edifice that is Gandermonium.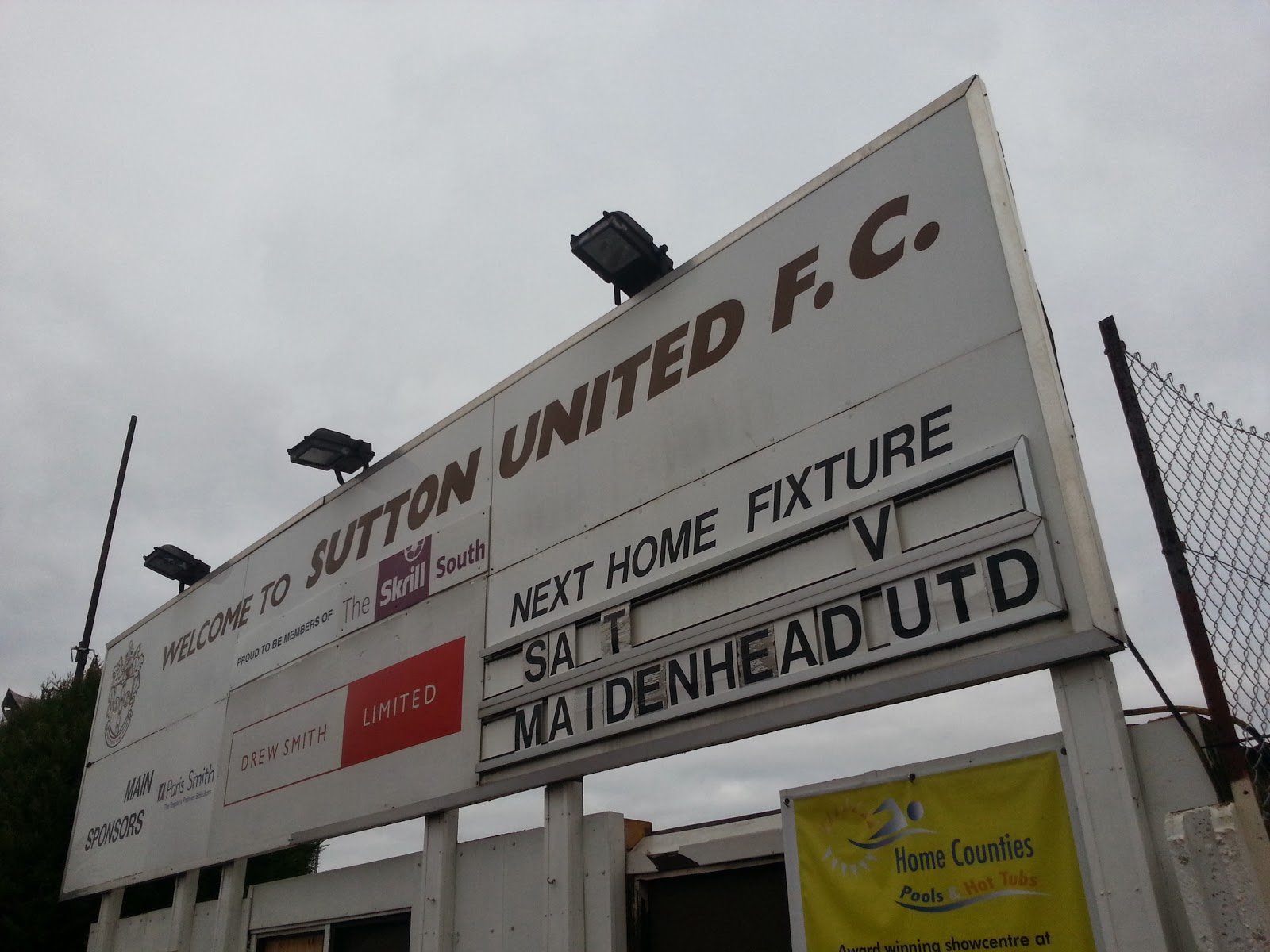 Dis iz Sutton…
This must be how Telfs feels when he gets named in the starting line up for a game.
Now, Saturday home games aren't the most exciting thing for me. Unlike away's which are a hazy mess of early starts, boozing, boozing, football and perhaps boozing with a side order of stupidity and boozing, home matches are usually a far more sedate affair and I depart HQ about an hour later than we'd usually be in the pub in whatever town our Skrill overlords have dictated we travel to. A pleasant bus ride into town follows thanks to the brutal tuneage being played at ear bleeding volume on my headphones in an effort to get the blood flowing and the heart rate up to something just above "Fucking hell, football is shit".
Cash extracted from the ATM, it's the usual stroll to GGL for the purposes of getting Roses Tea Hut ready to serve you, the Sutton United public, with it's usual fantabulous array of footballing dietary wonders. For once, I find myself arriving before Mr X with the supplies so set about filling water urns and getting stuff warmed up. It's not long before he arrives though, huffing and puffing his way through shuttle runs of bringing goodies from the boot of his hairdressers motor.
Once done, he then sets about moving some of the Juniors equipment to a shed next door so as to give our ladies what serve more space. In the course of this, a fight breaks out between him and some unruly corner flags, who are then backed up by an FA approved 'respect' barrier. At one point, it looks like I might have to step in and tell the flags to "Leave it! He's not worth it!", but the man of mystery eventually gets the upper hand and I can instead remain slumped in the corner giggling hysterically at this ridiculous sight.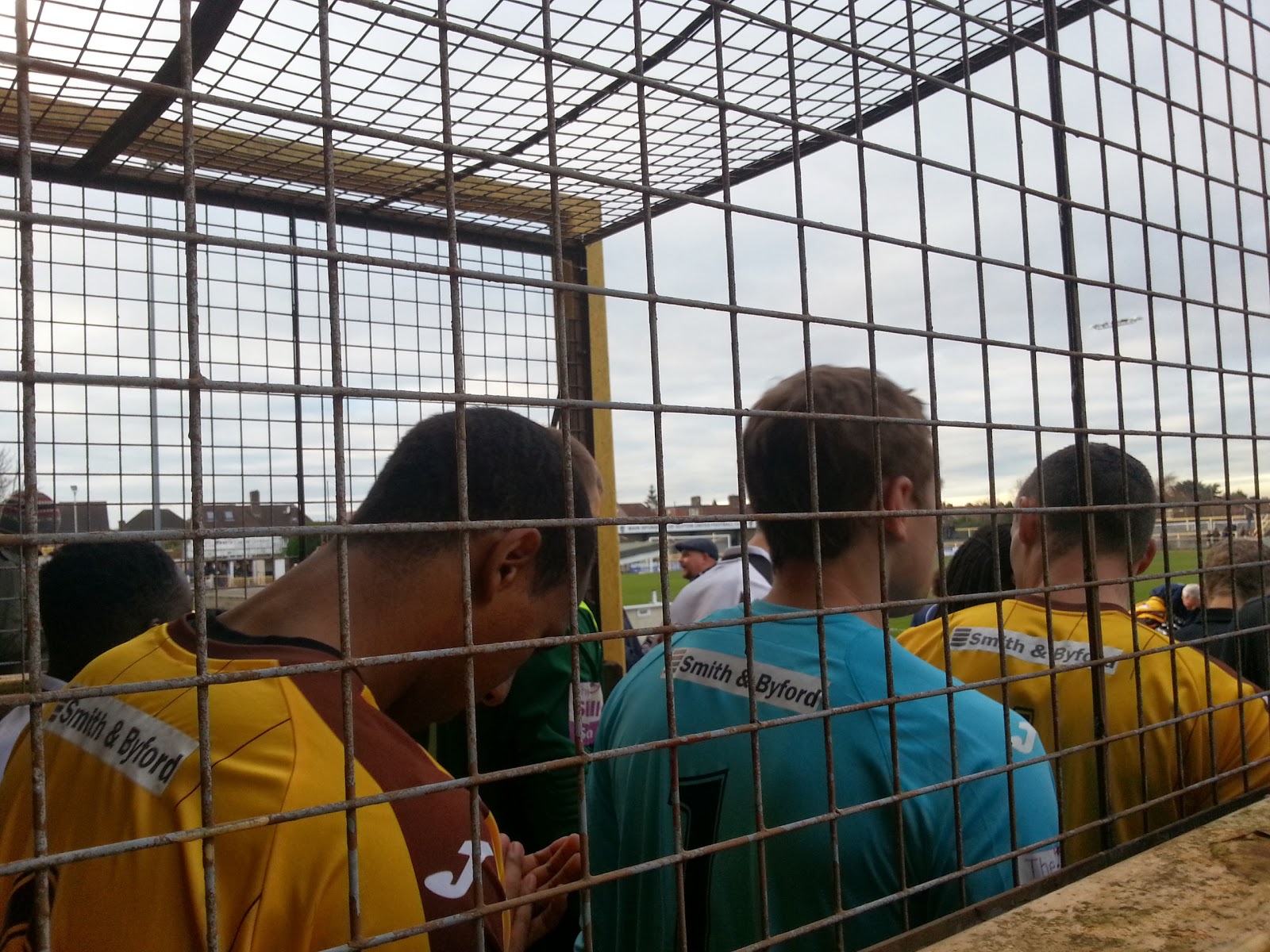 Baby I'm ready to go…….
Finally, the ladies appear around half one and we can head for the bar and our first pint at the disgracefully late hour of 1:30. On arrival in one of GGL's several areas designated for the sale of intoxicating liquids, I find Dukey already propping up the bar, along with Mr & Mrs Chalmers and Wellie. Right, who's fucking round is it? Dukey's? Oh that'll cheer him up immensely!
Beers go down quickly and the topics of convo naturally turn to the departure of Shawy & the circumstances surrounding that, the released lads, the return of Gavin Macallum and the fact we've shipped out one of our 'Key Strikers' to a side immediately below us in the league. After a couple, Dos appears and as he makes his way to do his usual pre-match luncheon meet and greet in the Presidents Lounge, he stops and asks the assembled throng who should replace Taylor in the 'Strikers' initiative for this month. We mull over this and decide that we should go with one of our most consistent performers. Dundo. Dos accepts this and gets on his toes. Naturally, AB (the administrator of the aforementioned initiative) wanders in 5 mins later and wants to know who we're going to replace Taylor with.
Keep up mate. We've had an EGM and sorted that already.
Not long after, we've beeps from our phones telling us today's line up has found it's way onto Twitter.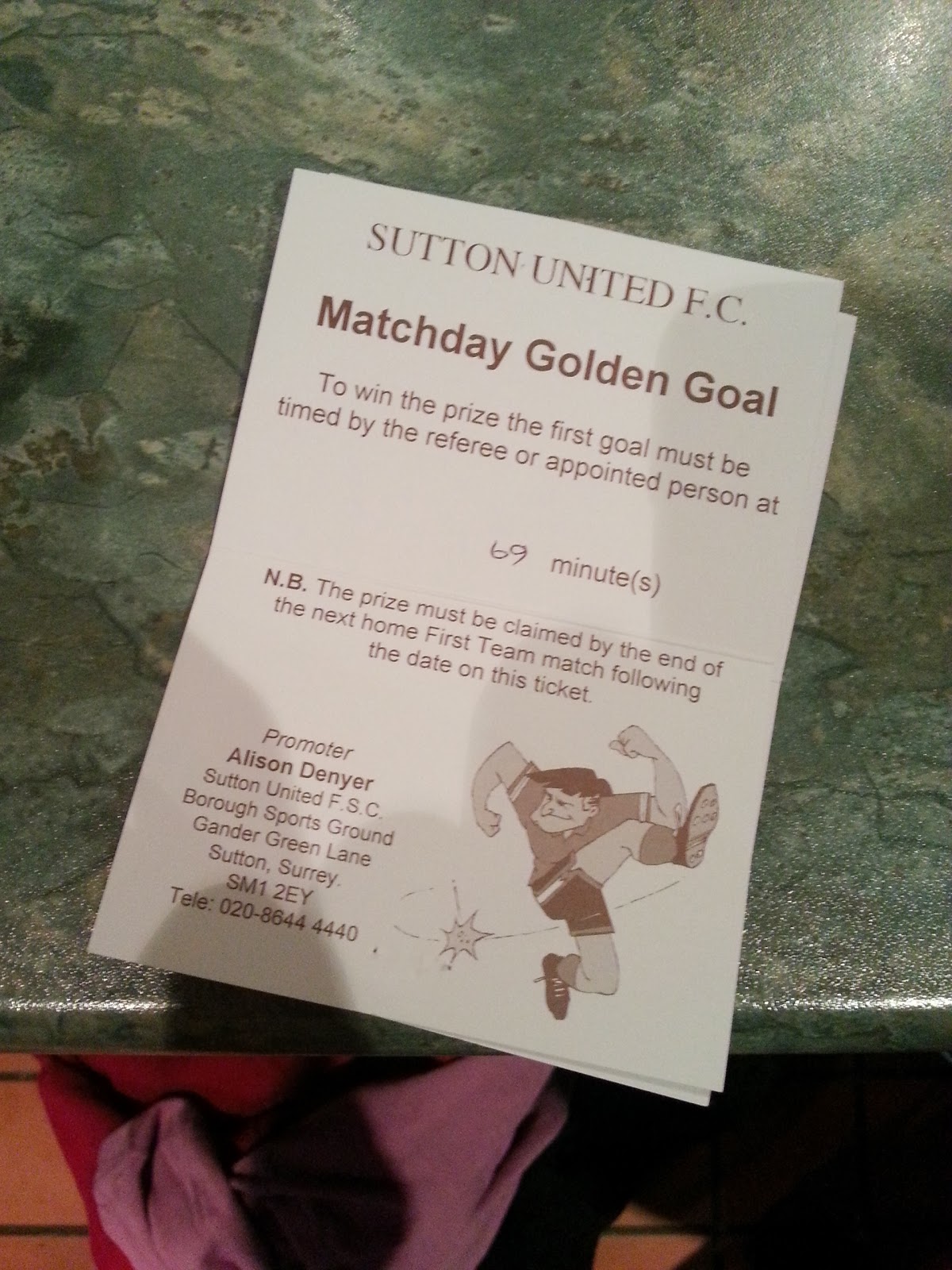 Uhuhuhhuhuh. 69. That's rude….

Team : Lovelock, Downer, Clough, Stuart, Nelson, Scannell, Fuseini, Riviere, Dundas, Binns, Slabber. Subs: Sinclair, Haysman, McCallum
Another quick pint and the bell is soon ringing to tell us the ref is summoning the teams to the tunnel. Time to leave the warm and head out for 90 mins that could ruin our weekends. A little strangely, we find ourselves partaking in a minutes silence for the recently passed Nelson Mandela. We never knew he was such a big fan of English Semi-Professional football!

The opening exchanges are encouraging, with a distinctly attacking line up, the U's take the game to the visitors from the off with Scannell & Binns looking particularly lively and Slabber looking to have a bit more of a spring in his step. The former 2 combine early when Scans finds his way blocked as he tried to wriggle into the area and Binnsy fires the loose ball over. Scannell then forces a decent stop from the keeper after this time finding his way into the heart of the area. Maindehead then remind us they're still around when we don't deal with a free kick too convincingly, but thankfully the offside flag comes to the rescue before something bad occurs.

Dundo pounces on a loose ball about 12 mins in and deftly chips into the corner after Binnsy has caused problems, but a rather questionable offside flag denies us the lead. No matter, as with 20 minutes gone, Ali clips a ball in behind the defence and both Slabs & Scans are after it. The big man wins the race and calmly lifts the ball over the sprawling 'keeper and in for 1-0.

Up the other end, Richard Pacquette who had a less than impressive spell with us last season is making his mark by flattening Tom as he gathers a bouncing ball. Unbelievably, the ref think that a challenge which would draw a sin binning in Rugby is only worth a chat. Naturally, we take this well. Our lead then evapourates with the oppos' first really serious foray forward. A ball is pinged wide over the shoulder of Nelson and he's not close enough to cut out the early cross. This picks out one of three Magppies forming an orderly queue at the far post and he tucks a softish shot past a stranded Lovelock and into the far corner. The goal is notable as it's greeted by utter silence. We know they've not brought many with them today, but there's not even any audible shouts of joy from the players, their bench or even their suits in the stand. Weird. So quiet is it, when Mr X returns from the bog and we abuse him for 'assisting' the oppo to score (everyone knows if you desperately need a goal, you go for a slash during the action), he refuses to believe us due to the fact "I never heard anything!". Audible or not, the fact remains it's 1-1.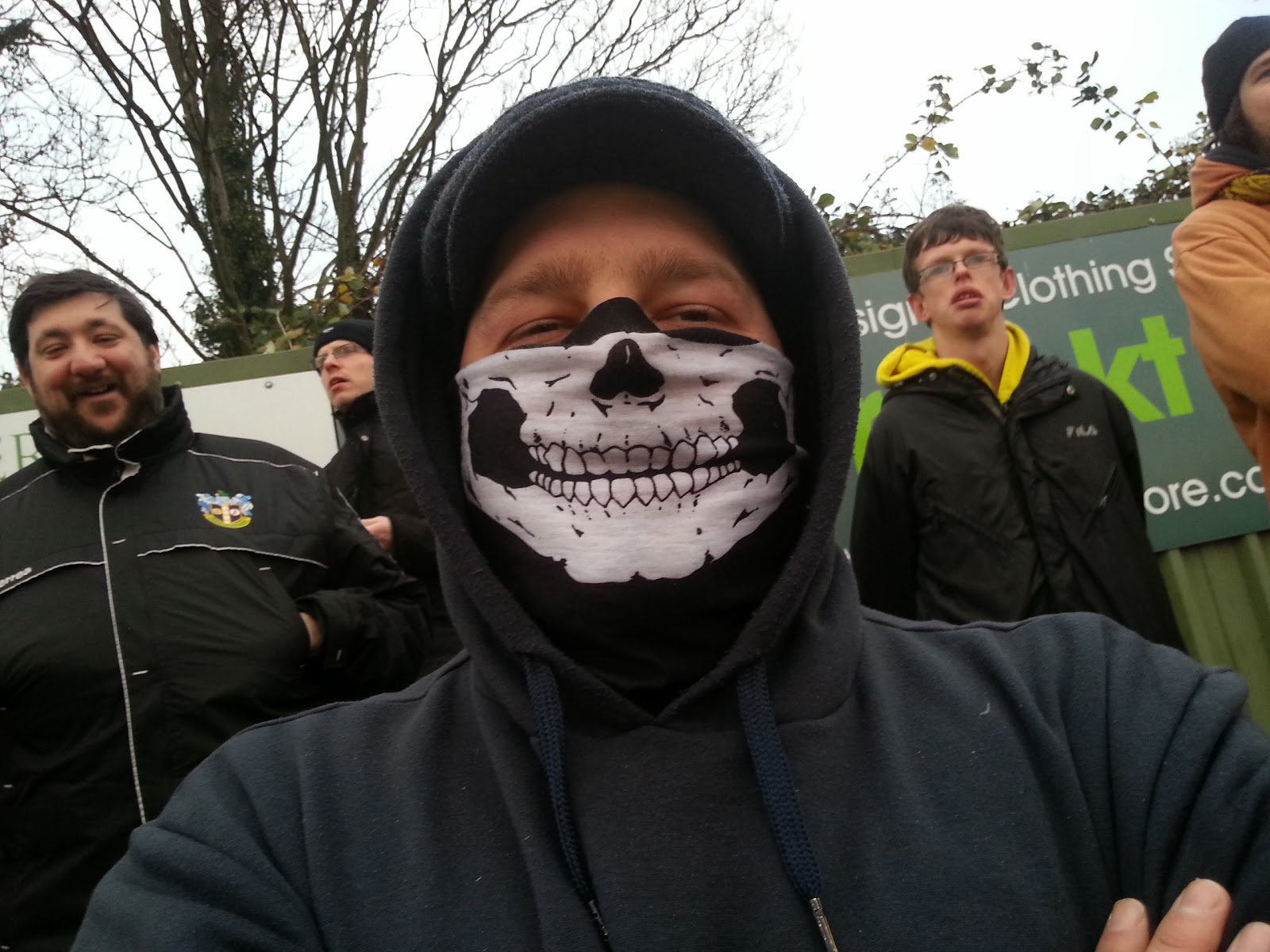 A happy little soul…..

Our response is immediate, with Binns surging down the flank to deliver a super cross from the byeline that Slabber crashes against the bar with a header. There's a shout for a pen after an iffy looking handball, but Slabbs once more puts us in front with half time looming. Nelson picks out Binns on the overlap and he once again fires in a super cross from the byeline for Slabbs to arc a deft header back over the 'keeper and in.

Again though, we don't defend well from a free-kick right on the break and Nelson lets his man nod a little ball back into the box far too easily. It's half cleared to the 18 yard line where Pacquette crashes it back through the crowd on the volley and into the corner. He celebrates by going for a little jog over to the rec side to say hello to some of the locals who've not been impressed with his conduct since flattening Lovelock.

This leaves us to make the stroll round to Roses at the break for a cuppa level at 2-2 rather than ahead as we'd hoped. With a brew in hand and pie consumed AB wanders past. "Jamie Taylor's scored for Eastbourne". Fucks sake. What is it with us and strikers?

The second half starts as the first did, with the U's attacking. Ali forces a good save from the 'keeper after some decent front play up to Slabber. Pacquette then annoys everyone once more by again going in late on Lovelock when he's gathered the ball. This time he does get the yellow, but it still leaves people frustrated. If the ref had done his job the first time, Pacquette would be off now. A minute later, that's all forgotten as we're back in front once more.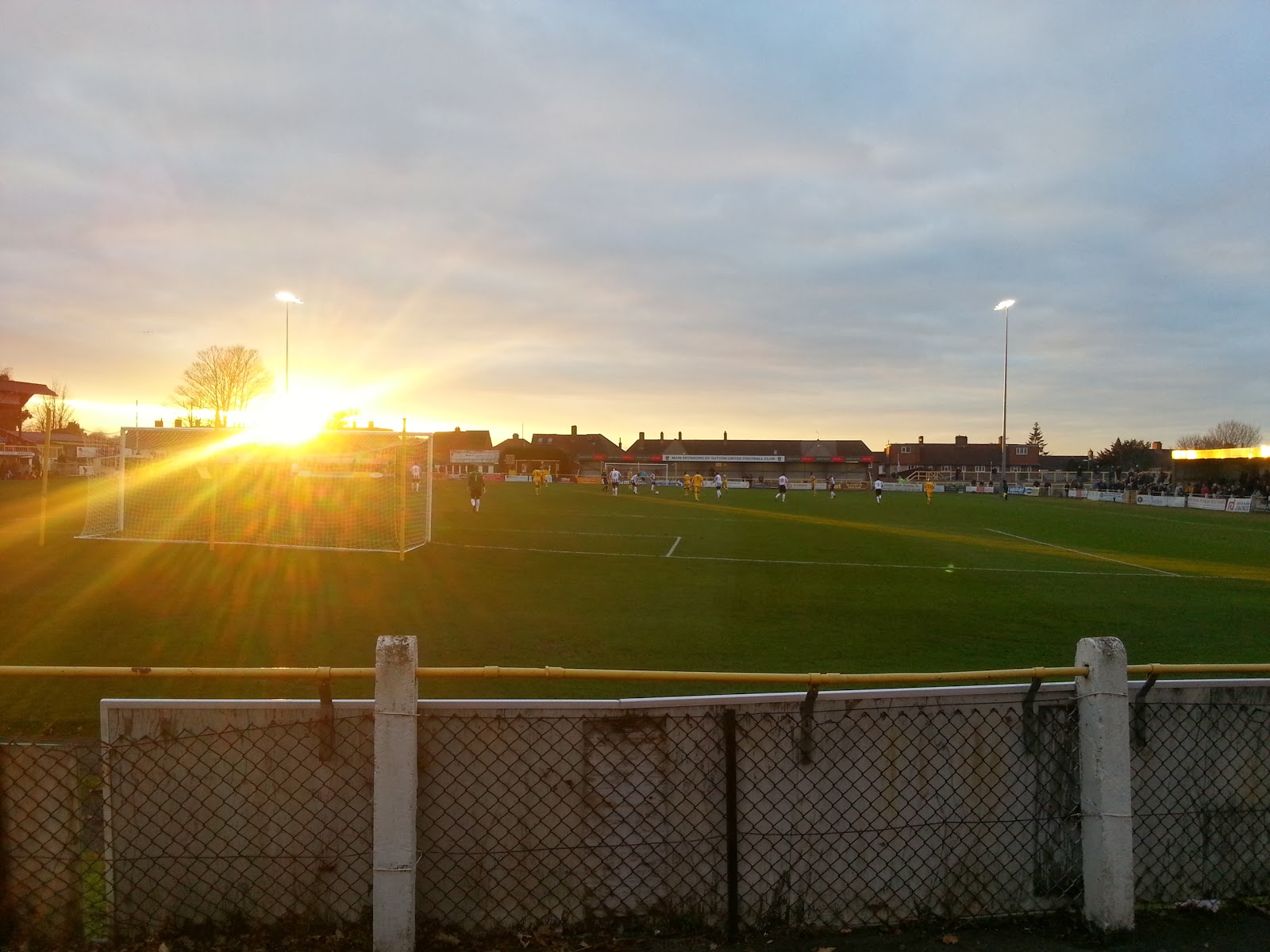 This happens every time! Why do we stand here??

Some good play down the right ends with a cross in from Scannell. Slabs gets on the end of it & nods down to Binns in the middle. The wideman tries to turn and fashion a shot but appears to be tripped as he pivots. Before a peno shout can form in our throats, Dundo arrives late to hammer the ball into the net and add another bullseye to the Strikers are Key pot. From here, the game becomes far less open as it was 1st half as we try to concentrate on holding the lead for good this time.
The visitors are largely restricted to long flat kicks forward from their 'keeper to try & catch out our back four and barring a couple of brief scares with off target efforts, they never really look like pegging us back a 3rd time. Slabber has the ball in the net again with about 5 to go, but a poor offside flag from the lino on our side denies him the tap in after the keeper has parried Macallum's shot. Thanks to the less frenetic nature, there's more time for the sort of inane chatter you get with us. I provide the highlight when my brain farts and in conversation I refer to Tony Daley, the former Aston Villa and England midfielder as having come out as gay, rather than who I actually mean. The young Olympic diver, Tom Daley. This then leads to many different Daley's being 'outed' to further rub in the fact I've been a massive 'tard.

"What? Tyne Daly is gay?"
"I never knew Arthur Daley was gay!"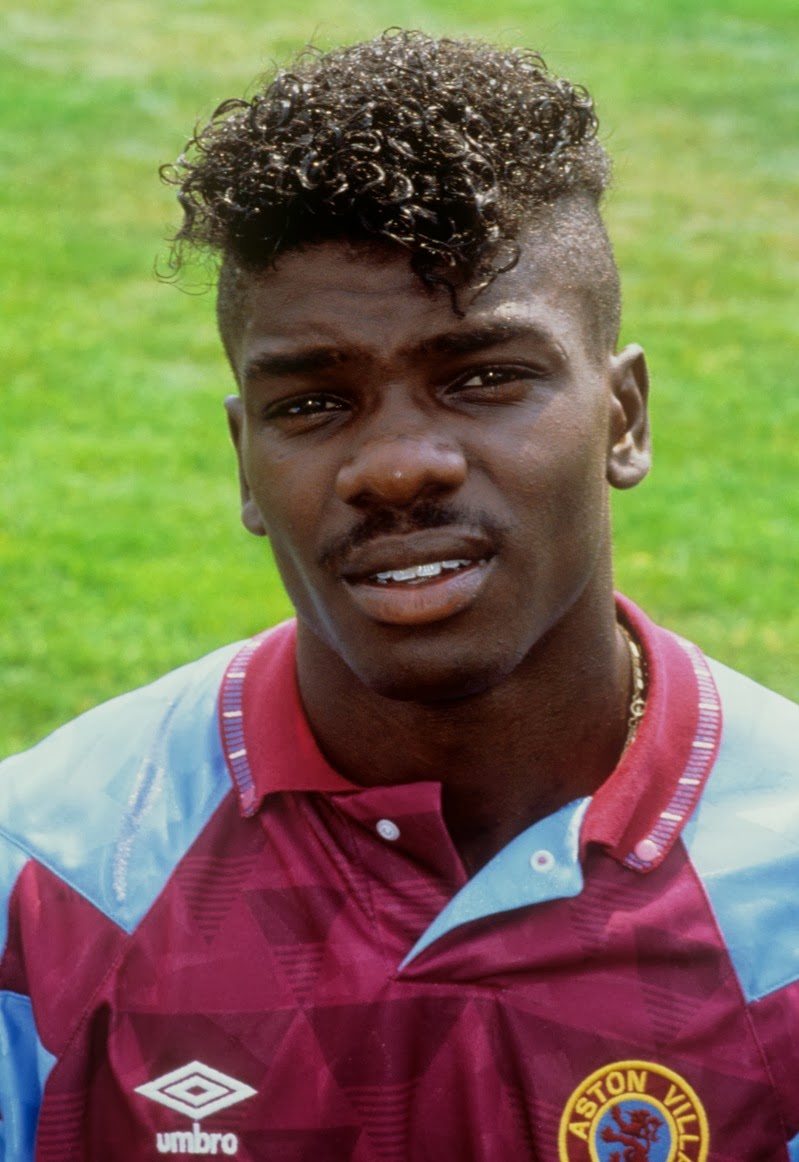 Not gay apparently….
And so on and so on and so on. Further proof if ever any were needed that I'm going to be a dribbling alzheimers wracked mess by the time I'm 50.

Still, we see out the clock and end a rather barren run from November with a much needed 3pts. Back in the bar, we find out that Eastbourne have gone above us in the league thanks to not one but two goals from one of our 'Key Strikers'. Eyes are rolled and pints sunk. Then we once again fail to be picked out of the draw try & win the £400 from the safe and instead shout 'fix' lots as number 31 is pulled for the 2nd time. Dejected, we half watch Dortmund v Leverkusen (football hipsters us!) before taking a wander through the ground to our usual saturday evening haunt, the Grapes. Here we arrive to find a grinning Mr X waiting for us with beers, him having forgone the stroll to ponce a lift off one of the other lads in the bar. Sadly, something he'd failed to mention when we left, the selfish twat.

There then follows the usual saturday night antics, with Mr X finding great amusement in hitting Dukey with a plastic bauble from a Xmas tree the pub have foolishly placed in arms reach and Nick the Taff having his chair pitched over by a gentle nudge as he's leaning too far back. What makes the moment funnier is that rather than panic or desperately try to correct the fatal angle of lean he's been forced into as you'd expect, he instead accepts his fate and fires back an accusatory "Oh you cu….." before he hits the deck to gales of hysterical laughter from the not at all drunk idiots around the table.

No, I've really no idea how we're not barred either.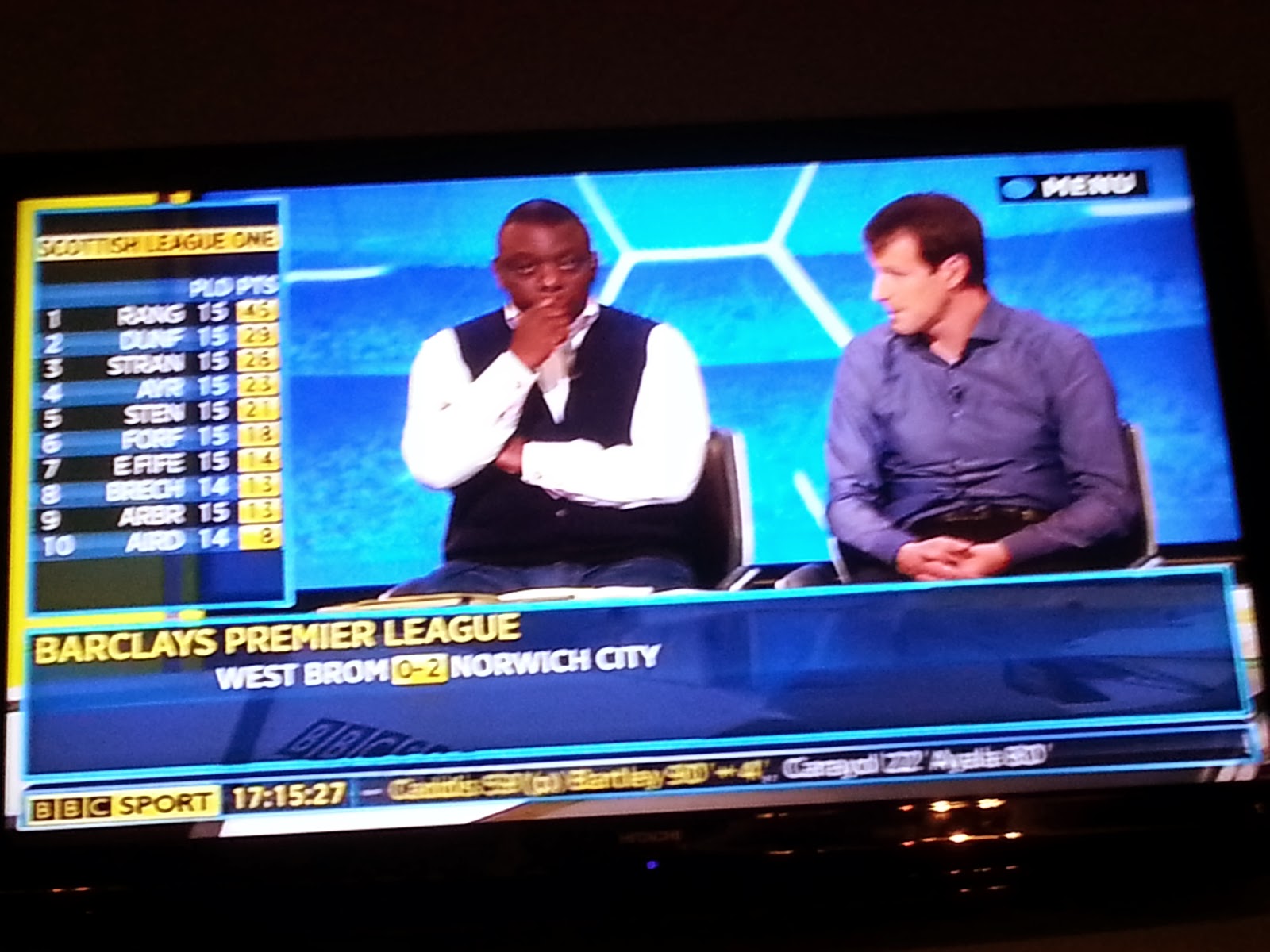 Whatchoo lookin' at Crooks you faaackin' muuuug!

As per normal, the evening ends with us being booted out at closing time. And we definitely don't conceal our remaining booze in paper coffee cups we find lying about, for the walk up the high street. Outside, Dukey then continues the theme of crew members fighting inanimate objects when he attempts to break a bauble placed in his pocket by Mr X against his head. Giggling, I film him as he shatters the bauble painfully against his forehead. It's Dukey by a knockout, but the decoration hasn't gone down without a fight as the idiotic Duke then complains of a myriad of small cuts inflicted by the jagged plastic when it broke.
There's a lesson to be learned here. Sadly, we'll almost certainly skip that class and go to the pub instead….
Taz.