Well, well, well, here we go again, here we go once more!
What, no game
you say, no bloody game, what's going on? How will us hardcore non league
junkies get our football fix! In recent weeks as you are more than aware our F.A Cup Giant Killing came to an end at Kiddie. Still what a day out that was! Following the exit from the F.A Cup our minds turned to then, the F.A Trophy, and well those dreams were also shattered , going out of the Trophy to Havant at home. With both cup exits, and no home or away game listed for this Saturday, us mindless idiots at Gandermonium H.Q sat around scratching our heads and twiddling our thumbs. What is out there for us non- league diehard fans to do? With no Skrill south fixture on the cards, we picked our noses and scratched our arses, and shuffled our feet.
Until a lightning
bolt struck! (We just looked at the ressies fixture list) The reserves were playing just up the road at
Banstead Athletic. Happy days a football fix of sorts. Not your full on class A
junkie football fan fix. But hey, it will do us just nicely!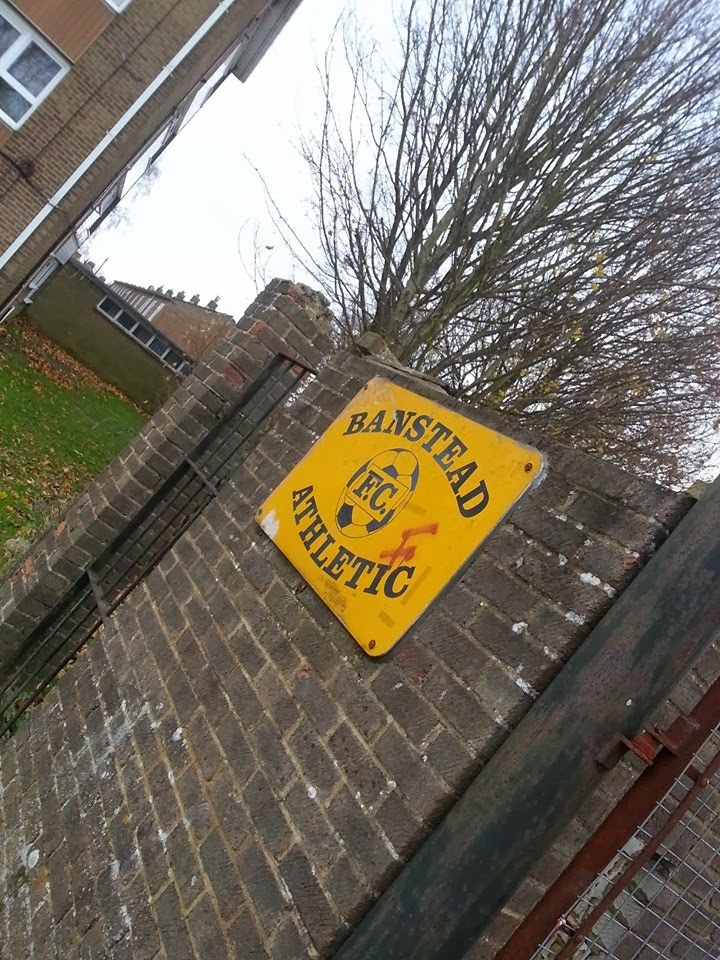 Welcome to Banstead….
So the plan was set in stone. Even the E.I.C seemed up for
this one. A discussion took place, on one of those social ( stalk book ) sites,
and the plan was to try and re-create this one, as an away day kind of vibe.
The Plan
A text from the E.I.C informing us that there is quite
literally, bugger all drinking establishments within local proximity to Merland
Rise. Hmm. Well we never doubt the man, and we take his word as the gospel
truth. To be fair living just down the road from Tadworth I know the place is,
how can I put this, a block of typical council houses and local hood rats!
We after all have some class, well some of us members of the
firm do! Epsom was the call of the day ! Loads of decent boozers in the town
centre. I for one am a fan of the Strawberry Beer, and I know there is a decent
boozer in this neck of the woods, that serves this tipple. Anyway we shall come
onto the pubs, bars and drinking holes later. So armed with a 'Dukey Ton' in my
back burner, which is guaranteed to be waxed by the end of the night, off to
Epsom we go….
I've just awoken from my pit on Sunday morning, after only
finding it at 03:30 AM. So for this write up, I think I'm going to have to
rewind the tape to bring you all the gritty details, so bear with me as Juan's
head is slightly tender.
A short walk up the road, I join my carriage on the train
departing from Banstead to meet the other members at Sutton, for our
destination of Epsom Town Centre. I pick
up the Epsom train from Sutton, and only Duke and Greek are present, a worrying
sight. There was me thinking there would be more of us. However Greek informs
me that other members would be joining us a little later.
Arrival into Epsom Station, and these two plonkers have
tapped their Oyster Cards in at Carshalton, only to be declined entry to Epsom,
as for some bizarre reason you can't use Oyster cards at Epsom, A bit daft that.
With that annoyance out of the way we headed off towards the first pub of the
day, The Marquis at the other end of the High Street. First pints ordered Duke & Greek went for a cider, and myself a
Fruli, or a Strawberry Beer as it's known on the street! Duke & Greek, take a few sips from their pints,
and decide it's not for them, a rather odd woody taste I must say, and the pints
are returned to the bar for an exchange. The exchanged cider, again offering a
rather dry and woody taste, not the best pint in the world but it will do.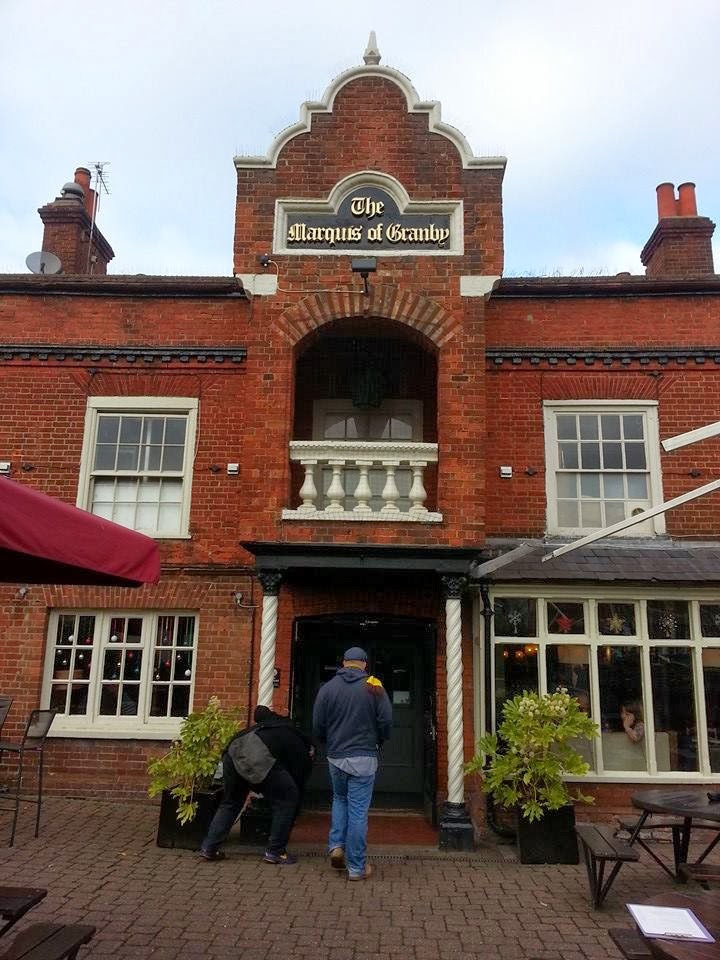 Used to be a gay pub once….
Dukey boy still not happy with the Oyster card fuck up, he sits in the corner
with the hump on, cause he couldn't tap out, and only topped up his card this
very morning. A little time passes, and the first pint of Strawberry goodness
is consumed, and Loffers rocks up at the pub, offering me another full class of
this Strawberry goodness, well that's 2 of my five a day. A few minutes later
the Editor in Chief turns up, and orders himself a drink, and then the
conversation turns to his recent work visit to Boston. In summary the Americans
can't drink for toffee, and to add insult to injury they drink Bud-Lite, which
is the same strength as tap water. Well at least the E.I.C enjoyed himself. Mr
X then rocks up, with pint in hand, and joins in the banter. A certain twitter follower/ account comes
into conversation once more, and well some of the tweets are epic in scale and
typically in bad taste. I then pipe up and mention to Duke, not to sender me
any more of his course work via email, with the Subject line that reads Midget
Sex, as it's slightly hard to explain my way out of that one, when someone else
had access to my emails. The conversation then turns towards various midget sex
porn/actresse, & S.S.B.B.W, which stands for Super Sized Big Breasted Women-care to explain this Duke. Then somehow, Dorking Deepdene is linked into this conversation.
Perhaps it's a Dukeism of sorts. Where this conversation comes from at times
I have no idea, well put it this way. The happy couple that were sat in close
proximity to us cleared off after 5 minutes can't say I blame them, can you?
The conversation then in some twisted fashion turns to me
trying to explain to Mr X where the switch back road in Tadworth is. Now then,
for some idiotic reason I explain where this road is with various hand signals,
a kind of a tipsy deaf sign language! Christ why did I just do that, I made a
right tit of myself! Then follows the explosion of Mr X's mad mile impression,
everyone is in fits of laughter. Is that
the time, time to drink up and make our way up to Banstead Athletic, the local
fridge. Off we trot to find our cabs to the ground, a touch of luck, given the
nearest cab station is quite literally 10 paces over the road. So we all bundle
into one of those people carriers, and the taxi driver takes us onto our
destination. Now then, we try to offer the cabbie a life time supply of Viagra
for his fine driving abilities. He declines our offer and will only accept hard
currency. God knows how this came up in conversation, I can't remember, think I
may have killed a few Brain cells yesterday.
90 minutes.
Boom we've arrived. Casually we head off to the bar, for a
pre-match pint of sauce to see us through the next 45 minutes or so. The pints
are consumed, and we head out onto the terrace. A fine sum of £3 due is paid,
bargain. Now first thing to point out about Barnstead's ground is this. It's
got more elevation than Eastleigh, ha! So as per the norm, we all head over
behind the attaching goal, and make ourselves right at home. I have to point
out that I haven't watched a Ressie game for a number of years, so I'm slightly
out of touch with matching names to the numbers on the back of the shirts.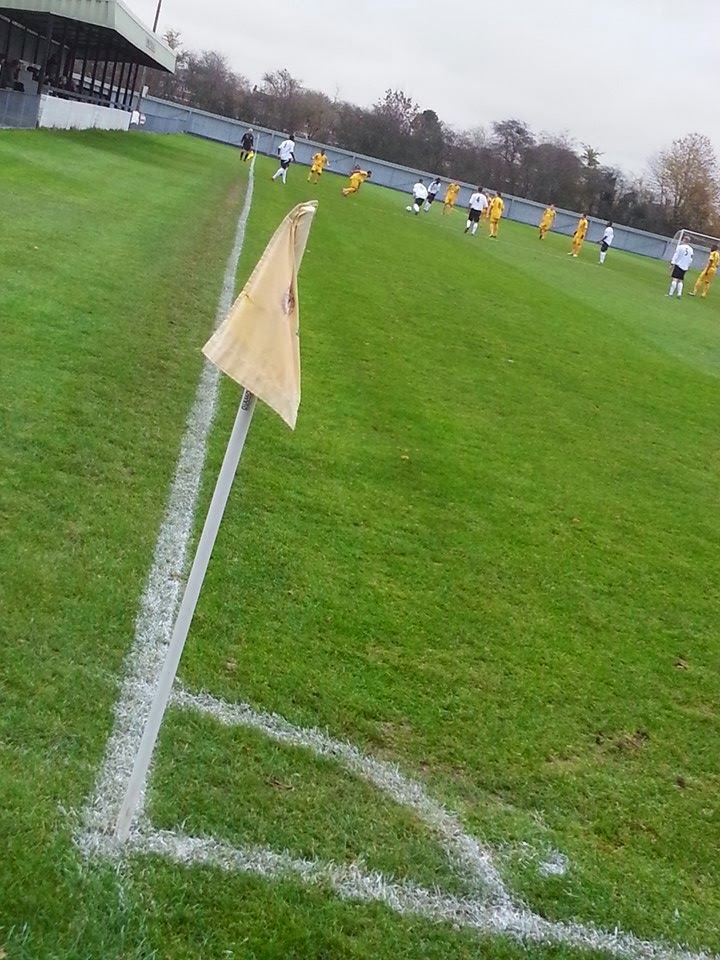 A corner flag, yesterday….
With
kick off underway, both teams are up for a high tempo game. Sutton under clear
instruction from the manager, spreading the ball down both channels, putting
together at times some great passes, opening up Boreham Woods defence. With a
decent number of attacks the lads are really decent. A similar trend was noted by
members of the firm, which was spotted in both the first and reserve team. We
are great at the build up play, but just lack that final ball, or touch. Not a
criticism, just a note to the wise. With
the half time whistle blown, we all marched off to the bar for refreshment, in
fact we all went top shelf this time. Gin Gin, down it goes.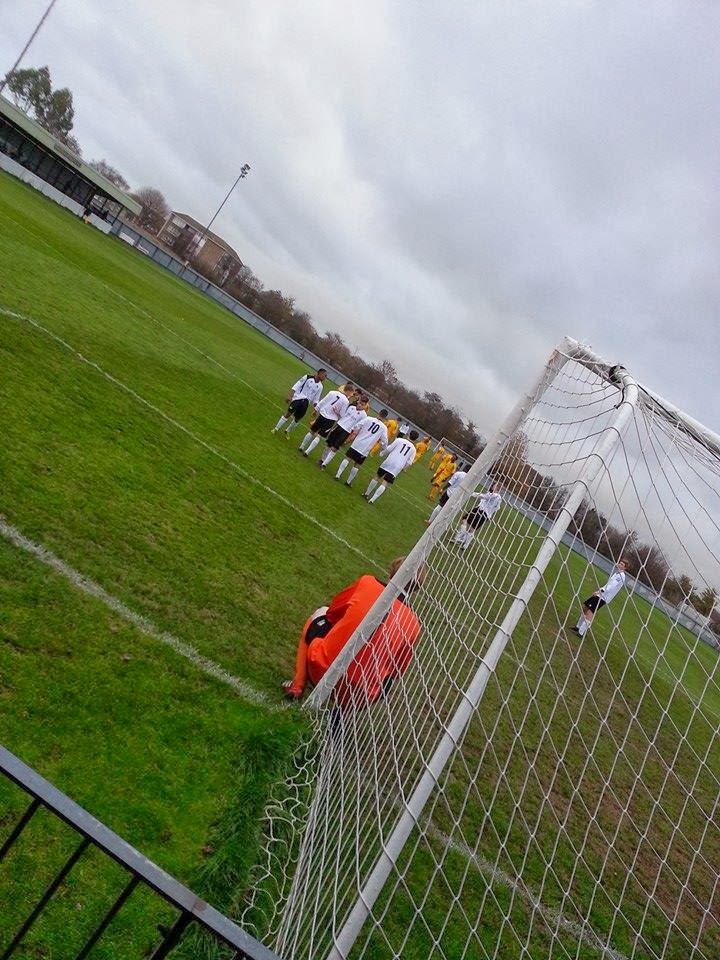 Lining up the wall….
Right then back out on the terrace this time, right down the
other end behind the attacking goal once more. We can see some potential talent in the
reserves. Sutton pressing the Woods back four again, but just lacking the final
ball. Taz then pipes up, and states this has got nil nil written over this one,
and then boom Sutton go one up. Have some of that Mr Tazbert. With Sutton's confidence now high, they again
press, and score another some ten minutes later. Within two minutes a quickly
taken free kick from the right channel is swooped in over the top, and Sutton
go 3 up. Well, well Mr T looks like your Nostradamus prediction was well out
fella. With the cold now setting in our arthritic bones, the ref blew the final
whistle, and we headed back to the bar, for a quick pint, and ordered our
return taxi back to Epsom. The plan was to head back into the Town Centre, and
see where the night takes us. It took us somewhere all right, more details to
come.
The return leg
Back in town, the taxi driver stopped in the middle of the
road, and we all bailed out into the busy road, avoiding oncoming traffic on a
blind bend. Probably not the best place to stop Guv! Now we were in a slight
predicament. We had already been in the Marquis before the game, and normally
we don't return to a pub that has been ticked off the list. So the group headed
off toward the local Spoons, Duke finally gave us a smile.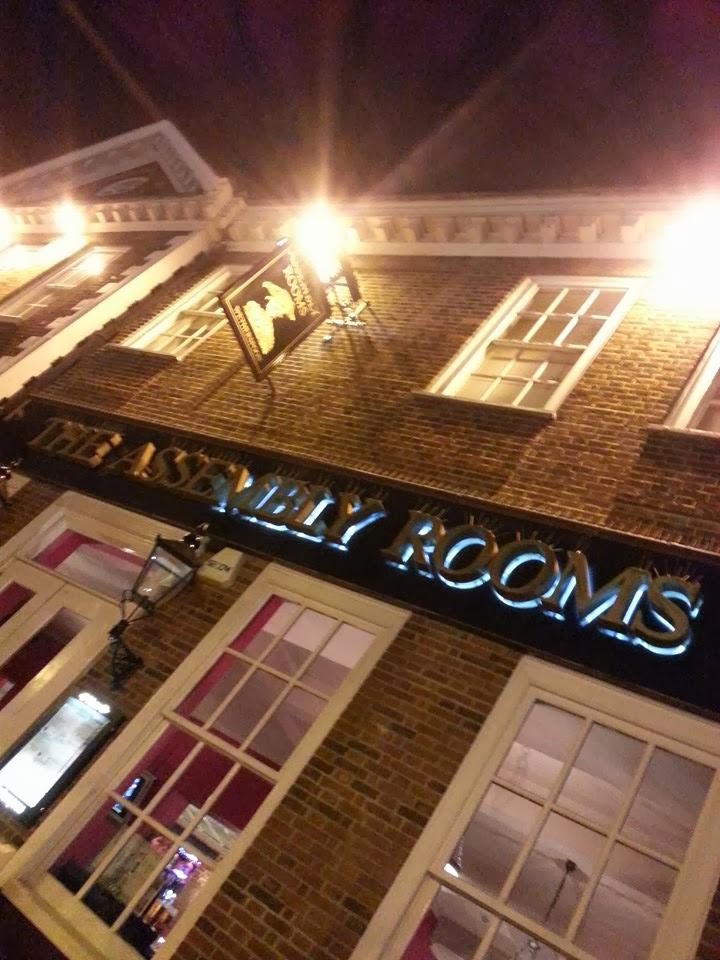 Regulation 'Spoons visit….
He loves a good Spoons,
probably just as much as he loves the Surrey Senior Cup. We piled into the
Assembly Rooms, found a table, and I headed off to the bar seeing as it was my
round. Seeing as I'm a bit of a joker, I thought it funny to buy Taz a bottle
of beer brewed in Brooklyn. Well you know, the man had been in Boston, so well,
Brooklyn wasn't too far away right? Until he pipes up and tells me they also
serve a beer brewed in Boston. Well looks like a) my geography skills are shit,
and b) the joke was on me. Time check, the clock pushing 6 pm it was time for some
grub, a pile of microwaved grease on a plate. You know the Weatherspoons poor man's
burger, still it came with a free pint, so i wasn't going to turn my nose up at
it too much !
The conversation dies out a tad, and Mr X makes his call to
the porcelain. In is absence, I get bored for a couple of moments, and decide
to try a game of pint glass Jenga. A newly developed dangerous game, especially
if you want to stay in the pub a little longer.
Still it balanced out for a couple of minutes. I was very happy with
what I had constructed. Mr X returns and finds his pint in cased in other
glasses and various crockery.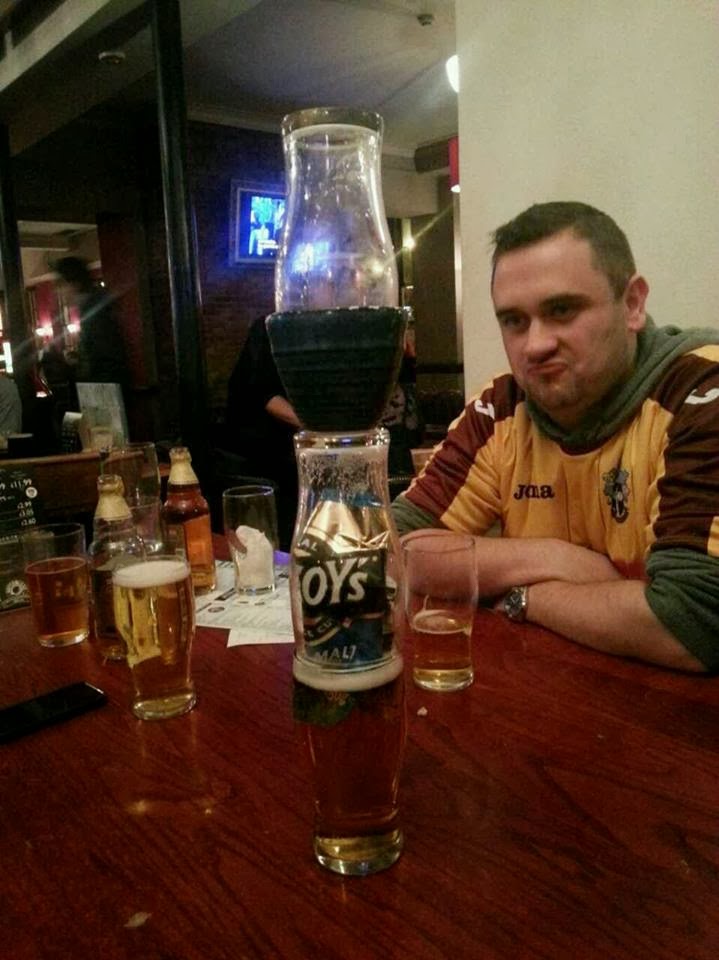 Juan admires his handiwork….
So with time pressing and the pints in full flow, the conversation
turns back to that of describing roads using body language. We have in fact
just stumbled across a newly invented game, which the firm called "Charoads" brilliant,
bloody brilliant. Trying to impersonate various roads such as the A3, the M25
and Devils punch bowl can be a tad tricky when under the influence of beer, but
we managed. A quick glance over my shoulder and yes people where staring at us.
But this kind of behaviour was quite acceptable for a Spoons establishment. I
mean you should have seen some of the sites. Jeremy Kyle could have a field day with this mob!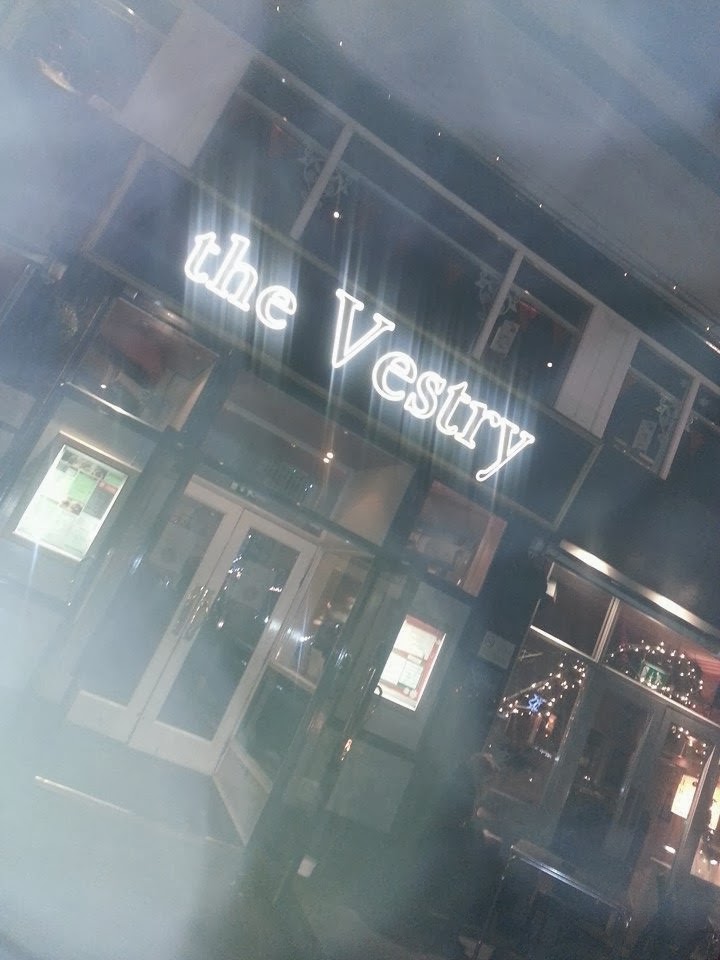 Us? A pub? With our reputations?
Time to leave the Spoons and head off to what used to be the
Litten Tree, now called the Vestry. Mr X then duly informs us of his New Years
Eve memories of getting hammered and puking off the top balcony over various
patrons, this lad is a legend. A text comes through on Juan's hot line, from my
mate Gemma and she tells me shes in Epsom and will be joining us boys for a few
drinks in the Vestry. Gemma and her mate Laura turn up for a glass of port,
which is followed by a number of jager bombs. Cor this goes straight to my
head, and start to feel a little worse for wear. Time pushing on, the sign
above our heads reminds us that this establishment is open until the early
hours, fantastic!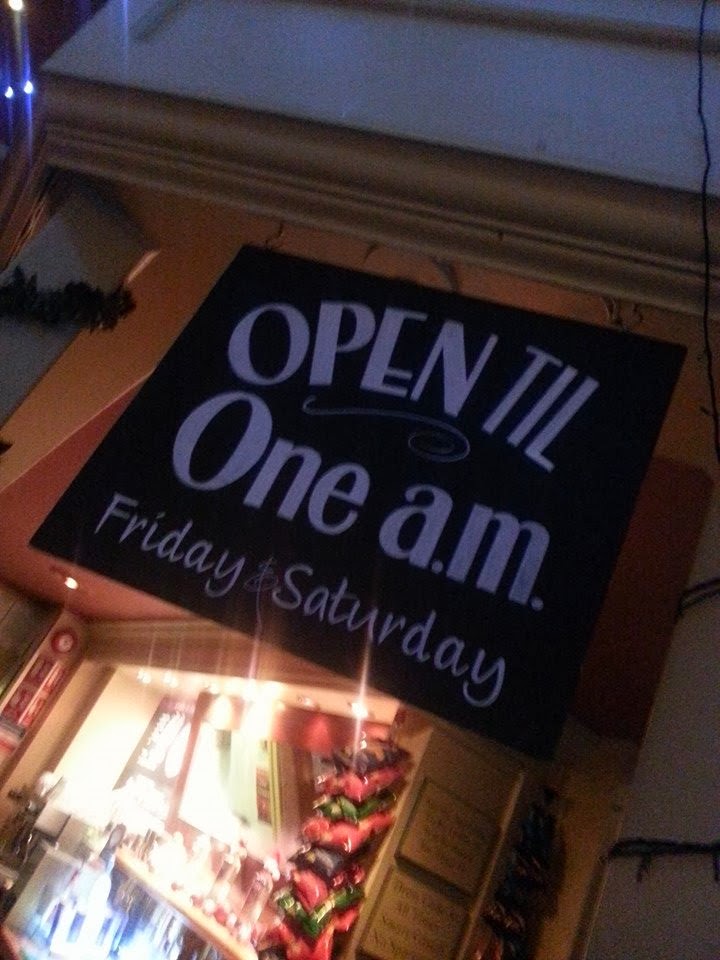 This is good news…..
More Bulmer's are pulled and bombs consumed, as the time
pushes towards midnight. The group decide we've had enough of the Vestry and we
make our way outside and head off down the road to a Gentlemen's club, the only
one in Epsom. Well as the saying goes when in Rome! Off we trot down the
cobbles, and we get stopped en route by the local polizia. I won't go into the
reason why, but it was rather funny at the time!
Arrival at the Gentlemen's club, the door man, built like a
brick shit house, tells us gents that it's a tenner for the entry and no
photographs or mobiles are allowed. We hang our coats and head in, beers follow
as does the excitement, a first Gentlemen's club visit for the Gandermonium
firm. Sadly due to various restrictions I can't divulge any further information
on this venture, what goes on tour, stays on tour!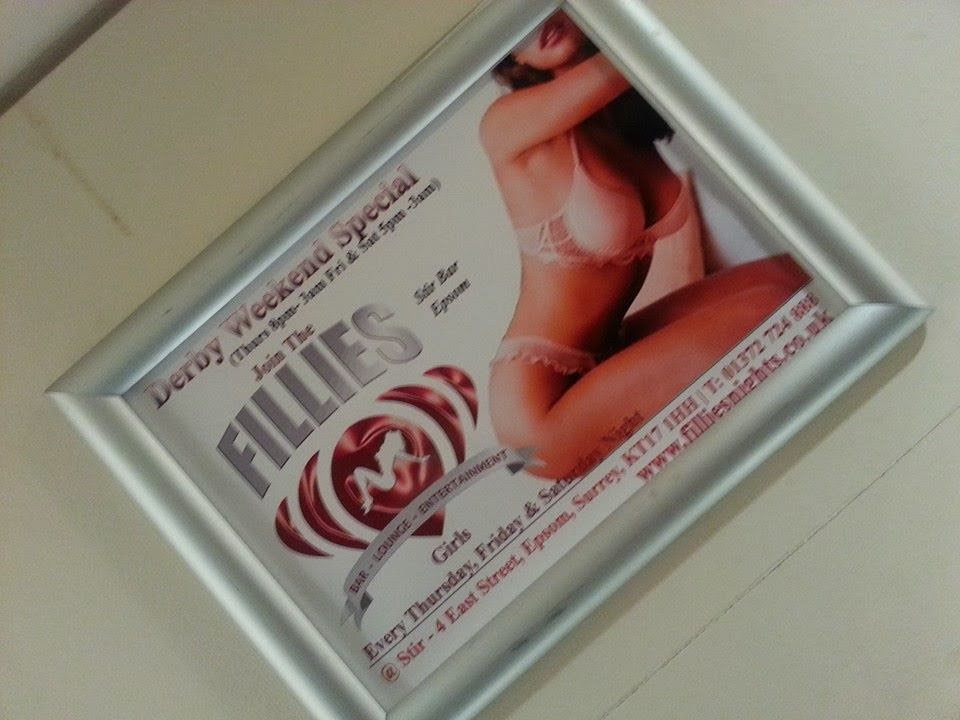 Fillies indeed…..
Time check, 2:30 am, time for us to leave this place, and
get ourselves off home, so we stumble off down the high street and head towards
the local cab office. A ten minute wait and our cab awaits, we jump in and the
driver taps in our postcodes, and advises us of the cost in advance, and we all
cough up some green for the ride. I'm first on the drop list and the driver is
following his Twat Nav, I tell him to switch it off, and I'll give him
directions. Now when I say directions, it was the Juan Rally Driving Experience.
Left, over crest, low 2, tight chicane to high 3. The driver loves it and gives
it the full Jackie Stewart. Arrival back home at just gone 3 am. Jesus this was
only a reserve game after all. Well Taz wanted to have the 'away day' feel
today, well it certainly did. I think it may take a bit to top this one…….
This is Juan signing off.