Fuck Really? And to the tune of Pet Shop Boys 1992 hit "Go West" One year, we're having a fit. One year, we're still talking shit. One year, and you'll find us near. One year, on the fuckin' beer!
Well who would've thought, one year ago to the day that Gandermonium was resurrected in its current form and begun once more enlightening the Sutton United supporter base with our drunken antics and we're still at it!
Indeed it was a year ago that our 'Editor-in-Chief' once again stuck this little ditty onto the web for us all to see (have a butchers here) and as luck would have it the game we were due to do at Maidenhead was postponed, but not before we had already arrived into town for a little pre-match sherry. There was even time for Juan Sheet's first attempt at a blog were he explains his Anal Addictions or something. We of course saw another postponement on the following Tuesday night and it was then we got to see the first of the original Gandermonium's archive reports. In fact we all would have to wait another week before our first not one, but two blogs for our away trip to Staines were knocked out like a lazy wank. A day remembered as I lost my phone, but you will have to read the blogs and video diary for that quiet trip to Middlesex Surrey to find out how that little disaster panned out.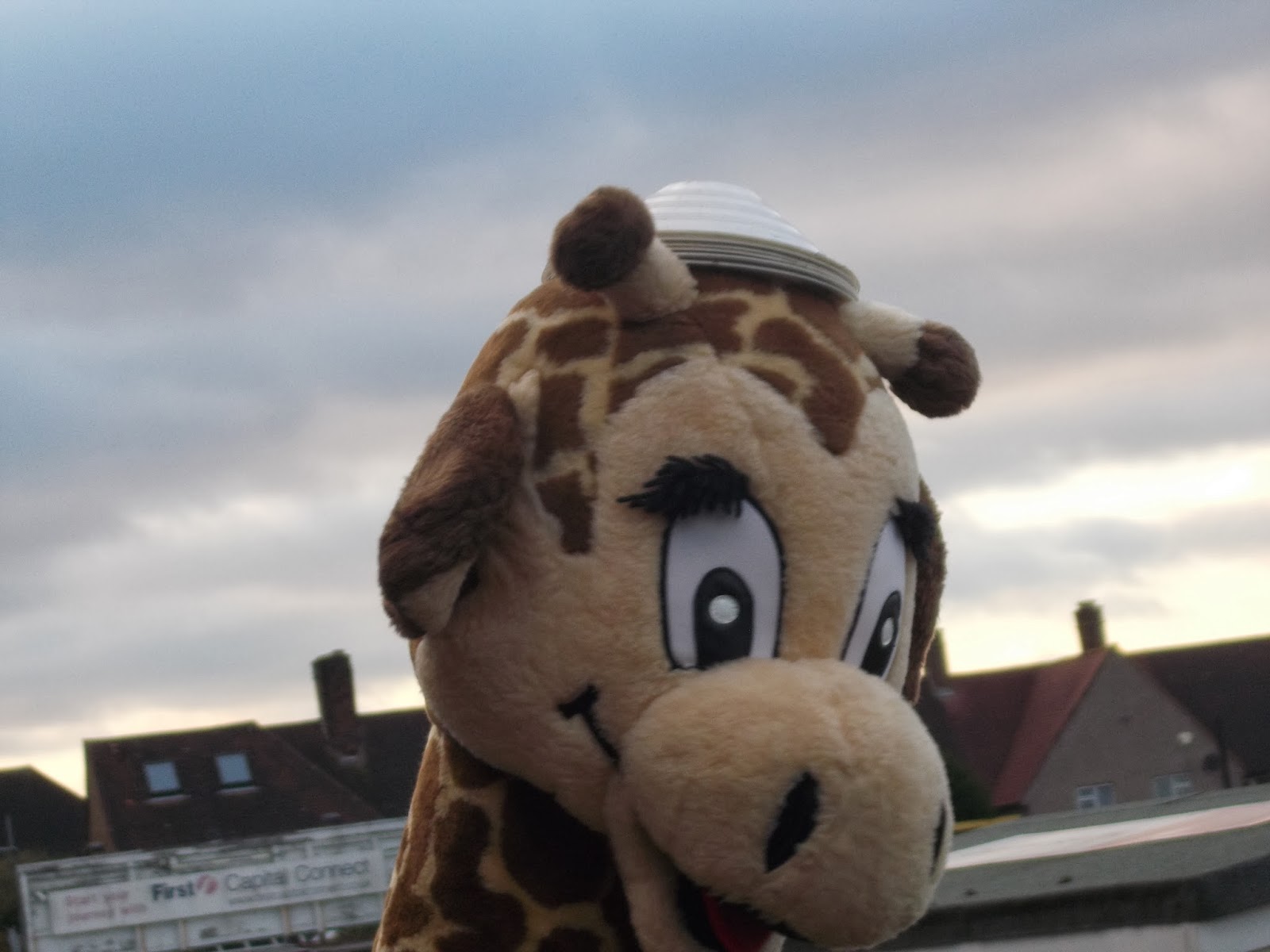 Extreme giraffe close up.
So onto Saturday's game and against the mighty Dorchester. We were once again missing a few people for today's game especially the E-I-C himself who after pretending to celebrate his birthday in Hooters in Nottingham last weekend has decided to pretend to celebrate his birthday at Hooters in Boston… No not in Lincolnshire, but over the water in the old U S of fuckin' A. In fact it turns out there are two Hooters on the outskirts of Boston for two alleged birthdays, so no wonder he has taken the future Mrs Rebekah Brooks with him!
There was going to be a slight change of plans to day as Juan Sheet was going to pick up myself & the Firm Leader up in his mum's Fart In A Tin 500. So after waiting for the Firm Leader to apply some war paint and collecting some dollar and snouts we drove off down the A217 heading towards the theatre of dreams. As we had arrived a little later than usual we managed to walk into BT Sports half time discussion of the Scouse derby. I couldn't quite work out why they were trying to recreate Suarez's free kick, but I was wasting valuable drinking time by being distracted by this shite. Word began to filter through that the ref was Christmas shopping in Wimbledon and was going to be late. So we had to manage with a quarter past three kick off, what were we to do? Yes, that's right. We had another beer.
Line up: Lovelock, Folkes, Fuseini, Clough, Downer, McDonald, Riviere, Dundas, Slabber, Taylor, Binns. Subs: Stuart, Telfer, Scannell, Sinclair, Shaw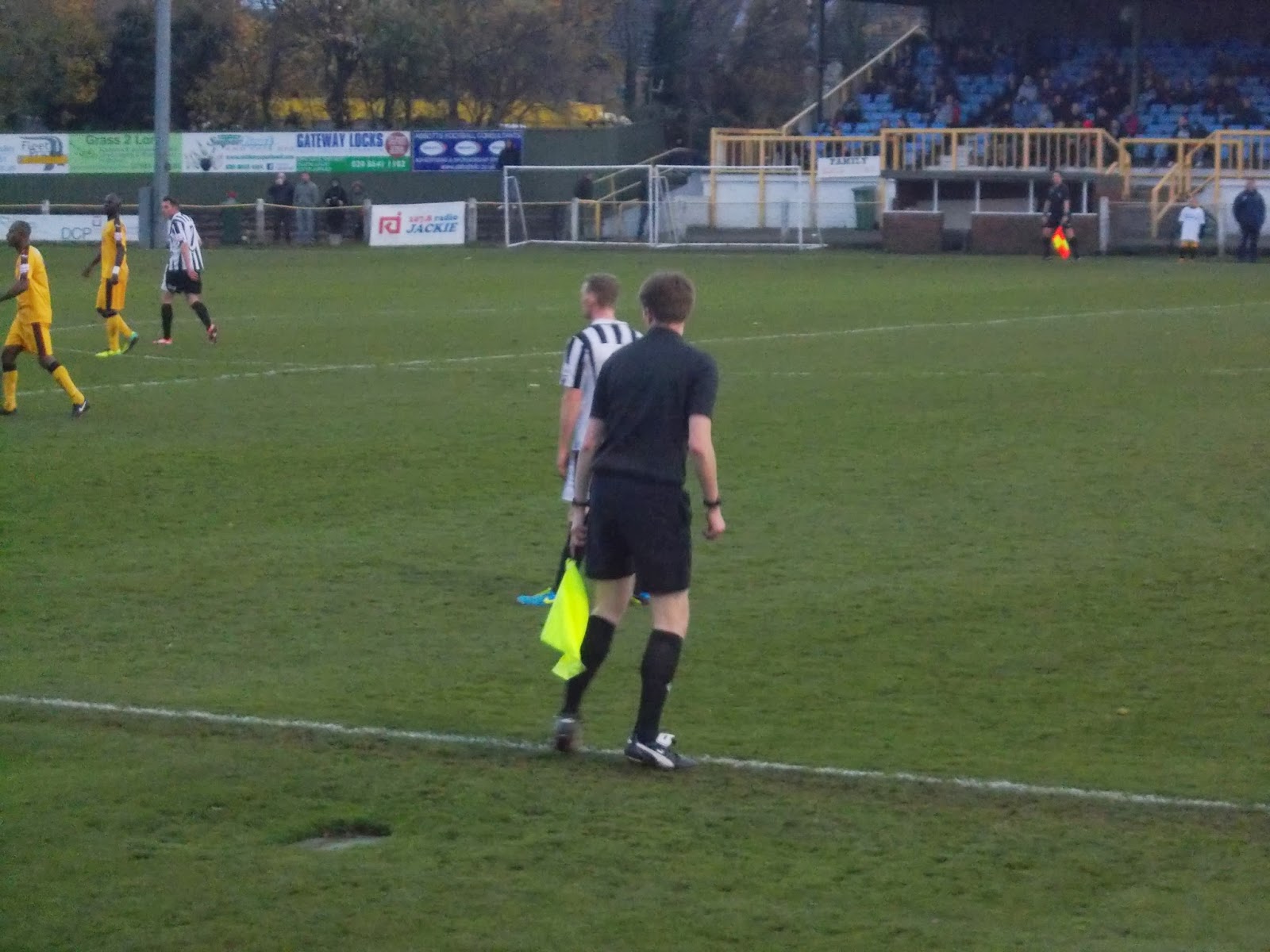 Lino! LINO!
And onto the game we go and what can I say about that then?. Well like most I was expecting to get a better performance than what we saw last week against Havant in the Trophy. From the off Dorchester we here to park the bus and didn't they do it well. I can only think of three chances that they had all game. But in the first half it was all about us throwing as many balls into the box as we can but without no one getting a foot or a head to the cross. I lost count of the amount of times I saw Folkes and Binns knock a ball into the 18 yard box only for it to be snubbed out by the Dorch defence. I remember a shot by Dundo in particular after some good work by the midfield, but it was stopped by the visiting keeper. The final action of the half saw Dorch having their only meaningful attack when Lovelock stood strong in a one on one situation.
Heading into the bar at half time was slightly different as after kicking off fifteen minutes late meant that there were no half time scores to see on the old box, only the occasional update from various games. After a swift pint, as we headed out towards the Rec End our thoughts we on if we were going to get the breakthrough we needed in the second half. And to be honest, we got a lot of what we wanted with Sutton continuously knocking on the Dorch door. Sadly, no fucker could open it. The first memorable shot was from a Dundo cross that Taylor volleyed wide. Everything was to change within ten minutes as only the second Dorch chance saw a breakaway lead to a weak shot that slipped underneath Lovelock and into the back of the net. The frustration at our end was clearly visible. This began to change the game as a Taylor shot/cross I believe that was going in was glanced onto the bar by Slabber. Dorch had there final attack after this point with another shot hitting the foot of the post. Even after bringing on Scannell, Stuart and Sinclair it was still one way traffic and this leads us onto the two late contentious decisions. The first was a disallowed goal that came from a free kick that hit the post and then the keeper and was bundled over the line only for the inept linesman to flag for a offside. I can't quite explain how he thought that Sinclair was offside after the ball had hit the post but that is his problem. The second dispute was after Taylor was clearly pulled down in the box, the ref even put his whistle to his mouth but just before he blew he looked at the same lineman who clearly was a supporter of one of our rivals and did nothing as the geezer wasn't flagging, so no penalty was given. There was time for a couple of other half chances but the writing was on the wall and the majority of the 646 people in attendance left frustrated and disappointed with the days result.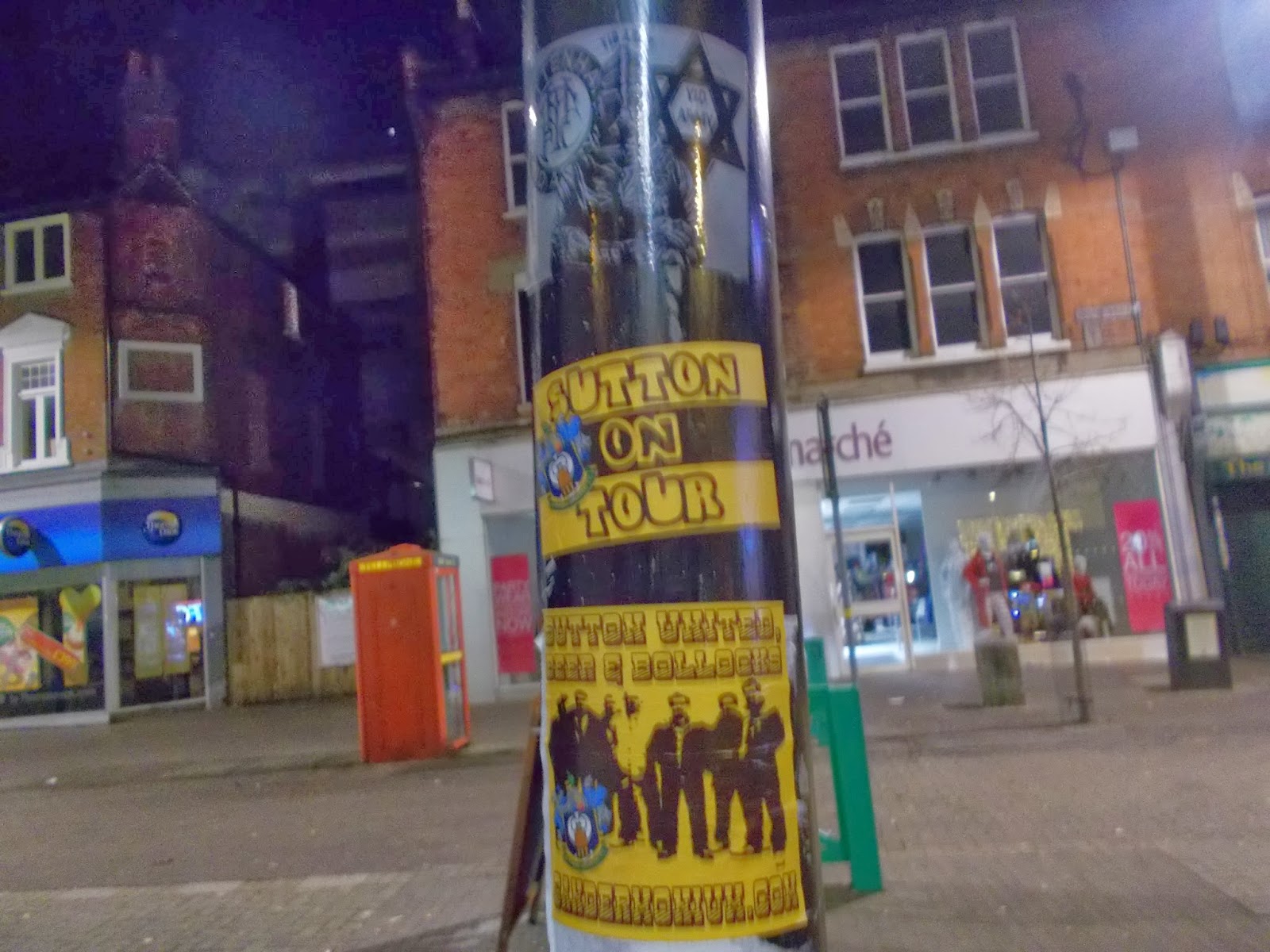 Vandals!
As we headed into the bar to console ourselves with copious amounts we got to see the beginning of the Dortmund Vs Munich game before we settled down to another episode of "Strikers Are Key" and with draw master Mr Barry winning it last time around there was only to be £250 in the kitty. So who was pulled out of the hat? It was only the bloody midfielders! And to add insult to injury they picked the right key! It was at this point that I spoke to a few other players who expressed their apologies over the game. But I was not bothered to be honest, I've seen a lot of game down the Lane like this one, so I could keep my piece whilst in company, while elsewhere others were losing theirs.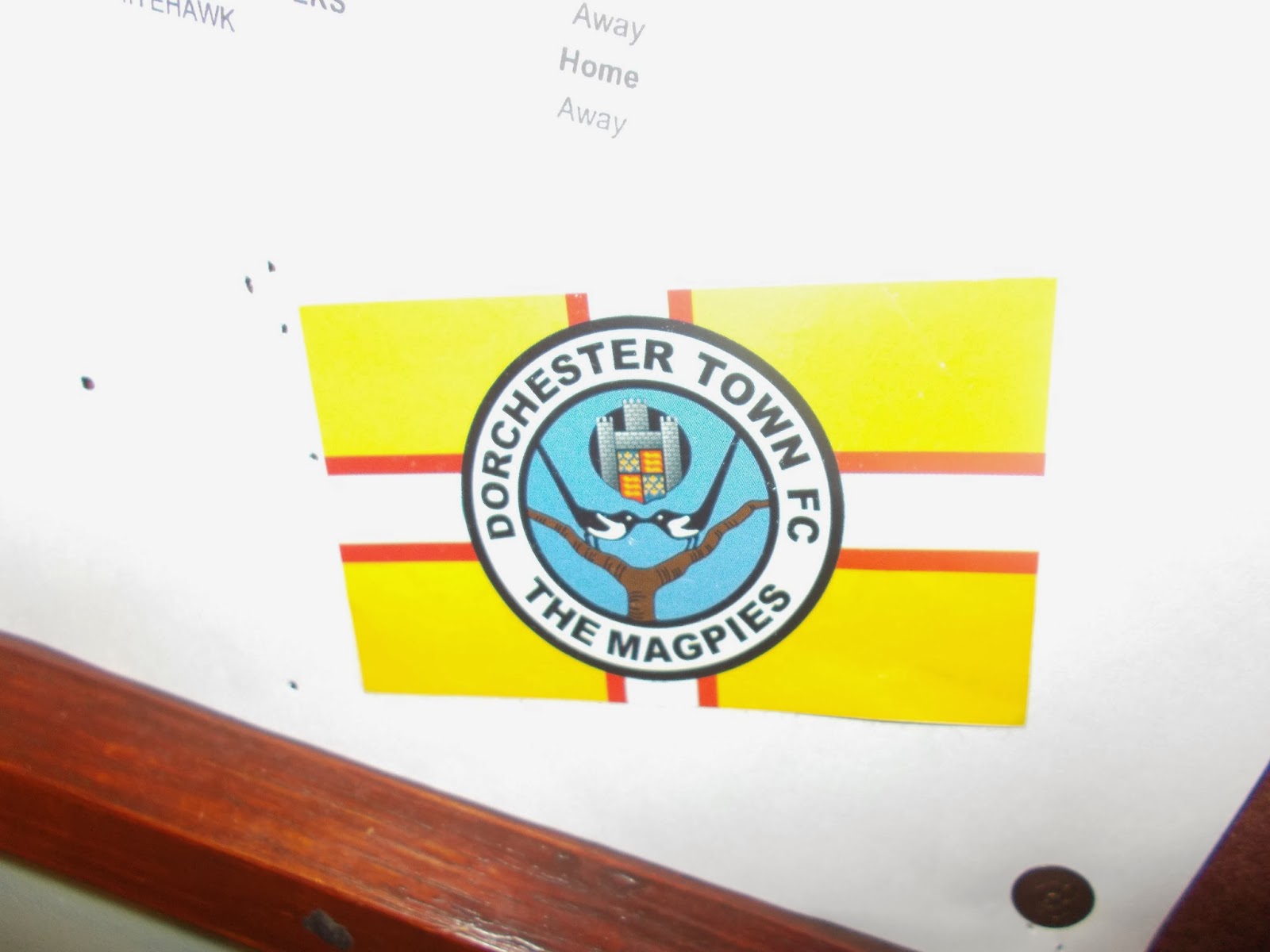 Dorset vandals!
Now there is not much to say to the rest of evening's activities except that one of our blog proteges are a selection of London based Dorchester supporters who we met up in London after a Tonbridge game a while back. I was so surprised that they were so magnanimous in their victory. Lets face it I would jumping from the rafters if that was only after our third victory of the season. But after trying to negotiate with the bar staff about bringing in a different selection of bottle at the club, we headed on into town and to the Grapes to further wet our whistles. Several beers later our conversations turned towards Weston on Tuesday and if it was an overnighter or not. And to be frank I can't remember what we decided in the end. Time well spent that! At the end of the evening, I said my farewells to the London based Dorchester proteges, who in the end found themselves crashing at Casa Taff after missing their last train, and headed off into the sunset with a cheeky kebab shop burger in my pocket.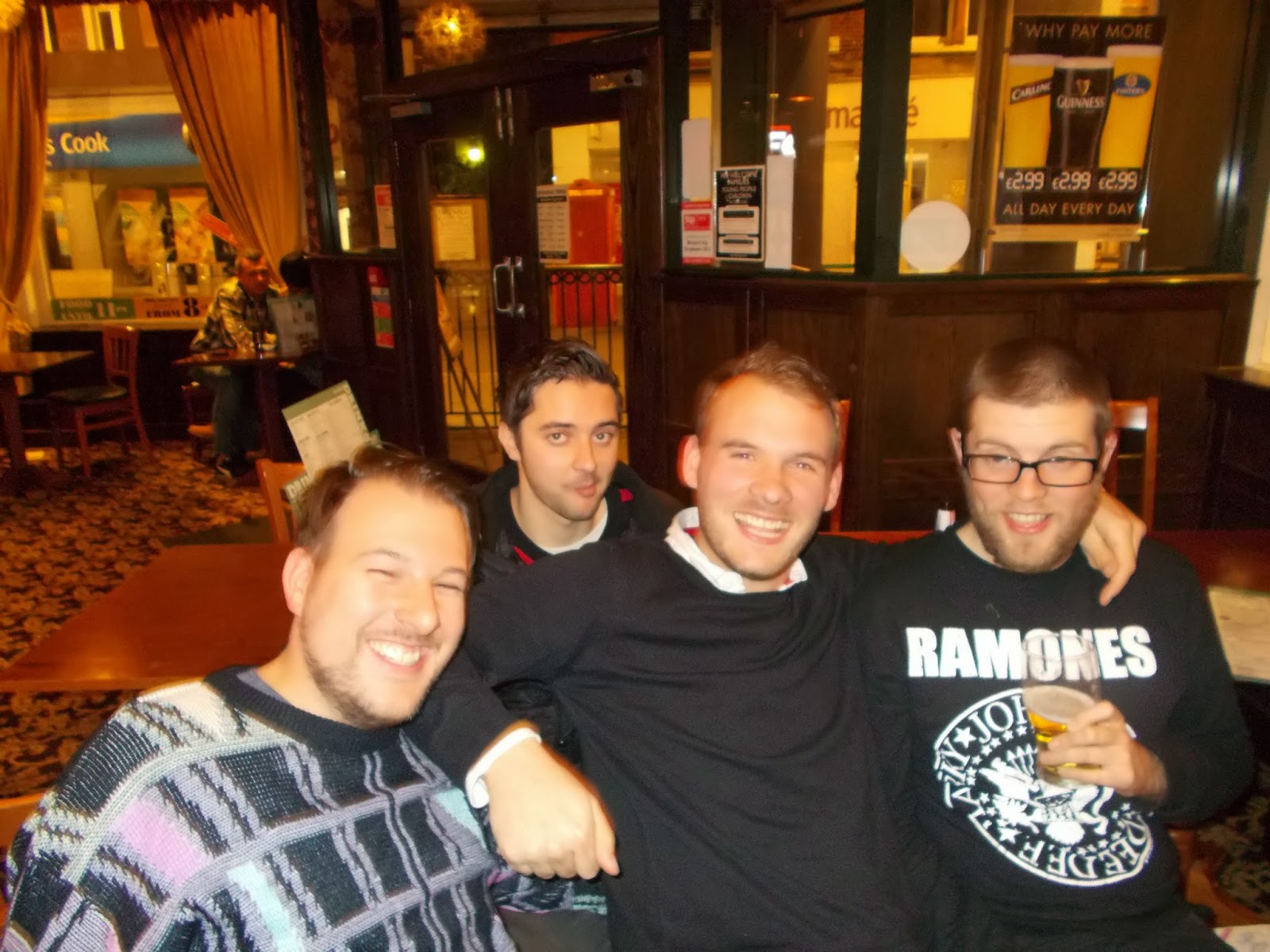 BUMPKINS!
Which turned me up no end the following day I can tell you! On to Weston Tuesday it is.
Duke.