I'm sorry what was that? I didn't quite get it? Our support is fuckin' what? Well I have one word for y'all…..JUSTICE!!!!!
Well here we have it, the replay of our FA Cup match against 'emel 'empstead which on Saturday ended in a 3-3 draw. I suppose really that it will be fair for me to comment on that game because for the neutral it was a crackin' game with goals, controversy and entertainment to last them at least a week.
For me and some of the other Sutton fans there it was more of an emotional roller coaster as first we saw our 500+ minutes without conceding a goal go down the drain inside the first couple of minutes. Then we got to see Mitch repay us with a looping header, Dundo smashing a ball in to make it 2-1 and then a wonderful goal from Ali G that really made you feel why you bothered with this lark all the time. Then we had two dubious penalties the first being soft and the second, well a blatant dive if ever I've seen one. We were even given a soft penalty as well to make up for it and unfortunately Slabb's shot was about as poor as Leroy's was against Notts County.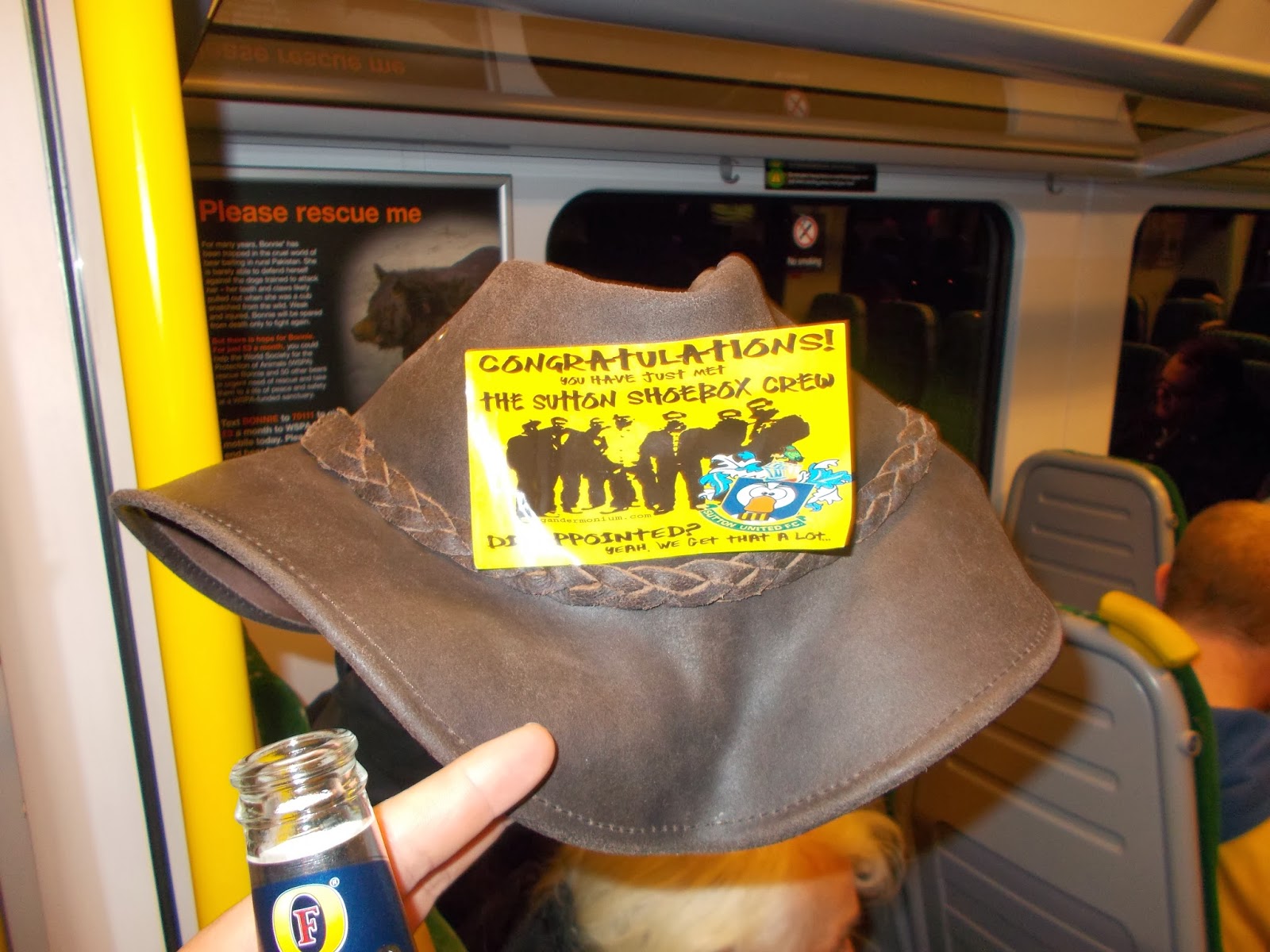 These stickers are really getting out of hand….
After the game we foolishly headed to the locals boozer, the one they tell you to not go to ever, and I now can see why. If I ever get told that "your going down" by a group of drunks again it wouldn't be too soon. But still after spending X amounts of dollar on the old Duke box in Apsley I managed to end up at the Old Bank in Sutton at closing time the rest of the days events can be seen on Juan's blog from Saturday.
The plan for tonight's game was to jump in to the old jam jar and head down there. But after spending nearly an hour trying to get home through Kingston and a pain beginning to be felt around my butt crack extension, the Firm Leader had gladly offered to take me to the game as my day had being considerably worse than his. He didn't really have to hang around too long for me to put my war paint on we headed to the ground, it was only 10 past six! As we had arrived early we managed to get a choice parking space right next to the turn styles and after attempting get out of the car looking like an old man with piles I shuffled off to the bar to have a few jars and soak up the atmosphere.
The news began to filter through that the Hemel boys were going to a bit on the late side and that some of their supports were going to be even later than that by being held up on the M25. So with this in mind we decided to grab another beer, of course halfway through drinking that the away team had turned up and the game bell was sounded not long after that so we drank our pints and headed out around the ground to the side entrance (word had got round that they were searching people at the main entrance).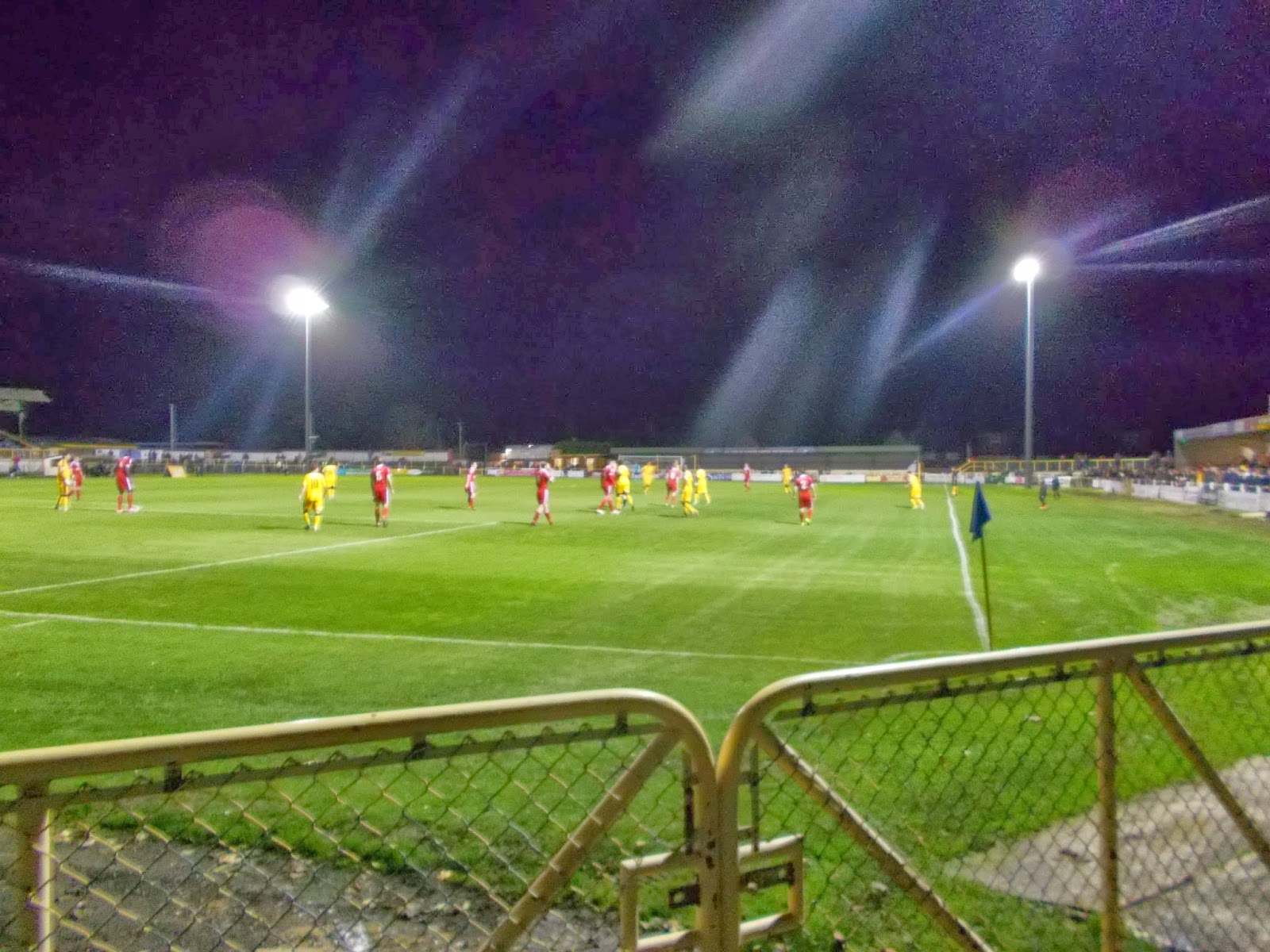 Dukey captures what appears to be a ghost….
Line-up: Lovelock, Nelson, Fuseini, Stuart, Clough, McDonald, Riviere, Dundas, Slabber, Taylor, Rents. Bench: Binns, Downer, Folkes, Scannell, Telfer, Shaw
As per usual we were shooting towards the Rec End so we hardy supports made our way to behind the goal so we could soak in the fresh atmosphere that surrounded us. The away fans that made it to the game before kick off started with a voice like they did at the first fixture. The first piece of action saw one of their players limp off after a couple of minutes and after that there was a some half chances for the Hemel boys and we felt that it might be one of those nights for us. Oh how were we wrong because on the 12th minute after a Dundas run that finished with him knocking the ball into the box that eventually saw it roll to Ali G and like Saturday he pelted the ball back at goal and after a slight deflection it ended in the corner of the net 1-0! There was some other chances that spring to mind from the first half. One being Big Mac's shot in the box that went agonisingly wide and also there was Nelson's header that where he lent slightly back got too much lift on the ball and it sailed over the bar. Hemel managed to have a few chances in this half as well one that springs to mind was through on goal Lovelock made himself big and wide stopping the attack single-handedly. While this was going on the rest of One Direction had arrived at that end and were trying to raise the sound levels a bit. At one point they even unravelled a flag but that was quickly taken down. Later I found out from one of our own stewards that the flag-bearer was told "No Poles allowed in the ground" which made me smirk for some reason.
Is that all you take away? No? The others are running late? Oh, ok then…
As the ref blew his whistle I decided to forgo the half time tipple and head to the other end as there would probably be a queue in the bar. Well there was another two long lines at Rose's and I did think to myself "Some mug will probably moan about that later" It was around this point whilst having a snout discussing the finer points of life with other members of the Firm that I saw "Fox in Box" being surround by the bouncers that were brought in by the club to curb the enthusiasm of the Hemel supporters after approaching Fox he described to me that they had removed the plastic handle of the flag! Oh well each to their own, me personally like the tension it causes but that's another matter.
The second half saw very much a scrappier affair with both teams trying to find their feet in each others half. The match only really began to change when Taylor & Big Mac came off to be replaced with Binns & Scannell with half hour left. Some of the runs that Binns does down that left wing are really magical for an "Older" gentleman and once again we got to see a lad enjoying his football. It was around the time that Slabber came off for Downer that I was told by the Firm Leader "Golden Goal?" I looked at him quizzically that it dawned on me that the goal was announced at 12 minutes I looked at my tickets and BOOM! I realised that I had won, so off to the club shop I went. Saw Alison and collected a nice crisp score out of her hands. It was here that I saw our old Matty standing outside and I had to remark that Chicago's was shut down he reply "Yeah I know, that's why I'm going back to Australia!"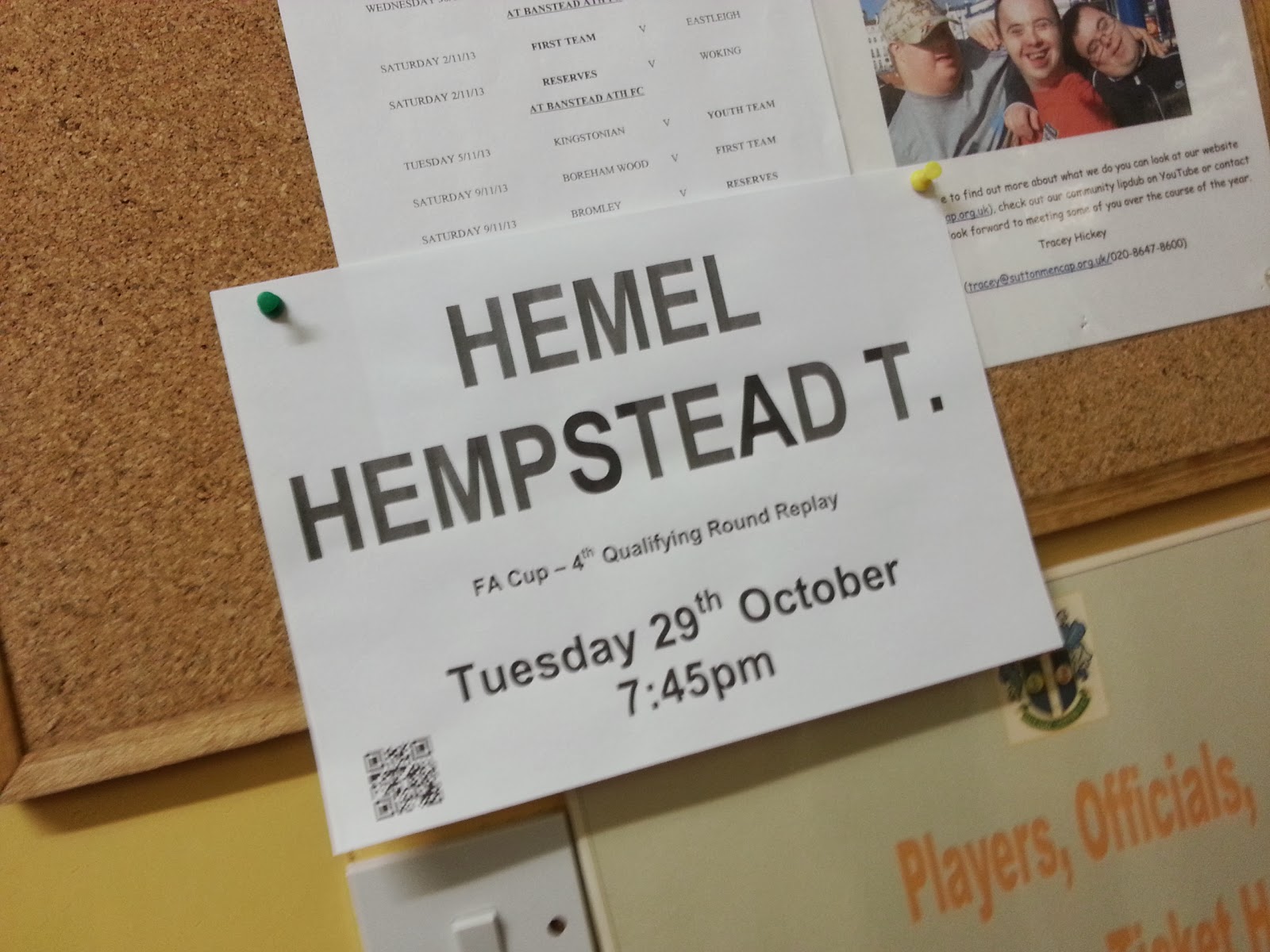 Ha! Crushed! Destroyed! Mullered! (after a replay)….
After all this I returned to the Gandermonium Terrace where I got to see Ali G have another pop at goal only to be denied by the keeper's long fingers. But be it assured a couple of minutes later the lanky sub from the first half dithered around at the back for too long and was disposed by Dundo who then calmly slotted the ball past the keeper 2-0! There was still time to see their no. 6 lunge into Stuart and the tradition 21st century hand bags at dawn pushing match began. But we didn't have wait long before the ref blew us into the first round proper.
After clapping the boys off the pitch we headed into the bar to find out what had happened at Aggborough only to find out that the game didn't kick off on time as Bradford had broken down on the way to the ground so in fact their game kicked off later than ours. The news coming through was that the two teams were still level at 0-0 with around 10mins left to play. But first it was to the bar where a beer was quickly consumed and the talk headed towards our possible opponents. Personally, I would prefer go to Bradford as I feel we would have a better chance and we haven't played there before. But low and behold Kidde went and gone and bloody won in extra time so it didn't matter anyway, and now we have to go back to Aggborough again.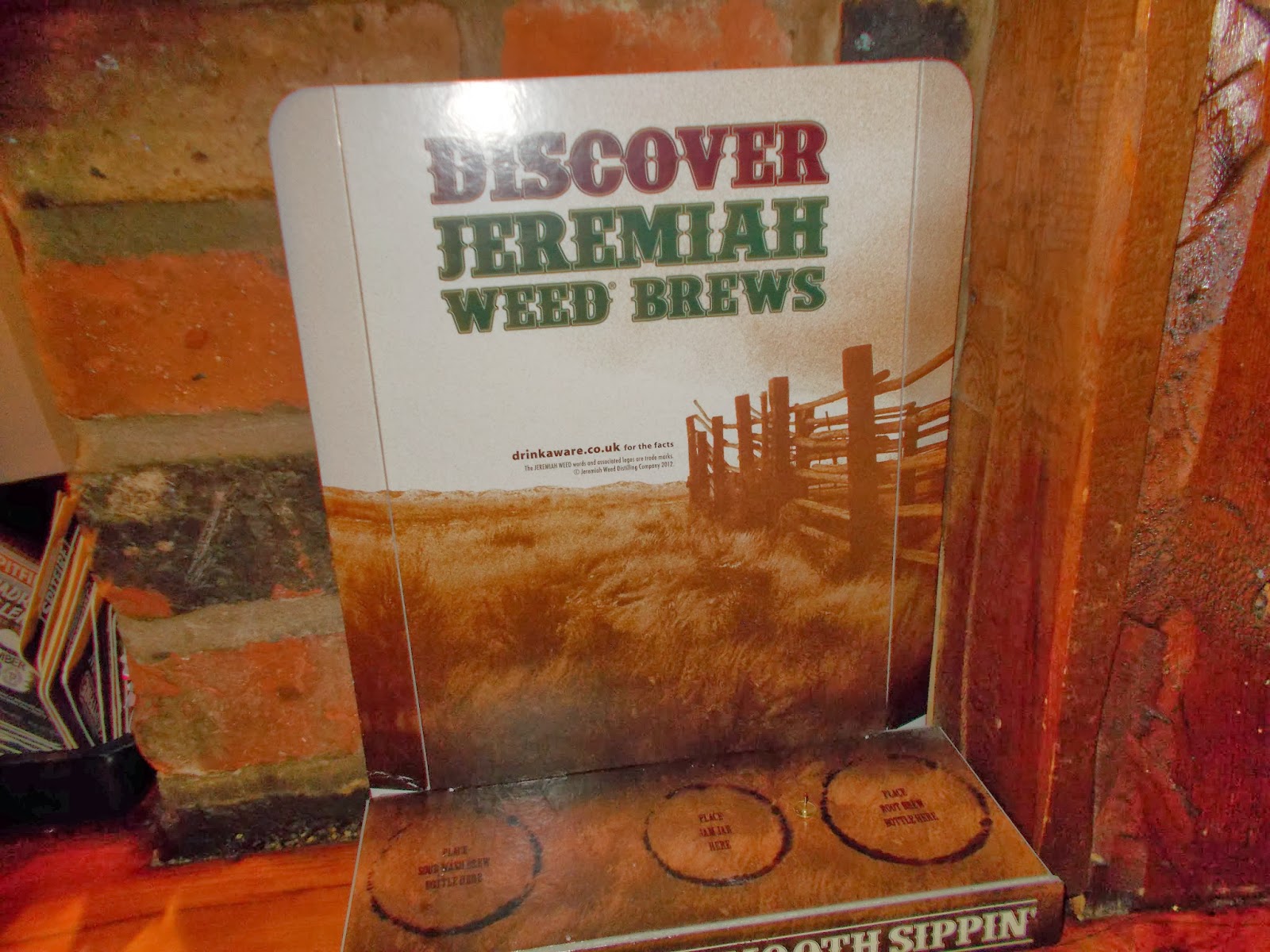 Dukey just loves this stuff. He's nicked about 8 of the glasses….
Well that was pretty much it for a cold Tuesday night, I won't mention a certain fella failing to get a blowie at the weekend so instead I managed to get a lift home from the Firm Leader and it was him who spotted the blood stains on my shirt. But that's a totally different story, roll on Saturday and Eastleigh, I did agree to do something Saturday night but I can't remember what it was…….
Duke