What do we do with a drunken supporter? What do we do with a drunken supporter? What do we do with a drunken supporter? Especially when he has lost his shoes!
Yeah that's right someone nearly lost their shoes on the trip back home last night. But we will deal with that later because we have the magic that is the FA Cup to get through first.
After another nice quiet week with no work and me still on sick leave I was still unable to see the Youth in their own cup match defeat a little Eastbourne team and set up a tasty away match at Maidstone on their very own artificial pitch with the prospects of a possible game against Southend in the first round.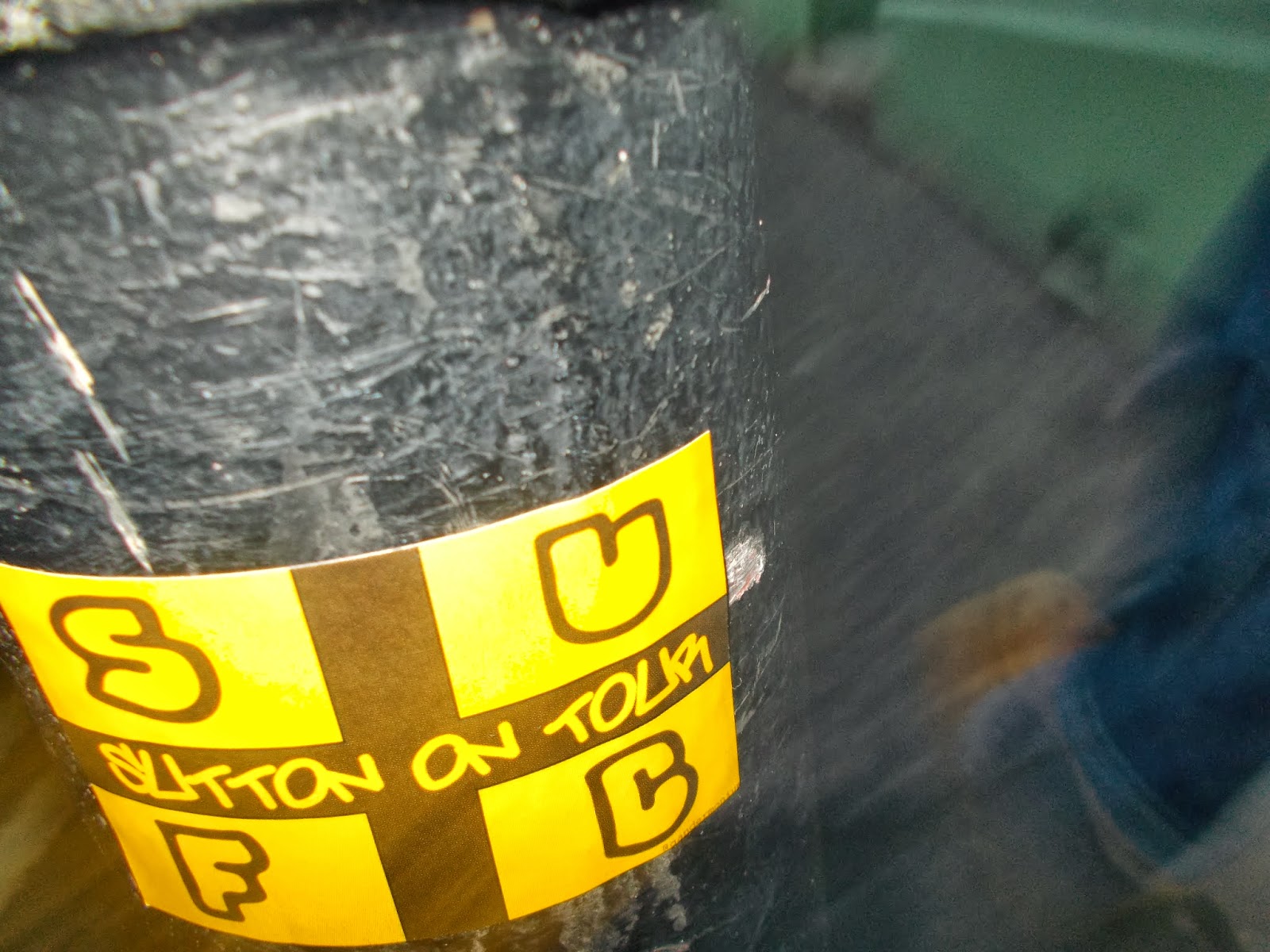 This wasn't us. Oh no…..
The text from the Editor in Chief arrived on Friday night at around nine o'clock telling us for a change instead of going to East Croydon we were going to go the other way around the Loop and head to Clapham Junction to catch the train. The time of the train was due to be the 0903 from Carshalton so I decided to have an early night and stay off the old loopy juice in order to fully appreciate experience of the outing.
Unfortunately best laid plans and all that, it didn't happen and I managed to fall asleep very late. The problem with that is the alarm went off in the morning at half past six I casually switched it off and rolled back over for another hour or so. By the time that I realised this it was gone eight o'clock and the chase was definitely on now, and after a rushed attempt at the three S's I was able to leave the house at around half eight and make the walk towards the station. This of course was interrupted with the withdrawal of another ton at the local ATM and a stop at the cafe to get the E-I-C a nice cup of tea.
On the way to the station I received a call for the Editor in Chief saying that he to was going to be late for the train and that would it be possible for me to buy a ticket for him. Well for the last several away games he has beaten me to the station and it was a welcome return to usual services as I was faced with the conundrum of purchasing tickets. But my luck seemed to be in as a side gate onto the platform was open and I waited for the Ed. to turn up and directed him through it. With the arrival of the train it was here that we saw the next member of our Firm to arrive and that was the Firm Leader himself. At West Sutton we saw the arrival of Mr. X and we all headed to Clapham Junction where we were due to meet the Welsh Wizard as he was making his way on the overnight bus from the Wales game. This was also where we were supposed to purchase our tickets for the day. The only snag was that we had to get through the barriers to purchase them, and yes me and the Editor in Chief were yet to acquire any tickets. We managed to use the Firm Leader's oyster card and get the right tickets and head off towards Lewes on a trip that would take us around an hour and nothing of note really happened except picking up a couple of strays and an unnatural act with a lucozade bottle and a plastic cup.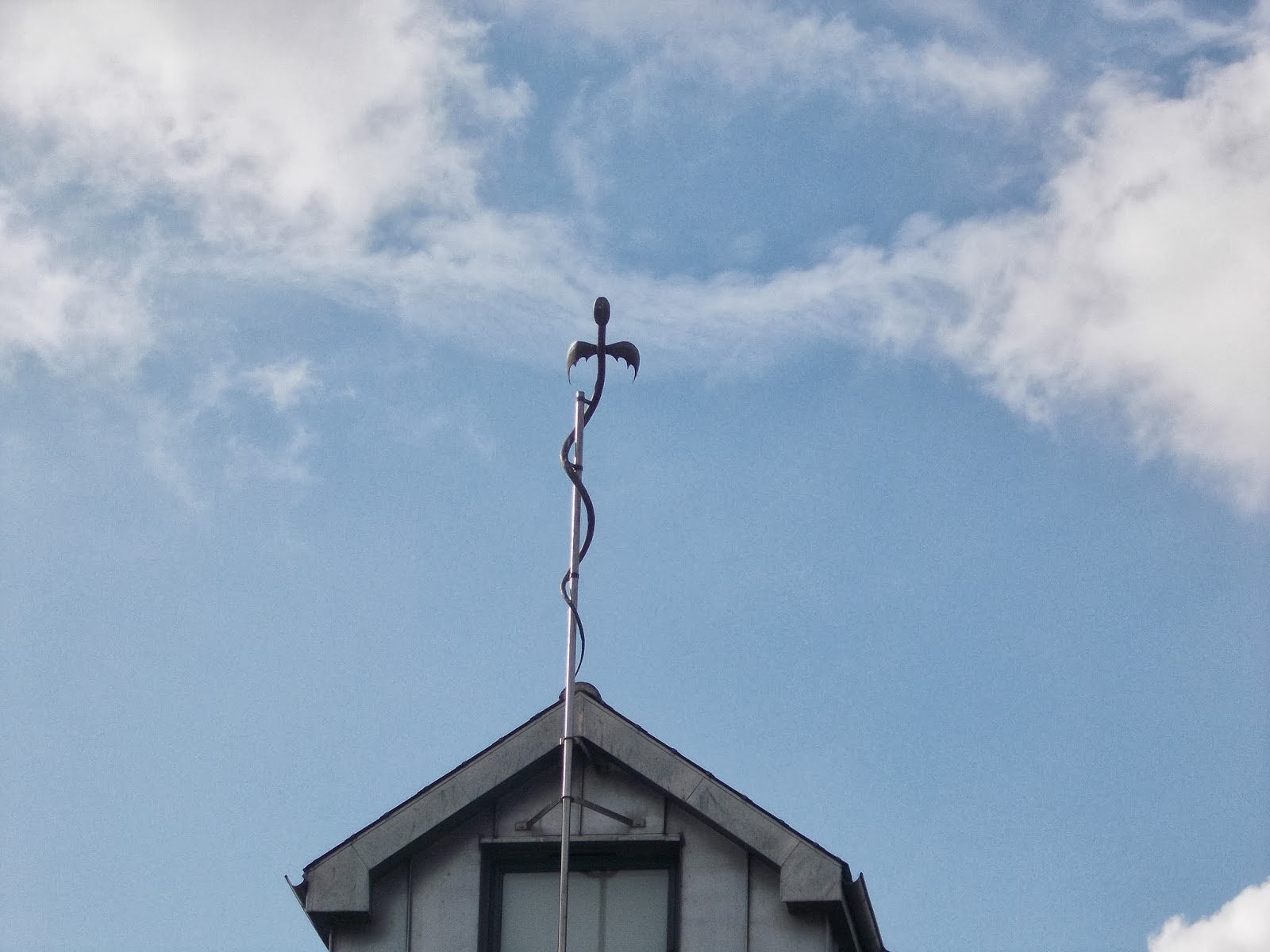 A 'winged sperm' according to members of the crew….
We arrived in Lewes around ten to eleven and headed into the town and the sight that was to greet us was one of those moments where you look back and think WTF was that? that is because the town was filled with that well known traditional past time Morris Dancers! And I'll tell I was mystified to say the least as various old fellas and birds were jingling about with their sticks and bells, there even was a troop of them with black out faces, how very 70s. The first pub of the day was the Gardeners Arms were me and the Firm Leader started on the ciders, I started with a nice 5.0% Wyld Wood and the guv'ner going for a more generous 6.0% concoction called a Crazy Goat that was a cider/perry mix up which I will have to say that I didn't like very much. But it was decided that at one away day booze cruise we will try and all drink the same strength alcohol to keep it a level playing field, but that's for another day.
It was decided early on that we were going to try and fit as many pubs in before the game so as one of us was still a little tender from the night before and had to have a turn out it was felt that this was mutually inconvenient to rest of us and we attempted to leave him behind but he managed to clean himself up in time and follow us to the next boozer which I think was the John Harvey Tavern on the river Ouse where we saw a little metal plaque of a flood line and we were given front row seats to the travelling minstrels outside. We even had time to admire a sort of Spiderman sperm erupting out of some converted warehouse before once again we were off to another establishment. It was on way to the next pub where saw the old scientologists in the high street and someone else dressed as a chicken and to think we had only been to two pubs!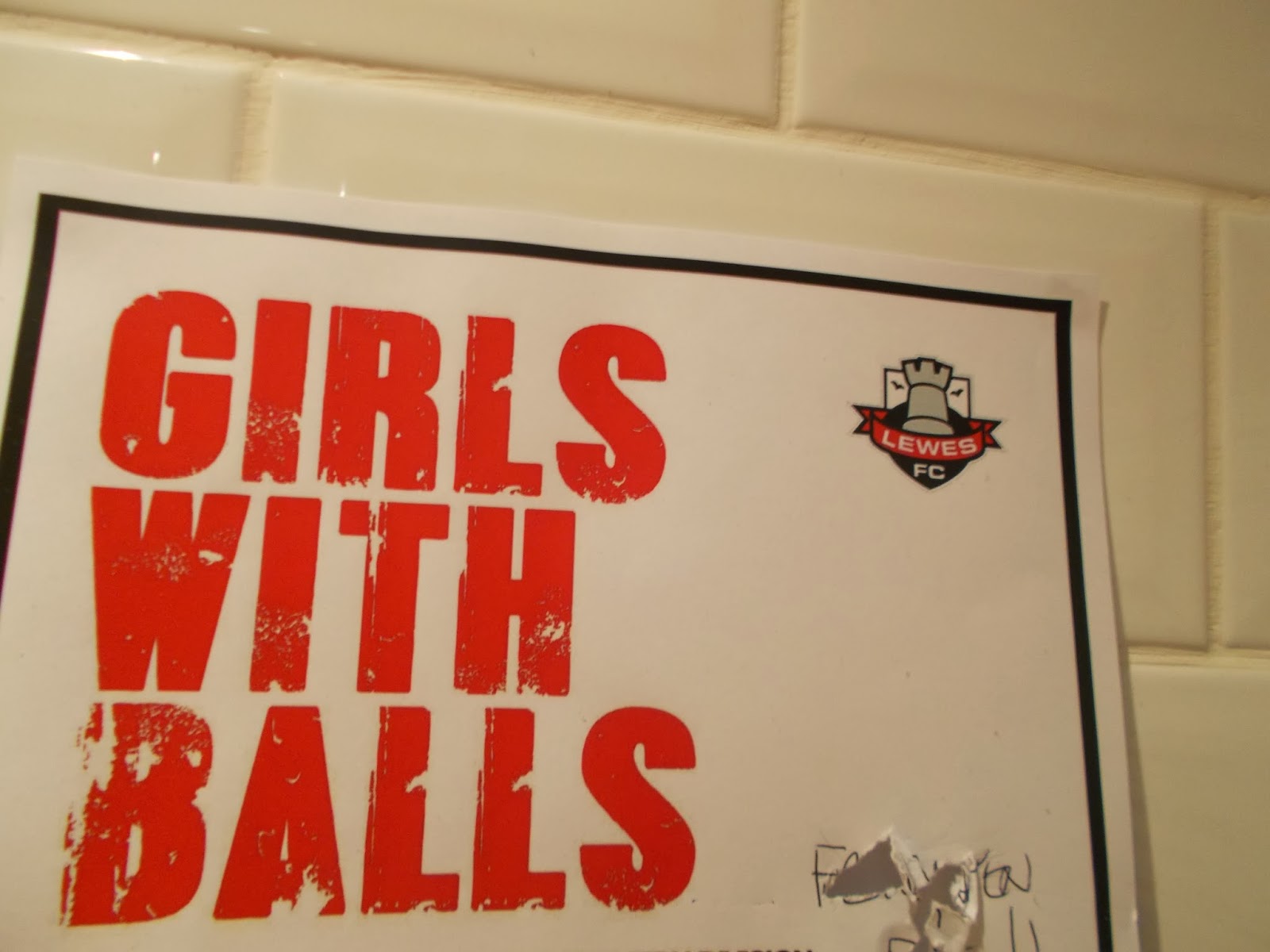 Popular in Lewes. And Bangkok…..
The next pub on our list was the Lewes Arms and one of those with a very small saloon bar, in fact it was so small that instead we had to separate into two groups to make some space. But we weren't there that long and headed to the Elephant & Castle were low and behold there was a proper quiz machine unlike the one we have down the club which has lost all the descent games. The game of choice today was a favourite quiz show of ours, Pointless, and after several quids worth without any luck we headed onto yet another boozer which I thick was number five on our list The Brewers Arms. This was the pub were some of us got some food before we finally headed to the ground.
The first sight of the ground didn't feel me with enthusiasm as there were two long queues as only two turnstiles were open for a game that was to see over 1,100 spectators. After saying our hellos to some of the other Sutton fans who had made it to the Sussex coast, even Dr Bell had cut short his dirty weekend to Bognor to be here and the other blog contributor Juan had snuck in through the back door without a pen and pad. We headed to the bar for a cheeky short and to our places in the main terrace. The line up today was going to be:
Lovelock, Nelson, Fuseini, Stuart, Downer, McDonald, Riviere, Dundas, Slabber, Taylor, Binns
On the bench today was: Haysman, Telfer, Folkes, Scannell, Clough, Rents, Shaw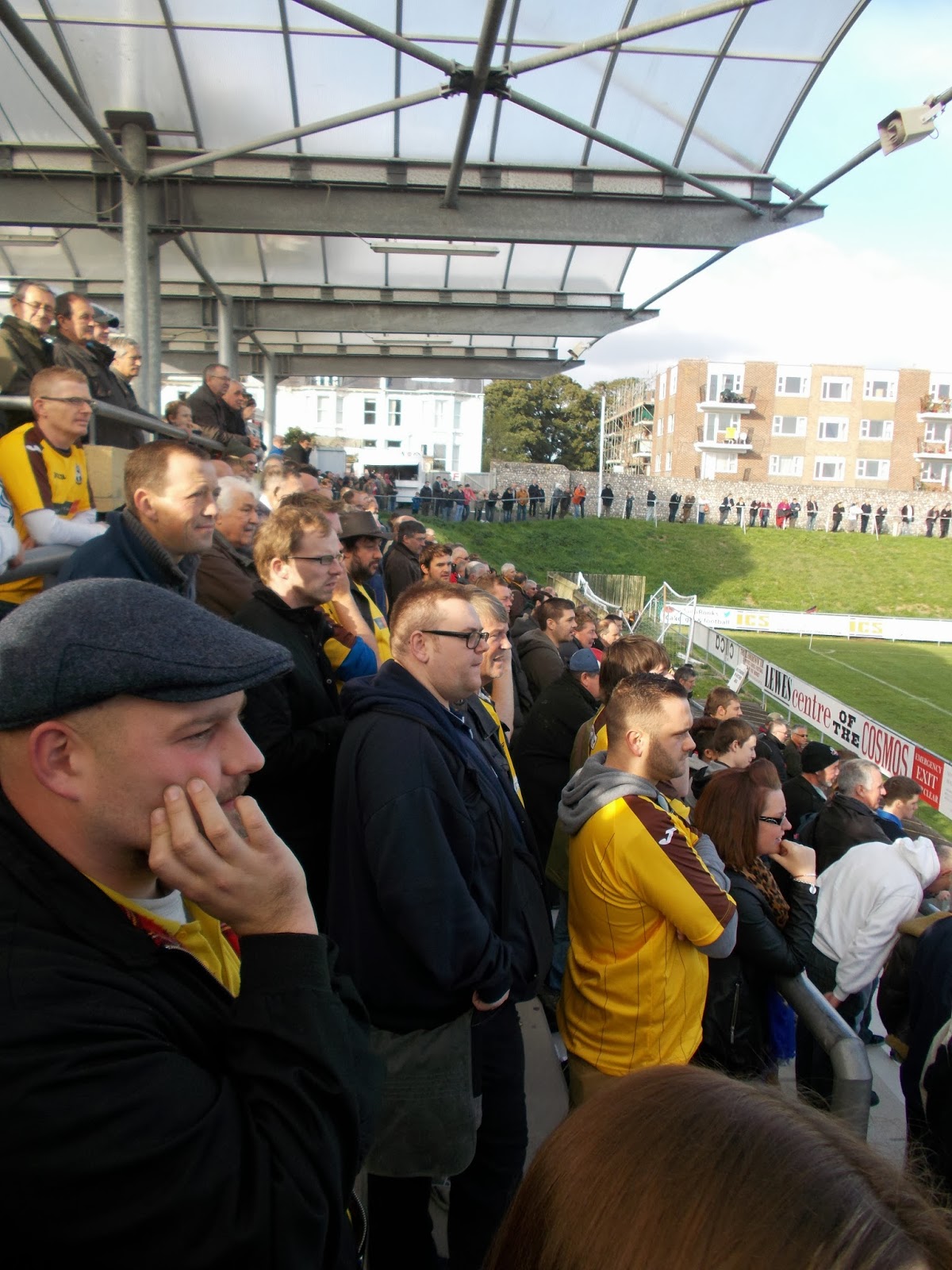 Dukey looks all pensive….
The match was very much like the last time down at Whitehawk where after only a couples a minutes a substitution was forced onto the home team when their fella had to go off with a cut to the face but our attention was clearly changed when several minutes later when Dundo intercepted a bad cross field pass and stormed into the box only to see his shot saved by the keeper, only then did we see Slabs come running to poke the ball in 1-0! and the celebrations began only made sweeter by the fact we were surrounded by the usual wrong end supporters. We really should have put the game to rest after that when old Big Mac once again showed some skill beating the defender and cross the ball in low and hard and with an open goal top aim at we all gasped as Taylor managed to do the impossible and knock the ball wide. A collective SHIT was worded from the support behind the goal. Other than that the first half was pretty much a dire affair with both teams try to poke at each other with three Lewes players getting the cards for various fouls and Taylor taking one for us.
After spending what seemed like ages to get some drink at half time we headed to the other end to await the second half of this event. And really for the start of the half the game never really got going as which someone said "Typical Fuckin' Ginger" of the referee who decided to take over the game with some of those bizarre decisions that really did perplex us. One example of this was after Haysman had came on for Taylor he managed to get entangled with a Lewes midfielder, the only difference was that he was first to the ball on for the fella to roll around on the ground and get Kane & Able booked. There really wasn't much to the half as it seemed we were looking to hold onto our 1-0 lead and with Lewes rarely troubling Lovelock in goal it was good to see us once again keep a clean sheet. The fifth consecutive game I reckon now, The only other real talking point was in the last 10 minutes when Stuart got clattered by one of the subs only for it to be seen by the whole ground except for the two fellas in the middle. As soon as the final whistle was blown we celebrated and headed to get some light refreshments. There was still some time for us to cheer the team off and congratulate Cloughie on his 30 seconds without touching the ball substitute appearance. We also saw some of the Lewes fan accuse some of the Sutton players of being cheats, a bit of mud slinging me thinks there!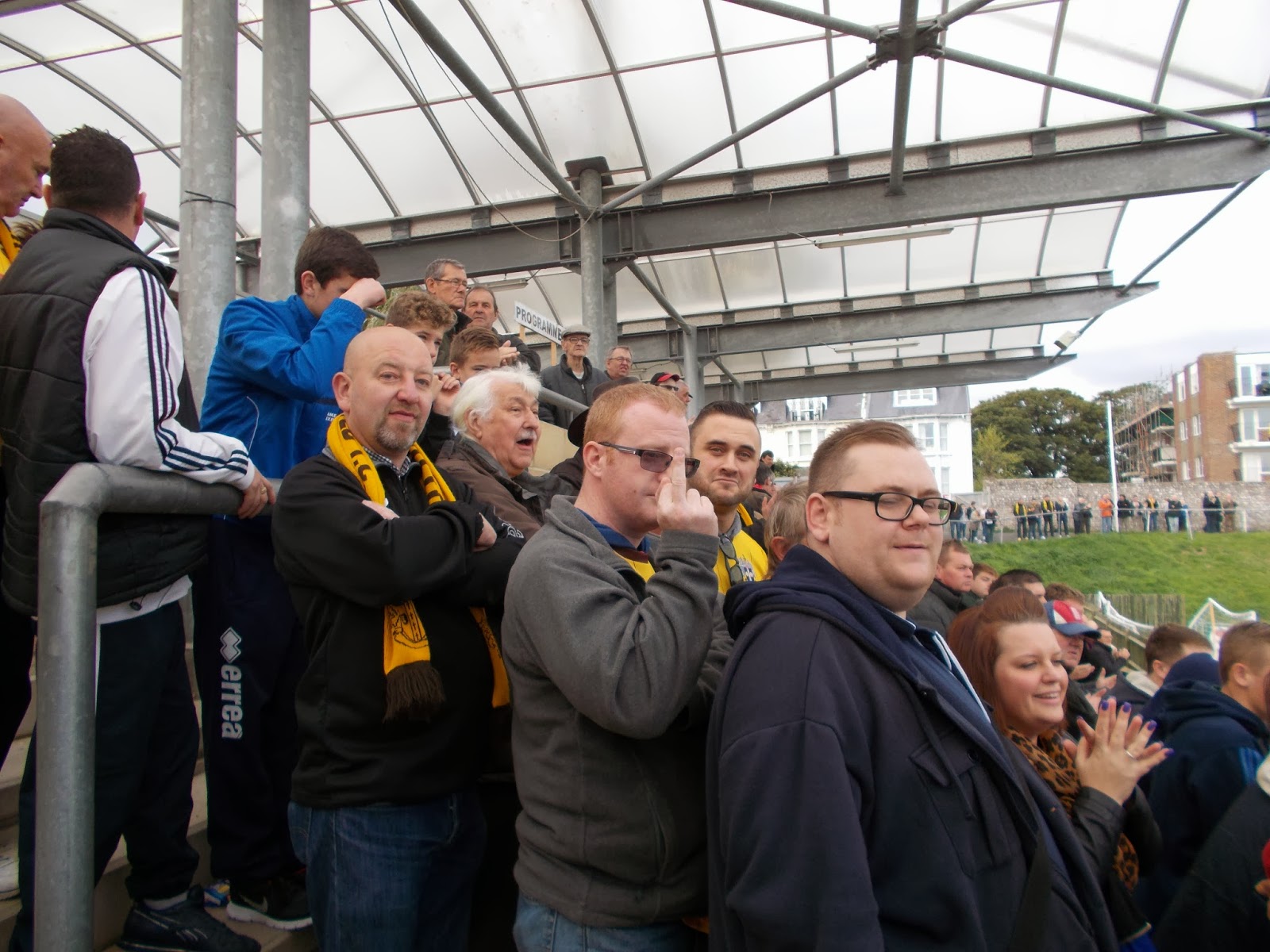 Some right dodgy fuckers
Well that's enough of the game as according to one of our readers "Our blogs contain too much football" The sixth pub that we head for was on the other side of the station called the Landsdown Arms and being joined by Mr C and his brother plus other for more drink our discussions turned to other results. Some like the Hornchurch Vs Wealstone and Eastleigh Vs Oxford City to name but a few and the reports of some trouble from Atherstone Town were keenly discussed. We also managed to see the team coach pass us much to the delight of those around us. The next pub on our list was up the road called the Royal Oak where it was here we discovered a juke box and another quiz machine with Pointless on it. After several more pounds it was agreed that the game was a fix against us and instead we decided to head off to pastures new who's name escapes me but it was pub number eight for us and the drink was starting to flow now as my camera shots were starting to get a little bit blurry at that point.
This was of course the point that the Firm Leader was convinced that he lost phone and after much worry it was discovered in his top pocket. After all this we headed back to the Brewers Arm for more drink and we decided on a plan to head back to London. To carry this debate we headed to the Royal Oak once again to formulate an exit strategy, and agree a time. And it was time for us to leave Lewes and the pubs that we had been in. Of course we had to get some more refreshments for train journey home which left with some disastrous results…..
Accidents will happen…..
The train ride home was quite a somber affair as it had been a long day for most of us. Some had carried on drinking on the train whilst some other had taken the opportunity to catch a few winks. So the first of us choose to alight at East Croydon the rest were due to get off at Clapham Junction. Unfortunately as we were about to hit the station one of us minus his shoes decided to stumble off to the toilet to relieve himself and didn't make off in time before the doors closed so instead we had to travel to Victoria with Shoeless Joe Jackson in tow and then back to Clapham Junction to pick up another member of the Firm and some shoes to head home, how we ended up talking to a drunk Welshman I don't know but we did before I fell out at Carshalton and stumbled home.
It must have been a good night because I woke up cuddling a kebab with a DVD of Waterworld frozen on the menu screen. Now its all about the draw on Monday, which according to one of the Firm members "If we win will be live" on talksport and the debate of a decent away day or maybe an easier banker at home. Lets face it we have now got to go to Gosport, Bath and Weston Super Mare on weeknights so that is punishment for our cup success if ever I've seen it. Still happy days, Gosport away Wednesday. Great!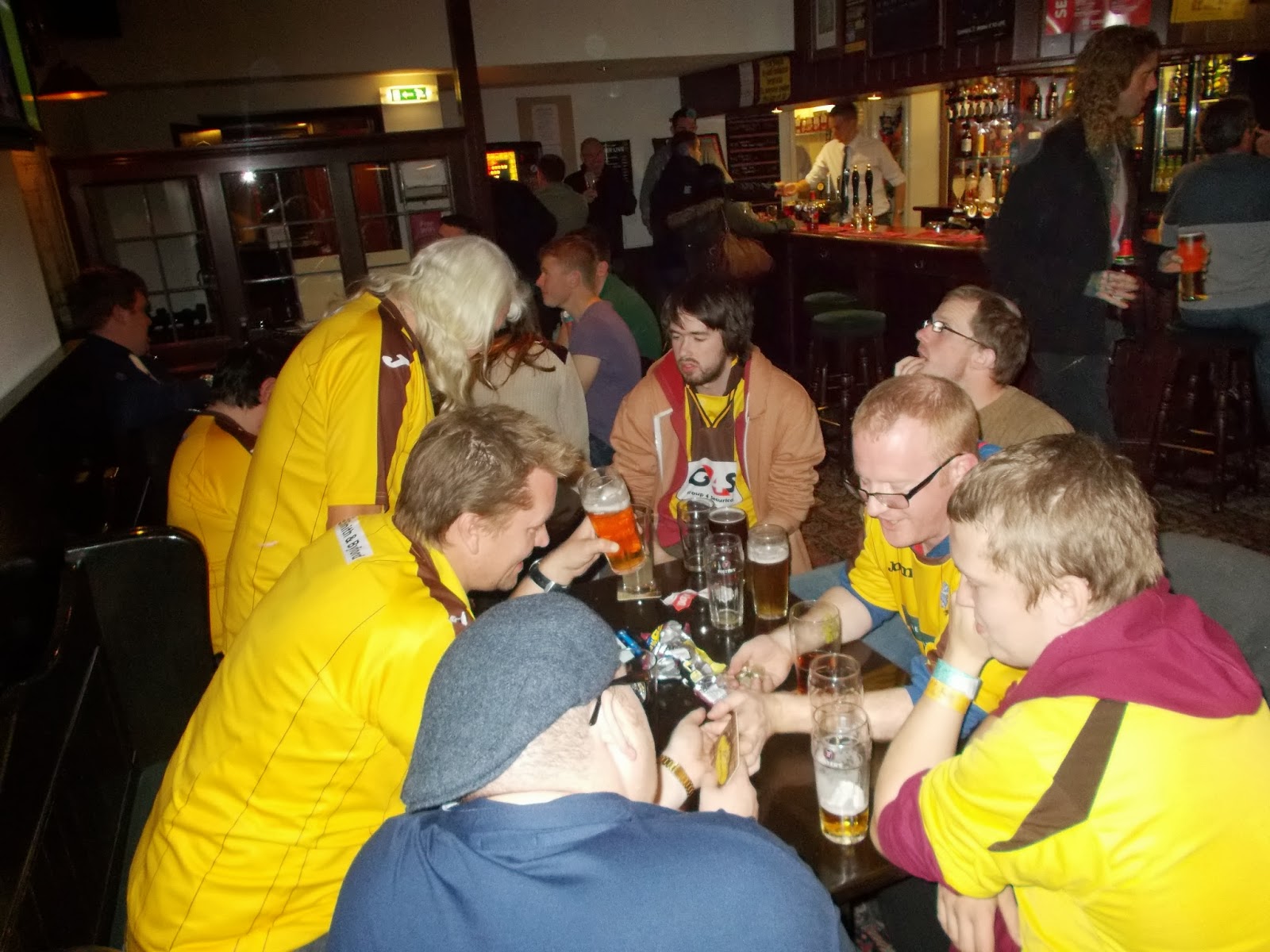 So, where exactly are we again???
Duke