It's that time once more. Yes I'm back after a slight absence
from Gandermonium over the last couple of weeks to bring you this weekend's FA
Cup fixture away at Whitehawk. Well seeing as its Friday night, I'd best get
words to paper prior to the game, as I think come Sunday my body and brain
will be in two different places,. That's a given seeing as we are heading south
this Saturday, down to the sunny coast of Brighton. So before my body and brain
crumble into pieces, let's get started.
As some of you will
be aware, in recent weeks, I've become a fan of Jeremy Kyle & Loose
Women-no no, not the type you can find in certain boozers in Sutton on a
Saturday night, the T.V programme. Well, this short lived experience will be
coming to end next week, as I have indeed found myself a new contract. Well
tell us more Juan, I hear you ask. So, yeah it's basically a firm that supplies
replacement body parts to the medical industry, such as knee, hip and ankle
bionic parts. Now that's kind of ironic given my previous history of knee operations
I have under my belt. Well, at least if I go under the knife once more, I know
where I can get the spare parts. So yeah that's a new job in the bag that
starts next week. So with that in mind, what a better way to celebrate new
employment than heading to Brighton, to get messed up, and enjoy our F.A Cup Fixture away…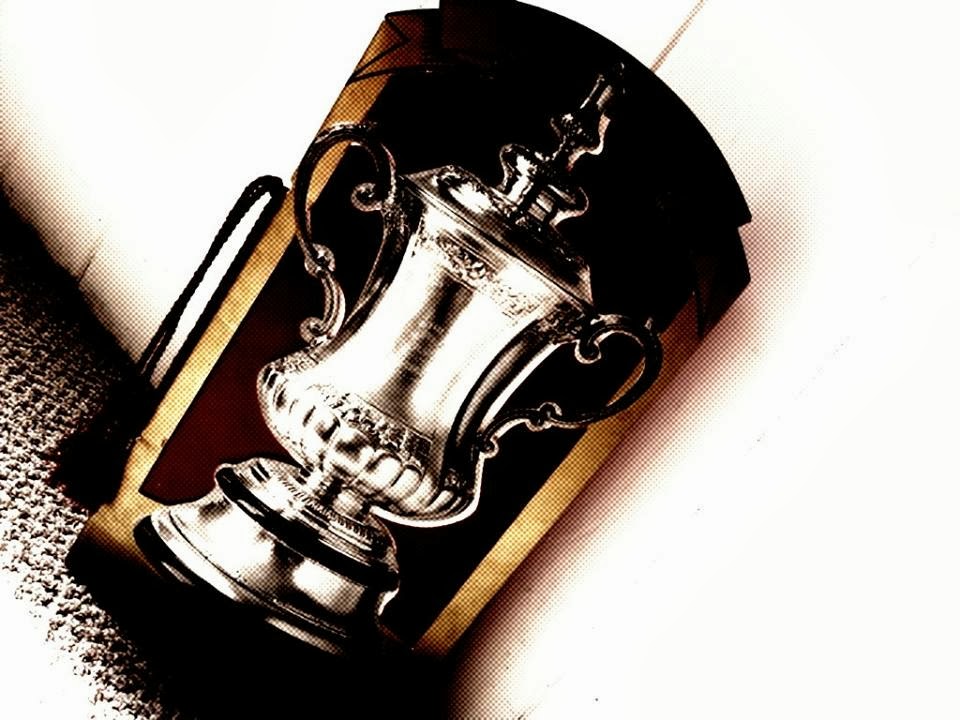 Not made of tin foil…..
If you are a fan of Gandermonium, and you have read some of our
previous updates, you'll see in recent weeks that we did indeed play Whitehawk
in a League fixture recently, and if you fancy a little read of that one, you'll
find it here. So no need for me to go into massive detail on Whitehawk, as you'll
find a shed load of information in that write-up!
So it's Friday night, and the text had been received on the
phone with the departure time from East Croydon, so nothing left to do, but get
the gear ready for the away day. Wallet, complete with the Dukey ton-£100
should cover a day by the seaside. With a choice of shirts to hand, I went for
the trusty amber home one. Phone charged and ready, cigarettes ready, keys
check.
It's Saturday morning, it's early, my body clearly not used
to raising itself from its pit before 08:00 AM. Standing at Banstead Train
Station, a Ghost Town, at the best of times, the only thing rolling through
this Train Station at this time of the morning is more thoughts. An away day in
Brighton, an early arrival time of 11:00 AM, this is definitely going to be a
messy one, and well nowt can possibly go wrong…Famous last words. On arrival at West Croydon, a short walk
along the High Street, and through one of the shopping malls heading towards
East Croydon, I decided to swerve into Mcd's for a quick bite to eat to line
the stomach. This offering will more than likely be the last solid my stomach
will see until the evening. Arrival at
East Croydon to meet up with the other members of the Firm heading south, we
have Taz, Mr X, Duke, Chalmers, The Welsh Wizard, Loffers, Dr Bell & Sal. With tickets in
hand, it was time to board this Southern express service towards the pebbled
beach of Brighton.
"I know what is around the corner- I just don't know where
the corner is" – Kevin Keegan said that. Well Kev, stay tuned and I guarantee
after today, we can give you some ideas.
On arrival at Brighton, with the other masses, and hoards of drinkers for the Shakedown Festival. It was time to head to the first boozer of the day. Well seeing as time big hand had just passed the little, hand at 11:00 AM. A short walk, no more than fifty yards from the station we found ourselves ordering the first tipple of the morning. I decided to go easy on myself to begin with, and went for a rather smooth tasting Crabbies-everyone has to do a Ginger now and again…..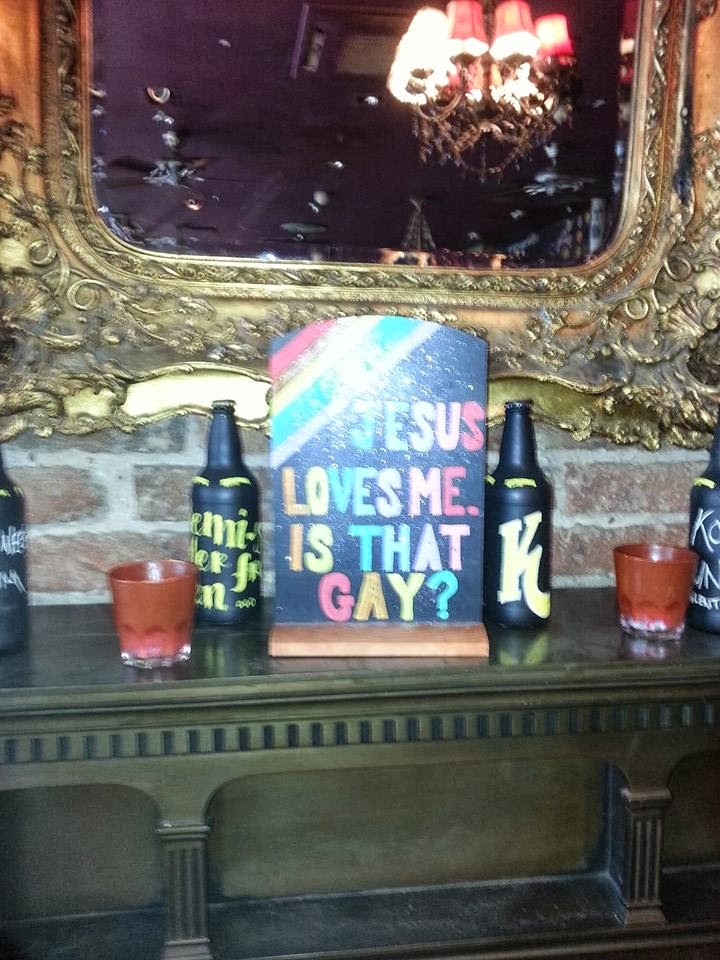 Yes. Yes it is.
The name of the pub, practically opposite Brighton Train Station was called the Kings or Queens Head, I couldn't quite make out the name due to the scaffolding surrounding the gaff, which had been there for some 403 days! Still, it was a nice little boozer to get the gullet used to the taste of booze early doors. 2nd round between us piss heads, I decided to now go for the ciders, a cold pint of Stowford Press. This pub was rather unique with some its slogans, and an interesting set up in the Gents toilets. With 11:30 on the approach the Dover boys rocked up, good to see some familiar faces. Mr Beautiful Boy, Mr T-Rex, and of course Kieran to name just a few.So with the Dover boys knocking back there pints, It was indeed time to say goodbye to this boozer, and move onto the next one. Would you have it, that we were in on our luck, the next pub, was again no more than a 30 yard walk just round the corner-perfect. However, whilst en route to this one, o'l Juan's eagle eyes spots to Adult themed sex shops in the same road. Sadly, we didn't have time to pop in and say hello! To be honest it's probably best that we didn't. I mean could imagine 20 or so pissheads just dropping into a sex shop to say hello, imagine the carnage that might occur……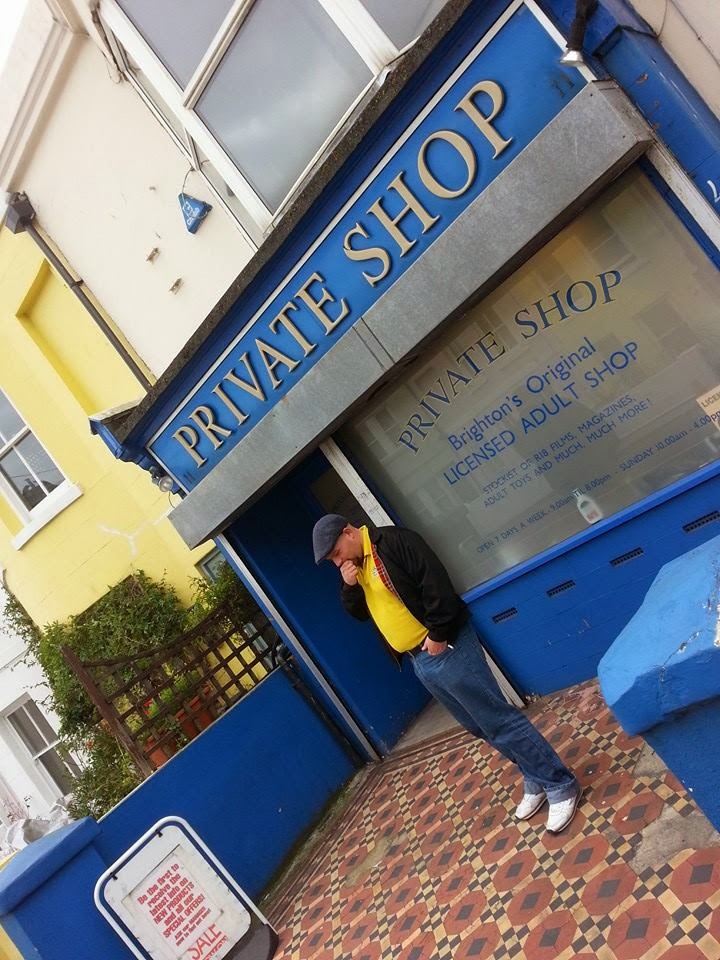 Dukey ponders whether to get 'Schindlers Fist' or

'Shaving Ryan's Privates'…..
So back to the drinking. The second pub choice was a little street end pub named the Evening Star. A nice looking pub from the outside. Clearly this pub was created from converting a couple of townhouses into a little country like pub on the inside. Who ever came up with this idea, deserves a medal. Inside, you'll find a small bar/ serving area tucked away in the right hand corner. With a wine/beer/cider chalk board menu on the right hand side. I think most members of the party were indeed sucked in towards the glistening booze menu, and went for some rather away from the norm type drinks.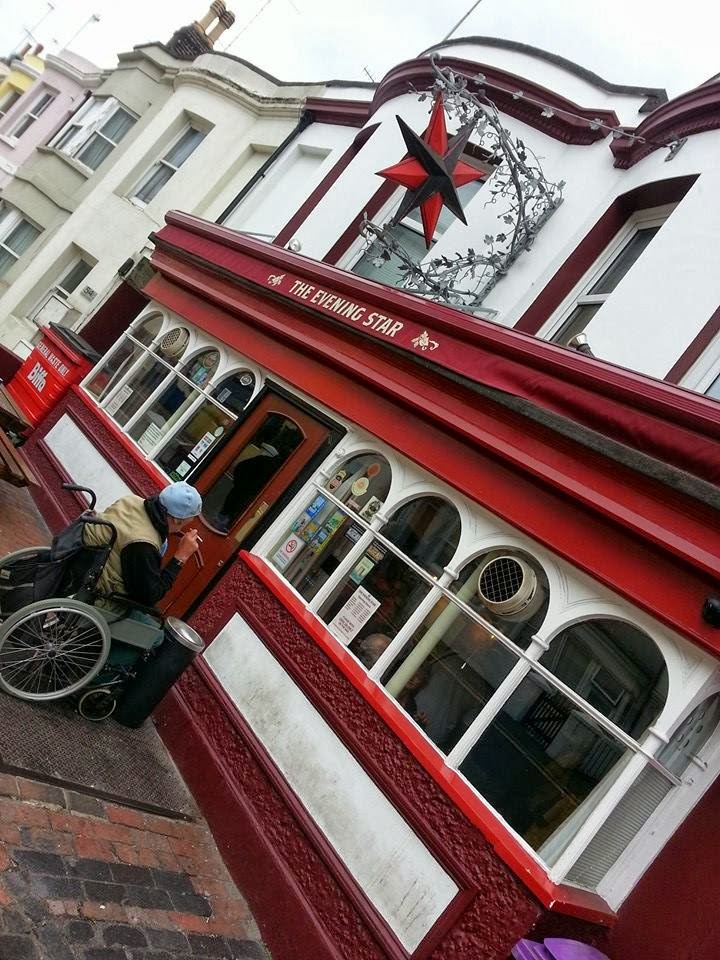 Beer! And very nice it was too….
I myself decided to settle for something called an Orchid Pig-with a name like that, what's to loose. A rather Cloudy, but pleasant Cider, it could be described as a typical Scrumpy. With the glasses now empty, it was again time to ditch the Evening Star behind, and continue our quest further into Brighton to indeed get further smashed before the 3PM kick off. With our glasses returned to the bar, and jackets in hand, we marched on back towards the train station. This time swerving just under the station, and heading towards the Lanes of Brighton. As the trains kept pulling into Brighton more and more Festival goers were being unloaded onto the streets of Brighton. A short distance from the Train Station, we were then greeted by our next boozer, The Prince Albert. I was some what taken back for a few moments by the fancy Artwork on Display on the side of this watering hole.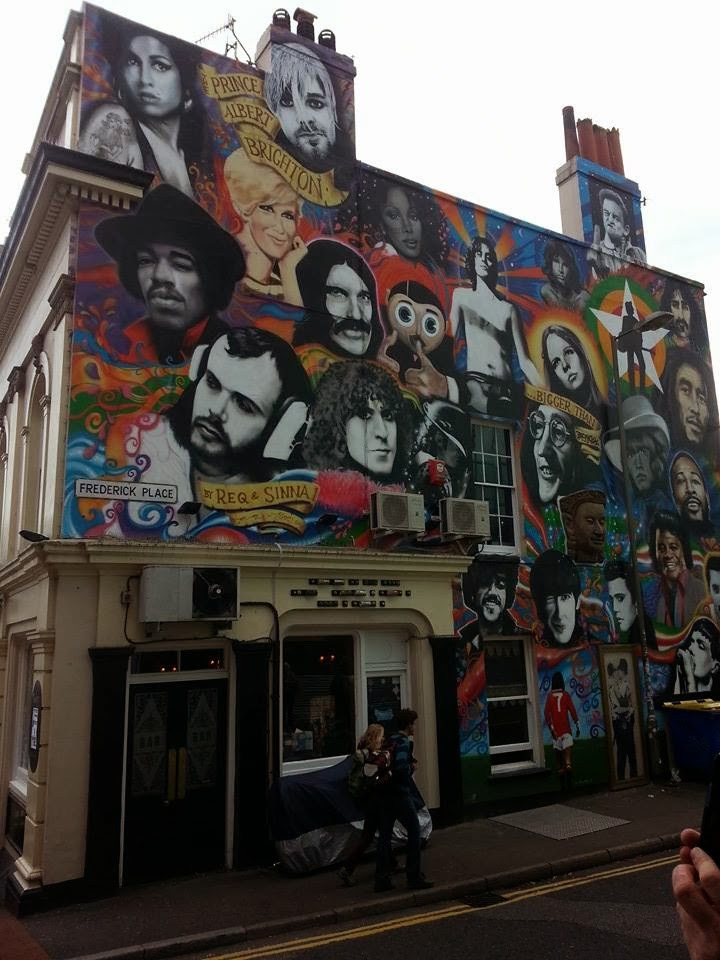 About as cultural as we get…..
Clearly a masterpiece was there to be admired. With the likes of Amy Winehouse, John Peel, Kurt Cobain, and Jimi Hendrix to name a few. Not hanging around to admire the artwork on show for too long, I joined the boys inside. The pub was just as good on the inside, with the interior matching every ones taste, from the likes of Accrington Stanley scarves to, Hungary Flags, to even a small section on the Dalli Lama, absolutely fantastic. I for one shall definitely be returning to this boozer in the future. With a Stowford Press again consumed rather easily, it was time to leave the Prince Albert behind and move on once more. I t was a bit of shame really as I was really enjoying the character of this place. Still duty calls. So on the next roll of the dice, a decision was made to again move some 60 or so meters further down the Lanes onto the next pub, where we can leave our mark. A little trot down the Lane, the next pub to receive some of our hard earnt pennies was the Lord Nelson Inn.
You could easily miss this pub, if you were heavy under stride, or in my case slightly pissed. Entering (not a Tommism) into the pub. The Lord Nelson offered us a U shaped bar, split clearly into two sections, one for locals, and one for us piss heads. The Lord Nelson, can easily be described as 'an old mans' pub. Not bad, but not really my cup of tea, or as the case may be, pint of Cider. With time pressing on, it was time we should perhaps be thinking of conveying our midly pissed bodies off to catch the game. At this point the Dover lads had exactly the same idea, and left us to finish up, as they headed back to the station to catch the next available Train across to Lancing for their game against Guernsey-we shall catch up with them later.
So it was time for the Firm to split, well split into groups of four to get cabs down the enclosed ground. So quick trudge back up hill towards to the station to assemble ourselves in the worlds longest cab queue. A short cab journey down the ground, and the cabbie asks of course who we are, where we've been etc, and then he starts banging on about some ex-U's player who used to work in McDonald's as a Duty Manager. For the love of good, none of us could remember his name. Given the description handed to us by the cabbie, I can't say we can be blamed. The nearest thing I could come up with, and the only thing I could think about was an image of Mr Potato Head. Shit I was pissed…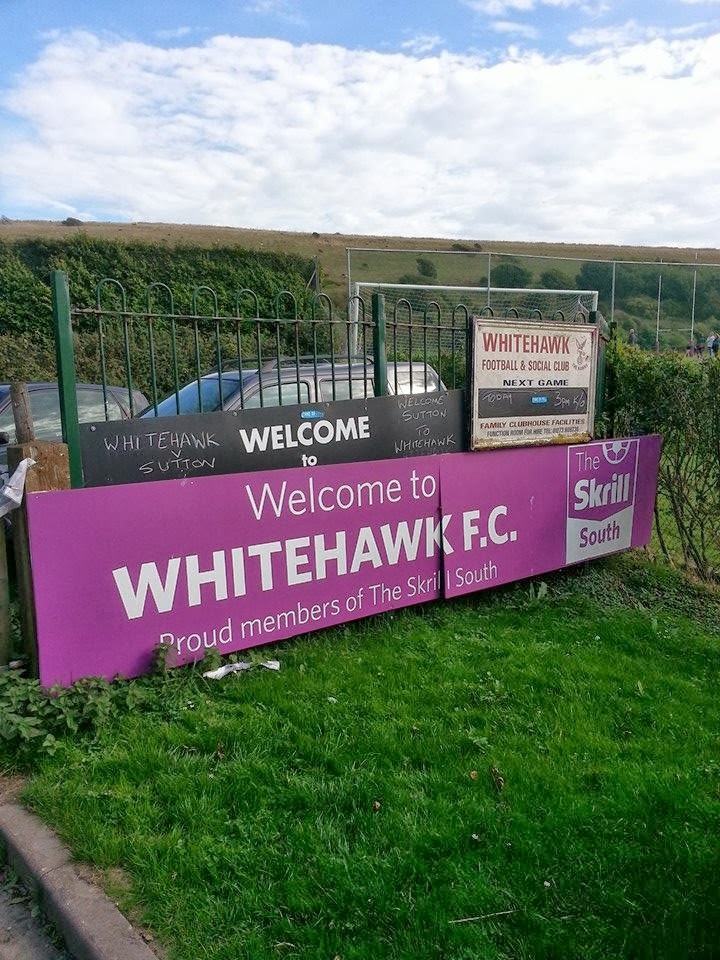 Welcome to WHITEHAWK!
Some £9.60p later we had arrived at the Enclosed Ground. A short walk up the winding road, and I handed over a crumpled ten pound note for the privilege of watching this afternoons entertainment, still a free Programme-touch! With the time at now 2:45, we had time to locate the khazi to drain the tap before kick off, and indeed we had enough time to knock back a small G&T from the top shelf.
Onto the Ground, a new one for us. Having been warned by the Dover boys not expect too much, they were indeed correct. At this point I was slightly intoxicated, but my eyes not letting me down, I could clearly make out the left hand down hill curve. With the coin tossed in the air, we made our way towards the left hand terrace behind the goal to erect the SUFC St Georges Flag across the seats.
The line up for this afternoon's game is as follows : Lovelock, Nelson, Rents, Stuart, Clough, Mcdonald, Riviere, Dundas, Slabber, Haysman, Binns.
With a strong breeze blowing across the pitch, we were soon underway for this afternoons game. Sutton starting off well, and looking sharp. With four minutes passed, Binns doing what he does best runs down the left flank, beating Whitehawks left back, and lays across into the box finding McDonald. McDonald, looks up, checks his options, and lays the ball across to Kane. Kane waiting in the wings, completely unmarked, looks up, picks his spot and rifles the ball into the back of the net. Sutton go one up within the first couple of minutes. Fantastic, bloody fantastic, happy days. Playing up the slope Sutton continued to press and again started to put together some good football at times, creating a couple more chances. Whitehawk, not really offering much, apart from punting the ball high and wide. With the pitch being rock hard, their chances just seemed to bounce off leaving them with nothing, but to continue with this style of play. With Whitehawk continuing this style of play our back four didn't seem threated really. With Kane being the man of the moment, he then goes in for a rather un-robust challenge, which sees him placed in the book, and shown a yellow for his troubles.

Another Juan Panoramavision production….
Sutton ease of the gas a tad, and begin to sit back a little. Whitehawk try to make something of it heading down hill, Sutton are called to stand strong and not allow Whitehawk to pull one back, they create a couple of chances but nothing of sustenance. Kane & Able is then clearly chopped down over on the right byline, Yet the ref and lino do sod all following the fracas that goes on. In fact Slabbs is shown a yellow for his dissatisfaction at the Ref's lack of decision, and the Ref even gives the free kick Whitehawks way, utter bollocks decision is that. With the whistle blown for the first 45, it gives us time to re-group, and re think the down hill tactics for the second instalment, and also gives us a quick 10 minutes to get back to the bar, and go top shelf once more for another G&T!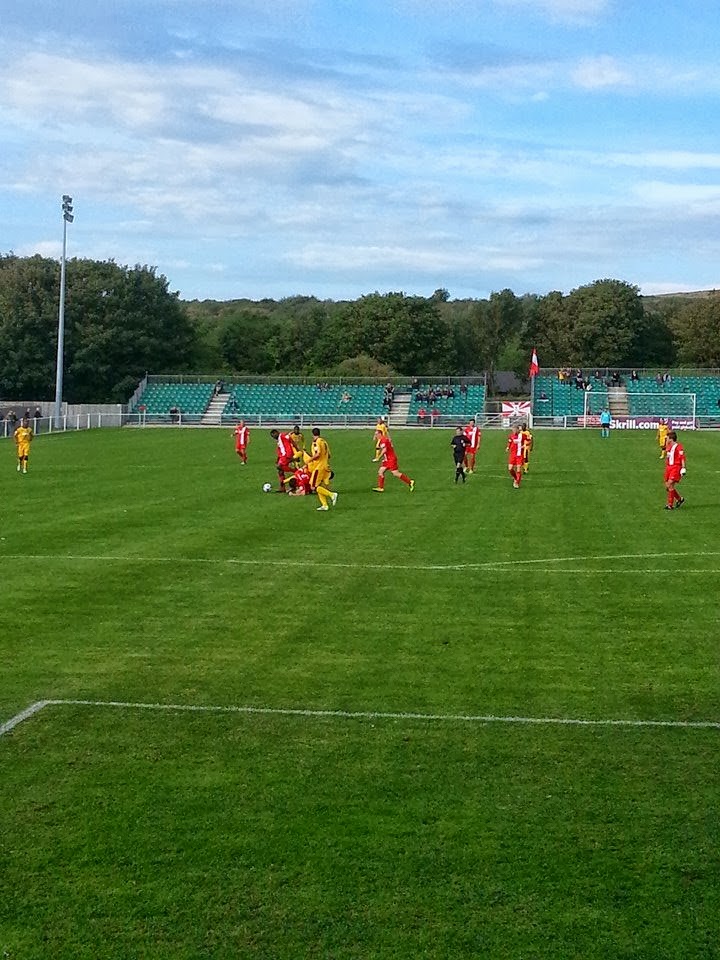 Action action action!
Following the swift G&T we re-located ourselves under the terrace behind the other goal, ready for the 2nd half to get under way.To be honest we did seem to be sitting back a little on the 1-0 advantage, a second goal would have put a lot of us at ease to be honest. Still, Whitehawk, did have a real decent opportunity to pull one back. A good cross in from the left finding Sam Gargan in the box, unmarked had a perfect chance to pull them back into the game. However he fluffed his opportunity and headed straight into the hands of Lovelocks gloves. Phew, well held lovers! Sutton created a great opportunity near the end of the game. Binns surging through the middle of the park, with options to both his left and right, however under pressure, he layed the ball of to his right, and all it needed was a touch to see it end up in the back of the net, damn! The whistle blown, it was a job done, not the best performance I've seen in recent weeks, but we can close the till drawer with £4.5k, thank you very much!
Back to the bar, drinks all round for the firm. Cab en-route time to call it a day at the Enclosed Ground, and head back Brighton for some more action. The firm once more split into groups, and we headed back to where this had all began, The Queens Head right at the top of town. With Dover beating Guernsey 3-2 we awaited the arrival of the Dover Clan, before we could commence the consumption of beers, ciders, & top shelf jobbies! On arrival, the Dover boys had captured a Guernsey fan, well that's what they told us, but the fan put them right, by advising us that he did indeed live in Canterbury. Oh well, looks like he won't be getting his V.A.T back on his train ticket!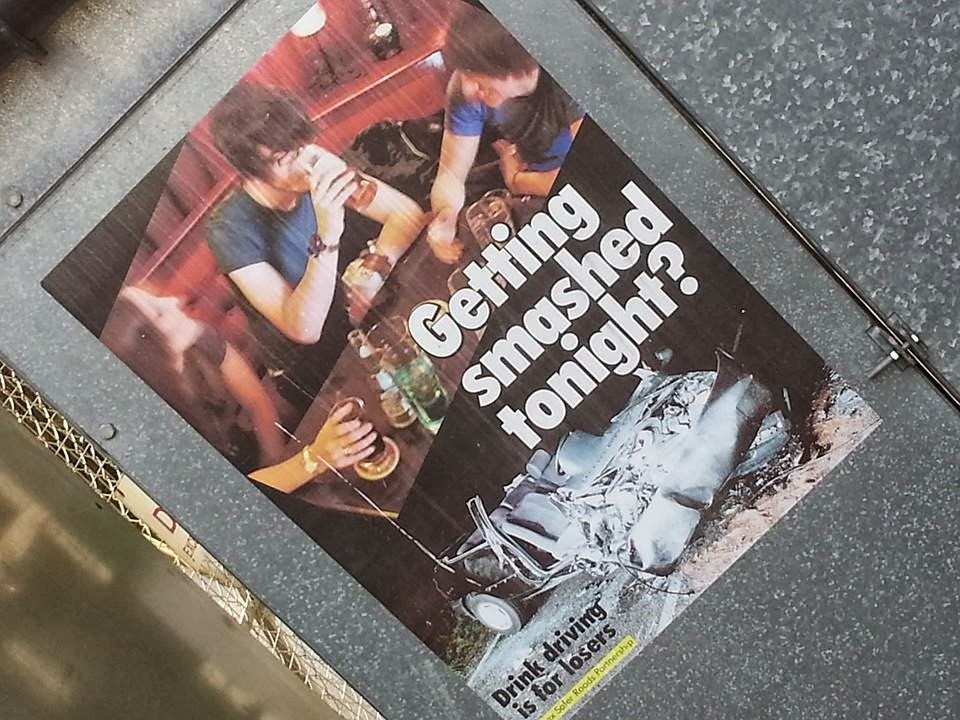 Erm, tonight?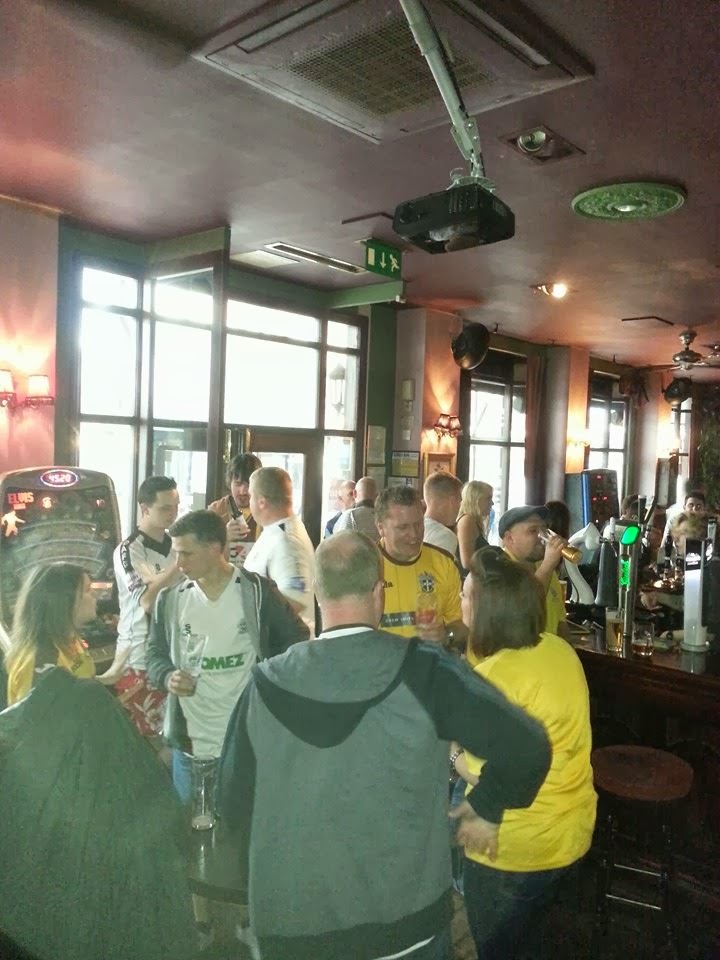 Non-League love in bumfestery!
With the beers flowing at a high rate of knots, the conversation between us and the Dover boys turned to the draw. In fact we had already decided in our minds that we were going to get Dover, how ironic would that be! Best pals become enemies within minutes. With the glasses drying up, it was time for the Dover boys to love us and leave us once more, as they had to head off to the station to embark on their 3 hour trip home-bless em ! Armed with booze and grub, a quick shake of hands and they were off. With the sun now passing the yard arm, it was decided amongst the firm that we would make a little trip down to the Pier, to consume a couple of drinks on the Pier, and maybe hang the flag over the side and take a few snaps-I'll come back to this in a few moments. With everyone ready to rock and roll. Mr X couldn't seem to locate his jacket. Bearing in mind he had plugged his phone in to charge, and placed his jacket on top, it couldn't be too hard to find. Well bugger me after searching the pub, high and low, we couldn't find the damn thing. Even though in the Queens Head, there was a clear sign on the wall that states: Don't leave items unattended at any time, as there are thieving pikey scum bags that operate in this area. So fuck it we left without his jacket. Mr X now not in the best of moods, we started our walk down the towards the sea front, and low and behold some 50 yards down the road, there was his jacket lying in the street. Clearly some scum bag had lifted it, searched the pockets, and found sod all. Only in Brighton eh, wankers!

Juan loves the panorama…..
So we continued our stroll down the streets of Brighton to take a little bro-manticwalk across the pier in the pissing rain and blowing winds. There was talk of finding a bar at the end of the pier for a quick drink or tow, but much to our disappointment the place was closed, so we had to settle for a quick one at Victoria's Bar instead. Then Dukey pipes up to the masses, and makes us all aware that their is a noodle place at the end of the pier, and they do the best noodles from here to Worthing. Of course we took Dukey up on his knowledge of the noodle world, and all went for the same. Enough of the Pier it would seem, most of us looking a tad miserable, and slightly wet. We headed back into Brighton town, and found that Nick the Welshman had dived into a boozer, so being the sheep that we are we followed.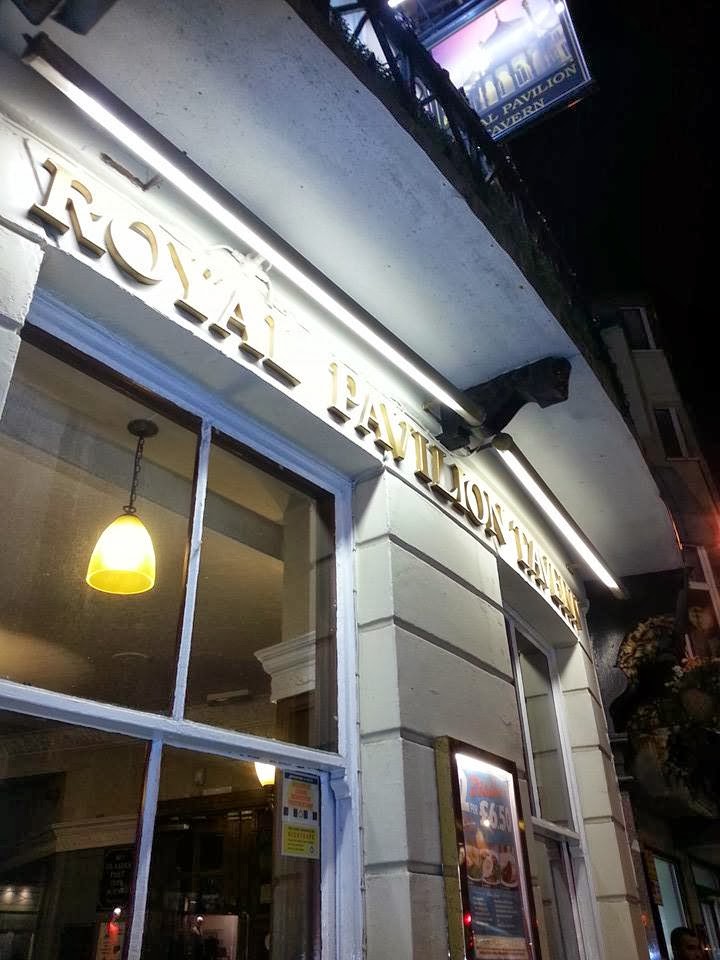 Another pub? Oh go on then….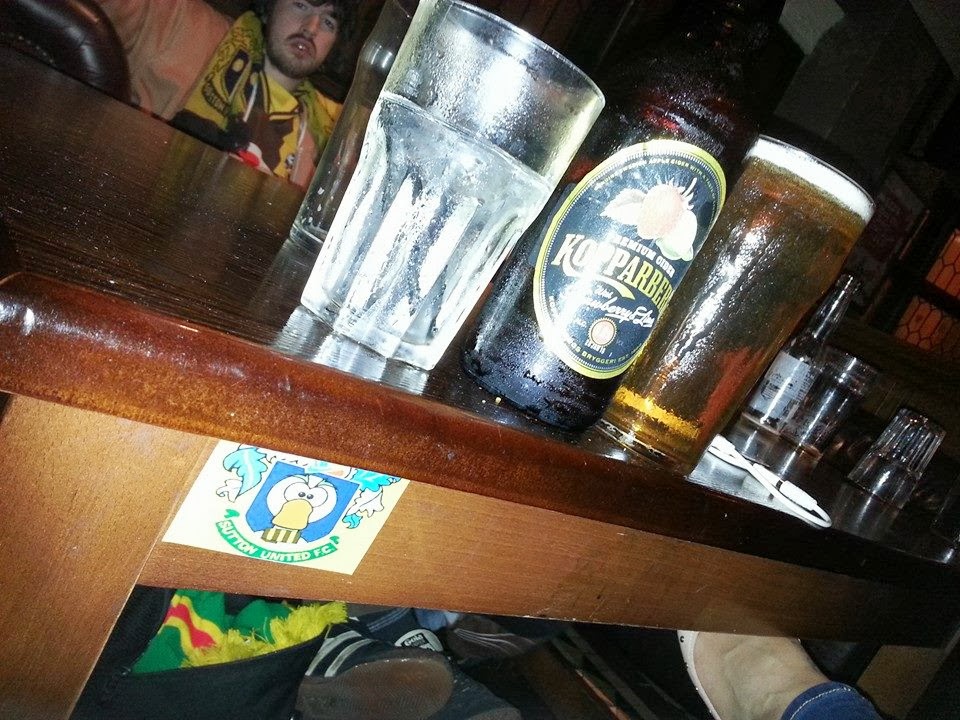 Vandals!
After a couple of drinks, Chalmers had decided that he had enough of us and the beers for night and headed off home. We all stayed a little longer and consumed a bit more, to top up our levels, before making plans to grab the 23:10 train back to West Croydon. We left the last pub, and headed off to the station, with my rock in my back pocket for her indoors, a little keep sack of the day out. We all grabbed some food, and boarded the train back to East Croydon. The day was all going so well for me until I sat down and heard a crack. I'd only gone and sat down on my sticks of rock, and cracked them all in half. Bollocks, major Bollocks, how was I going to explain that one. With the alcohol now taking full effect, everyone found themselves some what subdued during the journey home. Well we grabbed the win and the cash, happy days!
Lewes away in the draw, oh feck, not again…..
That's all from the one they call Juan.