Chelsea, Chelsea!
Chelsea, Chelsea!
We're going make it a blue day!
Damn that song has plagued me since first hearing it in 1997. So to begin today's blog we must go to the moment that I arrived home, and managed to get the end of the Head to Head on Pointless and what was the question?
"Managers under Roman Abramovich" who would've guessed! The lowest answer was of course Luiz Felipe Scolari with 5, I want for Claudio Ranieri which was only 9, not good enough I said to myself! This of course got me thinking, were we playing Chelsea?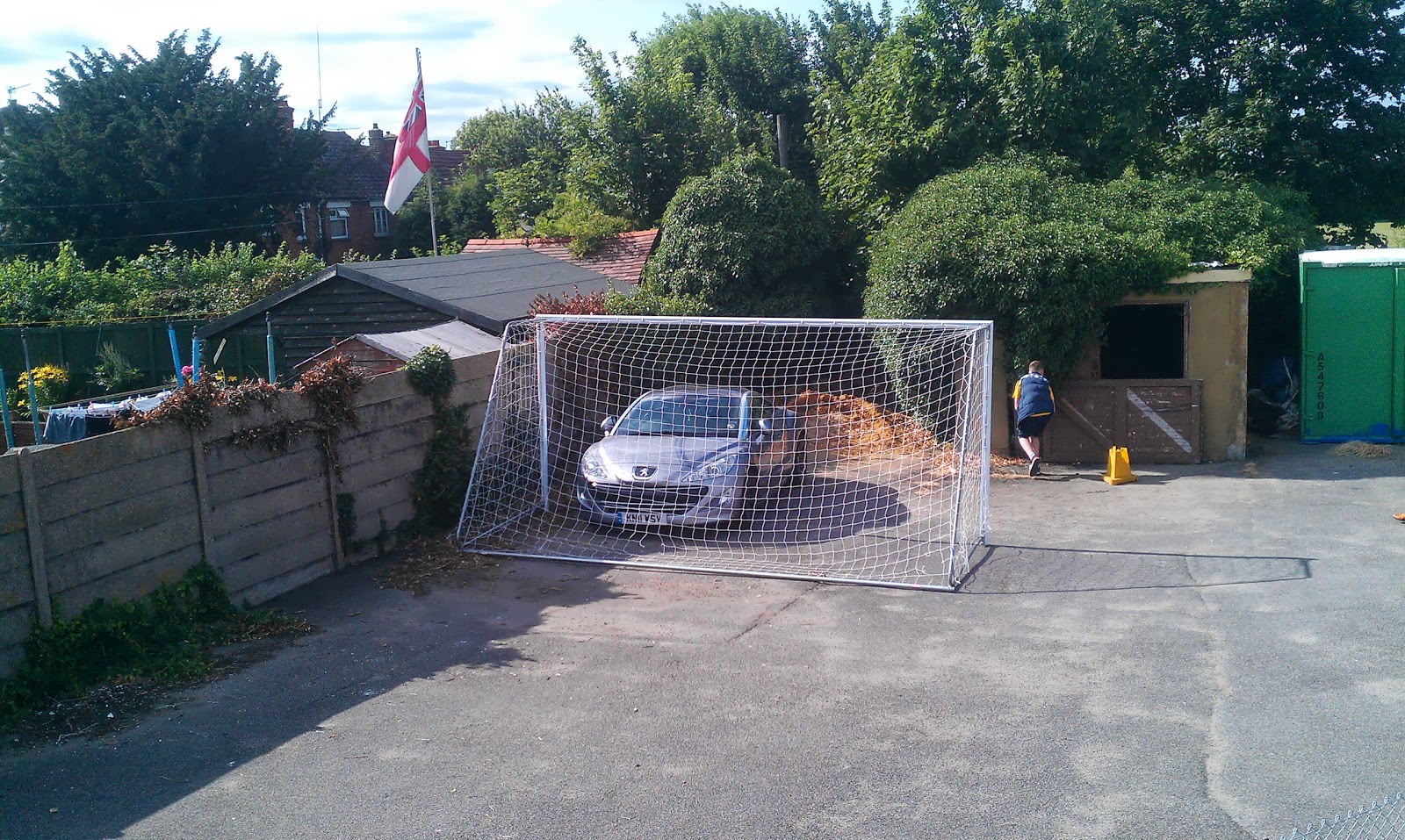 That'll be inconvienient!
After realising that we were going to be a bit light in the Firm tonight I was able to pick up an associate from work and his little nipper and take them to their first ever match down at the lane, to experience what a real match was like. Shame it was a friendly and against the type of opposition we wouldn't normally play against.
I was lucky enough to get in contact in advance with a local supporter who'd given the green light for me to park on his drive (even beat two others to the spot!). Once that was done we took a slow stroll to the ground, showing my party the sights on the way like the train station, the local telephone box and of course the Plough that was filled to the brim with all manor of Chelsea locals taking in the rays of sunlight that basked every corner of this local beauty spot.
As we approached the main turnstyles I realised that as I'd acquired a season ticket for the game I would be able to access the exclusive entrance that was open for advanced ticket holders only. The snag was there was a queue at this gate whereas there was none at the other cash paying entrances so made the decision to slip inside one of these. As I hadn't paid I decide to purchase a programme and a couple of golden goal tickets – tradition dictates that I don't look until the first goal to see what minutes I have, 88 & 89 minutes! – Now as the wee bairn in our party wanted a picture with the mascots we made our way to the front of the main stand. my associate was astounded by the fact several people on our journey would stop and shake my hand as I approached them, I indicated that "I was a well respected member of the support" but I don't think he believed me as the giggles that were being emitted from his north & south dictated otherwise!
Hmmm. Bit busier than normal…..
I managed to get a quick look at the team sheet that was pinned up on the club shop door:
Sutton: Lovelock, Nelson, Rents, Stuart, Downer, Fuseini, Riviere, Dundas, Slabber, Beautyman, Binns.
Chelsea: Beeney, Dabo, Conroy, Christensen, Nditi, Ake, Musinda, Loftus Cheek, Kiwomya, Baker, Cuevas.
I even took a peak at the visiting team and to be honest I didn't recognise most of the Chelsea team that were taking the field this evening, the only exceptions being Jay's brother, the Notts County manger and the starting goalkeeper who had a surname that I'm sure I've heard of before!
Now I suppose I better talk about the game at this point and let's face it purely as a Sutton fan it wasn't our finest hour. And like many a game before it was the defensive errors that will remain in the memory (until the next game at most!). The first half was very much a keenly tested affair with both teams probing each others defences. The man in the middle tried to remain anonymous and was getting away with it when after a badly controlled pass to the Chelsea centre back, the ball spun out from under his legs, he didn't see Dundo come storming in with a tackle that wasn't even robust in my opinion, the man in black thought otherwise and blew a toot, he then attempted to take Dundo away to warn him of his future conduct. This did not go down well with the home support who gave him a few choice words as an example of their displeasure. I'm know that some of neutrals and Chelsea fans around me were surprised with our reactions, but even us fans need to get our voices trained for this forthcoming season. Our surprise was next as after a wayward or totally confusing pass across the box by Nelsen he gifted the forward a simple tap in that left us gasped of what had just happened. But before we could begin to dissect what had just happened a small minority of Chelsea youth, who I doubt would ever get to go to Stamford Bridge let off a blue flare in the celebrations that followed the goal.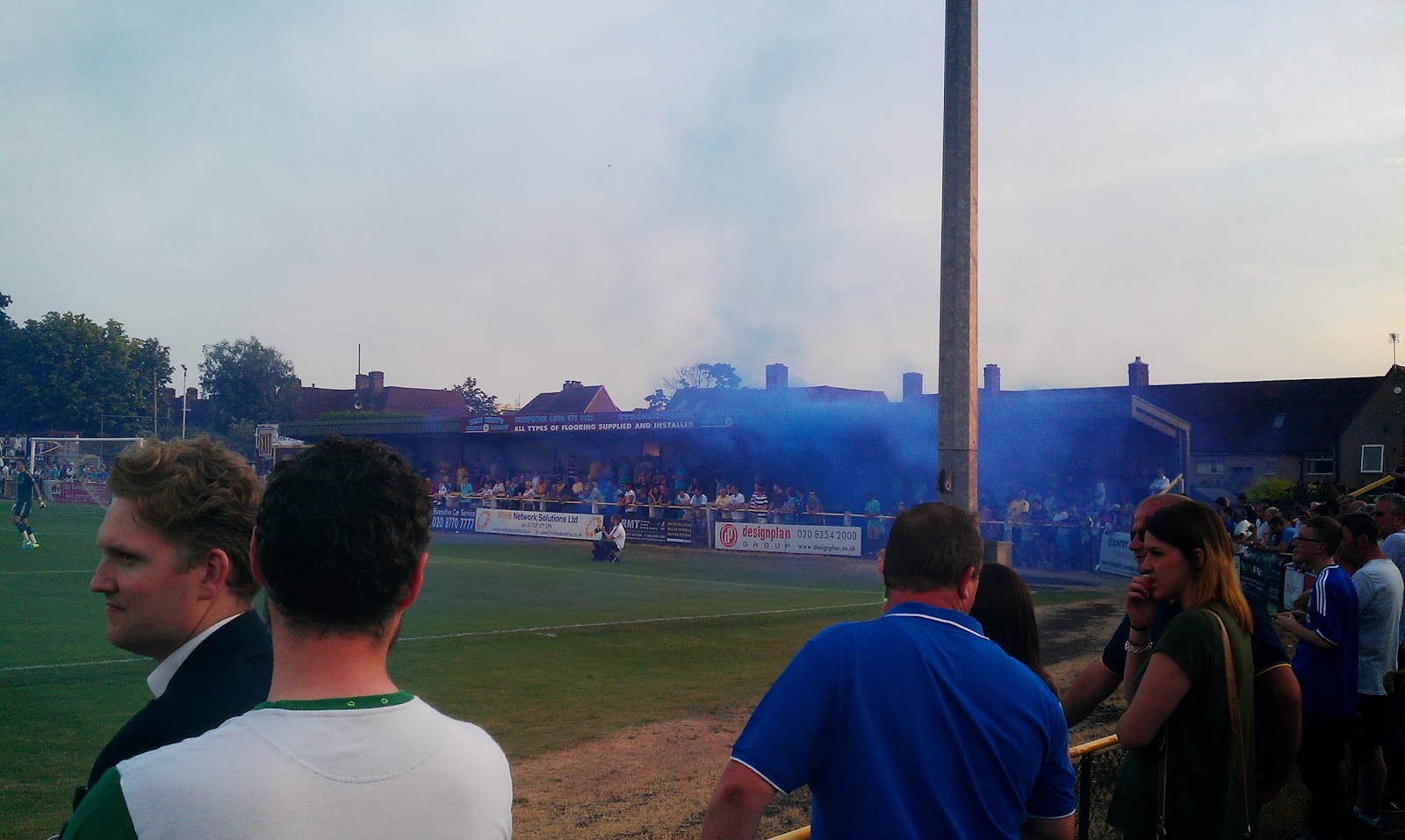 Ultras? Not exactly……
Now we haven't had many flares down the lane since the 70s, and it made a distraction of our disappointment. The rest of the first half saw us trying to create opportunities that never came as the final ball kept letting us down and the ever increasing chances the Chelsea forwards needed to catch us on the break became apparent. After strolling down to the Rec end to take our positions in our usual spots the talk turned towards how were we to react to going in at half time a goal down.
The second half saw Chelsea make 10 changes to the team that started but the story was the same, short periods of trying to create chances was snuffed out and the resulting attack saw Chelsea producing either a save out of Lovelock or a last ditch tackle by a Sutton player. One that springs to mind it the Duke-est wild lung by Stuart who a shot straight in the gut as he flung himself in the air to prevent other shot on target. Chelsea's second goal came about by another mistake as Dundo was trying to keep the passion of the ball he was easily dispossessed (unlikely that would happen in a Conf South game), the resulting run saw the Chelsea player sprint off from the centre circle only to lay it off for it to be taken round Lovelock and tapped into an empty net.
By now the sinking feeling of despair began to take hold of me I saw the players starting to slow down a touch and the thought of how many more settled in my mind. This of course was then the time for to test the new keeper with a couple of shots, a header that just went wide of the post and lofted shot from Ali that had him tip the ball over the bar. Six minutes of time left was all that was needed for Chelsea to grab a brace of goals late on. The first was a crisp shot that was teed up with ease after tired defending and the second was a hard low shot that beat Lovelock at the near post after overlapping wingers once again managed to cut in with a example of high tempo football.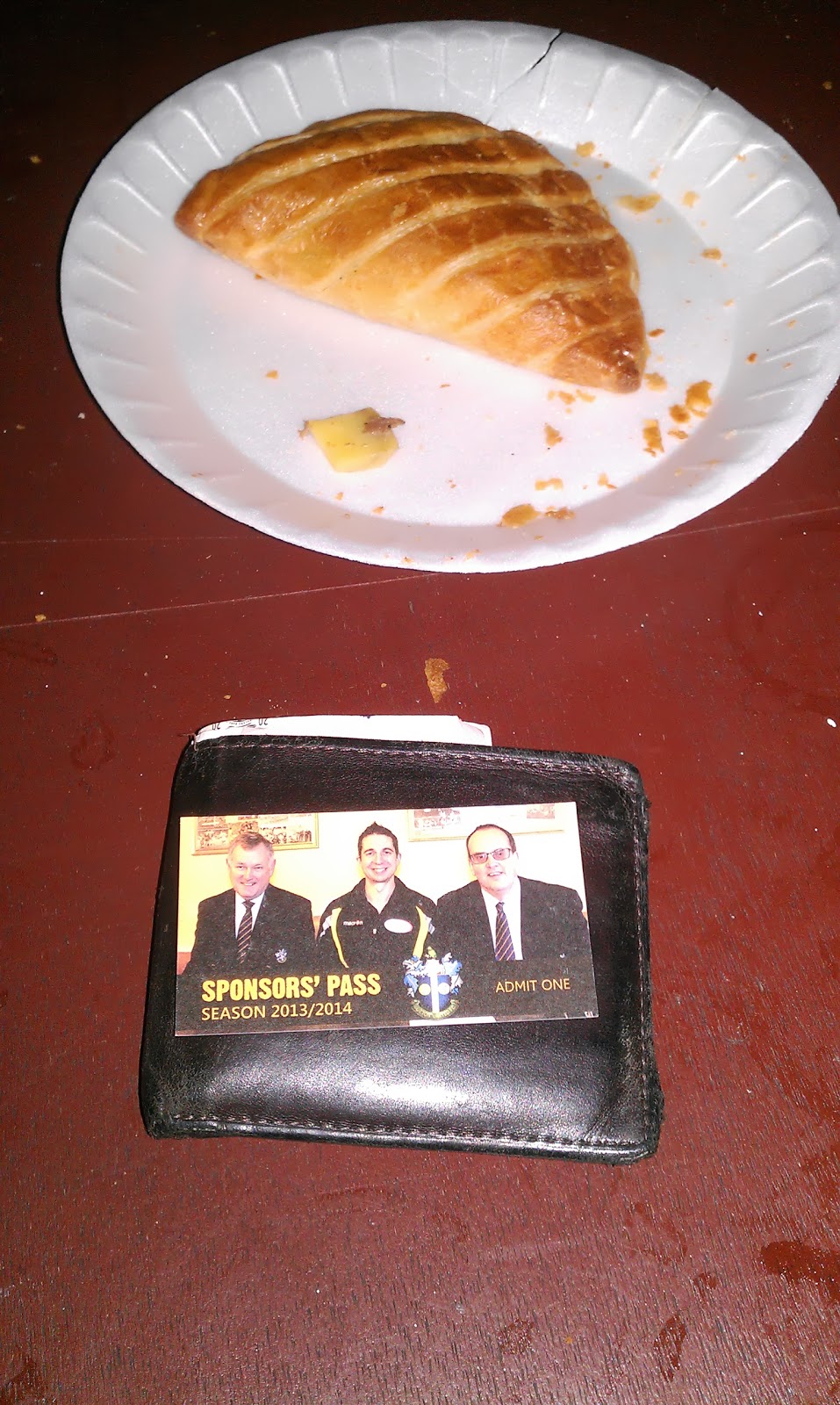 Bet you didn't pay for the fucking pasty either Dukey!
Well 4-0 is how it ended and our fourth defeat of the pre-season calendar but more importantly it was the attendance of over 2,500 who came through the gate that will no doubt help the coffers. Let's just hope that a nice cup run is over the hill waiting for us. After the game some of us hardy supporters headed to the bar to wet our whistles and discuss the forthcoming match against Cambridge on Saturday that for a footballing point of view more important than the big recent games. I even managed to miss an old primary school buddy in the process as well!
Well that's me done for this blog as it wasn't one of our classic booze cruises, but no doubt there will be a few to come! And don't forget those of you who have yet to sample some of this action to make yourself known to the Firm as your boats would be welcome.
Finally for the person who shall not be named but remarked on my cooking abilities, enjoy…….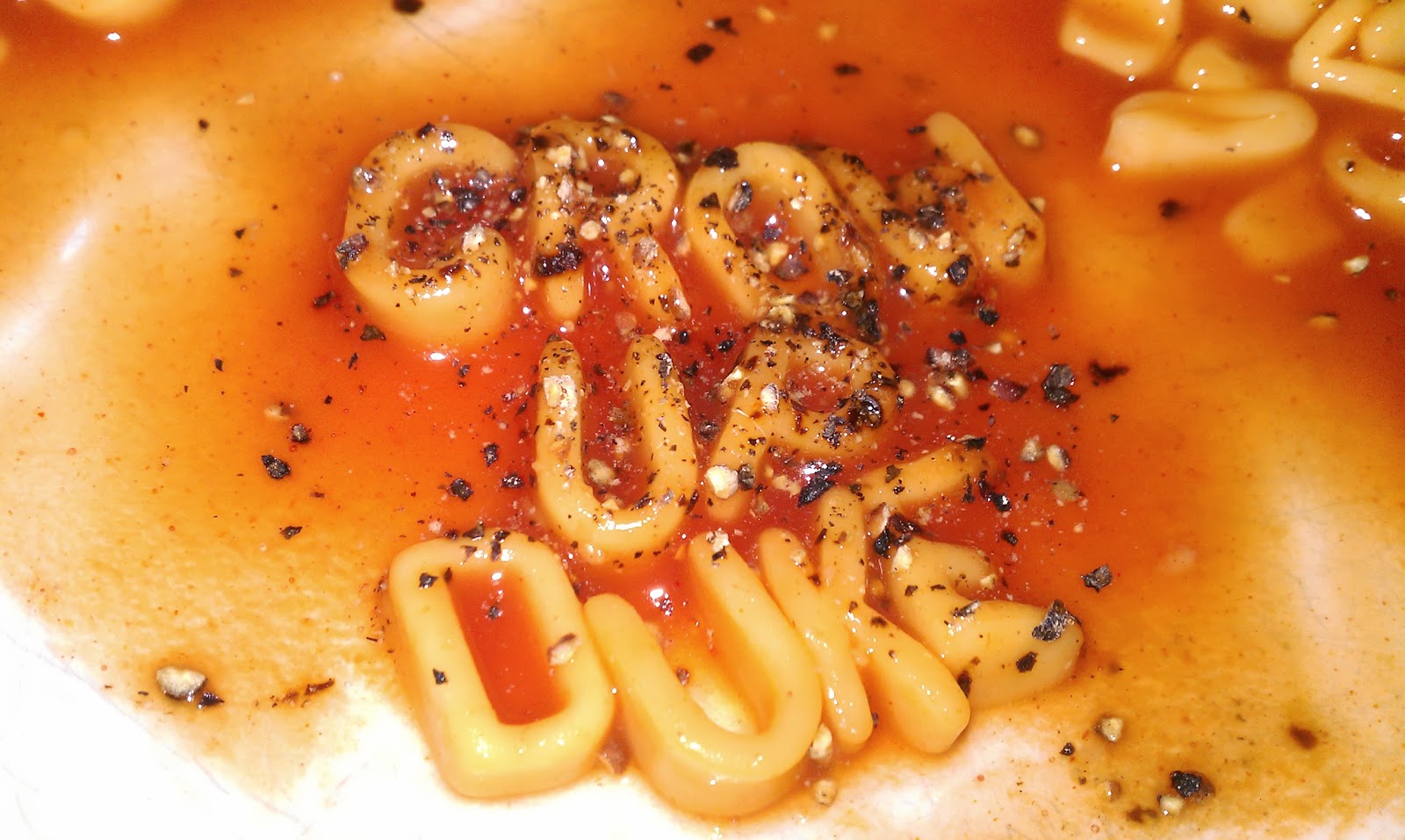 How many times have we told you. Don't play with your food!
Duke.