I know, I know it's a little late in the day to be updating
with news that hit the official site over a week ago, but that's just how we
roll! Better late than never though.
So here we are again, Dos has continued to pull in
some further BIG names into the squad for the 2013/ 2014 campaign. Well it
certainly seems to me that his is defiantly going for it this year. With the
two big strikers having signed on the dotted line, again Mr D seems to have
worked his magic and pulled in a further two big names. So let's get down to
some Gandermonium business and give you a little Bio on each of the signings
and maybe if we are feeling generous a little clip of the lads in action.
First up…
Dale Binns :-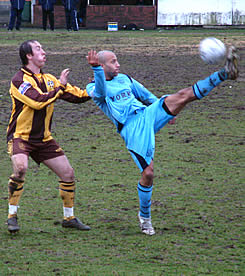 Matt Gray tries to protect his model good looks….
31 year old midfielder signed from Eastleigh after their training circumstances changed. Last seen running us ragged for Woking season before last and also for Eastleigh last time out. Always scores against us, so if signing him means a gain of 2-6 points thanks to him not being in an oppo side, all the better!
Previously with Woking, Farnborough, Hayes & Yeading United, Maidenhead United, Lewes, Stevenage Borough & Cambridge City. He's won league Conf South titles with Lewes & Woking, got Hayes & Yeading promoted via the Conf South play offs and was also a losing finalist with Farnborough against Ebbsfleet. Certainly plenty of pedigree where the top end of the table is concerned!
Next up… Mitchell Nelson :-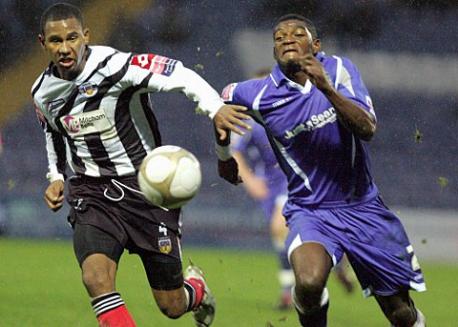 Mitchell once played for Tooting. He's better now though….
Predominantly a right back, but able to play in the centre and also on the left, 23 year old Mitchell Nelson started out in NL at our neighbours Tooting after being released by Colchester. After that, he headed off into the FL with Bournemouth from where he's had loan spells at Eastbourne, Lincoln and Eastleigh. A real utility player.
Little bit of footage of him in action…..
If any further player news is released from the 'Official Site', we'll of course bring you some further stats/ bio's and clips.
That's all from the one they call Juan…for now…
Some content stolen researched from various sources. Ahem.