I dunno, you just can't get the staff these days!
Having begged and pleaded and generally pestered me to bring this thing back, Juan & Dukey have I think found themselves a little surprised at the sort of time & effort you have to put in scribbling crap about even a Non-League club such as ourselves. Don't get me wrong, their efforts have been top notch and are a fine addition to this utterly underwhelming site's tradition. But with the boys seemingly flagging a bit with the pretty hefty 9 games to cover in the final month of the season, I thought it was time they took a break and spent 90 mins on the bench to with their feet up.
Fear not though, as Juan will return for the season's encore with the SSC final against Godalming, you lucky people you!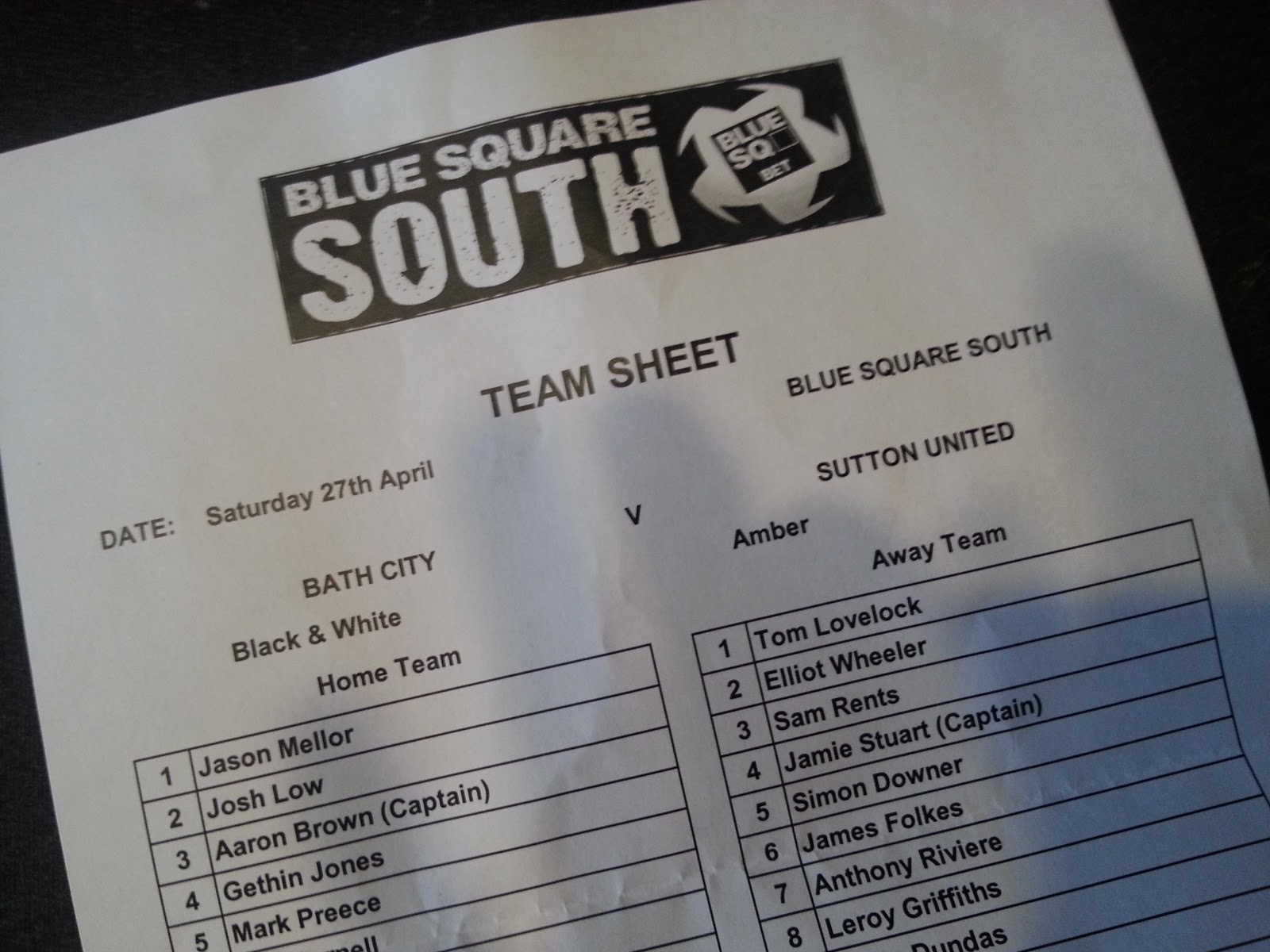 Team Sheet. It's a sheet. With the teams on it. Clever eh?
So yeah, despite saying I'm not going to do this shit again, I am actually doing this shit again. Taz is back on the match reportage duties. For one night only. Until the next fucking time no doubt!
So with Juan not being able to make the trip down and Dukey pretty much all reported out (too many sober write ups it seems), it's down to me, the old stager, the 'editor in chief' as those two cheeky twats have taken to calling me to step into the breach, dust off the notepad and pen (actually, I didn't I bought new ones at Rymans in Bath) and get back to knocking you all up a drunken bollocks sandwich with a yummy Sutton United filling and a generous side order of twattery.
I must be going soft in my old age.
As you'd expect, with a last day trip to a pub paradise like the fine city of Bath, the maximum amount of drinking time must be obtained to ensure the day goes with the suitable amount of idiocy. To achieve this, we must of course depart the Sutton homelands at what can only be described as 'obscenely fucking early' and stumble onto a the choo choo heading due South West. And thus Mr X & Nick the Welsh boarded at Sutton with lots of tea and then picked Duke and myself up along the way at soontoberelegatedCarshalton. "Four? Is that it??" I hear you cry. And you'd be right as we are indeed light on numbers for such a big awayday piss up. But don not worry thyself dear reader, as we'd be picking up waifs & strays along the way before meeting up the the recce platoon down in Bath itself as some of the gang have taken advantage of the nice town and are making a weekend of it.The trip into Clapham is largely quiet and mainly tea drinking related. Firstly due to the god awful hour of the morning and secondly because everyone is a wee bit stiff from the Supporters game the night before. Although Dukey does inform us that Alan, his sister's psycho cat (and recent Gandermonium star) was a true gent this morning, giving him an almost 40 minute lie in before pouncing to claw his face off at the reasonable hour of 4:37am.
At Clapham, we hobble towards our platform and both I amd Mr X refuel our tea supplies. My own visit coming as our train pulled into the platform. The usually laid back Barista/tea boy bloke gets amusingly quite flustered as I smile sweetly at him awaiting my hot beverage to the soundtrack of the rest of the gang shouting "GET A FUCKING MOVE ON YOU WANKER!" and other such helpful hints from below on the platform. Here we join forces with Burgers and his good lady for the journey down. They'd been up in London to watch some modern pop act that I've never heard of. I think it was One Direction or somesuch? And we continue on our merry way to Reading, the scene of our next change. There's the usual tea drinking and piss taking as you'd expect but we are incredibly disciplined on the alcohol front, not allowing a drop to pass our lips until we're on the big train out of Reading. Well, all except for Nick the Welsh who cracks his first bottle of beer before Clapham has receded into the distance behind us. Along the way, Duke reveals he has uncovered a copy of NUTS magazine from 2008 containing the following familiar faces….
Ug n' Scoobs battle it out to advertise a sugary,

bright orange soft drink….
The change at Reading is relatively drama-less (for us!) and we're soon heading for Bath itself. Of course, the moment the train begins to pull away from the platform, the sound of carbonated gases being released fills the air as beers are cracked and the piss taking ramps up a notch. Dukey plugs his HTC in for the first recharge of the day some 2 hours after switching the fucking thing on and also displays a level of movement normally seen in an asthmatic 90 year old. At one point being unable to right himself for several moments having laid down on his seat to plug in the phone charger. Although it must be said Mr X is little better in the mobility stakes.
Before we know it, the clock has arrived at 10:24am, there are a pile of empties around us along with lots of rugby twats as we pull into Bath Spa. And having filed out into the street, we find that our expected welcoming committee of Greek and his missus are nowhere to be seen. A quick phone call reveals that they've been out shopping for fudge instead and are on their way to the first pub of the day. I suppose we'd better go join 'em then!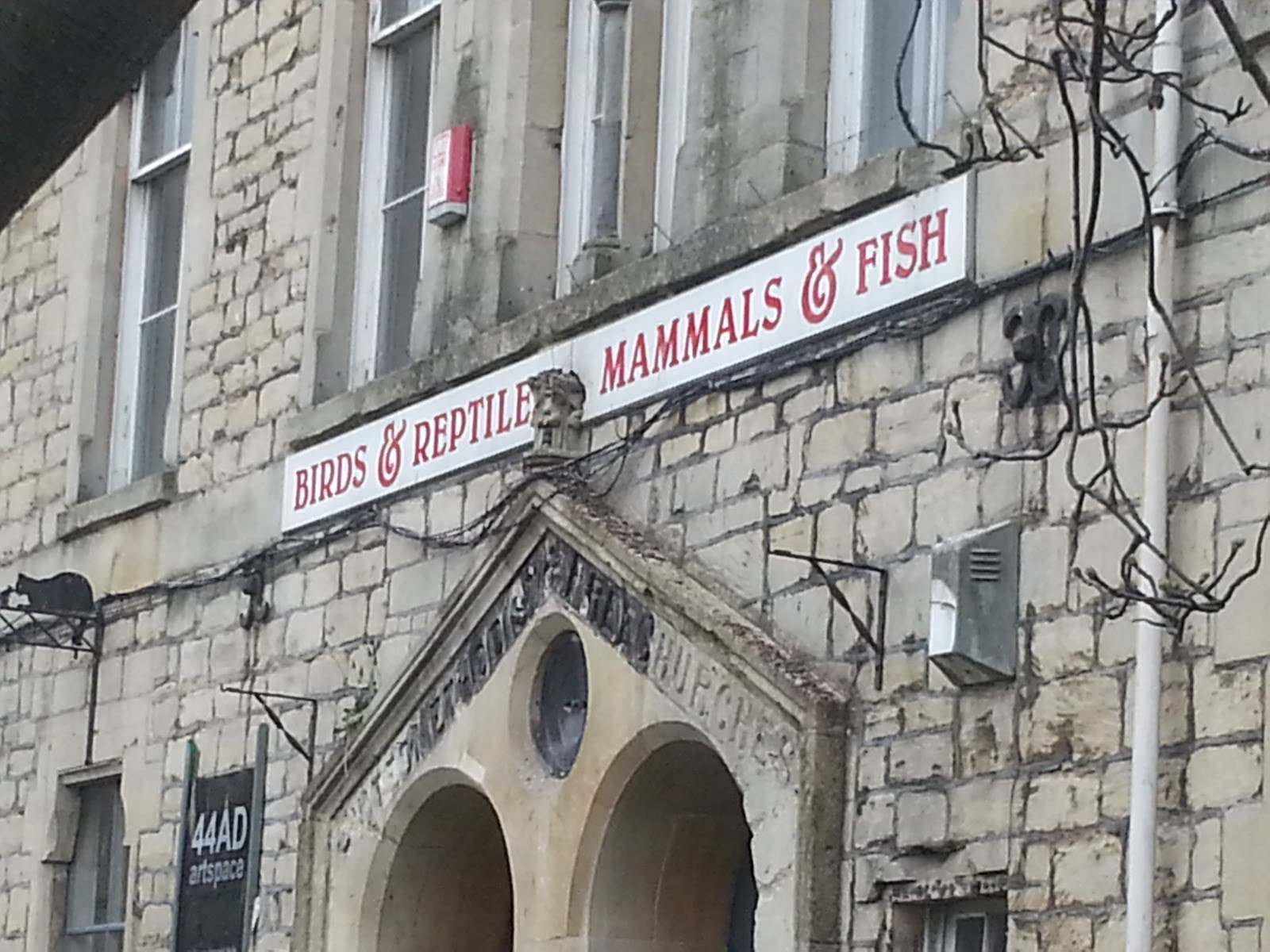 Soon to displace Subway as the #1 fast food chain in the world?
It's not long after we're sat in the local Wetherspoons with a pint, much to Dukey's delight and before you can say "Where have all these fuckers who are staying down here got to?" a number of other weekending U's appear to join us for drinkies.
A couple of pints are sunk to lay the foundations for the rest of the day and we're off to a boozer that Greek had scouted out the previous evening. A few more measures of the pint variety are dispatched to help the merriment along and it's time for another change of scenery. This time the Raven was our port of call and we found space upstairs to carry on trying to drink the UK out of it's economic slump (did you hear we avoided the treble dip recession? Yeah, that was due to Dukey & Mr X's spend at Chlemo. You're welcome). Here we start to get a bit pissed and the conversation becomes a little odd.
For some reason, the subject turns from a possible summer euro football trip to the fact that Luxembourg has never been invaded by the UK (there's actually 22 countries in total. See here!) to the fact that WE should invade Luxembourg and rename it Bluxembourg (the 'B' obviously standing for 'British') to what other countries we can invade based on how funny the name sounds with a B at the start of it. 'Bromania' being a particular favourite. Here we also got chatting to some nice Americans from Florida, none of which were armed surprisingly (unless you count the cutlery they were using to eat their lunch with). Although we stop short of inviting them to the game as we think we've probably offended them enough already. By now, the party has grown somewhat to around 15-16 and Mr X is handed the task of organising transport for us all. Mainly as we can't be fucked to walk the mile or two to the ground.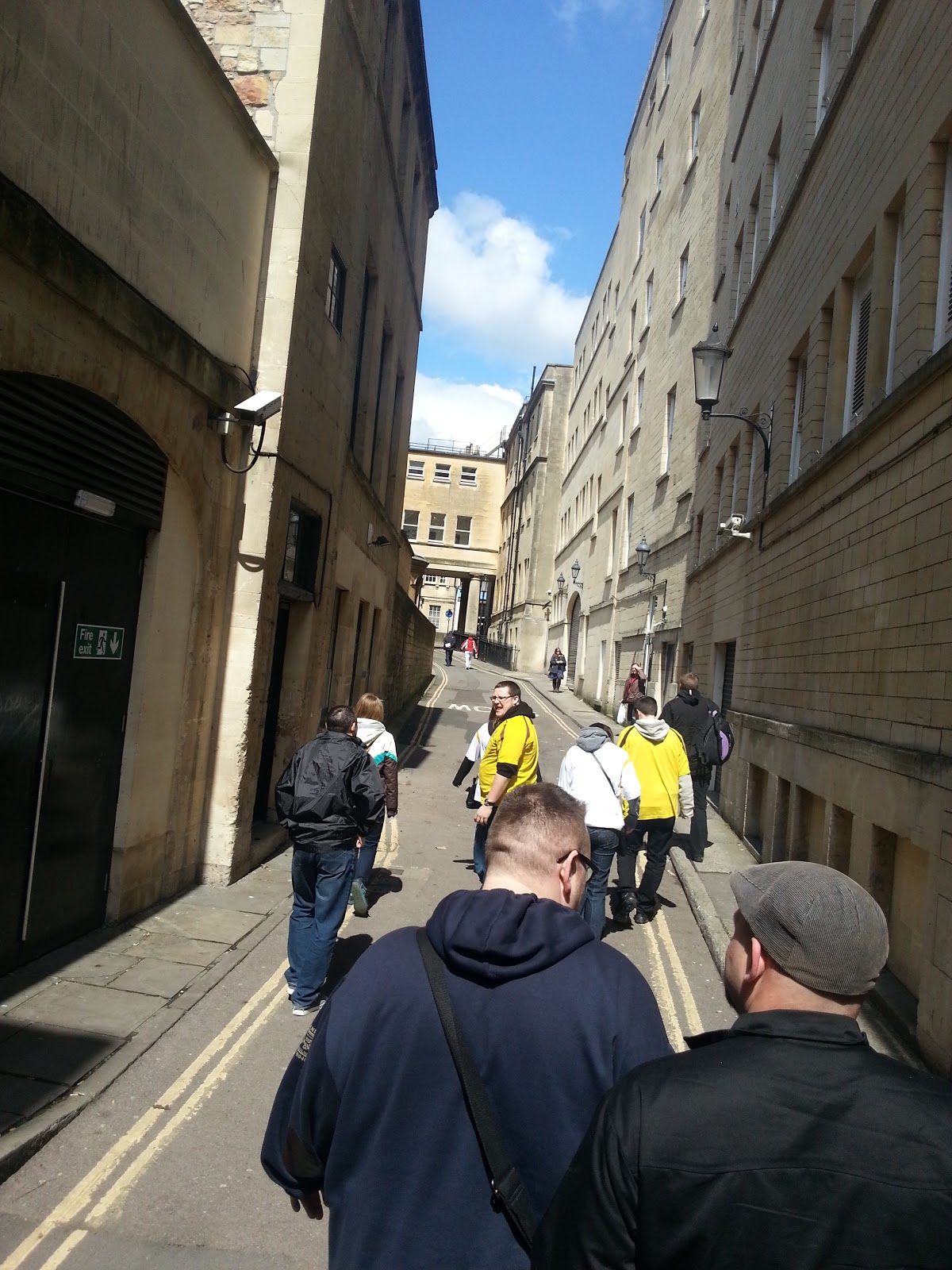 The Sutton hordes heading for the Raven and more beer….
Amazingly, this goes largely without a hitch and we're soon enjoying a cheeky pre-kick off snifter in the Bath City FC Bar.With the U's going for win number 9 in April, Dos has largely kept faith with a winning side. Although Ali Fuseni is missing (due to a trip abroad apparently), but Leroy gets a start in what we all expect is probably his last appearance in a Sutton shirt.
Line up: Lovelock, Wheeler, Rents, Stuart, Downer, Folkes, Riviere, Griffiths, Dundas, Beautyman, Williams SUBS: Benjamin, Telfer, Serbonij, Murrell-Williamson, Shaw
We don't start all that well. Within a minute or two Lovelock shanks a clearance into a closing forward and the ball drops to another home striker who slots into the net, only to see the flag up for offside. We respond well though to this early little stumble and only about 5 mins in, the currently red hot Marv should really put us ahead when a little clip into the box from Leroy drops perfectly for him about 6 yards out, but he can't quite apply the touch and the chance is gone in a flash. Leroy himself then tests the 'keeper from inside the box after about 10mins, bundling his way through on the right.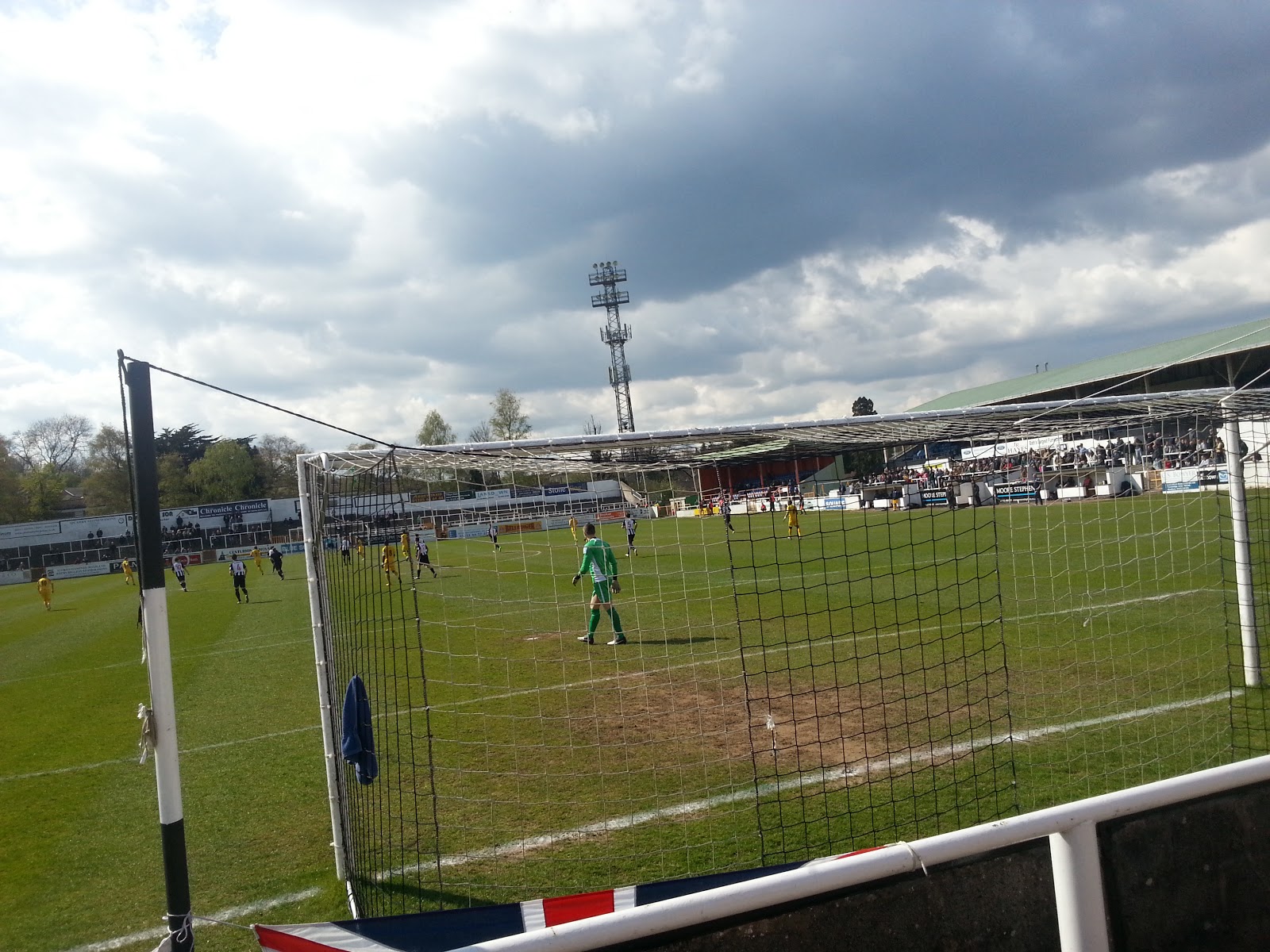 Obligatory half arsed match shot showing fuck all of interest….
From here it all gets a bit 'meh' in a sunny last game of the season with bugger all riding on it sort of way. Neither side does much, although we do at least play and retain the ball well, so it's not totally boring. And with half time starting to loom on the horizon, Marvin the Marvellous pops up to nudge us ahead. Wheeler gets down the flank on the overlap and picks out the Hankster with a low ball. Despite the attentions of a defender, he manages to wriggle through and nudge the now bouncing ball past the 'keeper and it drops into the net. It's the sort of scruffy bundler that us true purists at Gandermounium love and puts us 1-0 to the good.
Bath respond and again have the ball in the net not more than a couple of minutes later, but unfortunately for them, the low ball is turned in by the same bloke who was flagged off in the 1st min and has been stood offside practically the whole time since. Keen to keep up the run, the lino flags this one off too. Rentsy then lashes a free-kick narrowly wide and they have a header drop wide when it looks easier to hit the target.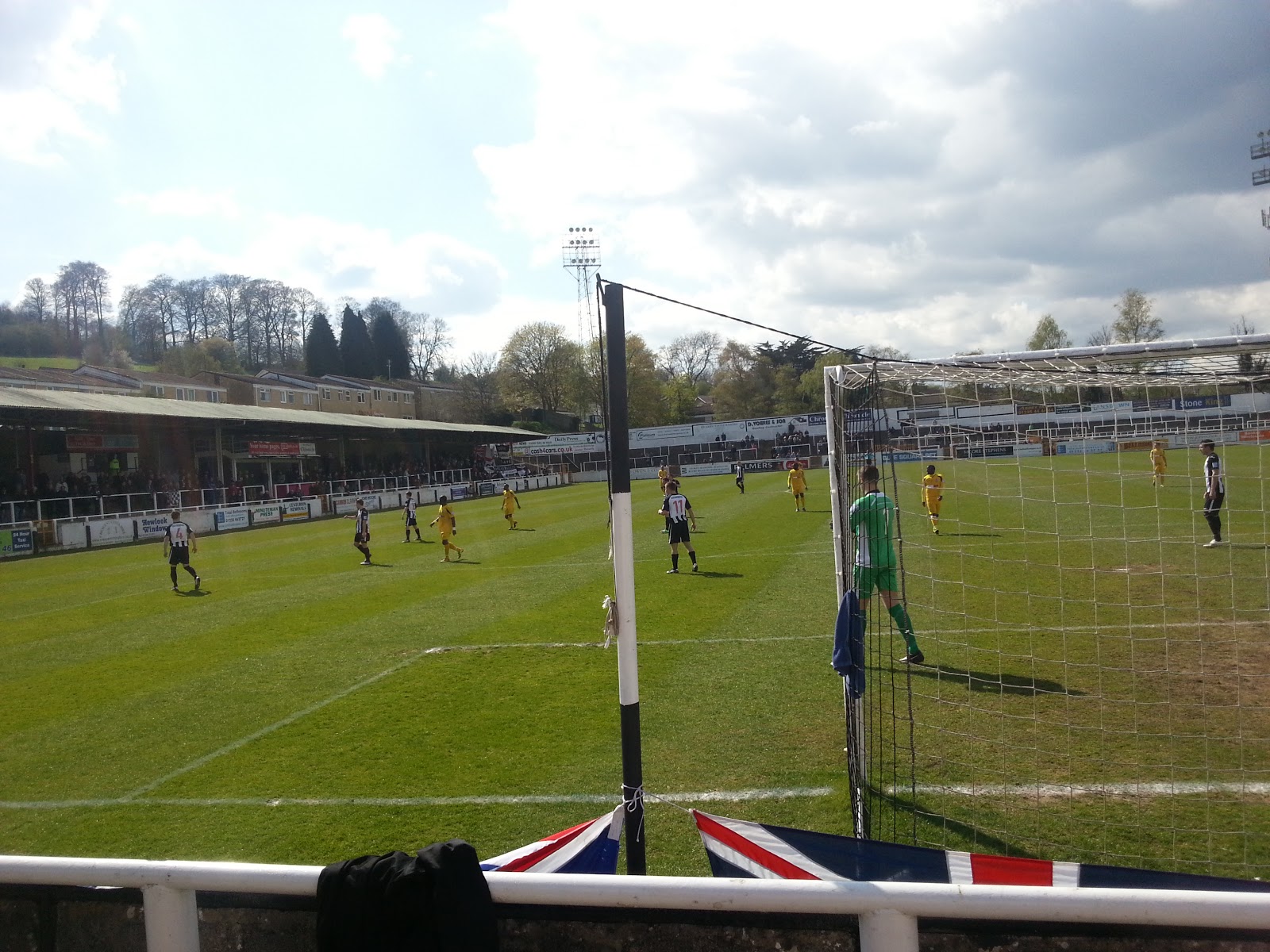 Nope, nothing happening in this one either….
So at HT, we trudge round to the big ol' terrace at the other end (mercifully not bathed in sunshine unlike the other) and await the restart. The other idiots largely hit the bar for a crafty interval snifter, but I and Nick the Welsh remain outside to perform our usual tall man-short man act to get the big flag up. This usually involves me telling the vastly taller Taff where I want the clips attached, interspersed with various abuse. Once done, the good news reaches us that Carshalton are 1-0 down at Enfield, a result that utterly dooms them to relegation given that they have to win and also hope Lewes are soundly bummed at home to Bury. At least the former boom & bust lads are keeping up their end, trailing 2-0. This means the Bobbins would need to run out 6-1 winners to stay up. Now, those jammy fuckers have had a fair few dramatic last day escapes over the years, but even we think this one might be beyond even their good fortune!
The second half is soon underway and the U's come flying out of the blocks. We've barely been restarted 5 mins when Dundo marauds, finds Marv out left and having skipped past his man, rolls the ball back to Leroy on the 6 yard line to sweep the ball past the 'keeper and in off the far post. LEEEEEEEEEROY! Cue bouncy up and down-ness from the well oiled away support. Things bet better about 5 mins later when our pressing high up the pitch results in a defender selling his 'keeper well short on a back pass. Leroy is in like a shot and having clipped the ball over the keeper is then wiped out by the stopper. This of course produces the most nailed on pen you'll ever see. Dundo steps up and thrashes the spot kick down the middle to make it 3-0. Although quite how the ref felt it only warranted a yellow is a little puzzling.
From here on in, the home side largely pack up and head for the airport to begin their summer hols. This probably largely explains why Marv is utterly alone in space, legging it onto a ball over the top just after the hour. He tears into the box and having steadied himself, rifles the ball past the 'keeper at his near post to make it four. This brings the expected changes and Folkes, then Leroy and finally Harry make way for the young lads, who then proceed to terrorise the members of the Bath defence who aren't mentally at the bar in a club in Magaluf. The pick of the bunch is Rhys MW who absolutely beasts their full back and quite how we fail to make it the 5 or 6 the second half performance deserves is a bit of a mystery. Benjamin wasting the best chance when he heads wide when unmarked at the far post.
We understandably step off the gas a bit and Bath should have a consolation in the last 10, but 2 shots across Lovelock find only the perimeter wall and not the net and Tom then has to make a save 1 on 1 when our defence nods off briefly, no doubt also dreaming of bars in sunnier climes. However, the clean sheet is preserved and late on Dukey produces his much threatened (since about December I think!) rendition of 'One Step Beyond' to get everyone bouncing to the final whistle. At the end, the lads soak up the well deserved plaudits from the drunken masses and Shawy flicks us the v's.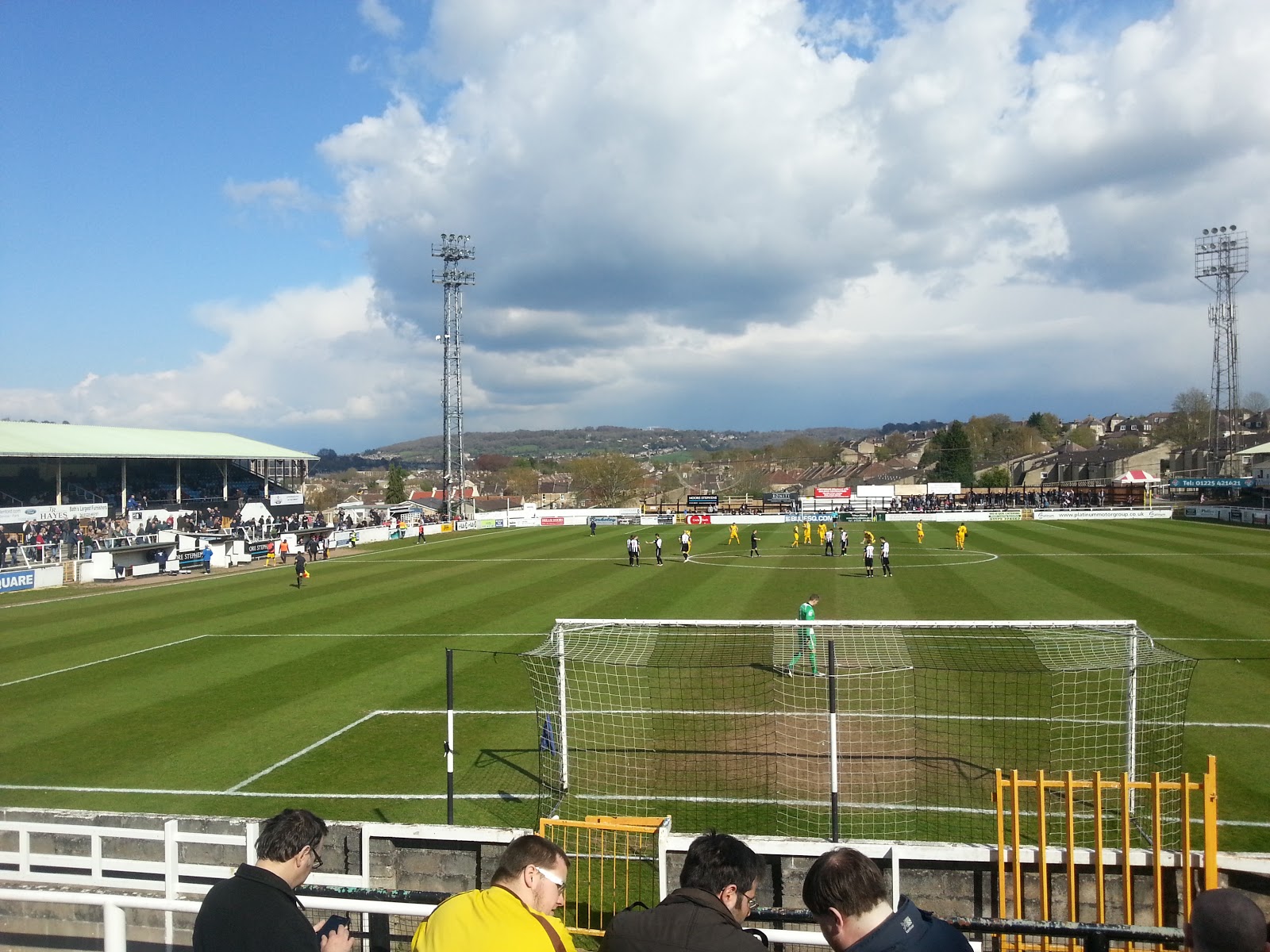 Twerton Park, Bath looking resplendent in the sunshine….
Right, can we go get drunk now please?
Back into the bar for a couple, we find that the Bobbins have come from behind to win at Enfield, albeit only 2-1, which with Lewes making a go of it in losing 3-2 means they're still several goals short and are relegated. Sadly, our hosts bar doesn't stock champagne for us to celebrate this fact fully. We also see the re-run of the incredible end to the Brentford Doncaster match and I receive a badly needed bit of massage therapy on a sore shoulder from Mrs Baker-to-be. Mr X then hires most of the town's minicabs once more and we then decamp to the Pig & Fiddle to catch the second half of the Newcastle Liverpool match. Here, ailing HTC's are once more recharged, many beers and G&T's are sunk along with not too few shots (including some incredibly awful green fucking death coloured efforts that burn my mouth), before it's time for us daytrippers to leave the overnighters to their festivities and head for the station. It typical away firm style, it takes ages to leave the pub and we're delayed by the kidnapping of Dukey's beloved flat cap. I rescue it and bolt for the door only to be hunted down in the street by Mrs Baker-to-be and her fellow conspirator. With none of the group coming to my aid and being a bit pissed and tired, I surrender to the vastly superior numbers of my attackers and the much sought after headgear is carried off into the night as I make my escape, staggering off stationwards.
To add to our general sense of confusion, it starts to piss down about halfway to the station and we're all thoroughly soaked when we arrive on the busy platform, both without any booze or greasy food to sustain us on the trip home. Once on board though, Mr X is sent to forage for refreshments at the buffet whilst I desperately scribble some notes in my new notebook to try & make up for the fact that I'd actually written virtually fuck all during the game itself. Oops! With my homework done, I amble down to the next carriage to join Mr X and Dukey who are now terrorising a group of Huddersfield lads on the way back from Bristol. One of whom resolutely refuses to believe me when I tell him about the Dover half & half scarves from their cup tie up there a couple of years before, so I get his email to send him a pic when I get home (which reminds me!). We once more alight at Reading a bit less pissed than we'd hoped and yearning for a Burger King. Sadly, the bastards are just shutting as we arrive and instead it's an unsatisfactory M&S sarnie for dinner. Still, we make the train back to Clapham safely and fortunately arrive back in South London some 10 minutes after last orders at the Falcon. Which means we are unable to prolong the festivities any further and is probably the best for all concerned. Home James!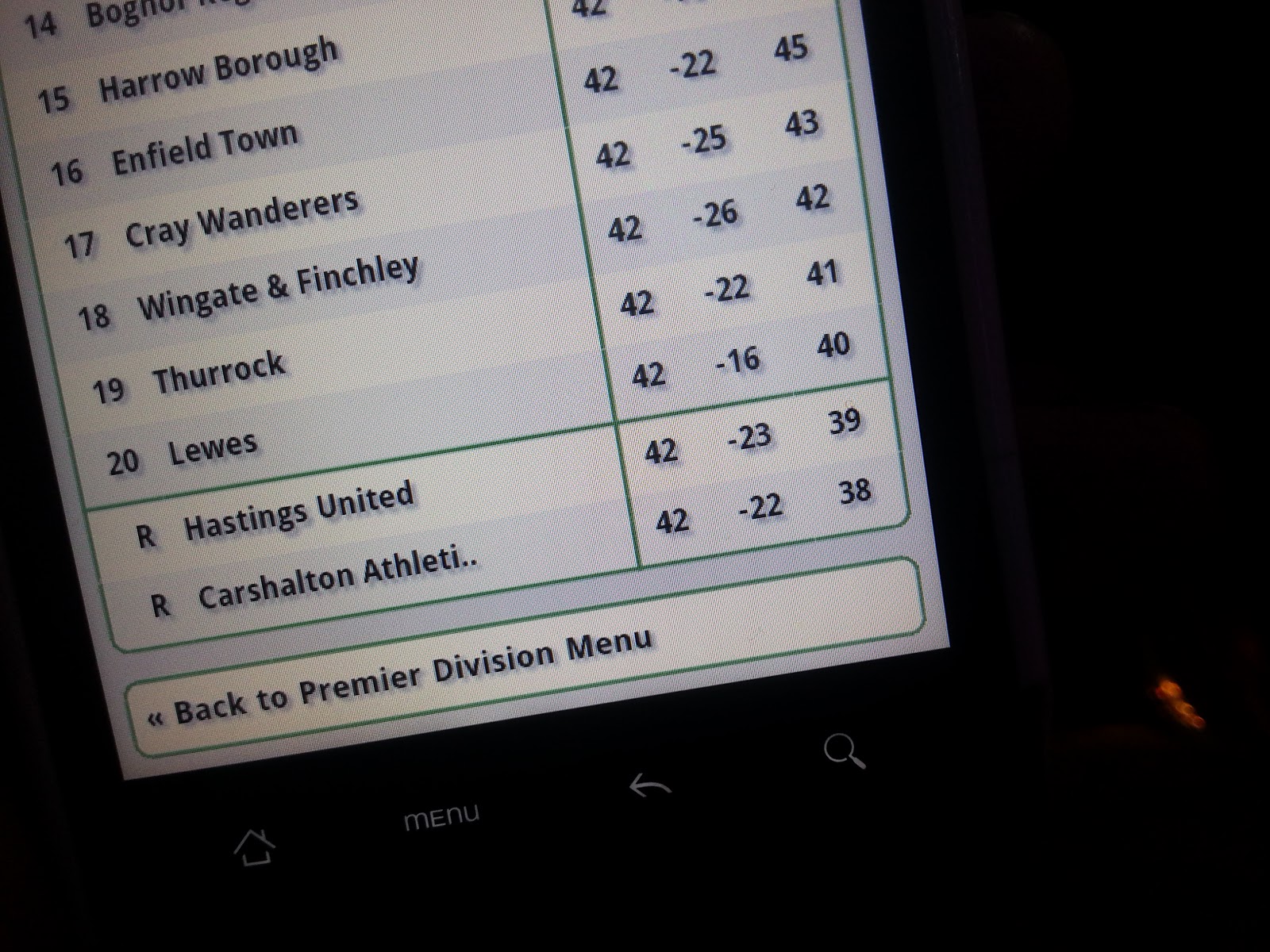 And today's episode of Gandermonium is brought to you by the letter R….
The evening ends with me sneakily charging my phone off a powerpoint I've found on the train and Mr X loudly disapproving of Southern's services as the only bog on the train is broken and he really really needs a piss. The three of us bundle off at definitelyrelegatedCarshalton and leave him to formulate his letter of complaint in red pen.
With comradely goodbyes distributed, Dukey, I and Nick the Welsh go our seperate ways and stumble off into the night. As I stagger along on the longer than normal walk home, my phone bleeps. It's a message from Duke.
"Hey you, don't watch that! Watch this!"
Twat.
Taz