Well good afternoon my fellow brothers (and sisters!) and welcome to another excerpt of the Gandermonium boys watching the final run in of the 2012/13 season. Today's opposition were the currently homeless Hayes & Yeading who came down the lane needing a couple more points to keep them in the division for another year.
And as I am due to go up town to get further educated tonight, this blog was done in a bit of a rush before my train doth cometh. So let's crack one out. Er, crack on.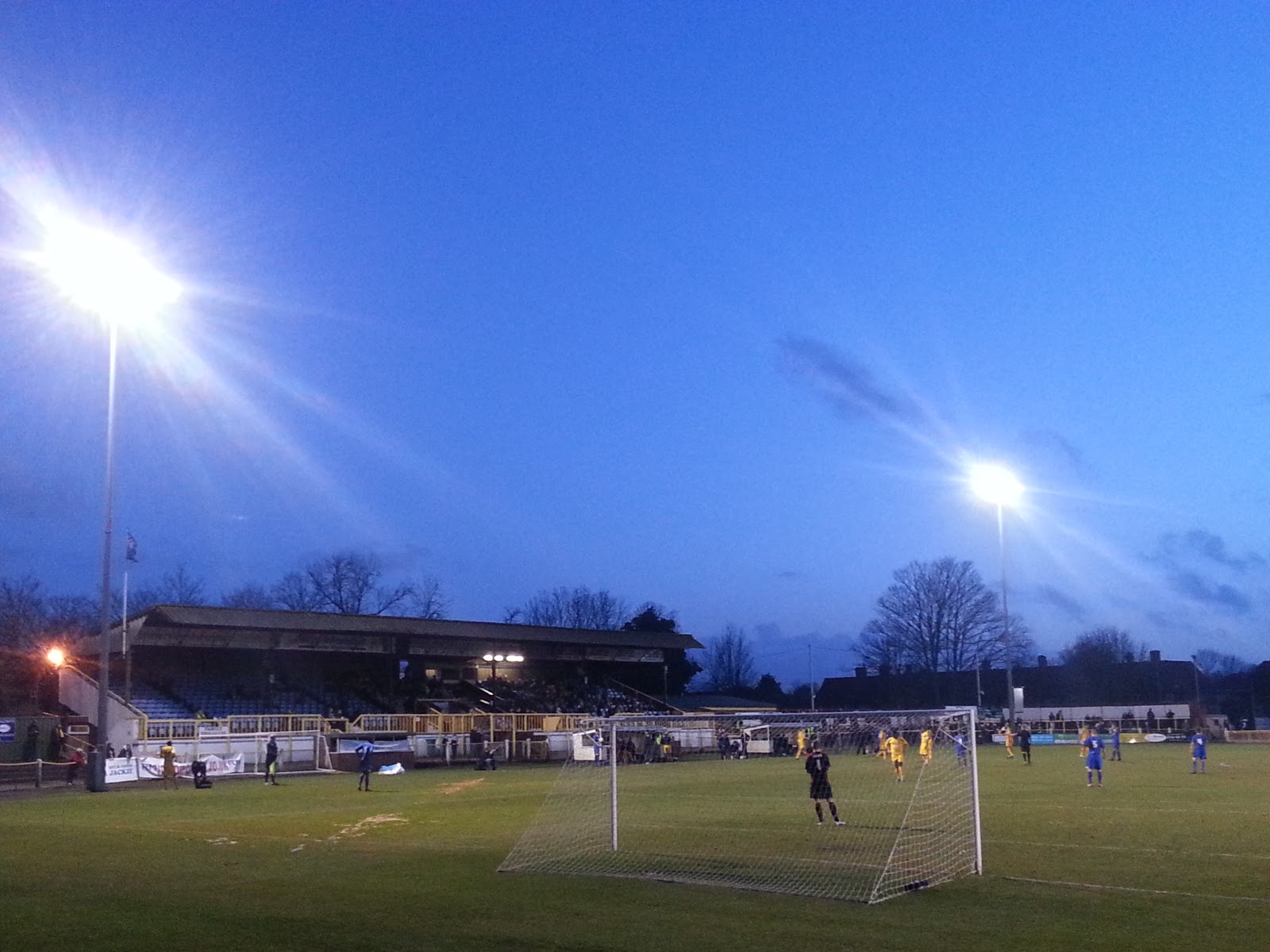 Last midweeker at GGL under the lights this season!

Er, except for Salisbury next week that is….
Ah what a bloody start of the week it has been, first of all I am still getting woken up by Alan the evil cat at 4 o'clock every fuckin' morning since I moved in at my sisters, but also he has decided to play a new game with me called "make a dash for the front door when Tom is about to leave for work", that is also not to say the little "presents" he likes to leave once in a while. Secondly, I managed to have a kamikaze pigeon attack my car* and give it his life for his country on the way to work on Wednesday, so it could've been a sign! Of what exactly, I dunno.
I don't think there is any need to discuss the absolute bollocks that is my job except I am overworked and under paid. The week began with the Q&A session on Monday night when El Presidente and Dos plus Telfs took some interesting, pointless and damn right confusing questions from a packed out VP Bar. I unfortunately, wasn't able to catch much of the first half as all I could hear was the domestics of some punter at the fuckin' bar. But I was gladly informed by the Firm Leader that nothing was discussed that we in the firm was not already party to. During the first break it was decided to move the conversations to the Boom Boom Room as it created more space for everyone one there.
Shite is that the time? Hurry up Dukey. Train to catch.
Now I can't actually remember what happened on Tuesday night but for arguments sake let's just say I spent a wonderful night in my Harem or just vegetated out on the sofa watching my life slowly drain away in front of the TV. Wednesday night was to begin with the usual trip to Juan Towers to pick his ladyship and even though it was his turn to do the blog he somehow managed to persuade me to do it! – and as we arrived a little earlier than usual, trying not to be led by temptation, we headed to Rose's tea hut to grab a drink, but Juan had other ideas…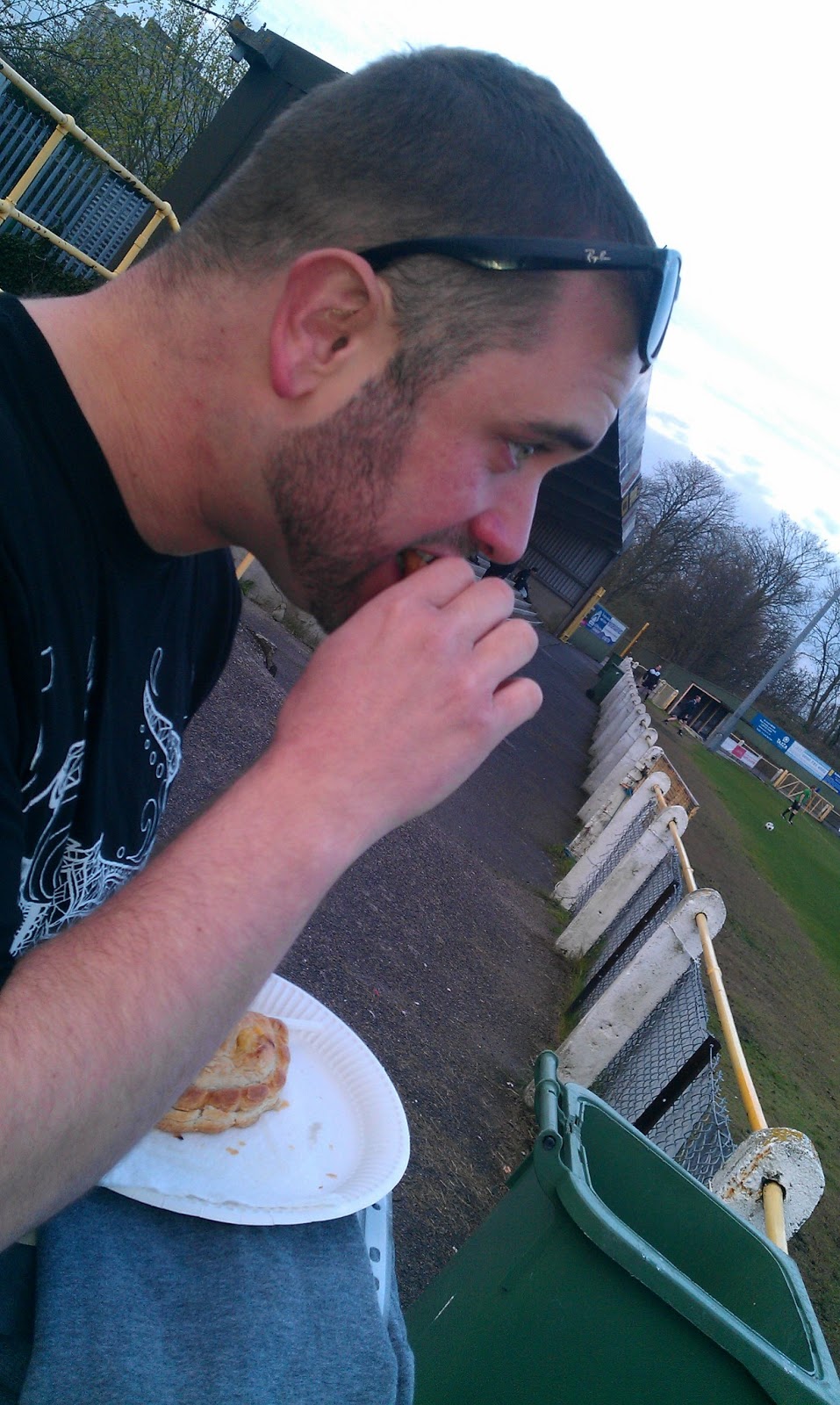 Juan gets a'eatin instead of a'writin'….
And if fate was to play a cruel hand, it did, when after talking to Mr Frake he happened to comment on a t-shirt that Juan was wearing on this very night, so for the rest of the blog and no doubt to resurface later on in history, arise Juan "Rock Chick" Sheet!
The game itself was another performance that got you thinking if only it wasn't for a weak start and a couple of dodgy performances, we would've been in the playoffs for sure. But we will have to settle for a strong finish and after yesterday's 5-1 destruction of the Ding; things do look a bit rosier for the club.
The first half saw the U's come running out of the blocks straight away as they tried to batter down the door of the Ding goal. Of course Sod's Law takes effect here when with their first attack of the game, somehow Hayes managed to scramble a goal and the first thought in your head is "is it going to be one of them nights?" well that feeling didn't last long as within 10mins we were 2-1 up with a brace of goals from no other that Hank Marvin, who twice was put through one on one with the keeper and twice slotted the ball into the back of the net. Not to be outdone by this, resident top scorer Dundo got his head to a Beauts free kick and gave the boys some breathing space to make it 3-1.
Awwww. Pwetty!
Things took a different turn at half time because the Boost the Budget number drawn out was for one of the Firm! So up stepped Mr Beeney to take a punt at the crossbar. Unfortunately his effort was much like watching a woman's football match and even though he did 'score' by putting the ball in the back of the net, the whole point was actually to hit the crossbar, so he failed. I would add however at this point that despite being shit, it still wasn't as bad as GBGFs effort. There were also no Buds left behind the bar as someone who shall remain nameless had drunk the last ones on Monday. Bastard.
The second half was a bit like the game on Thursday against the Wombles where the game was dead and buried nice and quick after the break after Downs nutted one in just over the line after a thunderbolt shot that smashed the upright and rebounded to him. The final highlight of the game was when Benji was taken out in the box 10mins from time and unlucky for Hayes, up stepped Dundo to get his 13th league goal of the season. Bosh, job done.
Well that is me all done for the home league blogs this season as I hand over the writing to your friend and mine, the "Rock Chick", who will now be covering the final two home games as I'm down for the Bath away game.
Duke
*Yes, a pigeon was killed in the making of this blog. Sorry RSPB.