Good evening
boys and girls and welcome at another edition of Duke's tired and emotional
recollection of today's trip, the penultimate away game of this season taking us across Hampshire and into the opulent surrounds of Farnborough. Many thanks for Juan for doing the SSC blog on
Thursday and giving me the opportunity to just sit back and enjoy another
excellent performance that not only booked us a record breaking number of final appearances but leaves us just one
step away from equalling Dulwich Hamlet's record of wins.
As some
of you are aware for the next couple of weeks, I'm going to have to stay at my
sister's flat in Wallington rather than Duke Manor, just to look after the evil cat creature known as
"Alan" while she and my brother in law swan off to sun themselves in Siam. So first off, apologies for any errors the blog may contain (more than normal anyway) but I've had to do this on a poxy laptop I'm not yet familiar with. I was also distracted by the beautiful landscapes that can be viewed from my sister's luxury apartment.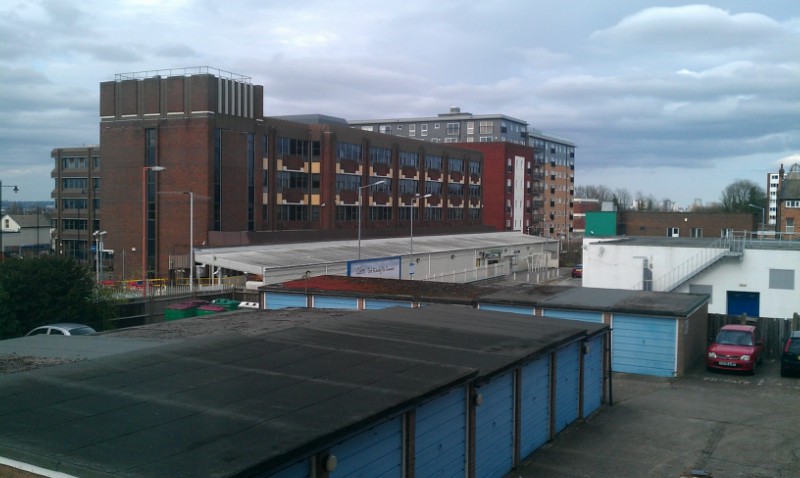 The beautiful rolling landscape of Wallington….
Despite now being moments from a station, that
doesn't mean that I would be on time for the train as we will see. However, because
for the last several days Alan the evil cat has decided to wake me up every morning at approximately 0400hrs by scratching my feet. And if that doesn't work by next clawing at my face! So of course I was awoken by this same feline routine this morning and short of
throwing the fuckin' furry monster out of the window, I decide instead to have a nice cup of the old
Rosie as I watch the sunrise over the rolling beauty of suburban South London to gather my thoughts and check up on the old
internet as the weather looked like it might be reasonable from where I was standing. As is
always the case, the weatherman on the web disagreed and described an 'enlarged rain band
coming over most of the South of England' for around lunchtime and that didn't bode
well for later.
The text
received from the Editor-in-Chief the night before indicated that we were to
embark on the 0929hrs train from Sutton, so as I was in Wallington I managed
after several texts to get the go ahead to get to Sutton to meet the train from there. I
look at the train times on my phone and I see that there are several options I
could get as all the trains go from Wallington through Carshalton Beeches onto
Sutton. The problem was that as already mentioned, I was only a two minute walk away from the platform. So I naturally fannied
about far too much and ended up getting the 0921hrs, which was due into Sutton at 0927. Cutting it fine as always! Despite this, I
somehow managed to just make the connecting train with Mr X and Doctor Bell who waiting on the platform for me.
The
Editor-in-Chief joined us at Carshalton and Mr C jumped on at Mitcham Junction and
that was the early pace setters for the firm all in place and all for the princely sum of
£6.75 each for the train fare. Bargain. We next managed to meet up with the Chronic
Masturbator at the changeover at Clapham Junction along with a couple of other Sutton stragglers as
well. It was at this point that I managed to spot me one of them old style slam door train
carriages that we at Gandermonium have discussed using if we were ever to
do a football specials train from Sutton to Carshalton should one of us win the lottery. I hope that happens soon as these old rattlers are dying out fast.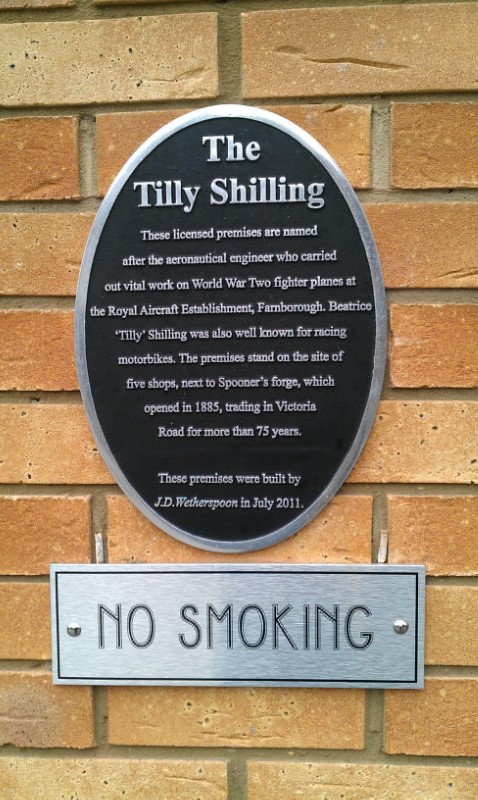 No doubt taken whilst someone enjoyed a tab….
The train
journey down to Farnborough passed without incident and typically, we arrived before the usual pub opening hours, so that left only one option open to us. Which of course meant the Firm
headed to the local Spoons! Yes the lovely Spoons! If Weatherspoon's ever did a version of frequent flyers, I'm sure we would've racked up quite some miles from the
amount of drinks we have consumed in these many budget boozers across the country by now. But
in order to spice our day up and create some cool & original material for the blog (it takes over your life you see) I thought I would try something retro for a change and as I
glanced over the selections of drink I came across the old kids alcopop favourite on display behind the jump. Yes, it seems "Hooch" is back!
Ah Hooch,
a delectable little number that, when tasting it today and looking back, reminded me that it really was just some awful
cheap cloudy lemonade with a bit of booze chucked in. To and to add insult to injury, I'm convinced they have
reduced the alcohol content as well from it's original underage drinking in the park heyday. But I polished it off regardless before it was time to hit several bottles of the more reliable Rattler to help regain my composure. Now, one of the problems with Farnborough is that it's not the best drinking town in the league and it ain't known for its wide & varied selection of pubs, so rather than waste time fannying about with unknown quantities, we stuck to the Spoons and decided we'd then head back to the station to get a sherbet or two to the ground.
So with
the drinks finished in the Tilly, it was back to the station. Sadly, after only one cab was ordered and there being eight of us, the ones left behind (myself included) then had to then wait an extra 10mins in
the rain before another one was finally obtained. Although the short trip to the club was
covered in a matter of minutes. Then it was through the turnstile, lob up some funds and into the club bar to once again charge our drinks one last time before kick off.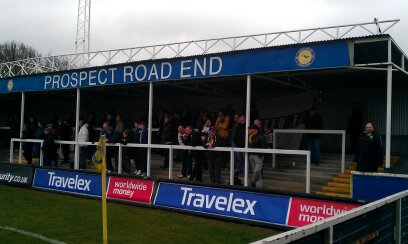 Not the Kop….
The match
itself was not a classic but the fact that it was our fourth win in eight days
is testament to the team and the way that our season has gone this year with more twists and
turns than an episode of Eastenders. Hank opened the scoring with coolly placed
shot past Ciardini, that if maybe there had a proper keeper between the sticks rather than a midfielder, they might have done better with. 1-0 was all it was going to be in the first half, but in the second our luck returned and up steps Rents to retake our lead, after the other mob had rudely equalised, with an outside of the box dribbler that spun under the midfielder-keeper to get the away crowd going again.
The final goal was another Hanky gotcha with Dundo doing all the
hard work to set up Marv for a simple goal and the three points were in the bag heading back to GGL, as well as keeping Mr X's strange playoff hopes alive. After the game we of course headed back into
the club bar to see the other scores come in and partake in a pint or two. Some like the Scum wining at
Lowestoft and Charlton's demolition of Barnsley were some of the more notable games
that were commented on by the assembled masses.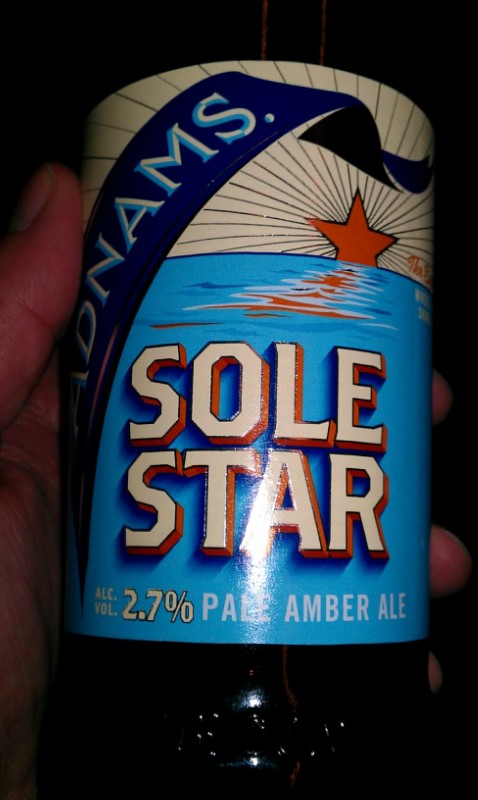 Carling Zest has competition!
We
finally managed to get some more cabs to our next destination, which was the Thatched
Cottage boozer halfway between here and the station where we could charge our HTC Shits and watch the end of the FA Cup semi-final
(bit of entertainment at the end of it I seem to remember?) on the box. Several more pints later
and it was finally decided to head back to the station, of course rather than take thew route we know, we decided to
walk through some sort of jungle fuckin' shortcut in the dark to get there instead, which got my Claire Rainers well
covered in mud. Fucks sake.
Now
no trip home via the Junction of Clapham should happen without us going for a cheeky jar or three in the "Falcon",
which is what we of course did and a cheeky jar or three it was because at this point the numbers
began to thin somewhat as the call for home, food and beds began to ring true in our beer filled heads.
The train ride home back to the manor was surprisingly quiet as somehow no one had passed out or had been
arrested.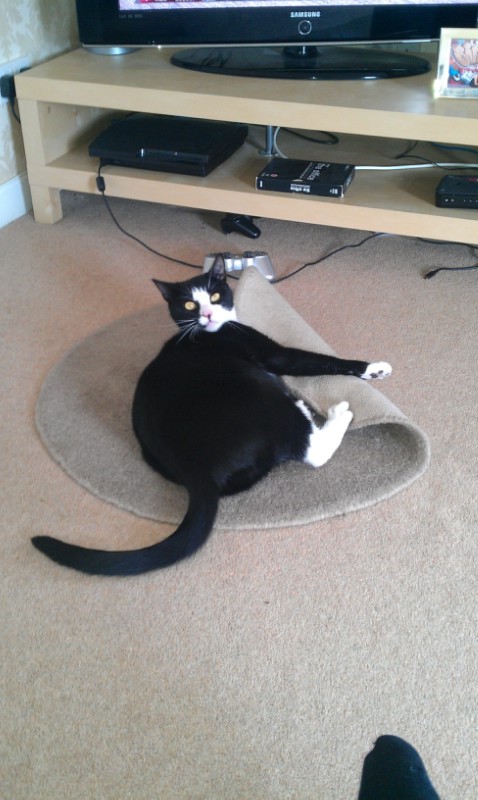 And what the fuck are YOU looking at sunshine?

After
getting off at Carshalton me and the Editor-in-chief walked down to Beddington and
after seeing him off back to HQ, I finally made the short walk back to Wallington and my temporary pit, where no doubt
I'll be awoken at 4am again by that fuckin' evil cat.
Duke