Best to start from the top with this one!
Well, after a bit of a pants week at work, pushing paper around and sharpening pencils it was my time to cover our away fixture at Havant & Waterlooville. So as Duke (currently looking a tad Amish with his current skinhead and facial hair look) relaxes on his five week holiday from Kingston council, sitting around, twiddling his thumbs and scratching his head,and enjoying Thursday nights victory in the Surrey Senior Cup , and day dreaming of winning in this years final….. your stuck with me, to write up this weekends fixture!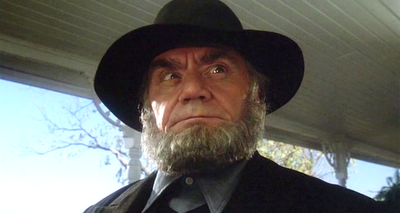 "Look, I'm not shaving until we score again & that's final!"
Being that the 'ol Kidneys were still in poor form, I wouldn't be joining the boys on one of the famous 'booze cruise' via British Rail this weekend. Instead I jumped in with Marky N, into his supreme Audi tarmac eating machine, and we hit the road, from the agreed pick up location. Marky N giving it the full beans down the worlds biggest car park in the world…the M25, whilst listening to some classics via his Iphone.
Seeing it was Dukeys pre, Birthday celebrations today, (hopefully someone might buy him a beard trimmer as a birthday gift-well we can live in hope I guess) I knew it was a wise decision to go with Marky N, after reading Duke's last blog. you'll see it was an eventful evening for both his wallet, and his stomach lining for Chelmsford away! I don't think my kidneys were quite up for the 'hardcore' drinking session just yet! Still not long too go….(Duke can't wait for me to be back on form)..and I quote the man himself.."I'm going to get you shitfaced" well all you gotta do is wait till Thursday fella!!
So it was time for a couple of cheeky jars in the boozer right next door to the club, before the game. Where we met the other members of the firm, following their eventful train journey down.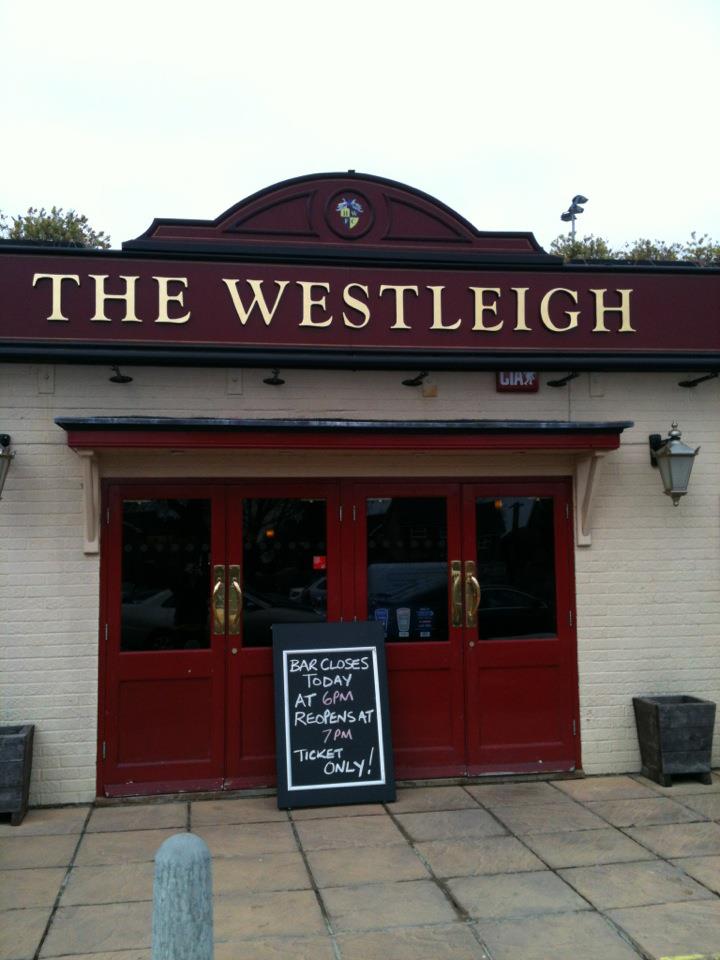 A pub. Unlike us to be seen in such a place…
So after a few jars, it was time to jump next door to watch the game.
So onto today's Blue square South Fixture.
The starting Line up is as follows:- lovelock, downer, rents, stuart, jordan, pacquette, riviere, ottaway, dundas, beautyman, williams
On the bench we've got- boateng, griffiths, benjamin, folkes, sinclair
1st Half action.
So Havant kicked off, and after the first couple of minutes we had out first attempt on goal from a swung in cross towards Tom Jordan, but the attempt on goal was easily collected by the Havant Keeper ( another keeper wearing yet again another pink shirt-wtf is it with keepers and pink shirts)
This attempt on goal was continued for the next 5-10 mins with ball constantly being up in the air, and all over the park. We couldn't seem to hang onto the ball, or get it down on the deck for toffee.
Havant were awarded a free kick which was quickly taken down the right flank, which was swung in low across the our box which was cleared away with out to much bother.
We finally seemed to start picking the ball up in various positions, and putting together some nice passing work. A collection in the middle of the park by Beauts, who played the ball into Marvs, whom typically put the burners on down the right wing only for his shot on target to be palmed round the post by the Havant Keeper. A corner awarded to Sutton, delivered into the box by Rents, a rather interesting delivery to say the least- which was cleanly dispersed away by Havant.
We started to put together some cleaner and tidier passes, a little cheeky one two between Rivs and Ottoway down the right flank-which led to a shot on goal from Marvs, which flew over the bar,perhaps we were starting to get our game plan together. or not as the next 10 or so minutes again ended up with ball spending a lot of time in the air.
Following air ball play, we finally managed to get the ball back on the deck, and started attacking Havant down the left channel using the placement of Rents left boot, and swinging the ball into the box, which was easily collected by the Havant Keeper. More attacking play for Sutton, again some more cheeky one-two pass and movement play from Marv and Rivs-which again led to a further Sutton Corner ( I lost count the number of corners and delivery's we had into the box today-with no end product) delivered into the box by Rents, who found Pac-man, who placed his shot wide.
At this point I guess I should point out that Pac's was bought into the club on a "gun for hire" non-contract basis/terms. Well so far the so called gun hasn't been firing-I think that's a fair point!
A further free kick was awarded to Sutton, delivered down the left channel from Lovelock this time- a little bit of panic from the Havant back 4 for a couple of seconds until they gained back the required amount of composure to clear the ball away.
At this stage Havant started coming back with some attacking play, and firing the ball from the midfield down both the left and right channels, trying to expose the weakness of the current old legs of Tom Jordon and Jamie Stuart. Luckily for both, Havant put a cross into the box which went straight passed everyone-lucky for Lovelock really, as he was no-where ready to make a save if required.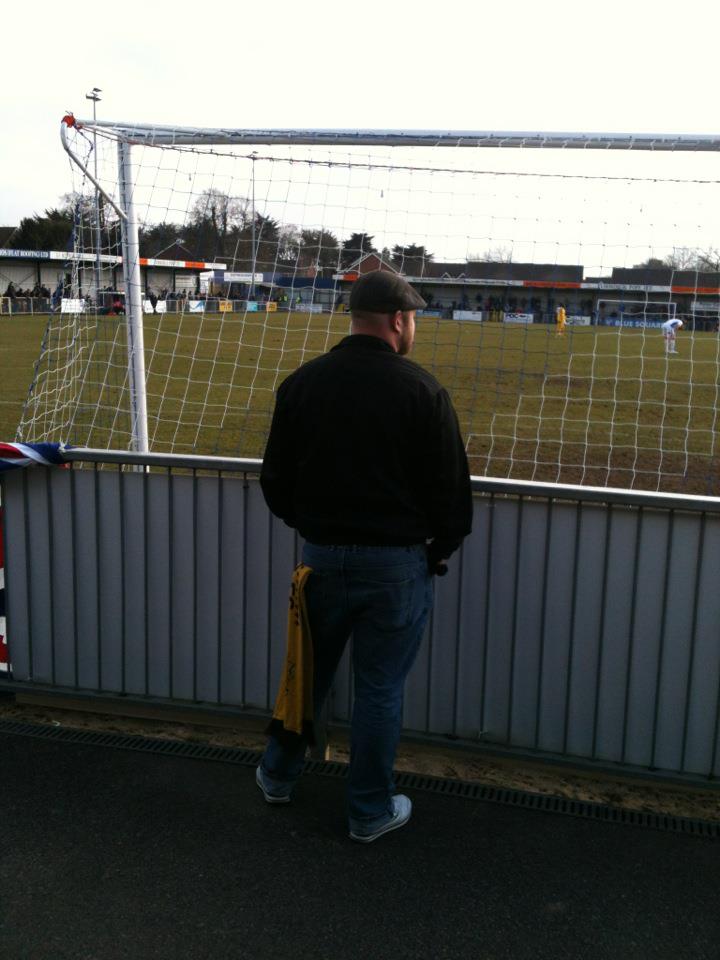 Dukey disappointed at the fact it's not the SSC….
So Marv then gets booked for a challenge- I didn't see the challenge, as I was on my way to use the Gents facilities and left my notepad and pen with Duke for 5 Minutes. ( to which I have just seen his comments and drawings, he left written for me! I shan't repeat!)
For the next few minutes, we are again playing sky ball! Until Ottoway gets taken out on the edge of the box! (Ottoway was earlier some what pointed at in his face by the Havant keeper for making a challenge , for going for the ball-well Keeps, you got what was coming to ya mate) So Rents steps up to take the free kick( this sort of distance would have been ideal if we still had Tommy Kav!) So Rents pulls back the hammer and rifles one just over the bar.
Havant come back with some attacking play from midfield, a nice cross in from the left to right channel, just inside the box, and the Havant chap up front take a stumble followed by a dive! The Havant fan base go crazy for a penalty appeal, which is an absolute shite house appeal! At least the ref sees sense, thank Christ!
So it all starts to go Pete Tong now, Downer takes a free kick from out on the right channel, which is cleared away, without much trouble, which is picked up by Jamie, who passes the ball across to the left to Rents, and Rents is caught in trouble due to Havant pressing for the ball, so Rents dinks the ball back to Lovelock who comes out to clear, and as he strikes the ball to clear it away, Olly Palmer turns his back into it, and it re-bounds of his back and flys into the back of the net.
So we go 1-0 down for some sloppy/messing around yet again with the ball at the back. From then on you could just tell it was going to be one of them days……..again!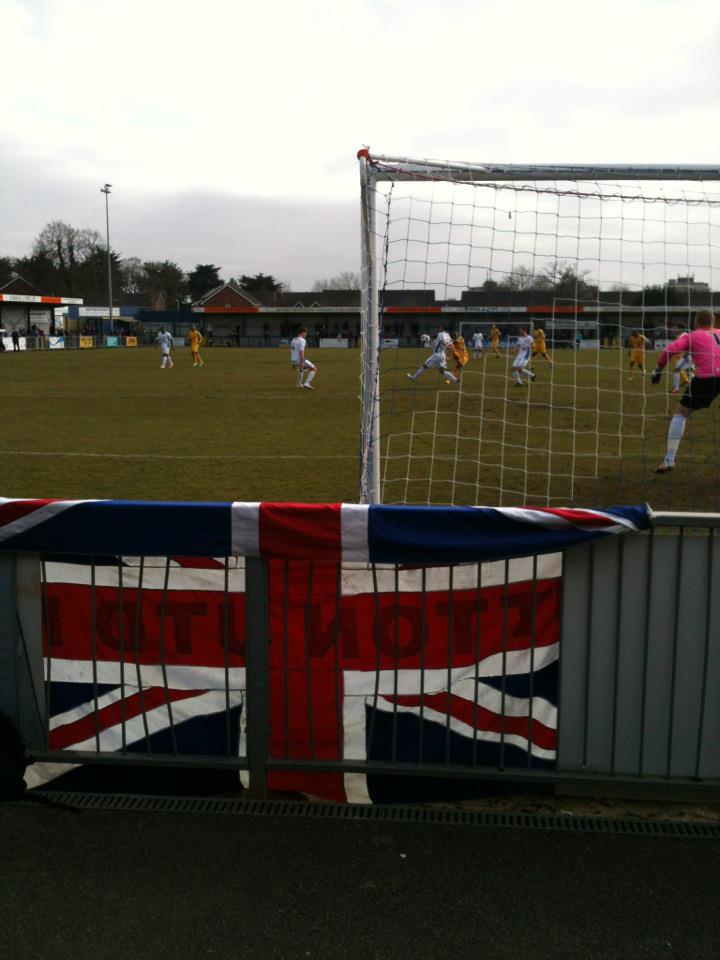 Obligatory action shot. Sort of.
So with our heads still above water, we kept going! Ottoway again bought down from just outside the box for yet again another push in the back from Havants numero 5.This time the free kick was taken by Beauts, fired in towards the left post, which again was palmed away by the Havant Keeper.
The last bit of attacking play in the first half, came from Havant corner into the box, which was swung across the deck for a high powered shot, only to fly over the bar-I'm guessing they practised that one in training.
2nd Half Action.
So we came out in the second half with a positive outlook, of course we were only one down after all, we could come back from this……hmmm…Ok Juan just keep telling yourself everything that!
Within the first couple of minutes we are awarded with a corner ,delivered into the box from Rents, cleared away by Havant, even though they were under pressure from Dundo trying to sniff the ball out.
Harry Ottoway was still running his legs off round the park trying to put together some runs and passes, but today his first touch was really letting him down.
More attacking play from Marvs, putting the burners on down the right flank, was met by the Havant Keeper, who leaped into the air, like a salmon, with a bit of a twist, as soon as Marvs went to pull the ball past him. What an absolute dive, and screaming like a girl, and playing up to the ref-what a tuffty haired prat!
It was a bit like this really….see video below!
….as it goes I had a Snickers at H/T!
This crying home to mama type play continued from Havant for the rest of the 2nd half. Every time we went in to win the ball or to make a challenge they all started to cry off to the ref…and well yeah he fell for it every time! I've never herd grown men scream like Wilder beasts before!!
So back onto the game, we go and concede the worst 2nd goal in a long time Havant basically walk the ball past out ghost like back four, and with a cheeky back heel to Olly Palmer he again finds his spot, and sticks it in the back of the onion bag for Havant to go 2 up!
I mean really, really why do we give away such easy goals…it really frustrates me, and annoys me big time! These are the basics of football…right! At times we fail epically to get them right. For me we have too many pairs of tired legs at the back, it makes me feel somewhat uncomfortable at times, but in the Gaffer we trust!
At this stage we make a change and take the tank Dundo off and replace him with Chris Benjamin ( who scored a couple of blinding goals in the SSC midweek). Pac-man also comes off and is replaced with Jay Faux.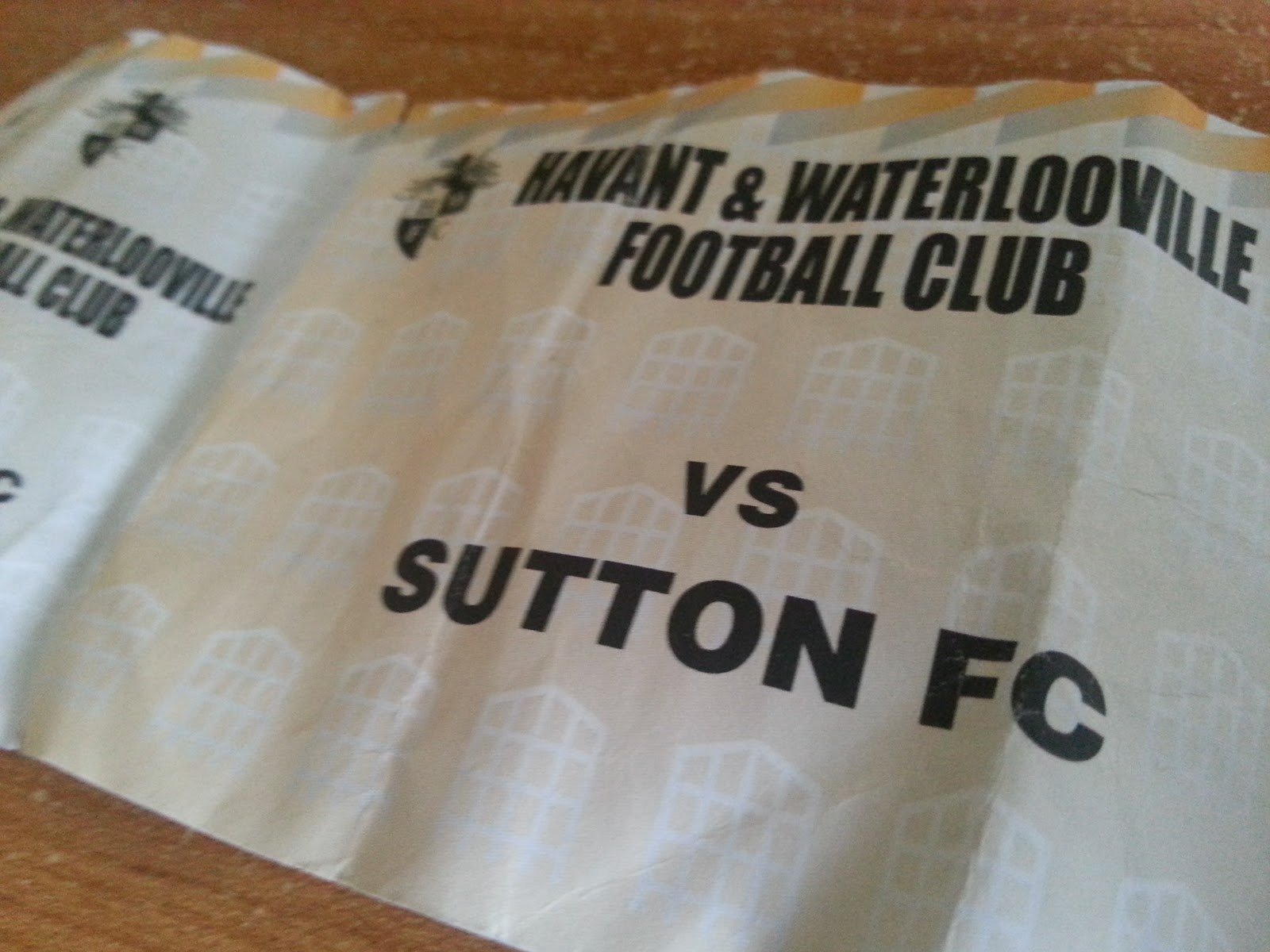 Tired looking. Tatty. Bit like our performance really….
So we continue to try and pull back something from this game, with a number of corners delivered into the box, again I lost count, for some reason we lack getting a head to the ball every time from a set piece! Another delivery into the box, in the direction of Tom Jordan, who places the ball off his head in the direction of the Havant Keeper, only for his attempt on target to be denied by the ref -due to Tom getting something on it, and the Havant 5 standing still, and making no attempt of effort to play the ball.
We make a further change and take Harry Ottoway off, and replace him with Leroy-not sure this was really a game for Leroy today! Especially if your not going to take your man on down the left channel when you've got the ball at your feet!
We are chasing the game BIGTIME now, really trying to pull a goal back, but yet the final ball and touch really is working against us today.We are delivering ball after ball into the box from both the left and right channel, with little and no end product. We have a further opportunity ,and attempt on goal, from a poor clearance from Havant, the ball drops to Rents, who tee's it up for a left foot smash heading towards the top left hand corner of the goal, only for the Havant Keeper to get a touch on it , to push it over the bar!
Well yes the inevitable now happens, we've got possession of the ball down the left hand channel, about three yards from the corner flag, and Leroy & Rents both loose possession and give the ball away. Havant run with the ball down the right flank, and then swing the ball across to a completely unmarked Havant winger on the left channel, who collects the ball at his feet, and has all the time in the world to pick his spot, and places it in the back of the net, with such ease.
Well that's where I'm finishing up with this weeks write up, anymore and I'd be on Prozac!
So no pressure for 3 points on Tuesday night then! We seemed to take 6 steps forward, got ourselves on a bit of a winning streak, and then we get played all over the park at Chelmsford last Saturday, and well this Saturday hasn't been much of an improvement from then if I'm honest! Time to get back to the basics of football, or perhaps even further changes in personnel, you decide!
Well let's go out with a little inspiration from Ian Dury.
That's all from the one they call the Juan for now……