So this is a first for the all new and improved Gandermonium. Gandermonium's first ever film review. From tonight's selection box, comes The Football Factory! Lets be honest we've all seen it, we all don't really rate it highly in the world of football films, especially when its compared to the likes of I.D, or the original Firm featuring Gary Oldman.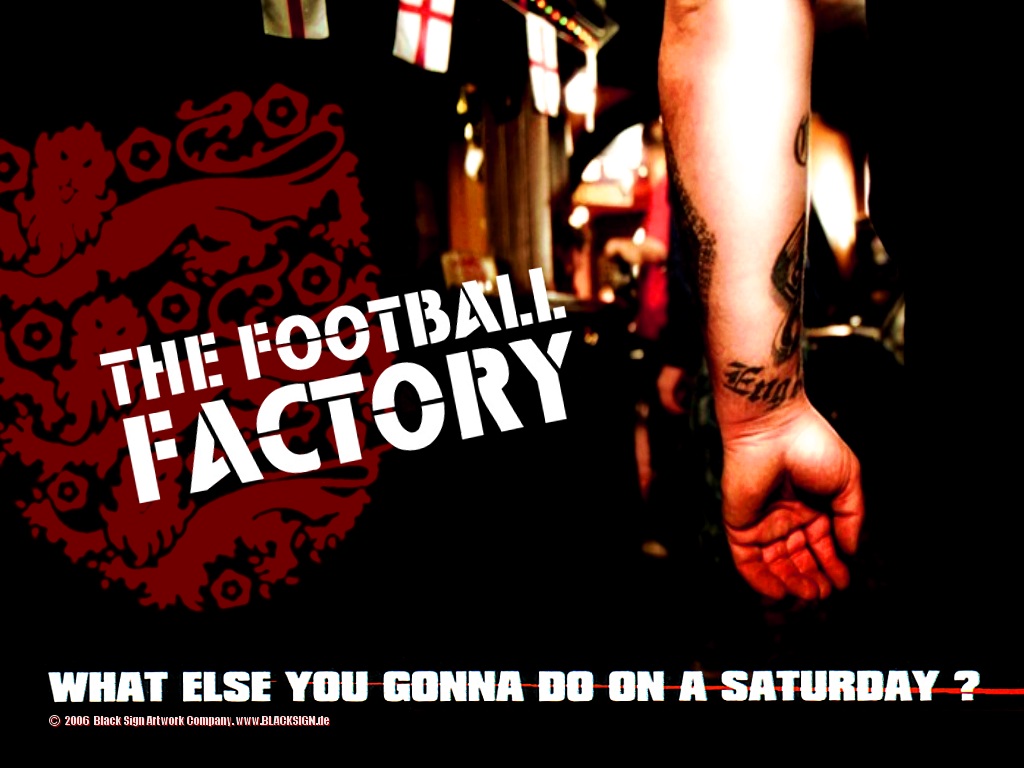 Erm, is that a trick question??
So, it was time for me to put together some sort of review on this piece of cinematic work directed by Nick Love, whom also recently ruined the Sweeney by again converting something, already perfect in all it's glory by deciding to bring it to the big screen. Congrats to Nick Love for yet another fuck up! Your Oscar awaits chap, stand up and take a bow! Well, Im sure Nick Love won't be bothered too much by my review…cause he don't give a shit about critics or the reviews, find it here. The only good thing for me about Love's films are the sound tracks!
An extract on the book stolen, borrowed from Wikipedia….
The Football Factory is the controversial debut novel of author John King, and is based
around the adventures of a group of working-class Londoners who follow Chelsea home and away,
fighting their rivals on the streets of England's cities. The principal
character/narrator is Tommy Johnson, whose internal monologues allow the reader
an inside view of football hooliganism and
the adrenaline highs involved. Major battles take place with Chelsea's traditional
enemies, among them Tottenham and Millwall, and the book's authenticity has
often been commented upon. The language used is hard-hitting but imaginative,
as Tommy's anger and outspoken views on life in modern-day Britain delve into a
range of subjects including class, patriotism, prejudice, poverty and the
political system. Tommy Johnson is a white, English male and fed up of being
told he is rubbish
I digress, back to tonight's film. Well there were a number of reasons I choose this one. Firstly because it's not a fantastic piece of work, secondly to get it out the way, so we can concentrate on the better ones, and lastly because it's actually based on a book. Seeing of course that Taz has recently put together a recent book review on here. It would seem fair that after badgering him for sometime to see if we could cover other content other than S.U.F.C related blogs, or drunken reports, and of course not to bring Gandermonium into disrepute. Taz gave us the nod!
So onto the film review.
The Football Factory' is a study of middle middle class England, football violence
and male culture. The story centres around Tommy Johnson ( Danny Dyer) a bored twenty
something who lives for the weekend, casual sex, watered down lager,
heavily cut drugs…. And occasionally kicking the f*ck out of someone!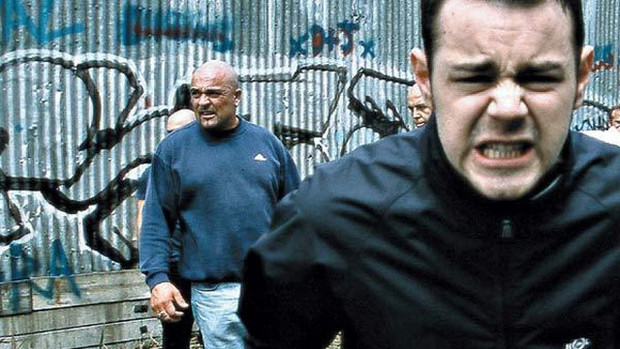 That motor just ran over my fucking foot!!
So throughout the film, we follow the life of Tommy (narrated by Dyer) he lives for the weekends, of course being a Chelsea Fan. (Well lets face facts if it was written about this seasons antics at Chelsea, it would all together be a different film.) Throughout the film Tommy has a love more for the violence involved with the various meets/encounters of of other football firms such as Milwall, or Tottenham! As far as Tommy's concerned its all about the violence rather than the game itself!
Tommy's mates in the film include a fella called Rod, who works for an air-conditioning firm, who meets some upper class bird who has no-care for the game, but instead would prefer the perfect life with Rod. But Rod wouldn't miss a tear up for a bird! We've also got Billy Bright who is a total fuckin psycho who has taken more beatings on the terraces than he cares to remember. Bright sees himself as the firm leader, but is always out played and out flanked by both his trophy wife and the firms leader-Harris !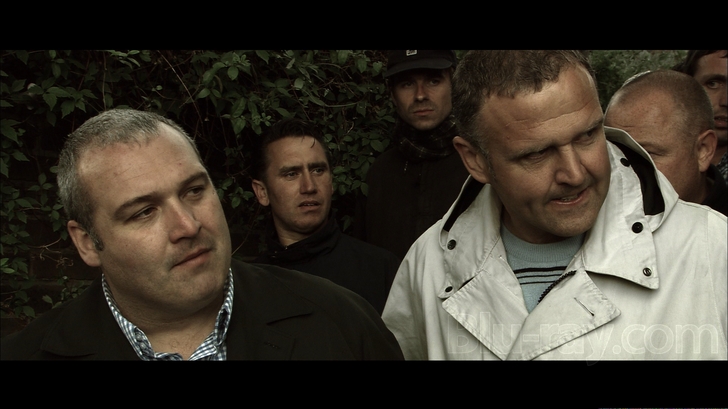 The lads get irritated as Juan takes his time at the bar again….
There are a few other characters in the film, like Zebedee who comes across a thieving little tyke and has stocks and shares in Columbia's finest export! The other characters for me…well there just mainly fillers!!
So Tommy begins to think twice,after seeing various warning signs- in the direction his life is going after being nicked for kicking the shite out of a couple of Stoke City Fans whilst on an away trip.
Tommy is constantly haunted by what he will become or what will happen to him in the future, and as it turns out well if you haven't seen the film, what I'm now about to tell you will ruin it!
The film finished in a pro-longed battle between the Chelsea and Millwall
firms. Rod (after a few espressos and a line of coke) leaves a dinner
with his girlfriend's parents after insulting them, and attends the
"meet". Tommy is brutally beaten by Fred (Tamer Hassan-other film with both Dyer & Hassan, The Business) and a group of Millwall
hooligans, and winds up in the hospital with Bill (Tommy's Grandad), who suffered a heart
attack.
After leaving hospital, Tommy decides that his place is at the firm with his friends, Bill (Tommy's Grandad) moves to Australia and Billy Bright is given 7 year stretch
after being arrested at the Millwall meet.
All in all not the best football related film. But we had to get this one out the way, so we could move onto the better ones, like I.D, The Firm, and Rise of the Footsoldier.
So this one gets a 5/10. The best part of the film is the soundtrack for me, one of the best tracks is by Primal Scream, Swastika Eyes. Here's the link below.
Here's a couple of quotes from the film for good measure!
"Jesus! I was expecting a bowl of cornflakes and a quick wank…"
"What else are you gonna do on a Saturday? Sit in your fuckin' armchair
wankin' off to Pop Idols? Then try and avoid your wife's gaze as you
struggle to come to terms with your sexless marriage? Then go and spunk
your wages on kebabs, fruit machines and brasses? Fuck that for a laugh!
I know what I'd rather do. Tottenham away, love it!"
"Oh, we have a few vans out on jobs most of the time. Yeah, sure it's
always busier in the summer, of course. Nothing like a soaring
temperature to help the work, you know what I mean? Anyway, most of the
time I just sit around the office waiting for the weekend. Don't get me
wrong, I love the money the job pays. But my real passion lies in
kicking people's fucking heads in at football. See, I got to channel it
somewhere. As you can probably tell by my bulging stomach, I don't
participate in too many sporting activities. And I don't do drugs. Well,
that's not entirely true, but not a lot. So I got to have my release in
something, and a good fucking fight seems like the best way. Wouldn't
you agree? Maybe not. At least I wouldn't be walking around like you
lot, fucking horrible cunts with sticks shoved up your asses trying to
pretend your little suburban nightmare's all right. Then again, I
suppose it just depends which way you look at it."
So there we are Ladies and Gents, the first film review on Gandermonium. Now, time for me to get my head back into these books I've recently acquired, in order to put together a book review on those bad boys,soon to follow in a few weeks time! Just a little teaser for you, one of the books is based upon a famous Italian Ref, and the other is an ex- Arsenal centre back who had a little addiction other than football.
That's all from the one they call the Juan for now!
….oh and if you still fancy a watch of this, you can find it on youtube here.