So after a long wait..we're back, and we're better!…That felt good! Like the first time I managed to ride a bike without the aid of stabilisers…Sorry Taz, I couldn't help but mention a little thing to do with cycling…..come on!…ok ok no more I promise!
As you've recently been reading Taz's recent blogs from the dusty archives. Taz can now sit back and relax in his wing back chair, put his slippers on and relax tonight! Juan's got this one covered!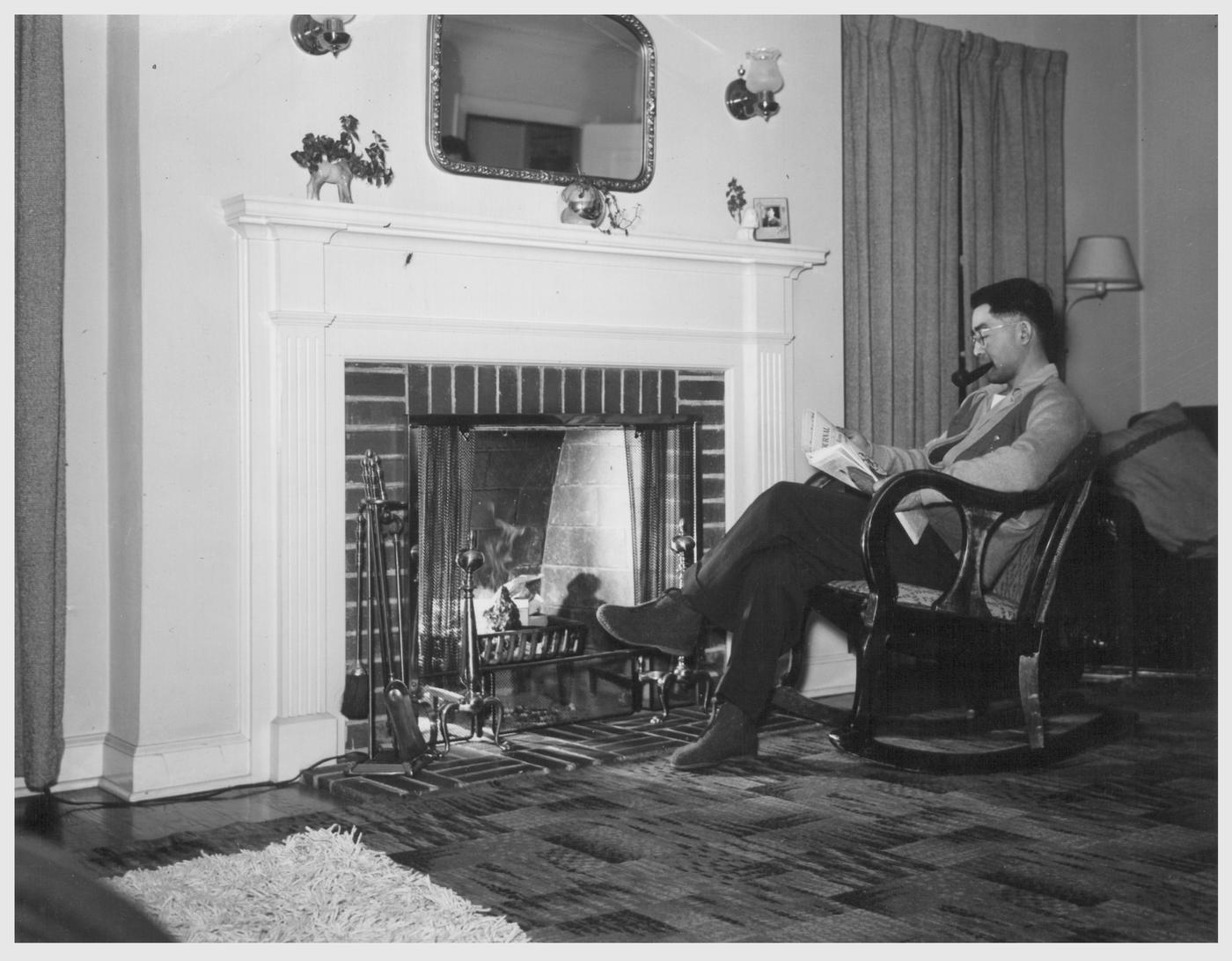 Not Taz. He has a bigger chair….
Duke told me, that every blog needs to be typed up on the night of the game, well cause of you Duke, that means I'm having to push back my nocturnal activities this fine cold evening! Well you wanted it, so here it is!
Seeing as our last home game, was played back in November (17th I think) last year, it felt good being back down the Lane for a league match!
So after dumping my boost the budget gear back in the office, it was time to put pen to paper…..
So stand by your beds, here comes Juans home match report Vs Eastleigh!
1st Half Action.
Well Dos decided to start out all guns blazing with all new signings coming straight into the starting eleven.
Starting line up as follows-Scivs, Boats, Stuart, Downer, Sinclair, Williams, Pacquette, Boats, and Folkes.
Bench-Tommy Kav, Harry O, Anthony Rivs, Leroy Griffiths, Paul Telfer.
So we started off well, a nice mix of pace, and passing the ball. We seemed to be looking rather confident and putting together some neat passes, and look confident in who we are, and what we were doing-always helps I guess! A good spread of the ball from both sides, linking up well with the tempo of play was Marvs, (for me at the moment seems to be one of the better/sharper/pacey players we've got) making his trademark runs down both channels, trying to link up with both Pacquette and Folkes in the box.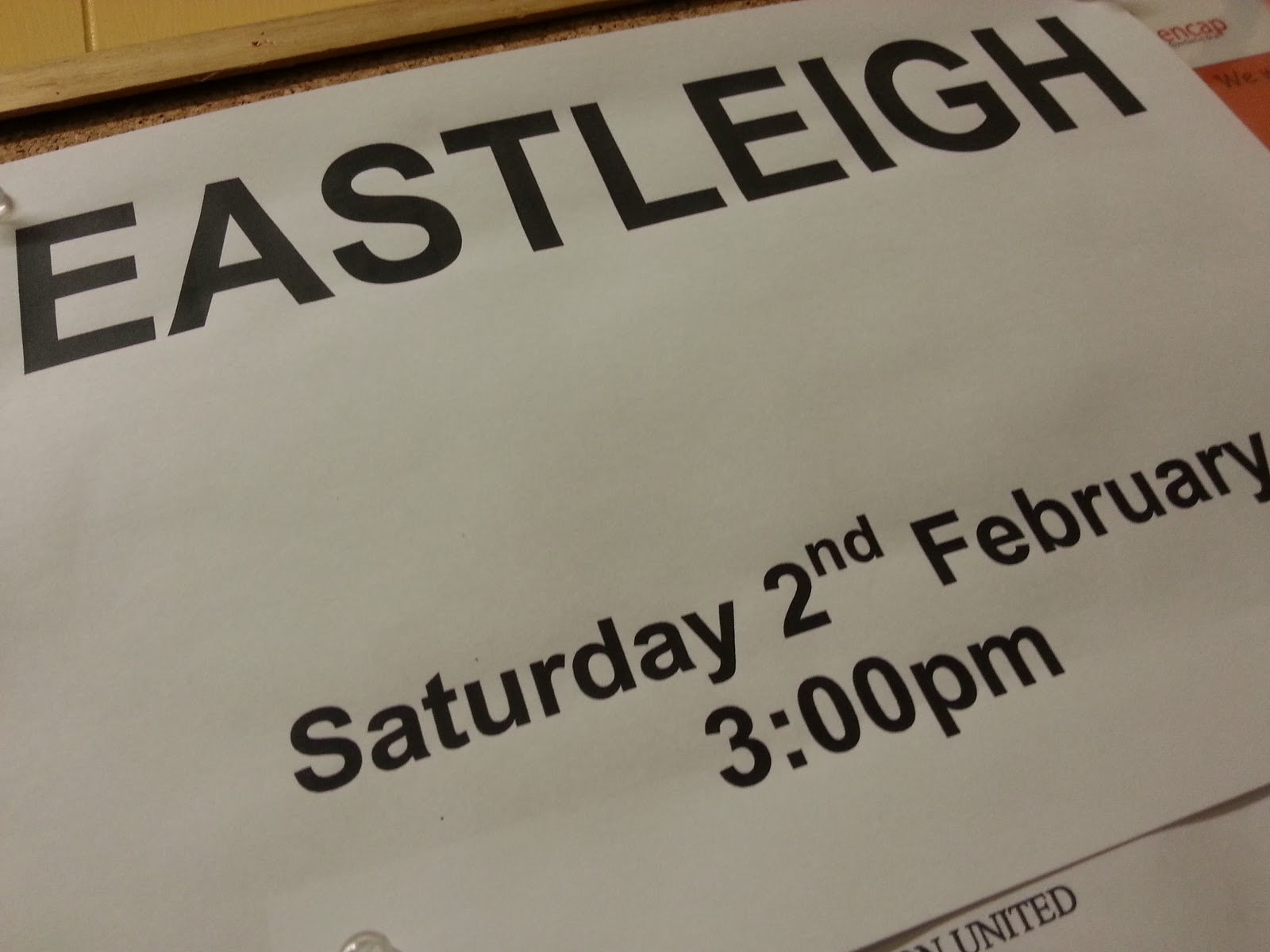 We. Actually. Played. A. Game.
Marv making his run down the right channel, squared the ball into the box, and it needed was a touch from a yellow shirt, and it would have been in the back of the net!
Further build up and pressing play from Sutton giving Folkes and opportunity to square the ball back across to Marvs, who took his man on, but just couldn't quite get his footing quite right, to steam past him.
On the opposite side, we had Boats (some games Boats works hard, and plays well, other times he can really be off his game-well today he seemed to be on top of his game) really working the right channel, and again seemed to be linking up well, putting in some of his low and some his rather high loftier cross into the box. We seem to have re-worked our style of play a bit, to use wingers and attacking full back type play to get the ball into the box, and to try and beat the full backs…..much more pleasing on the eyes!
A further cross into the box from Boats, but safe fully held by the keepers gloves.
Still we kept going, kept pressing them, and really trying to find that break through!
For a few minutes we seemed to loose concentration at the back from an Eastleigh attack, adding to some confusion between Stuart and Rents, allowing Eastleigh some room to apply some pressure onto us….not good! Still Eastleigh didn't seem to take their chance from this opportunity we allowed them for a few brief minutes, until Eastleigh had their first chance on goal, but placed it wide…sweat wiped away from our back four, and on we went to apply more pressure and more crosses into the Eastleigh box….just no Sutton shirt following the ball up.
A nice little bit of play between Boats and Pacquette-seem to be linking up well and playing to each others strengths, including a few little cheeky bits of skill. A further run down the right flank from Boats, steaming past his man, and reversing the pass into the box towards the right foot of Pacquette, whom decided to go for the placed inside of right boot effort, rather than a low powered shot on goal (may have seen him score his first goal in a Sutton shirt) was duly collected by the keeper!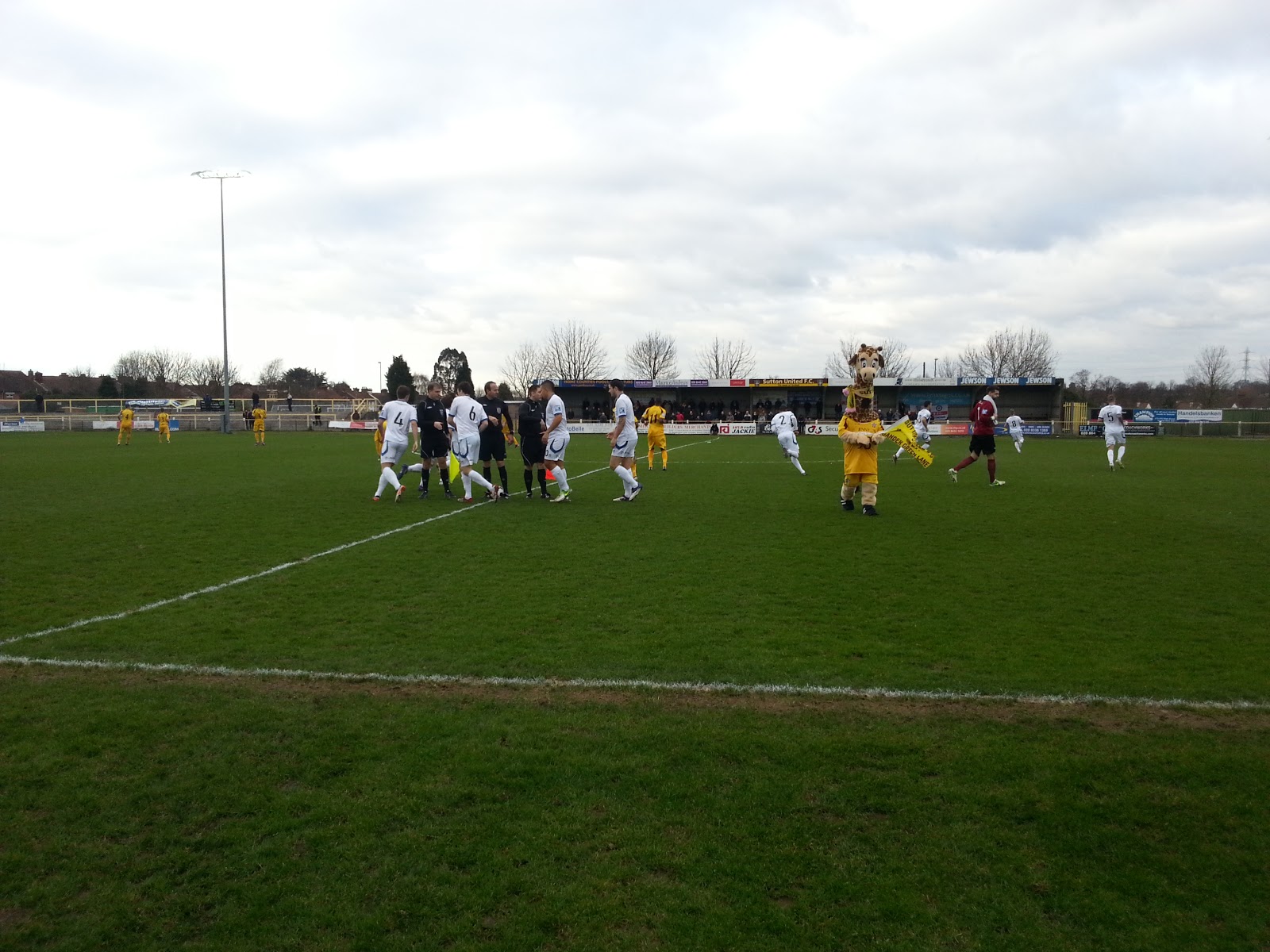 Taz sneaks a photo whilst on giraffe duties….
Further attacking play by Sutton this time bringing into the mix, Harry Beauts, a lovely little run down the right wing, and a fantastic delivery into the box (keeper currently standing in no-mans land) was cleared away by Eastleigh, currently caught in panic mode!
Eastleigh in all, decided to put us under some further pressure at the back, and duly won a corner, which was delivered into the box, and they were first up to it, causing Scrivs to go for the ball, but was just out of reach to his right hand, and went on to hit the bar, and re-bound straight out, which was cleared away by Downer. We started to look a little shaky at the back, and a tad uncomfortable at times, with a few dodgy looking clearances.
Following on from Pacq's attempt on goal, we were given too more set pieces from the left flank-delivered into the box by Rents-again cleared away by the Eastleigh. A nice little turn from Jay Folkes just inside the box, gave us our first shot on goal, but was put over the bar…still never mind, a shot on goal, is after all a shot on goal.
Right then, lets get to the turning point of the first half…a nice bit of turning and pace from the Marv, and his cross into the box, found it's way onto an Eastleigh's arm, right bloody up in the air it was too. How they could even contest this bamboozled me somewhat,…now listen fella, you cant go to win the ball in the box with your arms up in the air….numpty!! Anyways…you know what it felt good to be awarded with a pen, about bloody time a bit of luck went our way!
So up stepped the cool calm collected Rentsy against …oh yeah that keeper.."didn't you get sent off at Man U" oh yeah ya did, and now your an EX league player, that's EX just so you know!
So rents being the rather cool swerve man that he is, picked his spot, and placed it bottom right sending the keeper in the opposite position…next time try and save the pen with ya mouth keeps…it's bloody big enough!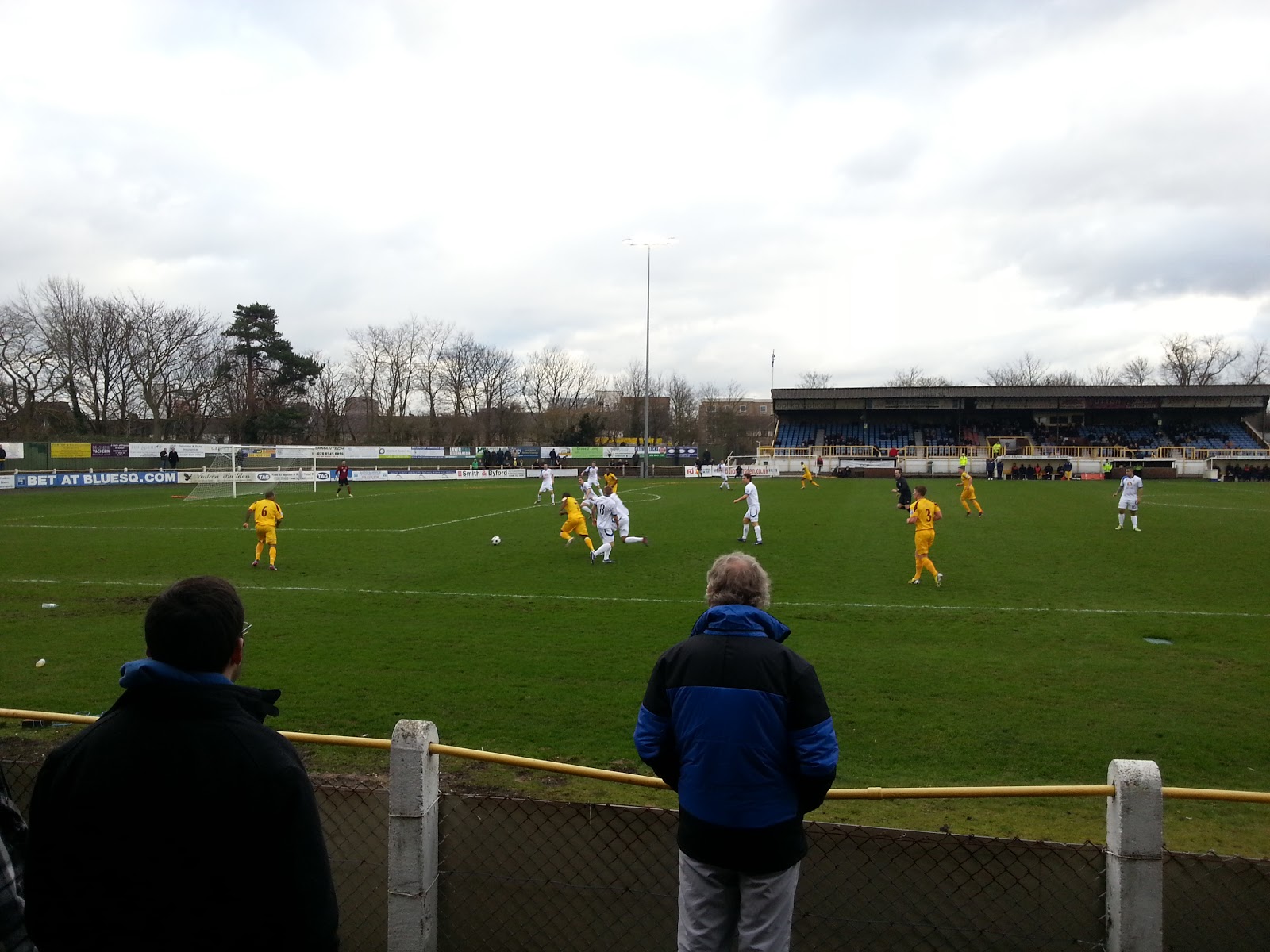 Regulation action shot….
2nd Half Action
Well it seemed Eastleigh swapped their oranges for powerade during the half time interval, as they came out with all hands to the pump, really trying to put us under pressure-and fair play to them, at times they did put together some good free flowing passes at times. We found ourselves at times really being stretched at times, with Eastleigh using all the width they could find, and all the might they could find. They really came back trying to find something.
Still we weren't going to do the usual , lets roll over and die type, huff and a puff give up bollocks! We kept putting some neat passing and some good balls down the channels to find Marv, who seemed to ghost past his man on many occasion. But we were starting to fade in places, and we seemed to be lacking a bit of muscle in the middle of the park. So it was time for Jay ( who I thought looked bright ) to make way for the man who likes to boss the middle of the park-Rivs. With Rivs on, we seemed to take back a bit more of control down the middle of the park for a spell. More attacking play from Sutton, but just lacking that final last ball. Marv, trying to trick his way past one of the Eastleigh back four, but loosing his footing on the way through!
Eastleigh were really starting to put together some decent play, and we seemed to be on the back foot for a period of time- I guess you could say "under-seige" for some time! Eastleigh were then given an opportunity to have a go, but firing a shot wide!
Boats was duly booked for a challenge, I didn't quite see as to why, but anyways the ref was having a shocking game, so never mind! Following on from this shocker, Stuart was booked for kicking the ball away as well.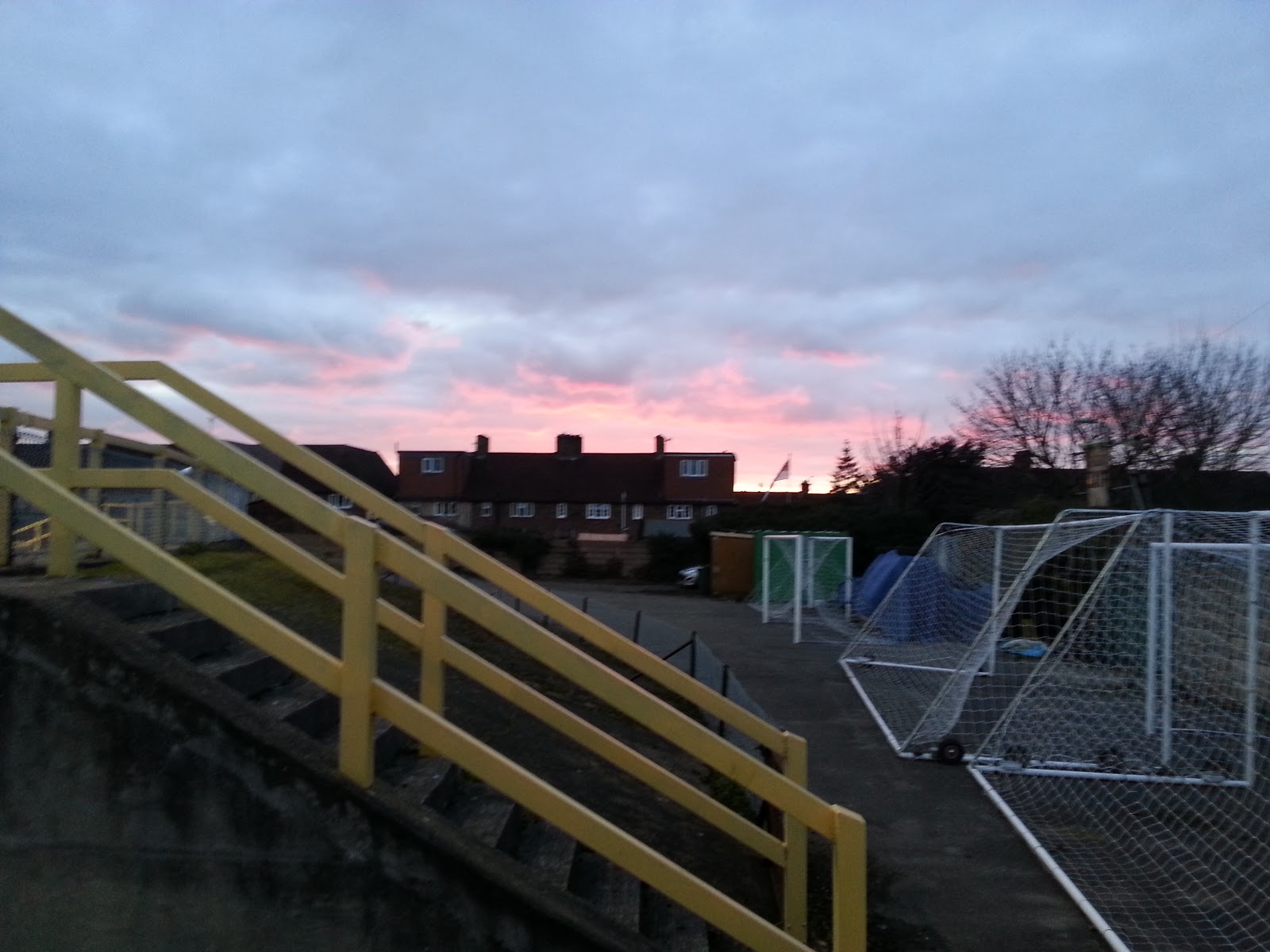 Awww. Look at the sunset. Pwetty!
So further attacking play from Eastleigh, giving them more of an opportunity, with two con sec corners- I may as well point out at this stage, that they decided to appeal for a handball-which clearly came off a Sutton back. Well you gotta try I suppose, but you failed, and failed in your appeal badly!
Another Sutton sub made, and we bought on Ottoway who is all ways lively up font, seems to win a lot in the air, and has got some legs on him too, always a bonus against a tiring back four.
Dean also went off, and was subbed for Leroy-(after having to return to the dug out to remove his base layer yellow in colour, under the refs orders…it's the same colour as his shirt ref, ya TWONK, it makes no difference). Again we seemed to be sitting back to much and giving Eastleigh room to make some decent passes and attempts on goal, but nothing came of it! Apart from some of the legendary Scriv saves…seemed to be keeping us in this one.
A nice little run up the right channel from Leroy, and a beautiful dink into the box, but no Sutton player ready to collect, damn! But played out for a Sutton Corner, again delivered into the box by Rents. The ball was knocked across the box by the keeper's hand, a bit of a fubar save, and found the tank Dundo, about two yards away from the back post- a little nudge down from his left knee, and smashed it home !
2-0 Sutton, come on!!!
Dundo celebrates another goal against Eastleigh…..
So then following the goal celebration, Jamie Stuart gets caught in his back/ rib area, calling for treatment from Bobby Child's, and as Mr Stuart arises to his feet, in some pain, clearly by his facial expression….Duke pipes up and shouts "Man up Jamie, just a tap"! Legend Duke, you legend!
Following Duke's sound advice, Jamie then goes and gets himself booked for his challenge, and like a bull gets shown a RED….sound advice that Duke! Still it was funny at the time!
So with extra time added ( 5 minutes shown ) we go and concede in like the 94th minute, or something like that! Still a much needed 3 points in the bag, which I hope is more to come…watch this space!
Well there you go, you wanted it, you got it….a Juan match report, now onto the scores!
Game-7.5 out of 10-we just need to work a little harder and attack a little faster!
Ref-5 out of 10-shocking today mate, let's hope you weren't being accessed today mate!
Comical moment goes to Duke for his one liner…
Oh yeah and before I forgot, just to add to the extra smile on my face today, this bad boy turned up!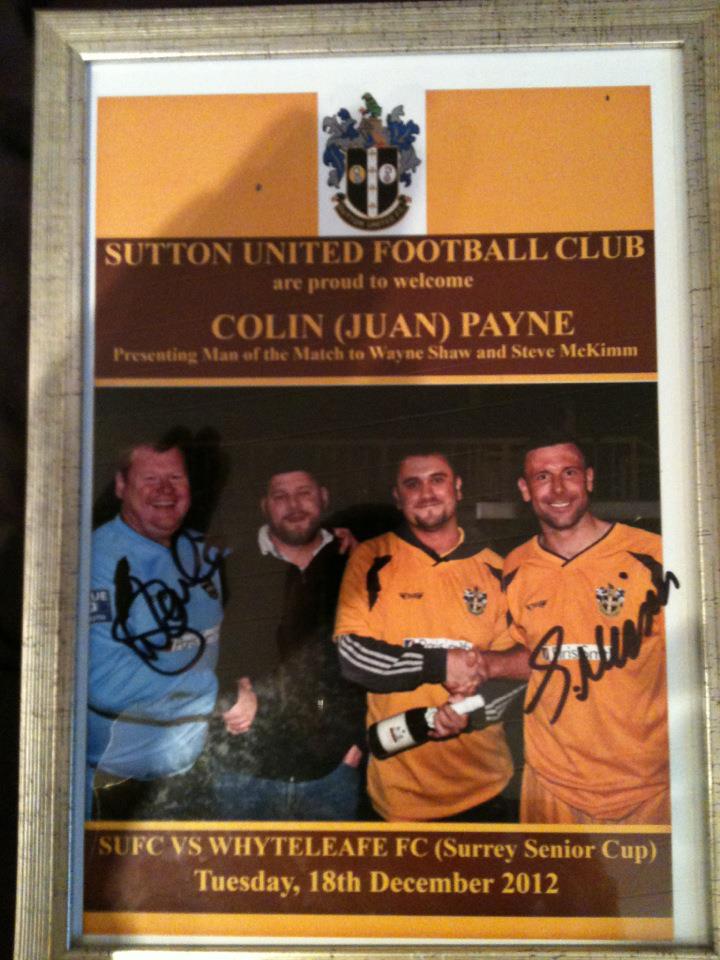 That's all from the one they call the Juan for now!