Evening all. Yeah, me again.
Once more Maidenhead's pitch has failed us (is that the third or fourth time now? I've lost count) and tonights BSS match went the same way quite a few have over the last couple of months, so that means you're stuck with Taz gathering you all around his big virtual, online, leather wingback chair for the latest episode in the most fucked up series of 'Jackanory' you're ever likely to see.
For tonight's look back into the mists of time, I've delved into the deepest darkest corner of our archive for a report from the worst season of football in living memory. 2007/2008. A season that produced a grand total of 5 league wins, a huge 25 points, 3 managers and finishing 22nd. Along with a fair bit of of misery, pain, smashed hopes and more false dawns than I care to remember.
Despite the narrow selection of wins available from that year, I've instead selected our 3-3 draw at Hayes & Yeading from the pile of excrement which passed for that season, as it perfectly summed up our efforts. Comedy goals against, as shocking a half of football as you're ever likely to see, before a fat dose of false hope and putting up a bit of a fight when it was far far too late.
As the saying goes "Life is pain. Get used to it."
In 2007/2008, we almost did.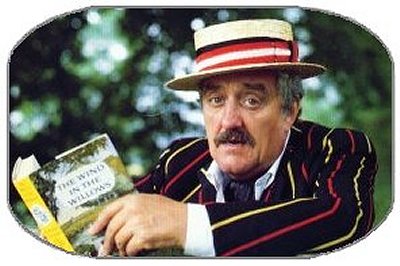 This isn't Taz. And there's no happy ending….
Hayes & Yeading United 3 Sutton United 3
Conference South – 17th November 2007
You know, I love last minute equalisers. I really do. Probably maybe even just that little bit more than last minute winners. Yes yes, I know you generally get two more points for the latter, but I can't think of anything better than going mental on a terrace, preferably away from home, when you've just nicked that point late on, especially against the odds.
Some of my favourite memories from my time following this lot are actually of last minute equalisers. Moments like the Stuart Massey goal in the epic 4-4 draw in the rain at Aylesbury and Dom O'Shea prodding in that goal at Eastbourne to name but two. I have a feeling this one might be up there in years to come.
Now, we've been through bad runs before in the past, but this current complete absence of any form whatsoever is somewhat hard to bear. I'm not sure if it's the fact that we've lost 9 straight, have scored the amount of goals that would make Derby County wince or that we're sat at the bottom of the table with a measly 5 points going into our 16th game of the season. Yes, our sixteenth.
Could be a combination of all three. But I try not to contemplate such things too much.
To be honest, this current sequence makes those painful 2-3 month spells during the Rainsy era where we couldn't buy a win after spending the first couple of months leading the table feel like a walk in the park. At least then there was hope. A feeling that we could turn things round somehow. I get the feeling that a lot of that hope has been lost this season. Myself included.
Of course, there are the few who claim that we can stay up and all is not lost. But they're clearly lunatics. Then there's people like Windy who veer wildly from the "We're doomed! It's hopless!" camp to the "Fucking come on! We can do this, we CAN stay up!" school of thought from week to week. It's quite unsettling I can tell you. Well, more than usual from hanging out with Windy.
Still, at least the board have shown they're prepared to play their joker (apart from the 11 we put out on the pitch every week that is), put their hand in their pocket and boost the budget to try & give Ernie the best chance possible to recruit the personnel required to get us out of this fucking mess. And, to be brutally honest, when you're as far up shit creek without a canoe, let alone a means of propulsion, as we are, there's only 2 things that'll get you out of it. One is hard graft. The other is cash. Cold hard cash. Lets face it, this is the 21st century, so the chances of people working hard without the latter to persuade them is right out the window.
This injection of funds has allowed Mr Howe to go out and get a couple more new faces, the most notable being the capture of defendermidfielderforward (at the time of signing, we really hadn't got a fecking clue where he was going to be playing!) Craig Dundas from our delightful neighbours. The other is Rob Hughes, who had a brief spell with us a couple of seasons back before buggering off to Malta or some such sunny place in the Med. He'll wish he were back there shortly no doubt.
That brings the new recruits count so far to 7. So here's hoping they can improve on the current record of played 2 lost 2 conceeded 7 and scored….er…..none. Can't be THAT hard surely!
Still, could be worse I s'pose. We could have an away game at somewhere horrible like Hayes to compound our misery. Oh wait….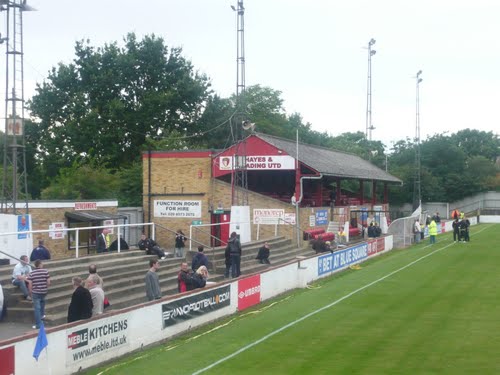 The much missed Church Road. Proper ground.
With spirits low due to us being staggeringly shit and the venue unfavourable for ensuring adequate refreshment is undertaken prior to kick off, we instead elect for a lie in and Windy transporting myself along with Greek there by car. The choice is made all the easier with PC and Mrs C sunning themselves in Tenerife. Plus I don't think Windy quite fancied a train journey into a shit part of west London with just my happy smiling face for company. And to be honest, I can't blame him really.
So, it's a 1pm leave for us and after Windy's following of a very shit set of directions from his sat nav (incidentally, the same shit set of directions taken by Greek when he drove last season, albeit in reverse), we finally roll up at Church Road just gone 2pm. A quick pint and a cheese roll has to suffice and we head out dreading what terrible delights await us on the far side of the turnstiles.
Ernie has obviously decided to try & play saftey first as we line up with a 3-5-25-3-2 formation. Clearly he feels conceding 3 or 4 every week is having a detrimental effect on our chances of staying up and has elected to try & see if we can cut out that slightly irritating habit. Or at the very least reduce it slightly. Haverson, Opara and Glover are our centre backs, Tanner plays left and reserve full back Dean Sammut makes his debut on the right. Honey, Bash and Nick Greene occupy midfield with Dundas & McBean up front.
We'll see shall we?
Unfortunately, from the off, it seems that whilst we've taken the field in this particular formation, no one really seems to know what they're supposed to be doing. At all. And given that this means we're a complete and utter shambles that even my Sunday side would beat, the home side take advantage early on and are in front after about 6 minutes. The marking is non-existent and a simple pass down the left results in a low ball being delivered to the heart of the box for a late arriving attacker to simply stroll in and side foot home from about 10 yards. To say this is shit would quite frankly be an insult to excrement everywhere.
Sammut shows some promise with a quick reply as he overlaps on the right, but his well struck angled shot is comfortably held by the H&Y 'keeper at his near post. The home side continue to make us look as utterly piss poor as our league position would suggest as they move the ball about simply and leave us chasing shadows, only a brief glimmer of resistance coming on 11 minutes when Tanner drives a low ball into the box from almost on the bye line that is cut out at the near post for a corner. It is a indeed a very brief moment of respite and the hosts are soon back to cutting through our woeful side with such great ease that it almost makes one weep.
Phil Wilson once more does his level best to single handedly keep us in touch, pulling off a fantastic point blank save at the far post after Haverson makes a horrible mess of clearing a cross from the right. The fierce shot from no more than 6 yards acrobatically beaten away by our overworked stopper. It is but another near miss though and on 27 minutes, the inevitable second goal arrives. We fail abjectly to clear the ball on 3-4 attempts and another quick 1-2 sees Glover checking the darting attacker just inside the box. Penalty.
Fuck me, you're not having the best of starts here are you Bryan? Red card first game, now a penalty conceded and not even 45 minutes completed yet! Thats some going sunshine.
The forward calmly steps up and despite Phil guessing correctly, the spot kick is tucked just out of his reach into the bottom corner. Jesus wept we're bad. Really really bad.
Despite fearing the inevitable cave in, we somehow manage to keep the score down to just the 2 and are kept entertained by witty numbers from the home supporters as "You've only got 5 points" (Guess it at least shows the schooling out this way has improved). Then, with a cup of tea and a half time sort out beckoning, we decide to make the impending task that little bit fucking harder for ourselves. Just as the PA bloke makes a random announcement that the 50-50 draw at half time would yield a prize of 72 quid, Haverson mis-controls just inside our half, no doubt caused by the realisation he didn't buy one of the aforementioned 50-50 tickets and his panicked second touch is seized upon by the lurking H&Y man. He tears away up field and only another great stop from Wilson prevents him scoring the hosts third. Sadly, Phil can do nothing about the totally unmarked bloke following up who calmly lifts the ball over him from 18 yards and into the now unguarded net. 3-0 down, 40 minutes played. Now about that 'tightening up defensively' thing Ernie?
Somebody kill me now please. I really can't take any more of this.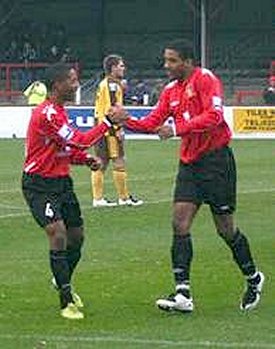 "Fuck me, this lot are SHIT!"

"Yeah! What's the score again? I've lost count…."
Seemingly content that they've done plenty of damage already, H&Y decide to cruise out the last few minutes of the half and we wander round to the opposite end a little downhearted to say the least.
Much of the interval is spent grumbling about how we've made a rather average side look like world beaters and the staggeringly inept nature of the first half showing. Which, even by our standards this season, was pretty fucking woeful. So pissed off am I at our latest gutless surrender, that I can't even be arsed with putting the flag up for the second half. Instead dumping my bag at the back of the terrace.
The emergence of the side for the second half is greeted with almost complete disinterest from our end, although we do note that the hapless Opara has been replaced for Rob Hughes which means we're seemingly going to a more familiar 4-4-2 formation. Sadly for us, this has come a good 20 minutes and 2 goals too late. Ho hum. We'll see.
Thankfully, following the kick off it seems the change in formation does at least mean we're a bit more competitive all over the park, which is a decent start, as it means the home side at least aren't finding it so easy to cut through our disorganised rabble any more. Exchanges are actually pretty even until about the 52nd minute, when something really unusual happens. We score.
McBean makes a good run down the right and plays the ball infield for Greene. He heads across the edge of the box before trying some silly little chip over the defender in front of him. This doesn't quite come off, but he gambles and finds himself scrambling past a second defender, then also the 'keeper. From a narrow angle on the left, he slides the ball back across goal and despite moving about as quickly as your average glacier, it nonetheless trundles unmolested inside the far post.
Bloody hell. A goal. For us. Er, anyone remember what we're supposed to do now? It's been a while since the last one and I've forgotten. What's that? 'Cheer'? Oh yeah, that's right….."Hurrah!"
At this moment, I'm not afraid to admit I thought our lot were being a little cruel. Turning in a first half like that then scoring soon after the re-start to raise more false hopes of a comeback before no doubt conceding a 4th a couple of minutes later. The bastards. The goal though, does seem to give us a little bit of a lift. All of a sudden, we've stepped up a yard, are really competing for the ball all over the pitch and starting to show definite signs of life up front. And the hosts are starting to look a little shaky when we do attack too. Christ only knows why though.
Hmmmm. I wonder…..oh, no don't be so bloody daft Taz. We need two more goals you idiot and that was only our second for about a month. It ain't gonna happen. Go back to dreaming of beer.
A keenly contested battle (apart from the scoreline that is) develops and the home side suddenly find themselves in a proper game and not a training kick about against some diasbled under-10's like the first half. Despite us looking slightly on top, they're obviously still a threat on the break and on 68 mins, we're caught by a quick counterattack. The ball is swept from left to right and the H&Y man gets to the byeline and drives the cross in. Wilson takes charge and dives through a crowd at his near post to push the ball out and away from the goal. Despite this renewed and seemingly pointless vigour, another goal still isn't looking likely and with 15 to play, we're all starting to look at our watches thinking "If we're gonna do it, now wouldn't be a bad time….."
Then another strange and unusual thing happens. We score. Again. For a second time. In the same game.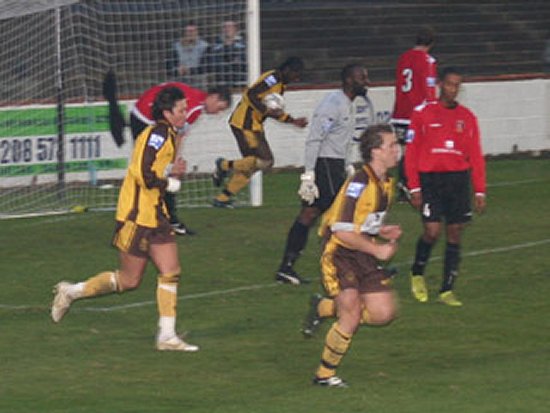 A rare occurance in 07/08. Us. Scoring. Nick Greene makes it 3-1.
Yes, I know it's hard to believe, but I'd ask you to suspend your natural disbelief at this point while I present the proof. McBean siezes on a hesitant touch by a defender and robs him of the ball. Turning to face goal, he darts to the left while Dundas darts right and he slips a perfect little ball through the gap for the former Bobbins man. Now, Mr Dundas isn't the most graceful man I've ever seen on a football pitch and given the way things are going for us lately, I must be honest, I had visions of him falling over horribly and shanking a dreadful shot into the U's support behind the goal and perhaps maiming someone. But what he actually does, is a little bit more pleasing. A lot more pleasing in fact.
He takes a touch, sets himself, gets his head down and absolutely fucking leathers it. The shot whizzes along the wet, greasy surface and despite the 'keeper getting a touch, the ball finds its way into the bottom far corner of the net.
This time, we remember how to greet this event and celebrate a bit more merrily. Bloody hell. We're back in this aren't we?! COME ON YOU TOSSERS!! GET SOMETHING!!
From here on, we're definitely on top. The home side seem a little concerned that they're about to chuck away a 3 goal lead at home to a team that has only one solitary league win to it's name in Mid-November and usually can't score for toffee. And this shows a tad in their play. We press on to try & force the equaliser, but despite a couple of sights of goal that come to nothing and Hayes hitting on the break only to squander promising positions, it looks like it's once again a case of "Shit, the stable door!" as we gaze at the horse's arse rapidly disappearing over the horizon.
This seems especially so for the last few minutes of normal time and the beginning of injury time as H&Y finally seem to realise what is required and spend more time than we'd like with the ball in our half and mostly in the corners. Arse, here we go again. Another brave failure.
But, deep into added time as the home side try & win another corner to waste more valuable seconds, the ball finds it's way to a U's defender, who hoofs it as far clear as possible. It drops in midfield and suddenly from nowhere we have a break on. A quick first time pass finds Liam Wright down the left. He carries it a few yards and swings it into the box from deep, aimed at Jallow in the centre. He's blatantly held down as he tries to jump for it, but he does enough to shoulder the ball back towards the far post and Tanner arrives to blast an effort on the half volley towards the top corner from about 8 yards.
Somehow, Preddie in the H&Y goal gets across and claws the ball out from under the bar at the expense of a corner. It's a proper "YeeeeEEEEAAAahhOOOOOOOH!" moment.
Fuck. Was that it? Was that our chance?
Hughes jogs over to take the corner from the left and we pile bodies into the box, all the bodies, to try & force something at the death, leaving only Wilson back on his own. This is surely it. "Come on, someone get their fucking head on this!" someone shouts. The U's latest recruit flights in a good ball and Jack Haverson leaps highest of all to direct a header over Preddie and towards goal, where the desperate lunge of the defender on the line can only help it into the roof of the net.
Right there and then, 2 months of misery and utter frustration is let go. WAAAAAAAAAAAARGHHH!
Absolute pandemonium breaks out as everyone understandably goes just a little bit mental, including the players. Most chase after Jack as he tears off towards halfway like his hair is on fire, but Bryan Glover can't be arsed with all that and instead heads for the now delirious mob at the perimeter wall. I however have other ideas. Sadly, having found myself invading the pitch, I end up almost passing Mr Glover on his way in and instead end up joining in the ridiculous bundle from a his perspective.
Tsk. Naughty ol' Taz.
Can I just point out that the broken nose suffered by one supporter in the melee had nothing to do with me. Mainly as I was on the pitch at the time.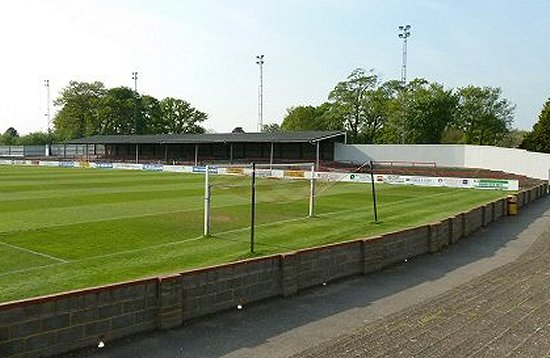 Trespassers will be….er….well, nothing actually. Carry on.
With order vaguely restored both on and off the pitch, a breathless few moments pass while the shell shocked home team get the ball back to the centre spot to restart. But their bolt is well & truly shot and a stray pass finds it's way to Glover, who has only just made it back into our half and he immediately thrashes it as high and as far as he physically can into the H&Y half as the ref blows his whistle for full time.
Ok, I know. It's only a draw. One point. But for 2 months, we have had the princely sum of 5 points. Now we have 6. Which means another paltry 35 or so required for safety. Fucking doddle.
We rightfully applaud the clearly delighted players, who despite having turned in as poor a first half as you're likely to see at least deserve some praise for the way they applied themselves and battled back in the second. Naturally, the locals aren't best pleased with chucking a 3-0 lead at home to a side bottom of the league with 5 points in November and a few miserable comments as they wander past fail to dent our mood. "Wow, big deal, you've got like, 6 points now. Well done". See, I told you the schooling round here had improved.
To display that we Surrey types can also count, they get a slightly mocking revision of their "5 points chant" albeit pointing out the new total thrown back at them followed by a well earned "3-0 and you fucked it up!" Twats.
Having gathered our senses slightly, we stagger out into the car park, heads spinning, for a quick getaway. Sadly for us, the celebratory pints will have to wait until we're back home as we're heading straight back to Sutton so Windy can watch the Jocks lose to the Italians on telly.
Unfortunately, he wishes he hadn't when we arrive back at the club, as they indeed go down 2-1. The Israeli's pulling England's arse out of the fire doesn't go down too well with our sweaty colleague either. Still, I'm sure our miraculous comeback earlier on and vast quantities of beer back in the Hood will help comfort him.
Can we do it? Oh fuck off. What are you asking me for?
Taz