With tonight's opening salvo in the County Cup once more postponed, thanks to a wintry drop in temperatures this time, we here at Gandermonium are once more left without content to entertain you, our dear readers with.
So, having consoled a distraught Dukey with a keg of cider and persuaded him to put away his tinfoil SSC until the re-arranged tie, ol' Taz has once more picked a dusty tome from the shelves of the archives to bring some U's history to life.
This time, I've gone for our 2003 SSC finla win at Imber Court over K's. Mainly as it was the last time we won the thing, the game saw Mark Watson's 100th goal in a Sutton shirt and it'll probably nark any of AFC Wimbledon's tenants who may well be passing. So, if you're sitting comfortably children, we'll begin…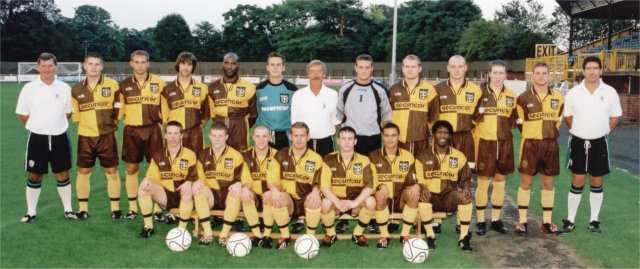 The U's line up at the start of the 2002/03 season…
SUTTON UNITED 2 KINGSTONIAN 1
SURREY SENIOR CUP FINAL – 7th May 2003
"When Scotty went up to lift the Surrey Cup, we were there, we were there!"
The U's rounded off a largely enjoyable season with a very overdue and rather satisfying win over our old friends Kingstonian at Imber Court on Wednesday night. Having already finished 5 places & 10 points above the hoopy ones, the question was, could they make up that obvious gulf in class?
Let's hope not eh?
Being a cup final and being quite close to my workplace, an early leave to allow for some decent pre-match refreshment was arranged and I bowl into the Wimbledon Hogshead to find the rest of the gang already in attendance. Jules, Bob, Gareth and Greek are well into their half-day piss ups. Looks like ol' Taz has got some catching up to do.
Some bevvies later, it's time for a change of scenery and we head for Thames Ditton to continue our festivities. Picking up a couple of other U's fans who decide to tag along for the ride (or should that be crawl?? Maybe stagger?) round the hostelries of this quaint little town. First stop is the George & Dragon, then the Swan, right next to the river. Nice pub, shame the beer was so bad. Bob depositing the best part of half a pint into the Thames! We then quickly scarper to the Red Lion before we get nicked by the environmental agency for our man's toxic waste dumping.
As we settle outside the pub, Mr Chalmers (late as usual!) rolls up. Thankfully though, he's got his motor and we threaten gently persuade him that making two runs to the ground and giving us all a lift is really a great idea. Talked into playing Taxi, he sets off with his first load of merry passengers and the remaining drinkers, myself, Gareth & Greek decide to get a few quick shorts in to finish off with. We're rudely interrupted soon after by Chalmers calling to announce that there's tons of traffic & it would probably be an idea to start walking.
Bugger!
We meet him coming back the other way a few minutes later and race for the ground, ambling up to the turnstiles with 10 minutes to spare. Now here's the part where I'd like to thank the Surrey FA for kicking the match off dead on 7.30 despite ourselves & at least 100-150 other fans still being outside the ground trying to negotiate the one turnstile they'd bothered to open. Cheers! Thus the early part of this report might be a tad vague as I didn't get into the ground until about 7.35. Sorry. These delays would also probably explain the crowd of 775, which was puzzlingly announced about 60 seconds after kick off.
Erm?
The U's side welcomes back Tommy Dunn in goal after his lay off and has Matt Gray gets a start up front with Watson. Thankfully, Brooker is present, wearing a bandage on his head to protect the 6 stitches he picked up on saturday against Braintree. As we wander around the ground to take our spot behind the goal, we witness K's first(ish) attack. A cross from the left finds Sills in the box, but his header flies across goal and wide of the far post. The U's response isn't far away and a good run from Bolt takes him deep into the opposition half. His low cross from the left side zips across the face of goal, with no-one in an Amber shirt there to put it away.
The hoopy ones seem to have settled slightly better and are moving the ball well, exerting pressure on the Sutton defence. 10 minutes in and a free-kick from our right finds a K's man unmarked in the box. His thumping 1st time shot flashes across the box and again is wide of Dunn's post. The possession they're enjoying doesn't mean we're completely out of it though. We again reply rapidly, with Bailey heading a left wing cross back across the area, but Gray's resulting shot is well wide of the mark. Bailey & Gray combine again after 14 minutes, Bailey's run from deep and pass putting Gray free in the box, but his cross is cut out at the expense of a corner.
K's then have 2 good chances to take the lead inside 5 minutes. First a cross from the U's left again finds a hoopy head in the box. The ball drops to another Kingston man, his shot from 10 yards beats Dunn, but not ex-K Eddie Akuamouah on the line. The stand in left back clearing the danger. Then after 22 minutes, a very quick break down the left catches the U's out. The ball in finds Sills, again his header is close, but again it's wide of the target.
With 28 minutes played, K's are left to rue those missed opportunities as the U's edge ahead. A good ball in is punched clear by Jones, but at the expense of a corner. Bolt puts in an outswinger from the right towards the back post. Ryan Palmer is the target and his header loops towards goal. It looks like straightforward catch for the young K's 'keeper. But Bailey pops up in front of him trying his utmost to get a touch. He doesn't need to. His effort is enough to take Jones eye off the ball and he can only help it into the roof of the net to give Sutton the lead and send us lot behind the goal a bit mad.
Within 4 minutes, Gray misses a great chance to double that advantage. Darting onto Bolt's free-kick from the right, he powers a stooping header inches wide of the mark. Kingston then set about trying to claw the goal back with the time left until half time. Their best chance of doing so comes on 39 minutes. Another set-piece from the left is floated in, but once more, despite a hooped shirt getting up highest, the effort is off target. Narrowly over Dunn's crossbar this time. The last act of the half comes from Phil Wingfield, who having made good progress down our left, cuts in across the face of goal and skies a terrible shot miles over the bar. Cheers Phil!
We take a stroll round to the opposite end, naturally with smug looking smiles on our smug looking faces. The K's contingent don't seem too pleased though. Funny that!
Their gaffer's response is to make a change at half time, although whatever his new gameplan was, it's dumped royally on it's arse withing 60 seconds of the restart. That pesky ex-K, Akuamouah harries his opposite number out of the ball just inside the K's half. Recently a little cautious in this 'wing-back' position, we've not seen much of him taking opponents on. Well he makes up for it now. He skips past one challenge, then a second before whipping a fast low ball into the penaly area. Watson charges in to meet it and holding off his marker, from 10 yards out and a couple of yards beyond the near post, slams the ball into the top near corner, sending us wild with delight on the terracing behind. It's his 100th goal in a Sutton shirt and quite frankly, couldn't have come at a better time!
See above for a slightly naff quality video of the goal I put up on YouTube. Look out for the passing K's fan!
K's response isn't long in coming, with a move through the middle putting Wingfield through in the box, but as before, the ball hits the advertising boards behind the goal, rather than the back of the net as the veteran wide man slips his shot wide of the mark. But, to be fair, they keep coming. 53 minutes played and an attach down the Sutton right flank, ends with a cross which Sills heads down towards the back post. A hooped shirt pops up, looking to despatch the chance, but Danny Brooker throws himself into the path of the shot to deflect it over the bar for a corner.
United go close just before the hour with another good flash of football. A quick pass finds Akuamouah on the left, he plays a 1-2 with Bolt and races for the byeline, delivering a great hanging cross into the box. Watson pulls away from his man and Jones can only watch as the big striker powers down a header down a gnats chuff wide of his far post. Dean Hamlin leaves the field on a stretcher soon after, seemingly suffering from a back injury, but we have a ready made replacement in Darren Beale to fill the gap. Watson then goes on one of his stumbling, bulldozer like runs on 65 minutes, ploughing past 2 challenges before pulling his shot wide of the near post as many before it.
This proves to be Sutton's best spell of the match and a third goal seems likely. But the closest they get is a free-kick that Danny Bolt (who else?) belts low across the face of goal with no less than 3 U's men sliding in, all failing to get that final touch. With the U's having come into the match with some fitness doubts, it's no surprise that we lose Brooker and then Paul Honey both hobble off, replaced by Brown and Hanlan. Their loss seems to upset our rythm and for the last 15 minutes, K's take over, trying desperately to claw their way back into the match. First Dunn has to be on his toes, tipping away a dangerous looking cross from the left. Then he can only look on as a cross from the right soon after is deflected to an unmarked Kingstonian player, but for the umpteenth time, he pulls his effort across goal and wide of the target.
The hoopy horrors keep pressing and inside the last 5 minutes, their night is summed up when a well delivered free-kick is headed over by ex-Scummer, Matt Elverson when well placed. By this point we're all gearing up for some celebrating and most of us are now offloading useless loose items such as mobiles and wallets into our bags and jacket pockets in time for the customary pitch invasion. But we're made to wait as the ref deems is necessary to play nine bloody minutes on top of the usual ninety. Nine! Bastard. Do us a favour mate, I know they've missed loads tonight but we'll be here til Christmas waiting for that lot to score!
As it happens, we're not. In the 99th minute of play, a silly free-kick is conceeded in a central position, around 25 yards out. Scott Steele lines it up and curls a wonderful effort around the Sutton wall, past Dunn and in off the post. Ok ref, NOW you can blow you sodding whistle!!
He does and we duly pile over the barriers to greet our victorious heroes. After the usual 'losers first' formalities, the Sutton boys collect their medals and lastly, our captain and ex-K, Scott Corbett holds aloft our 15th County cup.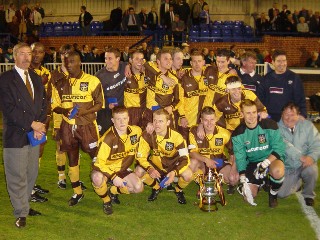 Surrey Senior Cup Winners 2002/2003!
A quick ridiculous 'team' pic later for the mob in front of Jones now vacated goal and we all pile back into the transportation, heading back to the Robin Hood for the last time after a game this season. And, quite possibly, one or two celebratory drinkypoos?
Be rude not to! COME ON!!!!!!!
Taz