So it's Sunday morning, cup of tea in hand, time to write up the FA Trophy VS Oxford City Blog. So me and Duke had previous discussions in the week as to whether this game would be called off due to the typical British climate this time of the year. However the game was on, and no pitch inspection planned thankfully.
Because of this, I met the fellow blogger Duke on the 13:07 train from Sutton to West Sutton for today's game. I decided not to don the Lycra today for a few reasons, well just one actually, but that will be explained later. After winning the last round of the Trophy against Maidenhead, we'd been drawn at home to Oxford City in this round.
So into the Ground we went! Duke headed towards the bar for his pre-match tipple, I on the other hand had my "Boost The Budget" duties to attend to first. So bucket in one hand and raffle tickets in the other, I headed for my usual spot by the the Gander Green Lane turnstiles. And after collecting an approx amount of £56 between myself and AB, I went to get a beer. For you, it's onto the game/match report…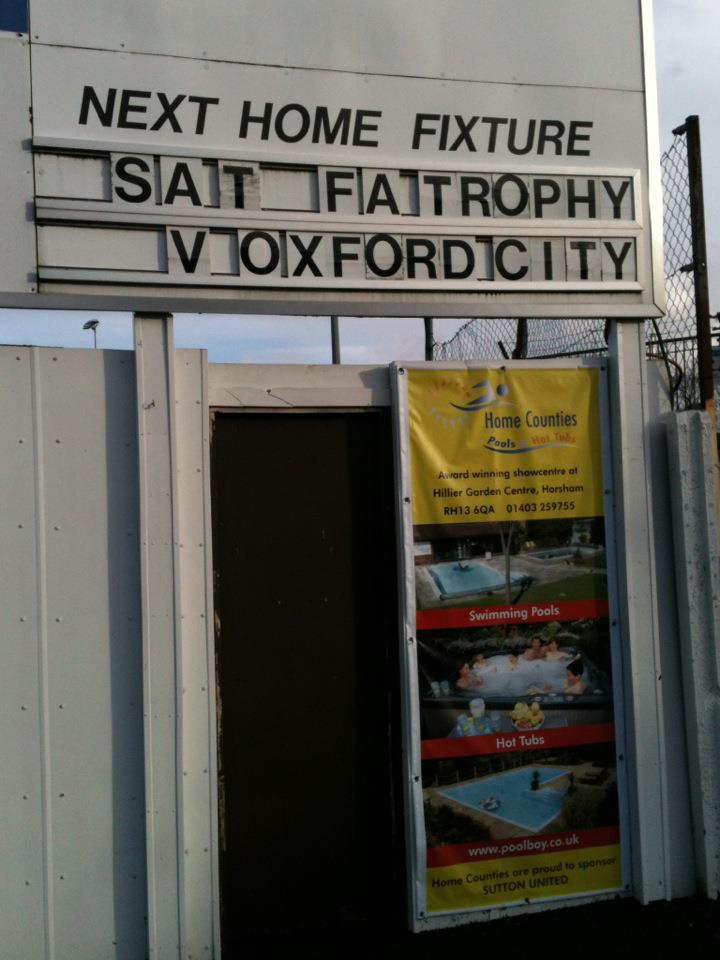 Cutting edge advertising….
We started brightly and seemed to be up for this one, a good tempo. We were passing the ball well, in what has to be a difficult pitch to play on with the recent frosts and rain in the last week. We seemed to be creating a number of chances, Watkins making his typical surging runs at the Oxford back four, but we just couldn't seem to break them down. We had a number of corners within the first 20 minutes or so-delivered into the box by Harry Beauts and Tommy Kavs, one of them found Tommy Kav on then outside of the box, he then re-delivered the ball back into the box which was just ever so slightly to high for Harry O to connect with.
The next attack from the U's came from Craig D who started one of his trademark runs from midfield, who was then abruptly bought down, so up steps Sam Rents to deliver the free kick into the Oxford penaltly area. Instead he went for the short ball to create a lovely piece of 1-2 passing between Craig Watking and Harry O, who then delivered a ball across the box but there's no yellow shirt present to stick it in the back of the net! We had further crosses into the box from Harry Beauts, one that found Watkins, who went past his man but just put the ball 2 ft wide of the post.
More great passing and build up play from Sutton, a fantastic inch perfect pass from Craig Duns across from the left to the right that found Watkins on the right flank, who collected the ball from the air with a skillful, dreamy touch and then applied the burners to take his man on along the right channel and let fire a strike on goal. A further attempt on goal from Stefan Payne (no relation) a run from just outside the box, cutting and weaving creating space was easily collected by the Oxford City keeper.
At this stage it all seemed to running sweet for Sutton, all one-way traffic…until Oxford Citys first real bit of build up play, led to us giving away a corner. For a few split seconds the Sutton back for seemed to switch off as the cross into the box was cleared, and incoming strike from Oxford hit the cross bar and deflected away.
Oxford City's 2 was booked for kicking the ball away and their number 4 for a challenge on Stuart. I think also Stef Payne was shown a card at some stage but I'm trying to remember what for… *consults notepad to help memory* …nope can't find it!
Halftime Cross Bar Challenge.
Up steps the winner of the BtB raffle ticket, number 29 belonging to Kebab Belly Bob (Happy Birthday to you for yesterday by the way fella) who decides to instead put forward Bud Light (sorry Ryan) to take the challenge in his place. At this stage Bud Light points out that the shoes he is wearing are of a suede effect and which are brand new. On our pitch. Oh dear!
So Bud Light steps up to the ball, but scoops the ball over the crossbar to be denied winning a season ticket for next year. Good effort though fella.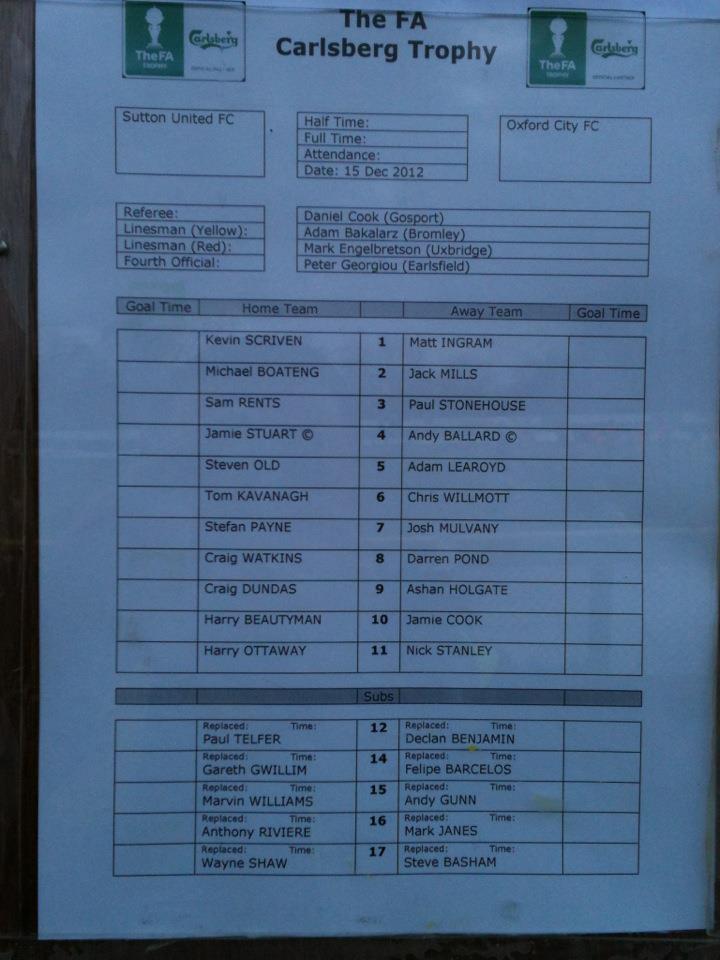 The Line Ups….


2nd 45.
So it was time for Sutton to really up the tempo and stick one in the back of the net, given all the chances we had created in the first half. Within the first few minutes we had been awarded a corner which was duly delivered by Rents which was cleared away by Oxford, but collected by Harry O who had an attempt on goal, but again collected by the velcro attached to Oxford keepers gloves.
We just kept pressing and pressing, and knocking on the door with a sledge hammer, but we just couldn't seem to find that damn net…until.. a charging midfield run from Tommy K who seems to be getting better and better in each game, but I would say that modelling a Tommy Kav haircut! Finding space out on the right and going past two of Oxfords back 4, drilled a shot on goal which was defelcted off the keepers legs, into the path of Craig Watto, who of course smashed the ball into the back of the Onion Bag!!
GGGGOOALLLLLAAAAA !!
A kiss to the camera from Craig Watkins captured by Sutton's Photographer Paul L. Five or so Sutton players joining in on the goal celebration with Watkins on the byeline which is a bit over excited as it later causes Watkins to come off with a shoulder injury!
So more attempts on the Oxford Citys goal, various crosses in from Watkins, finding Harry O, who was taken out and I mean taken out with an old school body check, resulted in the Oxford number two being shown a second yellow and that equals RED, goodnight ! Cheerio Cheerio Cheerio..
Following the Red card decision, Craig Watkins was retired to the Dug out, and on came The Marv-Marvin Williams in his place, nice to seem him back after his injury! Marv was soon causing problems for Oxford City's back four using his pace and dreamy skill, laying off a ball to Kavs who drilled a low shot, but was saved by the keeps, down to his left.
Following the sending off, this seemed to give Oxford some kind of Pac-man boost of energy! There were 4 Oxford players lining up on the outside of Scriv's Box just waiting for a shot on the Sutton Goal, with 4 of 'em lined up, one decided to keep Scrivs on his toes by striking the ball towards the top right corner of the goal, but Scrivs through himself towards the ball getting just the smallest of touches, pushing the ball onto the bar.
Sutton seemed to have lost all energy now and we were under threats from long throw ins and a number of corners. Then just when Oxford thought they had scored an equaliser, we was saved by a scooping hand  of Kevin Scrivs. Top save! Even the Oxford City Players had thought they had pulled it back, celebrating prematurely.
Just 4 minutes of stoppage time, and we would be through to the next round…the longest four minutes ever. Eventually the whistle blew & relief felt by all. Money in the bank (6k) shaa ting! Thank you !! Good night!!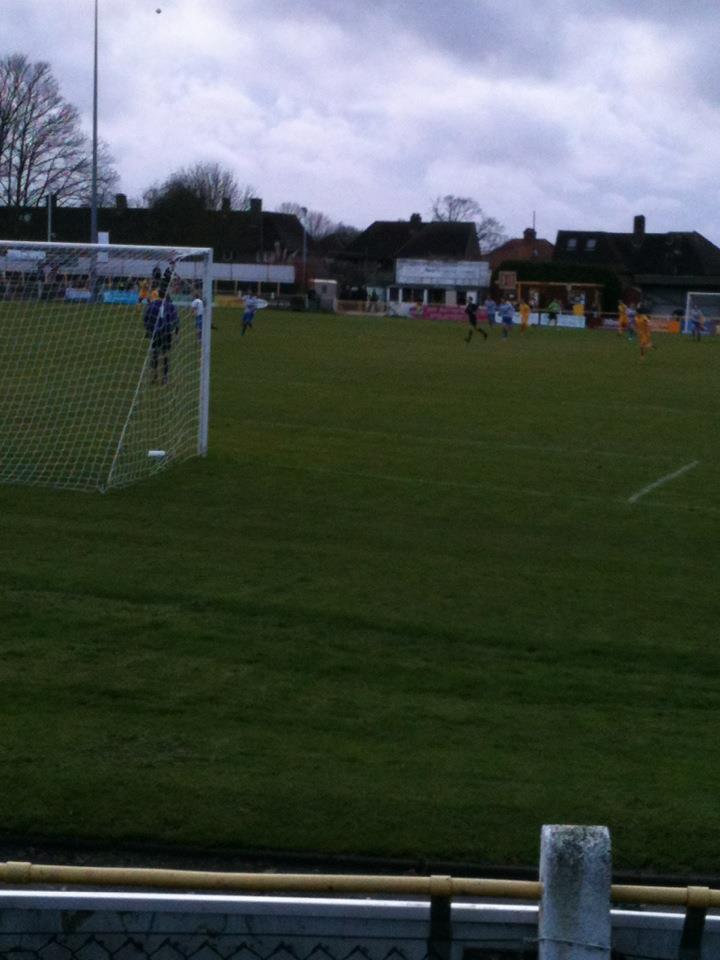 Match action! Feel the tension!
So post match drinks. Of course a few were consumed in the Club Bar. We of course have to keep up to date with what we like to call our investment in stocks and shares, or in laymans terms Fosters and Bulmers!
So whilst conusming a few in the bar, a trip down memory lane was commenced by ol' Taz, something along the lines of an away trip and a banner (rugby variety) being "borrowed" from a local boozer. I'm sure he might have this one in the archive somewhere. Cambridge was it? So after re-living the dream and consuimg a few in the bar, we headed on down to the Grapes in Sutton, where more drinks were consumed including a 'Ghey' beer was consumed by me – see pic.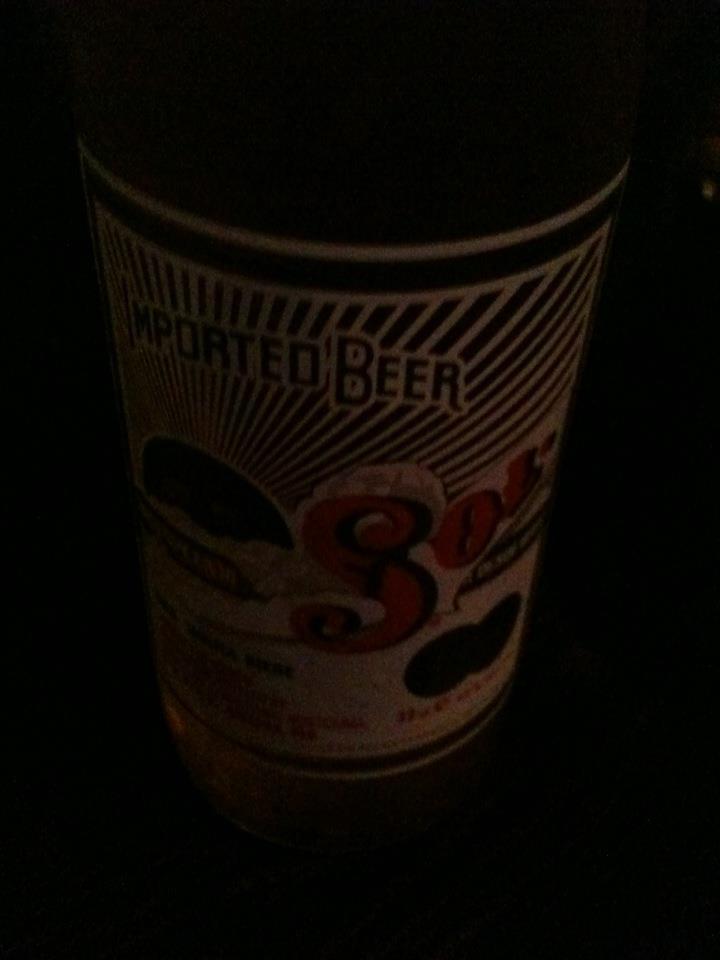 Ghey beer…
Look carefully and you'll see it is in fact a Sol. At this point Taz duly reminded me that "we ain't in Mexico Juan, do I have to buy you a gay beer". So after this, I moved onto a couple of Rattlers to re-live the Truro away weekend for a few minutes, until his Rolling stones (aka Kidney Stones) reminded me it was time to call it a night!!
Oh I allmost forgot to mention this, it nearly slipped my mind…if you believe that, you'll belive anything!! Drum roll please, a comment was made in the club bar tonight (whilst we were half watching Back To The Future Pt 2) that there was a rather "pleasurable" scene in that film– that someone in that bar enjoyed, back in the day!
So now I've written this up, my bloody tea's gone cold. Fuck. Onto the 'magic' of the Surrey Senior Cup next! Duke will be doing the write up on that one, you lucky buggers.
Juan