So Staines away!  Big thanks to THS for the lift down to today's game. Seeing as the rest of the lads had caught the train and arrived into Staines in the morning whilst I was otherwise engaged returning some video tapes, I thought it best to have a quick pre-match drink on arrival before the game kicked off. As I was reminded by older heads that sober note taking and Blogs are a BIG no no round here.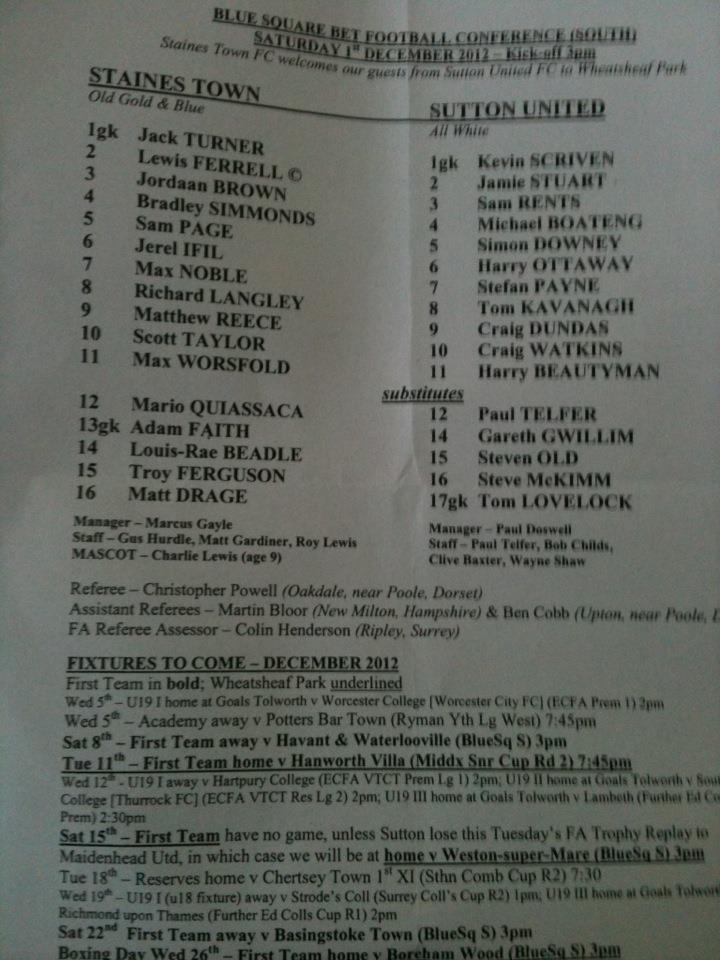 Juan Teamsheet…ahem.
So as Juan (that's me!) entered into the Staines Bar after getting parked up and it felt like I'd walked back into an 80's film set from Cocktail, I was just waiting for Tom Cruise to peer up from behind the bar to serve me a refreshing Mojito or summat. Sadly Tom didn't appear and neither did the Mojito, so I settled for a trusty Bulmers instead. Beggars can't be choosers and all that.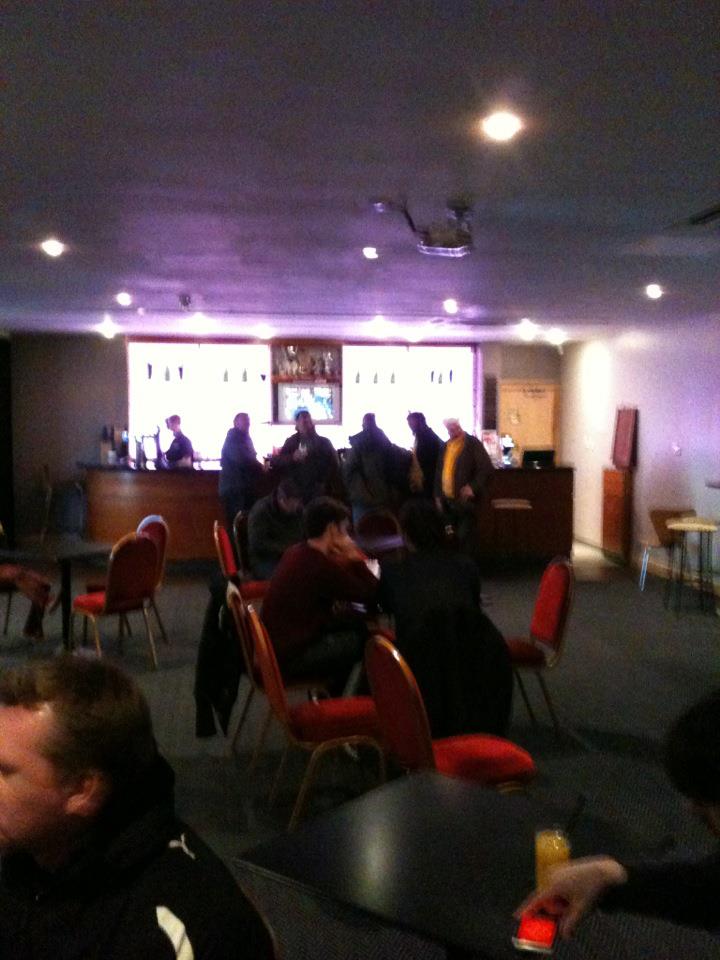 The set of 'Cocktail'. Tom Cruise just out of shot (and focus)…
Onto the game. So we settled down from kick off and didn't concede an early goal which was nice! I'd say it took as a good 15 mins or so for us to really find our pace and passing precision. So we really seemed to be playing well, knocking the ball around well, making some good moves-good on the eye. Tommy Kav was bought down outside the box, the free kick was duly taken by Harry Beauts, which was our first shot on goal/target, after witnessing the Sam Page "pirouette"-we did however in the first half seemed to be lacking a little presence in the middle of the park at times. But I cant knock this as we seemed to be gathering some good momentum, and the work rate was good.
We were working hard, some great passing from Beauts to Boats, and Dundo's drives from midfield, we really seemed to be knocking on the door, I'd say a good 4 chances, and I quote Harry Beauts dad at half time "we should be four up by now"! Best chance of the first half  was a cross into the box from Harry O straight to Craig Watkins, but Watkins was denied his chance by great reaction speed from the Staines keeper-Jack Turner.
An incident before half time on Dundo (and yes Dundo is gonna get ya) which I shan't go into too much detail about as Duke has apparently more information for you on this one! Right, half time. Bar?? Bar.
The seething mass of passion that is Wheatsheaf Park….'
Five mins or so into the second and we concede a goal (from a free header). My heart dropped at this point, please please please not another loss. I think we were all thinking here we go, Staines are just gonna park the Bus and it's game over… but not today. Harry O makes a run into the box, about to pull the trigger and gets bought down by a poor challenge. The Staines player got no where near the ball. Penalty to Sutton! So up steps the man of the moment, Sam Rents, calm and collected (I pointed out to Duke where it was going) and bang, bottom left. I'll add here the Staines keeper was shown a yellow for not releasing the ball after when we tried to fish it out and get started again quickly. Staines 1-1 Sutton
More build up in the Staines half, we just kept knocking on that door and we had won another free kick from outside the box on the left hand side which was duly taken by Harry Beauts and  was deflected off the back of Sam Pages legs, Dundo collected the loose ball, drove past a Staines player and drove it into the back of the Onion Bag- I told you earlier Dundo's gonna get ya… Staines 1-2 Sutton
Payne was then subbed for Telfer. Telfs was put into a kind of defensive midfield position I believe when he came on. Fine by me!  We carried on pressing and working the ball, spreading the play like utterly butterly on toast. A run up the left  from Sam Rents, goes past one Staines player, past another and then rifles the ball past the Staines keeper from out side the box. Worldy! Staines 1-3 Sutton.
More pressing play comes from Sutton and more cards shown by the ref who in my opinion had a shocking game, poor decisions and god did he take forever to show cards in one incident. Which Duke will also fill you in on. I can't be arsed! So Same Page booked and we've got us a free kick. The man, the legendry free kick taker, Tommy Kav places the ball on the deck, takes his standard rugby type 5 paces back and two to the left-looks up at the Goal, eyes up his spot. Cracks the ball over the top of the 4/5 man wall, it whistles into the top left hand corner.
A dreamy Tommy Kav Special!  Staines 1-4 Sutton
Whistle blows, points in the bag and3  much needed points may I add which now brings us thankfully out of the relegation zone. So now we can begin our season properly and start our climb back up the ladder of the Conference South Table. Post match, I won't touch on this too much as it's more Dukes bag.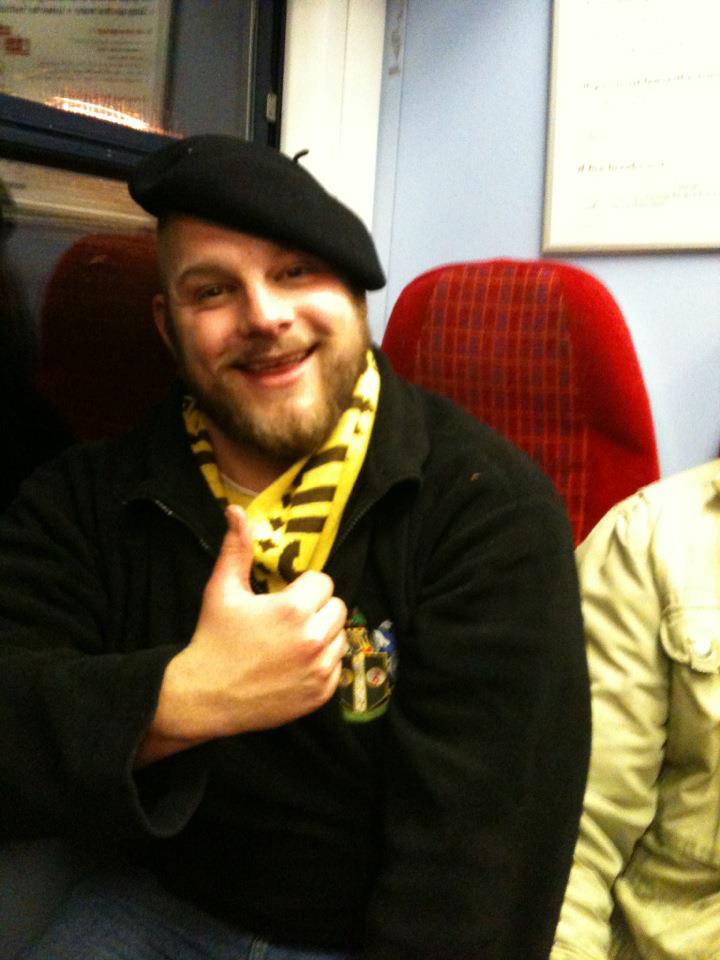 Cheese eating surrender monkey!
The only thing I will say is this. Get an S.I.A Licence you ignorant twat, and no I won't be paying you £7 quid to get into your sardine can crap bar! Oh and don't go to the Treasury in Sutton on a Saturday night, apart from one bird giving Juan a line! Also great to see a few nice ladies in the Staines Boozer.
If you come across a telephone number that is currently circulating around the twittersphere or the world of Facebook, then please do call it! Duke will explain this… or not….
Juan