Why am I doing this? No, I don't mean a blog entry, although that too does generate some questions quite frankly, but I'm talking of course about going to Wrexham. Away. Midweek. With a team rock bottom of the Football League. And leaking goals at a greater rate than the Titanic's hull permitted the Atlantic Ocean to enter its confines once it had completed its ill advised union with an iceberg the size of Belgium. As sensible, rational descisions go, this doesn't qualify. Nor does doing all that AND taking a day and half's holiday from work to do it as well as staying over in Wrexham itself. Seriously, there ain't a therapist in the world that would even know where to start with shit like this.
I should know better of course. I've been doing this long enough and I've talked on here before about how us long standing sad sack football fans just 'know' about certain things, be it that special performance or the shit hitting the fan, but sometimes sad sack stupidity wins out over cold hard logic and being sensible. This is one of those such occasions. However, I really should have known when I purchased the match ticket prior to Salford at home, watched what was probably the most lifeless, shambolic performance from a Sutton side in a good 15 years and then upon reaching home in a sulk opened my email to find out my hotel booking for this one had been messed up and was no longer a booking. Naturally, like a complete twat, I ignored the universe telling me "It's not meant to be Taz, best give this one a swerve sunshine!" and promptly booked an alternative. So I guess that's my answer to the question above. Why am I doing this? Because I'm fucking stupid, that's why.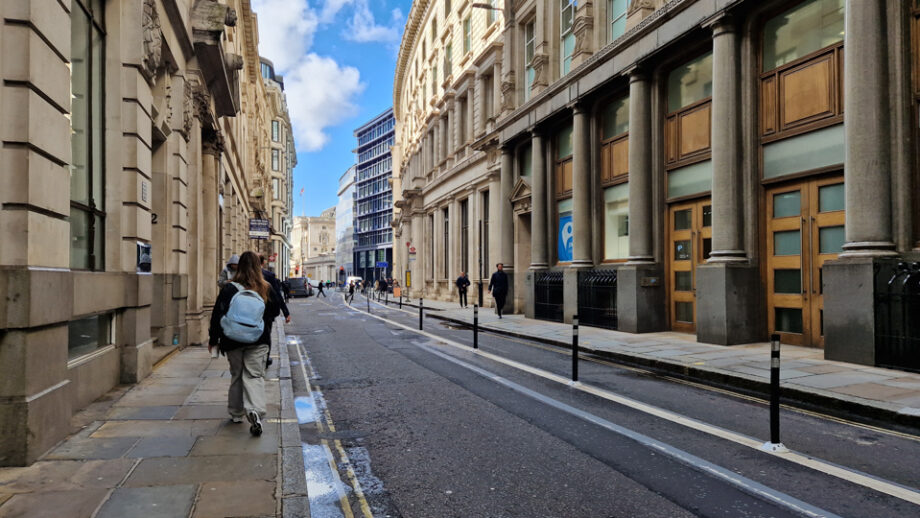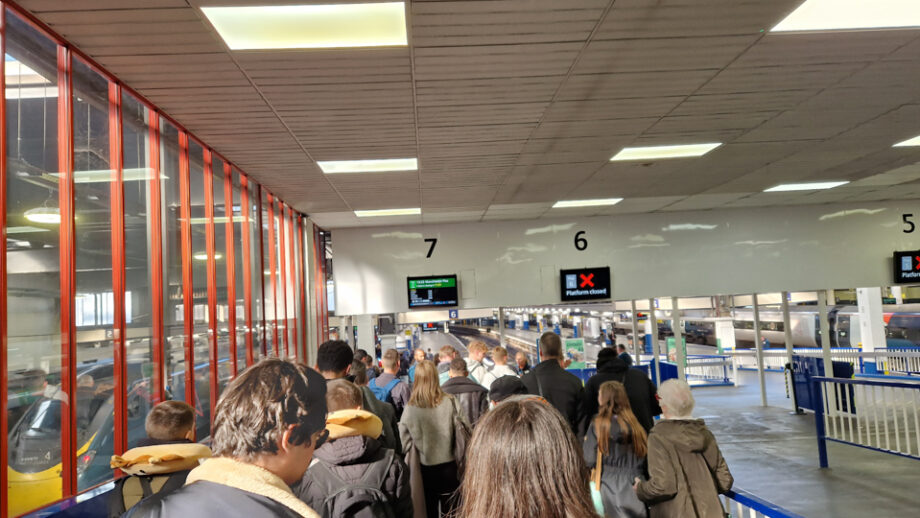 Anyhoo, since we last were gathered here on these pages for the recollection of our firm arse handing at Accy, I'm sad to say things have not improved around these here parts. There was a brief flicker of life following that defeat with a late fightback against Villa's kindergarten from 2 down in the not-the-Pizza Cup and the losing streak in the league was broken with a draw at GGL against MK Dons that really should have been 3 points and a narrow defeat up at Port Vale in the Asian energy drink no one's heard of Cup at least giving people hope. But sadly, since then we've been largely back on the fucking shit horse. A 3-0 whomping at Crawley not helped by some criminal refereeing and then that home defeat to Salford which I think largely took many people to the edge. They were poor, but we were another level that night and I got the impression that a good number of fans lost a lot of their belief that we can turn this around following what was a pathetically lifeless showing.
Naturally, they sparked into life and 4 days later at around 3.45 had everyone stood around wondering if we'd dropped though some sort of tear in the space\time continuum and asking "Where the fuck's that come from?", as we sat 4-0 up against a shell shocked Walsall. It was a devastating salvo and one that harked back to the opening day further cementing the feeling we're not a bad side at all if and when we show up. Was this the turning point? Was this finally the squad announcing their arrival this season and a statement of intent? Was it bollocks. We promptly went to Doncaster, a team shorn of no less than 14 of their squad due to injury, pissed away a good first 15 with a brainless peno and consequently acted out Spud's 'shat the bed' scene from Trainspotting in footballing form, with us ably playing the members of his missus family sat around the breakfast. 4-0 down at 70 minutes, Mr X metaphorically wiped the excrement from his eyes and departed as "I'd rather just be outside fucking smoking". And a couple of minutes later with him having declared on Whatsapp that he was trying to sort a sherbet back to town, Dr Bell, Steve and I followed suit. The reasoning being that going back to the pub was far more constructive than hanging around for another 15 minutes of misery. I'd briefly considered doing a blog for that one, but naturally that idea was firmly clubbed to death when the weak as fuck second went in shortly after half time. In fact, it must be said, the one good thing about this season to date has been my decision to largely kybosh this nonsense as a regular occurrence. Fuck writing about some of the garbage I've had to watch since August. I did it in 07/08. I'm certainly not doing it again.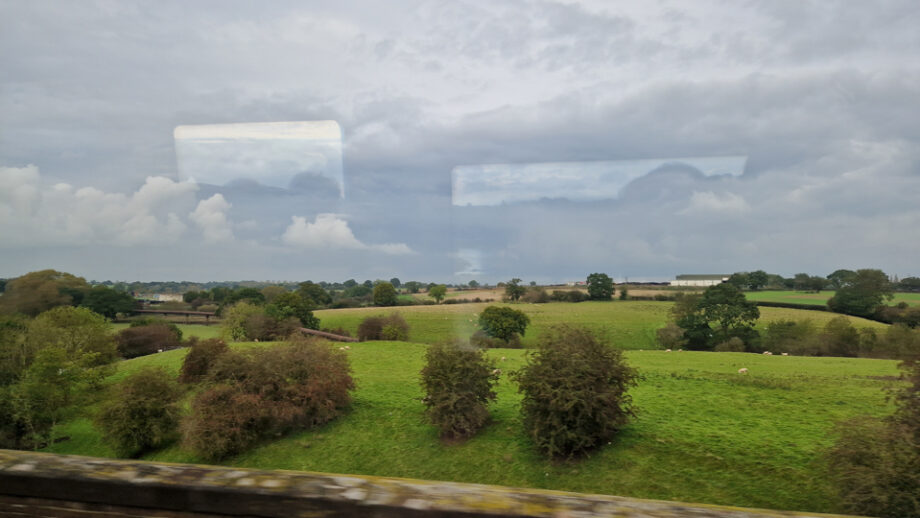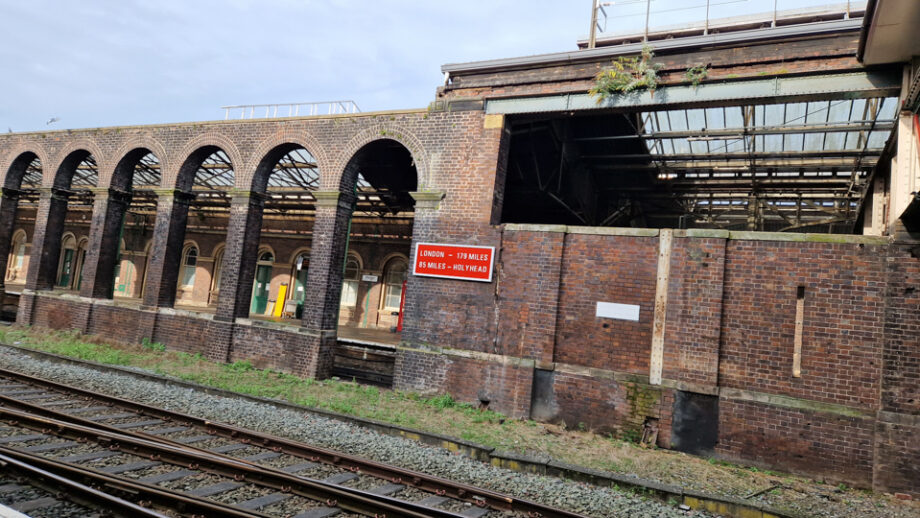 So, Wrexham away. Since we last met the Welshists in the Bastard League, weird shit has happened. We got here, whilst they got a Marvel superhero as an owner, finally escaped La Bastarda and now have a world wide following some Premier League clubs would envy. Of the two, I still say our title winning season is definitely the one we'd have thought least likely to be possible back in 2021, but that's just me. Since re-joining the Great 92 72, they've largely done as expected and steadily picked up points and sit in the upper reaches. Although that does slightly mask the fact that they've only conceded about six less than us this season. Which when you consider we've shipped already more than HALF last season's total from a full season's 46 within 14 matches, is some going. A chance for us maybe? A wafer theen meent of a opportunity? Haha. Nah, just kidding.
With half day in the office, I clock off shortly before 1 and get my stroll on. Down to Bank, Northern line and Euston with enough time to hoover up some supplies from Marks before boarding my train to Crewe. As I locate me seat, I spot a familiar face a few rows down as Indiana Jones tucks into a sarnie as well. Quick hellos done, I park up, stuff my face and we're soon leaving London behind. To pass the time, I fire up some Star Wars 'Rebels' on my phone and plough through a few episodes as we trundle north. Also on board are a fair few plastic Mancs heading to their Champions League clash with Copenhagen tonight. More join at Crewe as we hop off and another one takes the piss out of Indy's Sutton t-shirt, although his billy big bollocks chuckling is cut short when he gets called a plastic cunt by yours truly. Hope there's a Chinese tourist in your seat you prick. Here we hop the train to Chester and a short while later are making our last change. However, we have a 30 minute wait and after Googling the Yahoo's find that the pubs right outside the station are open and suitable for our needs. Pint? Pint.
Having avoided a catastrophic spillage thanks to a table about as stable as our back four, we kill the half hour wait with a decent pint and inane chatter about work and other bollocks before ambling back over the road to finish the trip. A busy 2 carriage shitter takes us the last step over the border into Wales and just before 5, we emerge onto the main drag under the floodlights of the Racecourse and split off for our chosen digs for the night. Elsewhere, Windy, Greek and Ossie are pugged up in the Wynnstay in town, with the man of mystery sorting out a couple of spare tickets that have come up with the players coach. A short walk through some backstreets and a business park later, I'm walking up to the Ramada to find Dundo, Milsom and Deano taking a stroll outside, the team bus parked up out front and in the foyer, various Sutton United affiliated persons are strewn about the gaff. I get checked in, dart up to my room and dump my junk. With wallet & phone sorted, I'm straight back out to make the return journey. As I do, it comes through on Whatsapp that I've literally just missed Mr X who's been on site to grab those tickets in a cab and is on his way back into town already. Fuck my life. Oh well, I need the exercise I guess. Still, doesn't stop me from abusing him on the group and it gives the rest of the gang a break from Chalmers talking about Chess. Don't ask.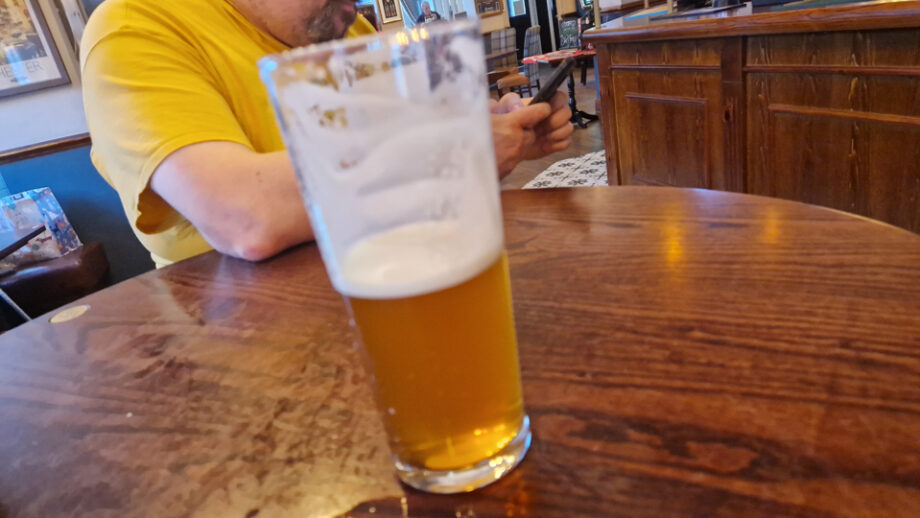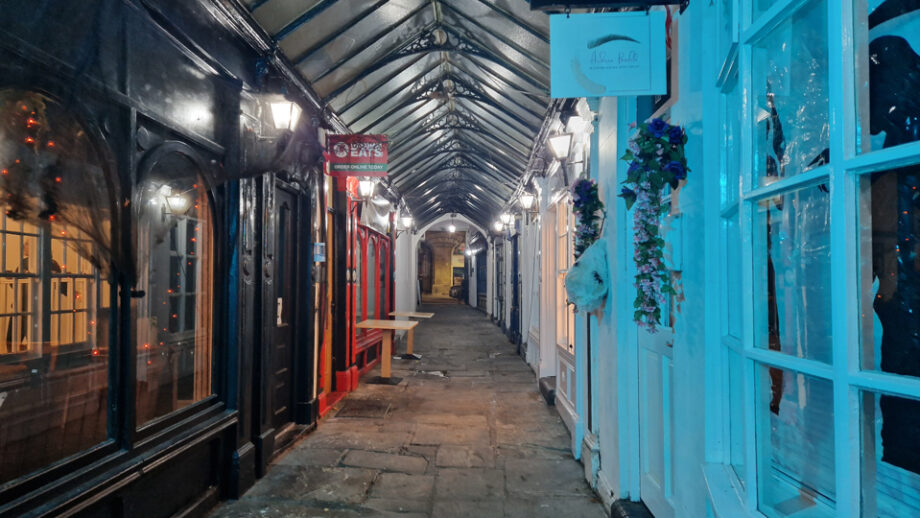 Going against the flow as people head towards the ground, I make my way down to the Drunk Monk. Here I find 4Days, Indy and a couple of the Welsh Speratists local mates who also do a fair few Wales away games. So I grab a pint, settle in and talk some shite about football. They're a nice bunch and unlike 4Days don't bang on about the electrification of the railways or the general subjugation of the populace by dark powers in that there London. The locals are more concerned by my arrival as it evens up the numbers to 3 apiece. "That's not a very Sutton thing, coming from behind to level things up" I quip. We sink a couple in here before the lads and 4Days split off for a pre-match scoff at a local Portuguese place. Indy & I get on our toes and head for the Wynnstay. Here we locate Mr X, Greek and Ossie and get a couple more in as we await the line up. When it comes through, there's a few changes and we're not sure if Matt's going 352 or staying 442 with a slightly more defensive aspect to it, going with Jackson and Beauts as his wide midfielders. Mr X is also bemoaning his luck as he's got an early start in the morning, having to get down to somewhere or other to pick up 16 boxes of Plasticene and then deliver them to an address in Soho. God only knows what sort of caper he's got himself involved in, but we're guessing it involves a dungeon and Tory MPs. Oh and Dirty Barry.
Bouzanis, Milsom, Goodliffe, Sowunmi, Kizzi, Beautyman, Jackson, Clay, N'Guessan, Smith, O'Brien SUBS: Arnold, Fadahunsi, Pereria, Patrick, Coley.
We walk back up the road in the dark and head for the glow of the floodlights. After some faffing, we find our turnstile eventually but some sort of clearer signage would have been appreciated. Our section is basically the little seated paddock pitch side that is below the block behind where we normally used to get stuck when this lot have no one watching them. Still, it's pretty full as we've apparently flogged almost 300 for this one. "Bet we'll find out we've got loads of American fans tonight" scoffs Indy. Meanwhile, Mr X is really quite taken with his pastry slice he's bagged from the tea bar. Right, enough nonsense. Can we get this over with please so we can get back to the pub?
The first half is not a classic. Whilst the hosts have a ton of the ball, they do very little with it, moving it out from the back in a slightly ponderous fashion meaning that our 2 banks of 4 are able to close out space and make things difficult for them. The have a couple of threats from corners, but we seem pretty comfortable and it's an ok start. Then out of nowhere about 15 minutes in, we give Mullin a yard of space about 20 yards out and he bangs a dipper beyond Deano into the far corner. Fucks sake. It's a cracking hit to be fair and is obviously why they pay him what they do, but it's a touch frustrating nonetheless. I'm worried as going behind so early as falling behind away from home has not lead to the best of reactions from us so far this season. Stick at it lads, stick at it.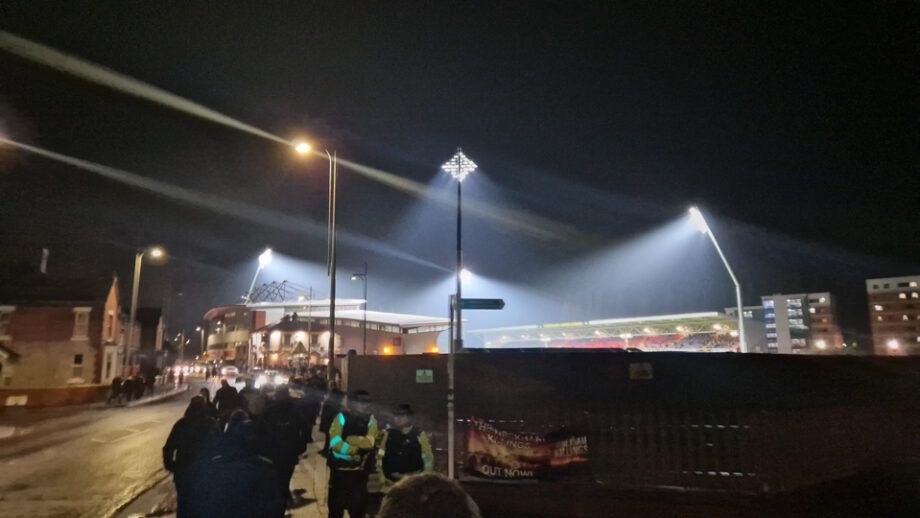 Thankfully, we keep our heads and keep working. Slowly but surely we get into the game and have a couple of sniffs ourselves. Goodliffe powers a header wide from a corner and O'Brien pulls a low shot from just inside the box wide of the post. But overall, we're pretty happy come half time with only being the one goal down. Mainly at this stage because it looks like we won't be getting immortalised in Series 3 of "This is Wrexham" getting bummed in the gob for all the world to see. Right, I need a pie. A decent meat and potato effort is secured and whilst a dash of tom sauce would have been lovely, it does the job. Right, now we managed not to fold after going behind, we have to deal with the second elephant in the away end. That of actually turning up second half. If we can do that, then who knows?
From the restart we seem a bit more at it and a touch more alive. We keep frustrating the hosts and their only real threat is from a mistake of our own (of course!) but they waste the chance and slowly but surely we start really getting into the game. Then as we approach the hour, we get our rewards. Clay picks up loose in midfield and threads a ball into the channel for a nice run of Smith. He's got a half decent angle for a shot, but instead he squares it for Aiden O'Brien arriving in the middle to finish from close range. Having not come from behind in god knows how long now, we've done it twice in 4 days! From here, the confidence grows and the goal really nicks the jam out of the home fans doughnut. We start to play some decent stuff whilst the hosts again struggle to really move up a gear and cause us too many problems. But with us getting on top, Matt makes his move and introduces Patrick & Coley to try & stretch the game a touch, with the latter Coley sending one wide after O'Brien tees him up on 18 shortly after he's come on. In response, one of the Wrexham subs at the back spots Deano straying a bit too far out of his manor and tries a cheeky one from all of 40 yards and it just shaves the bar on its way over.
This wakes up the home fans and with 10 to go, the game opens up somewhat. We have a couple of breaks out, but in the main Wrexham push on and whilst not exactly going up that gear they needed, they at least start to find a bit more space to exert some real pressure and we start to dig in and defend. There's a string of corners to deal with and Tozer's long throws as well, but by and large, we handle most things thrown at us fairly well whilst keeping them mindful that we can hurt on the break with the likes of Patrick. Then as we're wondering just how much added time we'll have to endure, there's a another right royal kick in the bollocks heading our way. The lad wide gets a half yard on Kizzi far side and sticks a cross into the box, Omari heads it clear but only as far as a red shirt about 20 out in the middle of the goal and the ball sits up perfectly for him to bullet a volley back through the crowd and past Bouzanis. Cock it. The place erupts and with it evaporates a well earned point. We stick at it, but through 6 minutes of added time, we can't quite fashion another response and at the final whistle, it's one to file under 'brave failure'.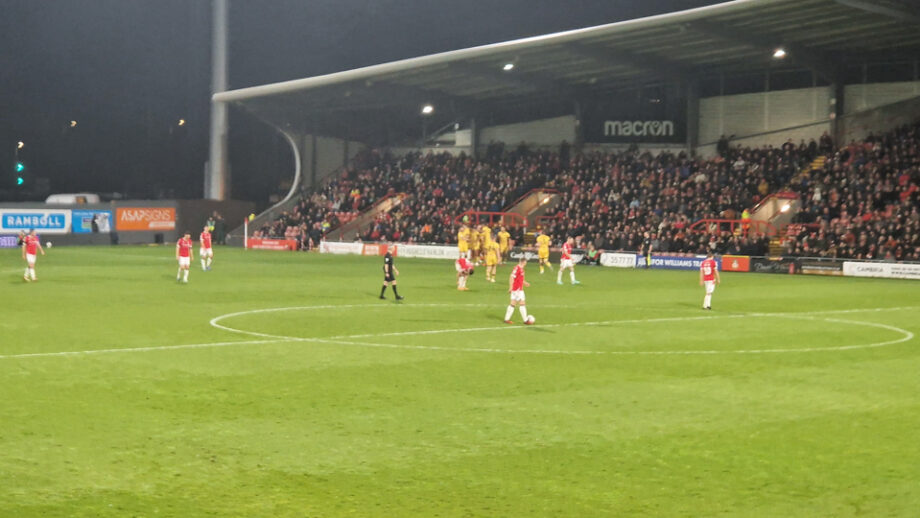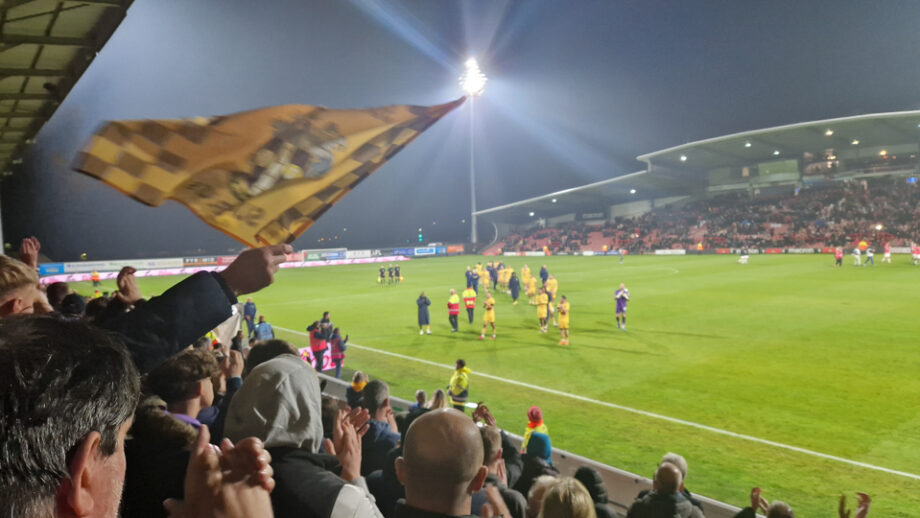 The lads come for their deserved applause from the away end for their efforts and as this takes place with many exhorting them to keep their chins up and go again, Mr X comments that it feels a bit like Barrow back in 2019 when Matt was first handed the job. A 1-0 away defeat where wed seriously worried the side that would go on to win the title that year and only lost to a huge deflection. Torquay away came next and we all know where that lead to. Here's hoping this leads to a similar response. God only knows we need it! We head out into the increasingly misty evening and head back down into town for a couple of jars to steady the nerves. The first port of call is the Spoons as it's big, but as we arrive some Scouse geezer is having a barney with the door staff, phone in hand filming it all. Fuck that! 4Days slips in to catch his Wales mates and also because he's crashing with one of them tonight, whilst we head on down back to the Wynnstay, which is delightfully quiet and we rack up some pints to help send us off to beddy num nums. Indy is right behind us, informing that the Scouse tik toker from just before had got some physicals for his highlight reel. Ossie and Greek traipse in shortly after and then SLO Loffers, also staying the night here, arrives with her brothers. Paparazzi Paul instantly breaks out the laptop for a run through his photos from the game and I get to marvel at the quality that modern digital SLRs can produce on nights like tonight.
We sink a couple before the lass behind the jump calls time and whilst the stayers head on up to bed, Indy & I tip out onto the deserted, foggy streets of Wrexham to head to our own digs. We get up the road before I spot the local Maccy's and dip in for some chicken nuggets, leaving Indy to head to the Premier Inn alone. With my snack sorted, I follow behind before making a far spookier and darker version of the walk I'd done earlier to the Ramada, somehow not getting mugged, murdered or abducted by aliens. So the season's looking up! Back indoors, the nuggets go down a treat and I'm soon in my pit spitting Z's and dreaming of the days when we could actually win a game of fucking football. Next morning, I feel remarkable good for a 7 pint Tuesday, so I shower and head down for breakfast before realising I've left my key in my room and having to get a replacement in reception. Then I tuck into a 'Welsh Breakfast' that looks remarkably like a full English to me and devour all of the toast. Fed, I get back upstairs and get my crap sorted, but I'm a bit slow getting moving and a half formed plan of maybe changing my train and getting out of here via more direct route home takes a hit as I get to the station too late to get the 11.02 to Chester. Regardless, I book up the next one as the price isn't life threatening, which is the 12.09 (replacing my original option of the 11.51 via most of the West Midlands) and get a cuppa in.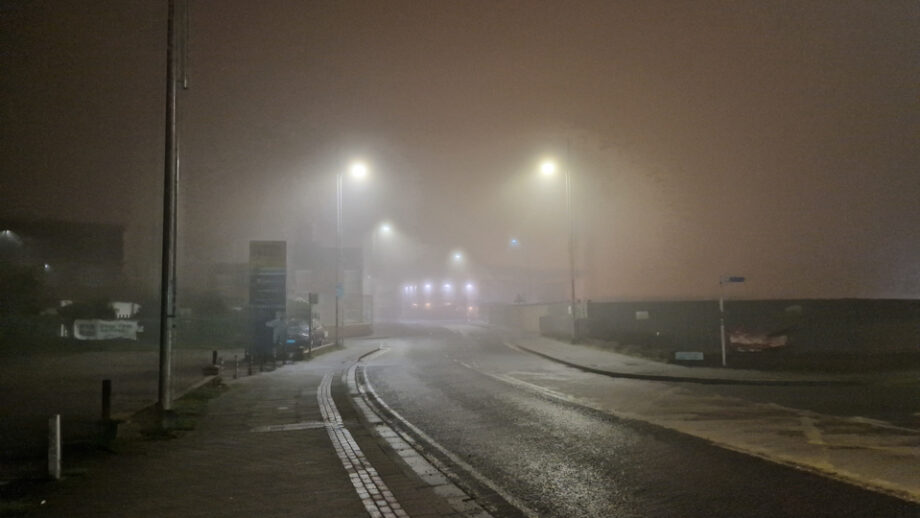 Indy should be on that one too, but turns out he had the same idea as me but actually executed it and got the earlier rattler. Good job as it happens. As it turns out the 12.09 is delayed slightly meaning my narrow change at Chester is a risky one. I shouldn't have worried though as soon enough it's 12 minutes late out of Wrexham meaning my connection to London at Chester is royally boned. This leaves me mooching about on a platform of tourist Chinese and US Wrexham fans. This delay is annoying, but worse is that the next London service out of Chester is also half canned, meaning my plan of getting home a bit earlier is in about as much of a state as our goal difference. So I decide there's not a lot I can do and resolve to get myself to Crewe and work out the details there. At least I'll be on the bloody mainline and the options should be better. So after a couple more trundles on Transport for Wales stock, I eventually hop out at Crewe and go sort out a cuppa. Here the universe stops being a complete dick and decides I should probably catch a break, as I spot a London bound train with one single stop at MK due in several minutes. Sweet! And best of all, it actually gets me in at exactly the same time my original round the Birmingham houses one would have done. Nice. Cost? A bullseye. Time saved? Fuck all.
This train rocks in and finding a seat in a busy unreserved carriage, I cosy up with my brew to watch several more episodes of my Star Wars on my phone. As with yesterday, this helps pass the time fabulously and before I know it, the guard is on the PA announcing Euston is up. He then plays Morecambe & Wise's "Bring me Sunshine" as we trundle into the platform. Stick it up your bollocks mate, I've just seen my mob concede their second last minute winner in 4 days, I'm not in the mood alright? I hop off and weaving my way though the endless stream of stupid people seemingly just there to further delay my progress, I hit the tube and then back in Vic after a cursory sweep of the concourse to see if I can spot Indy, I head for a train back to East Croydon and a bus home. Eventually, I stumble through the door to a heart warming welcome from Mrs Taz who is already making tracks in preparing dinner.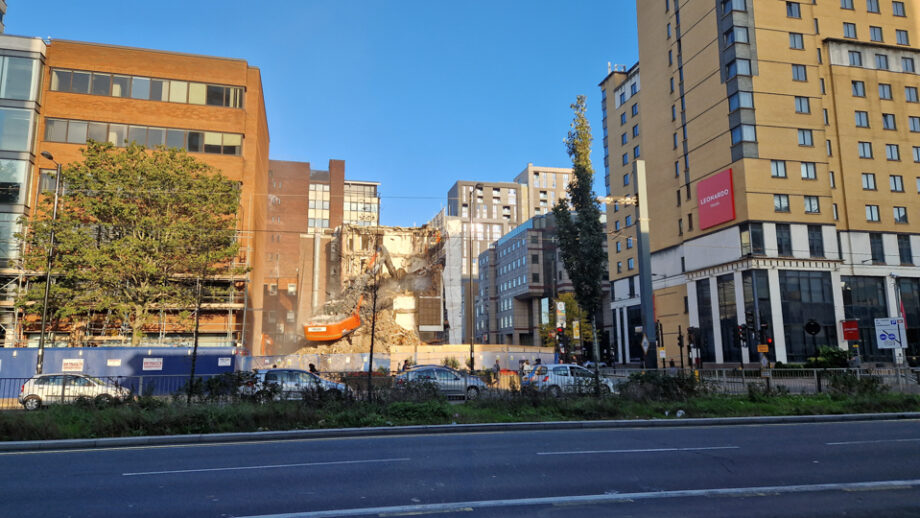 "Can you take the food bin out while you've got your shoes on?"
Bet bloody Ryan Reynolds doesn't get that sort of welcome when he gets back from a game at the Racecourse.
Taz