After last week's binning off of two vital points up at Walsall, I think it's fair to say that most of us have largely accepted that the play offs will once more be Sutton-less this season and have started turning our thoughts towards the end of the season, holidays and not having to get up at 6am every other week to catch a train out of sodding Euston. Yeah yeah, still mathematically still possible and all that, but we'd prefer to live in the real world and keep browsing the Expedia website thanks. Right, where were we? Ah yes, flights somewhere sunny after 8th of May.
With Easter weekend upon us, this means 2 games in quick order to deal with. Thankfully one's at home against Stockport with the other away up at Bradford. Both sides are going well above us and chasing play off spots themselves, which makes this a tough little spell given that we have one single solitary win over sides above us in the post-season area of the table. Stockport are in a good run in particular and they also come with the added bonus of a former player in their ranks, no doubt returning to GGL intent on haunting us. And whilst it'll be nice to see Issac back again in the Republic, it'll be bitter sweet with him in another side's colours.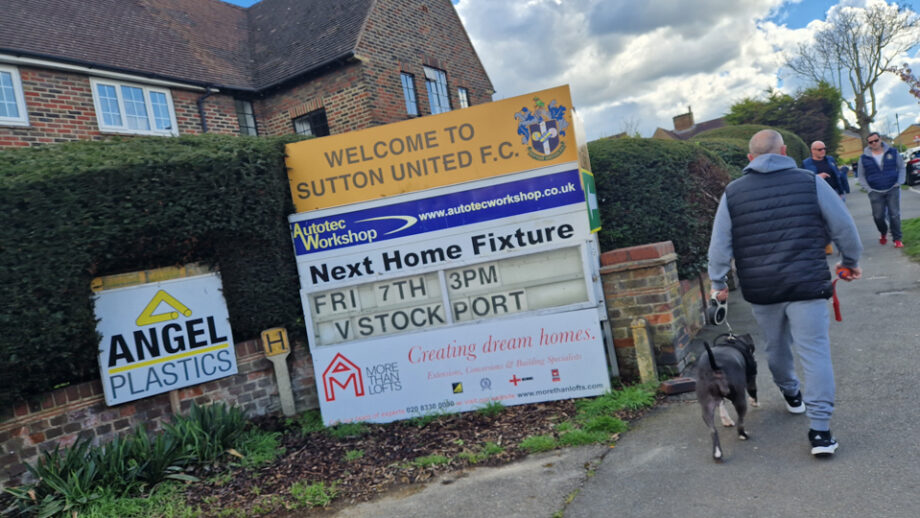 As it's a home game and even better a working day, I make sure that the lie in is as full as possible after a mad old week at the grindstone. I eventually haul my arse out of bed at around 11 and head for the shower. Clean and presentable, I'm greeted by Mrs Taz with a cuppa and the news that I'd best take the recycling down before I head out if I want to keep receiving hot beverages in a cup in the future. As in ones that aren't being dumped in my lap or over my nut. Unable to refuse such a wonderful offer, I gather up all the crap and head down to the bins to do my bit for the polar bears, bunnies and the vegans. Having dumped the stuff, as I head back up, I'm met by a lass on a scooter, clearly delivering some takeaway. There's a flash of recognition as I realise she's done a couple of deliveries to us in the past off Deliveroo, so I say hello and puzzlingly she looks happy to see me and I find myself suddenly presented with a small bag of grub from 'Wing Stop', a nearby wings place I and Mrs Taz admittedly have a penchant for.
This is odd, mainly as firstly it's about 1 o'clock in the afternoon, not exactly prime takeaway grub hours and secondly, we've definitely not ordered any wings. There's a moments pause before I explain this to the lass and after a further moment's confusion, she rechecks her phone to see what the deal is. Turns out that the actual address she wants is a couple along from our flats and she'd literally picked up the order, saw it was broadly where we are and assumed it was for that nice couple that are always ordering from there! Jesus love, talk about calling us fat fuckers without actually calling us fat fuckers. Misunderstanding sorted, she hops back on her scooter and roars off whilst I head back upstairs to try & begin to explain to the missus why we can't order Wing Stop now for a while. And also why we probably need to rein in the tips we give the riders on Deliveroo. We'll be exchanging fucking Xmas cards at this rate.
I head out for a bus soon after and get my headphones on to get some tunes into the old noggin and blow some cobwebs out. Fortunately, I have a couple of acoustic mini albums from the singer\songwriter of my favourite band, The Wildhearts, recently obtained to go through and this sunny spring afternoon is the perfect occasion for it. Amongst these songs is one that is particularly special to me. Many years ago, the band did a load of demos with another singer in the run up to recording their debut album and one, titled 'Kiss My Arse Before You Say Goodbye', really got its hooks into me. Sadly however, it failed to make the cut, as did the singer! Pretty much since then I've been on at this geezer to re-record the track or at the very least, play it live just so I can hear it again. Probably for 25 years or more I've gradually chipped away at this and finally, after a suggestion on Twitter a few weeks back, that he include it on his second volume of acoustic stuff, here it is at long last, trickling into my lugholes and putting a silly grin on my old boat. Now, I'm not trying to claim he recorded it just because I kept asking or to shut me up or anything, but yeah, he definitely did. Nailed on.
As the bus approaches my usual stop, I notice that the little mosque opposite the B&Q is properly packed as people come and go, presumably for Friday prayers. I had no idea the place was that busy. I'd have thought that everyone would be more likely to use the big gaff round by Morden South station. Guess not! With my usual Greggs stop in Sutton sorted, I walk down to the Republic and am soon glad that my recycling chore from earlier tipped me off about the weather as otherwise I'd have gone full big coat for this one and would by this point merely be a puddle in my Adidas Madrids. Up the driveway and the weather's got a fair few out today as the fan zone is packed and even outside the MBA, there's loads of familiar faces all enjoying a pint in the sun. First things first though, Bradford ticket! And with my brief for Monday tucked in my wallet, it's time to get in the swim. A quick dart to the Players Bar pays off as per normal as there's no queues there and I'm back out with the mob catching up with the week's events.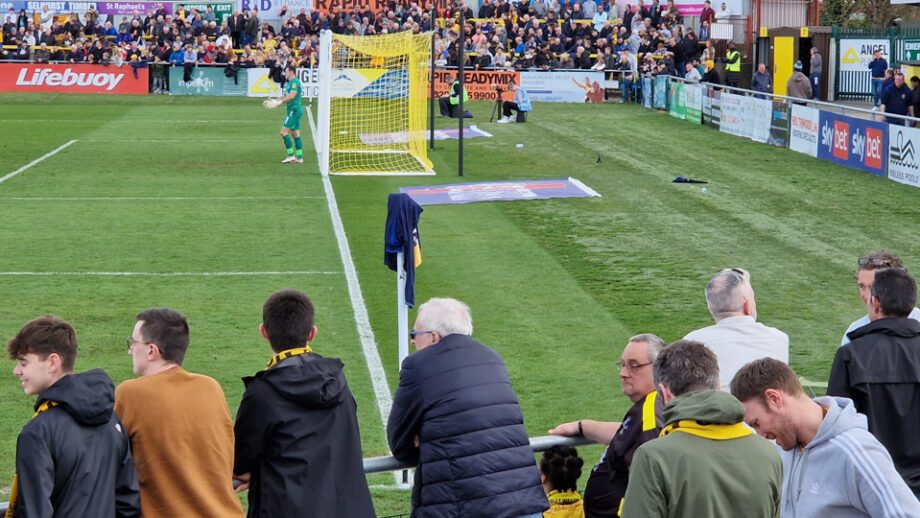 Back today after a lengthy absence is Spennymoor Pete and he's brought a couple more of his friends along from up North today, Cath and Dave who are here to finally get the place ticked off their 92. It seems they're also readers of this absolute bollocks, so I thank them for their patronage and we chatter about various stuff like Keepo's spongey reclaim of his whole Barrow train fare for that one little cancellation and Pete being suspected of being a police informer during his days following the Toon around the country. Having rocked up a touch after two though, there's only time for one before kick off and as Mickey's big hand ticks round towards the hour, I dup up and head in for the match. At the turnstiles, it's a busy old affair and clearly there's going to be a good crowd in today, but again local knowledge pays off and I've soon darted in via a less busy entrance leaving all the plebs behind in their queues.
Rose, Hart, Goodliffe, Rowe, Kizzi, Eastmond, Smith, Randall, Ajiboye, Bugiel Wilson SUBS: House, Angol, Kouassi, Milsom, Boldewijn, Neufville, Beautyman
With the game underway, it's soon apparent that it's going to be a long old day as the oppo put themselves about and show they're not gonna be pushovers. As with the game up at their gaff earlier in the season, we're dealt an early blow as Easty goes for a block tackle and appears to jar his knee after about 5 minutes. He carries on for another couple after treatment but eventually hobbles off to be replaced by Harry. Early on, we have some defending to do as the visitors take the game to us. An early header is looped over the bar onto the roof of the net before Ali does the same at the other end after a long throw is allowed to bounce in the box. They hit the post after a long ball bounces down the middle and the striker prods it past Rose off the upright, but a handball is spotted and we're all breathing a sigh of relief. Rose is in action again not long after, standing up to a 1 on 1 and saving with his legs after we give the ball away in midfield and a quick knock over the top gives their man the chance.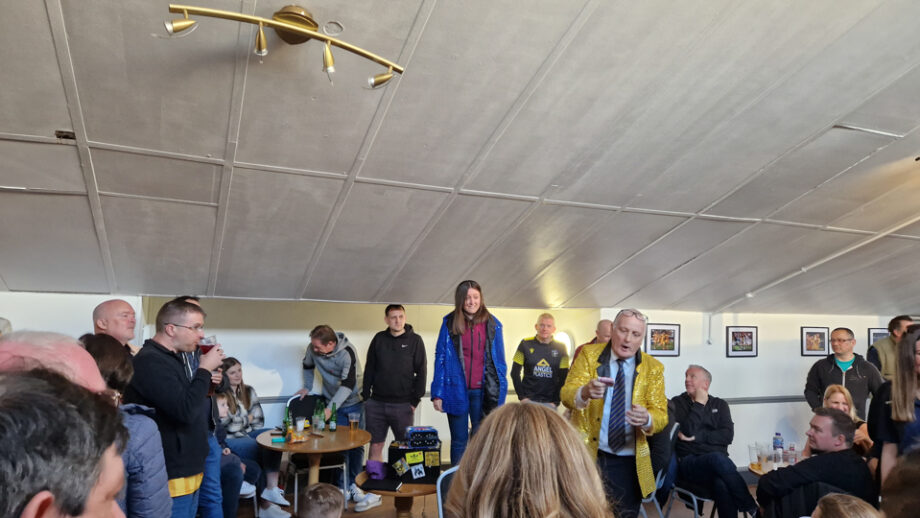 It's not all one way traffic and as the half wears on we slowly get more of a foothold. But a Ajiboye drive that flashes just over the bar from about 20 yards after they fail to clear a set piece is probably the best of our efforts and when the whistle goes at the break, we're a touch relieved to be getting in all square. Time for the gaffer to get some things sorted methinks! the half time chatter is varied, with 4Days catching up on some international Korfball scores and noting that "The French aren't very good" when we see a score of 47-1 to Holland on his phone. No fucking shit mate! There's also the sad news that one of the lads in S-Club 7 has died suddenly. There's a moments reflection for the passing of someone who was just 46 as a lot of us are hovering around that mark ourselves, before someone pipes up "Does that mean they're S-Club 6 now?" and someone else adds "Looks like one of the S-Club Juniors will be getting a call up then". The names of these individuals will not be revealed to save them the shame their thoughtless comments should bring. Terrible carry on.
From the restart, any hopes we've had a sort out are soon knocked back as they get an early shot off in the box that is straight at Rose and then a few minutes in, we concede. A soft free kick in their half is awarded and we're slow to get back in as it's knocked wide, a cross is put in and as Coby slips in the middle meaning the ball goes over rather that hit him, their lad appears back stick to sweep it home. "Maybe a goal will wake us up?" ponders Mr X. Possibly, but be nice if we didn't need that regularly at home games. It does give us a bit of life though and Randall stings the keeper's hands with an angled drive. From the resulting corner, Kizzi nuts it back across, Smith's header it tipped away by the keeper and Coby's follow up is nodded off the line. The game should be done soon after when a soft free kick gives them a hit on goal, but Jack Rose dives full stretch to tip it onto the post and the ball rolls back across goal before Kizzi does enough by the other post to stop their no.5 turning it in for 2-0.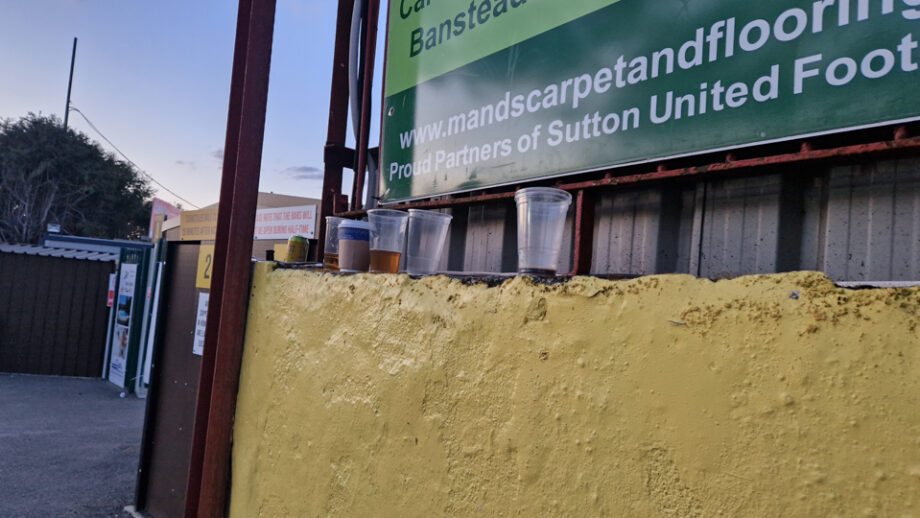 We keep plugging away but without really building a concerted spell of pressure. Dave can't get a clean shot away from a decent little sighter in the box and then after Randall's hobbled off, Enzio gets two bites at a free kick, the second one being a blistering drive through a crowd that the keeper has to get down full stretch to push away. Sadly, Angol's miles off for the rebound and the flag's up before he can turn it in. That's the best we can manage however and at the end, it's another narrow home defeat where we've left points on the table and not really done ourselves justice over the 90 minutes. Still, at least Tanto didn't score when he got on at the end! Right, time for a pint after that I think? In the bar, Dr Bell heads for supplies whilst we all realise that after that we're being greeted with the wonder of Borehamwood Dagenham on BT Sport. Fucking hell. Today just gets worse! As per post match, the Strikers are Key shits how features and this time, AB is challenged by having to do a record 3 Draws in one go. Of course, poor old Spennymoor Cath gets lumbered with not only picking the balls for all three draws, but also trying to open the safe on behalf of all the people she's drawn for. Sorry my dear, completing the 92 comes with its challenges. Her compadre Pete is of course delighted by all of this. "I certainly wasn't getting fuckin collared again!" he chuckles.
As the bar empties out, a few of us pull up some chairs and slump to take the weight off. The jukebox plays some background noise on auto play before we finally snap and lob a quid in to get something decent on. I find that the interface has changed a bit since I last used it and now it allows selection by genre. This includes South African House and just 'Botswana'. Naturally, 4Days is most perturbed to find there is no 'Wales' or 'Welsh' on there. "But they've got Super Furry Animals!" he whines. I let him put some SFM on to cheer him up and stop him moaning. As we choose our last track, we realise we really should put some S-Club on as a tribute to their departed member and I leave 4Days to this task. However Not Irish Pete finds his selection of "Reach for the Stars" a touch disrespectful. "Should you really be playing a jolly song like this in memory of a person's passing?" wonders Indy aloud. "I guess not, but they weren't exactly known for their fucking mournful thoughtful ballads were they?" I reply. After a chat with a recently arrived Porn Star, who further updates me on HATGATE (it's not yet been returned or even picked up to their knowledge in case you were wondering. So stay tuned for more news as we get it hat fans!), I, Steve, 4Days, Lil' Chris and Not Irish Pete take a wander into Sutton to try & get some scoff. And more pints.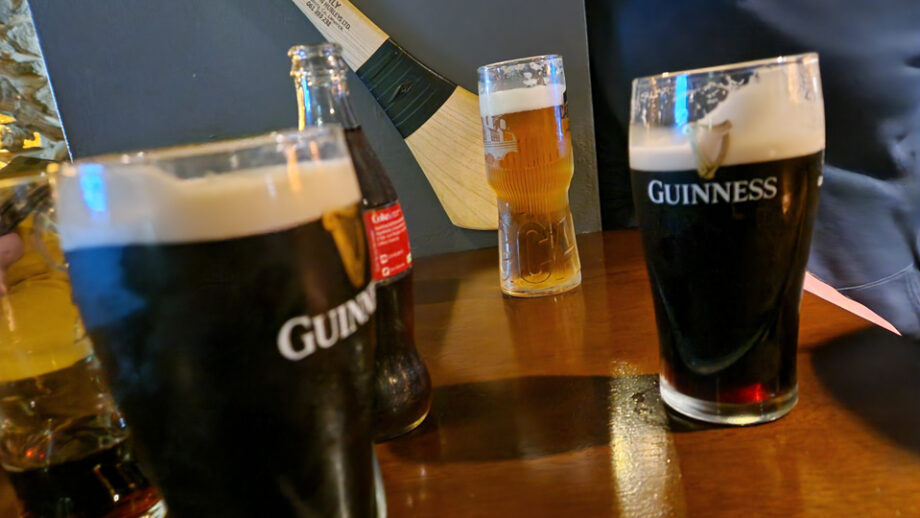 Annoyingly, we just miss out in O'Niells and decide to have a pint whilst we consider our options. I decide to dart over the road for some German Doner, finding the place packed with lads breaking Ramadan fast, whilst the others largely sack off. Steve decides to go to a burger place up the road and head home. As we enjoy another beer, a lass keels over right in front of us and having managed to get her into a recovery position, she's soon back in the land of the living whilst Johnno and staff bustle about sorting an ambulance. With them departed, we um and ah over another pint, but decide that we should probably call it quits "before someone dies or something" and we wave Pete off before the rest of us jump in a Sherbert rustled up by 4Days. Here chatter turns again to Uber ratings with the lad revealing he's only ever given a single one star rating before. Clearly he's never had some of our lot in a his motor then! We drop Lil' Chris off at his drum, then 4Days off at the Railway in Carshalton before I'm tipped out at HQ with the driver making it clear he's expecting a 5 star rave review from the Welsh separatist. "Don't worry mate, I'll have a word!"
Six to go. See you in Bradford Monday kids.
Taz