Yes, we're back again, up in your grill once more with tales of daring do in League 2 (hey, that rhymes!) and all sorts of other nonsensical silliness that, let's be fair, most people find more entertaining than the League 2 part. Can't say we blame them. This week, we are yet again on the march North for another in what is slowly becoming a seemingly never ending string of "this is why we know there's a five thirty am in the morning" affairs. Can't we just go to the Midlands or something for once? Mix it up a bit? Oh never mind let's just get cracking shall we…
Having turned the corner at Xmas and shown our reinvigorated purpose with the goalless slugfest at GGL against front runners Stevenage last week, we're off to the far reaches of this green and pleasant land once more to make our way to the simian friendly environs of Hartlepool. Now, we've got a reasonable record up here since we first met in the National and with them still struggling in the relegation places, this should be hopefully a good opportunity to get 3 more on the board and take a huge step towards knocking off that 50 point mark we all treasure so much. Even despite the fact that 42 will probably do it this season.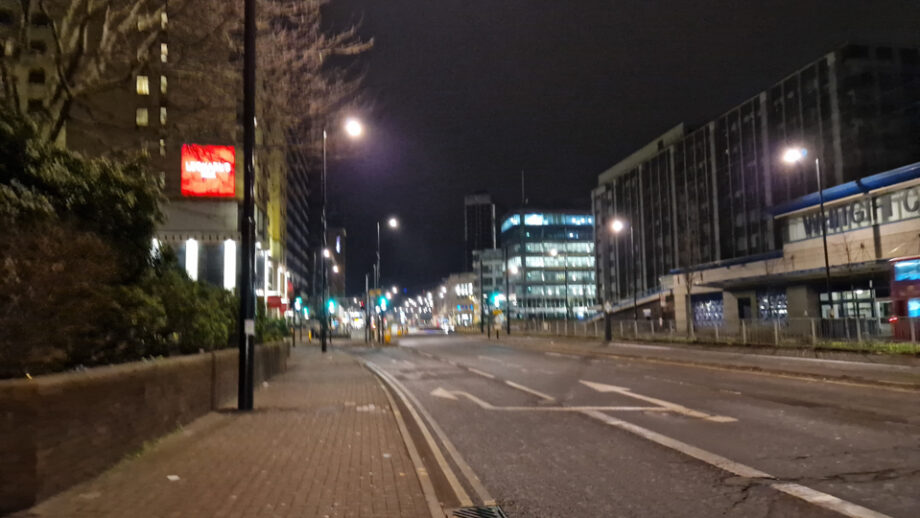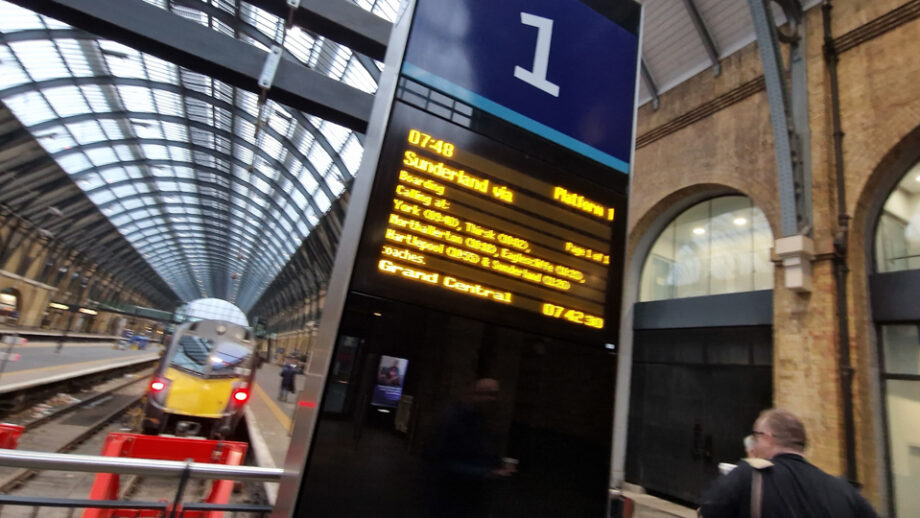 It was an uneventful few days here at HQ, so much so the main bit of excitement was provided by some socks. My beloved decided to take a run into Primani during the week to pick up some cheap leggings for dossing about at home in and as she is a lovely human being and always thinking of others, she asked if there was anything I needed. As it happened, I'd noticed that my sock supply was running low and slipping her a score, asked her to get me some to help keep my tootsies warm on the terraces. Keep the change as well love, buy yerself something nice. Upon returning from work that evening, I found my new almonds waiting for me and at first glance they seemed more than acceptable for the job at hand. However, on closer inspection I noticed that part of the pattern on them incorporated the letters R and L to indicate, obviously, right from left. Which in itself is a bit fucking daft as socks are socks. They go on either foot.
However, my main bone of contention here is that I would now have to pay close attention to what sock went where when putting them on as I don't want an 'R' on my left foot and vice versa. My reasoning behind this is quite simple, firstly it would make my brain itch knowing they were wrong (and lets not get onto having a pair of L's on etc!) and secondly, in the unlikely event that I am knocked over by that bus our mum was always warning us about when we were kids when ensuring we had clean skiddies on, then I'm instantly gonna be labelled thick as shite during the following accident investigation. "Yeah, no wonder this geezer didn't see that bus, fucking divvy can't even tell left from right. Death by misadventure, case closed". Naturally, Mrs Taz thinks I'm a fucking idiot because of this reasoning and that "You can buy your own shit from now on". Regardless, said Sara Cox have been relegated to 'indoor use only'. Can't be too careful.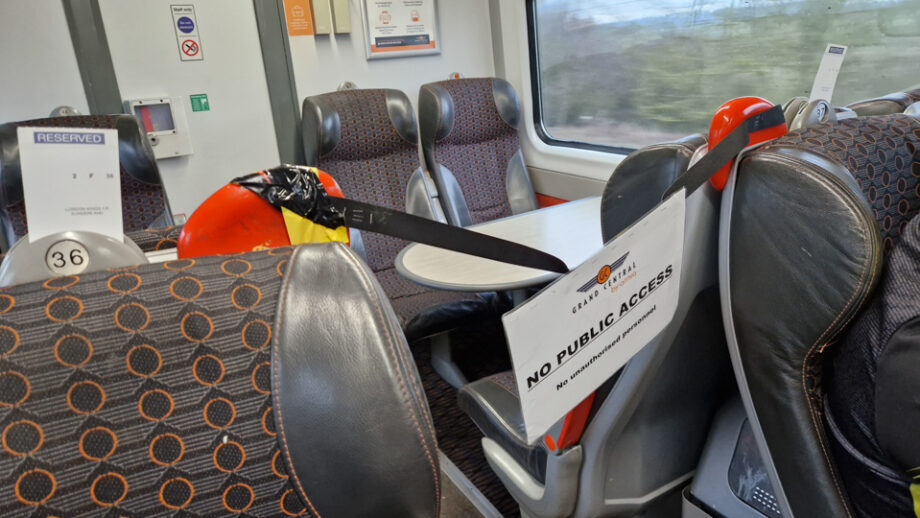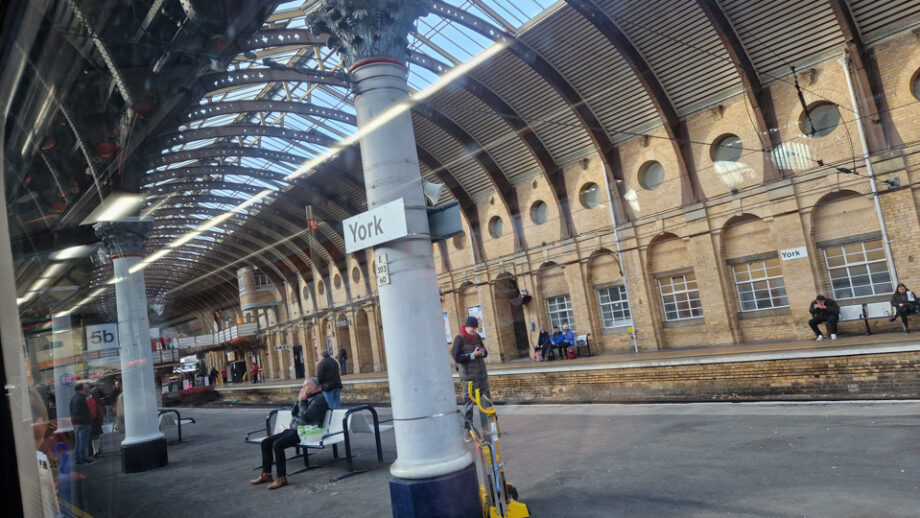 My alarm wakes me at half 5 Saturday morning and in the usual "Jesus what am I doing with my life?" early morning daze, get my shit together and am out the door inside 30 minutes and heading for the bus stop. Of course, as I get to the end of my road a 410 sails past me. Wanker! Soon after though a 407 shows and I'm front row top deck for the run into East Croydon. This is super fast thanks to a string of green lights and I'm on a Thameslink to St Pancs by half six. There's no sign of Magnum anywhere though, which is odd as he's usually an early bird. Some light snoozing later, St Pancras looms and the walk over the road to Kings Cross is completed. With no one else about I head upstairs for some Greggs breakfast. I queue, and as the lass in front of me is getting served, I notice a lass the other side of a display giving me evils. It takes me a minute to work it out, but it appears she's queued at another till and with only one person serving seems to think I'm probably pushing in. Yeah, whatever love. With loads of time to spare, I smile sweetly and let her go in front of me.
Good job I did as well, as she snappily orders some grub, then when served adds a "No sauce then?" before adding "Brown" as the girl behind the jump realises her error. Yeah alright, wind your neck in eh love? It's just gone 7am, no one wants your fucking moody 'the customer is always right' bollocks at this time of a morning thank you very much Karen. With my own grub soon sorted (received with the warmest "Thank you" I can muster to make up for misery bollocks before me), I scoff and head off to wait for the others. Magnum is first to amble up with his rolly case in tow, as he and Greek are having a proper little romantic weekend for two up in the Marina. Mr X is soon rolling up with a bacon roll from the same gaff Greek used for Harrogate. "Did they bother to heat it this time?" being the obvious question. Dr Bell and Greek soon show and all we're waiting on is 4Days now. "Oops, he's not making the train!" interjects Mr X having just got a text. Seems the Welshman has not heeded Dr Bell's warning from the night before that trains were a bit iffy out of Sutton and his last minute rattler going around the houses means he'll miss this one. So, with Gandermonium Rule #1 invoked and our stranded colleague utterly abandoned to his fate, we head for our seats.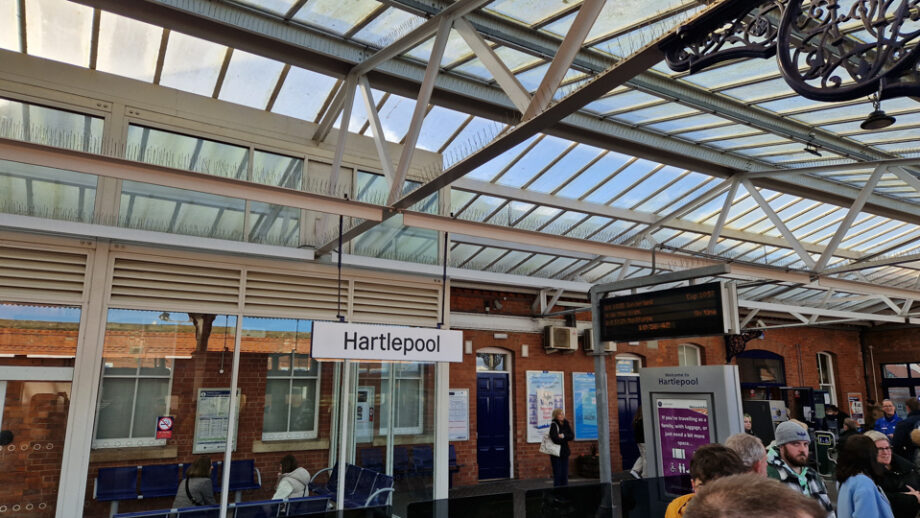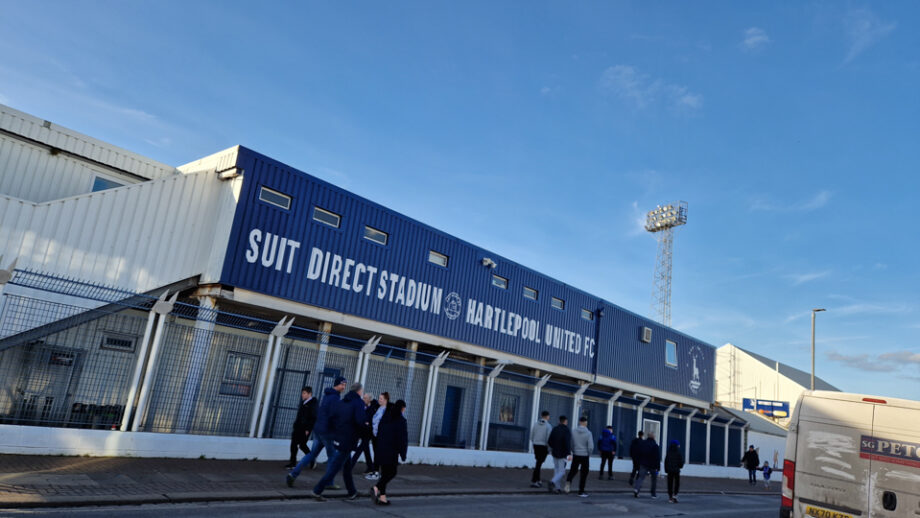 As we rumble out of the capital towards York, we find that Magnum has only just discovered the Inbetweeners and that on the way back from Harrogate last week Greek had pulled 80 sovs out of a fruity at some motorway services. Just can't help himself that lad. Although that does make him possibly one of the few people in history to leave a UK services with more money than he had going in. It also comes to light that Mr X's boss had done rather well out of selling his controlling stake in Genoa FC (just the $178m trousered according to Googles) and that he quite likes karaoke. Greek & Magnum do their usual silly bets that never win and also double down on this by spreading their stench of failure to a nag owned by our gaffer Matt and several other people at SUFC. It was going out at 12-1 apparently, you can probably guess the rest. Mr X goes for cuppas an hour in and returns with what Greek describes as 'Ikea Tea' where we basically end up with £2.50 cups of hot water and have to add all the ingredient parts ourselves. Some assembly required.
York comes and goes and shortly after 11, we're alighting into what's turning into a lovely morning at Hartlepool. With blue skies above and this yellow shiny thing projecting light all over, we head for the usual kicking off point here, the local Spoons. Here waiting for us is Indiana Jones who came up yesterday to see family recently moved into the area and he's guarding a table of pints rather smartly pre-ordered on the app from the train by Mr X. We're not total morons you know! Here we get the day started and soon spot a geezer that is an absolute dead ringer for Steve McKimm. So much so that we even take a minute to debate what on earth he'd be doing up here with Carshalton having a game today. Ok, so maybe we are morons. Big whoop, wanna fight about it? We neck two here and find out that fellow U Deano is again unhappy with LNER's prompt and reliable service, so much so that he's been distracted and alighted at York instead of Northallerton to get here. Ooops. Silly boy!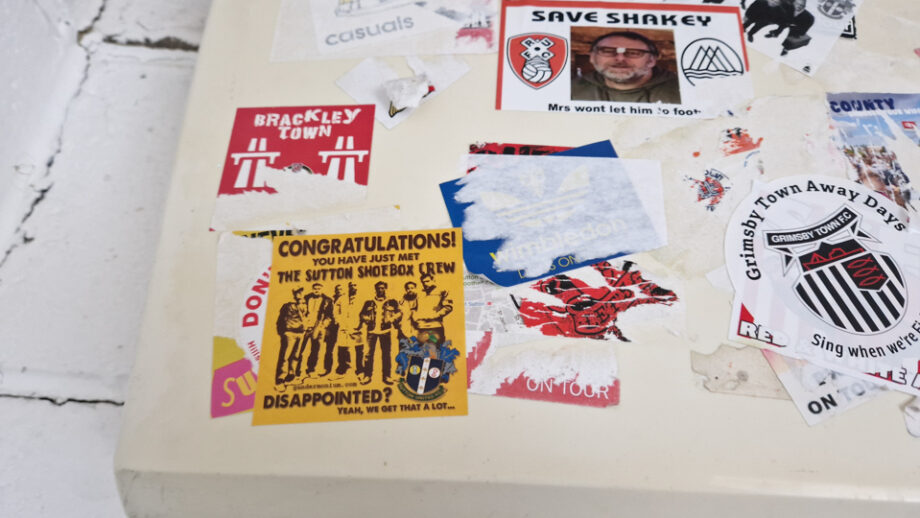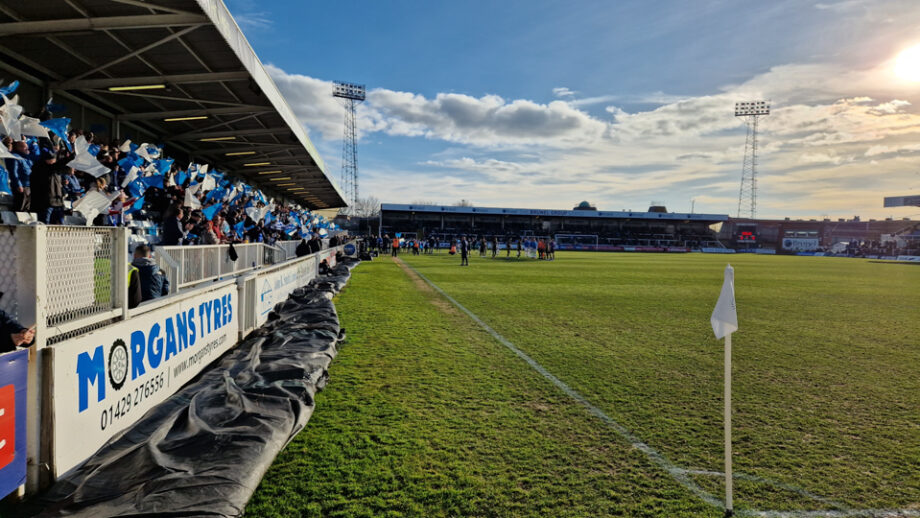 Next up from here is the Clarendon Arms round the corner. It's a pretty ropey pub, but it's dirt cheap and it sates Greek's weird fetish for shite boozers. The landlady appearing from the cellar to find several smiley Southerners waving notes at her causes her to have a right old fright, much to the huge amusement of the solitary old boy sat in the gaff with a pint. Sadly, there's no offer of free chip butties like the last time we were up here. Shame! It's here though that 4Days finally catches us up and he has Deano and his good lady in tow too. Quick one downed, we head almost next door to the Jackson Arms (that we're sure was the 'Ship' last time) and get one in, finding the gaff packed with what look to be the pub's Rugby sides. Here a quick discussion about the merits of mushy peas ensues and also about the different regional pronunciations. Is it 'muh-shee' or 'moo-shee'? Answers on a postcard, as always kids, to "Who Gives a Fuck You Bellends", PO Box 123, London KN0 B55.
It's another arduous hike from here as we go literally next door to one of the new additions to the pub landscape in these parts, the Hop & Cheese. Apparently Indy was in here last night after his family dinner and gives it the thumbs up. That'll do for us. Sadly we only have time for one before edging closer to the ground and duck into OMalley's an Irish pub showing West Ham against someone I forget on the telly. As we do a pint, we realise that the sofa we're sat on is actually a sofa bed and with that generating all sorts of questions we sup up and head for the game. Having initially gone in the wrong turnstiles, we're soon in the swim with a pie on the go and catching up with all the familiar faces on parade. Team news is that Sam Hart's in for Rob Milsom and Louis still isn't quite fit again meaning it's a slightly rehashed back four. Up top, new man Angol gets his first start. Here we go!
Rose, Hart, Goodliffe, Boldewijn, Kizzi, Eastmond, Smith, Ajiboye, Randall, Bugiel, Angol SUBS: House, Kouassi, Gambin, Rowe, Beautyman, Wilson, Dennis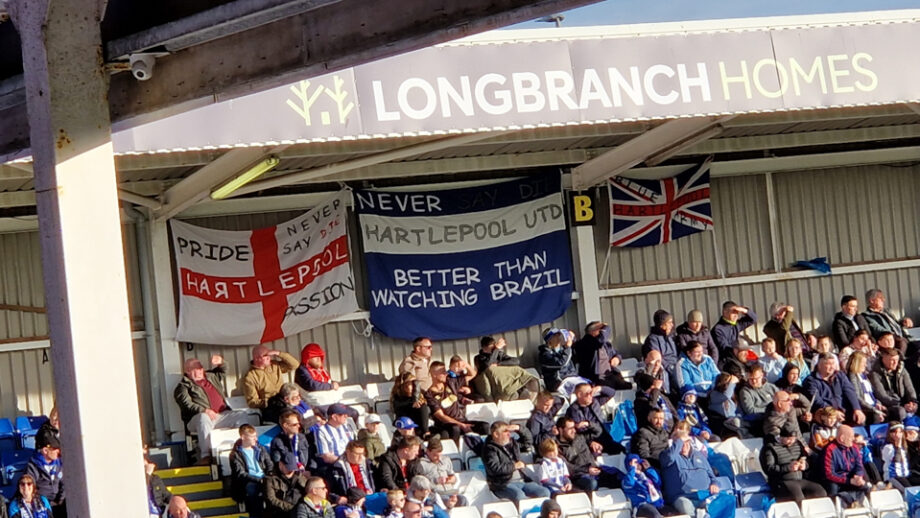 Any worries about that back four are dispelled almost instantly from the start when a couple of little passes down the flank puts Easty in down the flank. His low centre can't be hauled in by Angol near post but Ali arrives behind and not only manages to hit the far post with all the goal to aim at, but them bundles the rebound as badly wide when the ball comes straight back to him. This sets the tone though as we absolutely dominate the ball early doors and the hosts frustrations are shown when Randall is forced off after a dogshit challenge in midfield which their lad is lucky to escape with just a yellow for. Harry replaces the injured man and soon after, we're deservedly in front. Hart gets some space wide, swings in an inviting cross and Ajiboye arrives back stick to thump home from close range. Soon after, he pops Ali in behind after another nice bit of football but the keeper stands up well to the first one on one to save and then blocks the rebound with the angle narrowing rapidly.
Our midfield bite is just too much for them and we're winning ball almost at will in the middle of the park and Lee Angol is causing them all sorts of problems with his hold up play and he looks superb with the ball at his feet. Then with about half an hour gone, we win possession again in the middle, it pops out to Dave and he instantly slots it into space behind and Angol does the rest with a sublime finish sitting the keeper down and gently lifting it over him and into the back of the net. Having already largely quietened down the noisy home fans early on, this proves too much for some and there's a mass exodus towards the bar. Angol then nearly makes it three soon after with a solo effort, bringing down a bouncing ball and lashing a dipper inches over. Of course though, we should not forget that we're watching Sutton United here so if anyone can tee up a nice shot at defeat when victory looks assured, it's us. Harry really should do better near post with another low ball in from wide, shooting weakly into the arms of the keeper, who then bowls the ball out quickly. Easty shadows the man down the touchline and promptly slips clattering into him. Frustratingly, having already picked up a soft yellow a few minutes before the ref shows a second and we're facing over an hour with 10 men. Marvellous.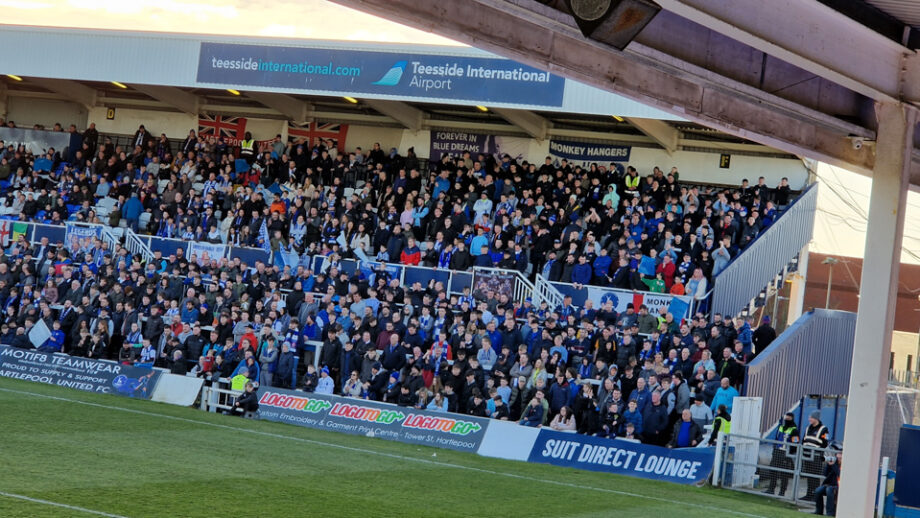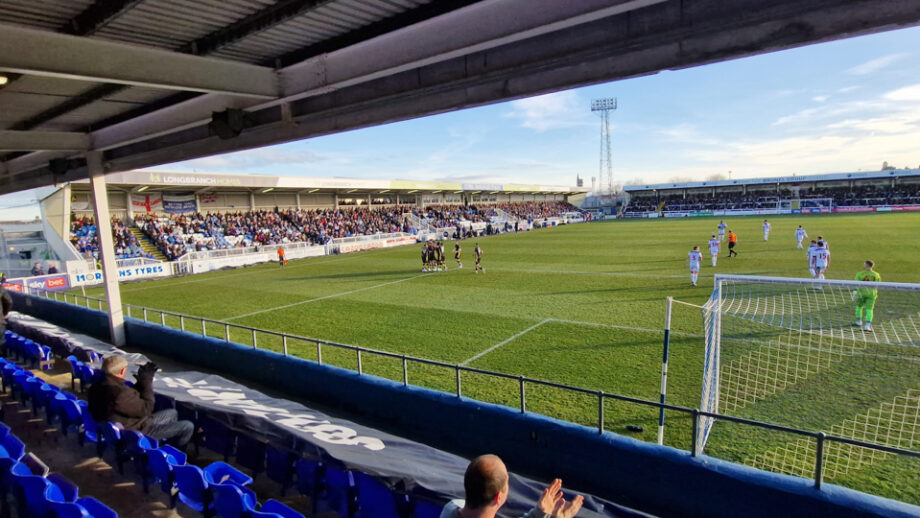 Worse is to come as we try & reorganise, this gives the hosts some breathing room for the first time and finally they start to get the ball forward and ask some questions. Then with a couple to the break, a soft free kick about 20 out is of course whipped into the top near corner to halve the deficit. It's about the first thing they've managed offensively all game of course. Worse is to follow when we don't clear our lines in added time and a weak header drops to a lad on the corner of the box and he lashes a worldy into the far corner. Suddenly that first 30 minutes seems a world away. Still, at least the fickle fuckers with the drum missed all the excitement, so that's something. Another pie is called for at the break and there's concerns that having conceded the advantage so quickly that we're going to get a right going over in the 2nd 45. Here's hoping Matt can get into the lads and sort it out. They're fucking awful, so there's still goals in this for us, just gotta be patient.
As predicted, after the restart they come out properly flying and look to get the game done quickly. But the defence largely does its job and one shot straight at Rose from inside the box forcing the keeper to save with his legs is about the sum of the danger in the first 10 or so. After this, we get more of a foothold and a nice move sees Angol in with a sighter again, but he doesn't make great contact with the shot and the keeper manages to make the block. From here we take a bit more belief as theirs seems to wane a little as does the drummers on the terraces. Late on Rose has to put strong hands on a free kick from about 20, but with Kouassi and Wilson introduced up top to freshen things up, we keep patient and have a couple of half sniffs on the break but in the end, we stick it out for the point. It'll do, but fucking hell can we please stop gifting shite like these a way into games please lads? We of course applaud the boys off for the shift and then get our skedaddle on as we've got less than an hour until our train home, we leave Greek and Magnum to head for a candlelit supper on the marina and an early night, whilst Mr X heads for the offy and I, Indy, Dr Bell with 4Days head for the micro pub on the station. Our reasoning being that it basically being 10 seconds from the platform means we can't possibly fuck that up and miss our one train home. Yeah yeah, shut your face.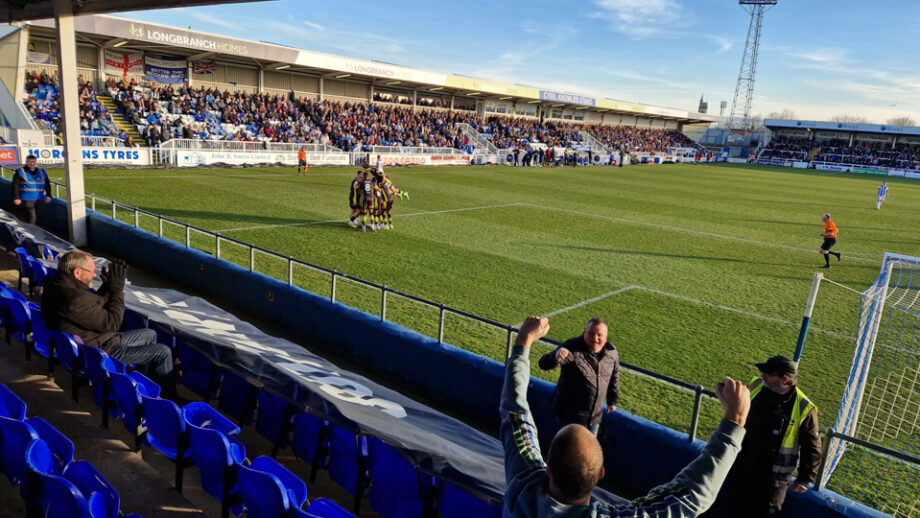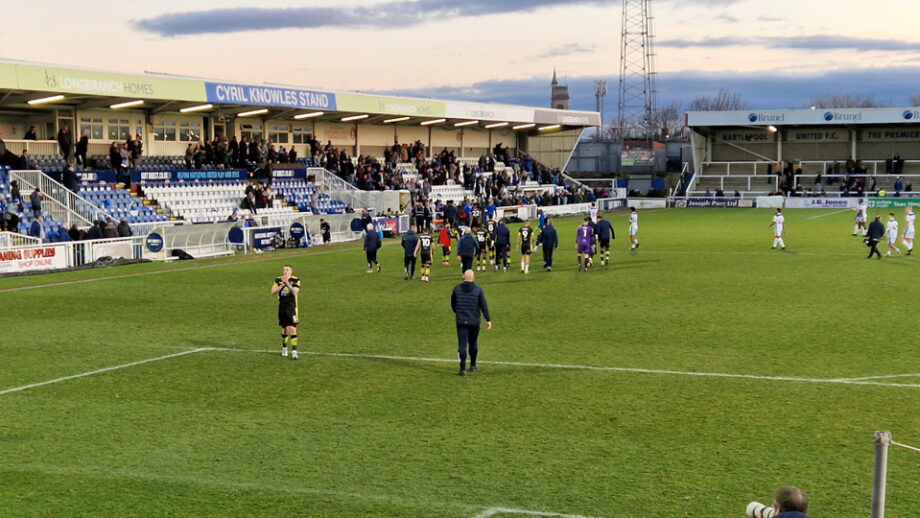 What we don't realise is that the place is A: Tiny and B: Has a strict capacity of 22 people and they all have to be seated to be served. Unfortunately for Mr X, Dr Bell is number 22 and the landlord literally bolts the door and flips a 'no entry' sign on the door! This annoys the man of mystery somewhat when he arrives and he huffs off to a bar opposite the station for a pint of Peroni. He'd have hated it in here anyway given the big 'NO LAGER' sign hanging on the wall behind our seats! We neck one here and soon re-join our anonymous compatriot on the platform for the train home. There's a few minutes chatting with other U's along with a fair bit of cheek puffing and "Fucking hell how've we not slapped them like a naughty stepchild?" sort of comments. We'll respect the point, but it's definitely 2 dropped. The train pulls in and we pile on to find some Reading lads in our seats. Sorry boys, sling your hooks! They're good as gold about it though and hang around with their mates nearby and unveil a song about someone called Colin being a nonce and having a unicycle. Interesting.
The journey home is the usual blizzard of cans and bullshit with us discussing more about 4Days brush with the law at Tranmere where the Met officers on duty that day have doubled down on their horseshit by making an official complaint to the club about Mr X doing precisely what about 5-6 others did that day and ask the fairly reasonable question of "What gives?". Their odd intent to burn down all the work that our regular liaison Donna did over the last several years to build trust and some rapport with the travelling masses is somewhat disturbing if I'm honest. Literally no interest in any sort of engagement, just the standard Police line of treating all games like an imminent public order issue. Nice. The mood is soon lifted as we get chattering to the Reading lot around us and swap stories of awaydays and amaze them with our our tales of life in the non-league trenches. They're a nice bunch and there's loads of good natured piss taking, mostly of Dr Bell given his advanced years. The female guard is good value although asking people to keep noise down when you're 10 minutes out of Kings Cross seemed a little pointless.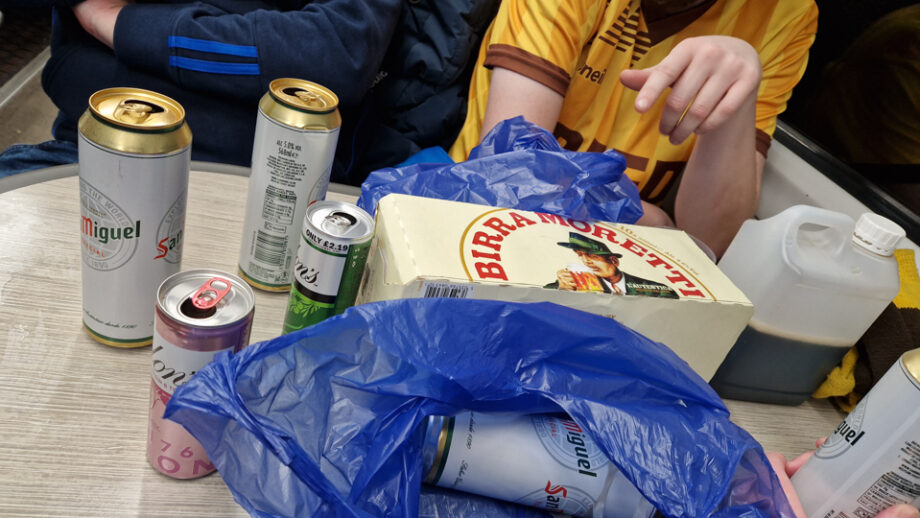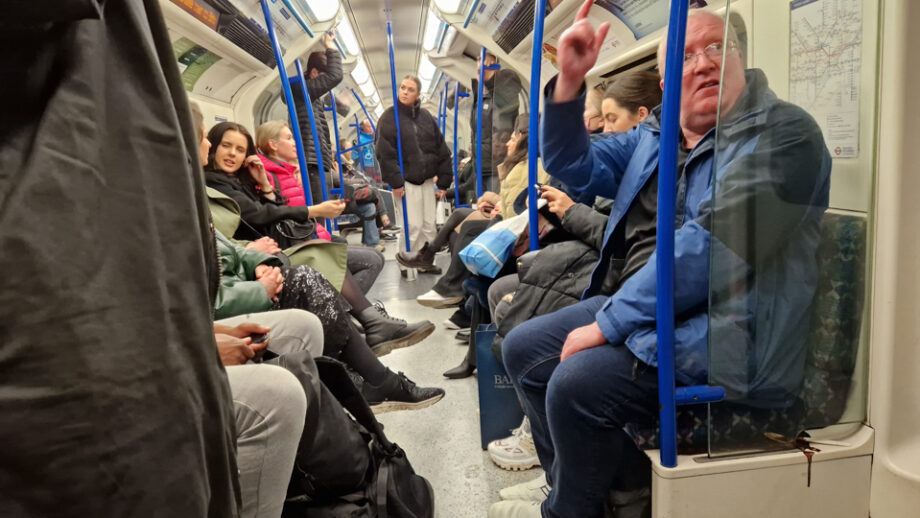 Pulling in at the extremely early hour (for us!) of 9pm for an awayday, we bid farewell to the Reading mob and head for the Underground. Our reasoning being that getting back from Vic will be quicker and there's a Burger King there for a rather peckish Mr X and myself to get some much needed stodge. So we pile on the tube and it oddly takes a lot longer than normal. So much so that when we emerge onto the concourse at Vic, the Sutton lot only have several minutes to grab their train and much to Mr X's horror the old BK outlet right by the platforms has closed! A quick look round reveals the new spot by the Kent bound platforms and with no hope of doing both, he trudges off sadly with the gang, belly rumbling. I wave them goodbye as with no access to Carshalton today, I'm heading back to East Croydon and more importantly, I'm definitely going to get some grub!!
I'm soon on the train and have my face in a double whopper which I elect not to send a picture of to the man of mystery, mainly as I'm far to hungry for Whatsapp related banter at this point. I've no doubt he appreciated my being so considerate, even though he knows nothing of it. Face fed, I'm soon waddling my fat arse up the slope at Croydon and to the bus stop for my final ride back to HQ. Stumbling in the door 20 minutes later just after 10, a startled Mrs Taz in the middle of brushing her teeth for bed is there to greet me. "What time do you call this then?" she asks glancing at the clock, no doubt utterly stunned I've arrived home about 3 to 4 hours earlier than normal from an away game and that I'm not waking her up from her beauty sleep for a change. Right, pint of water and bed methinks. That half 5 start has made me a tired little Hector and no mistake.
Ah bollocks, we never did find out what the thing about the unicycle was.
Taz