In recent years there's been some unusual pairings for the U's as we've slowly made our way through the ranks, playing sides and visiting grounds we'd never really thought would be possible outside of something like the FA Cup. For me, one of the those was meeting Oldham Athletic. Never did I think I'd get to witness the U's playing at Boundary Park, let alone in the Football League and with the Latics staring down the barrel of heading into the National League.
It's a ground I know pretty well, as my folks are from up this way with my old man from Oldham specifically. So every Xmas, we'd load up on the train or the car and spend several hours hiking up to the North West to visit all the relatives over the festive season. This means I've seen a few contests at the ground famously nicknamed 'Ice Station Zebra' by opposing sides for it's less than welcoming climate in the winter. A founder member of the Premier League and having reached Wembley a couple of times in the early '90's, times are now hard for the club and as is the way with many old FL sides these days, they're owned and run by a complete tool who's basically failed to learn the lesson of many before him that to make a small fortune out of football, you gotta start with a large one.
Of course, we've already tried to play this one before, getting as far as the pubs in Rochdale before we found out the game was off due to a waterlogged pitch back in early January. Naturally, with my family links up here, I was keen to get to the re-arranged fixture, so I and 4 Days decided to make the most of things and booked ourselves some train tickets up to spend the day on the booze beforehand. We then also added hotel and returns for the next day as we figured that even if Mr X was driving, we didn't really fancy spending 4 hours in car to get home at 2am after a gut full of beer. See, we're not total idiots.
So, I hop out of bed shortly before 9 and hit the shower, then stick some breakfast down my neck and bidding the good lady farewell, I'm out the door to post some stuff before heading to the bus stop and East Croydon. Here, the conundrum of how many layers of clothing are suitable for the trip is revealed. It's quite balmy out and after just the 30 yard walk to the post box I'm already sweating my knackers off. Yet, I am heading up North eventually and to a ground renowned for not being the warmest in the world. It's a difficult choice. So, I whip my jacket off, stuff it in the flag bag and with a 410 soon on the scene, I'm on my way. Well, sort of. Sadly, the poxy bus stops everywhere despite there being no one wanting to board and takes so long that it starts to look like I may have a mild panic on getting to Euston in time. Thankfully, the last part of the trip is swift enough the get me onto a platform and on a train to Victoria with enough time to spare.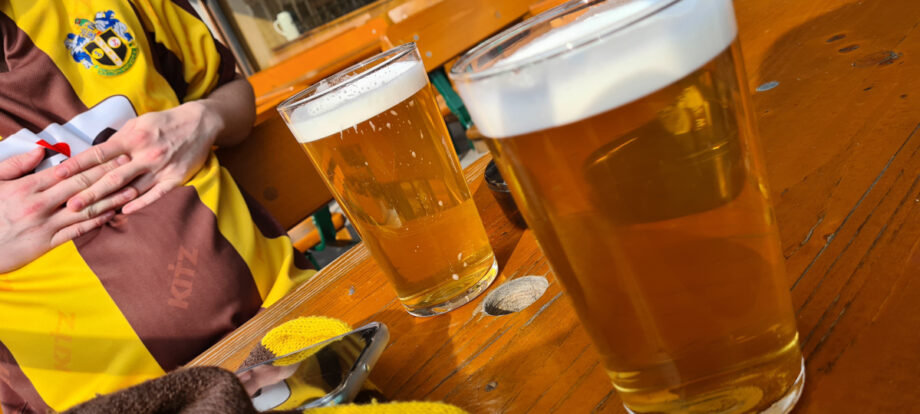 On the train, I walk down the carriages to put me as close to the front as possible. It's busy, so I plonk my luggage down by the doors to stand for the duration of the trip. However, I immediately have some lass freaking out on me asking me to stand somewhere else. She's masked up, so I guess she still has the old Covid heebie jeebies. Thing is, I'm masked up too, so I'm not quite sure what the issue is? Still, I pick up my shit and move down more to avoid a scene. Annoyingly, as soon as I do, I see through the carriage doors that she then moves herself into the much busier seated area. Some people. The trip to London is simple and as I go to alight at Victoria, my gaze is drawn to a the back of a jacket worn by a lass in front of me. It's a Tommy Hilfiger number, this I can tell by the large 'HILFIGER' lettering on the back. What makes my eyes itch however is the fact that the letters are placed in a 3-2-3 formation, with the 'FI' set off to the left rather than central as you'd have expected. Probably a couple of hundred quids worth too that. Madness.
A warm sweaty tube ride later, I'm back in the familiar surrounds of Euston station and having bagged a drink and a bacon roll from Sainos, I head into the concourse to find what platform I require. As I wait and think about removing my track top as I'm still far too warm, 4 Days appears striding across the concourse resplendent in his wales bobble hat. The lad's head must be fucking roasting! A morning cuppa obtained, I catch him up and we board the train whilst some poor bloke is being refused access as his ticket doesn't show what service he's booked on. We board and having narrowly avoided dumping my scalding hot tea over my gentleman's parts thanks to a buggered table, we're off and on our way to Manchester.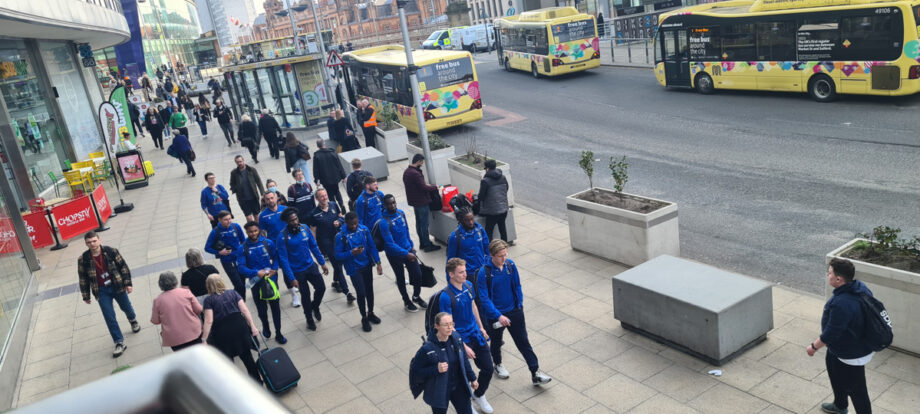 The trip up North is uneventful and we mainly spend the time looking up all sorts of current highly paid National League forwards and their really quite underwhelming goal scoring records as well as working out where Adam May is playing now. Seems to be doing well at Cambridge, so good luck to the fella. We're on time and jumping off at Piccadilly around half one and with only one thing on our minds. Pint. So we head to the Piccadilly Tap, order up a couple of pints of Marble and head to their roof terrace to sup, enjoy the rare Manchester sunshine and watch the world go by. Here, we have a choice, do these beers and then hit the tram for the trundle to Oldham, or have a couple and wait for Keepo and Fish the Cabbie who are on the train after us to catch up and join the party. We decide that as it's a nice day and we have booze, we'll stay put for now.
We just get our third round in when the other lads appear and join us up on the terrace. Here we catch up over a pint and discover a little snippet from the Wigan trip where Keepo had got up in the middle of the night to go to the khazi and forgot to lift the seat up, meaning some mopping up had to be done. Stupid boy! Anyone would think you were pissed as you'd been out drinking until 2am! Oh wait. Soon after, AB and Chairman Bruce wander past, shortly followed by the team heading for lunch and pre-match debrief. "It's alright lads, we've cleared it with the chairman, you've got time for a quick half!" I call down as they stroll past. Beers drained, we elect to hit our hotels and drop gear as they're both by Oxford Road station and bag a cab from there to Oldham for the next boozer. Admin sorted, we bag a black cab outside the station as getting a fellow licence holder like Fish in an Uber is unlikely to go down too well. Sadly, the one we've chosen appears to be somewhat on it's last legs, struggling along and is barely able to make it up a couple of hills along the way. Now, don't get me wrong, we're all not exactly what you'd call Weightwatchers top trumps, but this is taking the piss. Eventually though, our knackered chariot wheezes to a halt outside the Fox & Pine pub in Oldham where I half expect the arse to drop out of it and all the doors to fall off.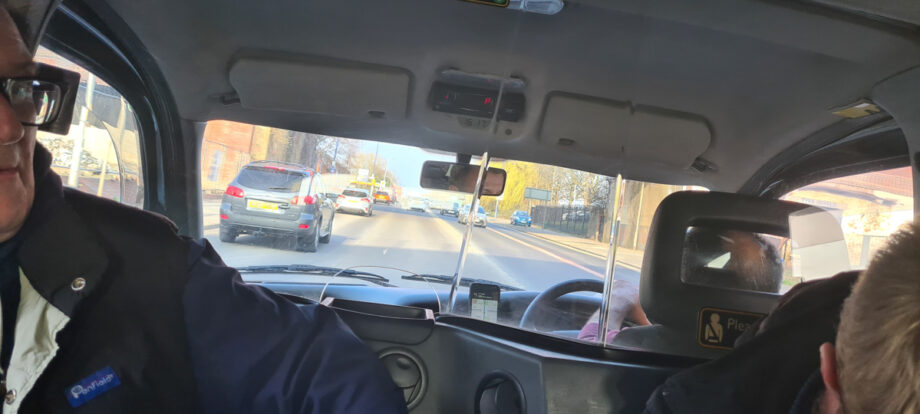 Paid up and on the pavement, I consult our resident expert on the matter and he confirms that the standards of the wagons up here isn't what it is back home, with many of the old London rigs winding up in places like Manchester and Liverpool with Moon-like mileages on them. You'd never notice!! The boozer has been chosen as it's where 4 Days basically spent several hours on that aborted trip in January, as having overslept and missed the train up, he was behind us and went straight to Oldham on the tram whilst we headed to Rochdale. And if he spends 7 hours in a pub and doesn't move, you know it's going to at least have a decent selection of neck oil on offer. We park up and get some beers on the go and get talking to a couple of locals, one lad even offers to buy us all a beer, twice! We politely decline though as we're in a round. Graham's a Chadderton FC fan and is off to their game against Bacup tonight. Little do I know that technically, later on, I would sort of be 'joining' him there! But more of that later.
We chat with the landlady too, as she's sponsoring the match tonight and we also find out from Keepo another Wigan snippet, with Fish's reaction to the winning penalty save that took us to Wembley being him lamenting the Crawley game on the 2nd would now be off!! Each to their own I suppose, we all react differently when faced with strange and unusual circumstances after all. We're soon joined by the reduced car crew of Mr X and Magnum and following some more chatter time is now against us and we have to make tracks to the ground. Before we leave, we make sure Graham gets a pint from us to reward his earlier kindness. Keepo and Fish cab it, although it has to be an Uber, so no doubt Keepo had to go full on Mr T with Fish and distract him before knocking him out to get him in the thing. We head round the corner to the local Sainsbury's for a lift with Mr X and as we drive to the ground, Absolute 90's serenades us with some local folk music. O'Asis, Irish band I think…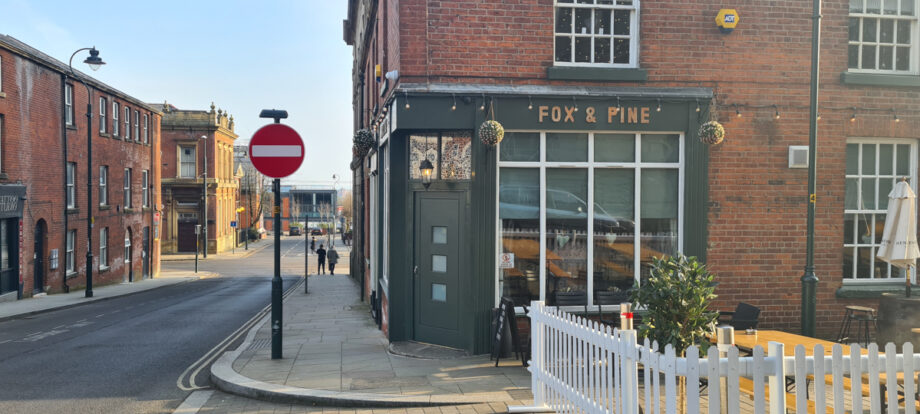 Parked up at the hospital opposite the ground, we head in and for me it's all really a bit strange. Not only the fact we're here in a league game, but also that we'll be sitting in the Chadderton Road stand, the old 'Chaddy End' that when I paid the odd visit up here to see a game years ago was the home end. I push the nostalgia to one side and head down under the stand to get the flag admin sorted and also a pie in my face, as I've only had a pack of crisps since this morning and I'm properly Hank Marvin. With all that taken care of, I finally fill a hole with a steak pie just in time for kick off. The line up is a little mixed again tonight, not helped by the club twitter broadcasting a line up with no less than 3 errors in it! Still, Enzio at full back is certainly an interesting one.
Bouzanis, Boldewijn, Wyatt, Rowe, Goodliffe, Lovatt, Ajiboye, Davis, Bugiel, Bennett, Korboa. SUBS: House, Nelson, Beautyman, Dundas, Kouassi
Roared on from the off by the home fans at the far end, the hosts start bright and go looking for an early goal. However, despite a couple of half decent bits of play, a header comfortably over the bar is about the best they can manage and former Oldham man Bouzanis in our goal is untroubled. Having weathered the initial flurry, the lads slowly edge into the game and with 20 gone, we get ahead. Ben Wyatt lobs one in from the touchline, Omar wins the header near post, it drops, Ritchie has a swing and as the defender back post goes to clear, he belts it against Ricky Korboa and the ball ricochets back into the far corner of the net. It's a an utterly garbage goal to be honest and one of those you see all too commonly conceded by sides who are properly in the shit. Still, we're not fussy and we'll take what we can get when we can get it quite honestly.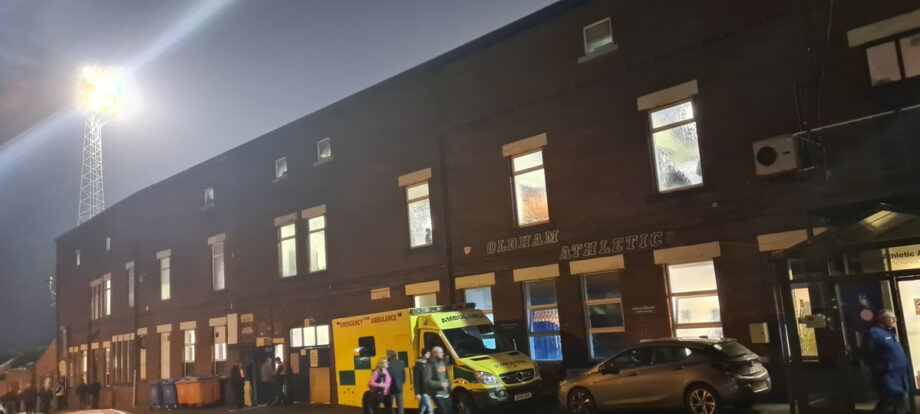 The goal, somewhat understandably, knocks the hosts confidence and from her on, we largely run the show. We really should add to our lead as well, but Dave is denied by a great tackle, Goodliffe heads wide when well placed and then not long after, hooks an overhead kick just over the bar from 8 yards out. We also should have at least one penalty awarded, the worst of the bunch being the ball clearly striking the outstretched arm of a defender with no one around him. Quite how the ref and also the lino just a few yards away don't see it is beyond me. Still, we're ahead at the break and that my friends is all that matters. Right, pie? Pie. The restart sees Oldham again trying to start brightly and fight their way back into the game, but they're floored by an early kick in the proverbials when a set piece of theirs breaks down, drops to Kenny on 18 and he carries it a few yards before sending a perfect pass up the middle for Korboa to race onto and fire back across the keeper into the corer to make it 2-0. That should be that, but of course this a Sutton United, so charity is a big thing with us and we give the hosts hope soon after when Deano comes out, concedes a throw in and with people still getting back, a looping shot over him hits the crossbar.
It's a brief flicker though and after Kenny departs for Beautyman on the hour, local lad Bennett stings the keeper's hands from 12 yards, with him also making a decent stop with his legs to deny Korboa on the rebound. Bennett has a decent sighter soon after too but gets his feet in a muddle and shanks his shot well wide. The game is all but settled though with less than 15 to go when Dave darts onto a nice through ball and having done his man is pulled back in the box, the ref pointing to the spot to award a much softer peno than we should have had earlier. There's no romance here as Ricky doesn't get to complete his hat trick, Harry stepping up to send the keeper the wrong way and make it 3-0. There's a glimmer of hope for Latics soon after when a decent ball in from the flank is nutted in by Sutton. Will Sutton that is, not United. It's just that however, a glimmer and apart from Deano having to save one with his legs. there's never really any danger of the points being surrendered.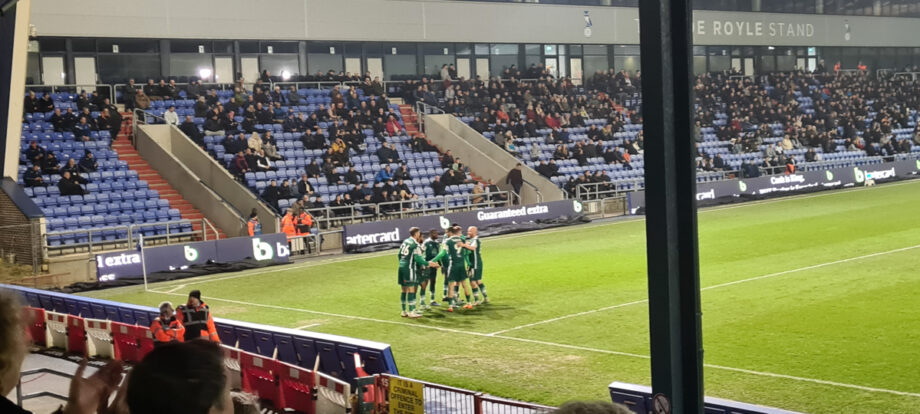 Full time and the 60-odd U's fans here tonight applaud the lads off before we pack up our stuff and head out into the night. The win sticks us back in the play off hunt, but you have to fear for Oldham. They look in big trouble. Some bound for the M6, others for the nearby Premier Inn for the night and the rest, us in other words, rustle up a sherbert to get us back into Manchester. Another Uber it is and having once more rendered Fish unconscious to get him aboard, we set off for the bright lights and a pub 4 Days has had a tip on that does a late drink midweek. Along the way, we pass Chadderton's Andrew Street ground, where it looks like their cup game has gone to pens. For a laugh, I decide to see if I can check in with Futbology as we pass. The answer is yes! So yeah, like I said earlier, I joined our mate Graham there. No doubt the check in will get me in trouble with the groundhopping police and I fully expect to have a couple of lads in kagouls and bobble hats knocking on my door at HQ shortly.
Back in town we tip out at the Smithfields Social. It's a bit posh, but it's open, does a decent selection and isn't too busy. Here we settle in for a couple of scoops to celebrate the 3 points and generally just chat shite. Before long, they're looking to close up and as we go to sup up, Fish inexplicably lets his almost empty pint glass slip and it smashes on the floor. Ah. We offer to clean up, but the guvnor's fine about it and insists we're ok. The lass who actually has to clean it up though? Yeah, unimpressed. Never has the phrase "Drink up, we're going" been more appropriate. We pop out and find that the bar right next door is still open and ticking nicely. "One for the road?" offers Keepo. No one's arguing.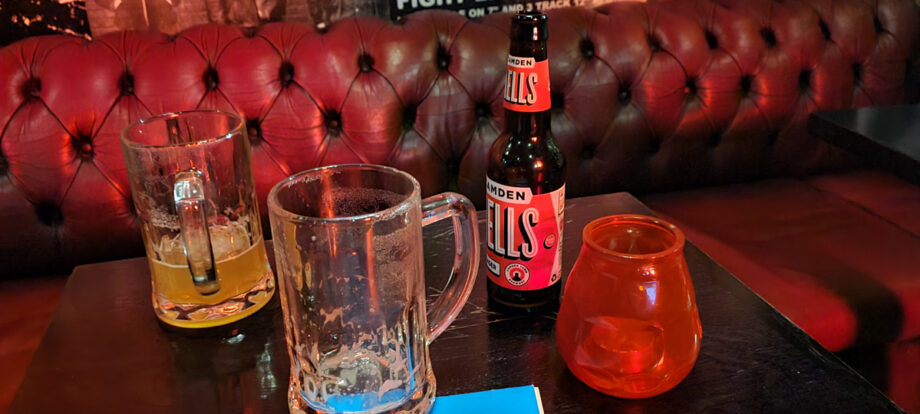 Naturally, one turns into four and we end up chatting to a couple of lads who'd walked in with some musical gear. One of them it turns out is from Streatham and there ensues a weird conversation about the Streatham Redskins ice hockey team. By now, we're firmly past one AM and having set out not to have a repeat of Wigan post match, we've basically ended up with exactly that. Right, kebab? We plot a course to one on the way back to our hotel and grab some stodge to help soak up the larger than planned intake. In the gaff is a lass also on her way home from a night out. Having ordered, she realises she's done all her spends and asks for some change to pay for her scoff. Ever the gent, 4 Days asks how much it is and then simply taps his card to cover her. "Pay it forward love" is his parting comment as we head back out to get our tired drunk arses into bed.
My alarm wakes me around 9 the next morning and I don't feel particularly shocking at all, which is quite the surprise. Showered, I hit up the breakfast bar, stuff a large quantity of bacon and toast into my fizzog and then return to my room to crash back into my pit for another hour to digest it all. We don't have to be out until 12 and our train is a 5 to, so more kip is definitely required. Eventually though, it's time to go. Shit packed, we head for the station through another warm day and with a quick stop for Ribena and nibbles, we spot Keepo on the platform. The lads have bagged a table in the un-reserved carriage and we join them to stretch out for the journey home. Sadly this isn't as straightforward as we'd like and after a very stop start trip, we pull into Crewe 20 odd minutes late and with an announcement that we're broken and will be getting tipped out here. Marvellous.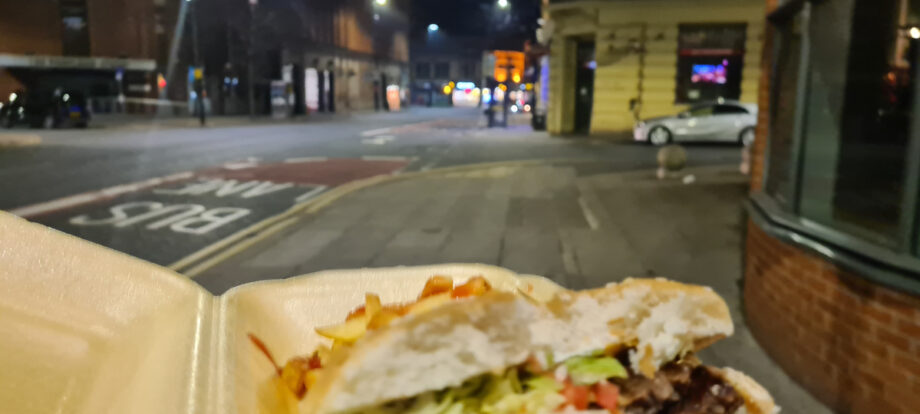 An aborted attempt to catch the next one later, as it's far too busy and given what we're paying Avanti this season for these trips, fuck standing for 90 minutes back to Euston. The next one has more space and most importantly seats. This train at least keeps going all the way to London and we eventually roll in an hour after we were originally supposed to. A quick changeover to the Underground and before too long we're back at Vic and waving off Fish before jumping on a train back to Sutton. I hop off at Carshalton with 4 Days leaving Keepo to head back to Sutton and the Welsh one leaves to go straight into a shift at the Hope while I hitch up my britches and make the walk back to HQ in the Sunshine.
Next stop, Port Vale.
Taz