With the last couple of games ending in defeat thanks to having more casualties than, well, a series of Casualty, we've gone from 3rd place and being firmly in the hunt for another insane and all round confusing promotion to sitting 8th, just outside the play off spots. Nothing we can do of course, just the nature of the beast and a relatively small squad compared to our peers. Still, it would ne nice if we could finish the campaign strong. So, anyone know any witchdoctors?
As mentioned in Tuesday's blog from the Swindon game, the Pizza Cup final tickets for Wembley went on sale late this week and the response has been pretty decent. With a first allocation of just under 15k, the initial pre-sale for us Season ticket holders racked up around four and a half thousand, with the open sale the following day soon matching that by Friday morning. By the end of play that day, we were past the 10k mark. Not bad, not bad at all!! I personally had said beforehand that getting about 12 thousand would be a good effort, so it's looking good so far.
With the season now in the home straight, our entertainment secretary (Magnum PI) was quick to remind us that we had not yet enjoyed our annual ponce up with a pre-match lunch at GGL. So of course, we advised him to pick a couple of dates to choose from so he could then book it and leave us the fuck alone with his badgering about it. In the end, we plumped for Tranmere at home and he made the booking. Eventually. There's a whole other story there regarding the palaver he had to go through to get us the date we'd chosen, but I'll not bore you with the details here. It's even less interesting than what we normally spout, so best give it a swerve lest you actually do drop off reading this shite.
So, with an important social appointment such as Pre-match nosh, I had to largely give up my usual home game Saturday morning lie in and was up earlier than normal, much to Mrs Taz's surprise. Having breakfasted and with time still on my side, I turn my attention briefly to the Oldham game on Tuesday evening. Namely, what to do afterwards. Now, 4 Days and I are on the train up for lunchtime so we can get the beers in, but afterwards was a little undecided. Our usual lift home in Mr X was 50/50 as he himself was undecided on whether to drive or take some time off and follow our example, so with not many other choices, with the Wednesday already booked off, we decided to crash in Manc and train it back the following day. And as 4 Days had done the trains up, this was now down to me.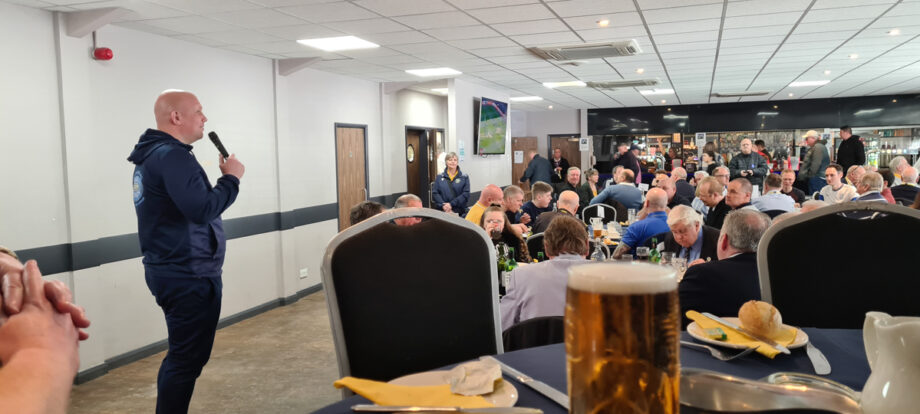 A quick shufty at the interwebs and I've bagged us a twin in a central Manc Premier Inn (these lads need some sort of a reward program with the stays we're doing this season!) for less than a bullseye between us and transport home shortly before noon. Job done. Right, best get my skates on. The knife and forker down the club awaits. So with a quick peck on the cheek for her ladyship, I'm out into the lovely spring sunshine a few minutes before a bus is due, so I bang on my headphones and walk down to the Green to catch it there. On the way, I listen to the final version of Sleepy Joe's Pizza Cup final song 'From West Sutton to Wembley'. It's very good, with some suitably PRoWS lyrics. Should be on Bandcamp Monday I hear! Watch out for us plugging the shit out of it on the socials.
An X26 rocks up, so I hop on that to enjoy the much quicker trip into Sutton. Off at the Post Office, I cut through past the architectural delight that is the Civic Centre and head for GGL, as with luncheon calling, there's no need for a trip to Greggs this afternoon. Despite only having a jacket on, he walk down is a little warmer than I'd have liked and by the time I wander up the driveway, I'm starting to get a little on the moist side. I greet Frakey on my way in and instantly stumble on one of the speedhumps along the way. The guardian of the car park chuckles at my misfortune. "Would have thought with all the years you've been coming, you'd have known that was there!". Yeah, cheers for the concern mate. In the busy MBA, I find Dr Bell already in supping a pint of shit lager. Hitting the bar, the good doctor realises he should be polite and steps in to offer me a beer. I'm not one to say no of course.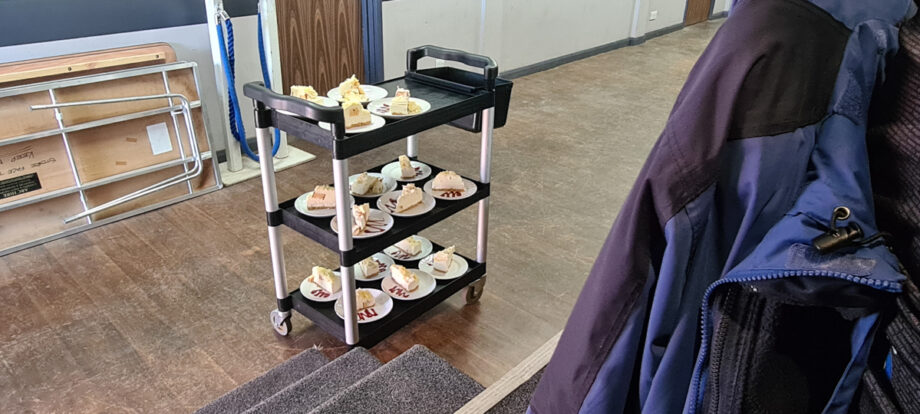 Before long, Magnum is in from his own duties outside and Greek has arrived. Robbo isn't far behind and then Paul appears. Before long, Bruce is shooing everyone to tables so we can get this show on the road. In the house today are ex-U's Tony Rains and Vernon Pratt, as well as one of the EFL's top bods, who's no doubt in to check on our progress with the ground and getting those 1000 seats in. I know who we're more interested in, that's for sure. We scoff up and then Matt appears to do his usual little meet & greet. This is handy as it means he'll be telling us the team and this will guarantee a full house on my line up prediction on FanHub. It's not much, but hey ho. The news is at least better than Tuesday, with 3 faces back in today including Easty and Deano. There's still no Ali Smith and Rob Milsom though. It'll have to do in the circumstances. One oddity though is Matt including both House and Nelson on the bench. Two keepers? Clearly someone's been pinging 'em in at training this week!
Magnum and Greek set about picking some nags and football for bets that probably won't win, whilst Belly heads out between courses to bag us some tickets for next weeks's schlep up to Port Vale. Next up is the standard raffle, which for some reason, we've been completely missed out from being sold any tickets. Fix? Ah whatever, I'm more amazed by the fact that the draw is being done by app on a phone. Bit high tech for us innit? Bruce isn't amused when he finds out that ticket sales have been lost though. "You're sacked Radish!" is all he has to say on the matter. Another surprise is the fact that our esteemed Chairman fails to dig us out over lunch. "Just being nice as the EFL lads are in?" enquires Magnum. "Just ran out of time!" smiles Bruce before returning to the throng. We settle in for a few more pints before the off and are soon joined by Indy for some ales. There's also a collection being done for Nate Gidman, the son of a Tranmere fan who sadly passed away recently from a brain tumour. Having followed his story online for a while, I happily lob a few quid into the pot as do all the lads. Sometimes there's shit bigger than football.
Bouzanis, Kizzi, Wyatt, Rowe, Goodliffe, Eastmond, Ajiboye, Lovatt, Bugiel, Bennett, Boldewijn. Subs Nelson, House, Dundas, Kouassi, Korboa, Davis
Out on the Curva, whilst the sun remains bright and the skies blue, there's a stiff breeze blowing in from the Rec end and we all know it'll get a bit Baltic later on because of it. Also, it means that there's again going to be an issue defending that end for at least one half. The toss is lost and they elect to defend it first half, here's hoping that we can make the most of it. The lads make the most of the wind and get stuck in from the off. Early on, Enzio meets a cross to the back stick with a diving header, but the keeper gets down and claws it out on the line despite our appeals that it had crossed the line. Enzio has another go soon after whipping a shot wide from range before he swings in a corner from in front of us and Goodliffe meets it with a glance of his nut and the ball finds it's way in off the far post. Lovely stuff!
We keep pressing, but can't quite make the most of the conditions. Omar has the best chance, but having raced clear of the defence, his touch is too heavy and the keeper smothers it. Dave fires a shot over and Joe can't hook in a corner that drops to him back stick and we head into the break ahead, but just. Bouzanis having to make a save right before the whistle as the oppo remind us they're still around. "Long second half coming up with that wind" I mutter as the sides head down the tunnel. Sadly, I'm not far wrong. From the restart, we're right where Tranmere were in that first 45, the wind pinning us in and they make the most of it, pressing hard and keeping us defending hard as we face a countless string of corners. As always, the lads dig in, roll up the sleeves and graft their bollocks off, defending hard and for a while, despite all the pressure we have to withstand, it looks like we might, just might, see this out.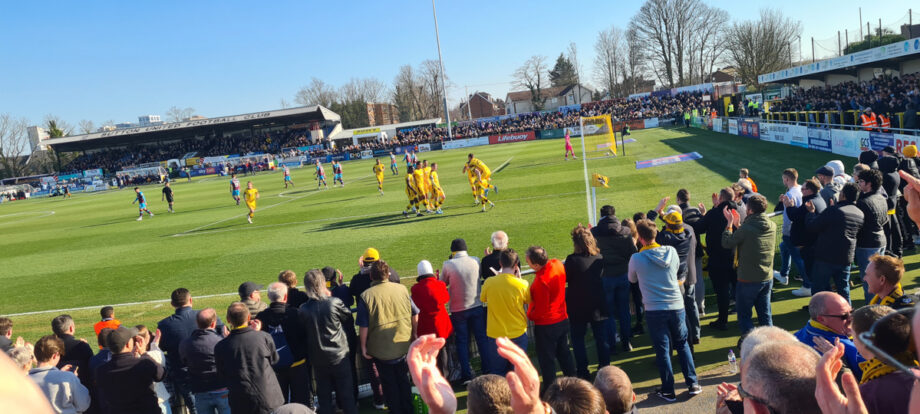 Sadly, we last until about 20 to go. We don't quite clear one set piece and before we can reset, the ball's whipped in back post where their lad has lost his marker to crack the ball first time past Bouzanis. Ah cock it. I think we might be in trouble here. Oddly though, the goal seems to give us that little kick we need and suddenly, we're a bit more calm and composed with the ball. We make a tweak to the line up, throwing on Korboa wide and moving Ajiboye up front and it's Dave who has two great chances to regain the lead. One where Omar robs deep in their half and tees him up in the box and firing over and another where he darts from deep, skips past the keeper but gets the ball caught under his feet and runs it out of play. At the other end, a similar situation wastes a chance for them and then right at the very death, a ball over the top top a clearly offside Tranmere attacker almost gifts them the win, but as per, Goodliffe's there with the last ditch tackle to preserve the point. We're down to 9th with that, but still in striking distance of the post season tea dance. That'll have to do lads. Keep going.
Efforts applauded, we head back to the bar and get some pints in. Burgers is in as well as Chairman Totts up from the dacha on the South Coast and there's general catching up done over beers. Mr X appears from a successful day in the megastore and with no Postal Orders to cash this week. News from the Wembley sales is good too, with us passing 11k this morning. Sweet! Hopefully we can get that 15k sold at the very least before the big day. With a couple down me post-match, it's time to get my arse home and knock up a bit of scoff for the good lady. Loffers and I wander round to West Sutton together and natter on the short trundle round to Sutton. She departs here and I continue on my way to the badlands. Off here, the next stop is Sainos for some essentials for dinner and then a walk home in that Baltic wind we'd expected earlier whilst in the sunshine. So I arrive back at HQ with a proper cold head and a sniffy nose. Still, dinner is top notch even if I do say so myself and so's the catch up on the new series of Ozark on that flickynet thing.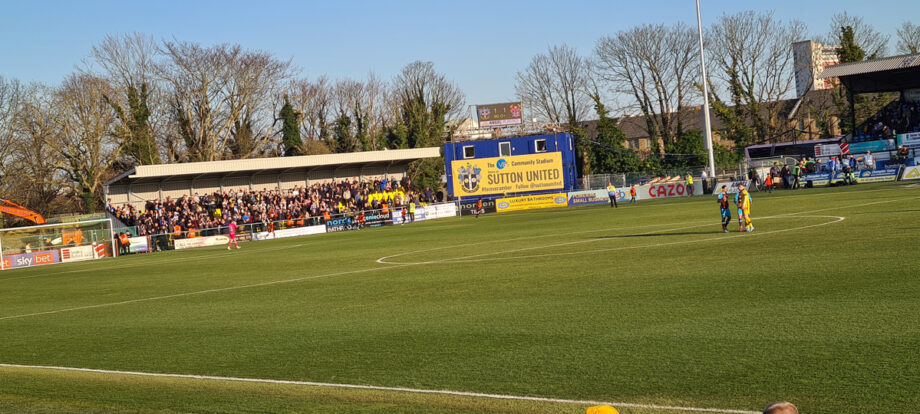 Onto Oldham Tuesday. Here's to more bodies back and 3 points. Oh and a few pints too of course…..
Taz