Following our rather less than successful first ever visit to the Bescot at the weekend and all sorts of other fast food based nonsense, we are once more on the road racking up the miles for the midweek fixtures, this time heading down to another new (for most of us anyway) ground in Swindon Town's County Ground. Which is nice. How many ex-PL grounds is that we've got to visit now this season? We've lost count.
Our hosts are doing ok at the moment and are one of the seemingly half a division currently queueing up like perverts in a ladies only gym for a sniff of the exercise bike seat of the Play-offs and perhaps even a tilt at one of the autos if they're really lucky. This is not particularly good news for us as with the injury issues we have, plus losing 3 more lads on Saturday to the treatment table, you have to wonder what sort of a side we'll even be able to put out tonight. Still, as we're idiots, we'll as per usual be travelling in hope of some sort of miracle to get us out of the shit.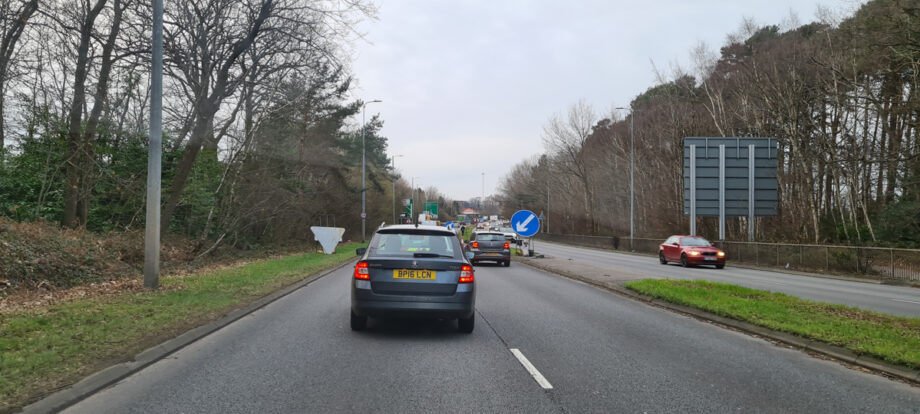 With games coming thick and fast, I'd not really given this one a great deal of thought and had put most of my energies into remembering to ensure I could get to, sleep at and get home from Wigan. As it is, work are being fannies so any hope of a half day is out the window, as is the likelihood of no lift home meaning a post match dash to the station to try and get a rattler back into London and slog from there. So with my usual route home of Mr X and his Mazda uncertain, I decided to make the most of being stuck working from home again currently, tell my boss I'm buggering off at 4 and drive myself. Annoyingly, all this serves to achieve is getting lumbered with both Greek and Magnum in the Tazmobile. Sakes.
A plan is hatched and shortly before 4 (sorry Boss, did I say I was finishing at 4? I sort of meant 4ish really) I've whipped round to Magnum's new top secret base of operations and with him on board, it's next stop Greek's acropolis in Carshalton. With a quick stop to juice up the motor and in turn be reduced to tears about just how much that costs currently, followed by delays caused by people doing their weekly shop in Wrythe Green fucking BP rather than a proper supermarket, I'm eventually outside my last pickup. "Outside mate!" I announce on a quick phone call. "Oh shit! Really? Er, be with you in a minute!" is not the response I wanted to hear from my Mediterranean monikered cargo.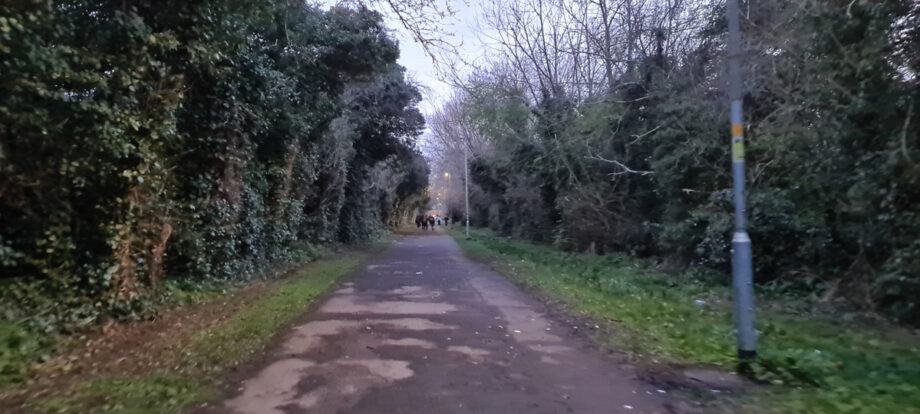 About an hour later, once he's stopped having a wank doing his hair, Greek finally appears and then proceeds to spend 5 minutes fighting with the seat belt for the front passenger seat. There's all sorts of curses coming from his side of the motor, mostly stuff about my car being "Made for little fucking Japanese people" and other such terrible things. Whatever, I refuse to hang around any longer and get underway with him unsecured, whilst assuring him that if I do have an accident and he goes through the windscreen, he's definitely paying to replace it. We scoot round Morden and join the A3 and finally we're on the road. It's a fairly clear run barring a small queue to get onto the 25 and the passengers largely amuse themselves by discussing the ongoing Cheltenham festival and how their respective gambling is going.
It seems Greek has a few fingers in a few pies, although he's not sure which finger is in what exactly as we get a rambling mainly one sided conversation about how he's won 75 quid unexpectedly, or at least thinks so, then realises he hasn't won 75 quid unexpectedly and then oh wait yes, he has actually won 75 quid unexpectedly, but not from where he initially thought and doesn't understand how. Anyway, the general gist appears he's up on the day, so decides to celebrate by chucking some cash on a reverse for the last race at 5.30. With his choice made, this inspires Magnum and he picks the favourite in the same one, using a 5 quid free bet from his bookies. Naturally, after much cursing from the Greek, his 2 choices come 2nd and 3rd, costing him a possible 60 quid pay out whilst Magnum's safe choice walks it and earns him less than he wagered in the first place. This of course goes down a storm with Mr Souvlaki.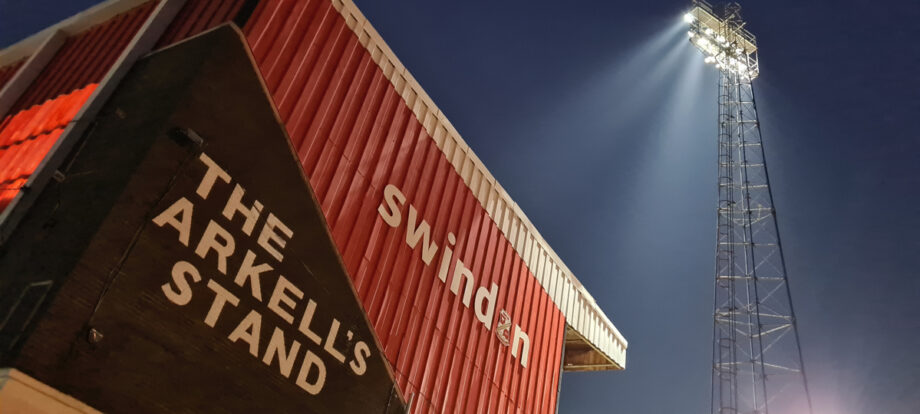 With no issues along the way and my state of the art Sat Nav indicating we were due into Swindon just after 6, we forego any stops and just keep on the road. Eventually, we swing into the road where a local school is offering matchday parking and I whip out a fiver to cover the damage. "You took your fucking time!" calls out Mr X in between puffs of his vape as we pull in. The Taz mobile responds with various rude hand signals before I get us parked up and join the Mazda gang for the stroll to the ground. Mr X has Nat and Chalmers with him tonight, the latter collected from some layby near Leatherhead apparently. An arrangement I have little interest in hearing more about quite frankly. Fucking wrong'uns.
We head down the path next to the car park and cut through to the ground. Arriving in sight of the floodlights lighting up the early evening sky, we decide we can't be arsed to go looking for a pub and instead head to sort out tickets, which I, PC and Magnum have still to purchase. This begins a small saga where trying to work out where these get bought from and the fact that not one fucking person we speak to, steward or otherwise, seems to know where either. Comforting. In the end, we just head into the club shop and finally get some fortune. As we sort out our briefs, Mr X stands around looking on enviously at the floor space available to Swindon's megastore as well as the sheer range of tat they have on offer. One day mate, one day. With tickets sorted, we head towards the away end and its here we get the team news. Well, when I say 'news' I actually mean 'X rated Snuff movie'. It's not good is what I'm trying to say. Not good at all.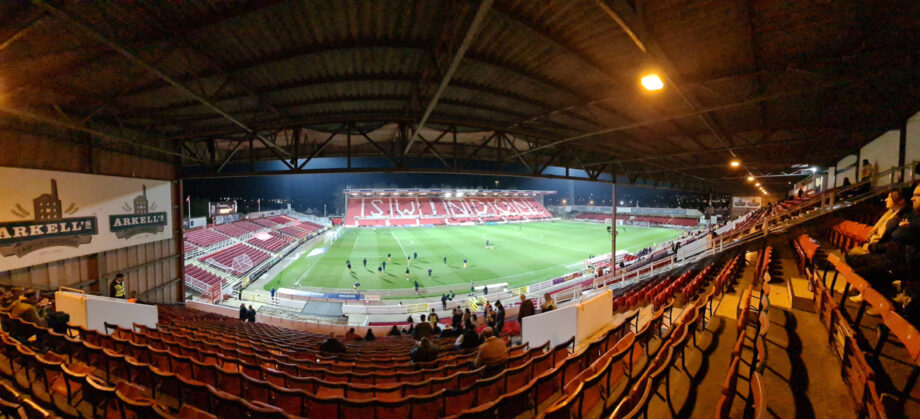 It seems that from the already pretty difficult situation before Saturday's game, it's got even worse since. As in "Fuck me did someone drive a Transit van through a training session or what?" worse. Bouzanis fails to recover, there's no Easty, no Milsom, no Davis, no…well, anyone basically. We're so down to the bare bones that Adam Lovatt is recalled from his loan at Tonbridge and goes straight into the side for his FL debut. Quite who the hell is playing alongside him we're not entirely sure. Still, I'm sure it'll make a lovely surprise! Given the sparse bench, the question "Why didn't we just fake another and get it called off" is of course vocalised. And I guess the answer is, we're not arseholes. Unlike a couple of other sides we could mention who failed to play for about a month around Xmas.
Nelson, Wyatt, Kizzi, Goodliffe, Rowe, Ajiboye, Randall, Bugiel, Lovatt, Bennett, Boldewijn SUBS: House, Korboa, Dundas, Kouassi
We hit the little away bar under the stand, but as I'm driving I decide I can't be arsed and having used the khazis, decide to head in, get the flag sorted and obtain some form of food to fill a hole. Fortunately, the expected faffing flag wise fails to materialise and without too much trouble it's up and I'm back getting a pie in no time at all. As I scoff, I chat to Jared up from Wales for this one and the chit chat invariably turns to the line up and who's playing where. Most of which just elicits a few more "Fuck knows". Guess we'll find out shortly. Back in the stand, the section fills out and as the teams come out, 4 Days appears from his afternoon on the beers in town and he's not happy. Seems some geezer had made some comment about "Bringing birds to football" when he'd arrived with Sal. Which is both sad as shit and also slightly amusing, as she's probably done more games than him.
On the pitch, the hosts start bright and from the off they're trying to stretch the play as much as possible with their wide men hugging the touchlines and their midfield trying to get them involved whenever. However, the U's aren't in the mood to toss this one off and Swindon are faced with 2 solid banks of 4, with Omar now adding 'central midfielder' to his CV to go with central defender from the Newport game a few weeks back. They probe and poke, but by and large don't create a whole lot whilst we look fairly set. Annoyingly, after 15 minutes it's one of our own set pieces that causes the most problems. A corner from the near side is claimed by the keeper and he quickly launches the kick down field. A red shirt races after it and with Nelson caught in 2 minds, his decision to eventually come for the ball outside the box doesn't pan out and matey has ages of time to pick a spot past a desperate Goodliffe getting back and trying to cover the whole of an empty goal.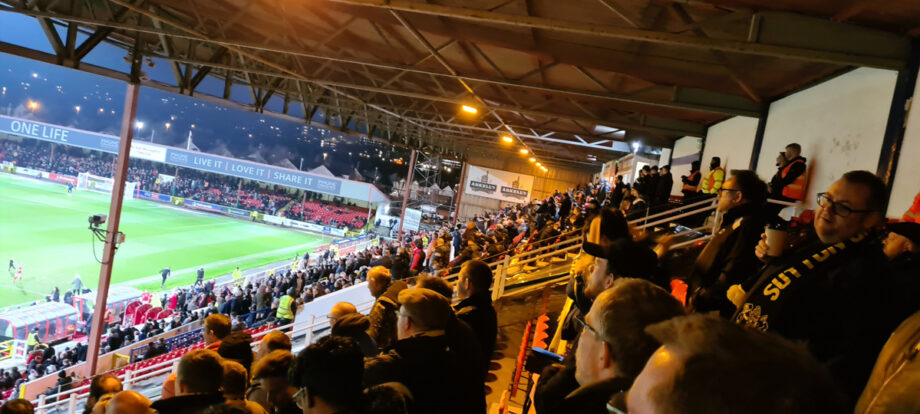 It's a soft goal and hilariously route one from a club that had been one of the many to complain about us being a big boot\direct side. Fucking hypocrites! There follows several minutes of pressure as they look to try & get get us done nice and early, but we manage to see this out with a couple of nervy moments and after that we slowly start to get a foot on the ball and keep it a bit more. This gives us some confidence and with the half hour mark appearing, we win a free kick a good 35 yards out towards the near touchline. Enzio swings it in and Joe Kizzi gets up back stick to nut it back across the keeper and into the far corner of the net. Shins, meet seats! It's a cracking response from the lads and suddenly we're the ones looking bright and causing problems. Bennett tries his luck from range on a freekick that clips the wall and has the keeper scrambling to claw it away from under the bar and Enzio robs a defender near the break and clips his low shot just wide of the post. So, level at the break. Don't think many were expecting that, especially after going behind!
The half time whistle is greeted by loud boos from the home fans, although this is directed at the ref rather than the team, as his slight erratic performance has started to irk some locals. And to be fair, there's a few of us not overly impressed with his performance to date either. After the restart, Swindon go back to their earlier tactic of spreading the play where possible, but it's the ref that gives them a leg up, ignoring a couple of fouls on Omar in their half, he eventually blows up and gives them the foul. As we complain, they take it quick, pinging it long down the far channel. It finds Williams wide and he immediately centres the ball for the lad on the opposite wing to nip in and finish from close range. I'll admit he looked a little off to me and the defence are convinced of the same, but too late. We're behind again.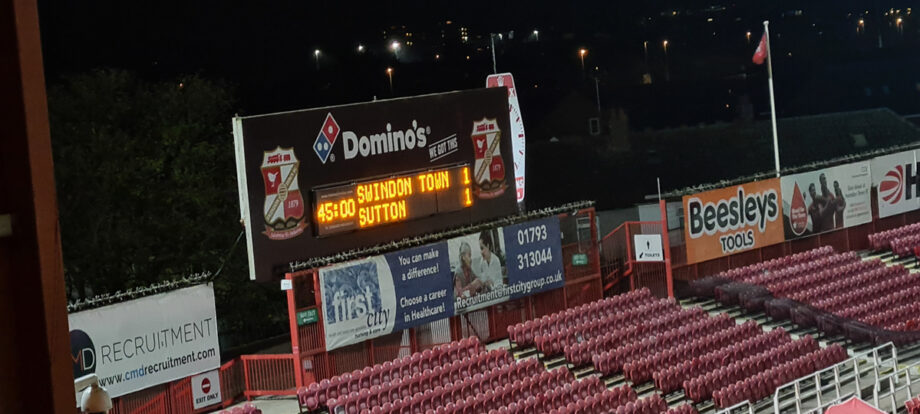 We stick to our task though and keep working, however as the ref gets increasingly more confused about proceedings and now has pretty much all of the 8000 odd in tonight either utterly perplexed or calling into question his parentage. This doesn't help our flow much and to be honest, the hosts dig in to defend and shithouse as is required in these situations. As it is, they make the best chances, Williams shooting wide and Nelson saving a low one across the box that is then cleared in the follow up. With time running out, Kouassi is on to replace Bennett so to add some pace and with 4 minutes of added time already underway, there's a big old shout for a pen for us when a corner drops in the box and Omar's hit seems to hit an outstretched arm. Sadly, nothing doing and almost to rub salt into the wound, they break quickly down the far side. The lad cuts in and tries to go round Nelson, who spreads himself well to claw the ball off his toe, then react to do the same to a following attacker. The lad pirouettes to the turf and to the home fans eternal delight, the ref shows him a second yellow for diving and sends him off.
Sadly the man advantage has come far too late and despite all that effort, we can't muster one more chance to try & earn a share of the spoils. So, brave failure it is then. Which given the side out tonight, is perfectly alright with us lads. The home support celebrates the win as it's a big boost to their drive to get back out of League 2. And it must be said, I can't overly begrudge 'em that, they've played some good stuff in both games and also tonight they've basically stuck to just supporting their side. None of this "Your support is fucking shit" #ladbrokelife top LAD banter garbage at all, which made a nice change. Some other clubs should try it out. The lads are rightfully applauded off for their sterling efforts despite the result and the travelling support cheers itself up with a chorus of 'Que sera sera' before dispersing into the night.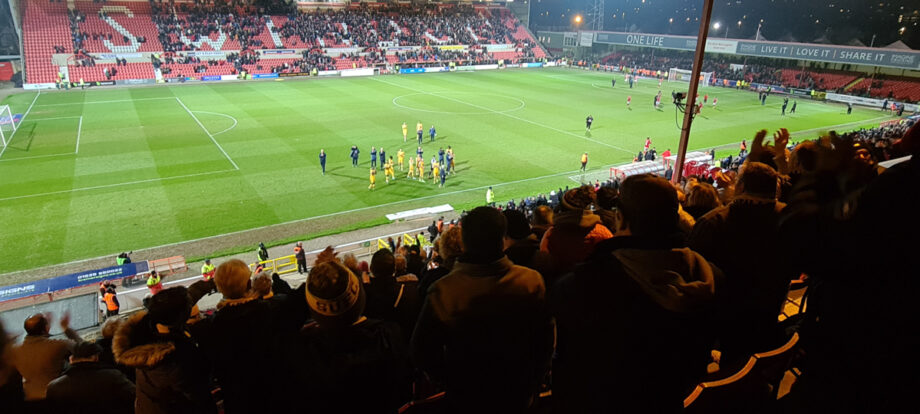 Outside, we gather up the troops and taking our lives in our hands, rely on Mr X and his geography degree to get us back to where the motors are parked. Still, our fears are unrealised and we're soon chucking shit into cars and edging out into the queue to get the hell out of here and back to civilisation. Before long, the M4's in sight and we settle in for the run back to the Republic. Greek & Magnum run through the events of the evening elsewhere, which entails us dropping out of the play off places for the first time in god knows how long and they also discuss the details of the Pizza Cup final tickets that are going on sale the following morning. It seems us ST holders get first dibs, so no doubt that'll be fun herding the usual cats on the top secret VIP only Whatsapp thingy tomorrow! We make good time on the run home and having chopped over to the M3 via Bracknell we're looking at a good 90 minute journey time. Top stuff.
Sadly though, as is the way with this midweek aways and driving, we're left cursing the highways mob as they've gone and fucking closed the exit to the M25 off the M3. Twats. So with the air in the car turning as blue as the motor itself, we carry on one more junction and end up winding our way back homewards via the distinctly non-league surroundings of Kingston. Yuck! I'll be needing a shower when I get in now. Eventually though, Sutton looms into view and shortly after I'm back outside Greek's gaff requesting Greek get the fuck out of my car before running Magnum home and eventually parking up outside HQ pretty much bang on midnight.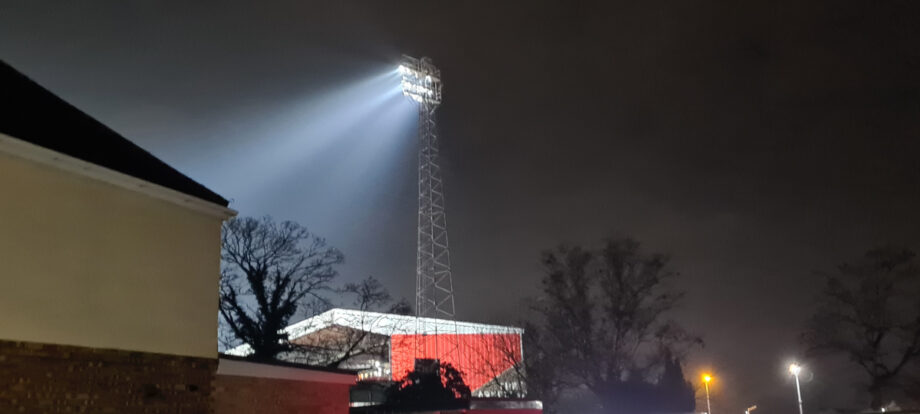 A casualty rate lower than a Russian mechanized brigade's by Saturday would be nice. Just saying.
Taz