It's back people. Or as the kids these days say, OMG. I'm also back once again to regale you with a tale that pretty much has nothing to do with the events mentioned and even less to do with the football that a mere few of us bore witness to, as once again, the finest cup competition to ever grace the County of Surrey is back down The Lane. So, strap yourselves in for another roller coaster ride that will have more twists and turns, or not, than a Lib Dem Sex Party on Carshalton Road.
There is no denying that things have been changing at a breakneck speed recently. The club has changed, life has changed & even the Duke has had to change. Begrudgingly mind you. And I don't mean my favourite Dr Pepper pants either! If I'm not at home looking after the bairn, feeding her with one hand as the other is trying to mop up some sort of projectile liquid that we can't quite work out which end it's come from, then it's the 196 other children I'm partially responsible for at school taking up my waking hours.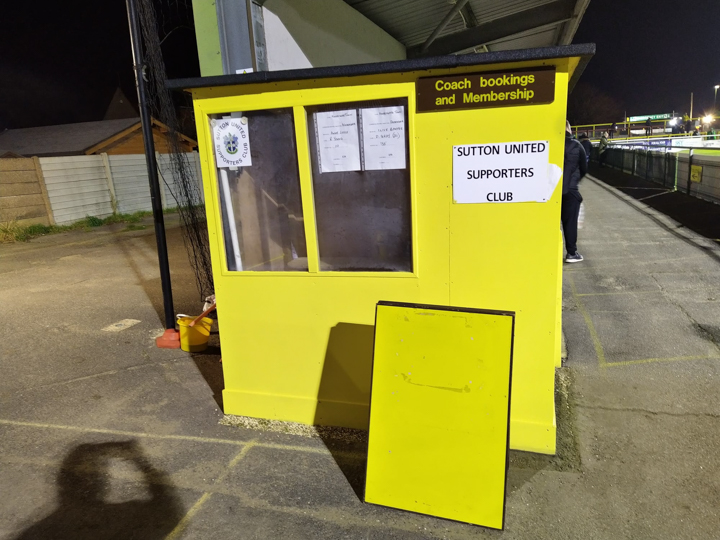 Plenty of stories to be told there, but for legal & safeguarding reasons (Ipswich Lee taught me that one) I most definitely could never go into detail with here. Let's just say that dealing with kids that were born during the 2009/10 season means that they have no idea what I'm on about when I mention anything Sutton related. Even when we're now big time. Bless them really. One child thought that when I said I supported the best club in London that I was referring to either Man Utd or Swansea! That's the future right there people. And let's not forget to mention the lil' Romanian lad who did not know who Antonescu Ceausescu Georghe Hagi was.
Anyway, I digress, and as it's currently four o'clock in the morning whilst I write, I need to remain focused on the job at hand of this blog and not fuckin' the next three hours of Elmo blasting out of the tv to soothe the little one. Trust me, there Is only so much "peek-a-boo, I see you", "wobble wobble wobble wobble, woo woo woo" & "If you're happy and you know it" any man can take. Well, unless you're fuckin' Robbo, then you've probably got the DVD.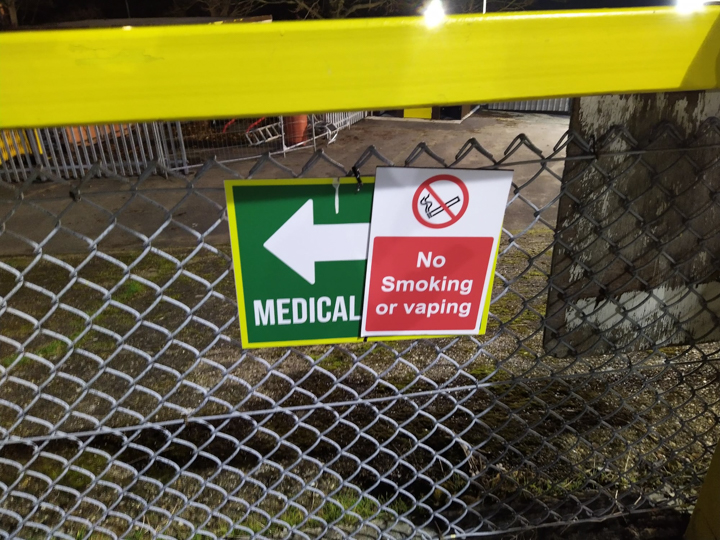 So, as I was saying, Surrey Senior Cup football is back once again on down The Lane. And thanks to the pandemic thing you might have heard about on the news, you have to go all the way back to November 2019 to find the last time this happened when a comfortable 3-0 Win over Horley Town saw Sutton safely through to the next round. We won't mention what happened in the following round away at Leatherhead however. Memories are still to raw for that. Still, at least we finally got to hear Totts fuckin' 70's disco dancing tale out of that disaster.
Our opponents for tonight's match were going to be some team called Sheerwater. And yes, I had to Google it on Yahoo to make sure it was where I thought it was. For the uneducated, it's about a half hour walk Northeast of Woking station and is where The Jam were formed. Little bit of cultural information for you there. See, we're not just pretty faces round here.
It's a big shame though this tie was not going to be away as it would've been a new ground to go to for pretty much all of us. The Clint Eastwood Leisure Centre might not sound all that great, and apparently we are about four years too late for the local pub, but it's still an opportunity to go to these places that you wouldn't normally ever get to visit with the mighty U's. Despite having watched this stuff for years, I still reckon most of the firm still have half of the county to see at some point thanks to the usual shit draws we get from SFA HQ.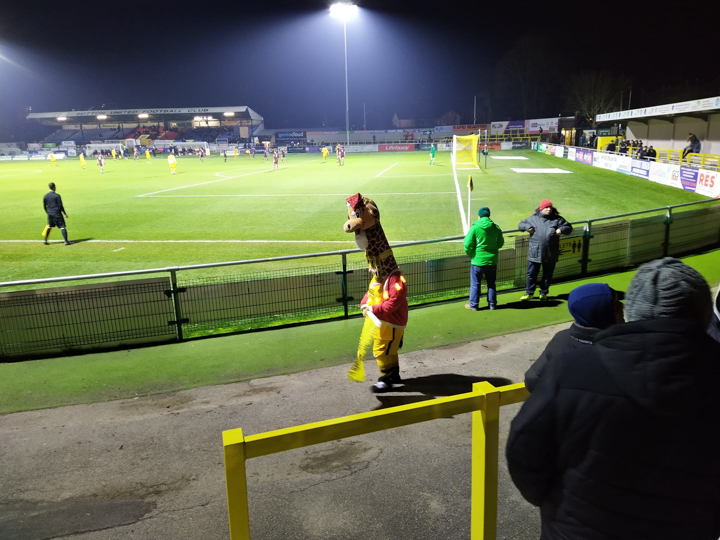 With hardly any of the usual boats going to this match (not even the Father Outlaw was making the short trip East with me for it) I was hoping to mosey on down in the motor, park up in the usual Gandermonium VIP spot and have a nice cuppa before kick off. Of course, that plan was out of the window as the Jam-Jar is currently up on bricks as there is some random problem with the horn as it doesn't want to work when my lights are on. Go figure. So instead, it's a slow casual walk down in the cold for yours truly.
I arrive at the ground with less than quarter of an hour to go until kick-off and already you could tell it wasn't going to be a well-supported event. No stewards to be seen anywhere and they were actually taking cash on the turnstiles. Talk about rolling back the years. Word was also about that the bar would be open and you could actually get a proper drink at halftime as well! Don't suppose any chance we're going full Isthmian Days and allowing fucking smoking in the ground tonight as well?
So with the news that the forthcoming trip back to Brizzle on Boxing Day now being up the swanney, this meant that some first team players were going to be given the chance to get some extra minutes under their belts. This also meant that all the guff that was said to me about "anyone on a EFL contract cannot play in the SSC" was absolute pony. Cheers whatever wanker came up with that. But then again, we were also told we weren't even fuckin' entering this competition this year and that was a load of bollocks too.
It is also remarked as I enter the ground that the next round has already been drawn and it's going to be K's away at Tolworth, which may be the last time we'll have to visit them there as it sounds like they're probably on the move again this summer. And if we were to get through this match, I would love us to put out a full team and give them what for, no doubt Birdy will be giving it the biggun when they end up doing over our academy side.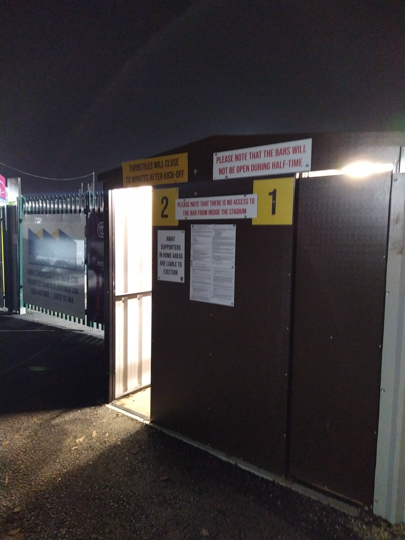 Chalupniczak, Matthews, Cole, Khinda, Dundas, Eastmond, Sho-Silva, Korboa, Boldewijn, Kizzi, Agwu. Bench Warmers: Manning, Mutale, Fisher, Fitzgerald, Soulya-Osekongo.
With a strange mix of faces I recognise and one I don't have a clue about; Sutton started the slower of the two sides as Sheerwater had plenty of possession inside the first ten minutes of the match but without really testing Schafernacker Chalupniczak in the Sutton goal. Only after this did the boys start to play some football and spread the ball wide to Enzio & Ricky on the wings.
Eventually Sutton did get on top and it was them that manage to create the spaces without the final ball in the back of the net as several times the cross into the box was at a perfect height but just wouldn't fall to a Sutton head or boot. Enzio was forced to go off with an injury early doors, so hopefully he's alright.
With Dundo trying to force the situation he is eventually brought down outside of the box after muscling his way past about three players. With two players standing over the ball, High Ho Sho-Silva wins out and lashes a ball that heads over the wall and into the top corner with so much vemon, even Spiderman wouldn't have been able to stop it. 1-0!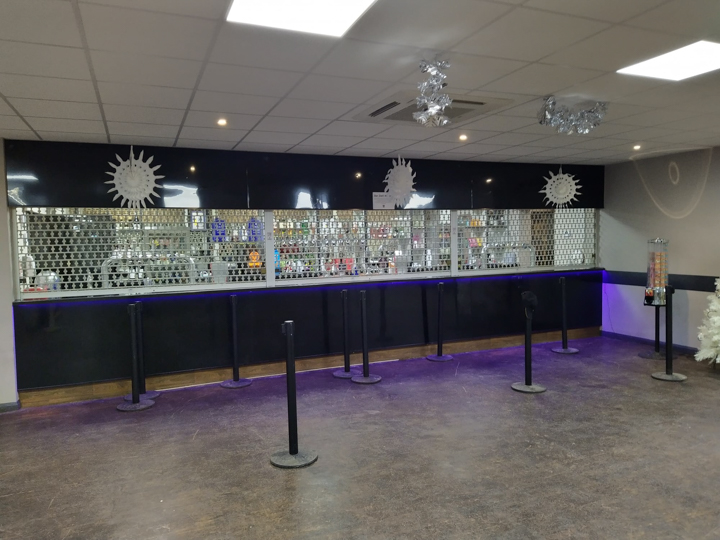 Not much else happens, the half time whistle sounds and it's the now unfamiliar walk out and around the ground to sample the delights of the now historic Half-time drink. Along the way we are told by Mr X that it's also now "time to find my willy". Luckily this only meant that he was going to Point Percy at the Porcelain and not some sort of weird sexual codeword. 4 Days would also remark around this point that he "literally has my mum's shit in my pocket". I decide not to ask any questions on that one. I'm a dad now, so I'm well aware of what shit in my pocket looks like. Still, the bloody Surrey Cup has them all come out of the woodwork. A welcome pint is quickly consumed, and we are soon back into the ground for more excitement.
Except our plan of heading behind the goal at the Rec End is scuppered as we're not apparently allowed behind the goal as it has been deemed "dangerous". Why? Fuck knows. It would've been nice to have stood there to reminisce of simpler times but alas not. No fuckin' chance. Although we could've stood in the temporary seated stand on the corner. But that just seemed properly weird, so we plumped for the Rec side instead.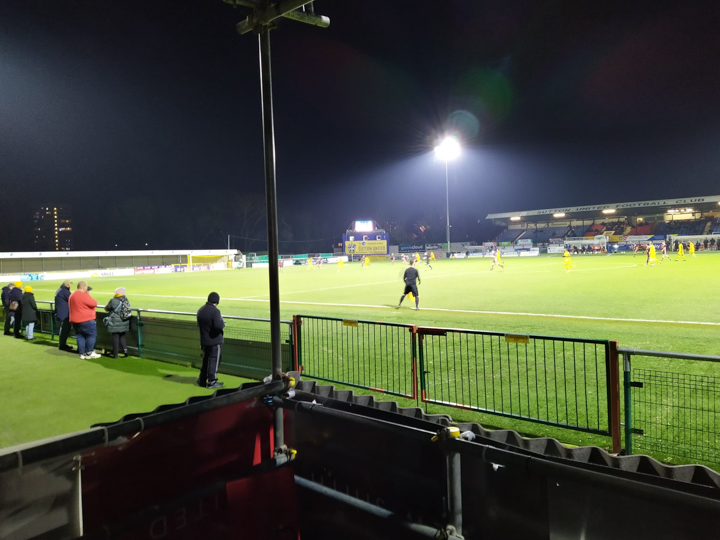 Second half and the match continued to be a tight affair at times with both sides trying to find the magic ball that would turn the match. Sutton would once again start to get on top of their lower league opposition and show some quality with those little triangle passes of the sort that would infuriate you when hungover on a Sunday morning.
On the hour mark and Dundo is replaced by Soulya-Osekongo. A shame as he had more in the tank, but it was still great to see the big man don the Amber & Chocolate again. Sutton continued to press for the much needed second goal and continue to pepper the box without really forcing the final shot. The worry was always that Barry Sheerwater were going to grab one on the break and force the match into penalties.
There was a moment of brilliance from Will Randall Mutale as he cut in on the left and created himself some space than let go with not the most powerful shot, but the keeper was convinced that it was going to go wide only for it to come off the inside off the post and spin out for a goal kick. Carbon look-a-like copy of Tommy Wright, Johnny Fitzgerald, replaces High Ho Sho-Silva and Sutton start to camp in their own half for the final minutes of the match to see it out and we welcome the final whistle.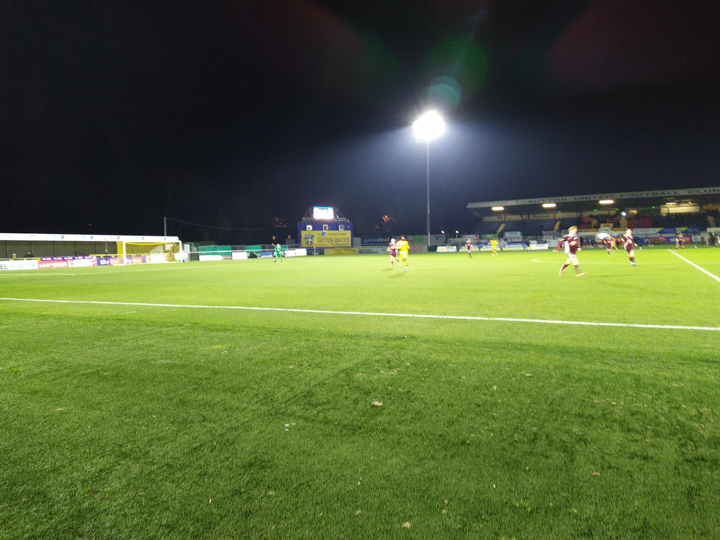 The match is over and before we've even left the ground the players have trudged off the pitch and everyone is making their ways home. Except 4 Days who swings round to the bar for a quick pint. It is his day off after all. Everyone is satisfied that we managed to finish the game with a win and a clean sheet. It was never going to be a game to remember and the days of seeing off lower league teams with 5 or 6 goals to warm the cockles seem to have gone the way of the Dodo these days.
So that's it from me. Time to return to daddy duties as the wee one has just started to stir and I will no doubt have to change her again as she's giving me that sort of guilty grin because she knows what she has just done. Definitely the spawn of Duke that one. I'm also convinced there is a fella somewhere called Barry Sheerwater so I've got to look it up. Although the EIC is convinced I'm actually thinking of Barry Scott, the Cillit Bang gezer. Fuck knows.
So, a Merry Crimbo readers and hopefully we'll see you at the Colchester match. Enjoy!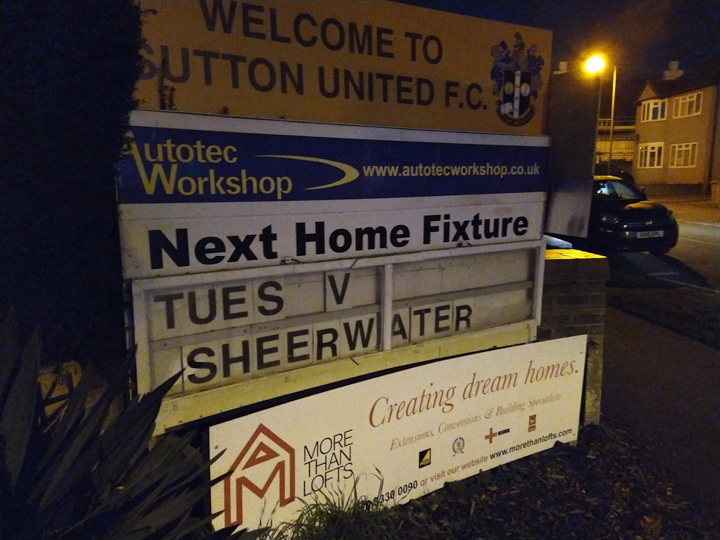 Duke
Att. ??