Ah, Tuesday night away football, Conference-style. You can very much take it or leave it as the saying goes. But for 20+ hardy Sutton United souls, it's very much take what we can as we have to make another long midweek Northern trip. And some of the matches we've been to a cold Tuesday night haven't exactly turned out to be fruitful in the old pointage stakes. But maybe tonight…
It may have been only three days since we took away a point from Nottingham, and drank several gallons of beer, but we're back on the road regardless as time and the National League fixtures wait for no man. This time round it's back up to the North West as we try to take on Flid once again attempt to finish a match that we didn't even get a chance to start in the middle of October, but still somehow managed to get their gaffer his cards.
Leaning Tower of Christmas…
That time, the Gandermonium boys got a lot lot further than what our own team managed as they were stranded at Euston and we were 'forced' instead to take in a bit of football league action at Blackpool. And the less we mention ending the night in the fleshpot that is Shitworld Popworld and everything else inbetween the better.
Because of the wait to see if Flid could get a result against the tenants of Corinthian Casuals, the time given for those to make travel plans for this was down to a ten day window. What is it with fuckin' cashed up North Western outfits double booking games for replay dates anyway?? Mr X had yet to make his mind up about the trip and asked us to make our own plans. With The Firm Leader fancying a spot of midweek action, I offered to sort out the trains. A quick butchers of the fares came up with some astronomical demands on the already under pressure wallet. I think the most expensive was an eye-watering £180. Fuck that! As luck would have it there was a train, a poodler mind you, that was only a bullseye. So beggars can't be choosers and that's the one we plumped for.
Mr X would eventually decide that he was driving up but it was too little too late for us. Still, at least we had a lift home now! One of the Firm, Ozzie, started her journey to Blackpool on Sunday morning. Well, she was already in Nottingham after all. And who couldn't turn down £18 a night for some digs? Well maybe the B-Team, as their budget is usually somewhere under a tenner. And that would've got them a wanking chair thrown in to the bargain.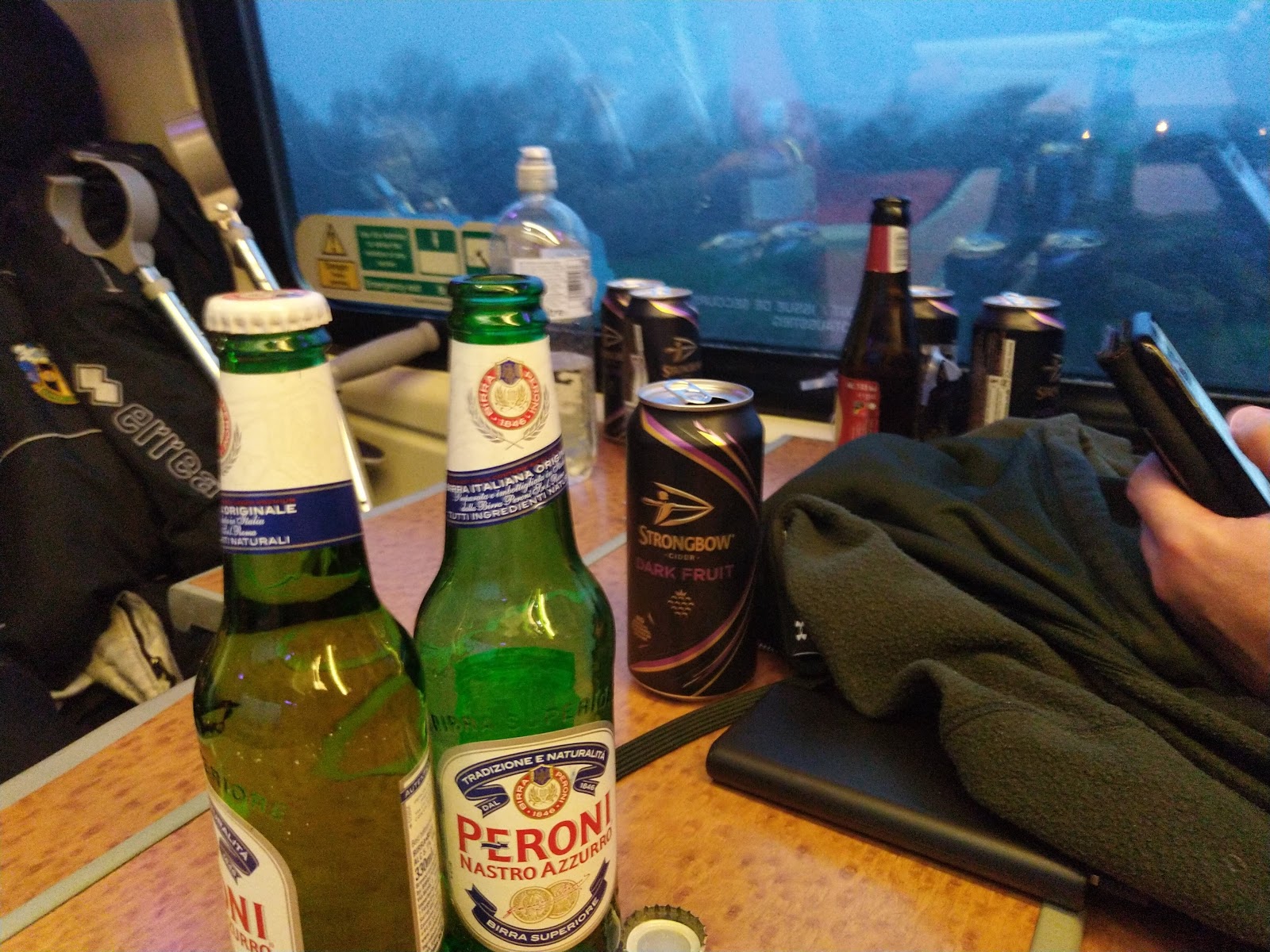 Train beers…
It's a quiet trip up to London for me. I jump on the 1235hrs from the Badlands of Carshalton and after taking the Victoria Line to Euston I arrive to see that Magnum P.I. & The Firm Leader have already arrived ahead of me. The Firm Leader would then hand over the Bullseye he owes me for the train tickets. Except being the new £10 notes, I lose grip of them as I attempt to put them in my pocket. Tenners flying everywhere! Luckily it's wet so most stick to the floor and then the Firm Leader would land his size tens on the rest that didn't. Phew!
As it was me that sorted out the train instead of our usual Travel Sec, book a table bingo is a success and we're also only the second carriage along. So there's no need to walk half the way along the platform to get to our seats. Settling down for the journey and the beers I brought for me, The Firm Leader & Magnum P.I are quickly out and open. Cider for them and four bottles of out of date beer for me. Well some mugs gotta drink it.
One point of note was one of the fellow passengers who sat on the table next to us. I was convinced that I've seen this Doris on some sort of reality TV programme that the Duchess forces me to watch sometimes (Yeah yeah, heard that old fucking flannel before! – Ed). My guess was First Dates and The Firm Leader thought it might be Googlebox. He of course would Google it on Yahoo and turns out we were both right. See, moving in all the right circles us! Friends to the stars and all that.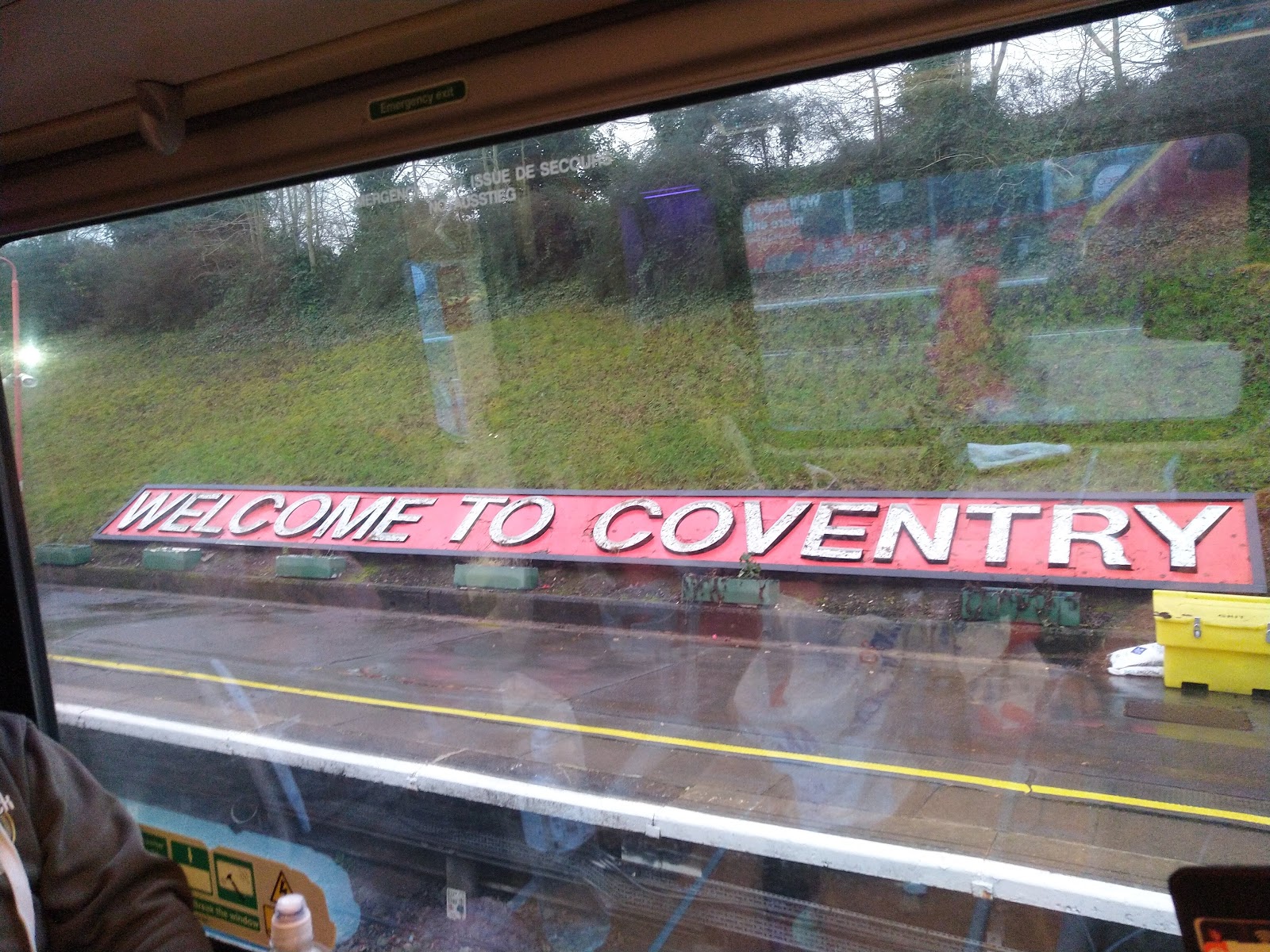 Hello Coventry…
Magnum P.I. would be oblivious to this as he spent most of the first part of the journey either on the blower discussing some sort of shady business "Hello Gillian speaking.." or once more defending his belief that his current round of gout that he's been suffering was nothing to do with his consumption of copious amounts of red wine. "It can't be, I drink white wine as well…".
We arrive in Preston for our change over and have time to sneak out for a quick smoke. A couple of Fulham supporters are heard as they make their way through. Magnum P.I. would sort out a train ticket for this part of the journey and 4 Days was located as he managed to bag his own rattler up for half the amount that we'd pay for it. The lucky bugger! Once a student always a fuckin' student!
Handily, Ozzie was waiting for us outside Blackpool North station and gave us a lift to the ground. The rain was coming down a bit now and it wouldn't take long before I realised that there was something dripping through the door seal onto my coal & jeans. Oh great Ozzie has a leak and not only that, it must've been leaking for a while because before I knew it, the half of my arse that I still have sensation in begun to feel the undeniable feeling of coldness as it became damp. Marvellous. A wet fuckin' arse just as I'm about to spend an hour and a half in a fuckin' freezing cold ground.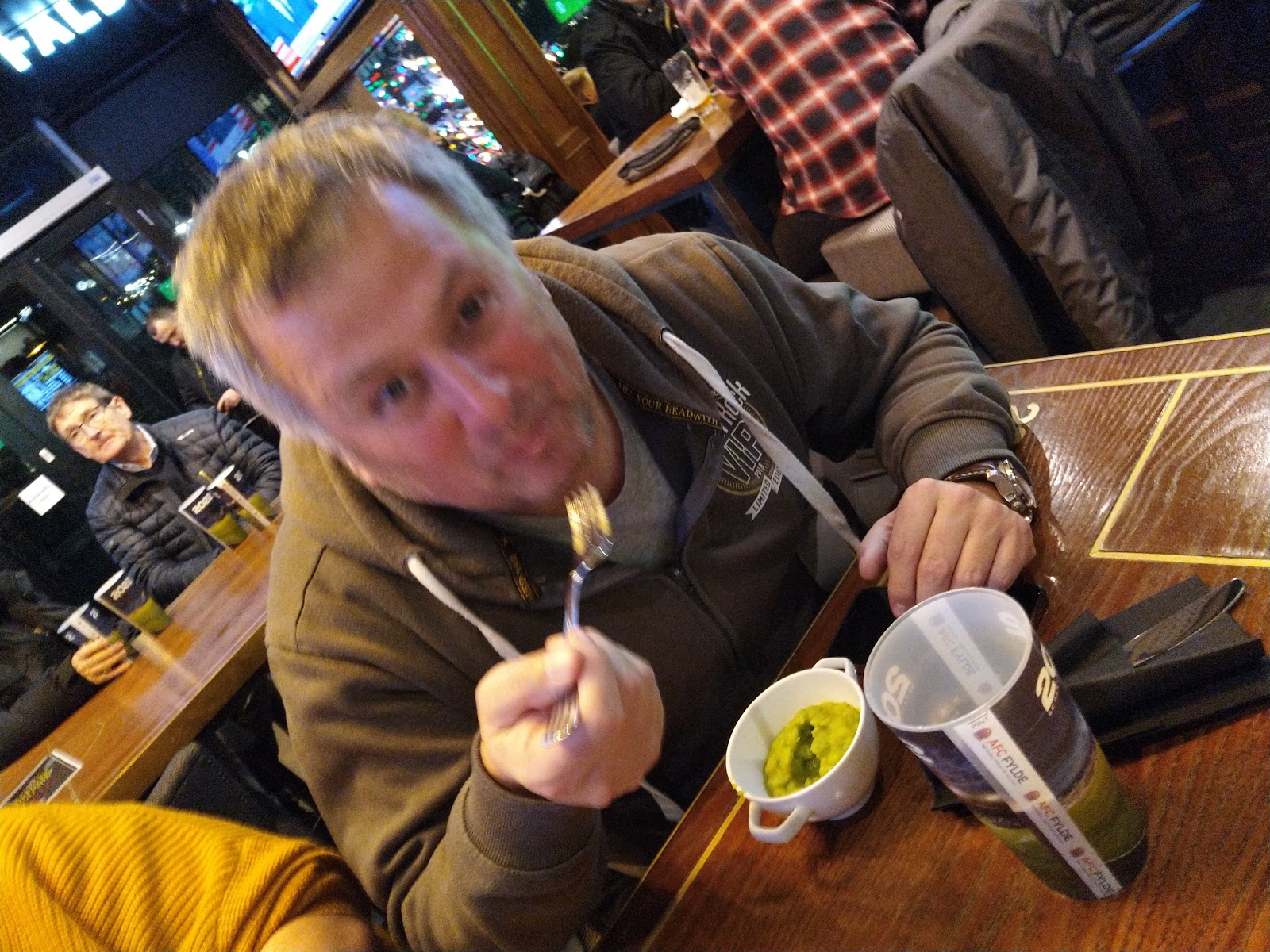 Mushy peas!
We arrive at Mill Farm and it's time to head into the bar before the match. Here some of the Firm have a spot of food and the rest watch the crazy amounts of televisions posted everywhere. Mr X would make finally an appearance, not bad for a fella that left the Republic at one o'clock and arrived at seven. Traffic round Manchester was awful apparently.
With Mr X, I head to the club shop to get my ticket. £14 entry for tonight's match and when buying a ticket, I was asked whether I wanted the ticket in the stand or in the terrace. Silly question really. But apparently it could get a little wet with windy behind the goal. Into the ground and I grab a quick Meat & Potato pie to help warm up the old cockles, wherever they might be.
Looking at where we were going to be we saw that the stand behind the goal had actually been fenced off and we weren't allowed there. So into the stand it was then. Taking a spot at the back, and completely ignoring the call for us to sit down, we await the match with the smattering of home fans which looks much less than the touch over the thousand they announced later.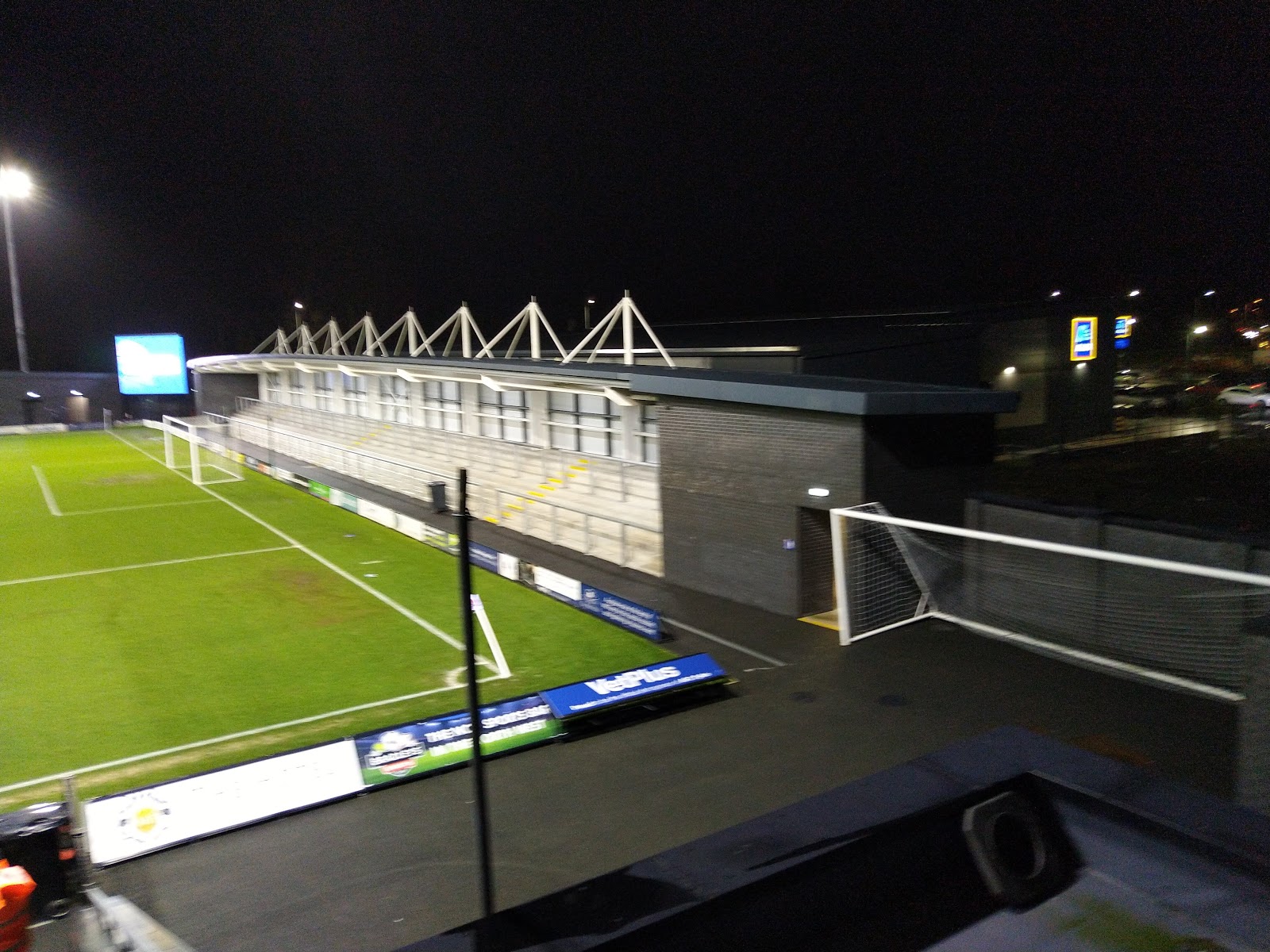 Denied, verboten, fuck off.
Tzanev, John, Barden, Wyatt, Goodliffe, Beautyman, Davis, Randall, Ayiboye, Wright, Jarvis. Bench Warmers: Collins, Milsom, Dundas, Bugiel, Reid.
Sutton started the match by attacking the end where we were located in the corner. The first attack would also fall to Sutton as Ajiboye would create some space in the box, but his half chance was weak. After that, Flid would take control of the match and one of their first attempts would see the ball come crashing off the bar after Sutton failed to close down the play from outside the box.
This would be an issue for most of the first half as we gave Flid too much of the ball and way too much time to decide on what they were going to do with it. At the other end of the pitch we failed to test the home keeper but unlike before where it's been the weak shots, tonight the ball into the box was over hit way too many times for my liking.
As the half moved on and the wind and the rain appeared to get worse before suddenly clearing up somewhat. The spectacle on the pitch would get no better though and interests from the support begun to waiver a bit as we instead decide to watch the car queue at the local Kentucky Fried Chicken as well as to try and see if we could spot the Blackpool Tower from where we were. Yeah, the football was that interesting.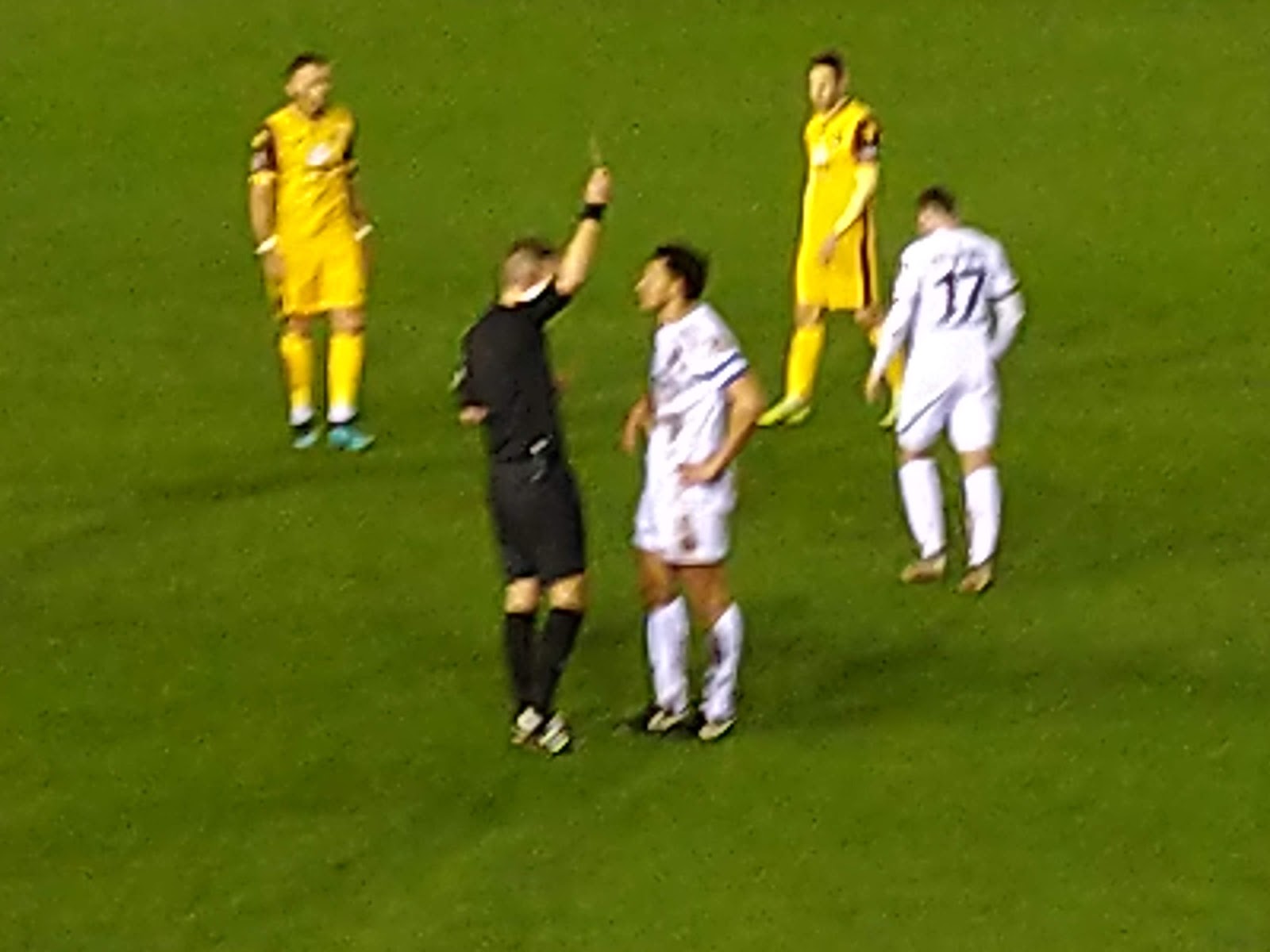 It's a Yellow Card…
The second half would start with Flid still putting pressure on the Sutton goal. First it would take a good save from Tzanev and then it was a linos flag disallowing a goal for an offside. Then the match would turn on sixpence as Flid are given a harsh red card in my opinion. For me it wasn't as bad as it seemed to some of those around me and there appeared to be no malice and Wyatt recovered quickly enough. Still, National League refs. At least it was us getting the benefit for a change.
After that, Sutton begun to have a lot of the ball without once again really troubling the Flid keeper. Jarvis would be replaced with Bugiel just as we were told that we could now move into the stand behind the goal. But this was probably less because of health & safety and more of because of the grief we gave the home support after their treatment of Wyatt after their geezer got sent off.
Sutton continued to pile on the pressure without any shots on target. With five to go, Reid would replace Ajiboye. John would also find himself taking a tumble over the ridiculously tiny sized pitch barriers and hurting his arm in the process. In the dying moments Dundas came on for Wright and yet Sutton huffed and puffed to a nil-nil result.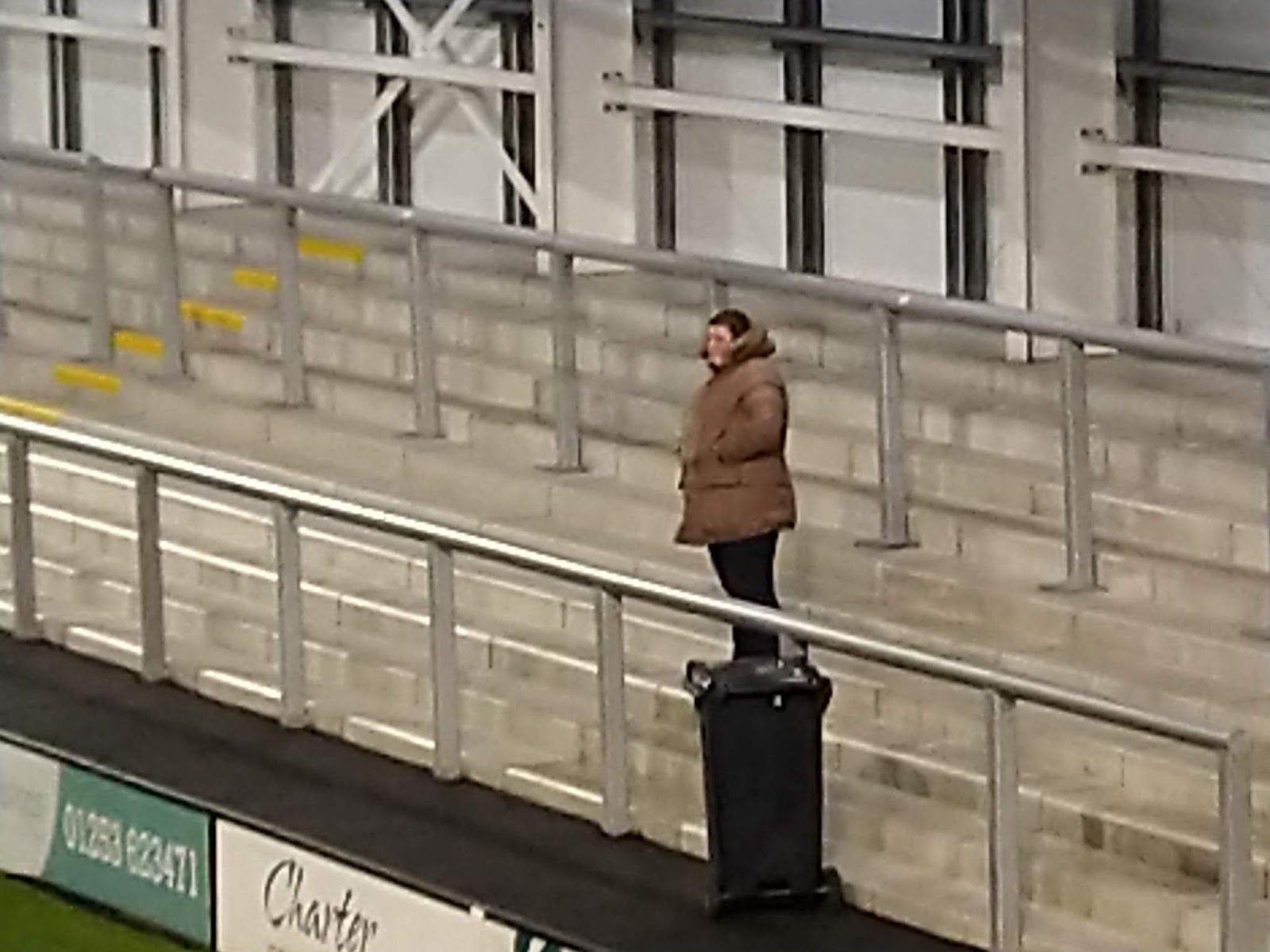 On your own…
We clap the players and the management off the field before heading to the cars sharpish and begin to make our way South. It wouldn't take long before The Firm Leader would complain that his arse was getting warm. The same sort of warmth he might've had before when he's shit himself. Lucky for him, his strides and Ozzie's car, it's only because the heated seat was turned on this time around.
The journey home was supposed to be a quiet affair. And it would've been had Ozzie not been pulled over by the Babylon on the M6. We're still not sure why she got pulled over, maybe it was doing 80 in a 70, or how about hogging the middle lane, it could also be the excessive braking after seeing some flashing blue lights behind her. But anyone else driving and it would've been three points but not Ozzie oh no. Flutters her eyelashes and gets off scott free that one. And she still wasn't happy about it.
That might've been it for the journey, but there was still 'dramas' as just as I'm dropped off I realise that I've left my blower in the Jam Jar. And after trying to wave them down as they depart, I'm forced to use my Old Man's blower in a vain attempt for them to stop or come back. Oh bollocks, it looks like a morning trip to Kent coming up. But in a spot of luck, Ozzie hears the dog ringing and instead drops it off at The Firm Leader's Castle from where I was able to retrieve my telecommunication device with no more dramas. Phew!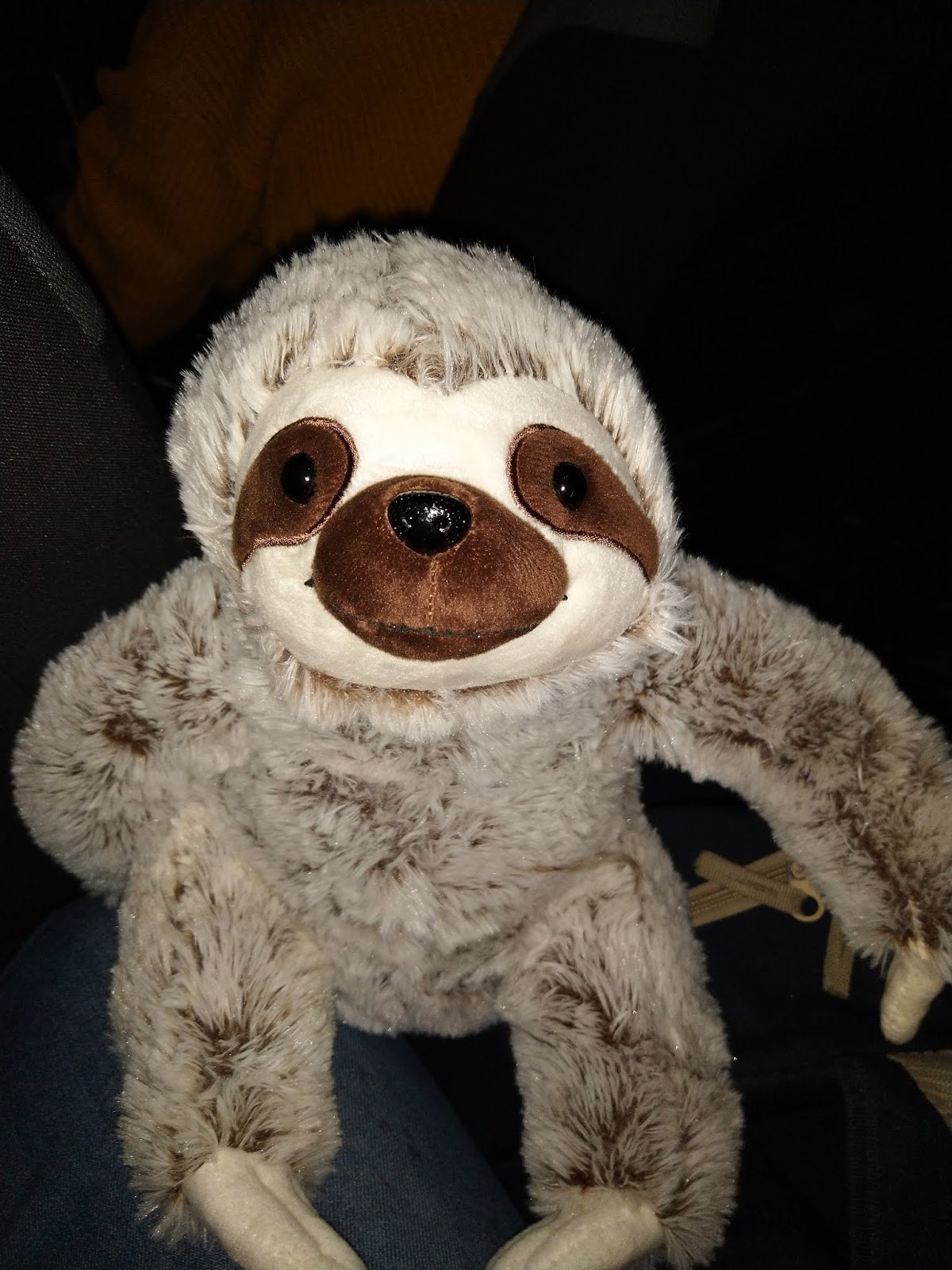 Who are you looking at Sloth?
In a break from the league, we now move onto a spot of Cup action as we entertain the 1967/68 Coppa Ottorino Barassi winners at Stadio di Geegiel. Or at least one of their successors. Which is in fact just a roundabout way of simply saying we've got fuckin' Dagenham & Redbridge. I also see that Leatherhead beat Raynes Park Vale in the Surrey Senior Cup tonight. So you know what that means. The Duke won't be covering an SSC tie for the first time in God knows how long. But you will instead get to finally hear that story of Totts 1970's Leatherhead Disco Dancing competition he's been banging on about for years. Enjoy!
Duke
Att. 1054