I need to take a bit of a run up at this one as this is a pre-season friendly that, when it was announced, left me feeling more than a bit conflicted and I'm going to tell you why. Firstly, am I pleased that football is back at Meadowbank? Of course I am, I think it's nothing short of a miracle that a prime piece of real estate, bang smack in the centre of swanky Dorking and that lay derelict for years now hosts the beautiful game once again rather than being swallowed up by a developer knocking out high end apartments.
But something's nagging away at me. And that something is the decline and fall of the oldest football club in Surrey, Dorking FC. There's shedloads of history around old, historic teams that are no longer with us and there's a kind of grisly nostalgia fed by a diet of grainy pictures and yellowing press cuttings that appeals to (mainly) men of a certain age. I'd know, I'm one of them.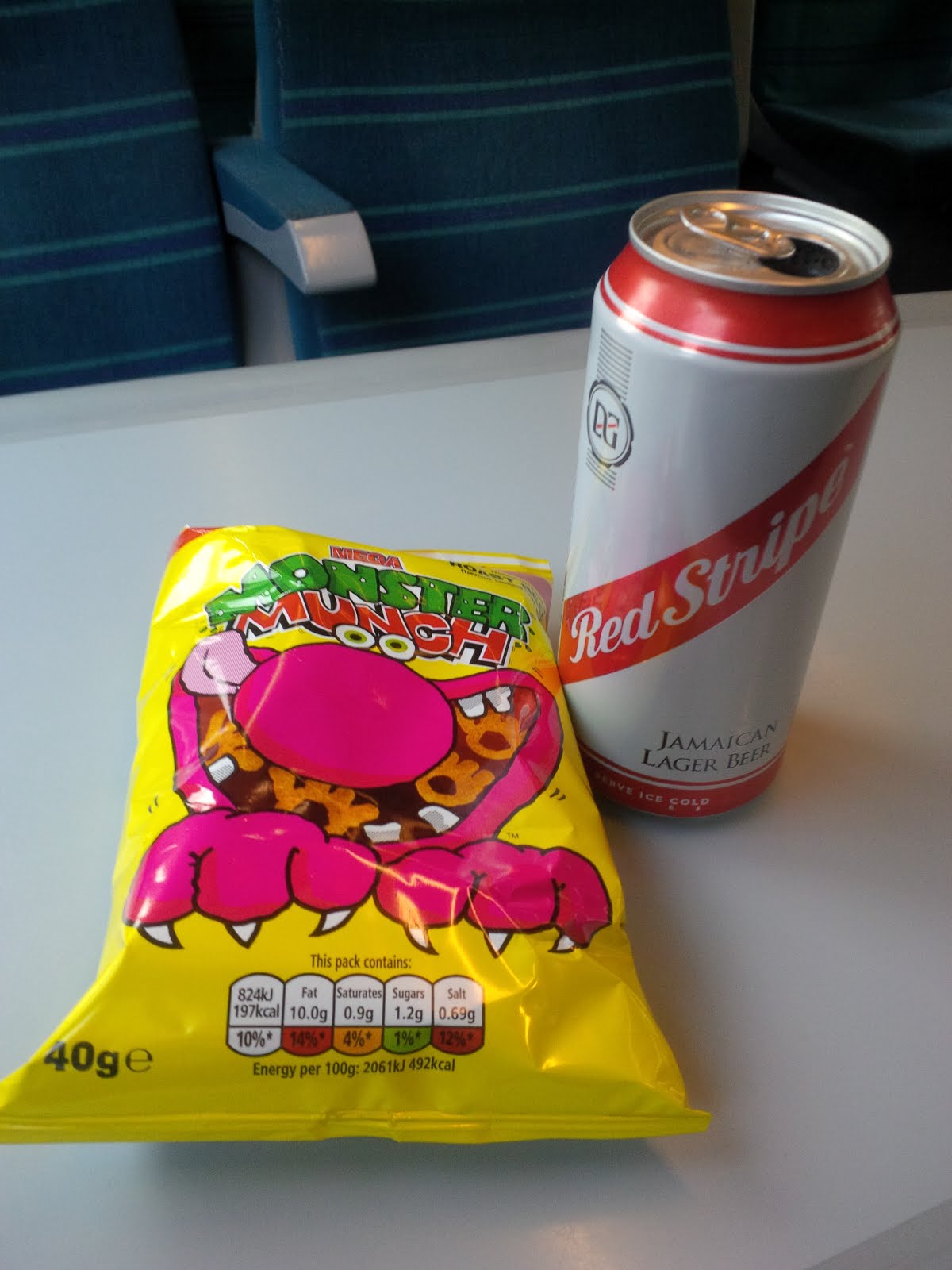 All the major food groups…
And here's the thing. Celebrating the first home game of the upstarts Dorking Wanderers at the sparkling new Meadowbank ground – something rightly to be celebrated – leaves the ghost of Dorking FC hanging over proceedings and renders me worried that their rich history is being written out of the script.
Founded in 1880 as the first club in the County, Dorking had the extraordinary record of making two losing Surrey Senior Cup appearances 104 years apart in 1886 and 1990. Their main claim to national fame was only 25 years ago when they played Peter Shilton's Plymouth at Meadowbank in the FA Cup first round – losing out narrowly 3-2.
After nearly a century of plying their trade in the Surrey County, Corinthian and Athenian leagues, the seeds of the club's crisis were probably sewn in an ill-fated, and ill-conceived, merger with Guildford City in 1974 to form Guildford and Dorking United. For younger readers, the Guildford City of that era are not to be confused with the current version, they had been big beasts in the Southern League jungle, attracting whacking great crowds, operating for a time on a full-time pro basis.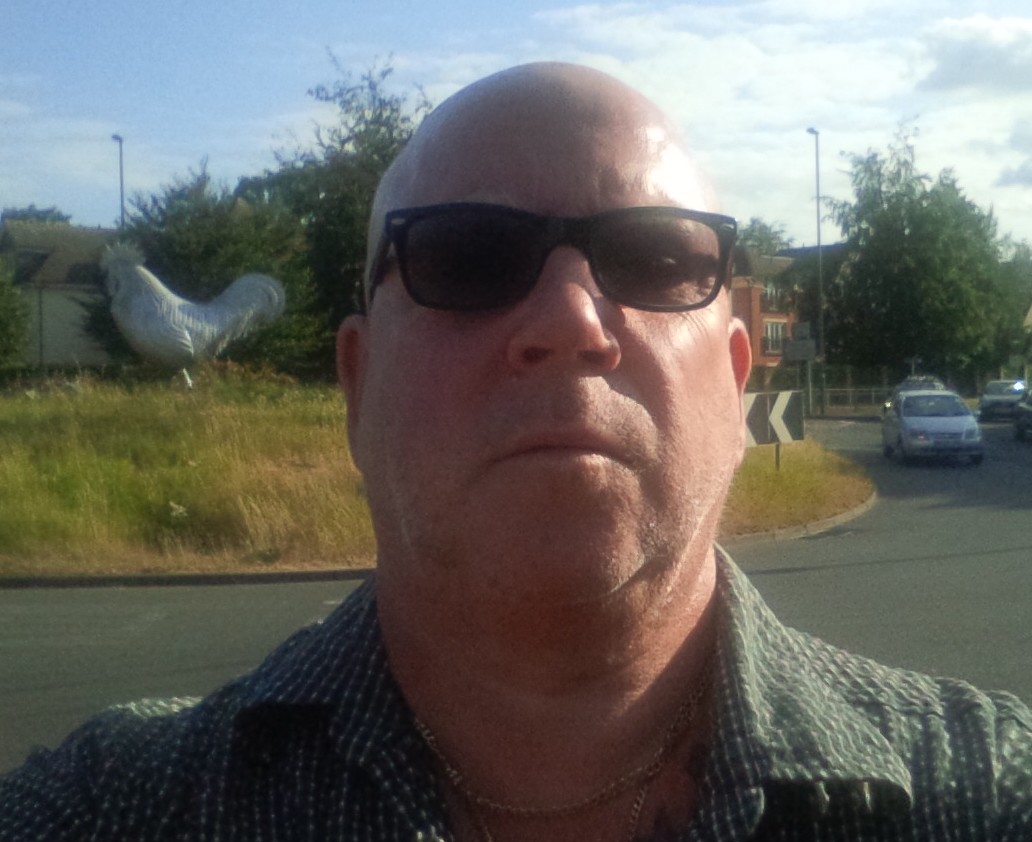 Big cock. No, the one in the background…
But by the seventies they were fucked. Saddled with debt and without a ground they moved in with Dorking and played a season in the Southern Premier before being relegated to the Southern South and going bust in spectacular fashion halfway through the 76/77 season. A new club, Dorking Town was formed to play out their fixtures before plunging down to the Surrey Senior League and reverting to the original Dorking FC badge.
The new club did ok, as well as the FA Cup success and the Surrey Senior Cup final they fought their way back up into the Isthmian League and for a while our very own John Rains was manager over there – with his brother Tony and Sutton Legend Matt Hanlan on the playing staff – including during the heady days of the Plymouth FA Cup run. But the lovely old picturesque ground with its wooden stand and ramshackle facilities was a time bomb ticking away beneath them.
The last time I was there would have been around 2008 and the place was pretty much derelict, with the stand closed and the rest of the place hanging by a thread. Truth was, it was getting dangerous and it was no surprise when Meadowbank was closed on safety grounds. After groundsharing around Surrey and Sussex, and surviving another financial crisis through a successful emergency appeal, Dorking held out hopes that they would return to a new, revitalised Medowbank as the old ground was left vacant and rotting away in the shadow of Box Hill.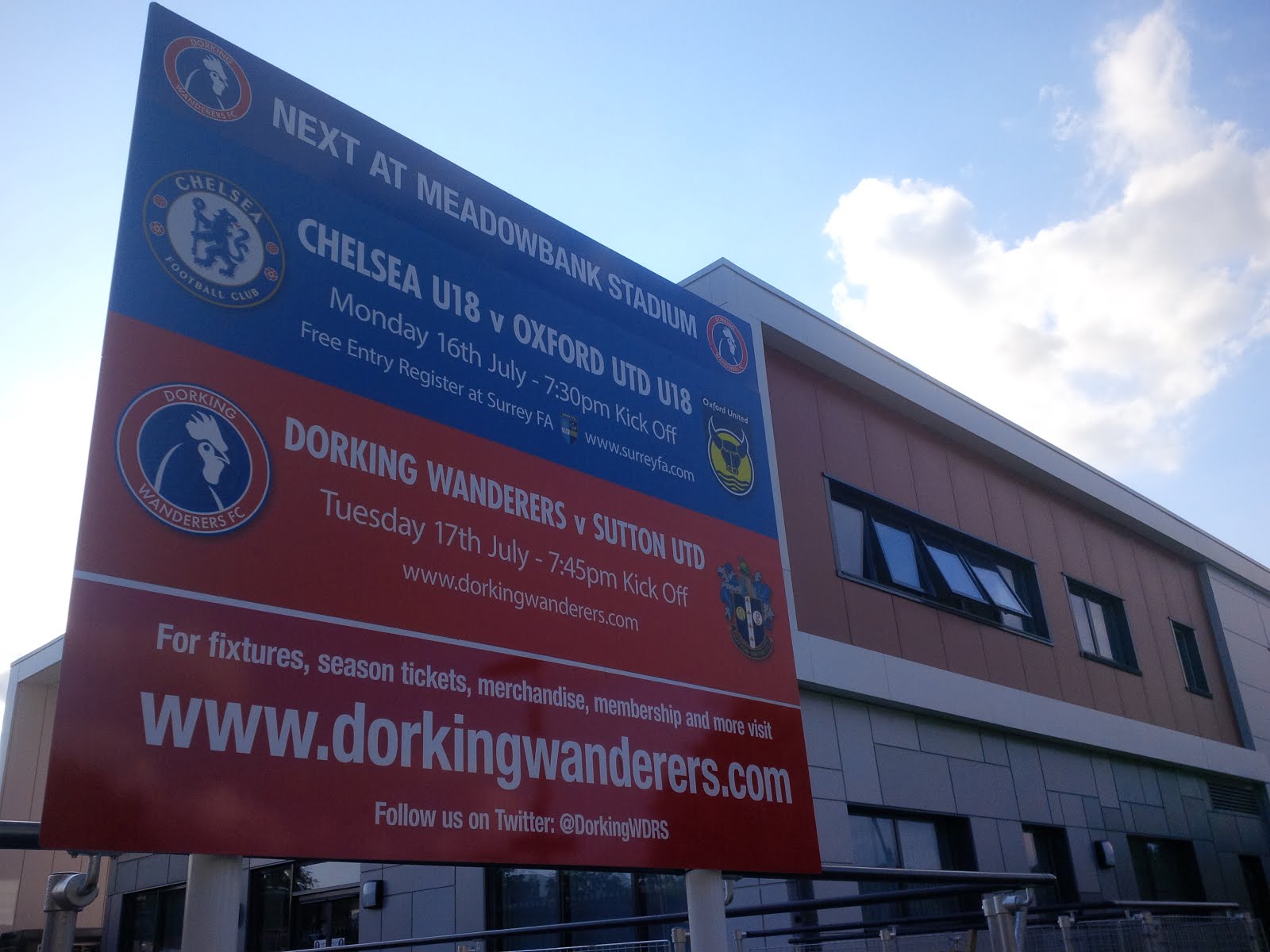 The new Dorking drum
But meanwhile a new kid on the block was being born out of a park side in Brockham and they would eventually go on to overshadow and effectively inherit the long and illustrious history of the teetering Chicks. Dorking Wanderers, from their early days in the late 1990's went off like a rocket and from their tidy ground down at Westhumble they ploughed their way through the Sussex and Combined Counties leagues before leapfrogging former and fallen Surrey giants like Tooting and Mitcham in an assault on the Isthmian League.
What was going on behind the scenes with the Surrey FA, Meadowband and the ill-fated Dorking FC is shrouded in mystery but the end game is that the old Dorking folded, and, after delays due to the uncovering of asbestos, financing and other problems it is Dorking Wanderers who have ended up as the sole tenants of the sparkling new facility in the town centre that is a credit to all involved.
Why does any of this matter when there's a new state of the art community facility that will benefit football at all levels in the area for many years to come? Maybe it doesn't, or maybe only to those of us who are obsessed a bit too much with the past, and Dorking Wanderers have incorporated the cockerel into their badge and there are rumours that they might drop the "Wanderers" from their title in a couple of years. I think that would be a great move because other than a lovely old turnstile preserved in the car park I couldn't find much about the history of the game in the town around the new gaff. I hope the club address that and I don't want anyone to get me wrong, I wish football in Dorking all the very best for the future and those who've delivered the fantastic Meadowbank facility should be rightly proud of their achievement.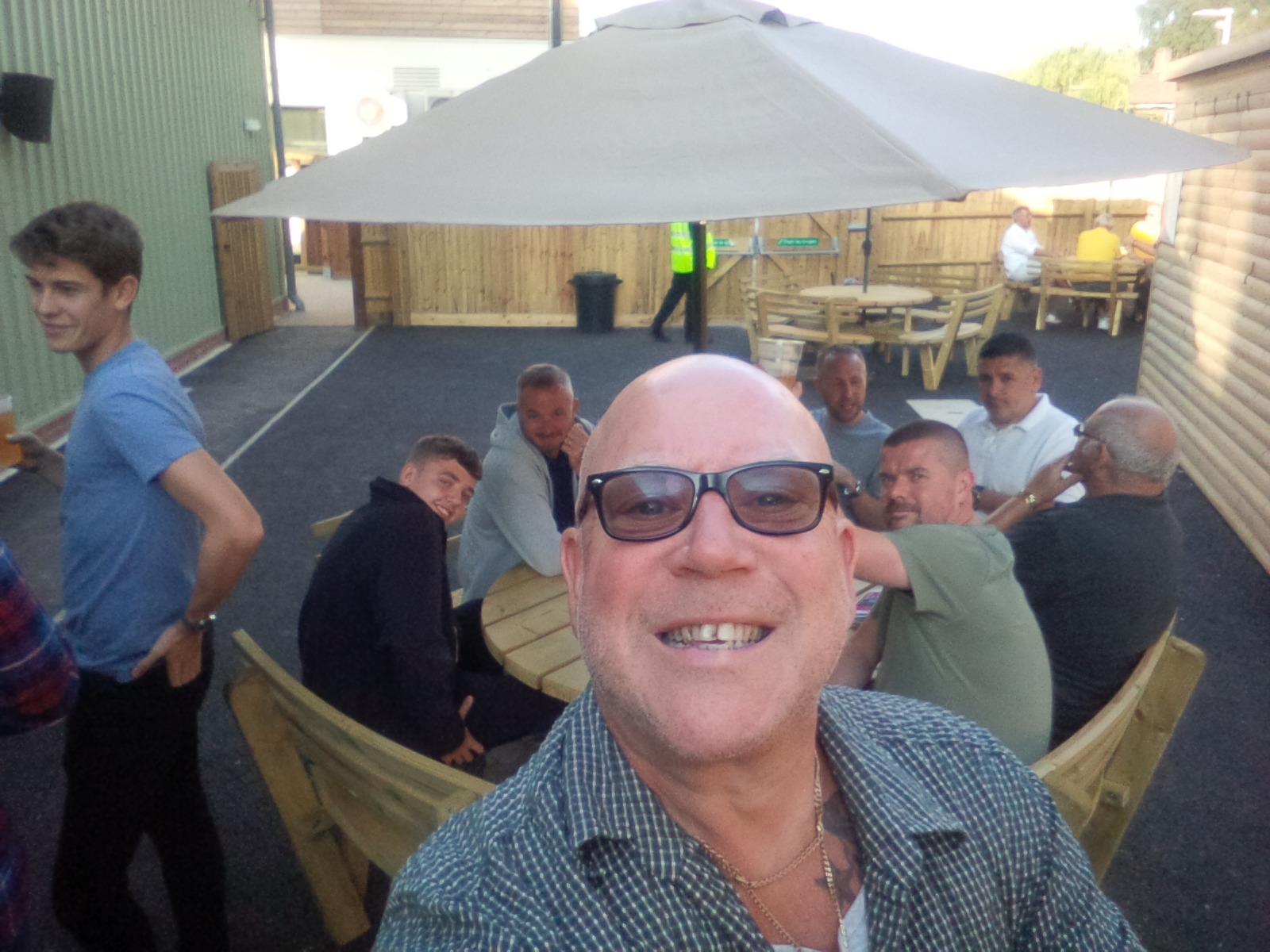 Just like Benidorm apparently…
Now then, where were we? Aah yes, enough of this serious stuff, I've got a Pre Season Friendly to write up here and I know you've been waiting patiently for the obligatory knob jokes, drinking and seventies references and I believe firmly in nurturing the Gandermonium base as it's your continued and unflinching support that has won us NOT A FUCKING SAUSAGE in the annual football bloggage awards. Ungrateful bastards.
Heading out of Cheam on the 5.31 I was live and direct into Dorking in the time it took to knock back a hi-energy, hi-impact tea of a can of Red Stripe and a pack of Roast Beef Monster Munch. Only one thing to do when you land in town and that's to head straight for the legendary Big Cock and grab an obligatory selfie. The plan was to get alongside the old BC but it's on that roundabout out of town where the A24 joins the A25 and I was fucked if I was risking my life just to keep a knob gag going for your entertainment. So I took one from the pavement in broad daylight at rush hour with the cock over my shoulder. A tricky feat to pull off but I like to think I carried it off with aplomb.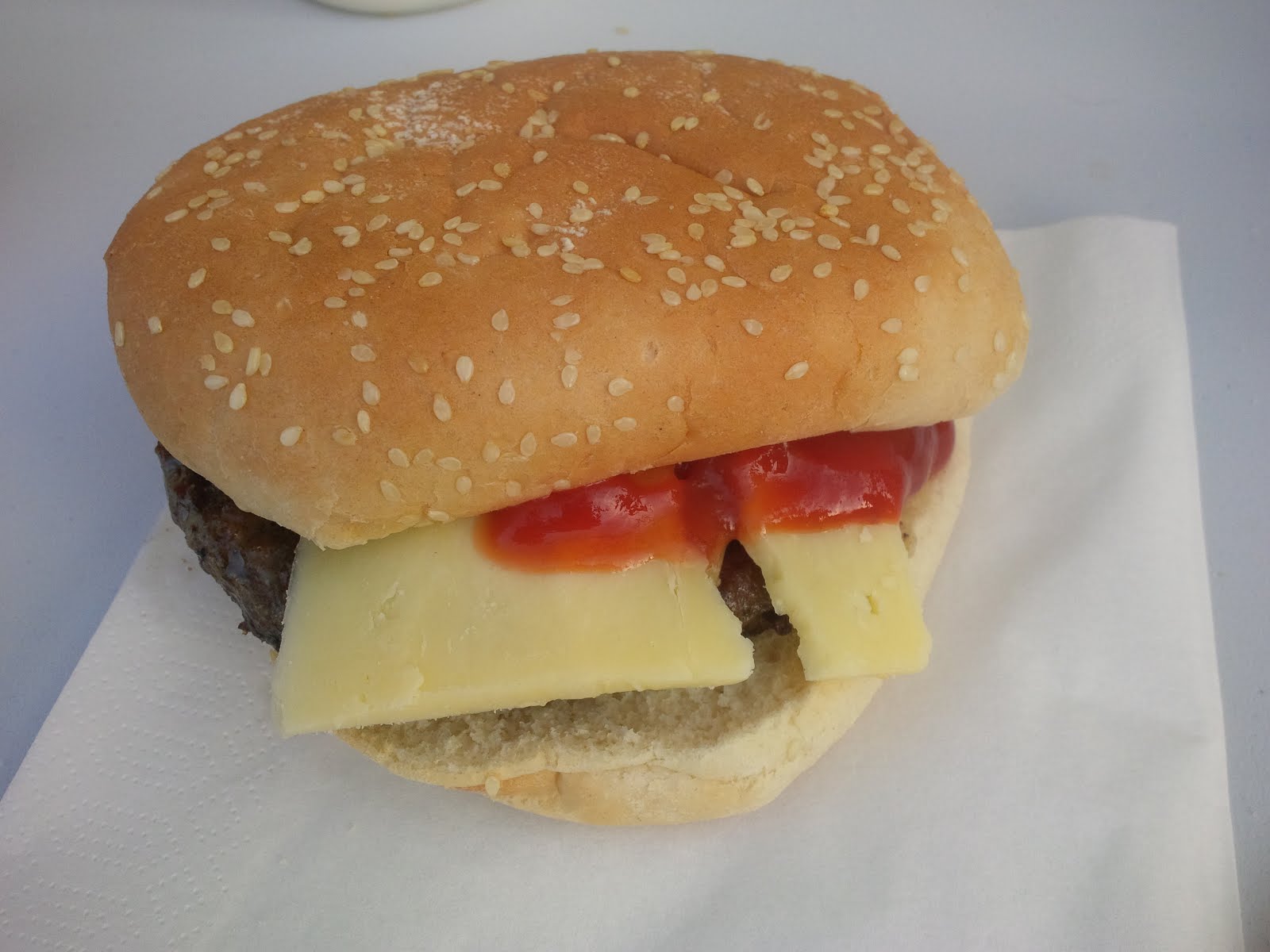 Top quality slipper
Time for a pint. I noticed the Surrey Yeoman has gone the way of too many and closed its doors and let's just say Dorking is a touch on the poncy side with it's many wine bar type outlets, but after a walk down the High Street I found a decent enough boozer called the Old Bull that had the cricket on and was very reasonable for a pint of Fullers Gold and a small bag of nuts and I settled in to watch a bit of the leather on willow and Joe Root doing his thing. Very nice too.
It's a short hop to the ground and Blimey O'Riley what a fine job they've made of it. Other than the location and the orientation it bears no resemblance to the old Meadowbank. I bump into Southampton Steve, Rax and Dukey on the way in. Duke's boycott of the game over the "online only and booking fee" nonsense did not extend as far as refusing a buckshee brief from a club official who will remain nameless, except to say next time you're handing out the old comps Kiddo don't forget the political leadership in these parts.
The geezer on the gate offers us two drinking options, the exec bar or the outside FANZONE. It's warm so we head for the outdoor option where there's pretty much a full complement of DILF's spread out drinking in the sunshine like it's the fucking Tiki Bar on Playa Levante in Benidorm. I get a nice pint of session IPA for four quid which isn't bad and gotta say the bar is well organised despite it being early days for the club. They mean business it seems.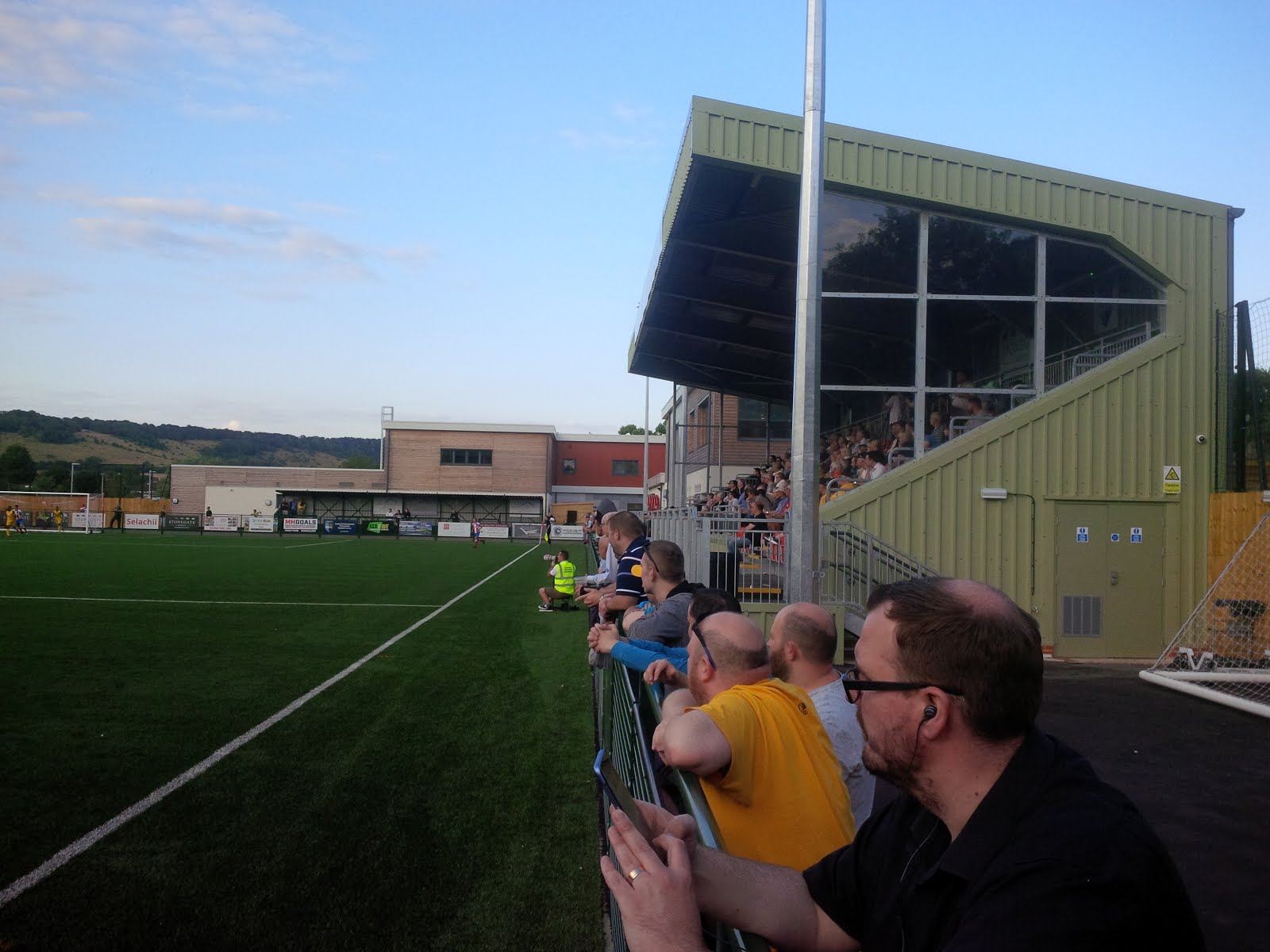 "Is that rubber I can smell?"
Well, I said pretty much all the DILF's but one notable absence is Dirty Barry. I'm not familiar with this kind of stuff as you know but a bloke in the Old Bull told me that the remote car parks of Box Hill are renowned for their dogging potential and a quick flick of the lights and you could be sliding around the backseat of your Sierra with a saucy sales rep from Sunbury while her old man knocks one out to the reflection in a wonky wing mirror. I'm not saying for a moment that this kind of lure was too much for DB to pass up, no way. He was probably working late. Or something.
The team news arrives and clearly the Sutton names have been written in by a pissed-up GP on the top deck of a wobbly double decker and we are treated to the likes of Harry Boatyman, Ross Laxafette and best of all, Doan Bockwith. It's all very pre season and seems to fit nicely with the whole summer school trip ambience around the place.
Butler, Collins, Clough, Bennett, Wishart, Bailey, Eastmond, Beautyman, Bolawinra, Cadogan, Lafayette. SUBS: Wright, Dundas, Thomas, Lemar, Green, Henry.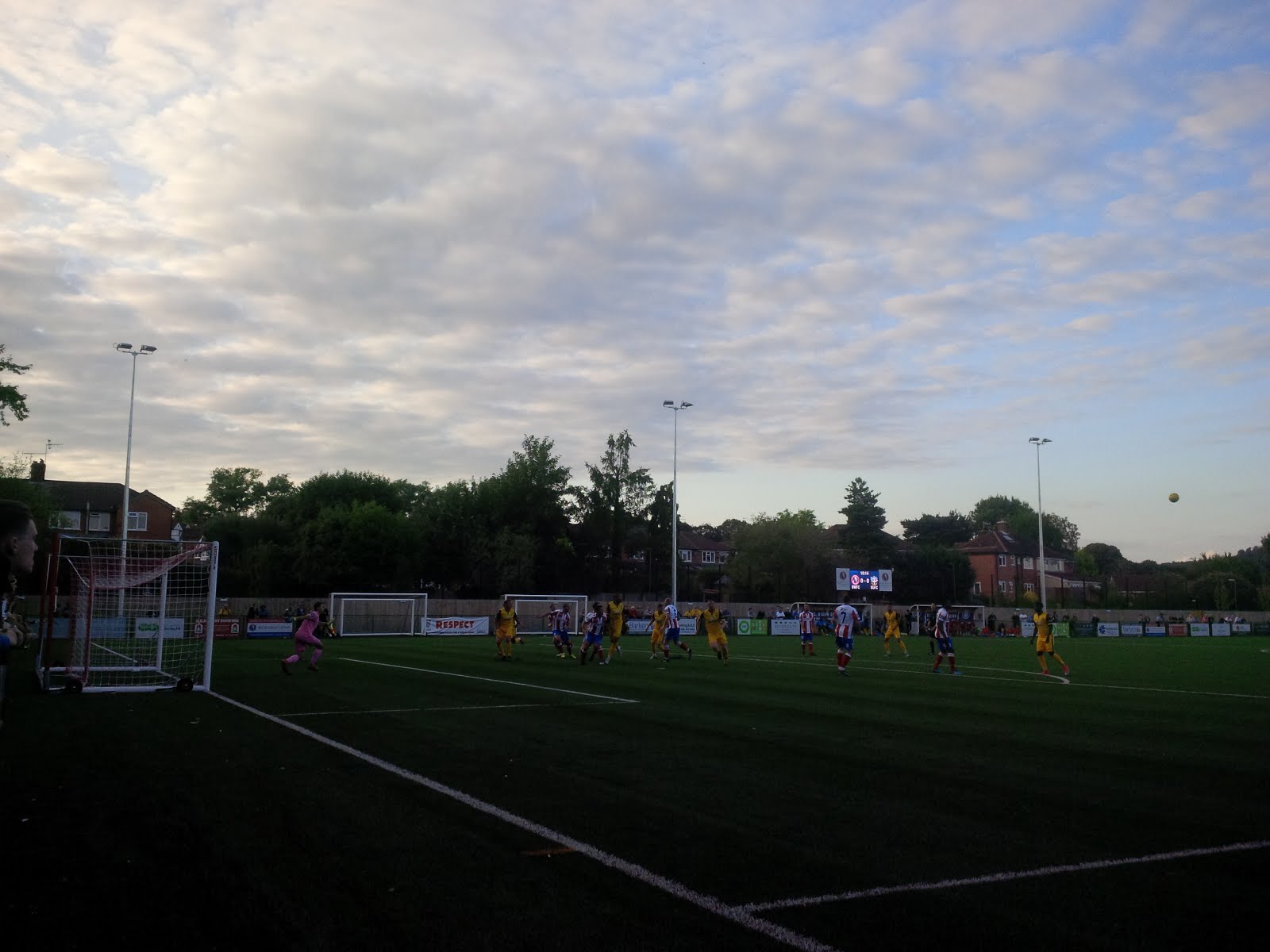 Action…
I'm hungry now after a few scoops and head for the "Healthy Kitchen" for a slipper and again I find myself well sorted out with a decent slab of mince and some real cheddar cheese. Tony Torch is not so impressed. He orders something called 'sweet potato chips' that he's not come across before and complains that he "didn't ask for fucking carrots" when they arrive. Proper Sutton.
I wander round behind the goal and One Eyed Jason is singing the praises of the executive bar which he tells me is more like a first class departure lounge than the kind of sticky carpet gaff you normally squelch through at this level. Yeah? Wait til a wet day in February mate. Double Decker Dave is equally impressed and we take the opportunity to lean against the perimeter barriers for old time's sake as kick off approaches.
It's pretty clear from early doors that this is going to be a far better game than Saturdays instantly forgettable show against Woking in the lunchtime heat and I'm starting to get a bit nervous that I'm actually going to have to write about the fucking football – not a gig I signed up to when I took this job under pressure from Taz and Duke all those moons ago. We are looking really lively and moving the ball about sweetly and getting some pace going up front.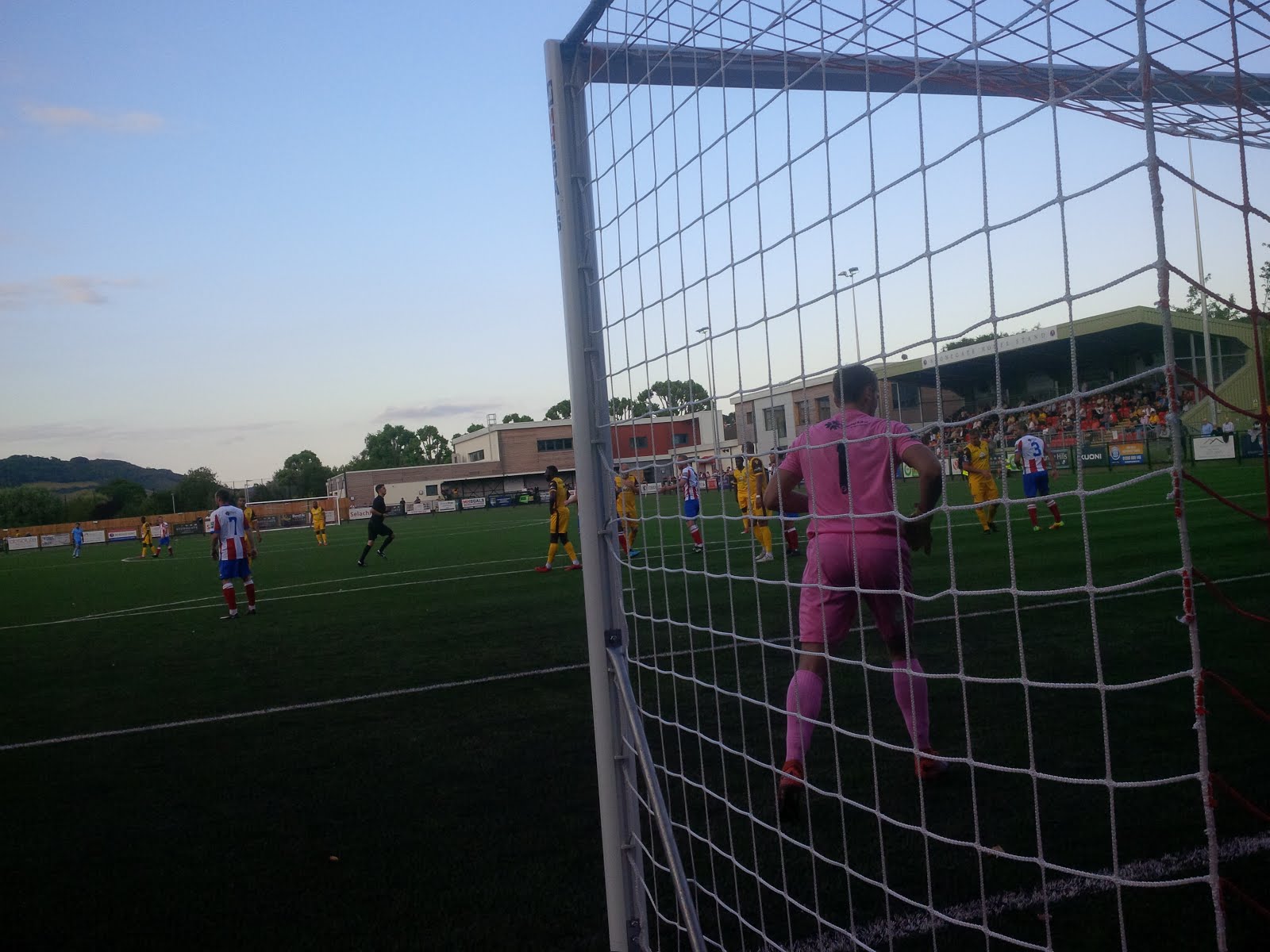 More action….
First goal comes from a beautiful ball in from Beauts that JC rises to glance in past the Dorking keeper. Good stuff. Not all one way by all means this and Jamie Butler has plenty to keep himself interested in up the other end of the 3G. The pitch reminds me a bit of ours in its early days with clouds of crumb flying about. It will be just fine when it beds down. We've got plenty going on and are a bit wasteful with the final ball or we could have stretched the lead before another free kick from Beauts is winged in straight on to Charlie Clough's nut and we are two nil up. I stroll back to the FANZONE for a half time livener and have a chat with Millzy who seems to have recovered OK from an earlier Steve Hillage incident. Lucky for him he's invested in some of that middle aged, moisture absorbing gear you see advertised on day time television.
A few of the COC's are in and I have natter with the eternal ray of sunshine that is Frakey about the old Meadowbank , catch up with a few other faces and settle in for the next 45. There's no let-up in the pace of this game and we go three up after Doug pulls a dramatic overhead kick out the locker that the keeper saves only to be beaten on the rebound. Three Nil and at the other end Jamie Butler gets in on the act tipping over a rasping twenty five yarder bound for the top corner.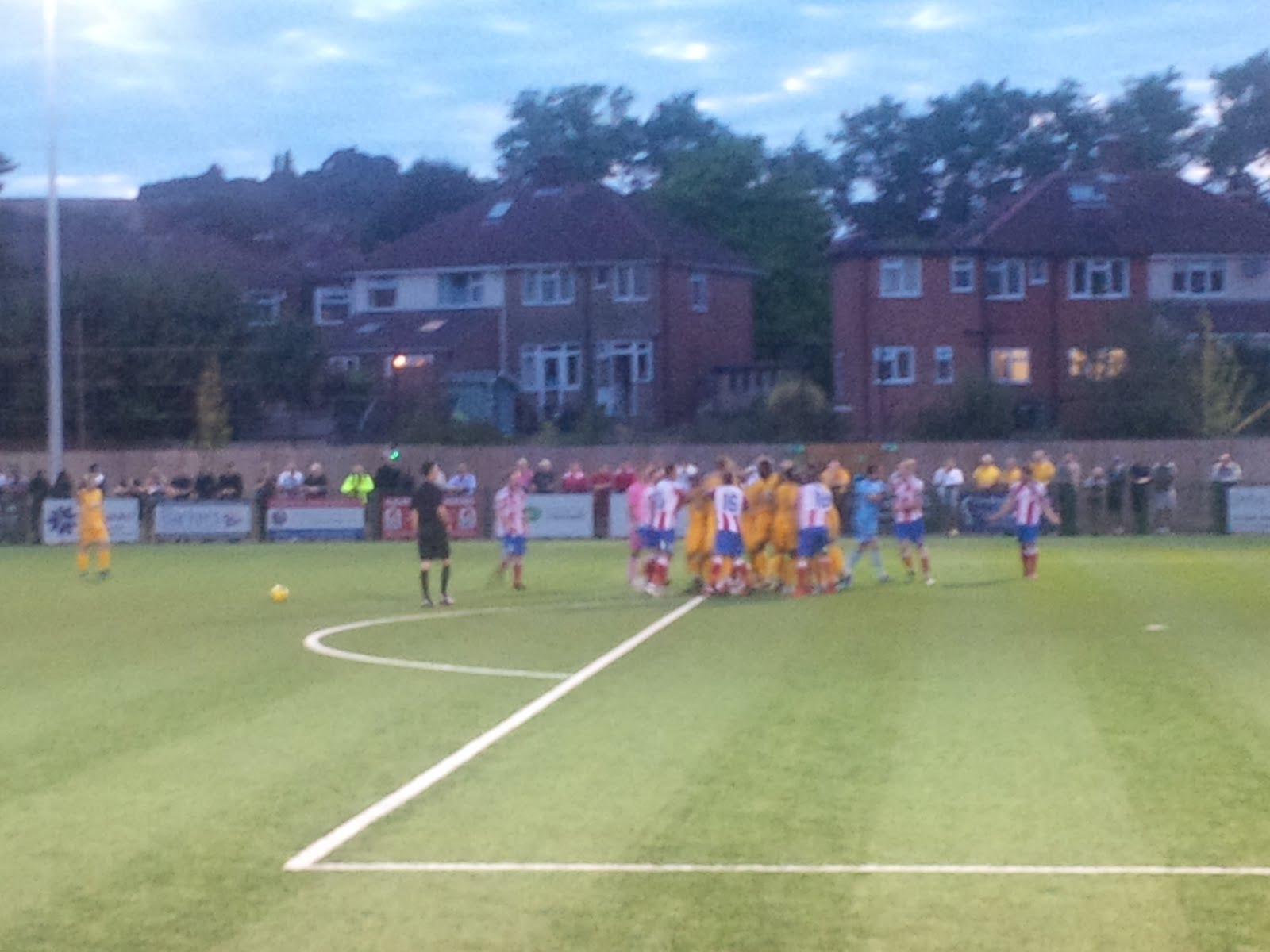 BUNDLE!!
Plenty left in this one though as Dorking score a cracking own goal, not quite as good as the Coventry one but well up there as the man slides in to steer a dangerous cross past his own keeper. Everyone loves an OG, unless you are on the receiving end of course. I nip away for a piss and am having a natter with Carl when all hell breaks loose and the rare event of a 22 man pile on at a PSF erupts just as we are saying that the game has been surprisingly fruity. God knows what it's all about but the ref goes all VAR and pulls out a red card for Tombo who's already left the field anyway escorted by Downs and apparently it's a load of meaningless old nonsense anyway as the ref is punching well above his pay grade. According to my sources at least.
That's about that then and I head back to the station where I bump into Red Oxide who asks me to help out a bit with sprucing up the turnstiles at GGL – DM me mate, I'm well up for that – and we are joined on the train by Four Days, Steve and Rax for the journey back. Top evening out that kids, enjoyed every minute of it.
See you Saturday back on the Shoebox.
TOTTS