Having started the season well and had some fun in topping the table not once, not twice, but FOUR times already, it could be said life is pretty good for the Amber clad inhabitants of the People's republic. That and we're still in the FA Cup AND (to you-know-who's delight) the Surrey Cup. Ok, so we've not played a game in the latter yet, but it still counts you know!
Can the U's maintain the strong start? Can they keep annoying everyone by continually going top and then immediately losing the spot the following week? Will the FL ever decide what the fuck is going on with artificial pitches? Oh like we'd know. Just shut your face and tuck into Part Two….
NOVEMBER


We get November and the middle third of the season started with the trip to the Abbey to face Cambridge United in the 1st round of the FA Cup. They're mid-table and not pulling up any trees so this could be interesting. Naturally, we're largely the better side throughout, especially after they're reduced to 10 after one of theirs picks up a couple of shit yellows, the 2nd of which for diving. But we can't see it off and right on half time, we let in a shitter (1-0). Despite one way traffic in the 2nd half, we never quite hit the heights of last season or look like forcing a leveller and the impressive following of 400+ U's fans in the away end go home disappointed. To drown our sorrows, we get staggeringly pissed in the numerous pubs to be found in the maze of little streets on the way back to the station.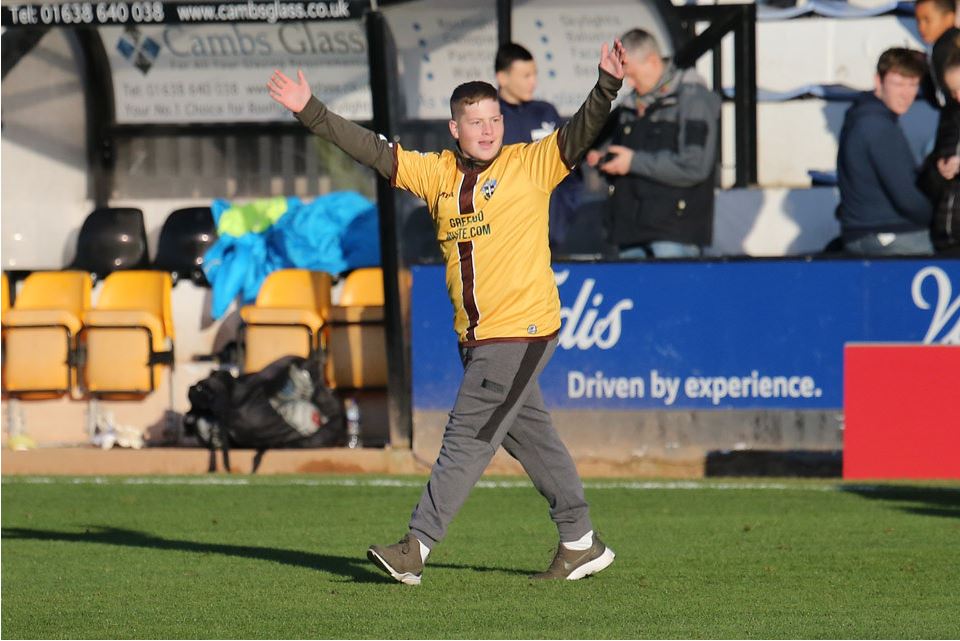 The only bloke in a Sutton shirt to hit the target @ Cambridge in the cup…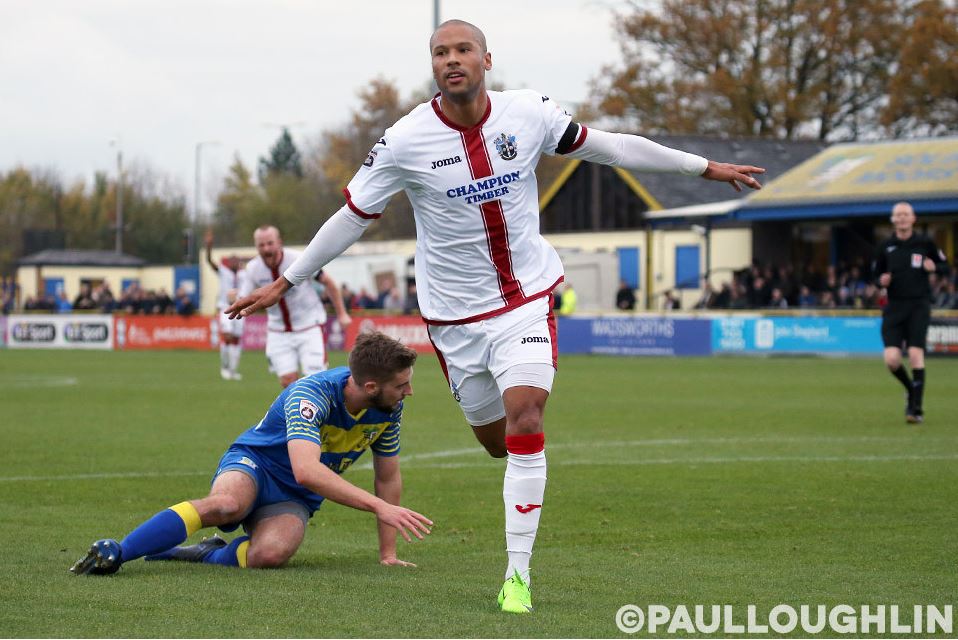 Laffs puts us in front somewhere near Brum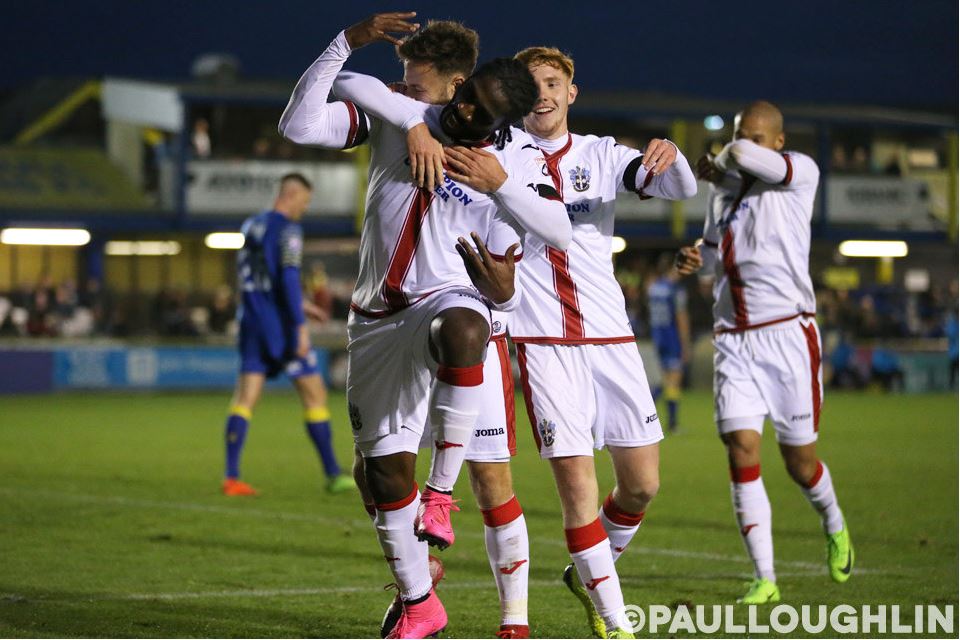 "Dundo must have scored, he's dancing again…." – Solihull away
So, with the Cup no longer interfering with our league progress this year we next head to Solihull back in the league, where we welcome back a familiar face. Tom Bolawinra signing on loan from Grimsby with Dos obviously feeling we need a little more spark. His impact is immediate and he helps us to a solid 2-0 win thanks to goals from Lafayette and Dundo. Another new face making the trip is young midfielder Alfie Egan, also on loan, from AFC Wimbledon.
Following our return from the suburbs of Brum, there's more personnel changes made and another familiar face returns to the fold as Ross Stearn finally escapes his rather boring, yet well paid, bench warming existence at Eastleigh. Going the other way are recently fit again Adam Coombes joining Hudson-Odoi at Hampton on loan and Anthony Joseph, who's not exactly set the world on fire this season, is shuttled off to Dover for 3 months. So that'll be him gone then! One who is definitely gone and never to return is Jeffrey Monokana, whose loan at Welling is unsurprisingly made permanent.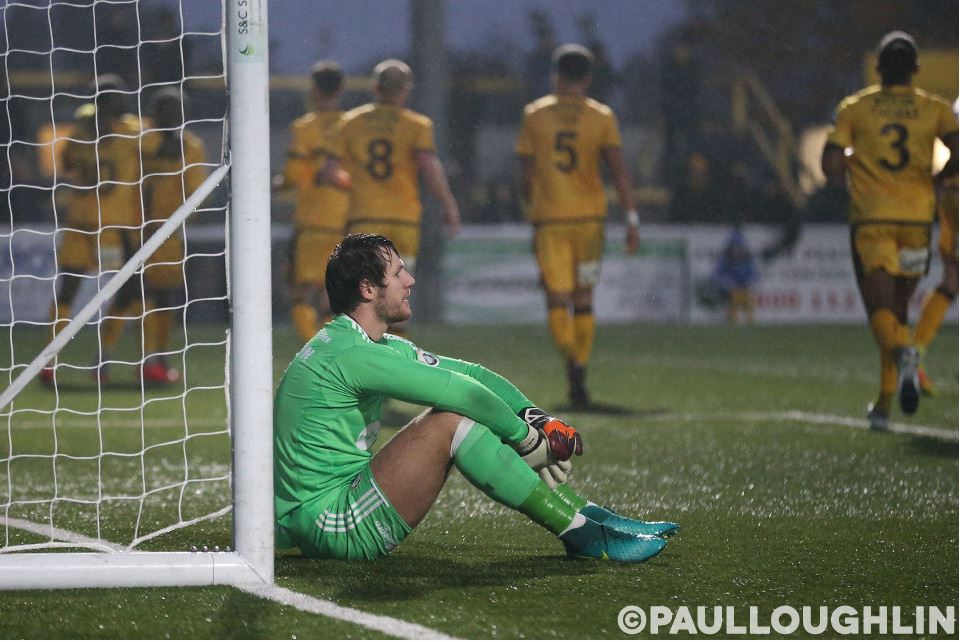 "I'll just sit and have a think…." – Halifax @ Home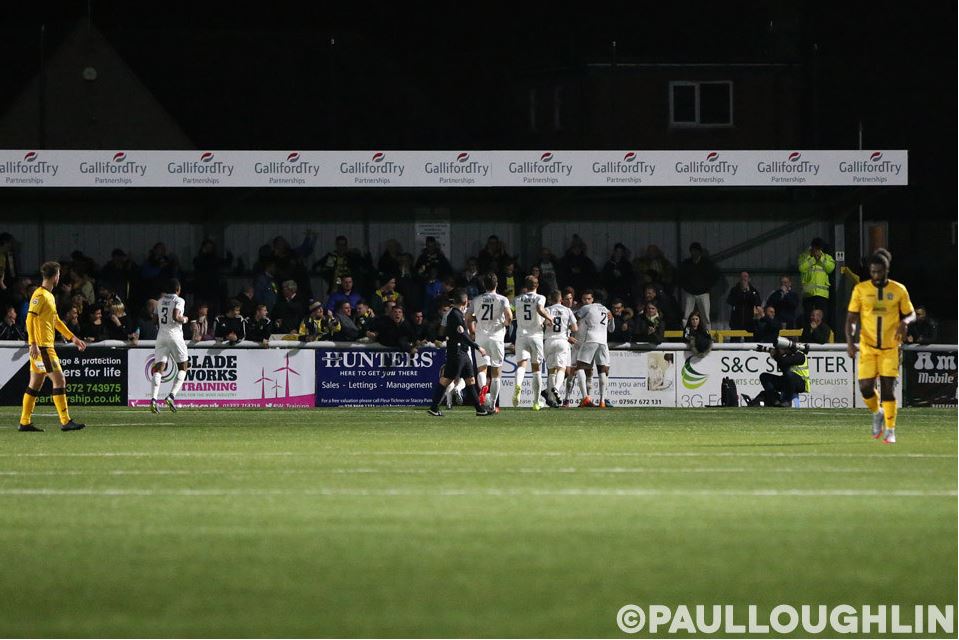 The game against rock bottom Torquay not going to plan….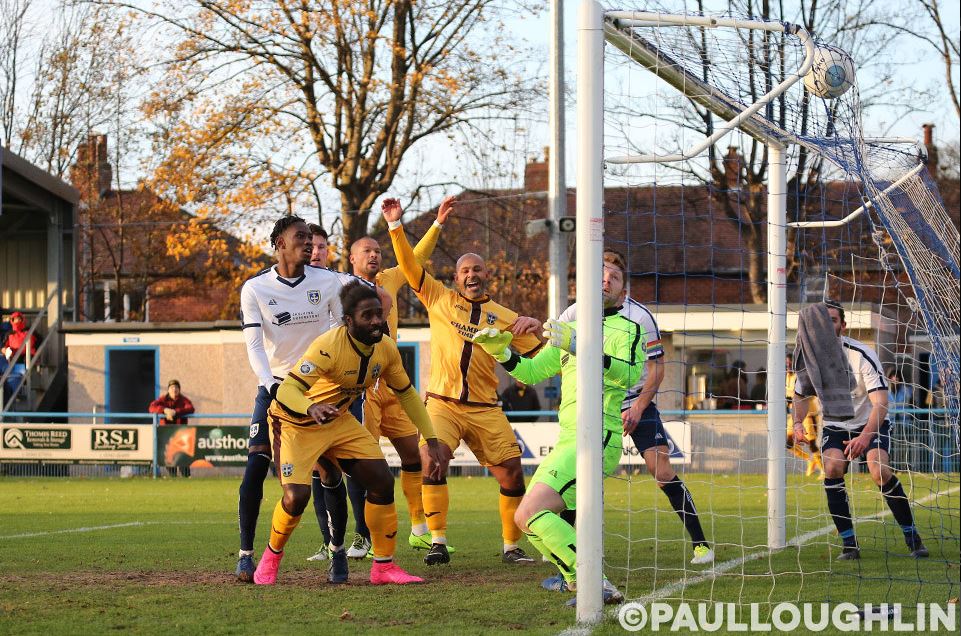 Dundo again! 1-0 at Guiseley
Up next on the rubber axminster are newly promoted Halifax and it's another of those 3-2 home wins that really should be about 5-0, but we somehow manage to make a game out of it against a somewhat 'robust' opposition. Another home game follows midweek, this time against struggling Torquay who've been in the bottom 4 all season so far. So another 3 points to our ever growing tally yeah? Er, no. This is us we're talking about here, so unfortunately we turn in the flattest performance of the season so far and instead it's them taking a vital win (1-0) to aid their slim looking survival bid.
Another struggler is faced next, this time we head up the length of the M1 to Guiseley. Some of the gang do a weekender in Sheffield & Leeds, whilst the rest of us schlep up the long way round 4 hours on the train. It's not all plain sailing as JB saves a 1st half peno from the hosts, but goals from Tombo and the evergreen Dundo eventually seal a decent 2-0 victory and 3 more points. Oddly, results again all go our way and we head back to that there London once more atop the National league. That's right. Top. Again. Well, some of us head back to London at least. Others go out in Leeds to get drunk. Same thing really.
JB saves a pen @ Guiseley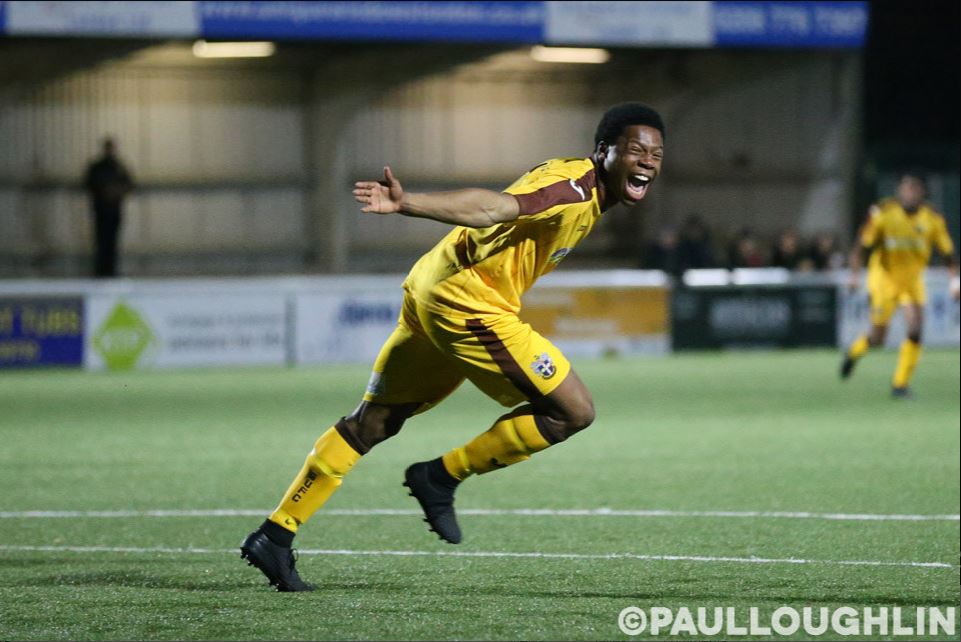 Ah, the exuberance of youth!
We then close out the 11th month of the year with the return of Dukey's favourite competition, the Surrey Senior Cup. Redhill are the visitors to Gander Green Lane and they face a mix of our Academy side and some choice first teamers. Goals from young Womble loanee Egan and Academy lad Aguwegbo eventually sneaks us through 2-1 to retain some cup interest and stop the flat capped one from going into a sulk.
DECEMBER

So, as we enter the hustle and bustle of the festive period, we're still top and have a grand total of 39 points to our name. Still, fuck talk of promotion, we still need 12 or so points that should see us safe for another season! We start the month off with a 'Ladies Day' against Eastleigh. An event some fucknuggets on their forum reckon is 'sexist'. So we're sure they love the fact two proper manly Sutton men on the pitch score the goals (2-0) to see off their lumpen, overpaid, underachieving load of fucking shite. Tommy's delightful lob to wrap up the points is a particular highlight.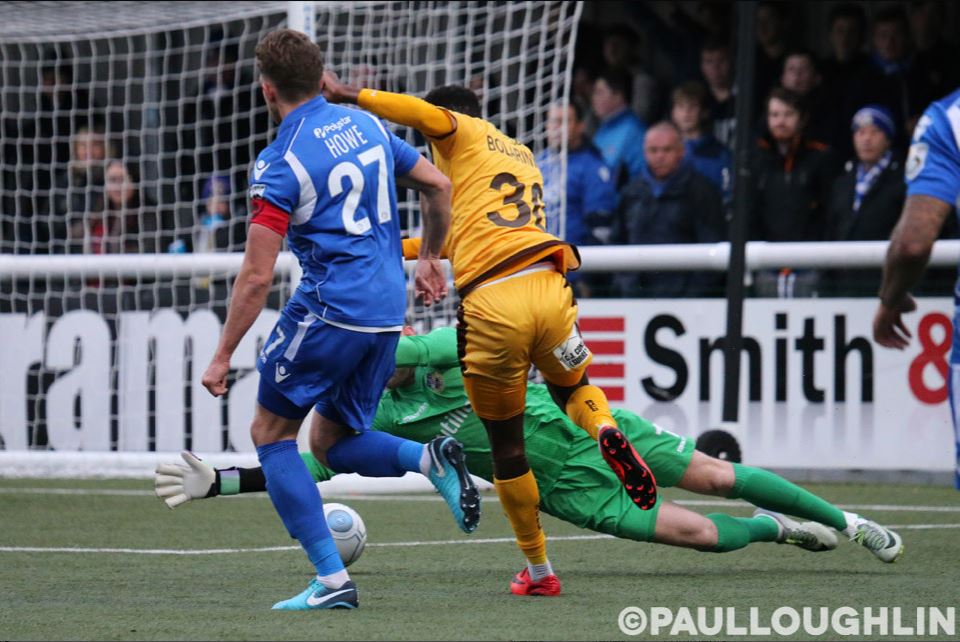 Tombo scores in a manly way against Eastleigh on Ladies Day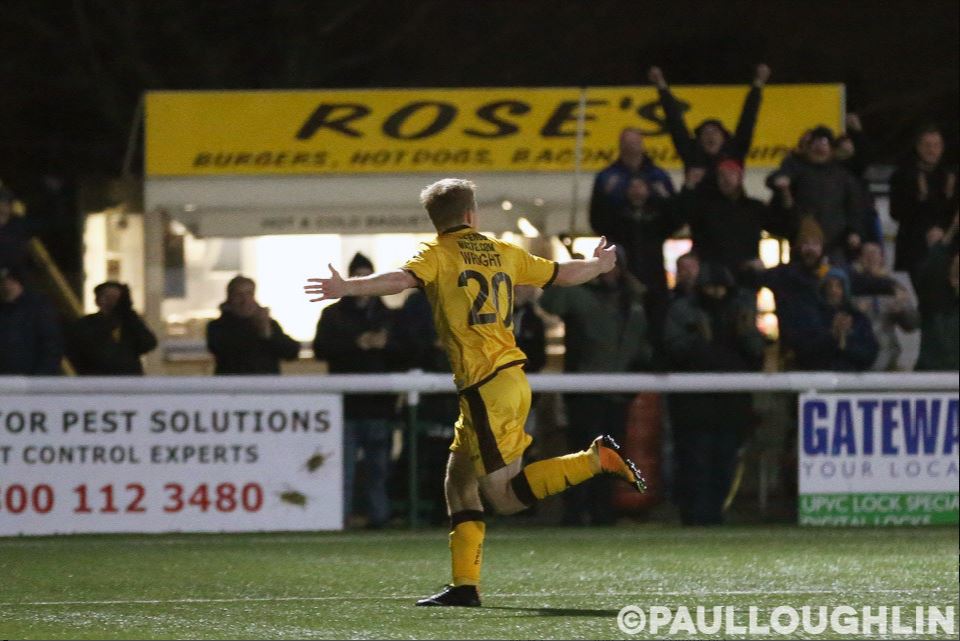 Gratuitous 'Shoebox in the background' picture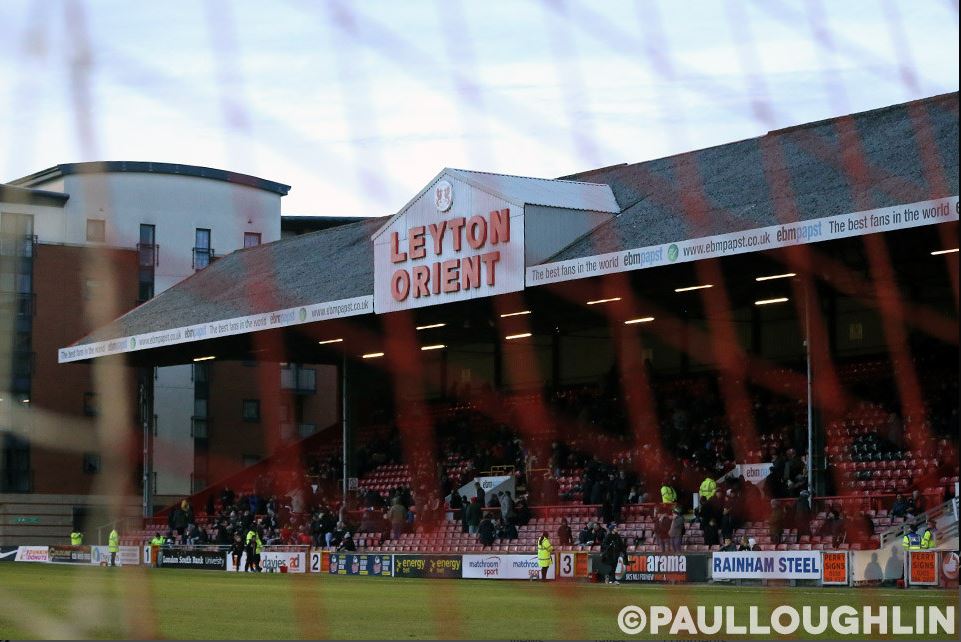 Got to have at least one arty effort…
Up next is one of the more anticipated trips of the season with the away game at Leyton Orient's Brisbane Road. The O's are still finding their feet so far this season since a somewhat Italian influenced fall from grace. In front of over 400 travelling fans we concede an early pen, then chasing the game and missing a few chances, we eventually find ourselves 3-0 down. Tommy pulls one back finally, but now really gunning for it, the hosts tidy up and make it 4-1 at the death. Dis. A. Pointing. Still, it's a decent day out and the big away following certainly makes a racket. "Where were you when you were shit?" sing the home gleefully fans near the end. What do you mean 'when' you twats?? This is 5th tier football for fucks sake lads, everyone's shit.
We reacquaint ourselves the following Saturday with old Conf South buds Truro in the Trophy at GGL. It's a properly dour game with little in the way of chances and just as we're all thinking "Fucks sake, Cornwall midweek", Dundo pops up like the absolute chuffing hero he is in the last minute to send us through to the next round (1-0). That was a close one! The draw on Monday presents us with another old friend at home in the next round, Hendon. Hard charging Tranmere are up next. They've had a slow start, but are finally building up a head of steam and moving menacingly up the table into the all important top 7. They're also about the best side we've seen and despite turning in a decent showing ourselves, their finishing proves miles better than ours and they naturally make pretty much all their chances count, including two 1st half belters from range. So a 3-1 defeat. To add to matters, we don't segregate for some odd reason and after we equalise thanks to a Kenny Davis header, the away fans get a bit antsy and Green Street. End result is we're all lobbed out of that end by the Old Bill to prevent any further silliness and this means that from here on in, all games at the Lane will be segregated. No doubt triggering comments from some corners about us losing our 'Non League soul' whatever the fuck that might be.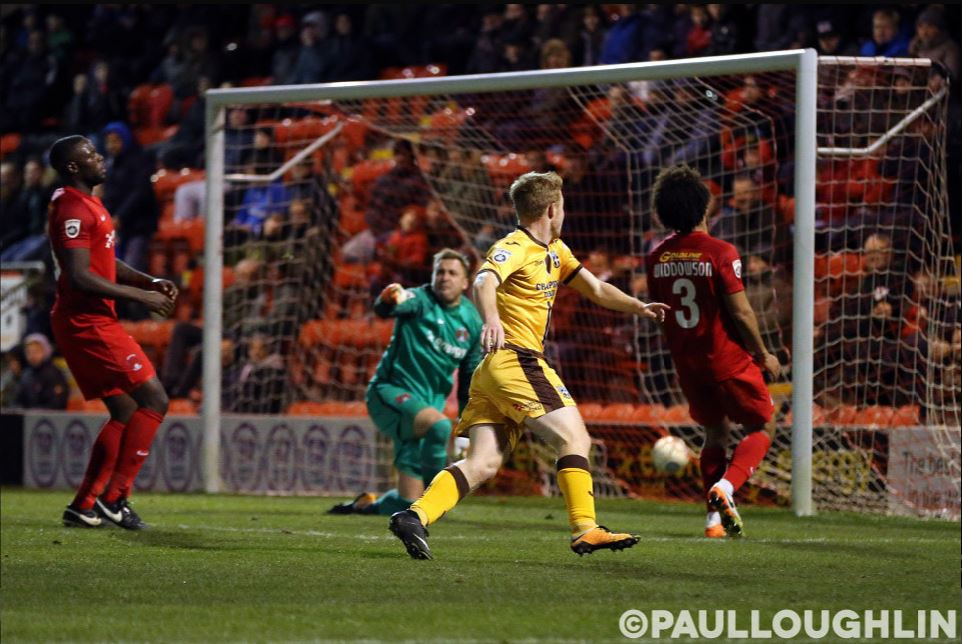 Tommy pulls one back @ Orient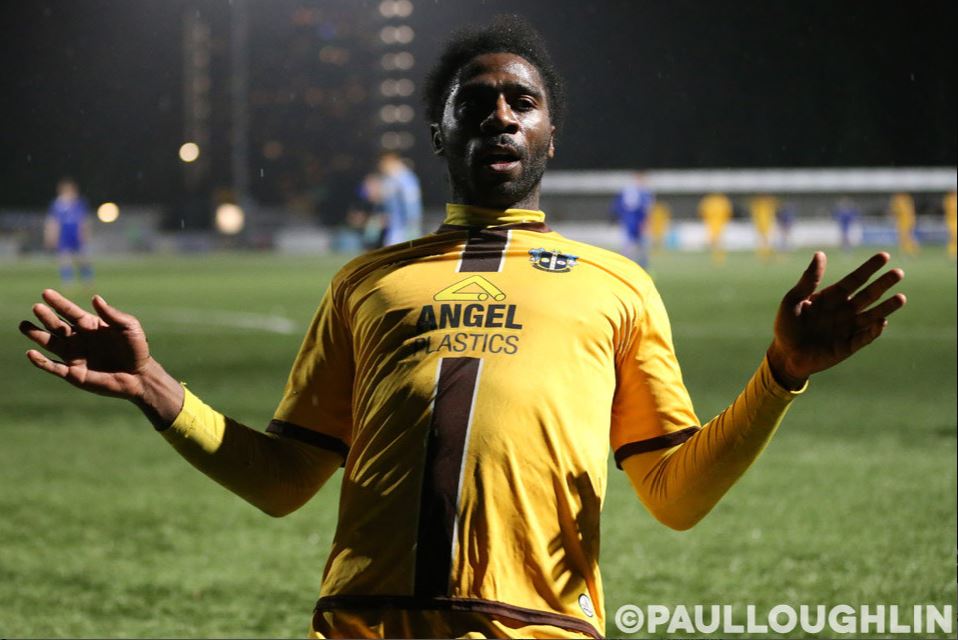 "Calm down lads, I've sorted it!" – Dundo steals it late v. Truro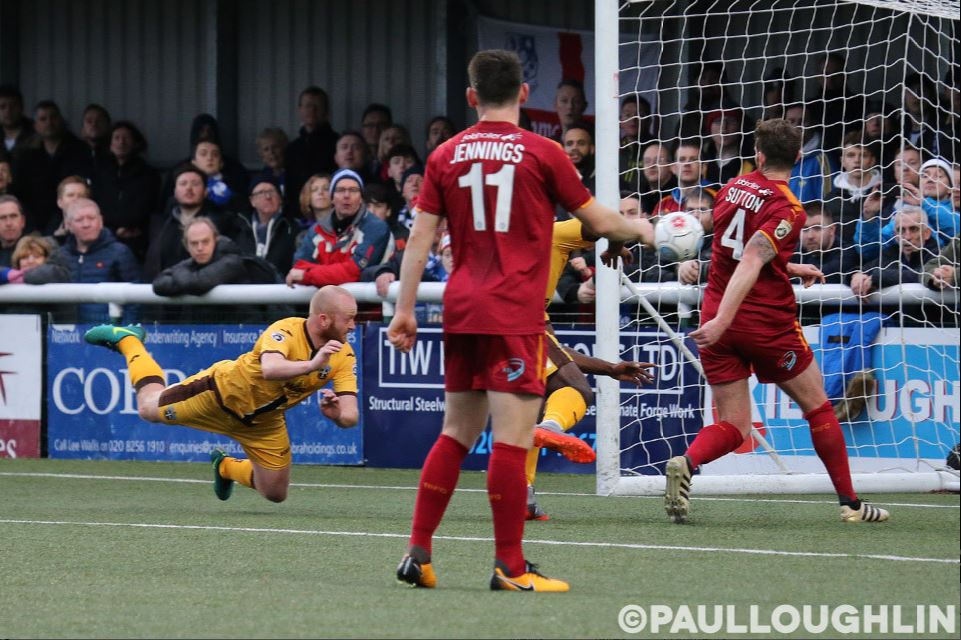 Kenny dives in to level against Tranmere
The loss leaves us sitting 4th and with December now largely starting to look like it's going to provide the slump in form we've all kind of been expecting since the end of August, we then have to go to Boreham Woodand get something on Boxing Day, which is never easy. Not expecting much, we cruise to a pleasantly surprising 4-0 win thanks in the main to 2 first half penalties (one nailed on, one a bit soft), the second of which sees a home player sent off for denying a goalscoring oppo. Two Craig Eastmond goals after the break finish them off. Merry fucking Xmas indeed! The win is made that bit sweeter by the home side's usual fucking carry on of charging everyone full whack to get in (including the Yoof Element), charging you to broadcast commentary from games (and then losing connection halfway through for the 2nd year running), to just generally being twats. Fucking mugs. No wonder no prick watches you.
With injuries starting to thin the ranks again a little, Dos moves once more into the loan market trying to get us some more cover at the back and brings in Terrell Thomas, a London born centre back from League 1 Wigan. He goes straight into the side for the important long trip north to Macclesfield who sit 1st in the table, just one spot above us. Any hopes of a classic ding-dong top of the table clash are ruined inside the 1st 10 mins when the standard garbage National League ref gives them a soft as shite penalty. Their keeper is sent off in the 2nd half for nearly killing Lafayette, but in a game that never really catches light we can't break through and our defeat (1-0) moves Macc a rather commanding 6 points clear. There's also some silliness at the end with a home fan clumping our incredibly dangerous 70 year old kit man. Still, at least the drink up is of a sufficient standard to help soften the blow. Of the result we mean, not the one Clive copped.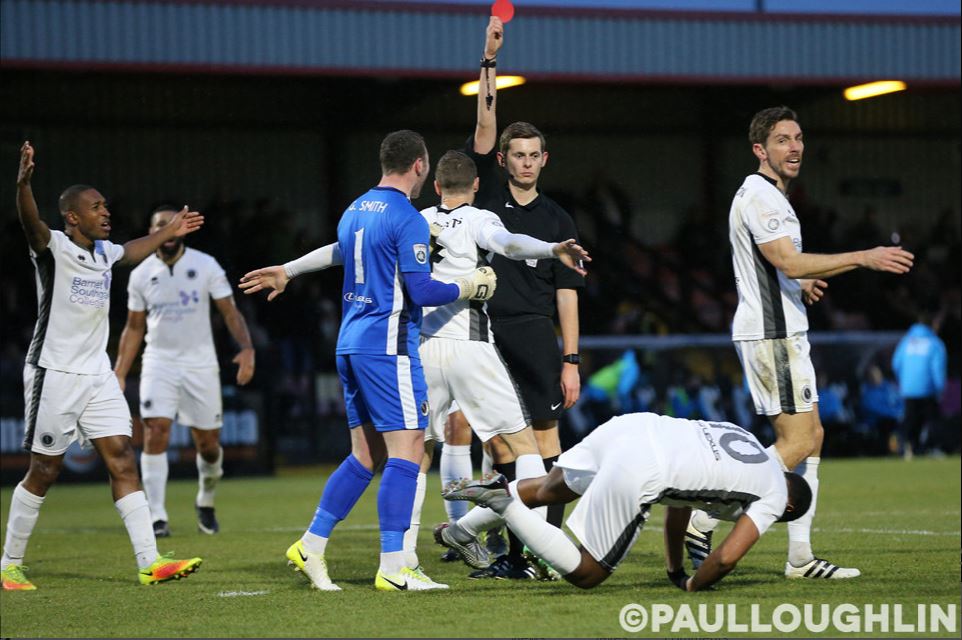 Wood down to 10 on Boxing Day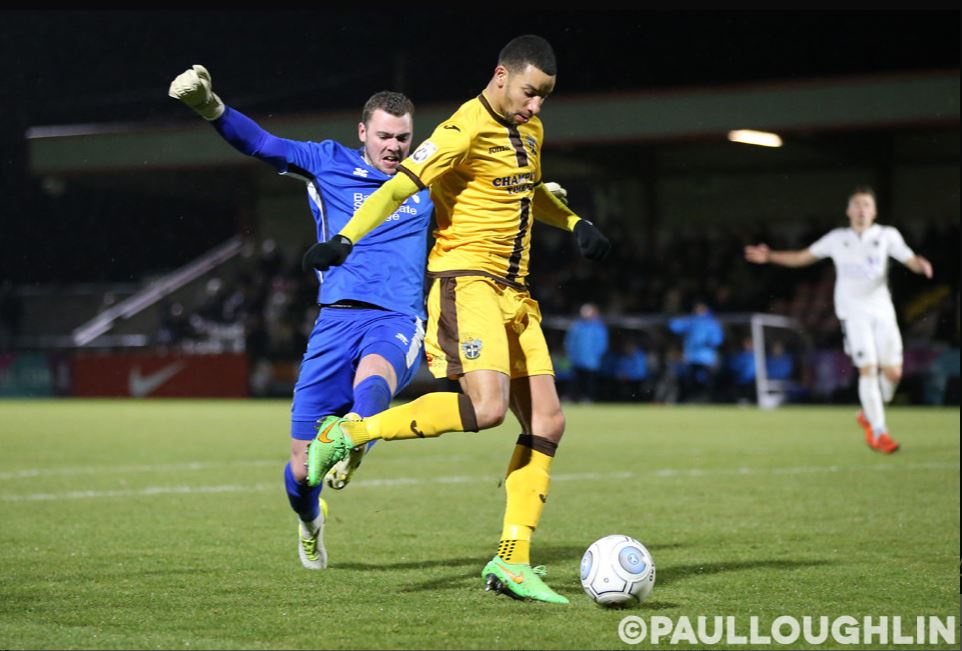 The Wood 'keeper can't stop Easty making it 4-0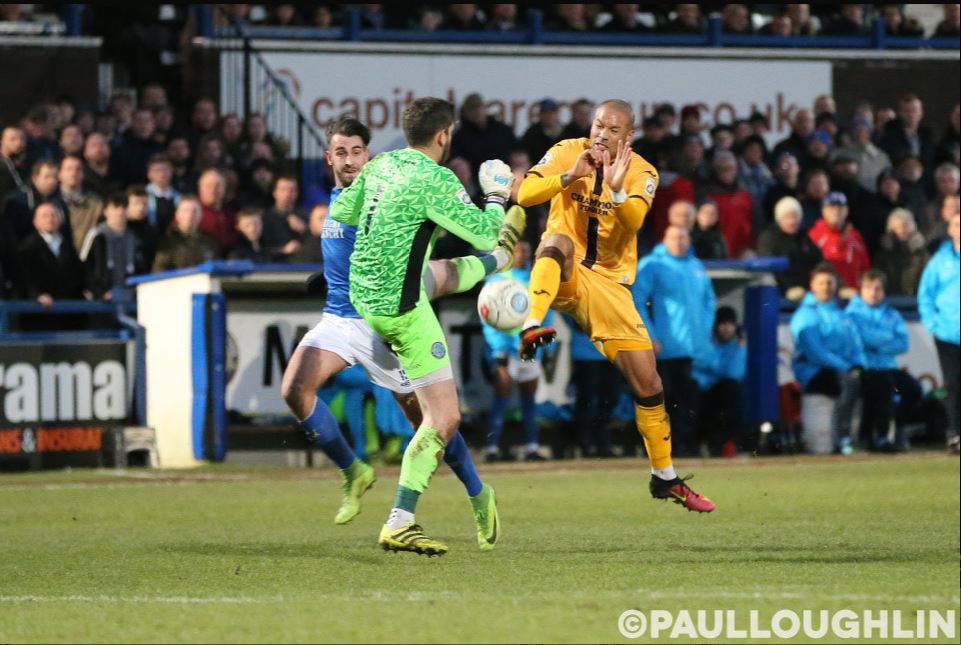 That's going to smart….
Still, it's not all doom and gloom as despite not having had the best month of the campaign so far, we still depart 2017 in fine fettle. Yes, we're down to 3rd in the table, but have a hefty 45 points on the board. That means basically 2 more wins and we're staying up. And it's only the end of December! Get those chalked up sharpish and early 2018 could be really interesting….
JANUARY


New Years Day and it's the return fixture with Boreham Wood. We're again the better side, but can't manage more than a JC penalty to put us ahead and at the death, they scramble a somewhat undeserved equaliser (1-1). The game comes at a further cost, as Jamie Butler twists his knee near the end so we're now down another goalkeeper. Dos moves quickly and gives his mate at Wigan a ring and we're soon receiving Welsh U21 international Owen Evans on Next Day Special Delivery. Which delights our resident Taffy 4 Days no end. A day later, our Blues Brothers tribute act ("We're putting the band back together!") continues as we resign a certain Harry Beautyman from Stevenage, where he's been languishing in the ressies. Bolawinra's loan is also extended to the end of the season. Which is all good news for the long schlep to Newcastle to get properly shitfaced in the Bigg Market take on Gateshead. In horrible conditions, the new faces all put in a great shift and a late Tommy Wright brace ultimately gives us an excellent 2-0 win which puts everyone in a great frame of mind for the resulting night out on the gas on the Toon. Especially as we're not out hunting for missing OAPs in the pissing rain this year. Amusingly, the same day our friends down at Eastleigh hold themselves a 'Ladies Day' event. Sexist bastards, what is this, the 1950's eh?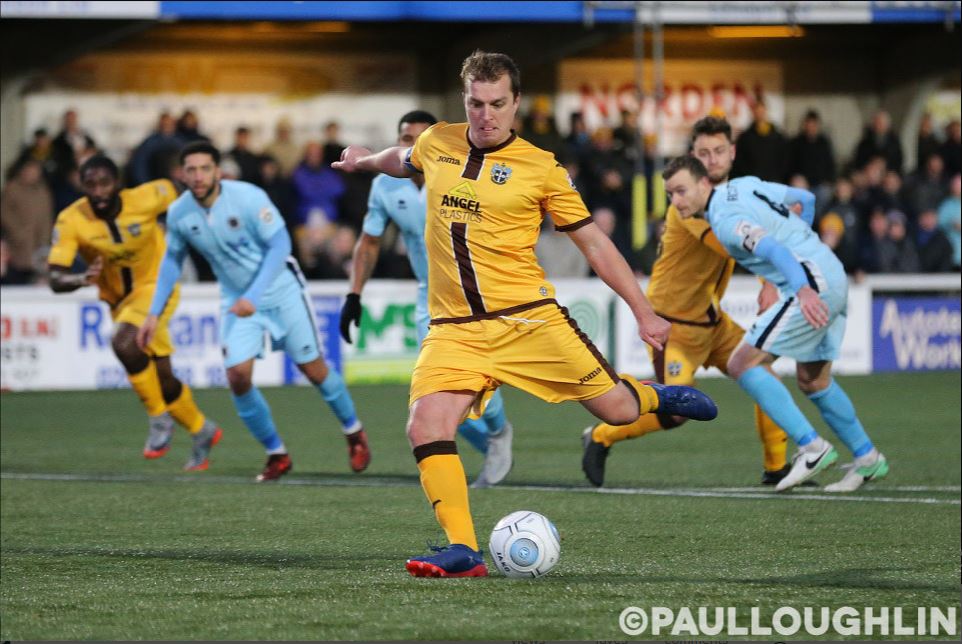 JC bangs us in front on New Years Day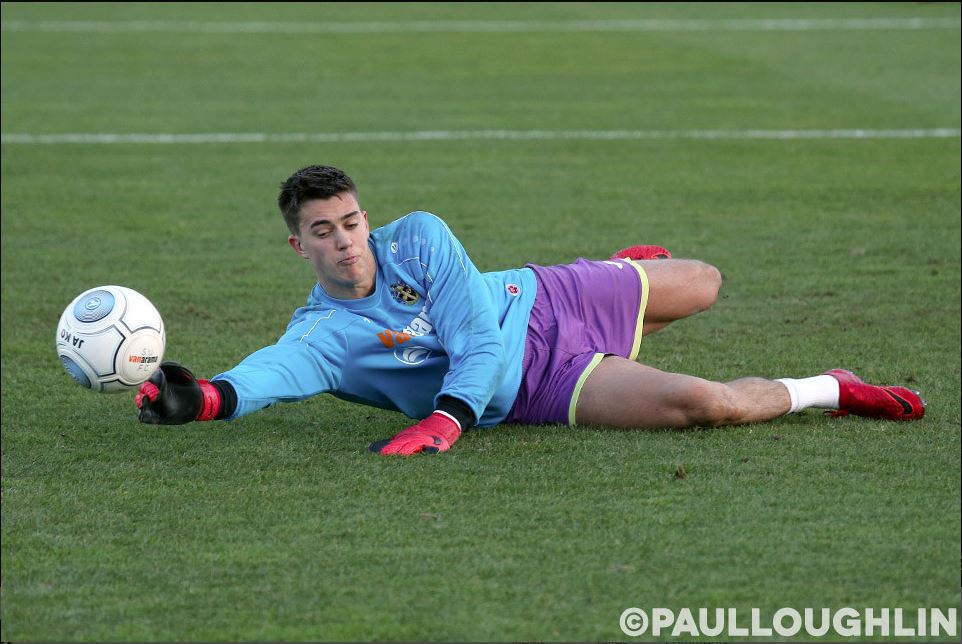 Owen Evans – Wigan & Wales U21. Warming up @ Gateshead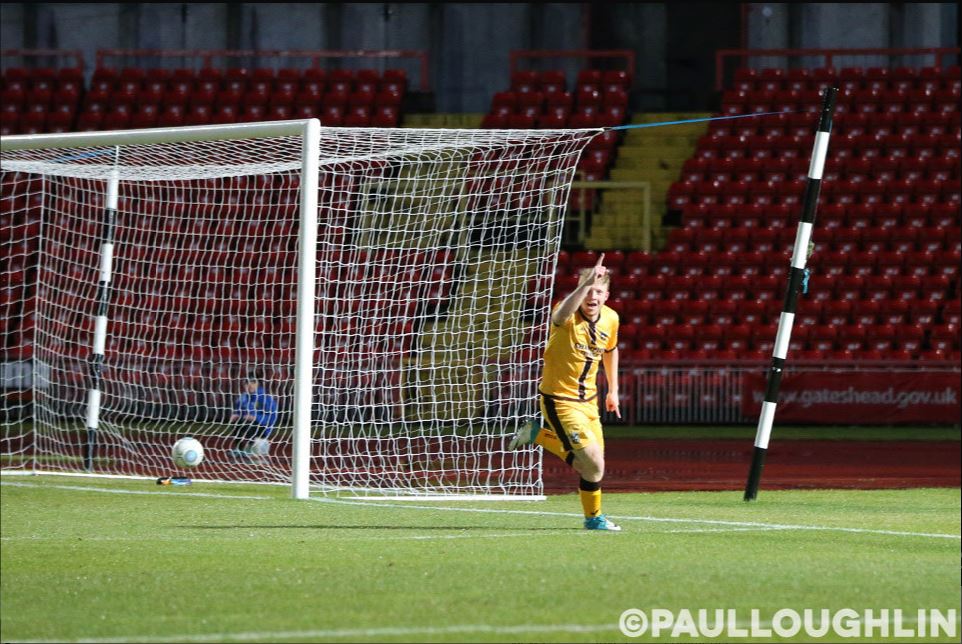 It's that man again! Tom nips in to score @ Gateshead
With opportunities currently limited and his missus about to drop, the recently returned Ross Stearn is shipped out to Bath City on a months loan to get some games under his belt and to ensure he's much closer to home for the big event. And yes, we know. There's been a lot of loans this season, which makes writing shit like this a fucking nightmare and no mistake. Thank christ we take notes! We return to the rough and tumble of the Surrey Cup midweek against Molesey at GGL and much to Dukey's delight another AcademySquad player based side runs out easy 7-1 winners. A Tommy Wright hat-trick and a brace from Lafayette doing the majority of the damage. During the week, the big news in the league is Hartlepool announcing they're skint. As in they have 200 grand of wages to pay next month and they're just the 200 grand short of being able to cover them. Ooops! There's more exciting cup action on the Saturday with Hendon at home in the Trophy. They're hard working, but ultimately lack the cutting edge in the final third to really trouble us and goals from Cadogan, Coombes and the increasingly prolific Wright means a 3-0 win and a trip to Conf North side Brackley Town in the Quarters.
Having extended to the end of the season anyway, Tom Bolawinra's loan is made permanent from Grimsby with the L2 side deciding to cut their losses on the winger, with their gaffer going increasingly 'big' in his battle to keep them from flopping back into Non-League. A loss that is definitely our gain. Also in the news is the latest installment of the "Will the FL allow 3G pitches?" debate. Ever since we've been hovering around the top of the table, the ongoing "What if?" babble has been going on and on with the FL themselves rather tight lipped on the matter. This latest episode involves the National League's CEO helpfully saying that if we were to be promoted and refuse to pull up the plastic and replace with grass, he'd have no issue chucking us back down to Conference South. Yeah, cheers mate. You dick.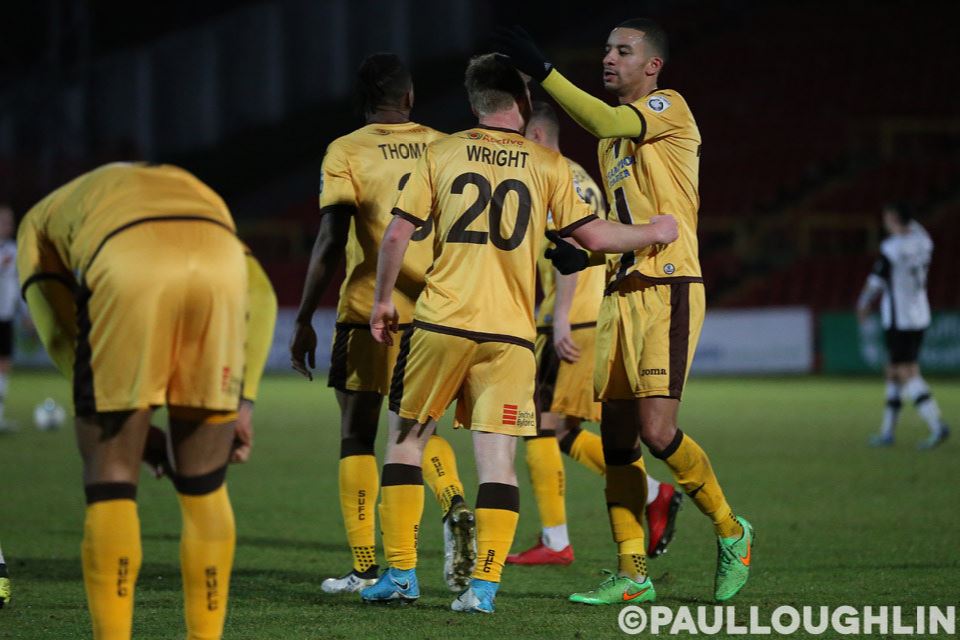 Wright makes it 2-0 at the Heed.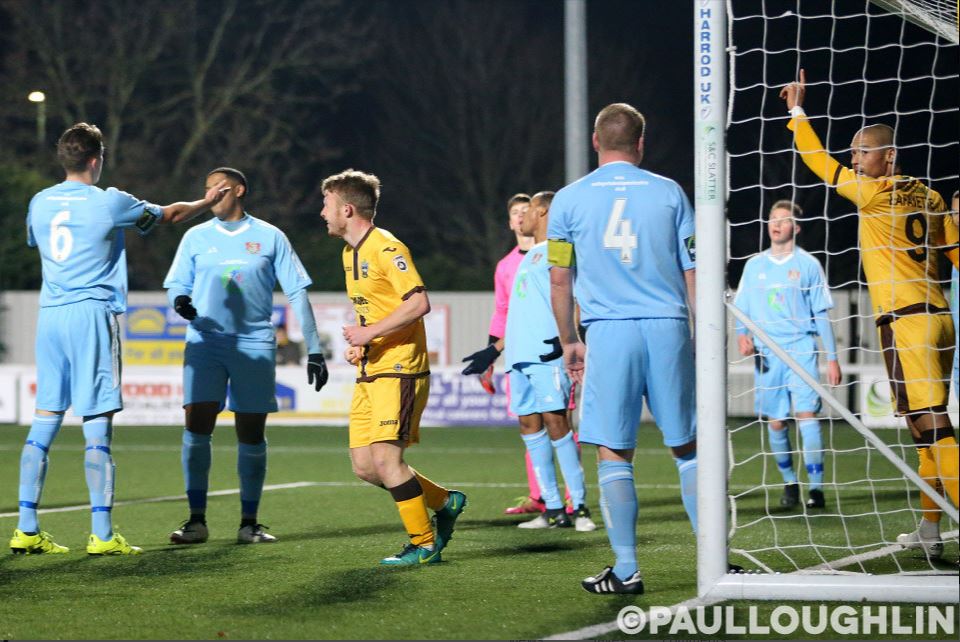 "Bloody strikers!" – Tommy shamelessly nicks Walts goal v. Molesey.
"Let's see the little git nick that one!"
Next up it's Dagenham at home and live on the box with another visit from BT Sport. They're chasing for the play offs but look anything but as Tommy Wright and Tombo rack up a solid 2-0 win that takes us to the first magic mark of 52 points, which given how shit the bottom 4 currently are, should see us comfortably safe for another season. During the week, another National League side comes out and declares they're absolutely pink lint, with struggling Chester's entire board departing when it comes to light they need 50k immediately to stay afloat. Ooops.
The longest trip of the season is next, with everyone schlepping up to an hour past the arse end of nowhere for the game with Barrow. Despite some recent iffy weather, the hosts seem to think everything will be fine though and the gang are on the train round the bay from their base in Lancaster just after 11am as the news comes through that the game is off due to a waterlogged pitch. So everyone does an about face and instead a lot of U's at a loose end take in the delights of Lancaster City's 'Giant Axe' ground as they beat Halesowen 2-0 in a Northern Prem game. Then it's out on the town after for many many pubs to try & blot out the fact we've wasted our fucking time and have now got to come back up here midweek. Before the opening month of 2018 ends, there's the usual team jiggery pokery to cover. Terrell and Owen both extend their loans. The former to the end of the season and the latter for another month whilst Jamie fully gets over his mild knee knack. Heading out the door to pastures new is Pape Gueye, who having returned from his loan at Whitehawk, is promptly released as his chances of breaking into our side are somewhat limited. Still, we'll always have that Pre-Season goal at Dartford won't we mate?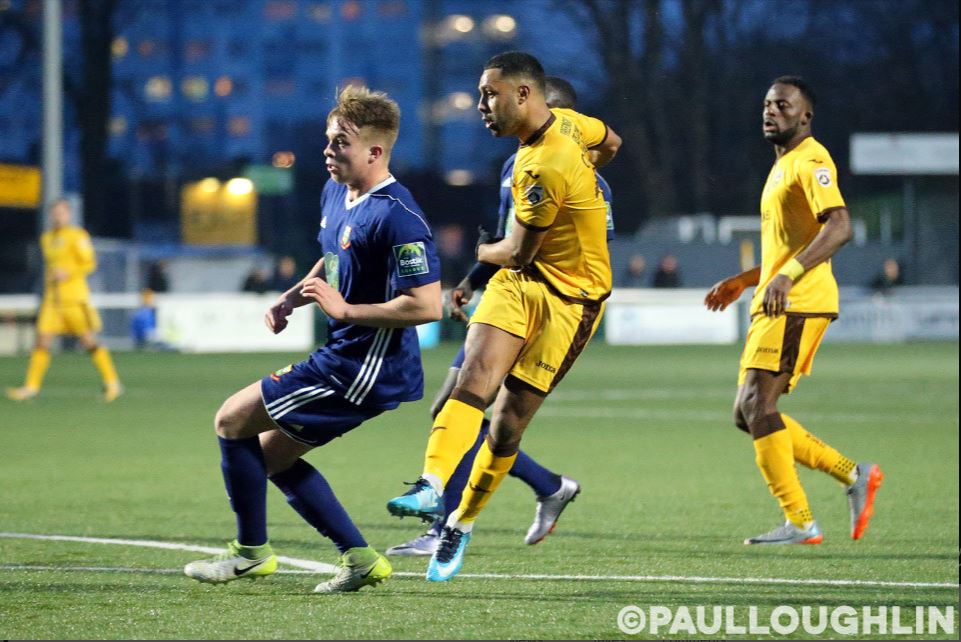 A rare Adam Coombes strike v. Hendon in the Trophy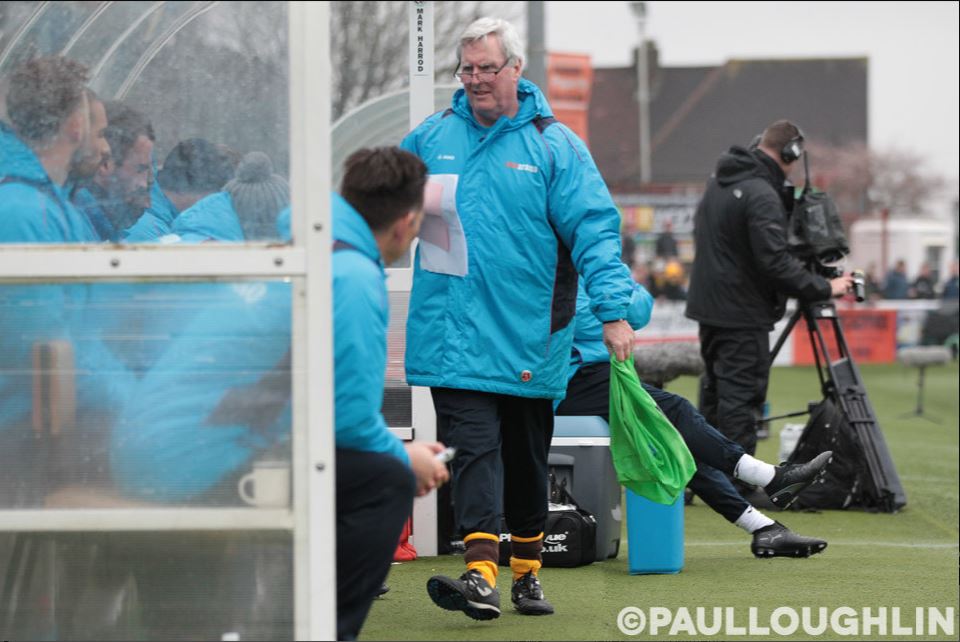 "Right, so who ordered the quarter pounder with chips?"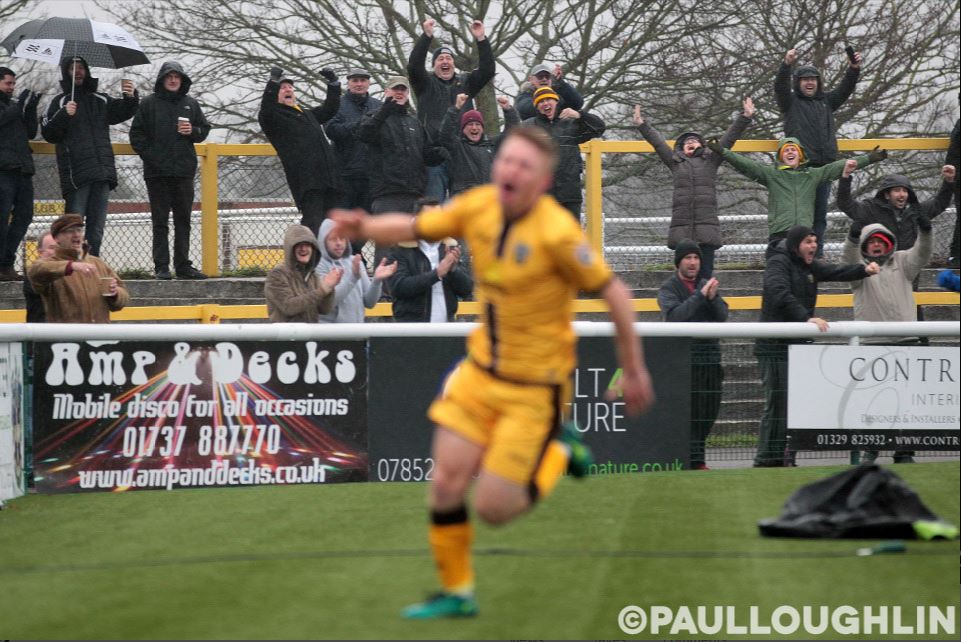 Tommy opens the scoring on BT Sport against Dag'num
So, to recap. We're heading into the final 3rd of the campaign and we're not only safe, but still sniffing around in the top echelons of the table. Can we make the play offs? Or even have a serious tilt at the league title itself?
Why are you asking us anyway, we're idiots! Still, exciting though innit?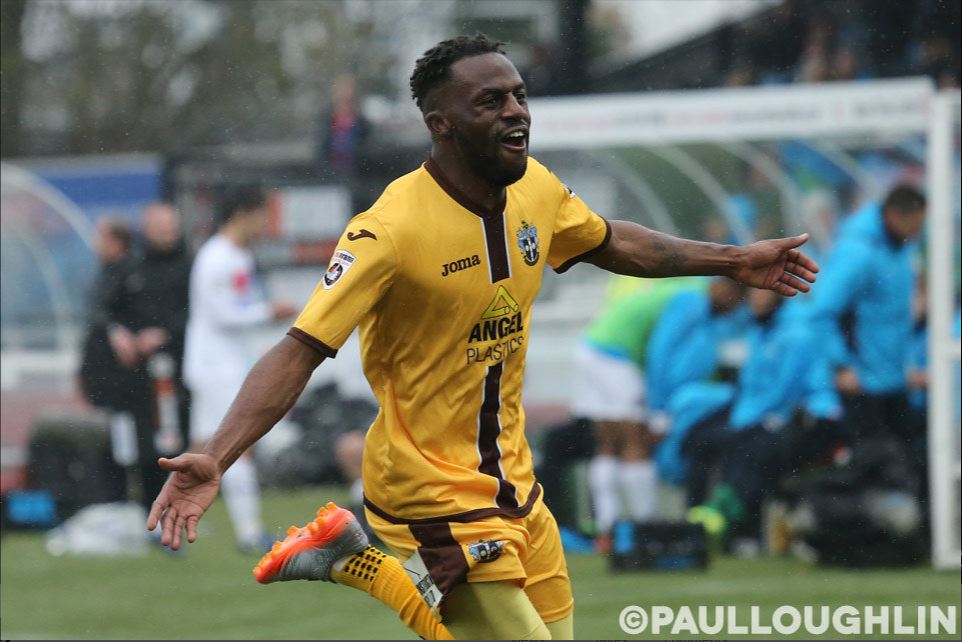 Welcome back Tombo! The wide man makes it 2-0 against Daggers
Once again we'd like to thank the jolly good sport and rather good snapper of images that is Paul Loughlin for once more allowing us to rob the pics for this shite from his impressive library of pictures to help make our round up look far more professional than we could ever hope to! Check out the full sets of his stuff on Flickr HERE. They're dead good and have been in the NLP and everything.