So, 2016/17. That was a bit mental eh? 5th Round of the FA Cup, playing Arsenal, some bloke eating a pie, front page of the Sun. Like I said. Mental. So, I guess we'd all be up for one of those nice, quiet, boring mid-table seasons after all that fucking palaver? Then again, this is our second campaign back at this level and they can be notoriously difficult. Well, yeah, about that…
PROLOGUE


Despite the madness of last season, Dos doesn't just pull down the shutters the moment we see out the season at Macclesfield and piss off to Magaluf to lose himself in a hurricane of Jaegerbombs and sunburn like the squad. Oh no. He's straight back in the thick of it getting bodies in for next year. What a hero! By the 2nd week in May, midfielder Kenny Davis comes in from Boreham Wood and forward Ross Lafayette is captured from Dover. We obviously make an impression on ol' Ross as within the week, 2 more have told the Frenchies to poke their francs, croissants and duty free's, rustled up an Uber and rocked up in West Sutton as well. Welcome Moses Emmanuel (FWMF) and Aswad Thomas (DEF)!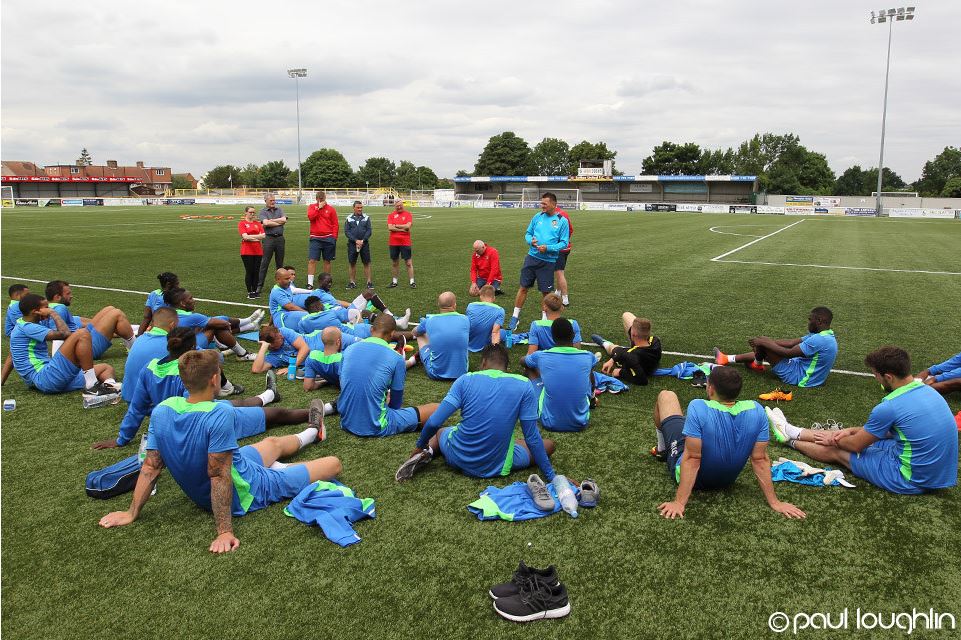 "And we're definitely aiming for about 10th this year lads…."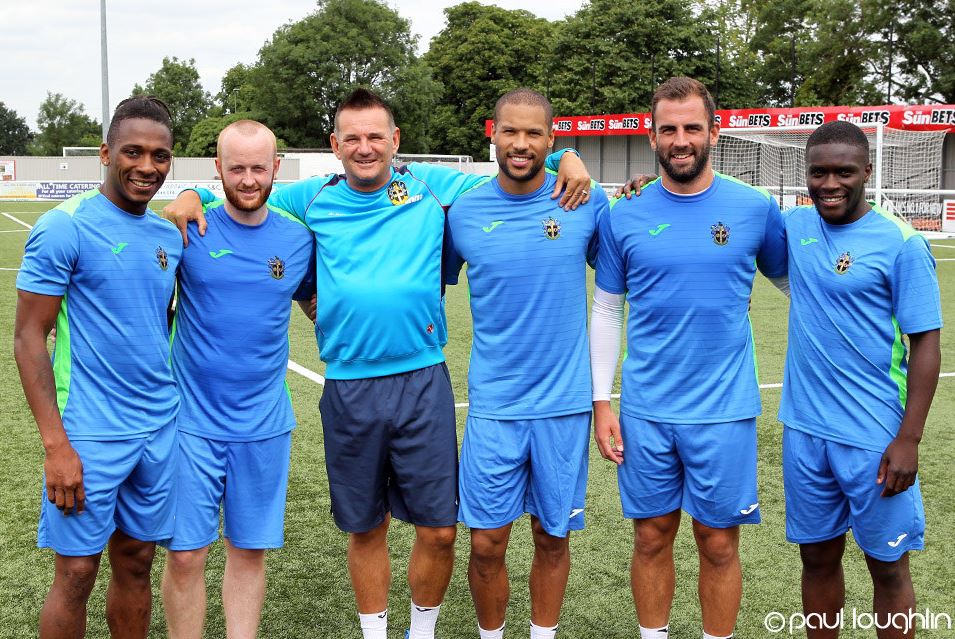 New faces. AJ, Kenny, Ross, Walts & Moses….
Our first PSF is announced, with old 'friends' Coventry coming to town. Other events in May are the club capturing the prestigious NLP Community Club of the Year award and a musical based show on the BBC reflecting on events in the previous season's FA Cup. We definitely didn't all sit there with something in our eye as Weybridge rockers You Me at Six warbled through their song 'Take on the World' over footage of all the Leeds and Arsenal games. No, you fuck off. We enter June and get Angel Plastics as our new home shirt sponsor to replace Green Go Waste. As pre-season looms, there's more changes on the playing front. Roarie Deacon unsurprisingly gets a move away, choosing to head north and join SPL club Dundee, Ben Jefford is released, Bedse Gomis accepts an offer of FT football at Barrow and then Maxime Biamou secures a move to L2 club and our first PSF oppo Coventry City for one of those 'undisclosed fee' things. To counter this, Dos brings in midfielder Simon Walton from Guiseley. What's that? Football? Oh yeah, we're getting to that. Unhelpfully, Portsmouth cancel a PSF we'd arranged at our place. Something about their manager thinking us too mickey mouse an oppo for a side of such stature as them. Yeah? Well we'll show you twatto.
PRE-SEASON


Finally, after all the build up, the football gets underway. Coventry, who've fallen on hard times theses last few years thanks to shit owners and fresh from nicking Baimou for a "no one will tell us how much" amount come to GGL for our first friendly. It's a tight game that they nick late on (1-0), but at least it's a decent work out to get us started and we get to say goodbye to Max properly. Next up at the Lane are some lot called Hemel Hempstead. Never heard of them. Regardless, a dull game is lost 1-0 with goal action at a premium. At least there's good news following about our Season Ticket sales which have passed the 1400 mark. Madness. We then head to Dartford (1-0) for our next work out, but with early injuries now biting, we're forced to field a slightly triallist based side. The biggest loss being Ross Worner to a knee injury, with former Hemel keeper Jamie 'Scored a goal against Sutton' Butler subbing in to help out. Pape Gueye notches the only goal in another dour contest for our first victory of the summer.
Bye Max. *sniff*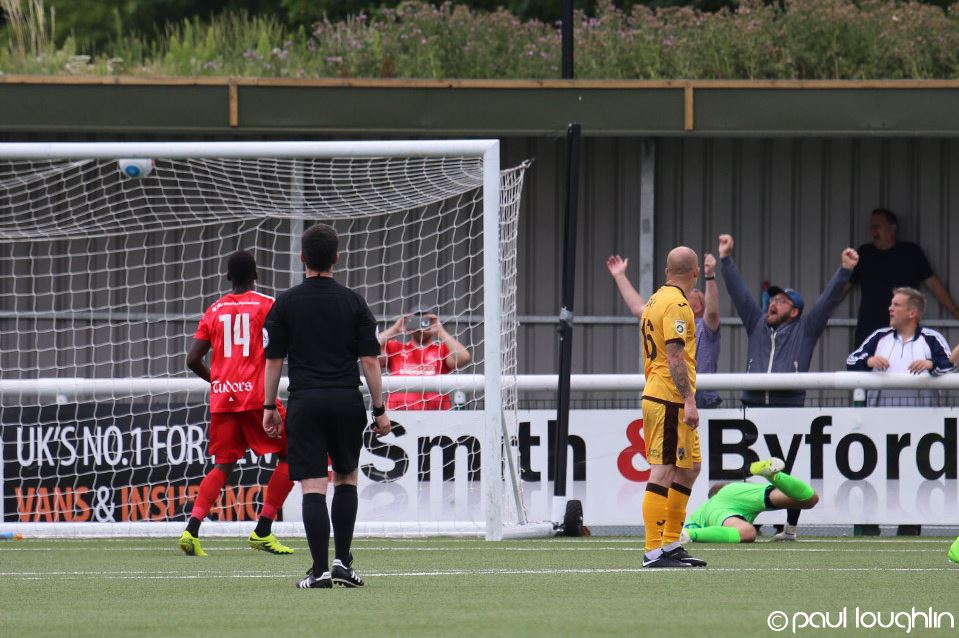 Pre-Season going well….not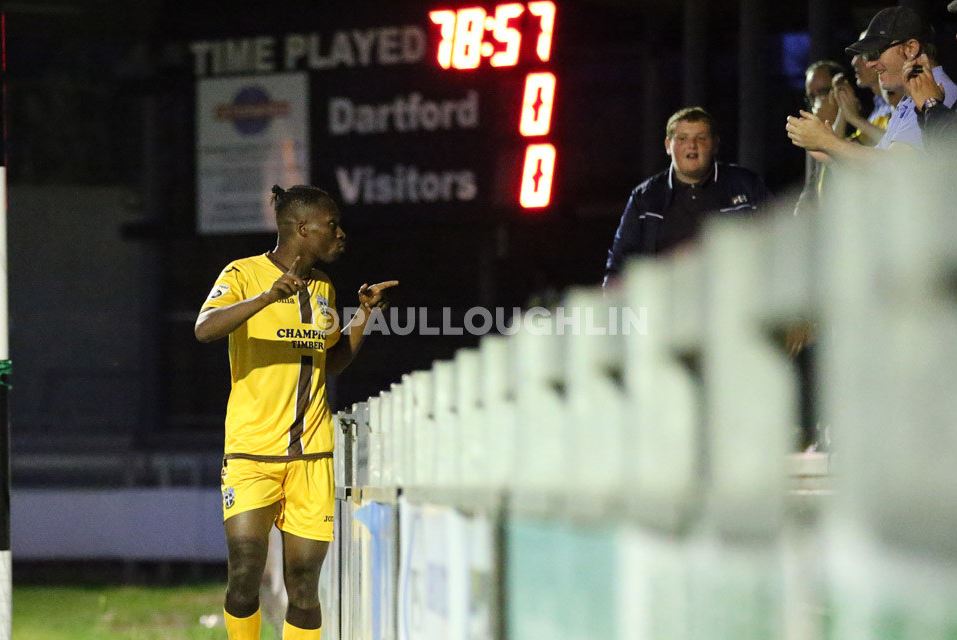 "Which way's Whitehawk??"
With a lot of knocks, Anthony Jefferey joins after a promising showing in that game at Dartford as we head to the familiar surroundings of Havant & Waterlooville. A solid 5-2 win is recorded with Tommy Wright notching and new man Lafayette scoring. Also making an impression is Josh Taylor (named as 'Jose' on the team sheet!), a former Palace junior who scores our fifth and is instantly snapped up by Dos after the game. Sadly, Ross Worner's injury is confirmed as a torn ACL so Jamie Butler goes from doing us a favour to signing an initial 3 month deal. Pape Gueye meanwhile goes on loan to Whitehawk. We wrap up pre-season with 2 more home games, first a Norwich City XI who are seen off in a tidy performance (3-2) and then old Conf South muckers Chelmsford the following day (2-1).
Most of us however skip those last 2 home matches, instead electing to toss it off up in Scotland for Forres Mechanics, a Highland League side who wear the same colours as us, for their league opener against Nairn County (1-0). Fortune also smiles upon us and on the Sunday we're at the Dundee Derby to say goodbye to Roarie. Naturally, he misses the peno that settles this League Cup group game shoot out for the Orange half of the city. Bah!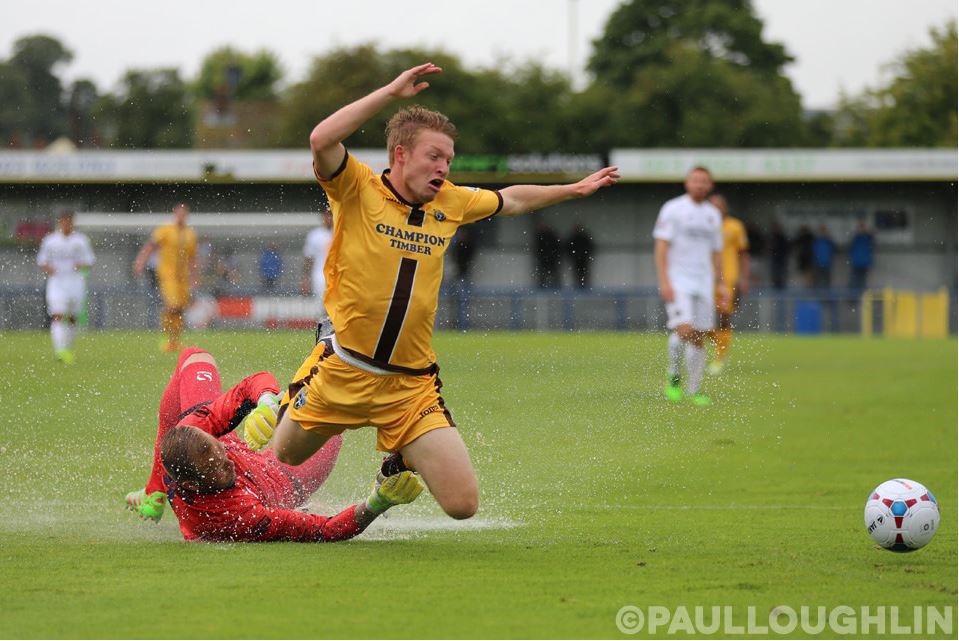 Tommy winning a peno at Havant.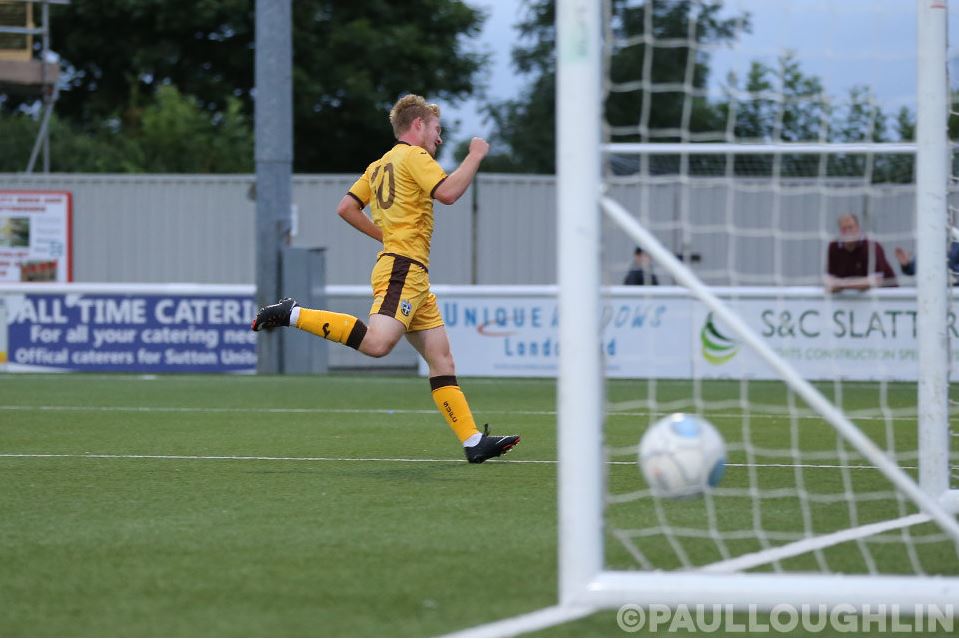 This became a familiar sight this season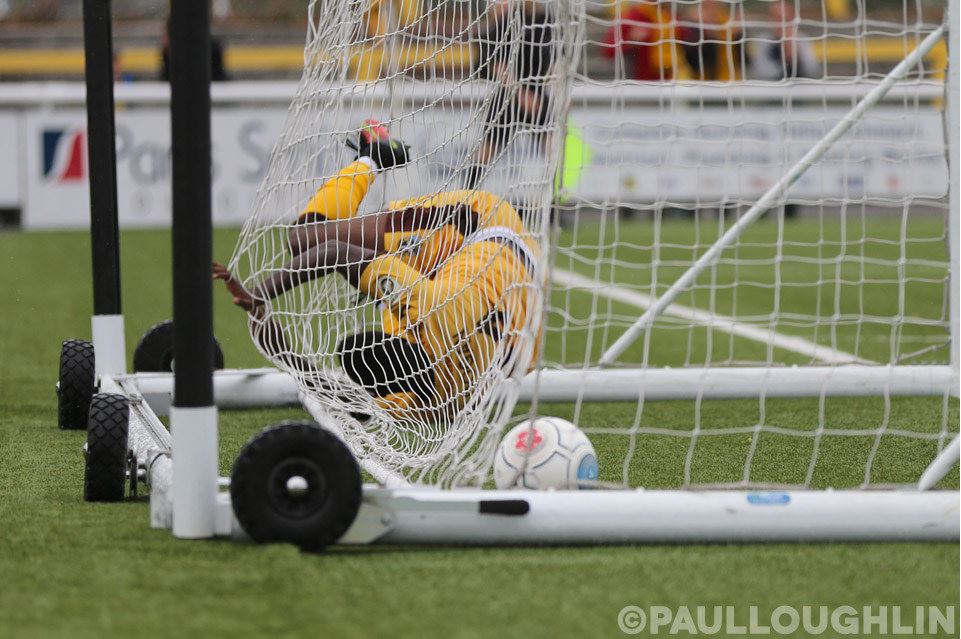 "You don't have to follow it in you know…."
Right, so we're all warmed up and raring to go then! Well sort of. With loads of knocks and injuries picked up over pre-season, no one's really sure how we're going to fare when the season kicks off. Mostly as we've not got a scooby who'll actually be fit to play! And we've not got an easy start either, as we're welcoming newly relegated FL side Leyton Orient to GGL on the opening day in front of the BT Sport cameras. Strap in!
AUGUST


The uncertainty over our squad means the squad numbers aren't confirmed until a couple of days before the season, but at least there's spots for young Tommy Wright and the ageless Craig Dundas. Still, everything goes well as over 3000 show up, including 1200 from East Laaahndan and goals from JC and Becks means Leyton Orient (2-0) are welcomed to the National League in the required fashion with two centre backs getting the goals. The joy is short lived however as we head to Eastleigh on the Tuesday night and lose 1-0 to a really pretty bog average outfit. The tough start continues with a trip north to Prenton Park and red hot favourites for the title Tranmere. No big deal! We stick in a superb shift however and a goal from Dundo secures a famous 1-0 win before we go out on the piss in Liverpool for the night. Some of us ending up in the Cavern Club, like some fucking Japanese tourists. Next up are Macclesfield at GGL (2-1). They score a belter inside 5 mins and then spend the next 85 getting battered by a relentless Sutton before 2 goals in a minute from Moses and Wright seal another deserved win. And despite having an injury list longer than a Crimean War era infantry regiment's, we're 2nd! Ha!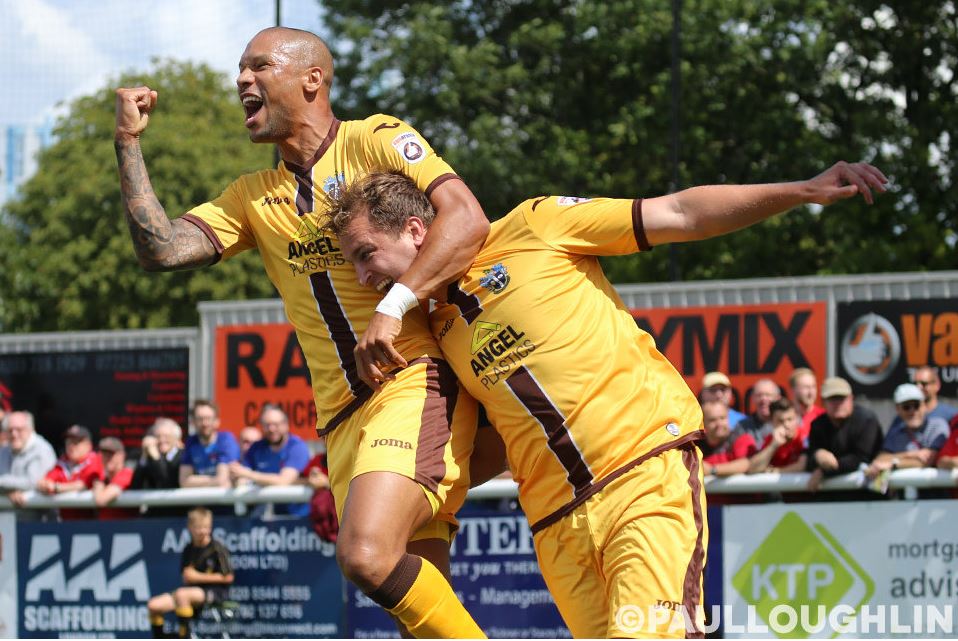 "JC's lost half a stone this summer!"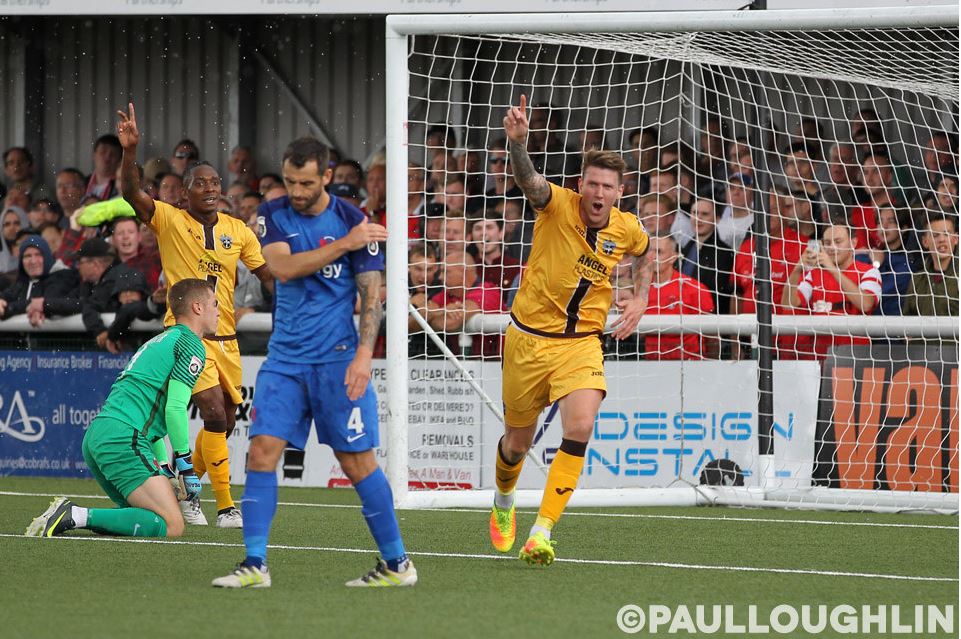 Becks with number 2 against Orient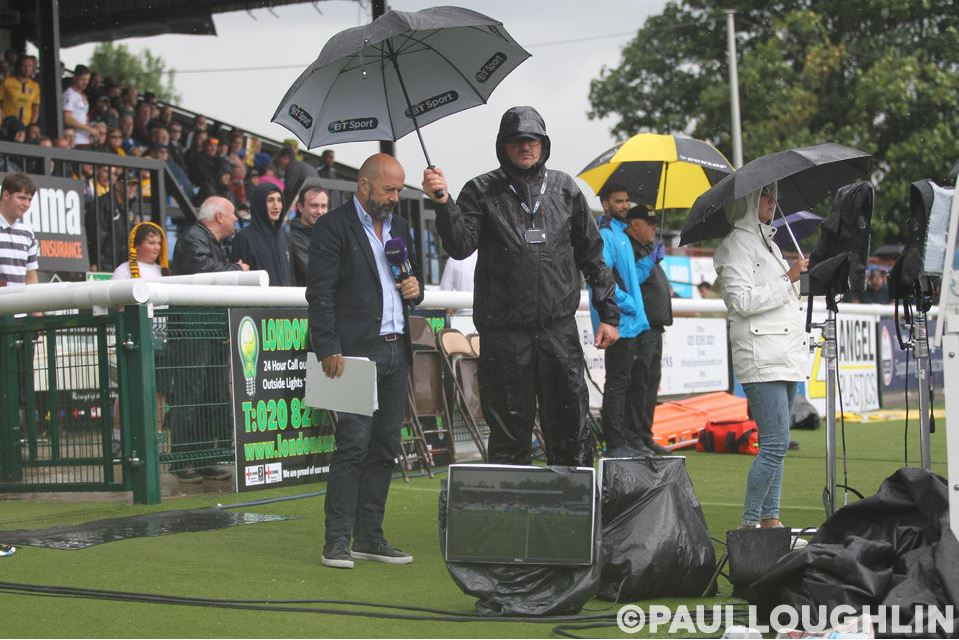 "Fucking Football Italia was never like this…."
Jack Jebb and Jeff Monokana head to Welling on loan, ostensibly to get them game time, but it's soon clear these are more likely going to be permanent moves than anything else. We then head north again to the land of Hollyoaks to play Chester (3-2), who've not got a great home record. As in 'Not won at home for a year' not great. We race into a 2 goal lead, get pegged back either side of having a perfectly good 3rd ruled out by criminal officiating before Kieron Cadogan pinches it in the last minute with a cool as fuck little dink over the keeper. Getting cabs away from the ground is still a fucking nightmare though and wastes valuable celebratory VDT. Regardless, this latest success has an odd effect. WE'RE TOP OF THE BLOODY LEAGUE!! Time to get drunk and stink out the train back from Crewe with pizzas!
We're back to earth with a bump the following Saturday though. Having had practically the same 11 out in every game, the pace finally takes its toll. We deservedly lead Maidstone at the break, but run out of gas horribly after the restart and eventually go down 3-1. The opening month then concludes with a scorching Bank Holiday Monday on Bromley's new 3G rug. We dominate and Craig Eastmond's 1st half strike gives us the 1-0 win to staggeringly put us back on top of the league.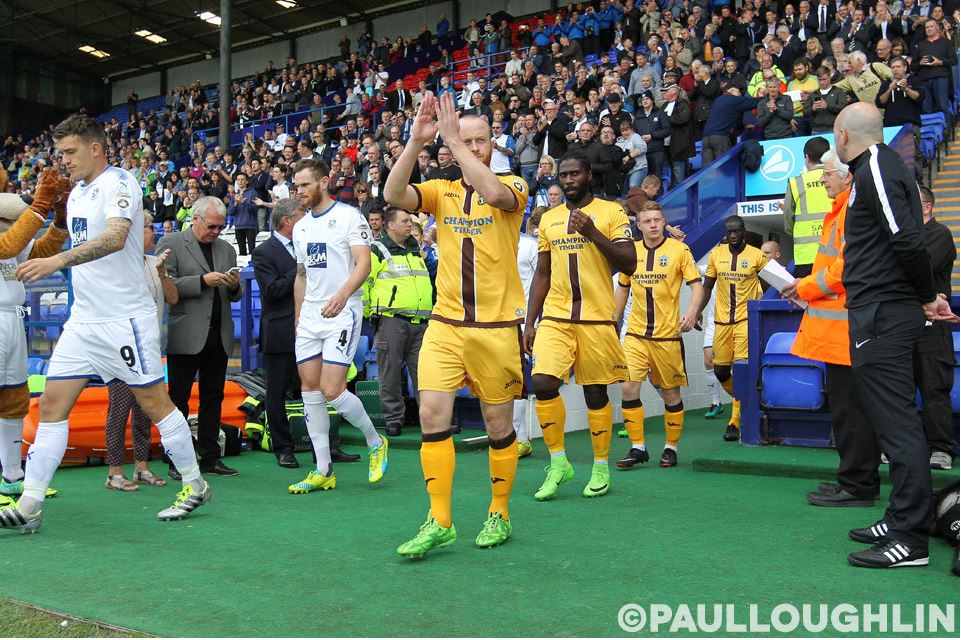 Into the Birkenhead cauldron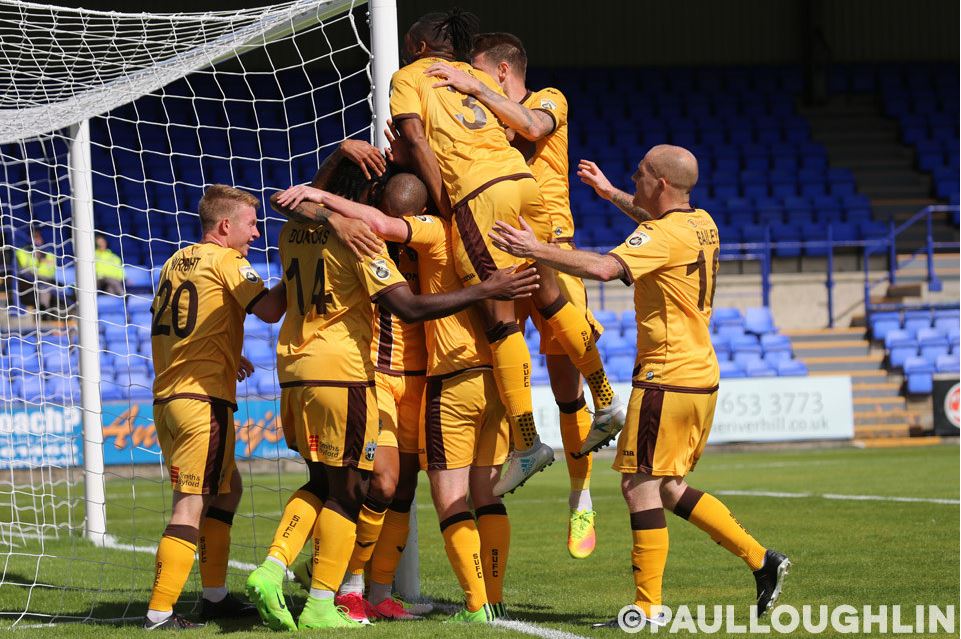 Duns with the winner at Tranmere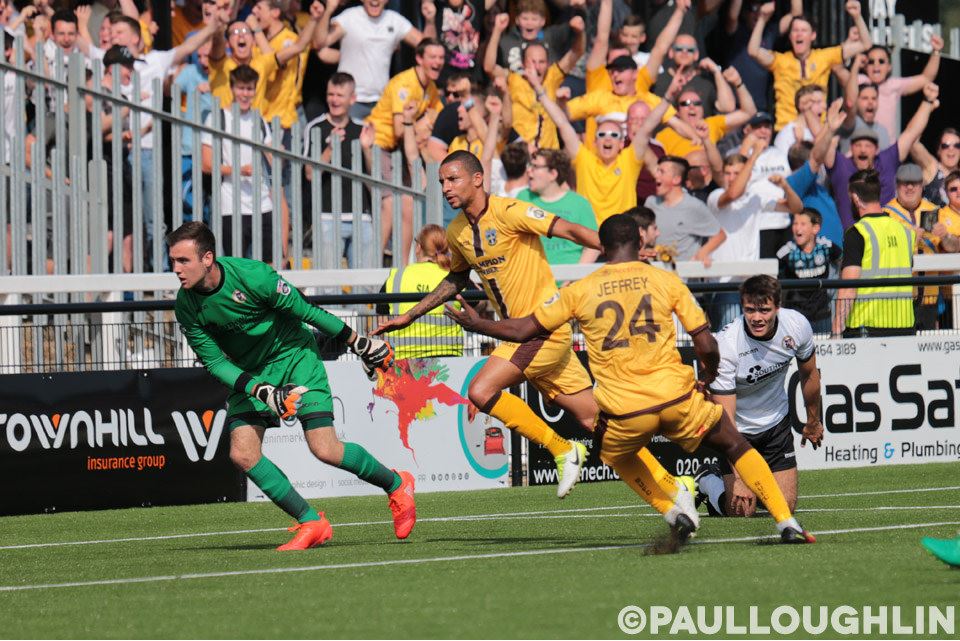 Easty puts us back top at Bromley
That's right melon farmers. We're top of the bloody league. Again. Still, enjoy it while it lasts, we'll be nowhere near come April….
SEPTEMBER


We kick the month off with the customary 'Manager of the Month' awards being announced. Which oddly, despite being Part Time and having won one more game under Dos than anyone else during the opening month, the league bizarrely gives the gong for August to full time Dagenham's John Still. The fucking idiots. Then again, they also give 'Player of the Month' to some keeper at Solihull for scoring a goal. Which would be great if the geezer hadn't already let in about 100. Elsewhere we lose another of last season's Cup run heroes in Kevin Amankwaah, who joins Bath after a new job down there means training & playing for us is no longer viable. Also heading out is Bradley Hudson-Odoi who takes the trip over the Thames to join Hampton on loan to get some game time after his lengthy spell out with an achillies injury. Coming in is promising young defender Jordan Bentley from Plymouth, also on loan.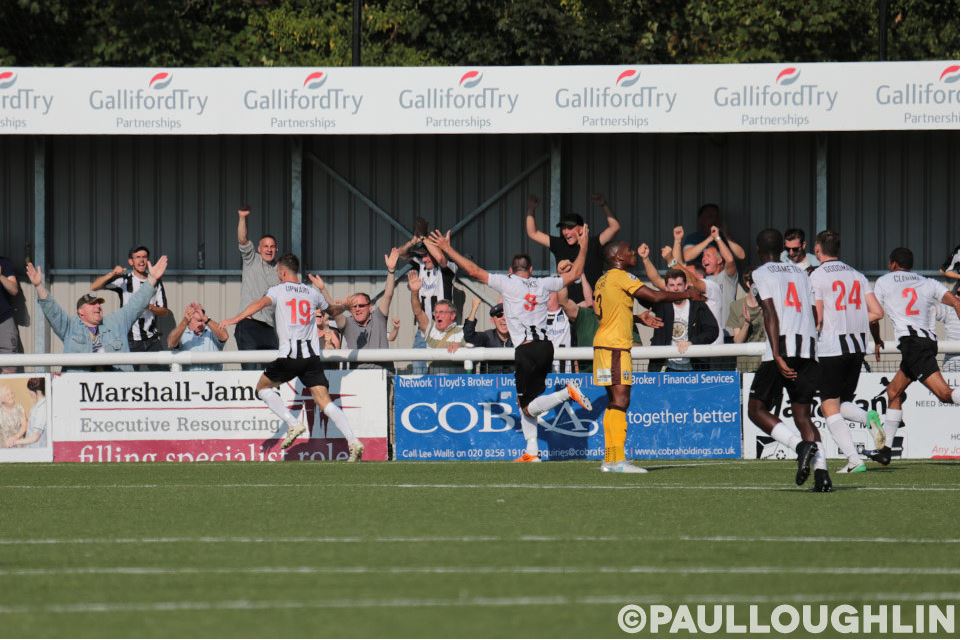 Maidenhead @ Home. Going well….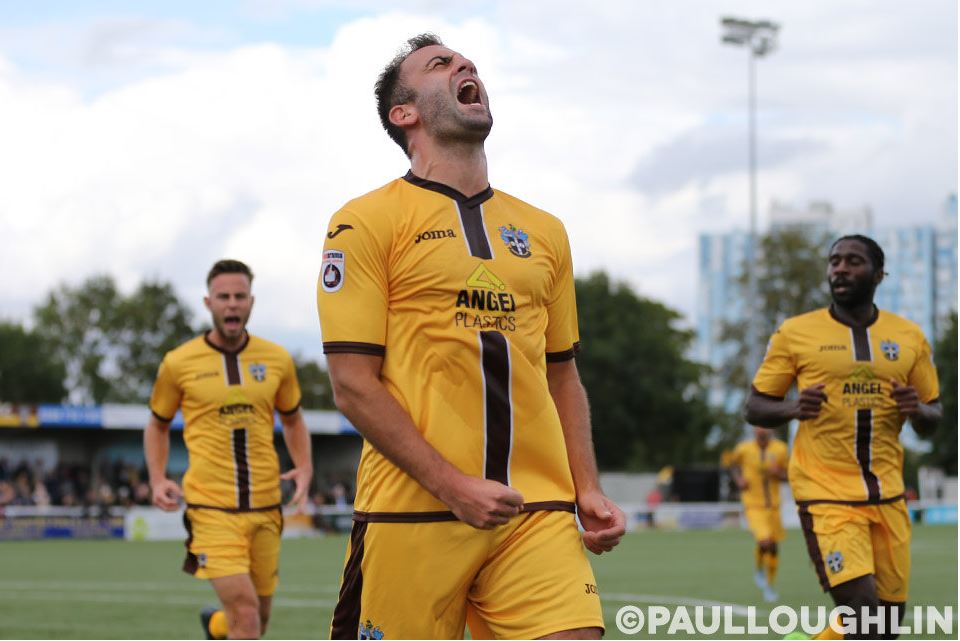 "Ah fuck it, I left the stove on…."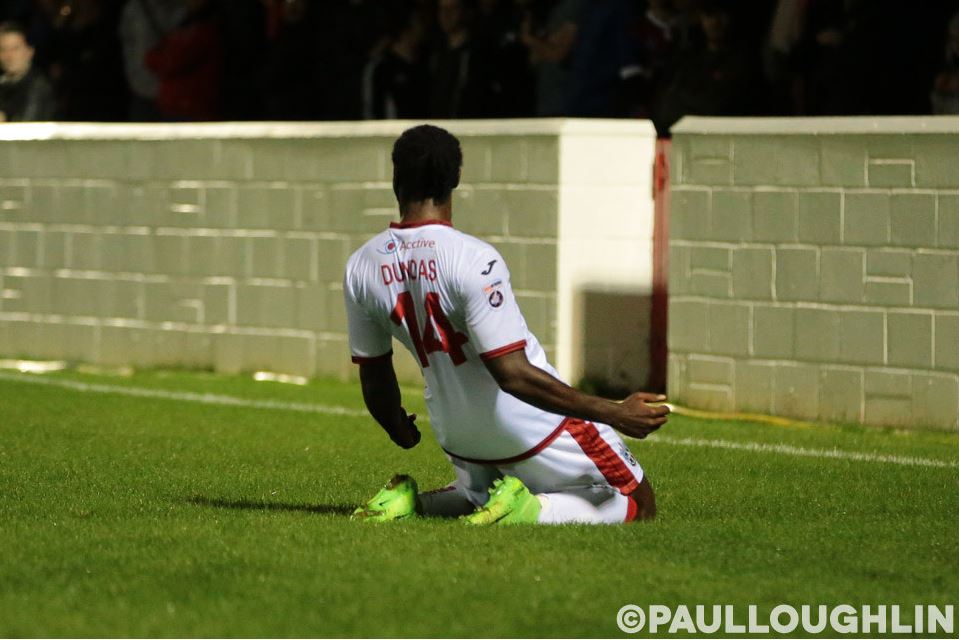 Dundo's 100th @ Daggers
We then set a pattern that is to prevail throughout the campaign. Having gone top, we can't hold onto the number one spot the following week, with a tired looking performance at home to an organised Maidenhead side who fully deserve their 2-0 win. To boost our firepower a touch, Dos then recruits Kwame Thomas on loan from Coventry for a month. We then meet with Gateshead (1-1) in a game we really should win, but have to settle for our first draw thanks to a penalty at either end. Then it's a midweek hop down the District Line to Dagenham (2-1) for another 'top end' clash, which turns out to be memorable for a couple of reasons. First Dundo notches his long awaited 100th goal for the club to level the scores in the first half and Kenny Davis notches his 1st for the club in injury time to steal the win. A win that once more parks our spotty part time arses on top of a very tight league. That's right, we're top for a THIRD time, which we think you'll agree is a bit bloody silly. And it's only September, fuckin Ada! That 'going top' curse strikes again though at Woking on the Saturday as we fail to make a dominant 1st 45 count on the scoresheet and having gone behind to a frankly appalling offside call early in the 2nd half, eventually go down 2-0 and slump back to the depths of 4th.
Defender Jordan Bentley returns to Plymouth during the week, having not played a single minute of National League football for us (Cheers Jordan!) and we welcome Barrow from the arse end of the country. This is another one we dominate and run out 3-2 winners, but it's far closer than it really should be and ex-Bobbin Byron Harrison twice gives the visitors hope after goals from Aswad, Josh and Moses for the U's. And yes, we're top. Again. Thanks for asking. We then complete a busy September with a trip to Wales to face Wrexham who are also going well for a genuine top of the table clash as well as to drink all their cheap cheap beer. We even do a preview for their 'Fearless in Devotion' blog. On the day, a tight, bitty game looks to be going the way of the hosts until Lafayette Yeboah's in a fucking mentaller from 20 yards (1-1) in injury time to pinch us a well earned point. Everyone returns home happy with life and all thoroughly rat arsed, which has been achieved for the princely sum of about £20 each.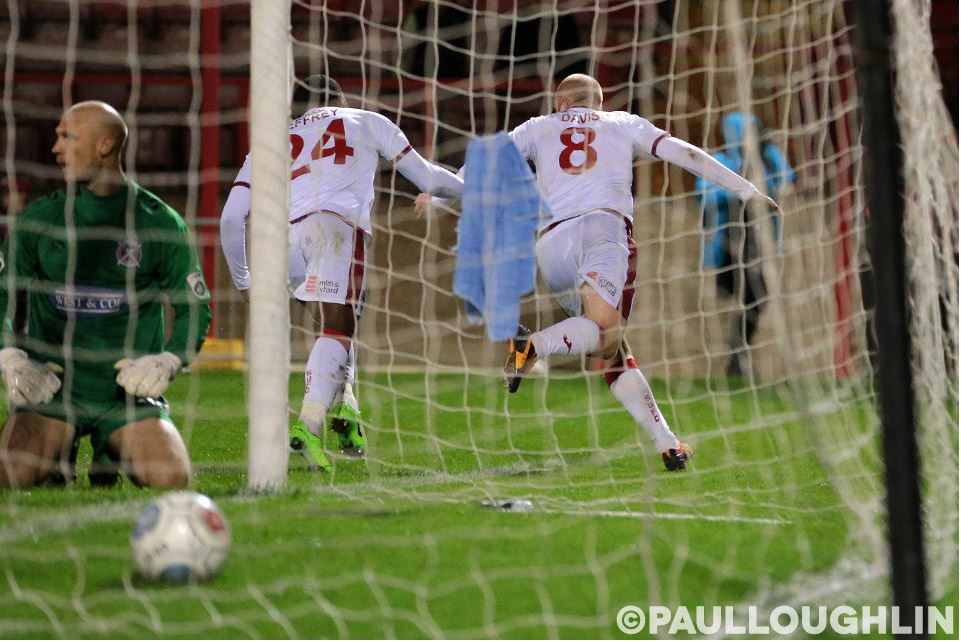 Kenny nicks it late @ Daggers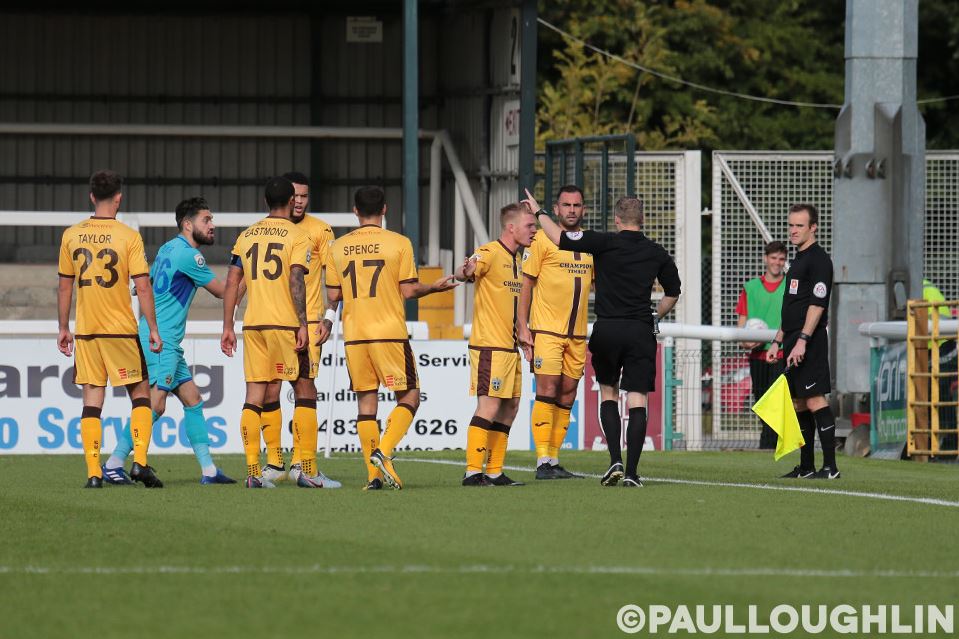 Shit National League officiating in full effect @ Woking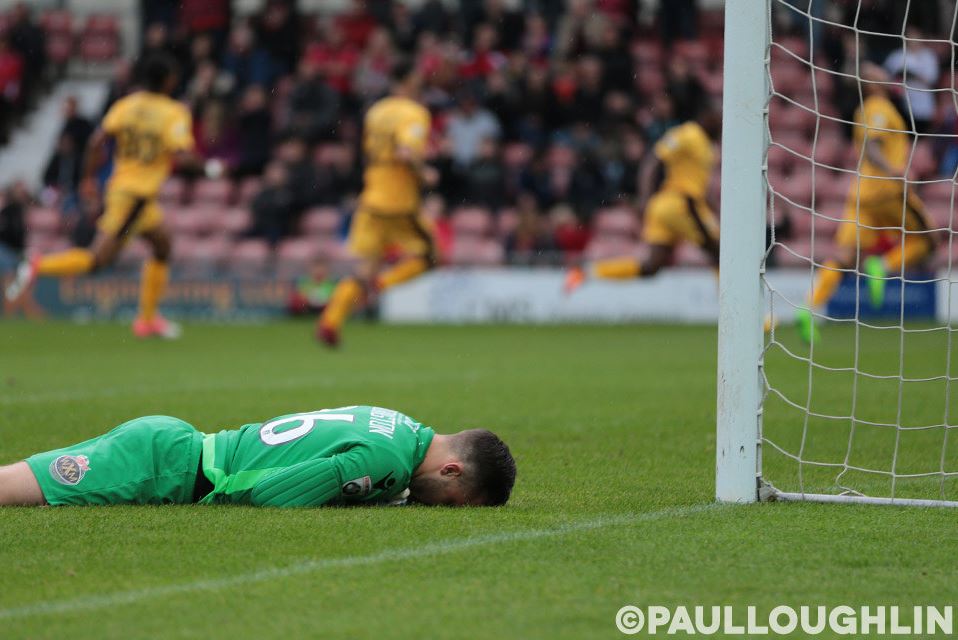 Fucking absolute scenes in the last minute @ Wrexham
To end the month on an even higher note, Louis John celebrates this momentous draw with a call up to the England C squad for a game against Slovakia's U23's. Well deserved chap!
OCTOBER


The first third of the season kicks off with the return of our old mate, the FA Cup. Interestingly, we pull out Southern League SW side Paulton Rovers in the 4th Qualifier, a game that after our little foray last year is initially selected for the BBC's Live online broadcast for the round. But we turn down the hefty £1000 payday for a traditional 3pm kick off as they'd taken so long to choose to do the game, the club had already booked all our travel arrangements. Naturally, this refusal means we're arrogant bastards, only interested in the money (Er, turned down a grand!) and shitting on the little guy. Well, at least according to some cunts on Twitter anyway. We put all that nonsense to one side and welcome Dover to West Sutton. They're very good in the 1st half and deservedly lead at the break, but an inspired 2nd 45 with goals from Tommy and Cadogan look to have given us a superb win, but sadly they bundle one in right at the death and we have to settle for a point each from an otherwise entertaining Desmond (2-2) beneath the new GGL LED's.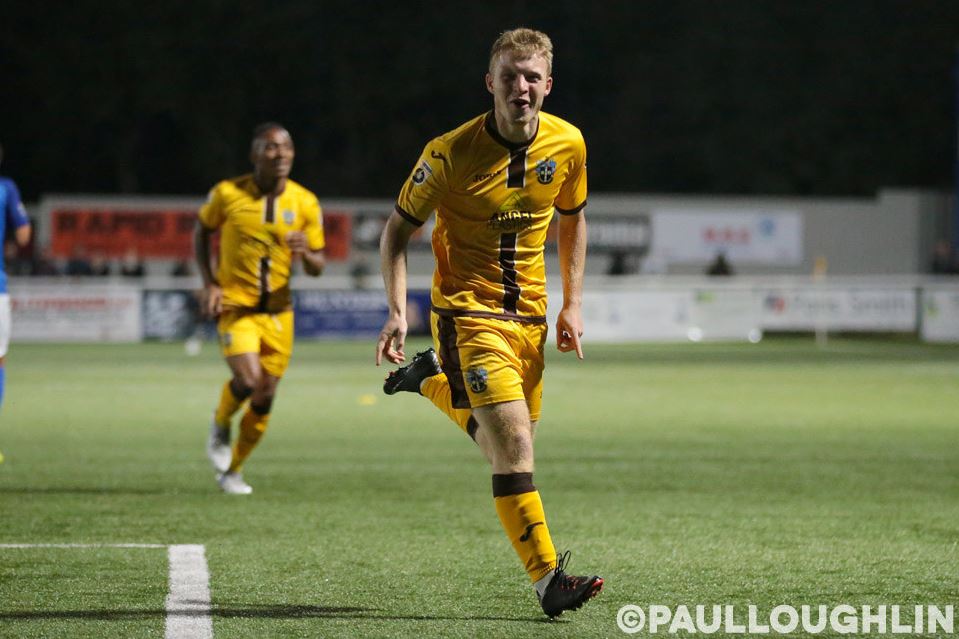 Who's a clever boy then! Tommy belts us level against Dover.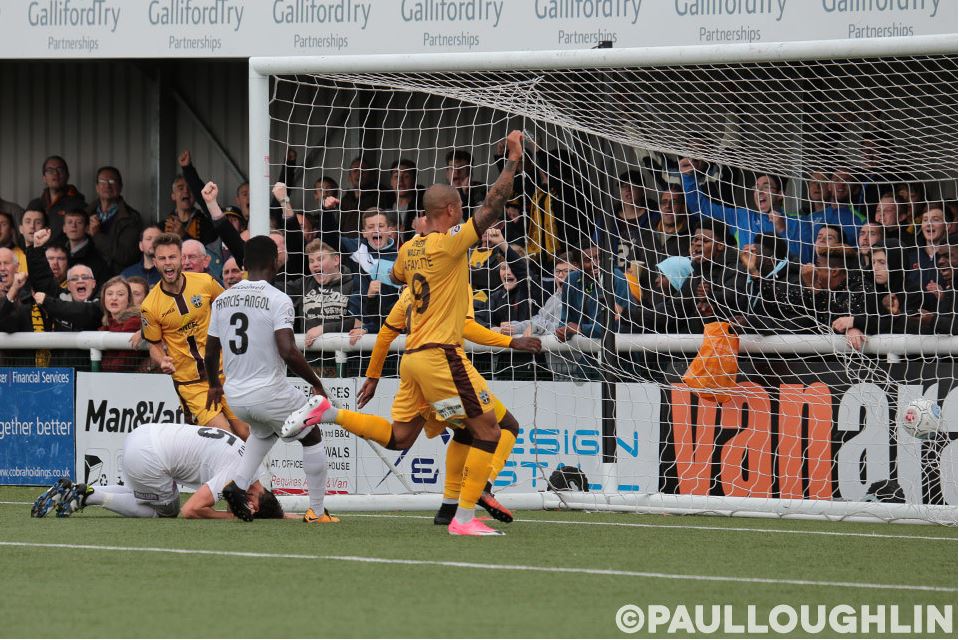 Spot the bloke who's just stuck it in his own net….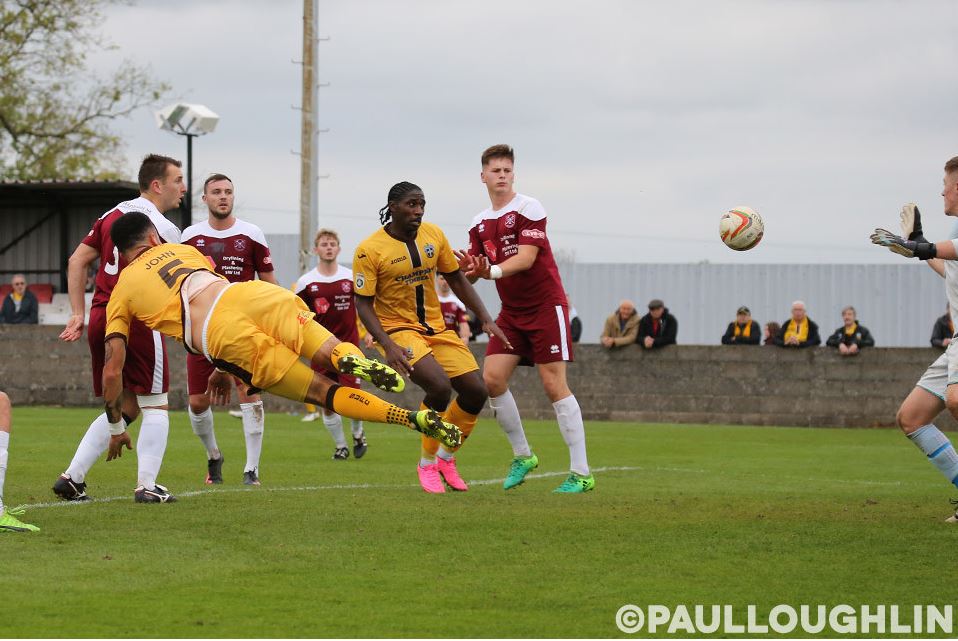 Louis flies in to make it 3-1 @ Paulton
Hudson-Odoi extends his stay at Hampton as we welcome new boys AFC Fylde to suburbia. It's another odd one this, as despite getting the win (2-1), the result is far far closer than it really should have been with the U's hanging on a little at the death when they really could have had 4 or 5 and been well clear. Still, a wins a win, so musn't grumble. Our next appointment is then off down in the wilds of the South West and that meeting with Paulton Rovers, which is made harder than it should be on the day thanks to train based fuckery. Again, we're by far the better side, but are made to work harder than we probably should have been to ease through to the 1st Round 3-2. The draw on the following Monday then pairs us with boggo mid-table L2 side Cambridge United, which should at least give a decent day out on the piss if nothing else. Elsewhere, Josh Taylor has been reaping the rewards of an impressive first couple of months with some trials at both Wigan and Birmingham City. Hope he's on a bloody contract!
From the middle of nowhere in the South West, we then head into the middle of nowhere up North. REALLY North, to Hartlepool the other relegated L2 side from last season. Despite bossing the 1st half, we trail at the break to a soft goal, but Tommy Wright saves the day crashing in a volley from a tight angle NINE minutes into injury time (1-1) to earn us a well deserved point. So late is the goal that it literally makes the hosts number one celeb fan Jeff Stelling howl in agony live on SKY's Soccer Saturday show. Naturally, footage is obtained and this haunting noise can be heard echoing from mobile telephones pretty much all the way back to Kings Cross that evening! It's not all laughs though, as Craig Eastmond is stretchered off in the 2nd half with a nasty looking ankle injury. Yet another top of the table game awaits at Aldershot midweek and despite a display that has most of the home support admitting they've got away with murder as well as a point, we twice surrender a half time lead to claim only a draw (2-2). To see off October, we welcome old sparring partners Ebbsfleet (0-0) to our manor. They're on a decent run, but have drawn a lot so far so it's no surprise when we fail to break them down in a rather dull stalemate.Then again, they don't exactly cause us too many worries given the size of Kedwell's waistline and his hearty looking tan.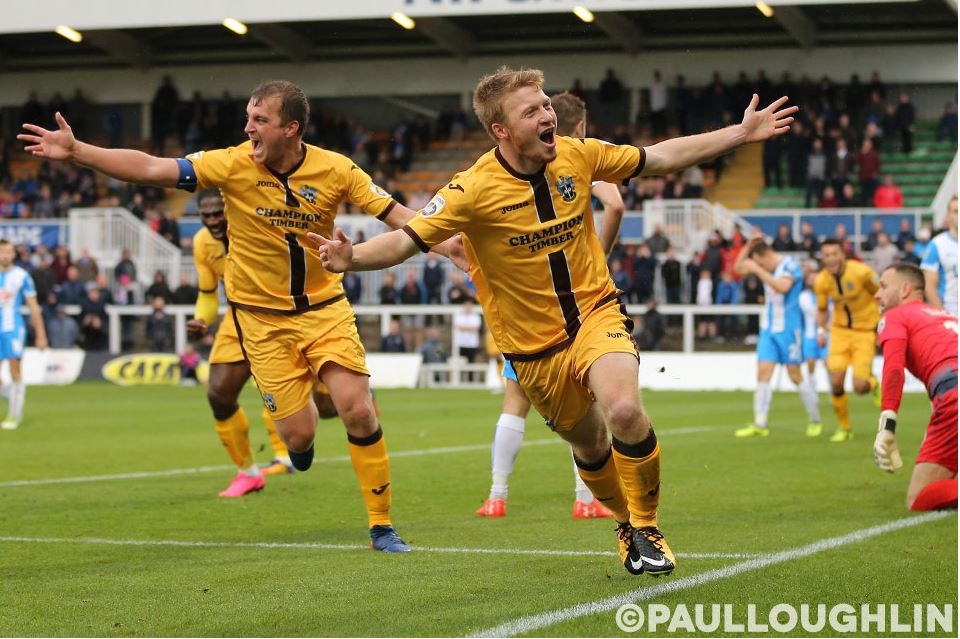 Jeff Stelling was not amused….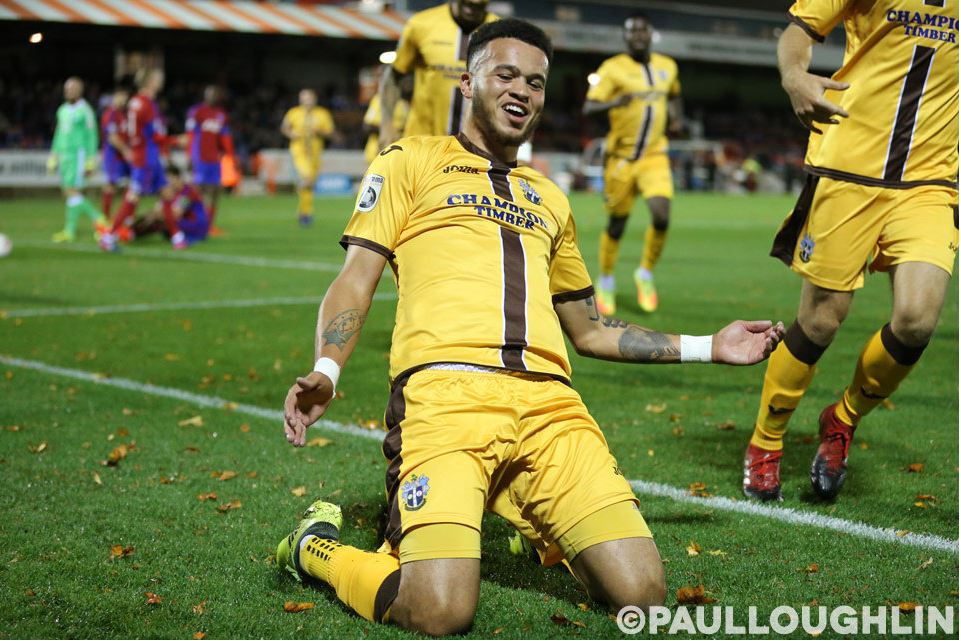 Louis opens the scoring @ Aldershot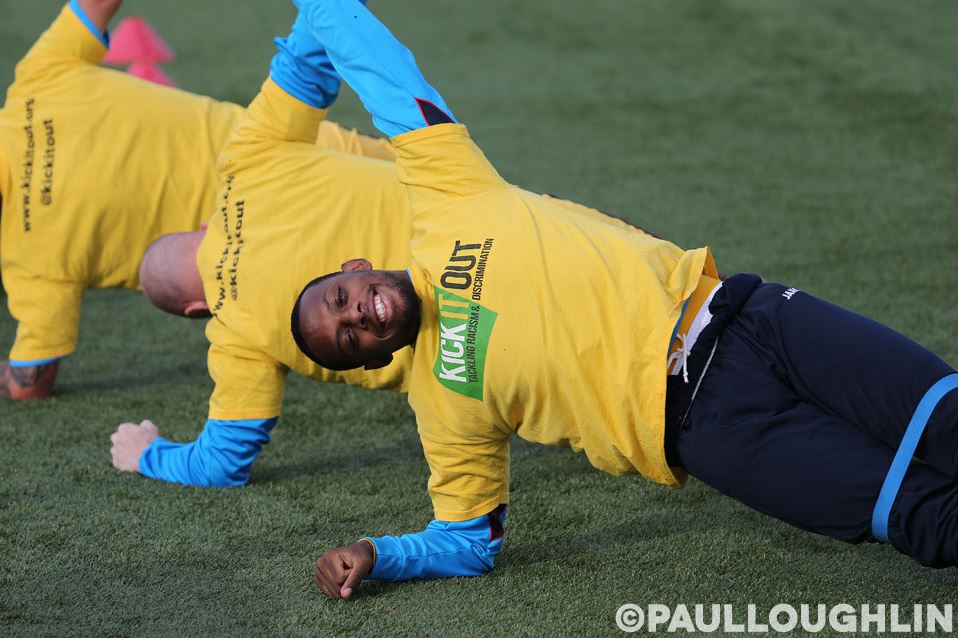 Yes, the 0-0 with Ebbsfleet really was this interesting….
Still, we're sitting far prettier than we'd ever have expected at this stage of the season. The boys have put in an incredible effort and we're sitting 4th with 30 points on the board already. Even odder is the fact that the bookies have us down as early favourites for the title, ahead of other early pacesetters Macclesfield. However in typical Sutton fashion, no one's getting excited. We're more interested in the fact that we just need about 20 more points for safety and staying up for another year.
Onwards! To PART TWO!
Once again we'd like to thank the jolly good sport and rather good snapper of images that is Paul Loughlin for once more allowing us to rob from his impressive library of pictures for this shite & to help make our round up look far more professional than we could ever hope to! Check out the full sets of his stuff on Flickr HERE. They're dead good and have been in the NLP and everything.