So, here we are. The final part of our Season Review for 2017/18. And if you recall from the last instalment (come on, it was only a couple of days ago. It's not that hard!) we left the lads early in the New Year sitting in 5th spot and with safety already assured, but having travelled all the way to Barrow for no fucking reason whatsoever. Can we keep it going to the end? Can we make a genuine challenge for the title or will it be play-offs or even sod all and mid-table once more? Will we ever win the Surrey Cup again?
Ok, so Dukey made us put that last bit in, but as for the rest of it you'd best read on and find out hadn't you? You'll get no spoilers out of us!
FEBRUARY
February dawns with the shock news that league leaders Macclesfield have not paid their players for January. This is revealed by a public statement from the players themselves, which would tend to indicate this probably isn't the first time this has happened. Still, it's a little ray of light in the title chase and certainly helps explain the odd 6-1 humping the Silkmen took at Fylde last month. The FA Trophy returns to our lives and we make the trip to Brackley Town in the Quarters. The second time we've visited a town in an FA Comp this season that doesn't have it's own railway station. On a pitch that's barely playable, we show early promise but our minds are clearly on our league progress and the National League North side lead 2-0 at the break. In the end, we only have a Tommy Wright consolation to show for our efforts in a 3-1 defeat. One route to Wembley now closed off, s'pose we'd best get back onto the other one now…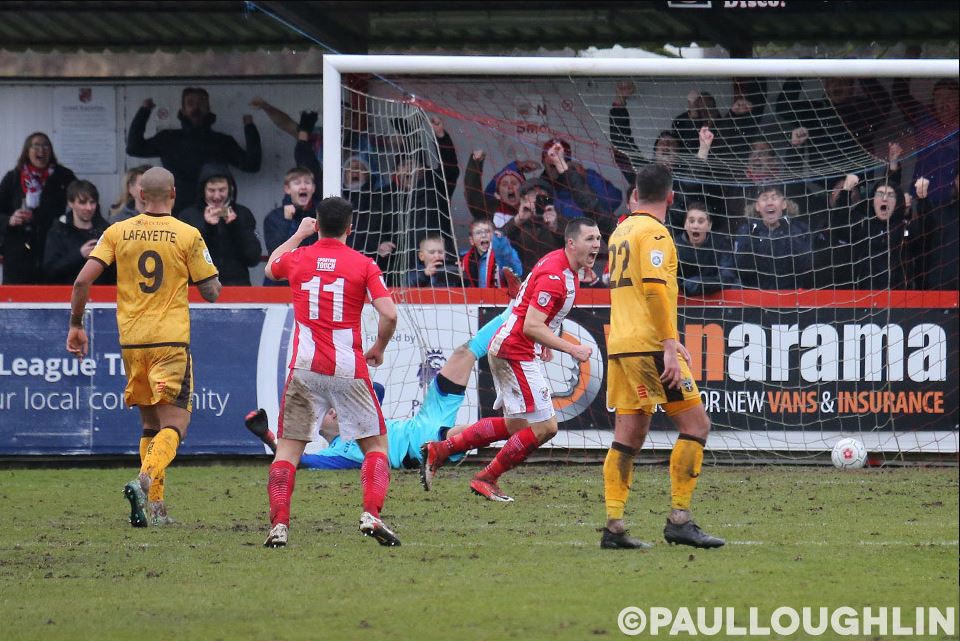 The Trophy going for a burton at Brackley….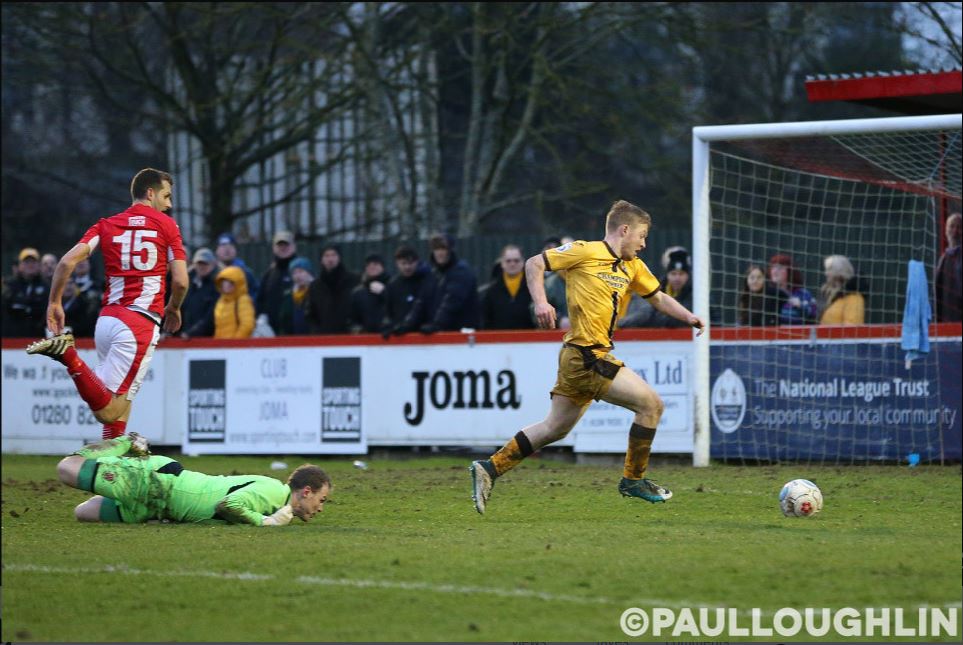 Tommy with a consolation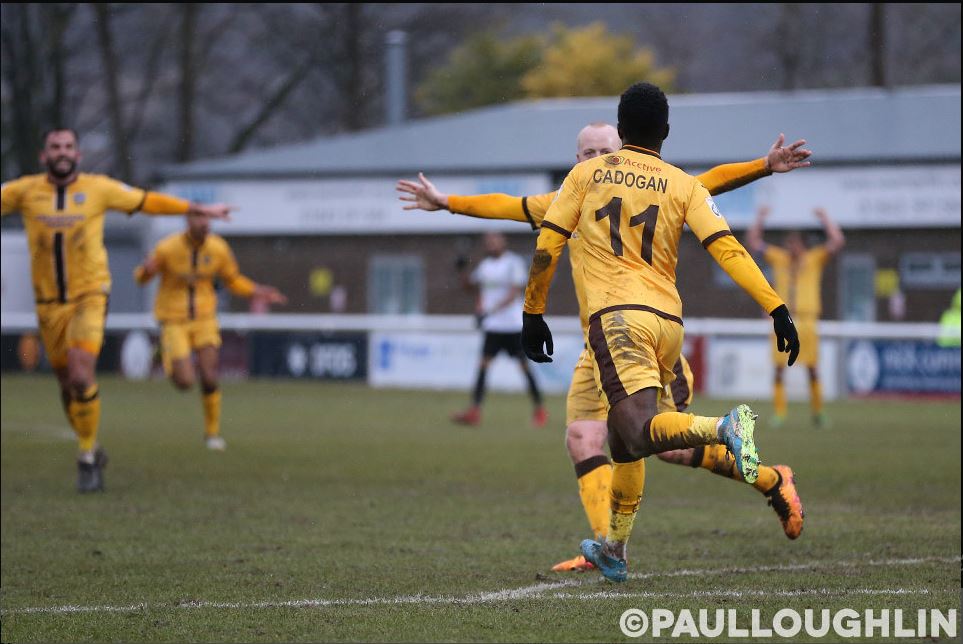 Dougs gives us the lead @ Dover
During the week, Macc announce their wage payments are now up to date, which is disappointing. A couple of days later Dean Beckwith and more surprisingly, Ross Lafayette both join fellow National Leaguers Maidstone on loan for a month. The defender, who's been struggling with injury all season is understandable, but with Ross, we're not quite so sure what the deal is. Ironically, this departure means that of the 3 Dover lads we signed in the summer, only defender Aswad Thomas remains for the visit to Crabble that weekend. The lads turn in a superb performance, playing the last half hour with 10 men after Beautyman is sent off to gain a big 1-0 win that if it were not for the hosts keeper would have been a lot more.
On the Tuesday, it's the second attempt to get the schlep to Barrow out of the way. A grand total of 13 hardy U's fans make the trip (including a couple of our idiots of course!) to witness a hard fought 1-1 draw with former U's man Bedsente Gomis of naturally scoring the hosts goal. Tommy Wright's 2nd half leveller earns the point. The Barrow connection continues at the end of the week when we take their striker Byron Harrison on loan to the end of the season. Suddenly shuffling Lafayette out on loan makes a bit more sense.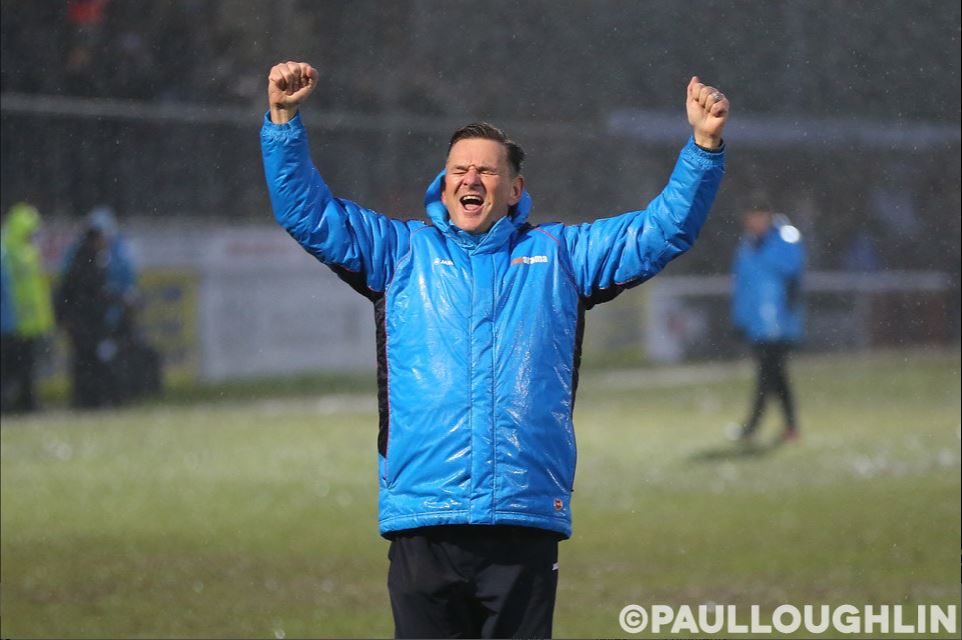 Dos delighted with the 3 points at Crabble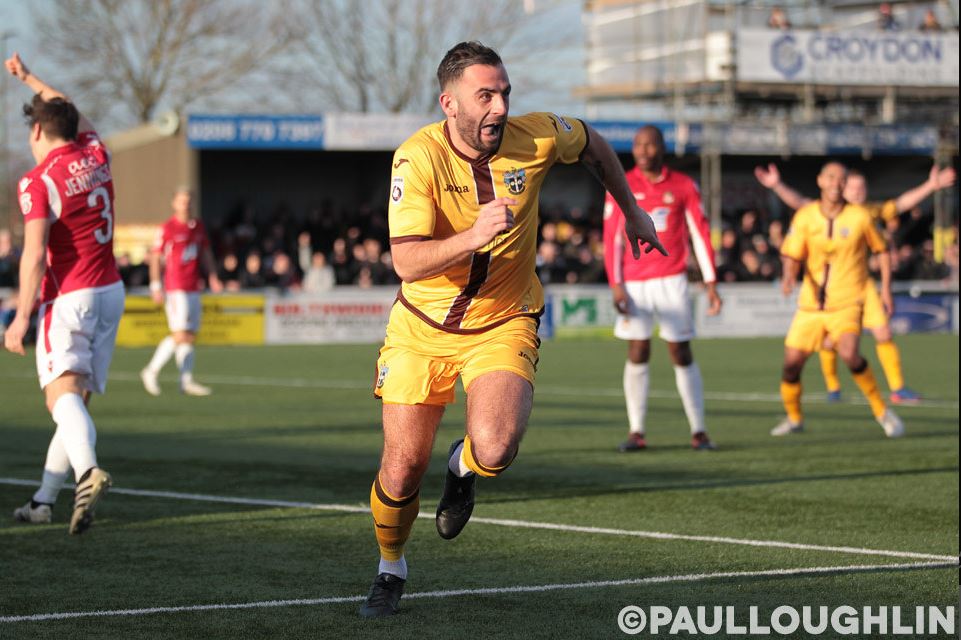 Walts levels at GGL v. Wrexham
And levels @ Torquay too!
Next at the Lane are Wrexham. It's another tight game and after a quiet first 45, we spark into life in the 2nd, but Simon Walton's leveller is all we get despite a number of chances and both sides once more share the spoils (1-1). Another long midweek trip follows, with the lads away to Torquay who are well in the shit at the foot of the table. A topsy turvy first half finishes level and then in the last minute, the skipper steps up to tuck away a nerveless penalty (3-2) after Louis John is upended. It's a big win and lifts us back to second in the table. The win bringing us back into the race for promotion is made all the more stark a couple of days later when news breaks regarding the battle to get the FL to consider artificial surfaces once more. The decision? Well, there is none basically. The FL meet, have a nice lunch and then decide to 'deal' with the problem by sticking their fingers in their ears and going "LALALALALALALA! WE CAN'T HEAR YOU!!". There will be no discussion, let alone a vote on allowing 3G at the AGM in June. Which is a bit of a twat if we're honest, if not all that unsurprising.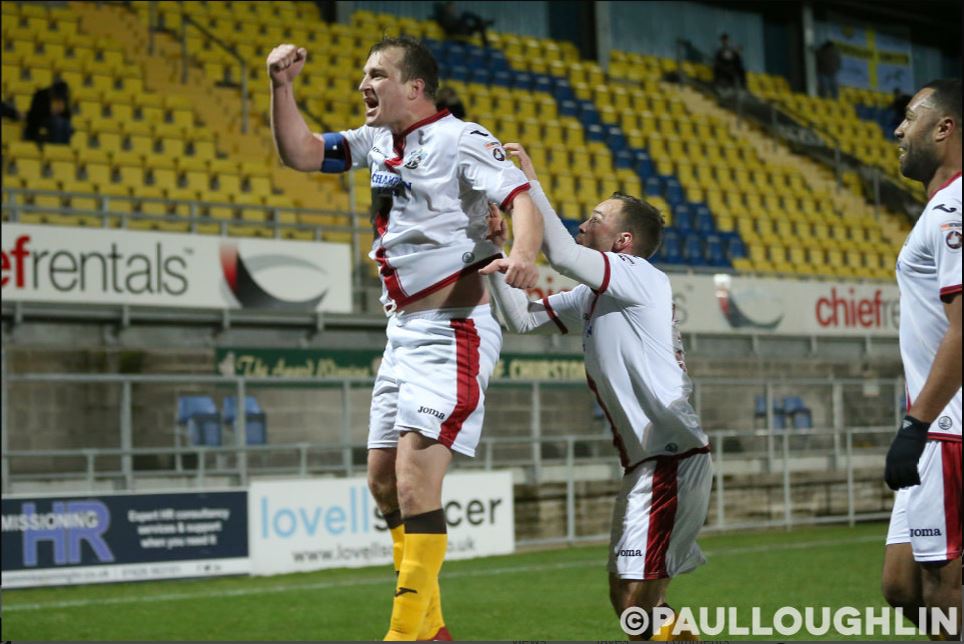 JC's celebrates the last gasp peno @ Torquay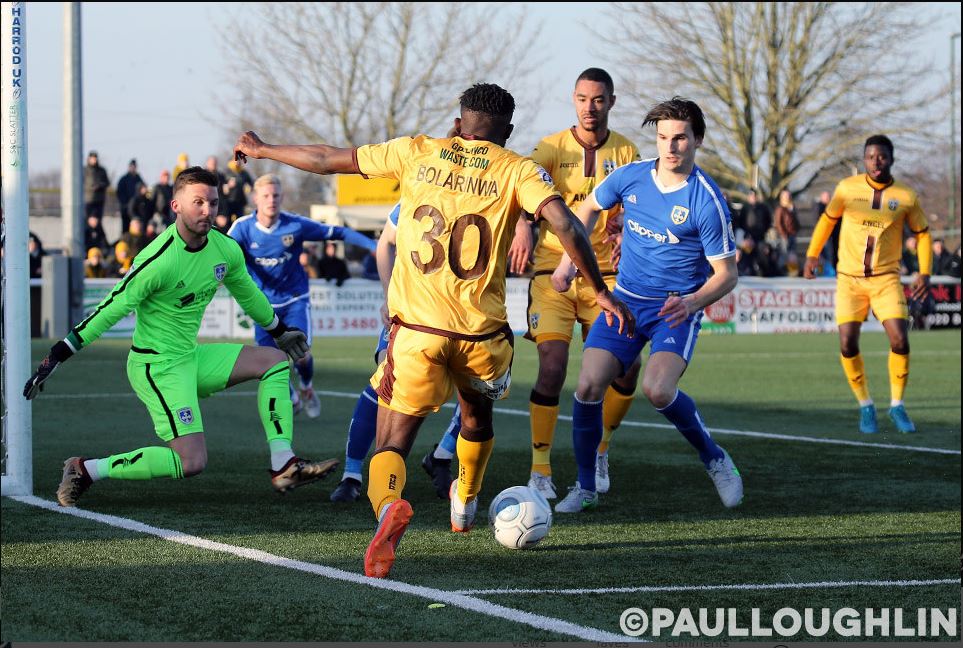 Tombo marauds against Guiseley.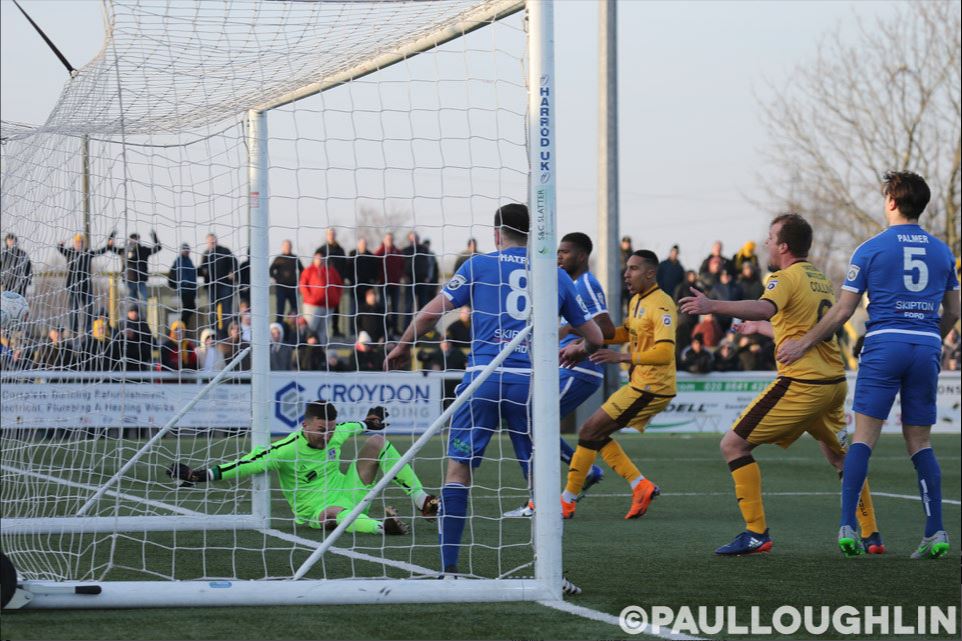 Harry's corner goes straigh in v. Guiseley
Bradley Hudson-Odoi returns from a brief spell with Eastleigh on loan and then promptly returns to Hampton, this time on a permanent basis before we get to host basement boys Guiseley in the next instalment of a run of games against struggling sides. They're about the worst we've seen so far and a comfortable 4-0 win is recorded. Tuesday then brings us the last fixture of the month and back to the County Cup, with a Semi Final at a freezing GGL against Merstham. Despite taking the lead, the lads don't look all that interested and in the end the Isthmian League side sneak through 3-2. Naturally, Dukey is unamused at this development. His desperate, fruitless quest for #numbersixteen and tying with Dulwich goes on for yet another year.
MARCH
The big run in is disrupted somewhat as loads of fixtures fall foul of a sudden cold snap that is dramatically referred to as "The Beast from the East" in the more hysterical of our tabloid press. Dukey is naturally confused, thinking this means that one of Dr Bell's former fiance's is out looking for revenge for some past slight. The end result of this bad weather and lots of snow is that the away trip and planned weekender to Halifax is of course postponed. Although this doesn't put of several of the idiots who ignore advice and travel anyway, simply spending the weekend getting shitfaced in the Yorkshire town's hostelries.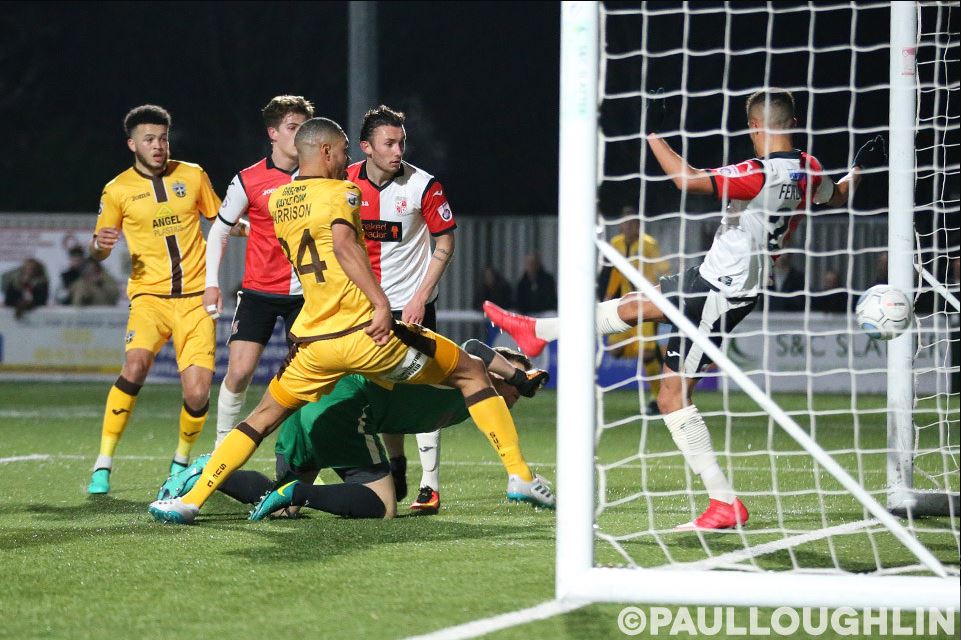 Byron prodding v. Woking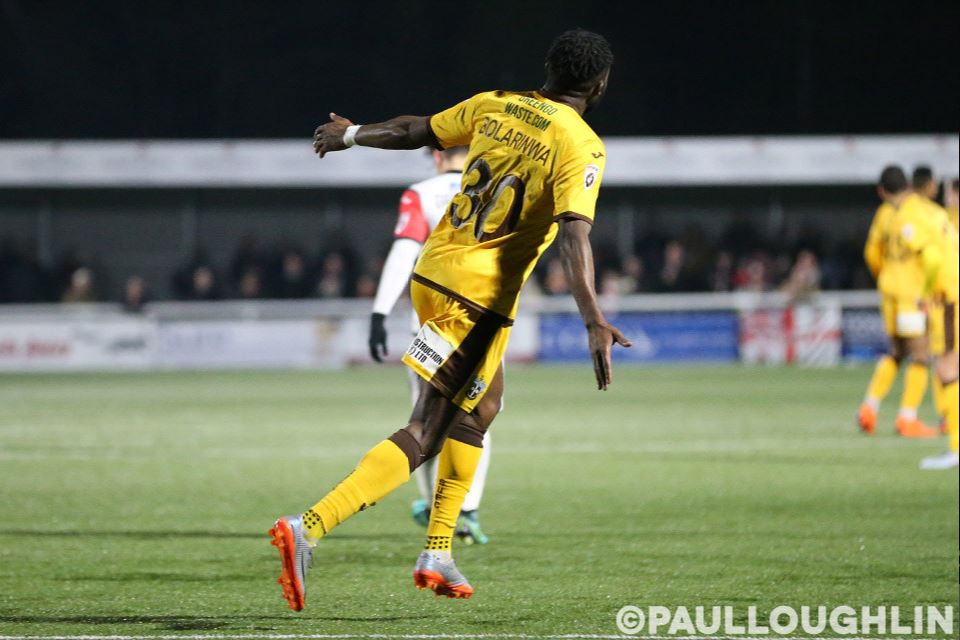 Tombo polishes off the Cards
Tombo hooks v. Solihull….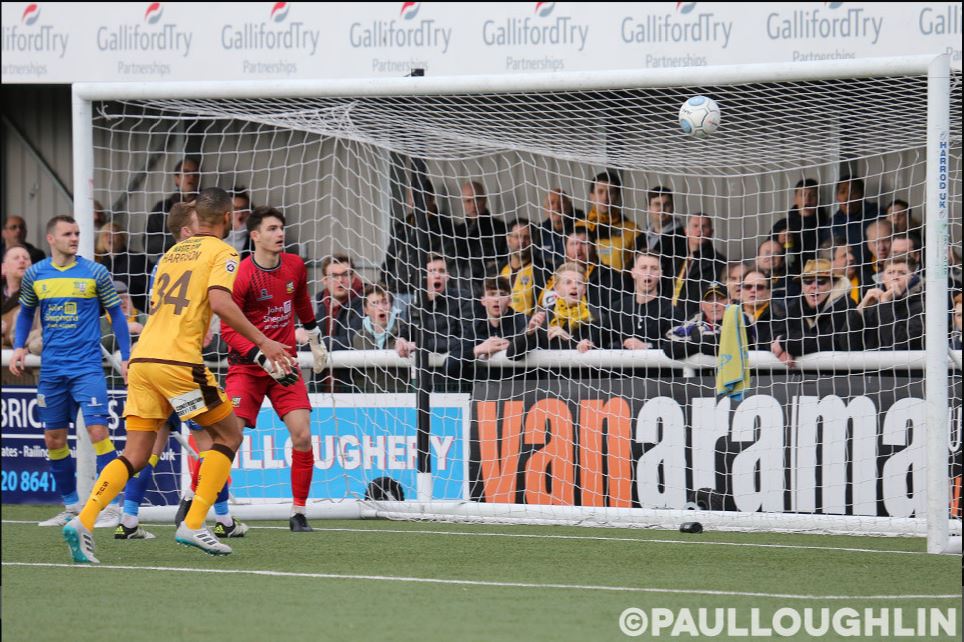 ….and it loops in!
That week, we also celebrate a big birthday as SUFC turns a sprightly 120 years old. Happy Birthday you old tart! The following night, we welcome old friends Woking to GGL. They're in a real slump, with only a win or two to their name since we visited Kingfield back in September. Goals from Harrison and Tombo seal a regulation 2-0 win and another 3 points that pushes us past our highest tally at this level (67) from our debut season under Barrie Williams back in 86/87. There's another home game on the Saturday, with fast improving Solihull in town. It's a testy affair, but a wonderful goal from Tom Bolawinra late in the first half settles it in the favour of the good guys (1-0).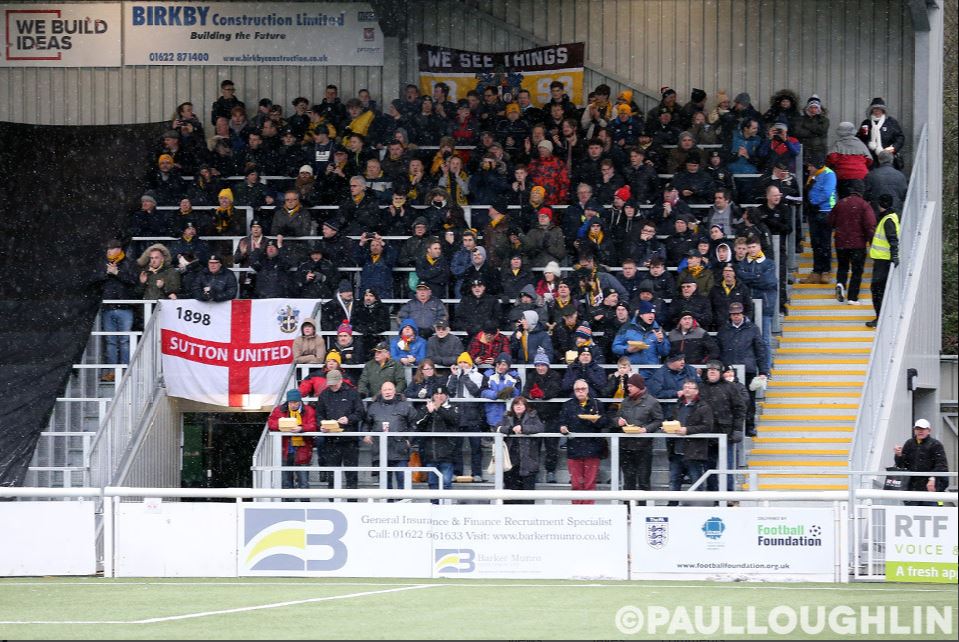 Nowt else from Maidstone was worth showing!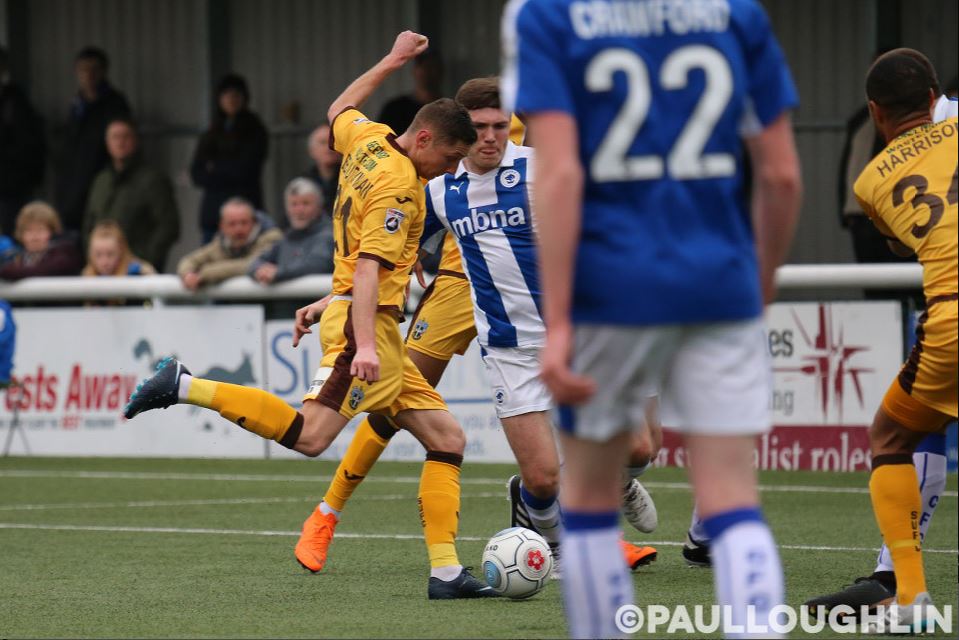 Harry fires in v. Chester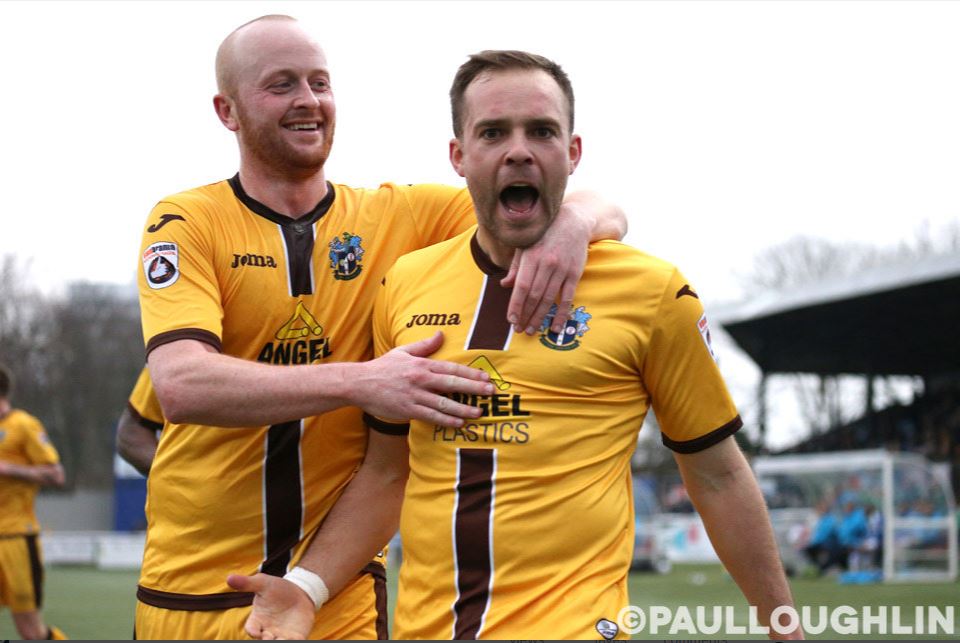 "Ello moi darlins. Oi'm baaaack!" – Stearny with a worldy v. Chester
Another effect of this latest success is that we close right back up on Macclesfield again at the top of the table. Having been up to 9-10 points behind after the turn of the year, they've dropped points whilst we've chipped away at the lead and as we go into the game at struggling Maidstone, we're suddenly in sight of the summit again, breathing down their necks like Harvey Weinstein with a new intern. Macc do their bit and slump to a 2-0 defeat. Sadly, we don't take advantage at all, turning in our limpest performance for probably about 3 years to go lose 1-0. It's such a poor result that it almost makes you think we're tossing it off because of the pitch! Following the defeat, Dos tweets about the 3G situation and that if we can earn promotion, we'll be switching to a hybrid grass pitch. No doubt the FL don't hear this as they're too busy thinking up a way to fuck up another Carabao Cup draw. "How about this lads? We do it underwater in a cage, with great white's circling. Pele can pull the home sides and Rod Steward can do the aways?"
BT announce the Bromley game on Easter Monday will be live on the box as we head into the game with all-but-doomed Chester. Frustratingly, we should hump them out of site, but somehow manage to make a game of it and just sneak a 3-2 win. But with Macc getting the day off off due to Gateshead being in the Trophy semi, the win edges us back to the top of the league once again on goal difference. Yes folks, with 7 games to go, we are once more league leaders. This shit is getting scary now! Mainly for Bruce and the board, as they'll have to find the spends to pay for all this new shit we'd need if we're promoted!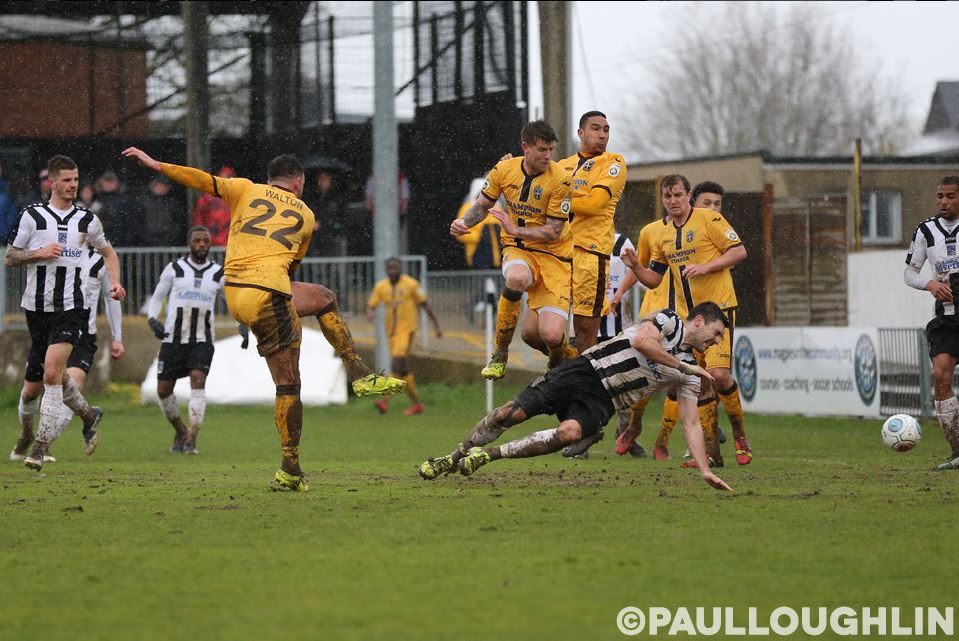 Walts leathers it in @ Maidenhead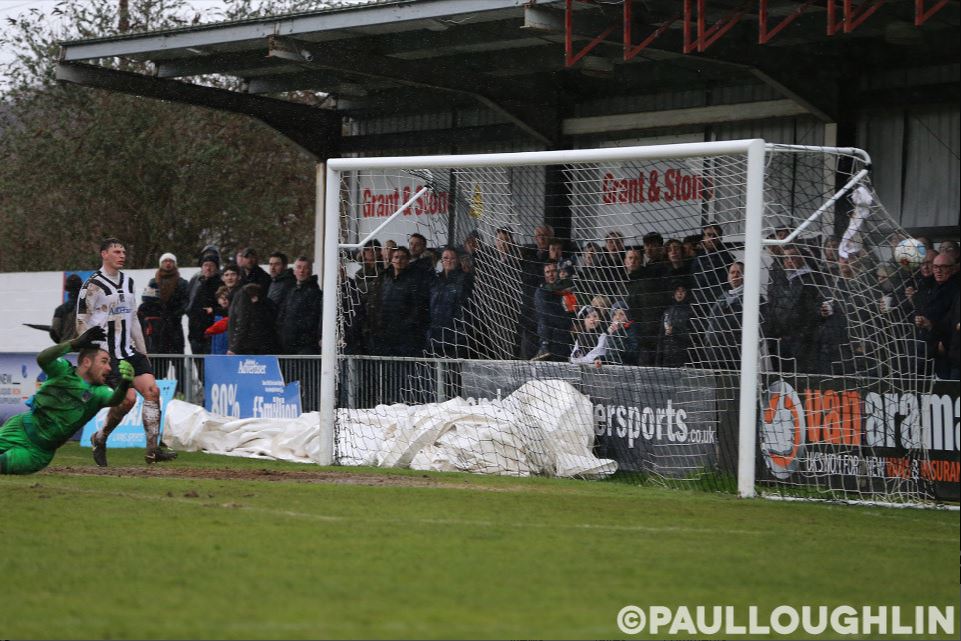 Louis John. Top bins!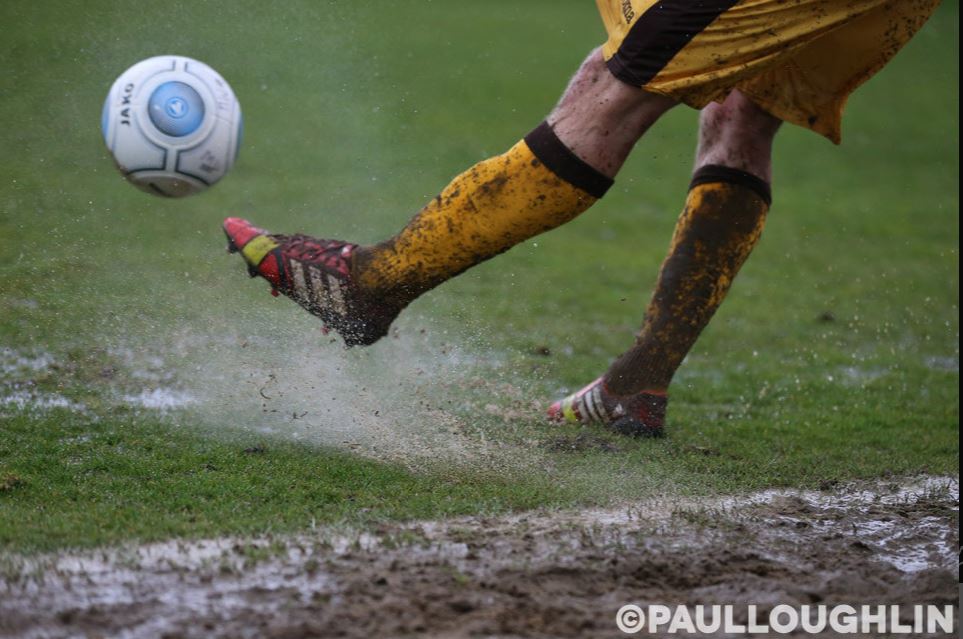 No idea why Maidenhead was abandoned…
As season tickets for next season pass the 700 sales mark, we head down to Maidenhead on Good Friday. One a suspect pitch, easily the most entertaining 45 minutes of the season so far presents itself as we trail twice before coming back to lead 3-2 thanks to a screamer from Louis John. So of course, the ref abandons it at half time. The prick. Instead of collecting 3 points, we get to go to the pub and watch Macc steal a comical last kick winner at Woking to regain top spot. Maybe it's not to be our year after all??
APRIL
After the brief high of the non-game 48hrs before and then Macc's sneaky victory, we head into the televised Bromley clash on an oddly sunny Bank Holiday Monday hoping to keep the pressure on as much as possible. We don't. And then some. A lively Brom see us off 3-0 and it really should be by more as they have one perfectly good goal ruled out for 'offside'. To top things off, JC gets a straight red for fuck knows what. Naturally, Macc win and they're suddenly, in the blink of an eye, 6 clear again. It's looking increasingly like the play offs for us now.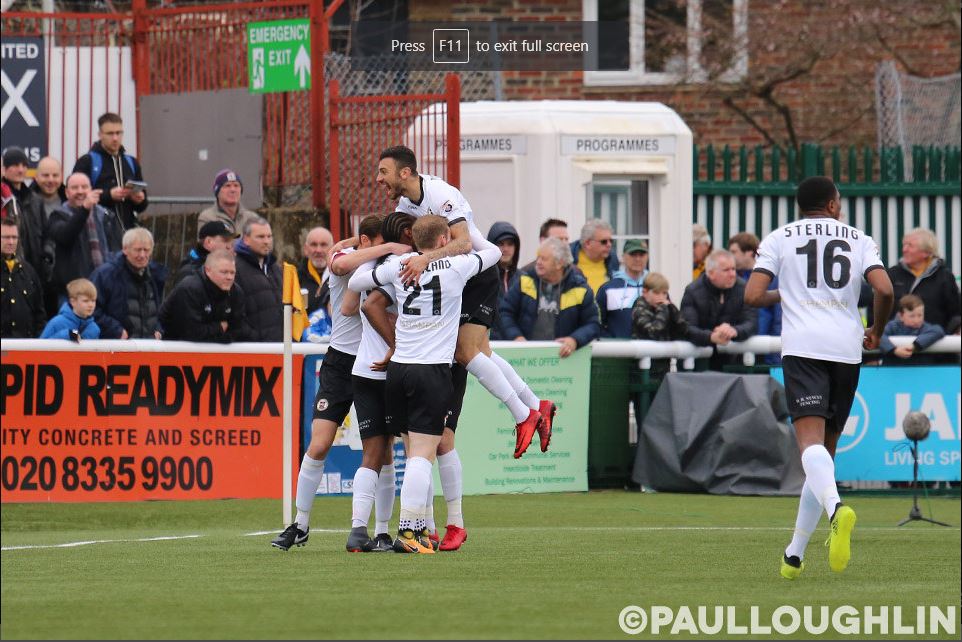 Going wrong against Bromley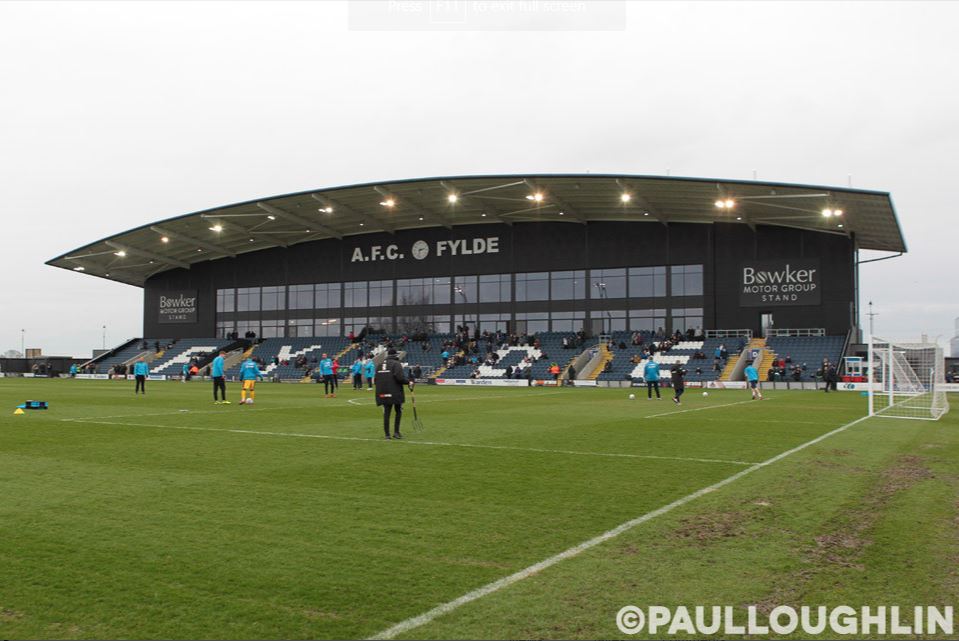 £18 million quids worth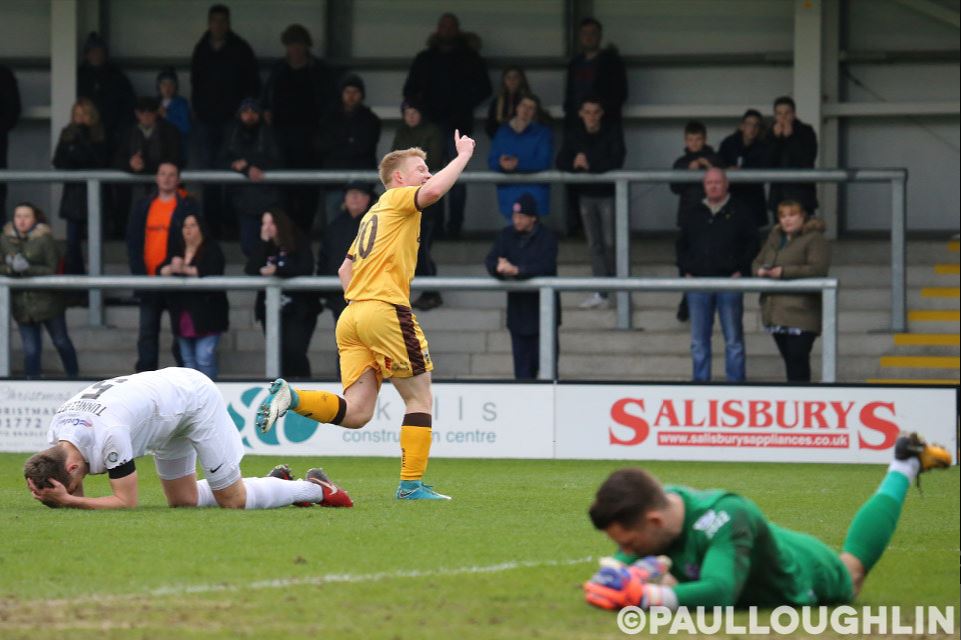 Tommy leaves another keeper grasping at air!
If getting the card in the first place wasn't bad enough, there's more bad news during the week as we prepare for the tough trip north to Fylde is that JC's sending off won't be rescinded as there was some sort of fuck up with the system at the FA meaning the deadline for appealing passed before we could appeal! Result? The fucking card stands and it's a 3 game suspension for the skipper. Twats. Imagine if that had been some ChampionshipPL player, it would never have fucking happened. Up North, a super 1st 45 at AFC Fylde's impressive gaff sees us lead at HT but after the break, two howlers from Louis and Downer gift the oppo 2 goals and we go down 2-1. We're wobbling. And we certainly are later as we enjoy a suitably pissed up night out in the tatty seaside town of Blackpool.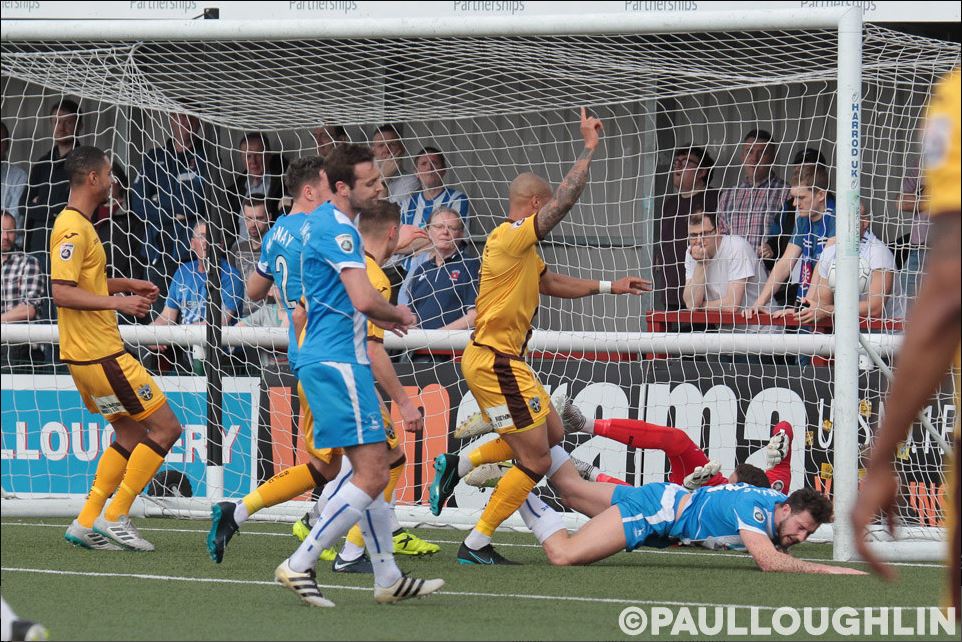 Laffs nods in front @ home to Hartlepool….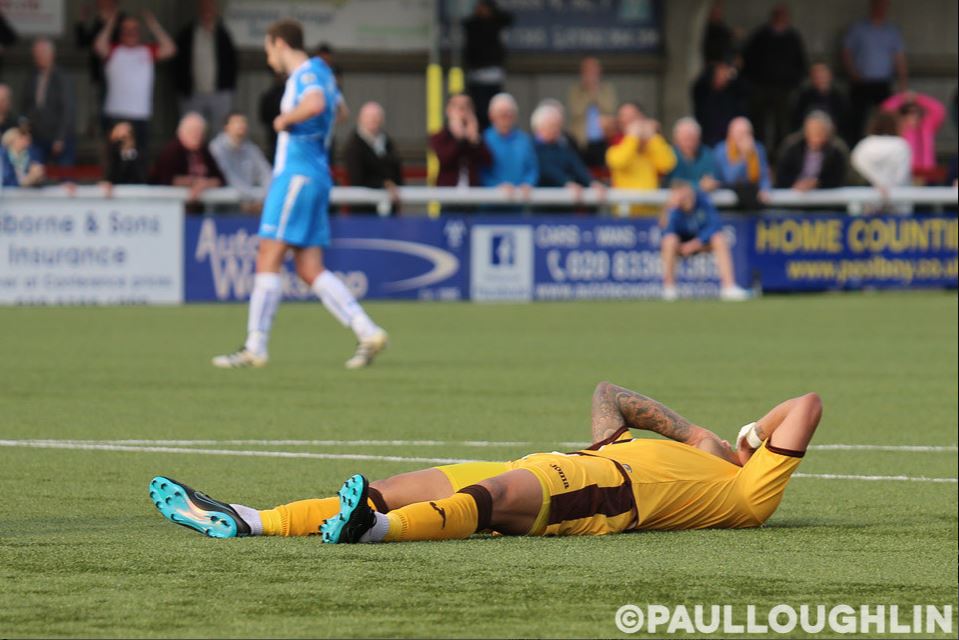 ….and then misses an absolute sitter at the death!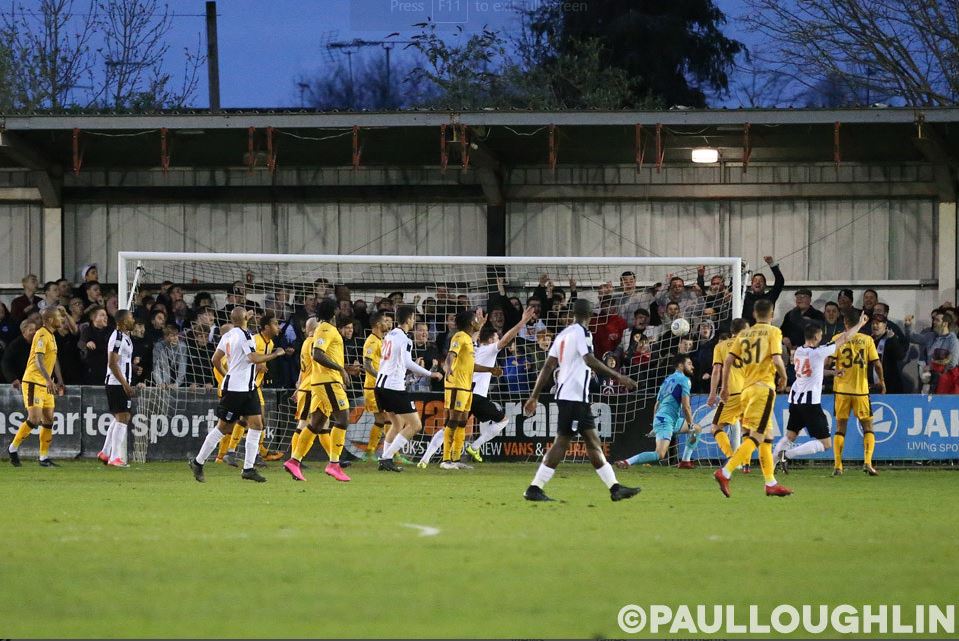 Maidenhead go 2 up in the rearranged game
The games keep coming thick and fast now with hardly time to draw breath and we make the re-arranged trip to Halifax with Ross Lafayette recalled from his spell at Maidstone and straight into the side at the Shay. After a shocking first half, we rally after the break and when Ross levels, it looks like the only winners will be us. Wrong. Right at the death we give away a total shitter (2-1) to make that hump back down the M1 all the better. To make matters worse, not only is the half time pie shite, the aforementioned motorway, much like Guiseley away last season, is properly fucked. So most of us don't get home until 2am Wednesday morning. Joy of joys.
Season ticket sales pass the 1000 mark as we welcome Hartlepool to South London Suburbia. Ross gives us an early lead and we look well set, but they score with their first half decent attack and despite our best efforts, a point is the best we can manage (1-1) although Lafayette blazes over with the last kick when scoring looked easier. Still, it's at least put the breaks on a bit of a slump. Next is the re-arranged trip to Maidenhead. What follows is an utterly lifeless performance. We only lose 2-1 but should be 5 or 6 down by the time we score with a couple to go. Bizarrely, 2 decent stops from their keeper at the death prevents us nicking what would have been possibly the most hilariously undeserved point in living memory. Still, it would have at least made it 2pts from 15 instead of 1. The result leaves Dos with the right hump (his post match SUFCTV interview comes over like he's reading our tweets from the game!), us with 2 games to go against bang in form teams and a real danger our Play Off hopes might evaporate entirely. Not cool, not cool at all.
JB saves a Maidenhead spot kick. The highlight of the night!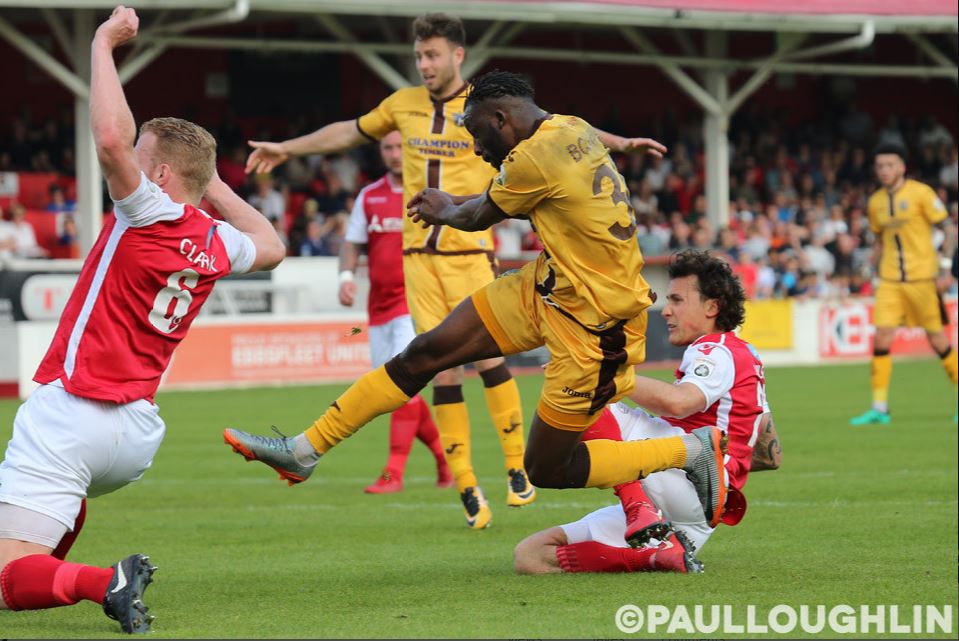 Tombo strikes, Tombo scores….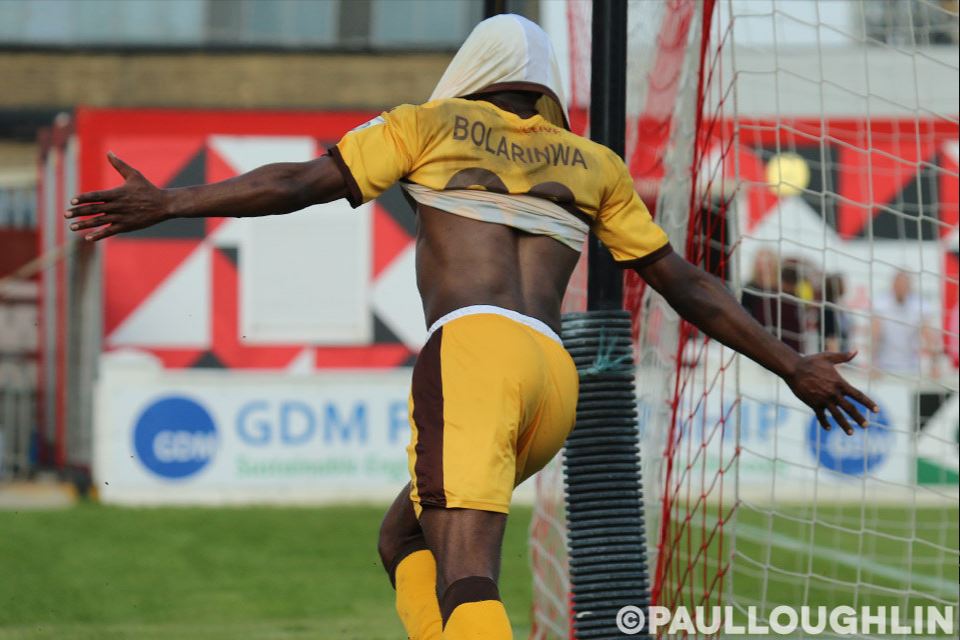 ….Tombos celebrates! Ebbsfleet away.
Up next for our penultimate fixture is Ebbsfleet, who are unbeaten in 11. And we've never, ever won in Gravesend. Suffice to say, our hopes are not high. What follows is a typically Sutton United performance, in that it's fucking bang on the money when it really needs to be after a couple of weeks of shite. We mostly run the game and create all the decent chances before a fabulous weaving run from Tombo wins the contest late on (1-0). Thank fuck for that, we're back baby! Having secured at least 5th and thus guaranteed our highest ever finish, the sad news reaches us the following day that the legendary manager who lead us to that 7th spot in 86/87, Barrie Williams, has passed away in Spain. For fans of a certain era like me, it's a sad sad day.
Minutes applause for Barrie Williams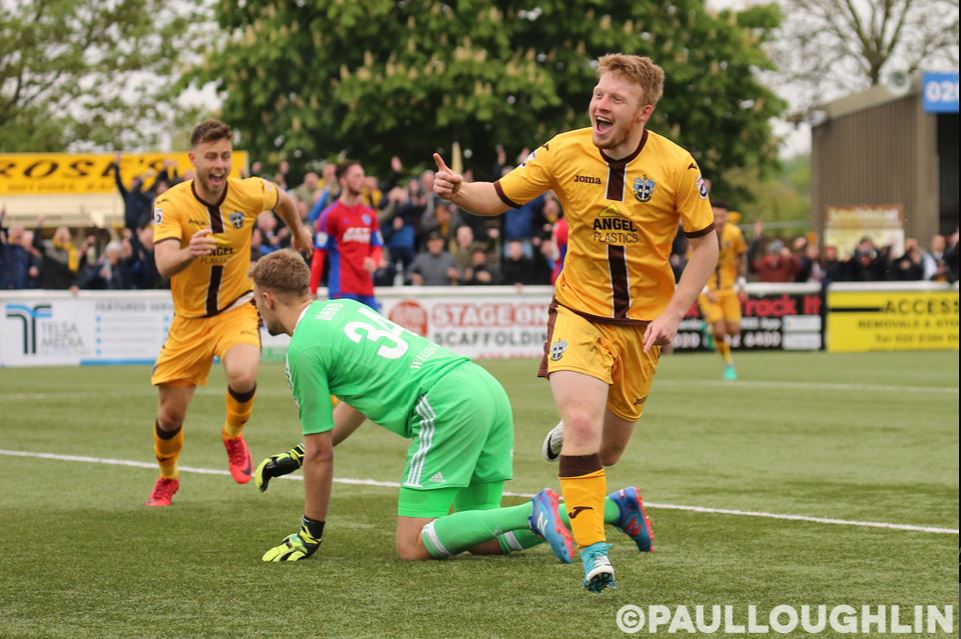 Tommy Wright Wright Wright!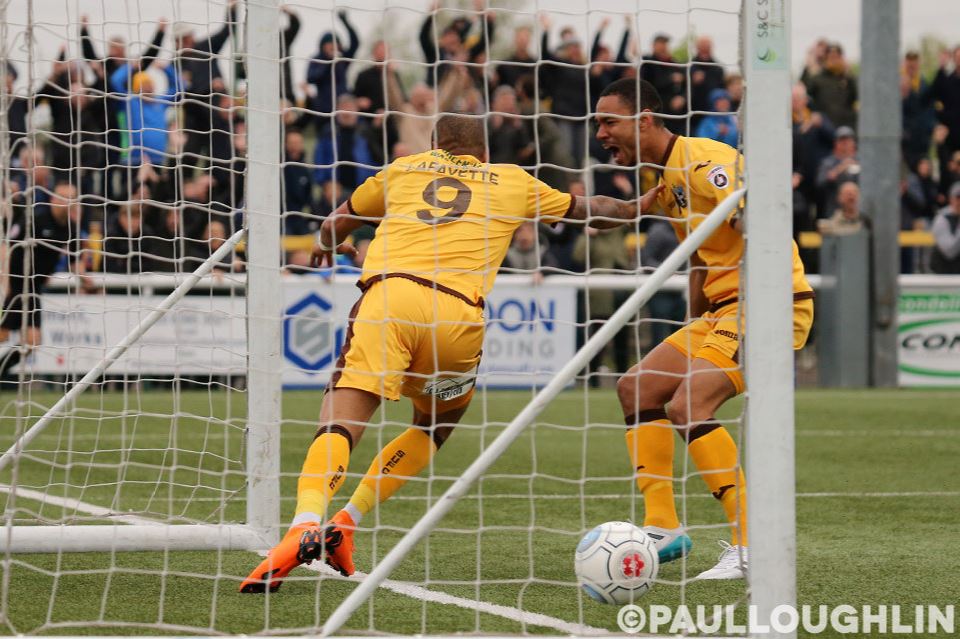 Laffs wins it at home to Aldershot!
We then close out the regular season with a proper all ticket affair at home to Aldershot. The winner takes 3rd place and home advantage in the Play Off semis. In front of over 3500, with the game preceded by a minutes applause in memory of the recently departed Barrie Williams, we put in another top shift and park our arses firmly in 3rd and secure a Play Off Semi-final spot with as 2-1 win thanks to goals from Tommy and Ross. Elsewhere, other results mean Boreham Wood come in 4th and Fylde 7th, meaning we'll face the winners of their midweek eliminator next weekend. Our season is going into May! After the game, we have the traditional end of season gathering with JC nailing Player of the Year for the 2nd year running, Tommy Wright bagging Young Player and Jamie Butler taking home Players Player. Afterwards, Totts & Taz make a slightly under the influence appearance on SUFCTV, Belly gets 7 balled by Nicky Bailey for a 2nd straight time and the evening ends in typically dishevelled fashion at O'Niells with few people remembering how they got home.
MAY
And so to the shortest footballing month of the season. In the eliminators, Aldershot completely ebbsfleet their game against Ebbsfleet. Conceding a 119th minute equaliser before then chucking the shootout after being 3-1 up. Meanwhile Boreham Wood see off Fylde, setting up a properly Isthmian League face off for a place at Wembley and a shot at the football league.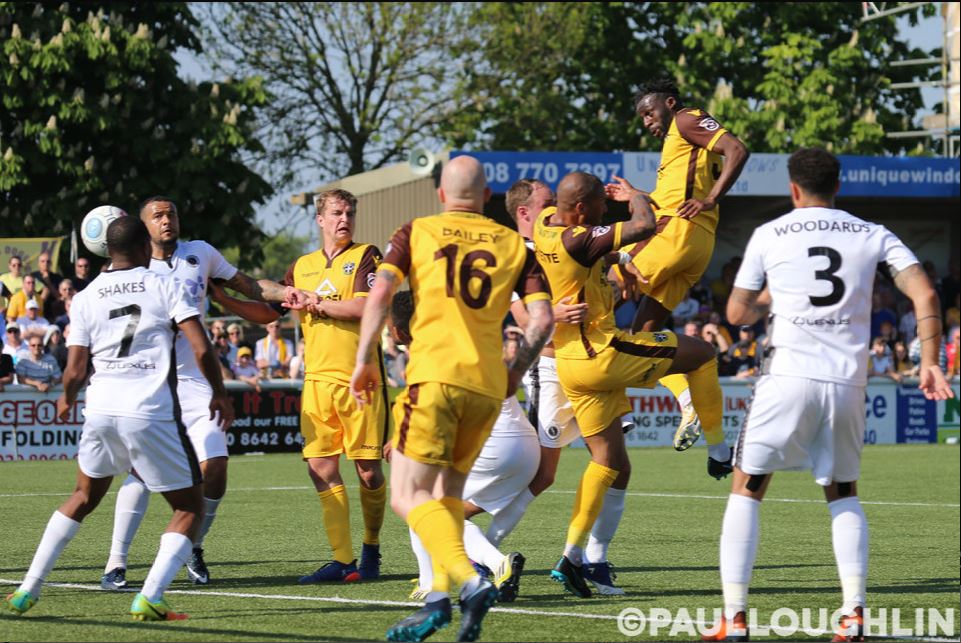 Tombo heads us back into it v. Boreham Wood
With Tranmere waiting at Wembley having done Ebbs in Extra Time the day before, it's another packed GGL that witnesses the Semi and sadly, the lads just never quite get going. Boreham Wood are unspectacular, but get the job done and shortly after HT lead 2-0. Finally with 20 to go as the visitors fade badly from their efforts just 4 days before, we come to life. Bolwinra heads in to get us right back into the game only for us to concede a rubbish third from a Free-kick (We'd link it here, but it's so shit, we'd really rather not be reminded of it. Sorry). We immediately reply once more to make it 3-2 going into 7 minutes of added time, but despite throwing everything at a properly knackered Wood, the ball somehow stays out and we can't force the extra 30 mins meaning the season ends with something of a dull thud rather than a bang.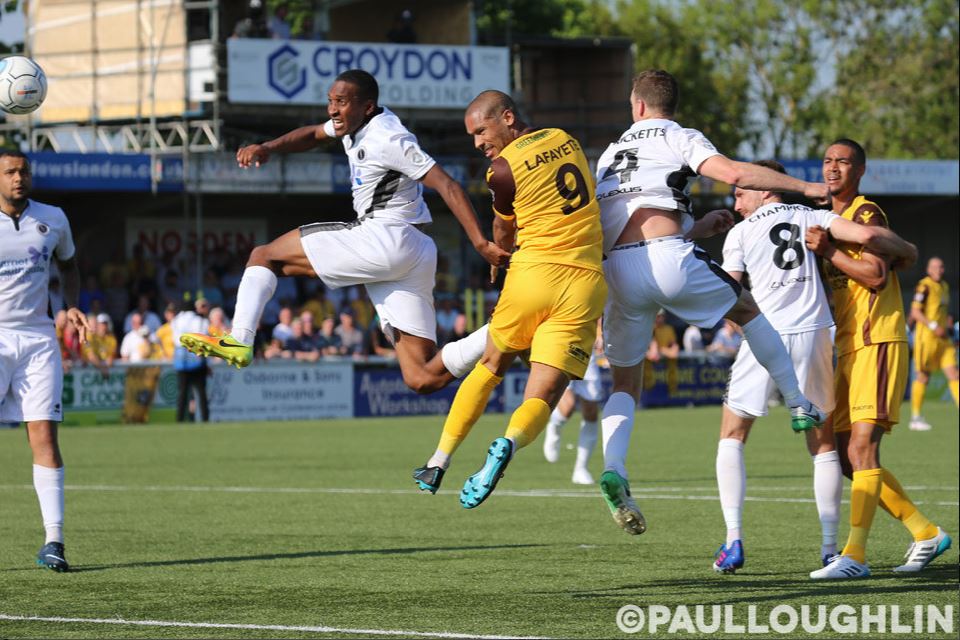 Laffs heads us back into it again v. Boreham Wood
Still, we can't complain. Most points, highest ever finish and genuinely competing for a place in the FL is somewhat new ground for little old Sutton United and given that last month of the season, it's probably not that surprising that we came up a little bit short at the death.
And, we're sure to many people's relief, we won't have to dig up the fucking pitch now!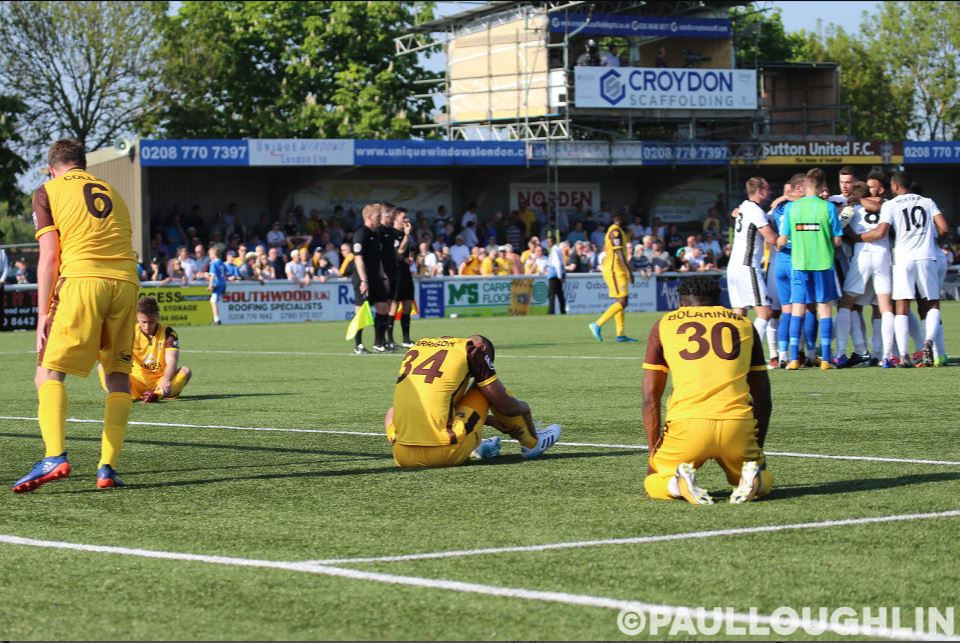 Fallen short.
Post season, the only news of note is Tommy Wright picking up the Young Player of the Year gong at the NLP's National Game awards to go with our cup run and community awards we bagged last season. It's a well deserved accolade for a young man who probably wasn't expecting to get much in the way of 1st XI action this season, but instead forced his way in and bagged 13 league goals along the way as well as earning an England C call up.
EPILOGUE
So, we suppose we'd better tie up all the loose ends now then? Otherwise you lot will never leave so we can pack up and go down the pub.
In the play off final at the National Stadium, Tranmere finally get their desperately desired return to the FL at the 3rd attempt with a 2-1 win over Boreham Wood, although they do it the hard way by playing with 10 men for 89 minutes after one of their lads is red carded for a reducer after 48 seconds! They also use all their subs up before half time, but in the end it seems Wood's efforts in just making it to Wembley has taken everything they have to give and they just can't make the extra man count when it matters. Of course, everyone's heart positively breaks at their failure.

Highest ever finish, most points, most wins….
Joining us in the National next season are Chesterfield and serial yo-yo's Barnet, who both drop out of League Two and provide us with new grounds to visit. Coming up from North are Man United lite and BBC darlings Salford City along with Harrogate. Again, both will be new venues for the gang next season. From the South we get the slightly less 'exotic' and more familiar forms of Havant and fucking Braintree dumped in our laps. Yeah, cheers. These sides replace Woking, who absolutely sleepwalked into relegation, sacking a lame duck manager far far too late, as well as always doomed Torquay, Guiseley and basket case Chester.
The ridiculous circus that is Billericay and their 30k a week wage bill make heavy going of winning an Isthmian Premier title that even your mum could have managed at a canter with that sort of fucking budget and Dulwich overcome adversity to finally win a play off at the 37th time of asking at their new temporary home in Tooting (it's a LONG bloody story!), seeing off Hendon on pens in the final. Locally the Bobbins have a disappointingly successful season in winning the Ryman 1 South division which is only mildly more surprising than the fact Dippy seems to have got through a whole season without A. Sacking at least one manager and B. Not stuck his oar in and let people who know what they're doing get on with it. Joining them in coming up are Corinthian Casuals who lose their PO final, but thanks to results in other finals, get promoted anyway thanks to their points-per-game ratio and the FA's restructuring of the 7th tier for next season.

Bye bye!


Tooting are not so lucky however and are so bad that they finish dead last in the Isthmian Prem's only relegation spot to pass in the other direction. The Bogenders are not impressed, especially given the events that followed with their bestest mates Dulwich on their own patch. Still, at least they don't wind up in the Southern League like Met Police, so it's not all bad news.
Right. We think that's about it. That's your lot for this season. See you back on the Shoebox in a couple of months.
Go on. Shoo!