Hendon. During the seventies (I know, I know I'm starting to sound like Uncle Albert, get used to it), Hendon were a massive force in the non league game. Their old Claremont Road ground, with it's old school proper floodlight pylons was an absolute gem of a place. Sad to see it go but pleased for the Dons, that after a few years as a nomad club, and after a long hard slog by their officials and supporters who have refused to give up, they have now secured themselves a new permanent home. Good luck to em.
Hendon's one of those clubs from back in the Rothmans Isthmian League days who have always retained a degree of class and respect even in the hardest of times. I would include Leatherhead in that group as well. Others, like Wycombe Wanderers and ourselves to some extent, have gone on to establish themselves at a higher level. Some have embraced and come to enjoy mediocrity and failure, Tooting and Mitcham. While a few have become basket cases who blame everyone but themselves for their fall from grace, Kingstonian for example.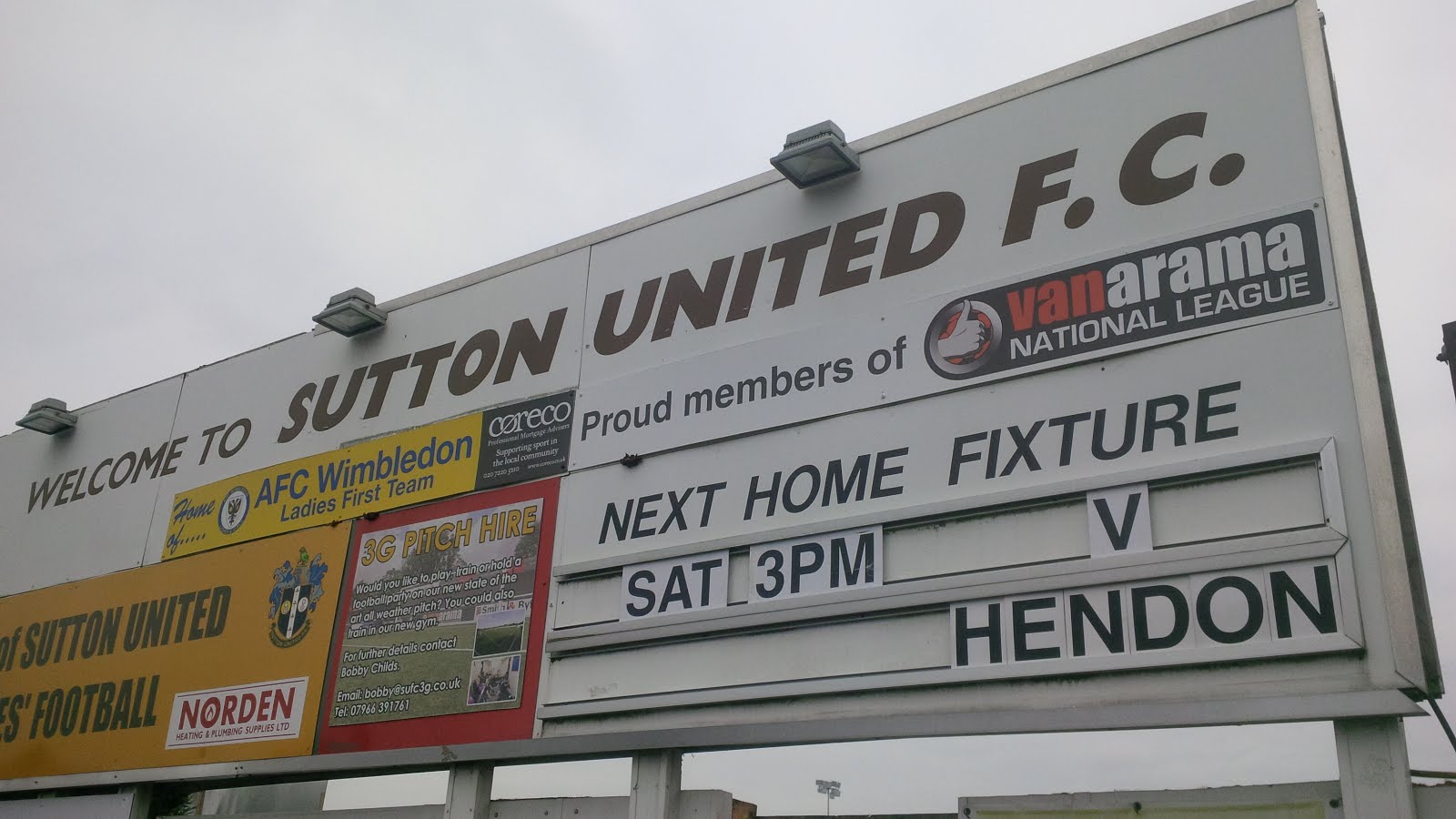 It's gone all Isthmian round here
While I'm out and about on this territory why is it that the glue sniffers are allowed to have leagues sponsored by the suppliers of their particular vice while the smokers are a no-go zone? All seems a bit inconsistent to my well trained eye. Questions should be raised in the House.
Anyway, the build up to this particular fixture saw a strong Sutton side stick seven past Molesey in a Surrey Saturday Senior Cup fixture. The SSSC official cup song, Dukey's Dream, is coming along well even though the fucker managed to name check most of the crowd from that game in his Gandermonium blog other than myself, Bacon, Ces and Father Kev. We were there mate, and we saw you hoovering up free chips from Rose's like some sort of old paraffin lamp at the soup kitchen. It's all noted, don't you worry about that son.
The day of the game the weather is fair so I take the bike out for a spin around the People's Republic, checking on the border posts and stopping off for a bacon and egg sandwich at our very own Savoy Cafe. Recommended kids. Tell them I sent you. Then it was back home for a bob up and a toes up and a discussion with daughter number two about the Paris Commune, I shit you not, before she levered open my wallet and helped herself to half the contents. She calls it wealth distribution, there are other words for it but little acorns and all that.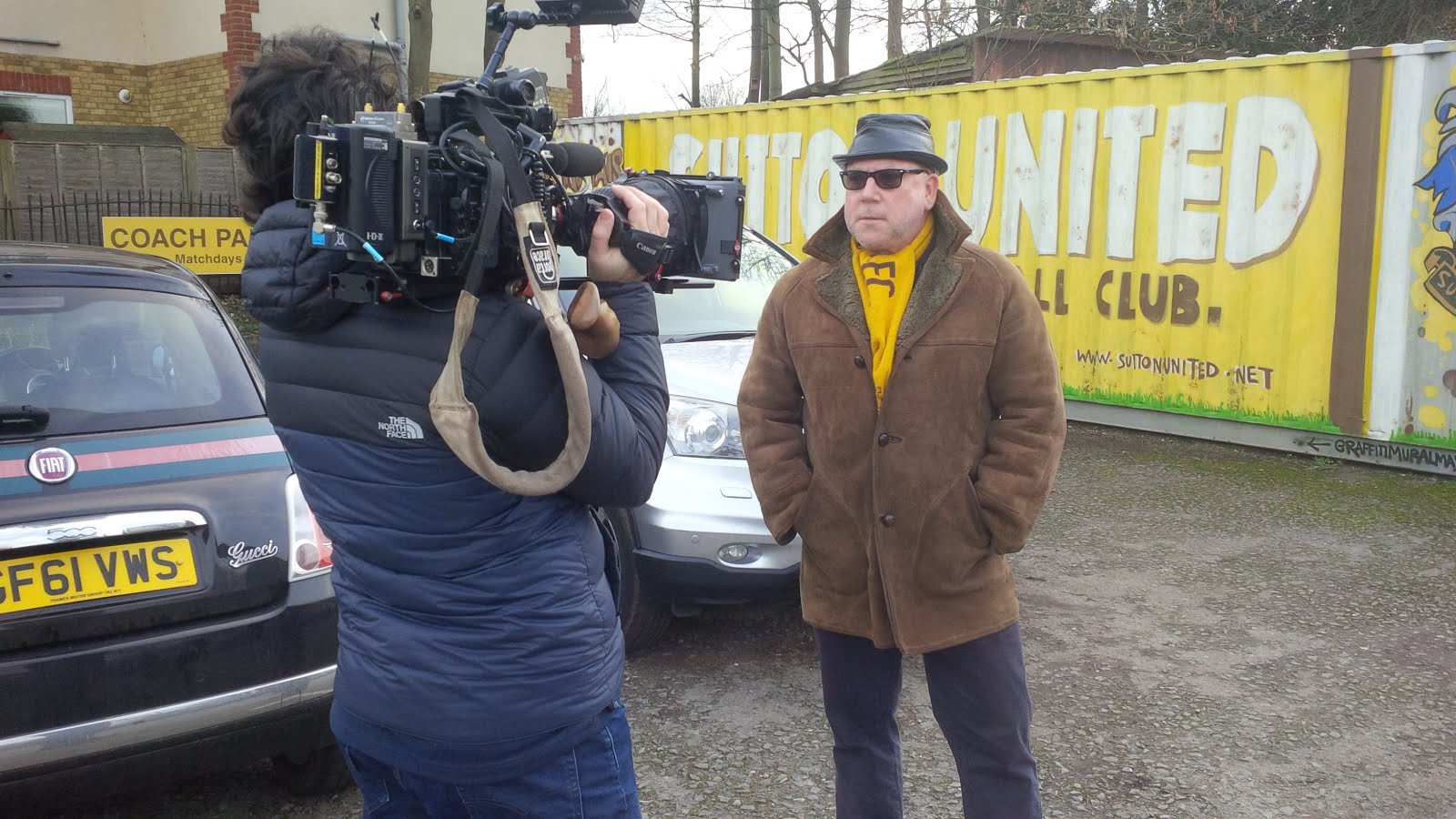 "I dunno nuffink about no hooky MoT's guv"
On the Friday evening I'd had a cryptic message from Mr X about BT Sport doing some filming for a set up piece in advance of our TV Blockbuster against the Daggers next Saturday. Something about them wanting someone suave and articulate who can increase their female audience at a stroke. I actually don't mind being objectified as thinking woman's crumpet so I passed on my number and left it that.
So Saturday I'm sitting indoors in me pants, watching a bit of football with Sid the Cat, when the dog starts vibrating and it's Andy from the telly and can I get up the club because they want to talk football, beer, rock'n'roll and West Sutton and they need to get it wrapped so that they can get on the juice themselves. No problem says I. A splash of Old Spice and I'm pulling on a pair of strides and the sheepskin and off out the door and left up the Lane like a man on a mission.
I think I've got time for a quick livener so I order up a scoop of stout when Ali behind the jump tells me something that rocks me right back on my heels. Serious this. Turns out that the lovely Barbara, an absolute stalwart of our football club who so sadly passed on a few weeks back, had the song that I wrote about the team that she loved played as the closing music at her funeral. I'm choked up. Something I would never have expected and something that leaves me feeling intensely sad and more than a bit proud at the same time. Our football club is like one big extended family and these things hit you hard.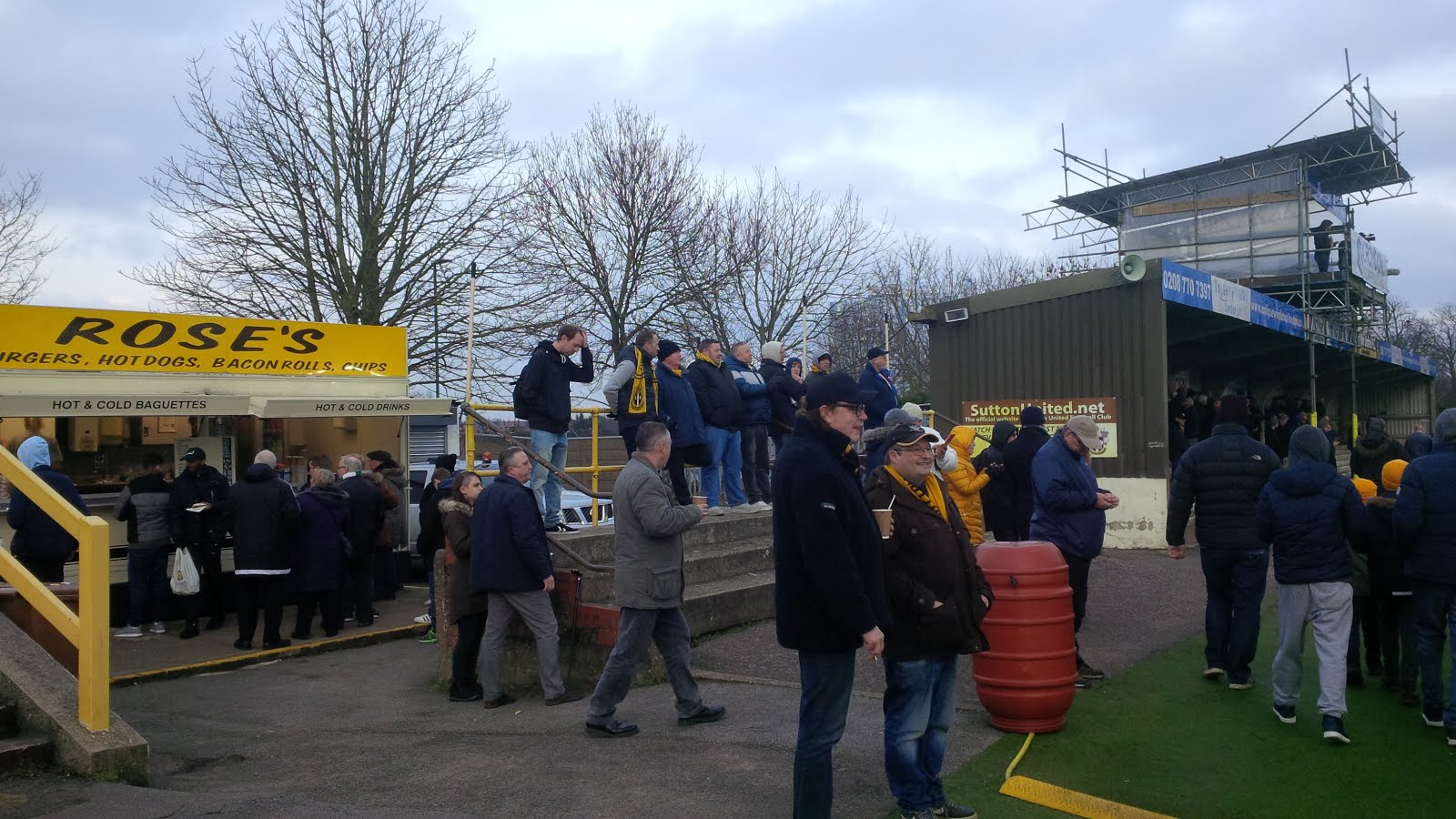 People.
Out by the bins I knock off some old bunny for the TV fellas and unless it's too fruity for pre watershed it should be shown in the build up to the Daggers game on BT Sport, so keep 'em peeled. They seemed happy enough so I head back to the bar to retrieve what's left of my pint and to have a natter with Taz, The Welsh Wizard and Belly who tells me my brother in law is shaping up well in his darts team. I'm pleased, he's Fulham so it always surprises me when he gets something right. He's also probably the oldest centre half in the world, still turning out for the Old Sutts in his mid sixties! Extraordinary.
Times moving on so I stroll round the turnstiles to pay my twelve quid in and I bump into another West Sutton face, Fish The Cabbie, a regular contributor on rhyming slang, jazz funk and a cornucopia of old black taxi driver bollocks on Robert Elms Radio London Show. In fact, get this, it was Fish who cracked the conundrum as to why a party is called a cabbage. Old greengrocers used to shout "Cabbages, Round and Hearty", so add a bit of London magic and you've got a rhyming slang for Party. Anyway, the fella's enjoying his football with some of the other reprobates like Big Malc and Mark H up on the old Curva Nord by the car park at GGL and good luck to each and every one of them. Salt of the earth and they vote with the PRoWS party line without question every time. God bless em.
Round on the Shoebox there's a reasonable turn out but the absentees names are recorded and noted for future reference. Gaz is back on one about the state of the PA speaker in our vicinity and I agree to raise the possibility of crowd funding a replacement with Chancellor Oakes. Dirty Barry is back. As you probably know he missed Monday's SSSC game. I don't listen to gossip, so all this stuff going around that Monday Night is Dogging Night is just press speculation and rumour mongering in my eyes, but you make up you own minds.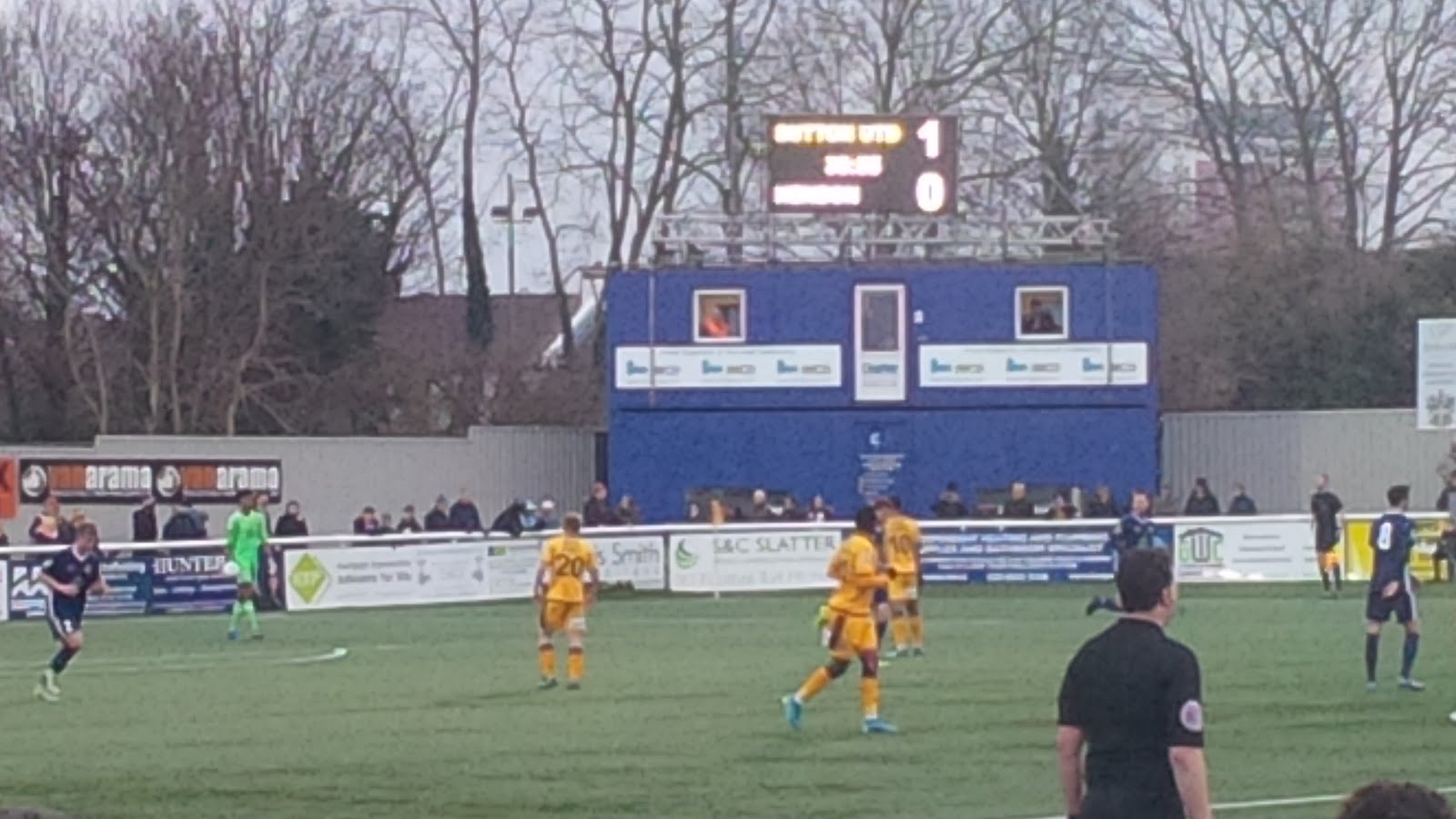 Leading
What you probably don't know is that back in the day Bal was actually a decent baller himself. He was what would be known in modern parlance as a "Box to Box Player". He could move from a box of KFC to a box of Milk Tray like greased lightening…..Please yerselves. Then "that fucking song" is ringing out and the players are taking to the pitch. But what's this? Why the fuck aren't Hendon playing in their traditional green? There's no colour clash and this is exactly the sort of nonsense that is guaranteed to piss me off and I lose at that moment just a little bit of respect for them. Comments are open so maybe one of their lot would care to explain? I'm all ears.
Evans. A Thomas. Coombes. Cadogan. Eastmond. Spence. T Thomas. Wright. Downer. Bolawinra. Beautyman. SUBS. Beckwith. Dundas. Lafayette. Walton. Taylor


I like the way we've set up. Plenty of youth and pace but missing skip and our traditional yobbo, sorry that should read midfield general, in the centre of the park. Great to see H back in the amber at the Lane, welcome home mate. Coombsy is leading the line and is about to have probably his best game for the club to date. Hendon are no mugs mind and start brightly enough showing some decent pace up front and the game settles down into what will develop into a very decent football match.
I know we all bang on about keeping the ball on the deck and playing football and that's exactly what we are doing and the oppo today just happen to be of a similar bent and it's great entertainment. Truth is you can't do it week in week out in the National League against those big, lumpy Northern cloggers like Tranmere and Wrexham but it's a treat for us today with Hendon showing us why they are a club on the up. Some of the passing and interplay is a joy to behold but even so it takes us until just after the half hour to break the deadlock when Kieran sweeps the ball home after a rare Hendon defensive lapse.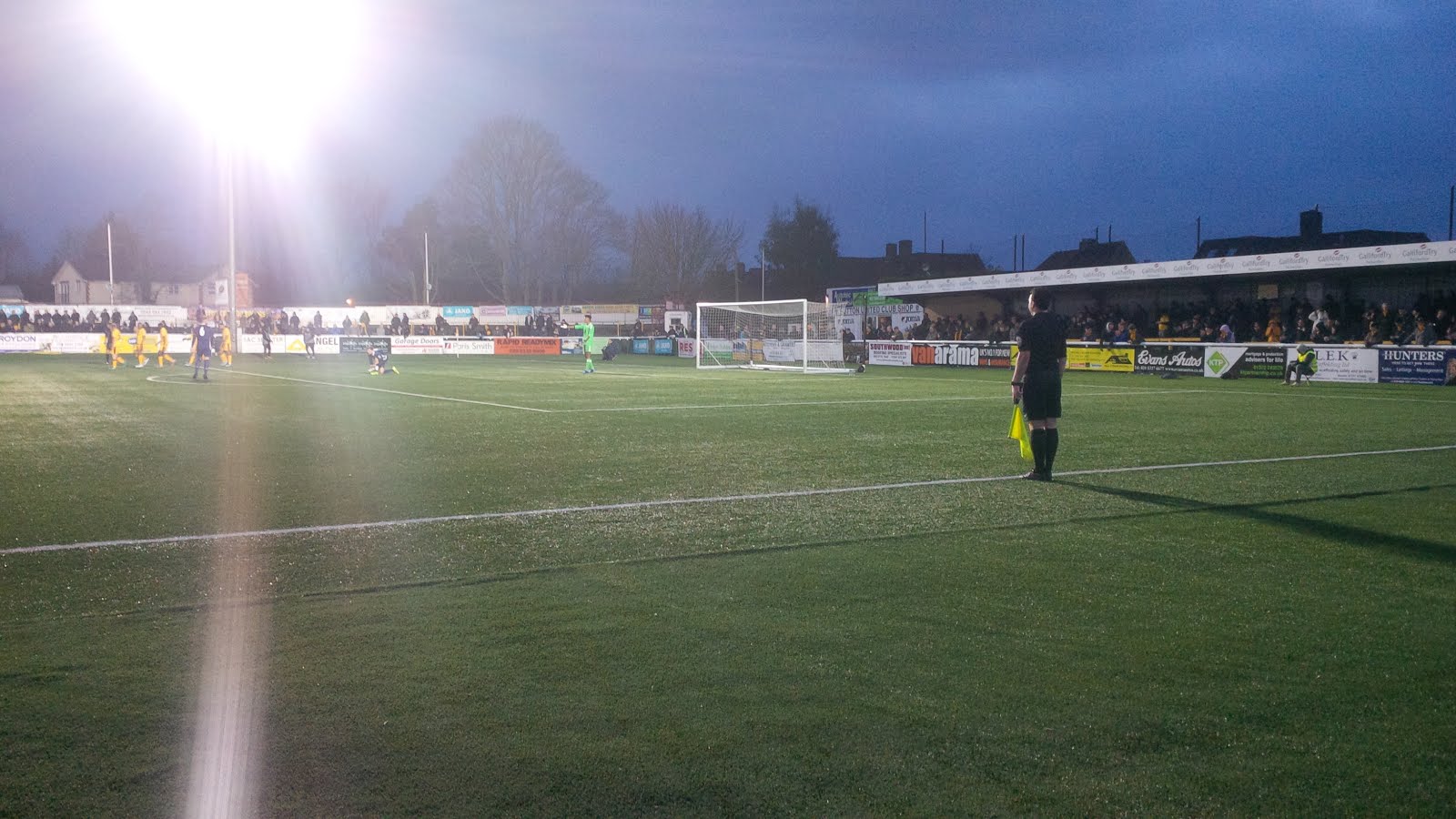 Pic to establish atmosphere
At half time we have a chat about Fylde away and the weekend in Blackpool and the DILF's have organised a charabanc so all is set fair. It's possible me and DB might do a double hander on Knock Three Times at the Tower Karaoke – "Hey girl, what you doing down there?" Nothing officer. Straight up. My Gandermonium colleagues are disgusted at the thought of this prospect but realise there is unlikely to be any escape. We are staying at The Imperial too so we'd better start saving up. I was personally quite keen on the Elvis themed B&B I saw on a Channel 5 programme a while back but was laughed out of court. As you can probably tell from the planning stages, that match blog is likely to be a two hander, possibly a three hander. Meaty. You lucky people.
I clock at HT that Father Outlaw Neil has got Ipswich Lee running about fetching him cups of tea. Christ, I hope one of my girls delivers this sort of arrangement for me and the sooner the better to be honest with the state of my knees. It's suddenly turned cold so I fire up today's Lah Dee, a Petit Robusto, sixty gauge, short and fat which is an absolute bastard of a thing to light but I'm soon stinking the place out nicely. You can't beat the old Shoebox on days like these kids and we are all looking forward to the second half.
The pattern of play remains pretty much the same with Hendon always a threat and our lads carving out some decent chances. However, it takes until fifteen minutes from the end for Coombs to latch onto a ball knocked back from Downer and place a stunning volley into the top of the net. Absolute belter. But there's even better to come. Five minutes from the death Tommy Wright picks up a short corner, drives in to just outside the box and cracks a twenty five yarder into the far corner of the Hendon goal, taking a satisfying ping off the post on its way in for good measure. Stunning. Absolute top drawer quality and it kills the game and sends us back round the bar with smiles all over our boats.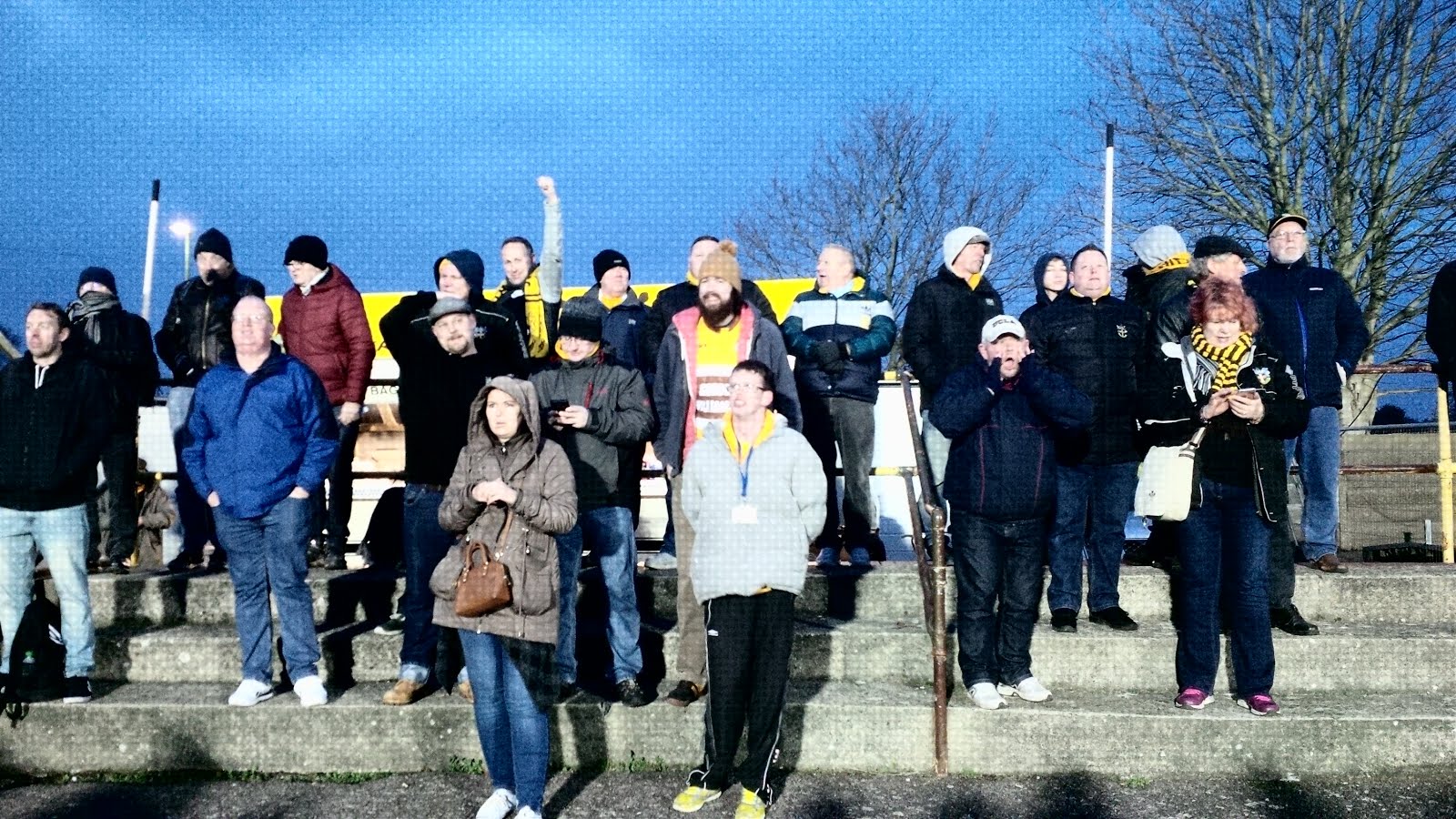 Ropey old bunch
I bump into the Fear clan on my way to the jump. Peter, Gary and Geoff. All good West Sutton Plough boys and we discuss the rumours about the pub being on its uppers and Fearo, possibly the only England under 21 international to wear the amber shirt (need to check that factoid), pitches in claiming that Tommy Wright has been studying his old videos. Really? I never even knew they had CCTV in the pubs and bookies round Sutton back in the nineties.
I catch up with a few of the usual faces for a couple of scoops and we have a butchers at who's left in the Trophy. Could we start dreaming on Wembley? We will need to get past Wealdstone first. That's right, I have insider knowledge pre draw but keep it to yourselves. See you on the Shoebox Saturday for the North Korean Daggers. It's early KO for the box, so don't be late.
Totts