It's making a list and checking it twice, Gonna find out who's naughty and nice. The FA Trophy is comin' to town! Although it would seem that whilst we're not quite on the naughty list, we're probably on the 'undecided' one given that we've been a home tie with Truro. Sure they're a division below us, but they're going well and most importantly, if there's a draw, we face a midweek trip to Cornwall a week before Xmas. And that, quite frankly, can get to fuck.
Having had a nice lie in and enjoyed some breakfast, my late morning relaxation is rudely disturbed by a phone call from Dr Bell. He wants to know what time people will be arriving at the club today, mainly as he's still got £35 burning a hole in his pocket from last weekend's whip. So on this occasion, I'll let him off ruining my Saturday morning peace.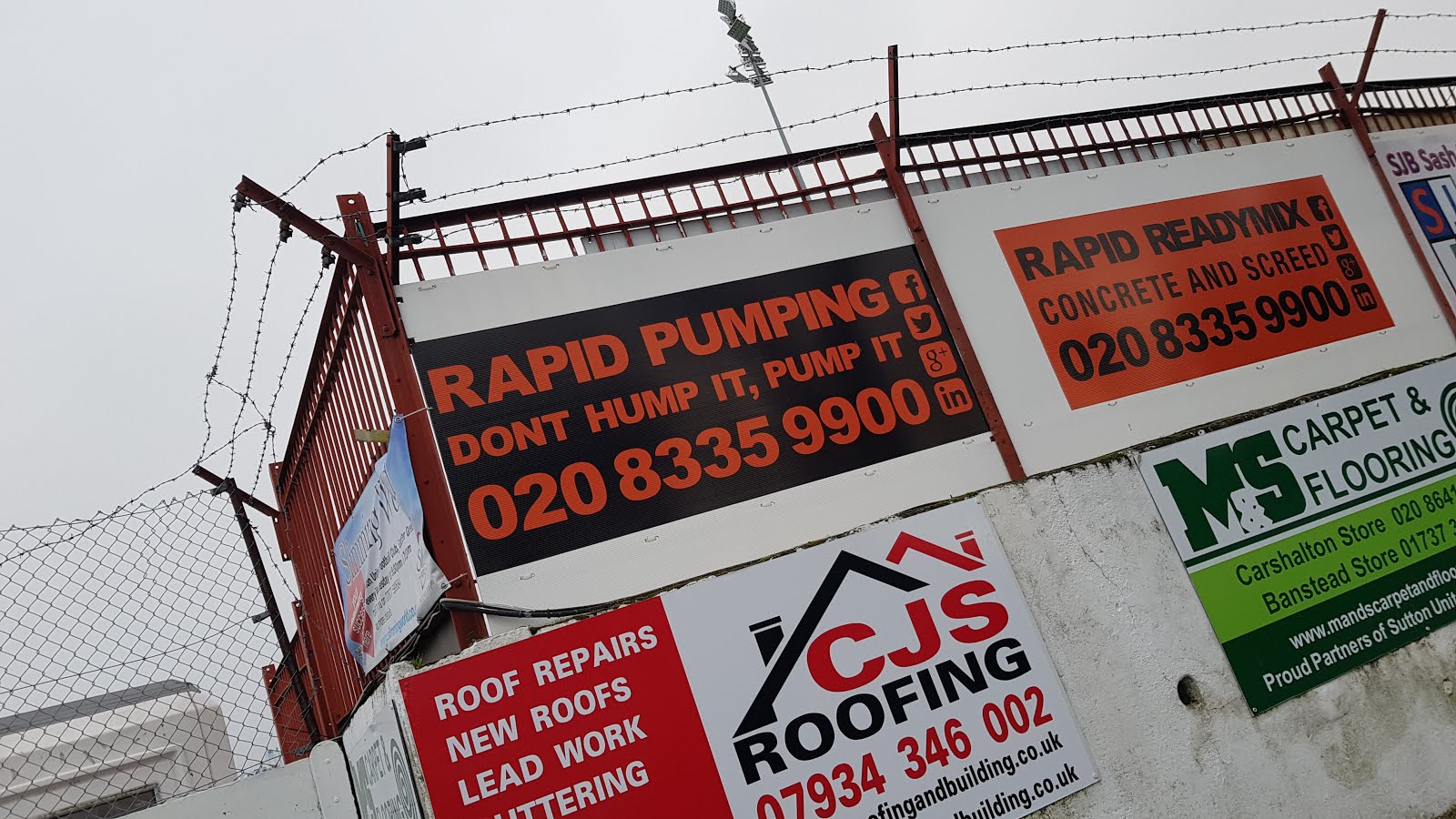 Fnar.
Showered and feeling ready to face the world, I nip out into the cold to catch the usual 407 into town. Cash and Greggs stop later and once more suspending the disbelief that comes with seeing our colours on display on our own high street, the stroll into the Republic is soundtracked by that You Me at Six track that we had on the Road to Wembley programme. Hey, it is an FA comp! As I pass the Plough, I note the place is getting all festive with a geezer selling fair trade, organic Xmas trees. There's also a sign for 'Santas Grotto'. Now some might say it's just a dirty old tarp strung off the side of Micky's Munch Box, but those people clearly have no imagination. So being a big kid at heart, I can't resist popping in to see the old boy to let him know what I'd like for the upcoming commercialised frenzy of gift giving.
The man in red looks oddly familiar to me and he flat out refuses my request to sit on his knee, plus I'm not sure I've ever seen old man Claus puffing on a large Cigar in between pulls on a can of Red Stripe before, but hey this is the 21st century. Who am I to judge on the chap's lifestyle choices when he brings so much joy to little children all over the world! I let him know I'd very much like to avoid a replay for today's tie and also one of those Lego Millenium Falcon's that came out recently. "I suppose you want a fuckin' golden egg laying goose too?" he growls through a cloud of cigar smoke.
Well, I'd not thought about it, but if you're giving 'em away…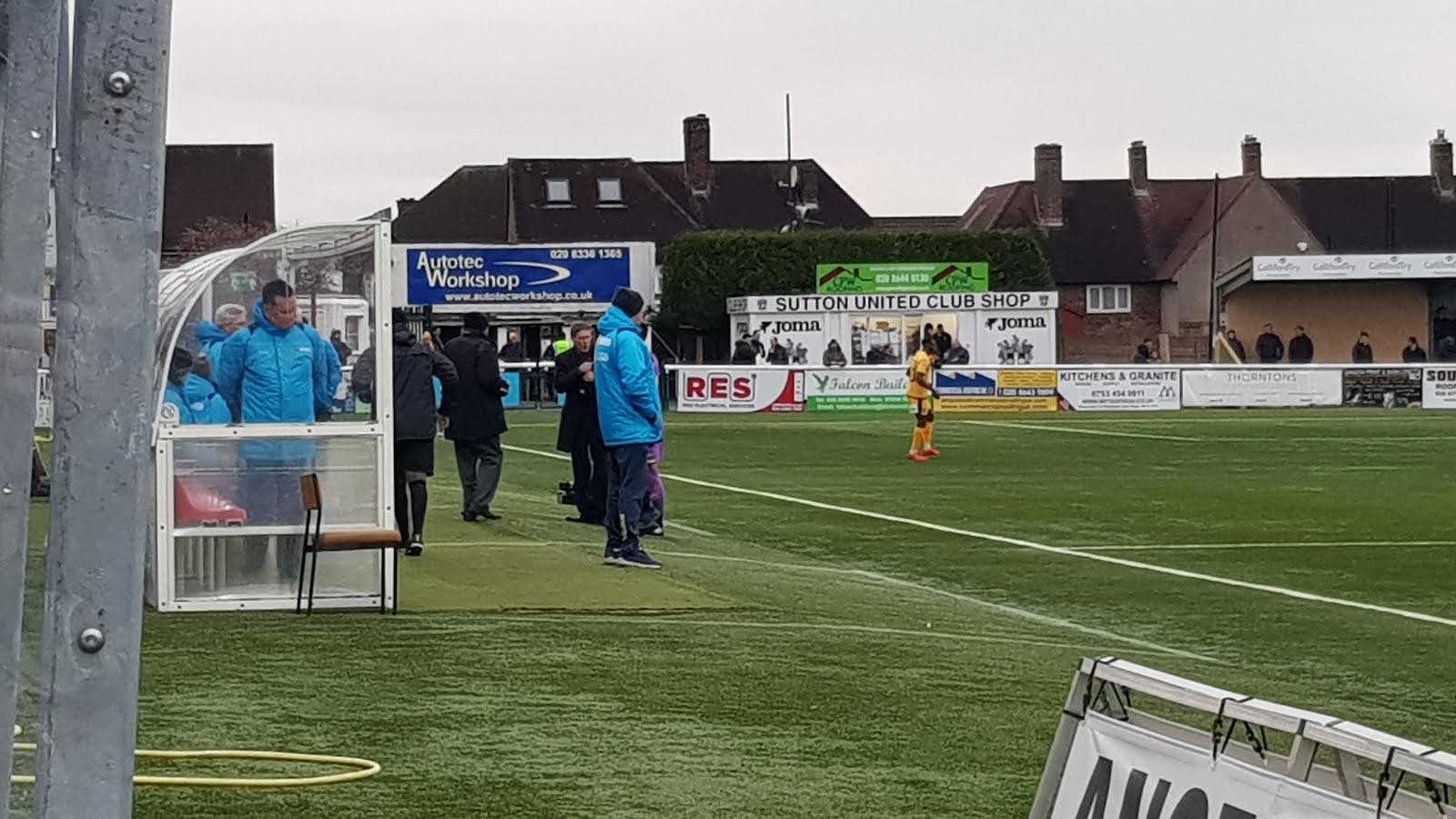 Player of the month award, Honest!
With my Xmas wish requirements taken care of, I amble back over Gander Green Lane and having bid Johnnie and his elite car park snatch squad a good afternoon, it's a stroll up the driveway and into the bar. Here, I step into the warm and also back in time a couple of years, mainly as there's practically no one here. Ah yes, cup game against fellow NL shite, all pay, no free entry for Season Ticket holders. So it'll just be back to us regular 500 or so sad bastards like it used to be. Great, means I can at least get to the fucking bar with minimal hassle.
With a pint sorted for me and Mr X, who despite looking very post-Xmas Do perched on the edge of the pool table cradling a slowly evaporating Fosters, decides that being double parked pint wise is a good idea. Your funeral mate. Soon after, Dr Bell arrives carrying the whip, but he refuses to break into it just yet until Dukey arrives. This news shocks us. Dukey's actually breaking his pre-match boycott? Well, it seems that when there's 35 quid of credit sat waiting to be spent, his principles aren't quite as valuable to him as he'd first made out.
We don't have to wait long for the flat capped one to appear and we can set about spending our leftovers. Of course, as the pints start to flow, the quality of conversation starts to head rapidly downhill. The main angle being the Xmas card Mr X receives from the SUFC Ladies team which shows a seasonally flavoured collection of images on the front of all the lovely ladies who represent us. The fact said card is also printed on a glossy type of paper does not go unnoticed. Nor does the fact he disappears off to the gents a couple of minutes later.
He certainly won't be off celebrating the late team news, as it seems Becks has pulled up lame in the warm up, so we've had to sub in Louis at the last minute and promote Downer to the bench in his place.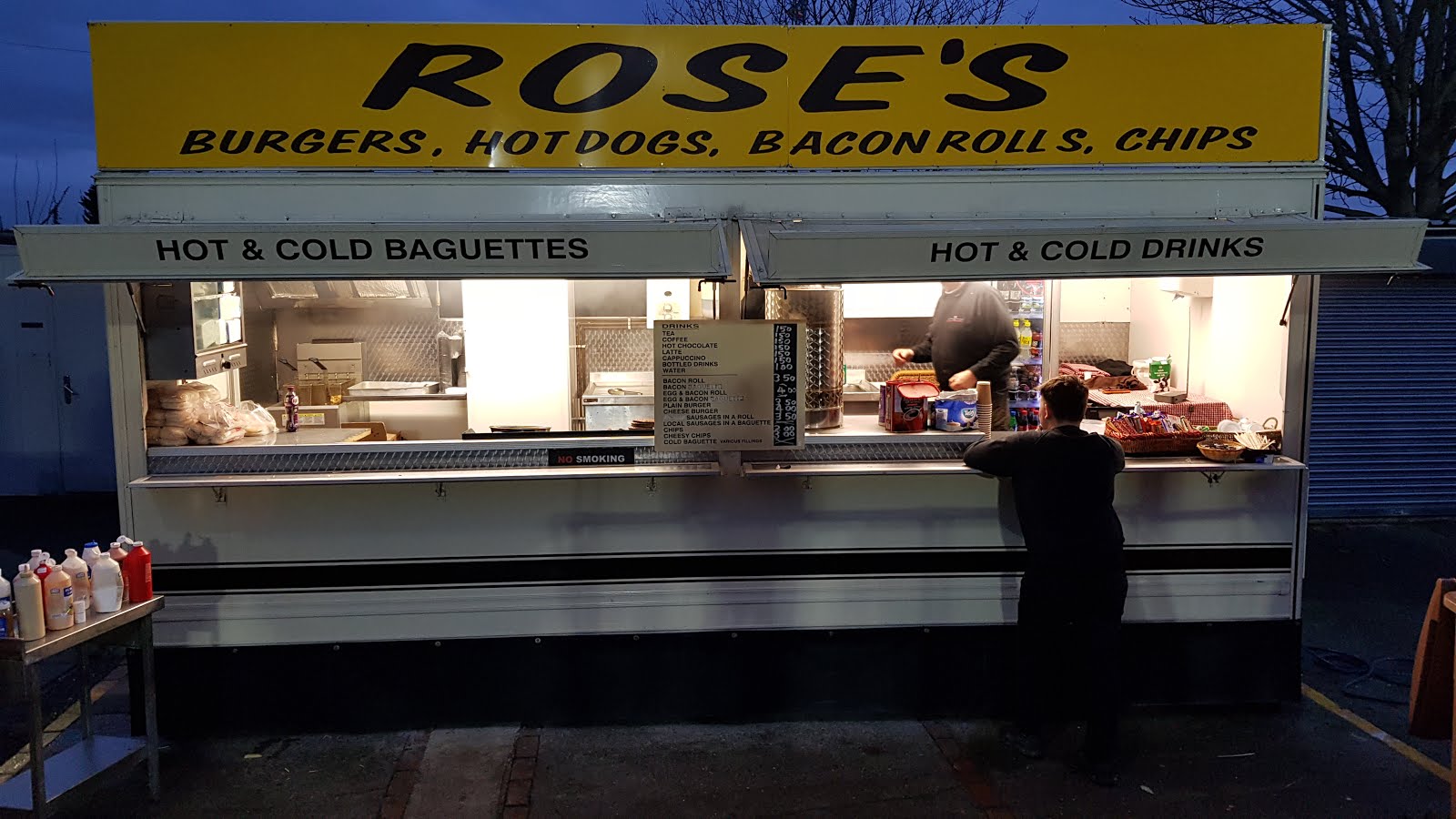 No bacon
Butler, John, Collins, Lafayette, Eastmond, Bailey, Spence, Wright, Walton, Bolarinwa, Stearn SUBS: Downer, Cadogan, Dundas, Taylor, Brown
With about a quarter of our recent crowds in at GGL, there's of course no need for segregation. So we can dart out of the bar at 2 minutes to 3 and gain entry via the turnstile by the stand and we can of course take up a spot on the Rec End terrace. Properly Non-League again. Dukey will be loving it. I emerge just in time to see Jamie Butler getting the player of the month award on the pitch. I even get a picture of it. Sort of.
Unfortunately, the first half is a little underwhelming. Hopes that we'd come out quick and get the job done early are not fulfilled as we largely toil away trying to break down the Pastie posse. They're well organised at the back, despite having a number 4 who makes JC look like a fitness instructor, but don't really look like they've got owt up top that'll cause us much in the way of palpitations. As it is, we just lack that final ball and don't really get Tombo or Stearny involved enough out wide to stretch them. Our best chance of the half falls to Tommy Wright who scampers in behind onto a through ball, but seems to have too much time to ponder his finish, what he wants to be when he grows up and whether he can get away with handing his chemistry homework in late again, dragging his shot across goal and wide of the far post from about yards out.
So uneventful is the first 45 minutes that Dukey disappears towards the tunnel to do his half time round duty with a good 10 minutes still to play according to the scoreboard. That's right folks, the football was so unentertaining that the Duke would rather go to the bar and spend money. Incredible. As I'm doing this nonsense and I've not taken much in the way of pictures to pad said blog out with, I head round to the Shoebox.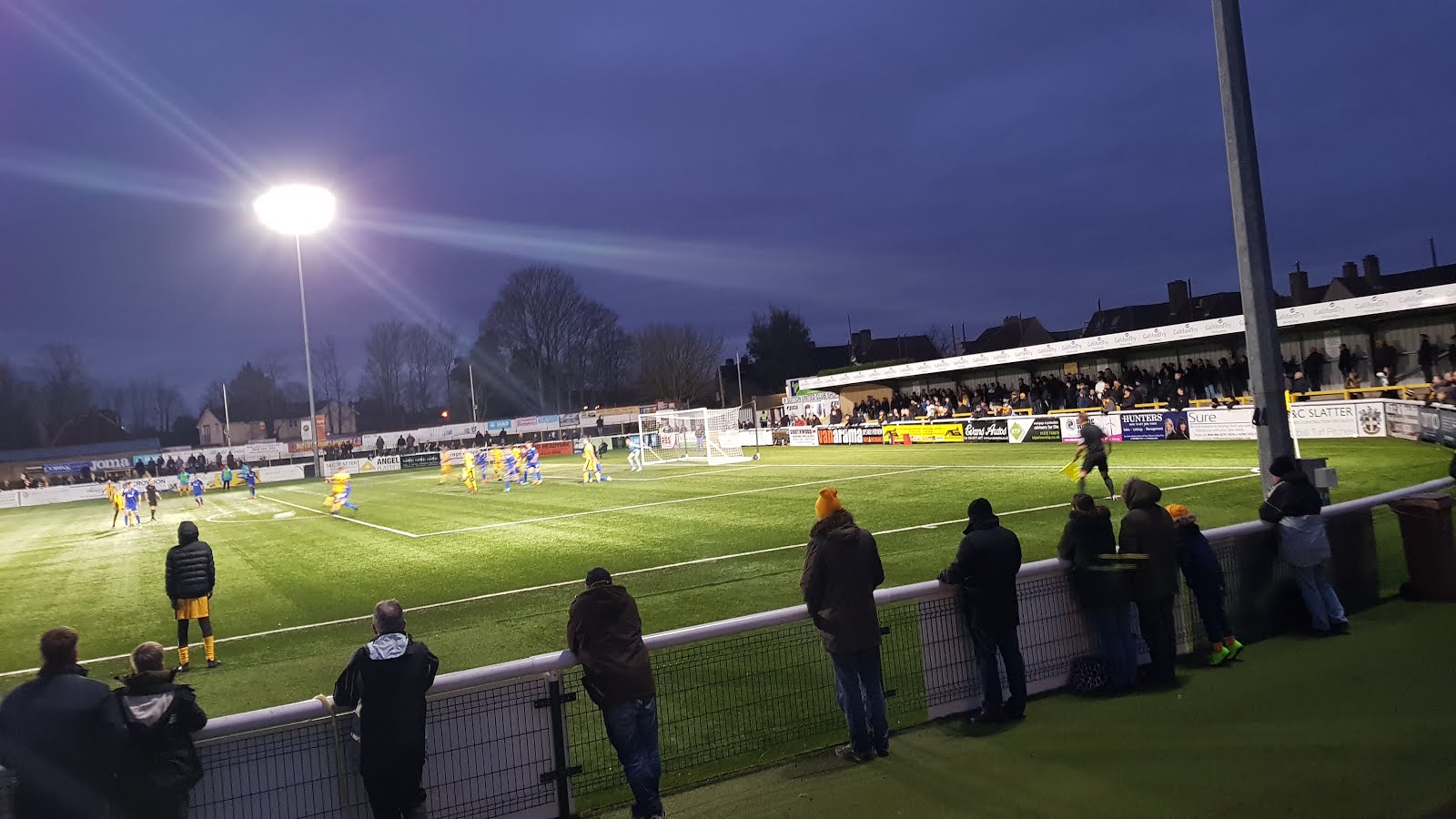 Attack attack attack
Passing the time with a flick through twitter, I note that Orient having turned a corner last week with their resounding defeat of title chasing Sutton United FC are going full on Margate at Haringey and having spaffed their load against us are losing 1-0. Well done lads. Elsewhere, quite a few other National sides are in trouble and it's looking like if we can nick something here, we could probably add 'Bookies FA Trophy favourites' to the already absurd situation of being 'Bookies National League Title Favourites'. No, really. Go look for yourself. We have been since we drew at Aldershot.
The second half is a little bit better than the first in that we're a bit higher up the pitch and we're getting Tombo into the game more, but again we lack that final product to produce a good chance. Greek finally shows his face 5 minutes after the restart, looking a little less than 'well' after his works Xmas do the night before, this tickles me no end. So does the fact that he goes to Roses for a Bacon roll only to find they have run out of sliced pig. How's your luck? On the pitch, Eastmond arrives late onto a pull back but fires wide and then a few minutes having been introduced to liven up the attack, Dundo lifts a sitter over from close range after Tommy Wright has pinged a low ball across the six yard box. It's not going to be our day is it?
We push on more in the last 10, bringing Cadogan & Taylor on in the hope they can unlock the visitors and avoid that bloody replay. In doing so, this give the visitors a bit more space and they have their best spell of the game. And with about 5 to go, their statuesque no.4 lamps a freekick off Butler's bar from about 20 yards. I don't think I'd be wrong in stating that not many around me would have been that disappointed to see it go in. Least of all Mr X, who was checking flights to Newquay on his phone at the time.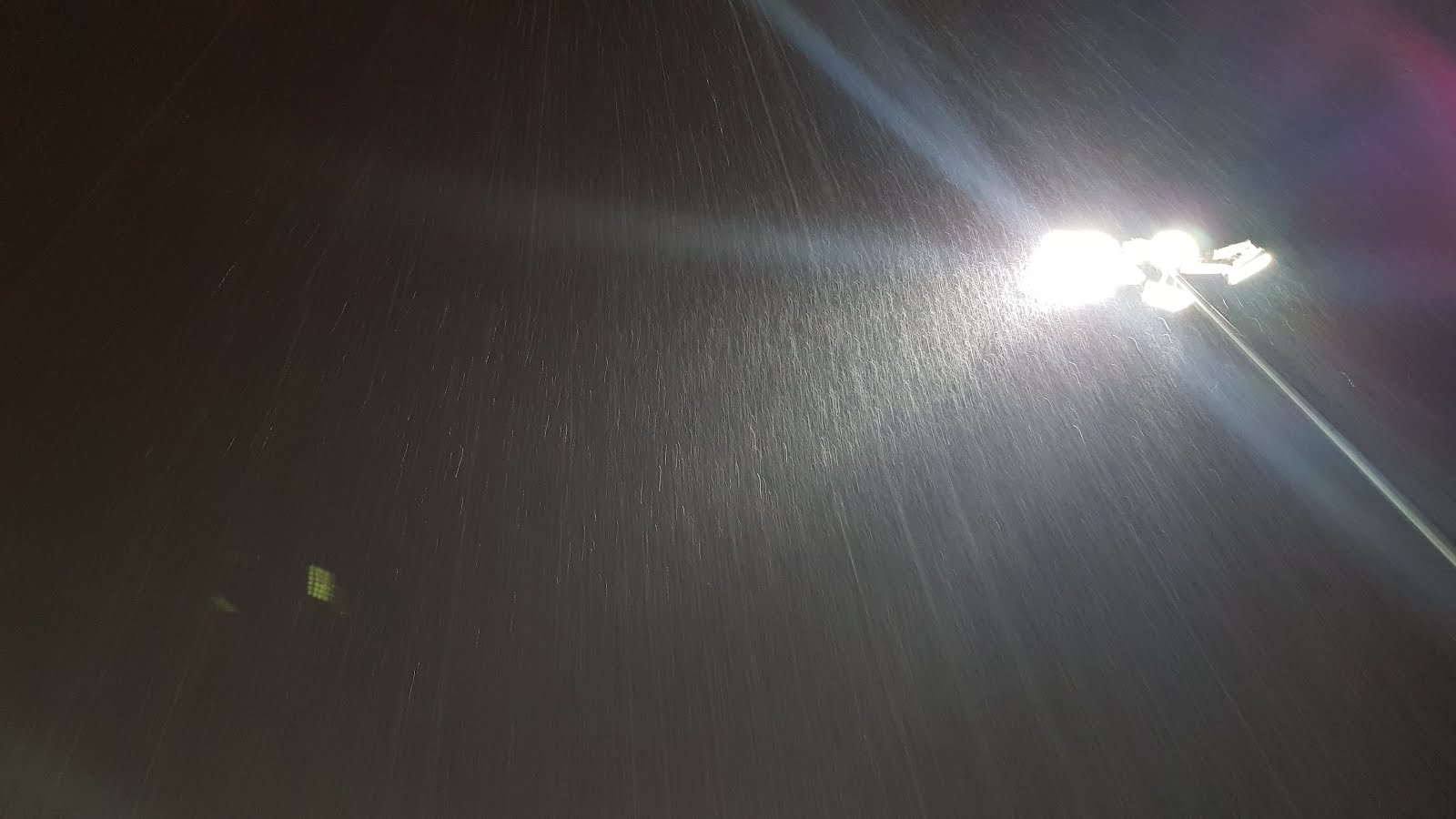 Here comes the rain again….
But as the heavens open and the clock edges towards 90 minutes, the curliest of Carribean Curly Toes comes to our rescue once more. A Truro foray breaks down in midfield and a quick look from Eastmond results in a cracking threaded pass that sends Dundo away and we suddenly have a 2 on 1 from nowhere. The keeper rushes out, but the big man isn't in the mood for messing about this time and whips a first time shot over the lad's shoulder and into the middle of the goal. 1-0! We're not going to Truro!! Maybe!
Thankfully, we see out the 5 added minutes without any real issues and at the final whistle we all breathe a huge sigh of relief. We give a quick show of appreciation for the on field efforts but as the rain begins to fall heavier, we take our leave and head straight for the warmth of the bar to toast our good fortune. Back in the warm and awaiting Mr X to return from the bar with the round, AB appears and drops two random Belgians on my toes. Apparently they're here to see Bobby, but he's not done with his post match duties yet and Ade has do to one. It seems he needs me to keep an eye on them and to make sure the introductions are made. Yeah mate, thanks. Because everyone always comes to us for responsible adulting type things. However I stick to my task and hang around near the door to ensure the connection is made. Once my duty is complete, it's back to talking shite and boozing.
On my round, I find the players cluttering up the bar a bit more than usual and partaking in drinks a bit more alcoholic than they usually would immediately after a game. Ah, must be the squad Xmas do tonight then! I find Kenny loading some of the lads up on double V&R's and enquire if he was looking forward to going to Truro midweek as much as we were. "Yeah! Get home at 3am and go into work next morning. Lovely!". I'll take that as a no then mate? A further look on social media reveals that whilst Orient sneaked through at Haringey, 10 other National league sides have tossed it off and are eliminated from the competition. And at Solihull, the lights have gone out causing their tie with Tranmere to be abandoned.
A couple of pints later and my alarm call to head home and cook her ladyship dinner is sounded. That's Keith putting fucking Chesney bastard Hawkes on the jukebox again. Naturally, everyone's delighted by this and we congratulate him on his choice by swearing on the graves of our ancestors that we'll find a way to get the fucking thing deleted, even if it's the last thing we ever do. I decide at this point it's best to sup up and head off, just in case he sticks it on again.
Job done.
Thameslink surprise me by delivering a train when they said they would at West Sutton and after a quick stop off for supplies, I'm soon back at HQ knocking up a fine pasta dish and raising a cheeky little G&T to ol' pisscan Santa. I knew he wouldn't let me down!
Now, he'd better not forget my fucking Lego…
Taz