The Surrey Senior Cup. Let's just take a moment out of our busy lives to think about that. There is actually no tournament bigger in the whole county you know. But then as you might also be aware, I possibly have a tiny, little soft spot for it. That is why, once again, it is down to me to regale you with the tales of our second round tie against the former FA Amateur Cup winners, Walton & Hersham.
Now I know that there are some of you heathens think that the county cup is not worth it. Comments from our forum* like "I would rather win fuck all than the SSC" and "3pts is more important than any County Cup, you cretin" or even "the language used in the Surrey Cup is atrocious". The way I see it, you know when you wake up in the morning and you're trying to decide whether to either have a bit of a shuffle or a shower. Well, why can't you do both?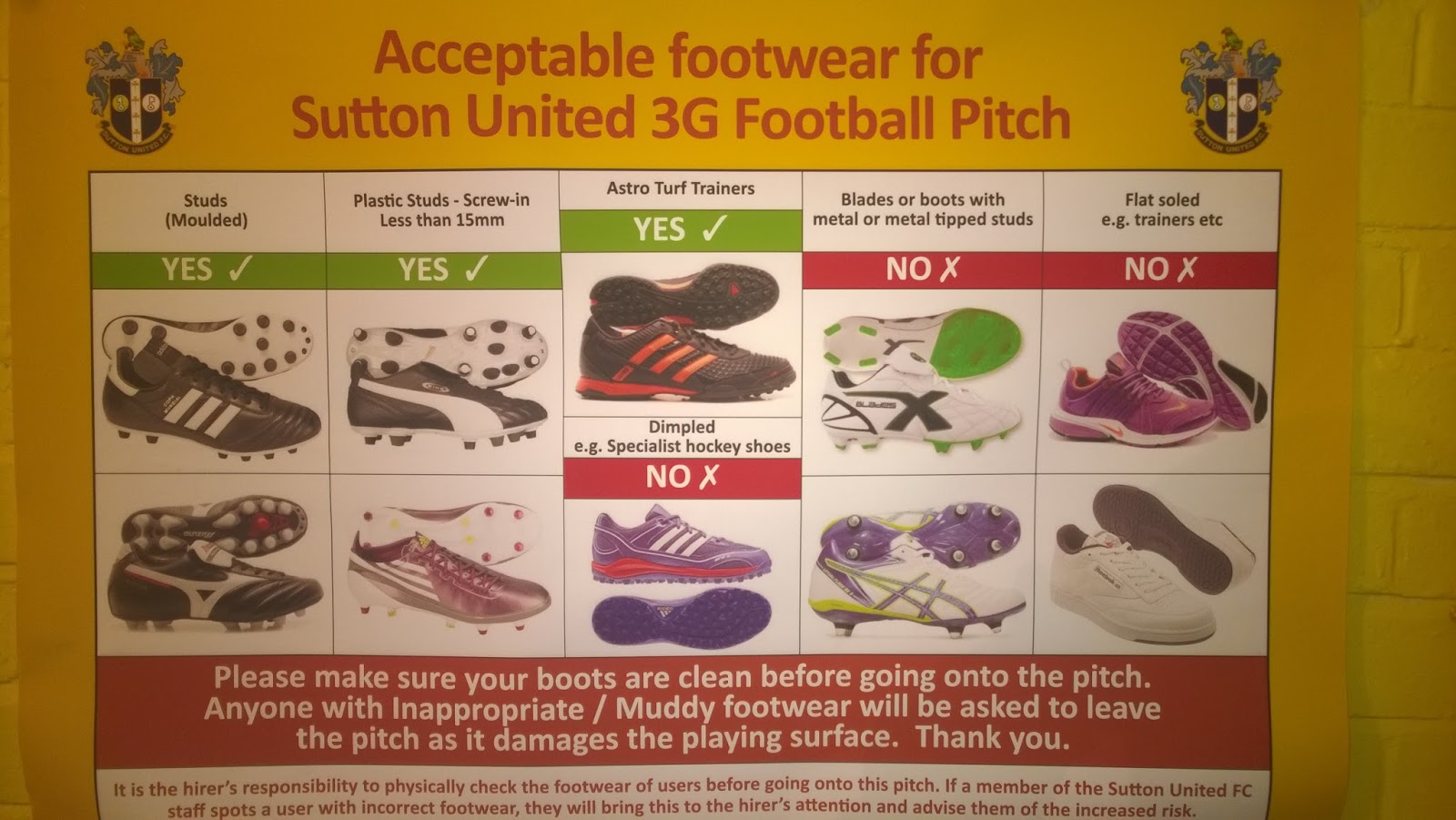 Didn't we already do this one??
Anyway, according to Dr Bell: "Pessimism is inherent in Sutton United Fans, as Surrender is in the French Army". I would nearly agree to this, except for the Surrey Senior Cup. Here is the eternal optimism that one day we will catch and then overtake Dulwich Hamlet as the record holders. I mean bloody 'ell, they don't even enter it anymore!
With Taz covering our first in a double take of going to "The Island", I thought I'd be able to catch up on some sleep Sunday morning for a change. Especially as most of us had indulged in a right old skin full to blot out the early exit in the FA Trophy. Naturally my luck was not to be in, because as I was making the time honoured trip to the café for a slap up breakfast, I received a rather worrying text from the Firm Leader.
No it wasn't some sort of declaration of attraction towards me, it was worse. He needed me to play football for his vets team! Even trying to convince him that a 27 year old couldn't possible be old enough to play didn't work. And before I knew it I was being whisked away, boots in hand, to the countryside in Jeff Kenna's Scirocco.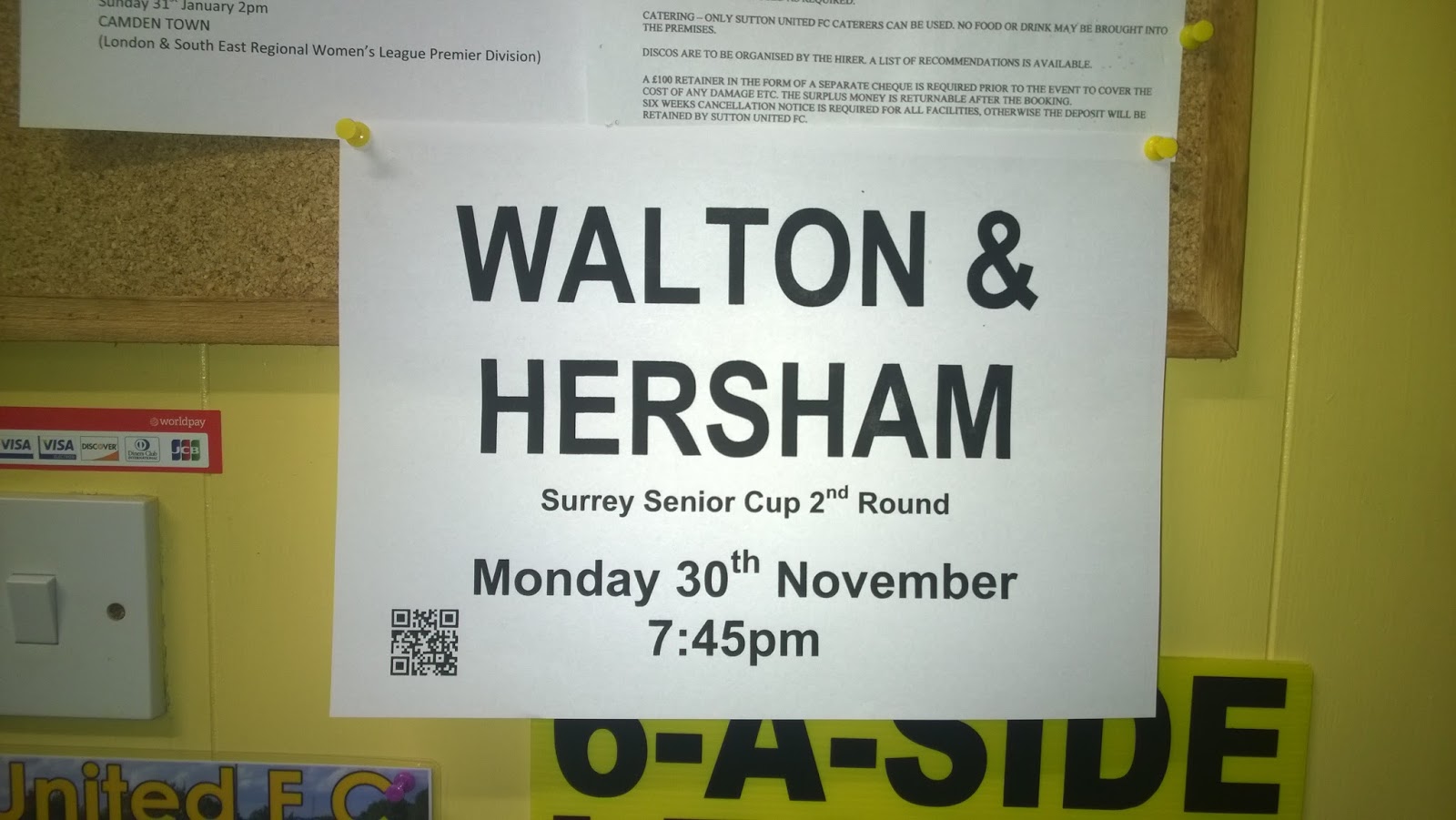 Can't do a report without one of these!
Of course muggins here went in goal for a 2-0 defeat. But lets not dwell on that because what I want you all to do is when you next see Southampton Steve, just ask him "How close were you when it happened?". I'm sure he'll be more than happy to give you a little explanation of what this means and exactly why you are asking him the question. I'm mean why else would I say it?
As it is the Surrey Senior Cup, I offered to drive Taz to the game. The Firm Leader was that excited for it that he came straight from work. Picking up the E-I-C, we made fast tracks towards the ground and after paying £2 to that racket run by Johnnie at the gate (who just laughed at my request for a VAT reciept), I parked up and we headed to the bar to meet the rest of the rabble.
With the team sheet already up, we took a quick butchers at the line-up. Surprisingly it was stronger than I expected. One name did stand out for me, Sam Doswell. Now had Our Lord Dos done a Dipre and put his own flesh & blood in the team? Well technically yes (apologies if he is adopted, created in a test tube or was delivered by a Stork) because we think he maybe a nephew or something or other. Either way, after a quick drink I had to make a move into the ground to buy a programme for one specific yet brilliant reason….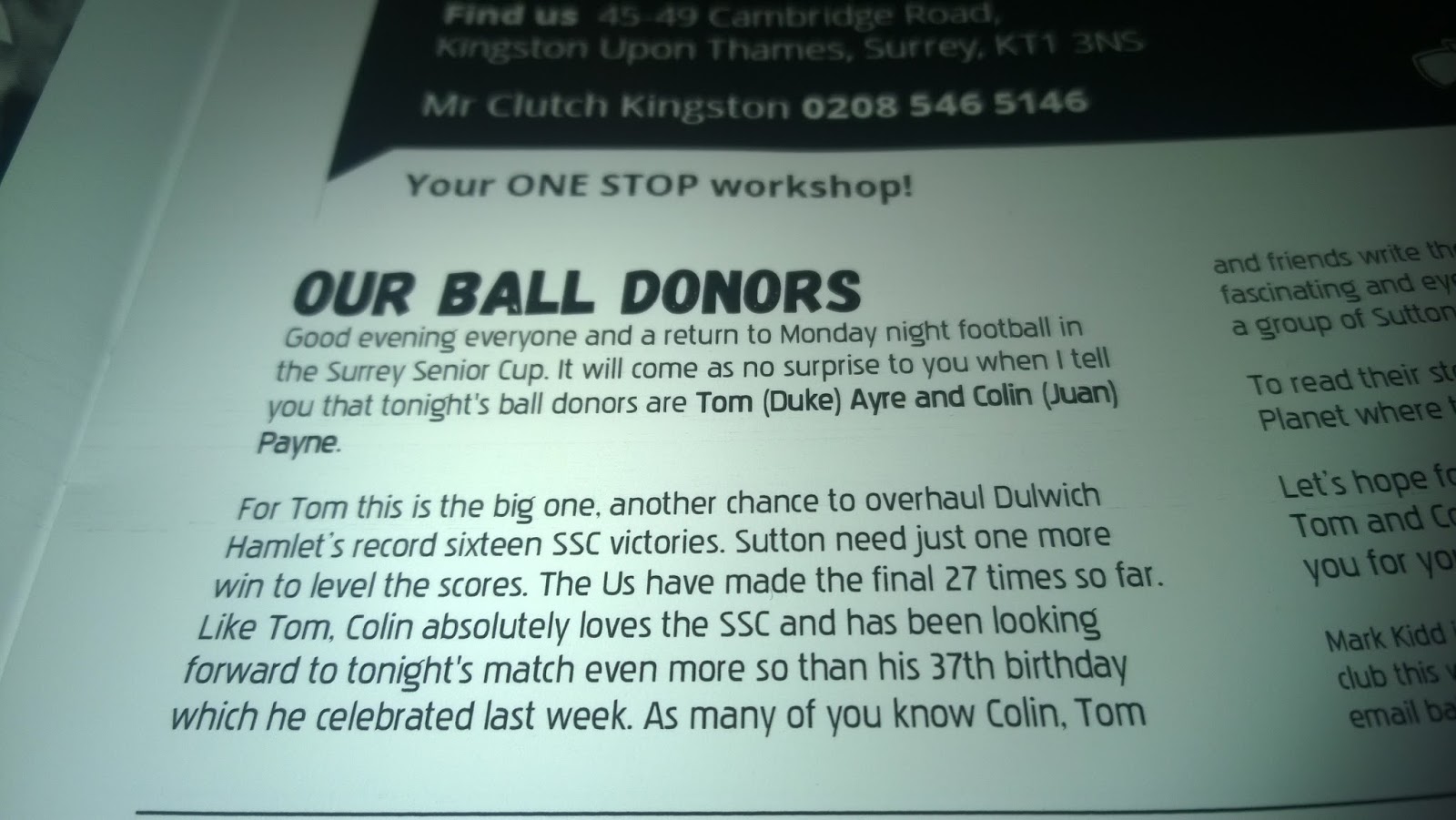 Juan's 37? Wow. Looks more like 39….
Worner, Doswell, Wishart, Munro, Cooper, John, Bolarinwa, Gomis, Dundas, Fitchett, Wright. Bench Warmers: Stearn, Downer, Collins, Eastmond, Shaw.
Not surprisingly it was Walton that had the first chance. Unfortunately for Doswell, it was his slip that opened the door for Walton to crash a ball across the goal. Luckily for us, with Worner in goal he managed to get a hand on it and turn it away. For a brief moment, my old ticker turned over like a Nissan Micra starting up.
The worry didn't last long as Sutton were soon in front. It all started with Wishart taking a short corner with Tombola. With the ball at his feet, Wishart then pushed into the box and hit a low shot in between the keeper and the left side post. 1-0! This was followed by the announcement that the night's golden goal ticket was 9mins. And who had this ticket? No not me sadly, but that cheeky grinning git that is Mr X.
Whilst we were still discussing the winning ticket, Sutton had slammed another nail into the Walton coffin. This time it was Tombola who smashed the ball from the right hand side into the left hand corner. 2-0! Blimey, we were two nil up after just over ten minutes. From then on it might've seemed it was going to be a case of 'how many' if it wasn't for a couple of half chances that fell to Hersham throughout the first half.
With just under ten minutes left in the first half, it was goodnight Vienna. Dundo (in his 391st match no less) received the ball after some good link up play from Wright & Fitchett. Being outside the box, he normally either hits it wildly or weakly. But this time he stuck a claim for goal of the season with a pearler of a curler into the top left of the goal. 3-0! I can't believe it but that's also his 91st goal for Sutton. Not far off the ton son!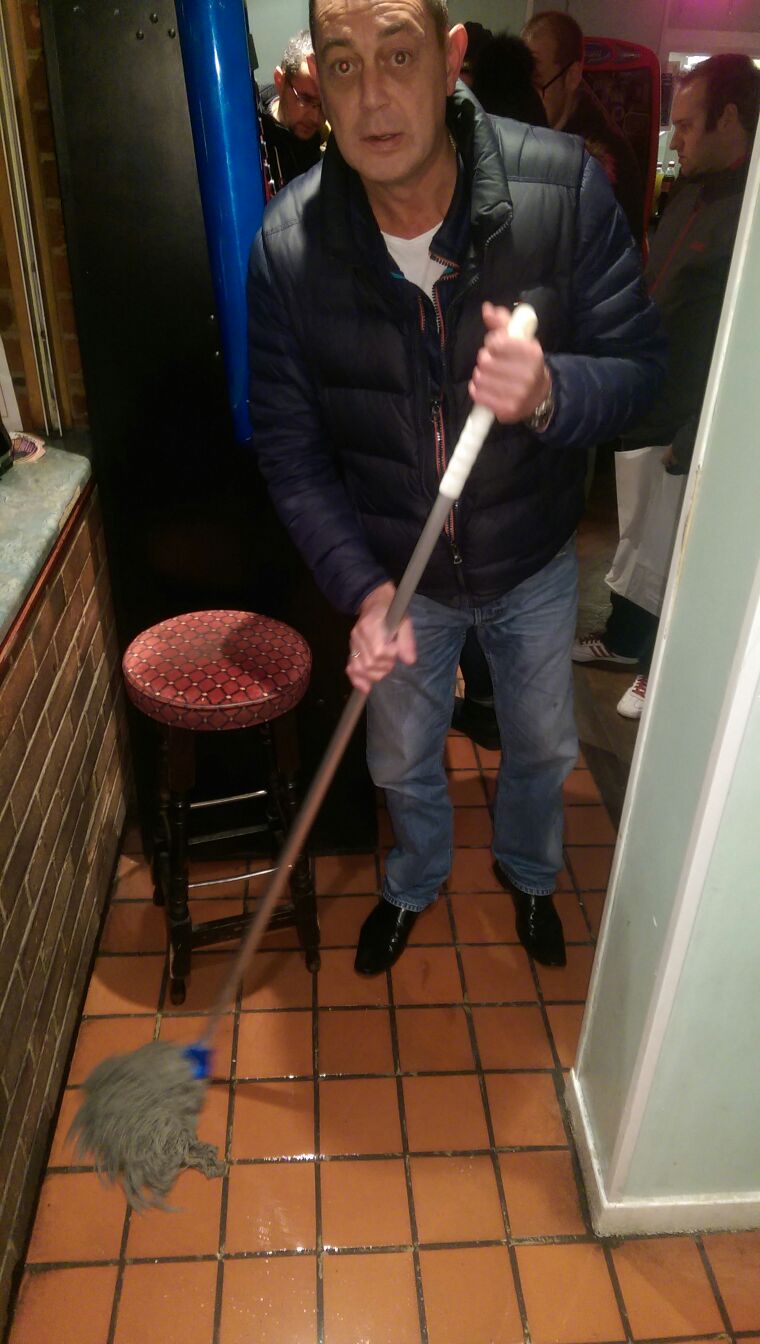 Papped!
At half time we took our place on the Shoebox. We also received word that a certain someone (See the photo above) may have spilt his drink in the bar. And then the contents of the bucket he was using whilst mopping up the mess. Now we're no grasses, so we'll simply respond with our stock response of "NO NAMES! NO NAMES!" and do a runner. One sub was made at half time with Tombola being replaced by Stearn. The hope now was that we would see out the game with a clean sheet, no injuries and no bookings.
Well, there was only one meaningful attempt on goal for Sutton that I can remember from the forgetful half that followed. Fitchett had the chance to get off the mark, hunting down a through ball with only the keeper beat. Unfortunately for him he tried to take it round the keeper instead of just slotting it home and saw his attempt saved by the fingers of the keeper.
The rest of the half saw Sutton fail to create any real chances. Walton did have a couple of attempts but showed why they were currently 17th in the Ryman South with some poor finishing. For those watching it wasn't any better and even though I was more than content to wait for the final whistle, most around could barely wait.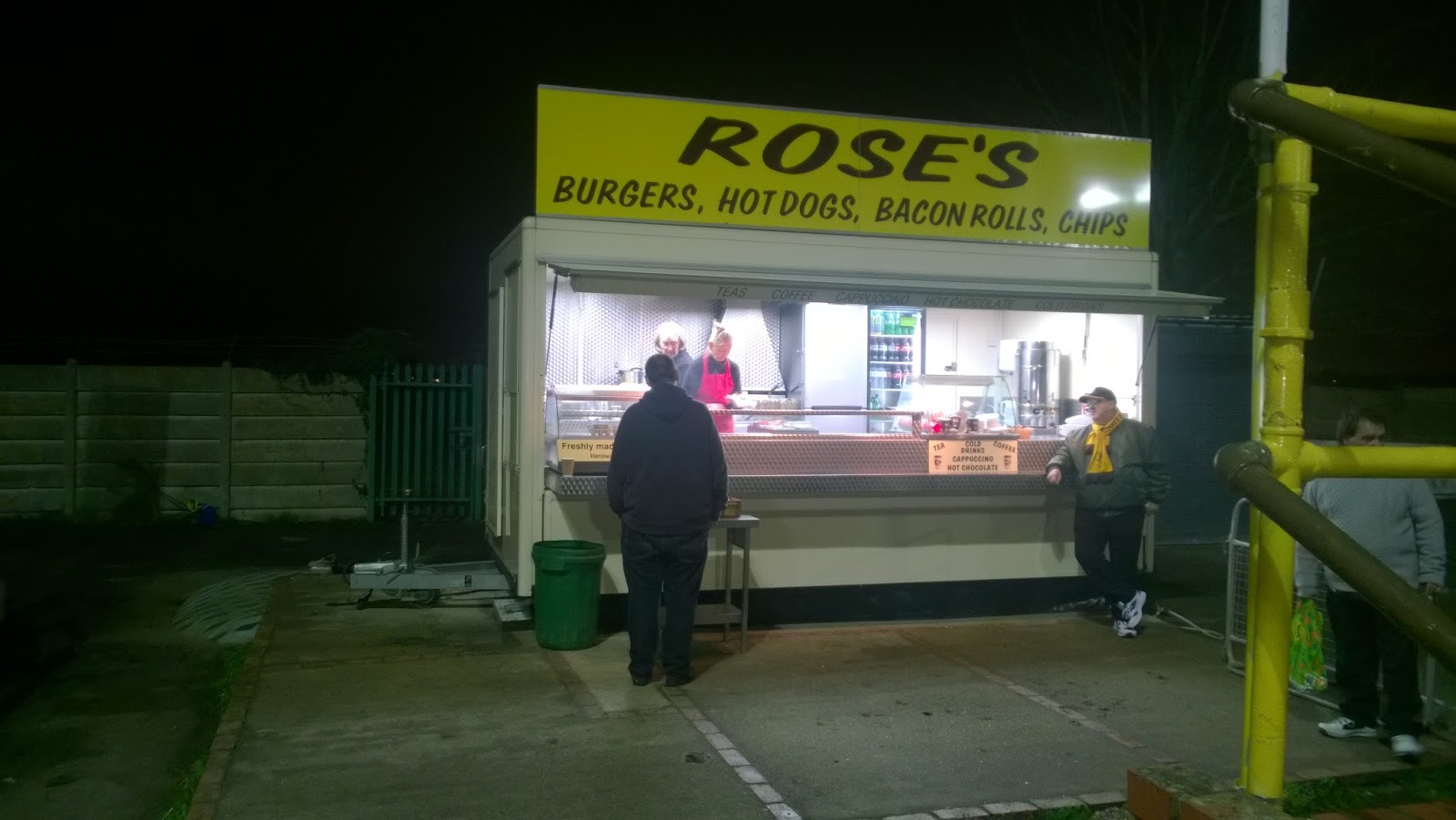 Concord take note.
After the match, once again the job for me & 4 Days was to lift up the nets to stop them being eaten by those pesky foxes. With that done and after quick chat with Micky, it was time for a quick drink before leaving. Unfortunately, this was not to be as Taz claimed he was "tired" and with me being a good "Christian" I went without the drink and we headed off. With 4 Days also jumping in I begun to aim for home, but first we had to stop at The Hope for 4 Days to feed his alcohol addiction before Taz was dropped off at the palatial and very top secret Gandermonium HQ, just off Croydon Road. Near Beddington Park.
So there we have it, another round in the Surrey Senior Cup awaits us in the New Year. Apparently the draw for the next round is on radio this Friday morning. Very exciting. The question is, who will we get? Obviously some poxy tie like Woking away or something. For me, I think it would be nice to play someone away I don't recall or ever saw us play before. Something like Chipstead, Badshot Lea or Colliers Wood maybe?
Well for the Mary Whitehouse brigade its another trip back to Concord on Saturday. For the Firm there will be a few substitutions as Taz & Dr Bell are off to Westcroft for the evening (swimming or something) and joining us for a change will be the Firm Leader himself and even Irish Pete is making an appearance. The big question is will the recently turned 37 year old be joining us though?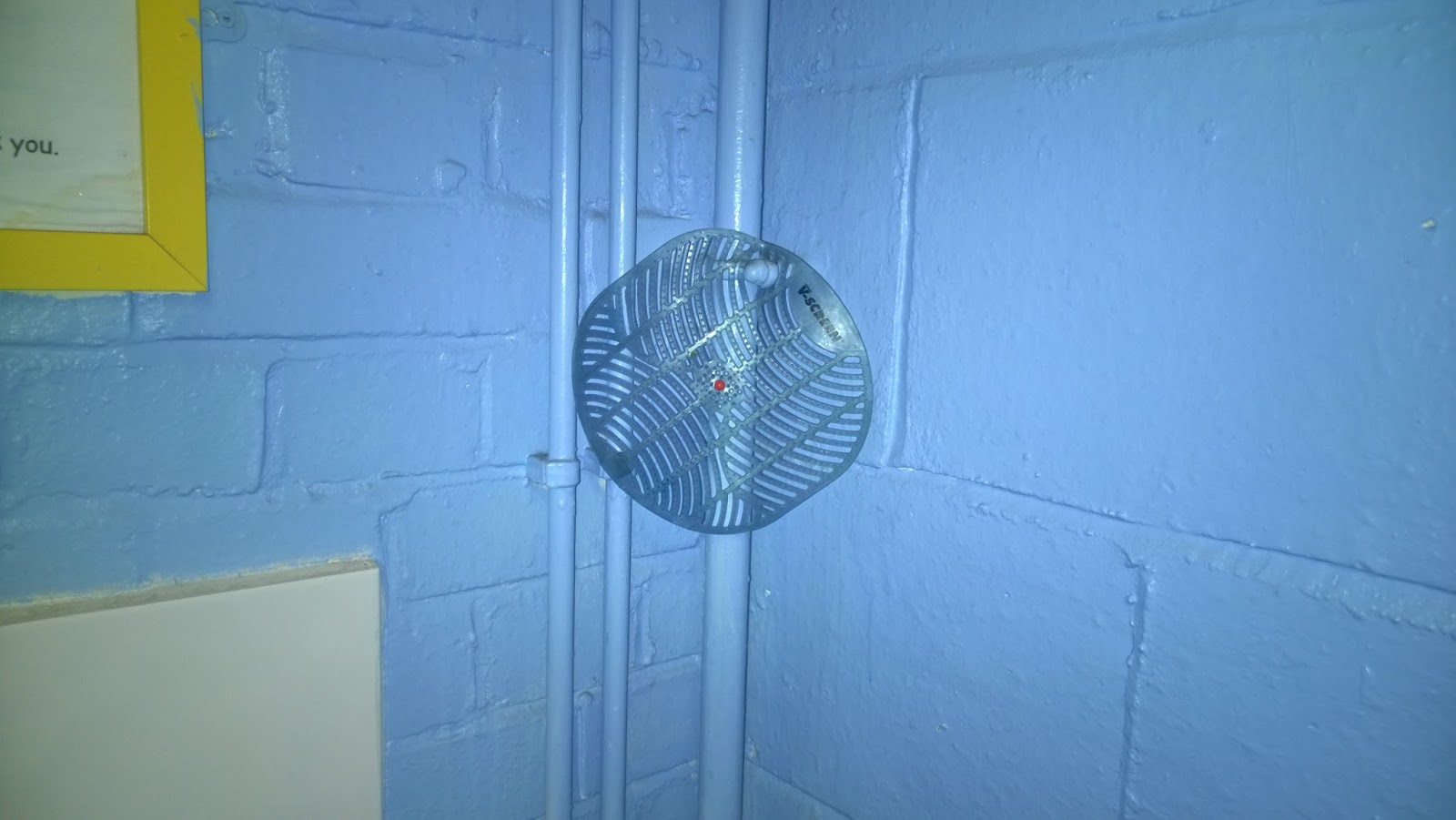 Your guess is as good as ours to be honest.
Duke
Att. 159
(*some of these comments might've been changed to suit my argument. Some might actually exist, but I couldn't be bothered to check and don't really care either way.)