It's that time of year again when the football season is
once more upon us for the next 9 odd months or something like that. And well, it's been a while since I've done one of these write up things (as Duke
reminds me every bleedin' day of my life). Seeing as I missed most of last season due to
rebuilding the Golf and getting it back on the road, a little project I
thought which turned out to be a major one, never the less after getting my
orders for the Editor in Chief (Taz), I thought I'd better get my arse back into
gear and write some kind of interesting update to keep all you Gandermonium
Fans pleased. Or something like that.
So whilst the squad are keeping themselves fit and ready for
this year's league battle, me and Dukey, and well come to think of it the rest
of the Gandermonium crew have been keeping themselves in good shape. Duke and I for one having been taking the pre
season fitness regime to the extreme, we hit Harvester for an all you can eat
breakfast, and well when I say all you can eat- Duke did, the fat salad dodger!
We've all been out on the piss- I must add I participated a week after having
my major knee surgery, and yes I have no-one else to blame but myself for
getting royally drunk.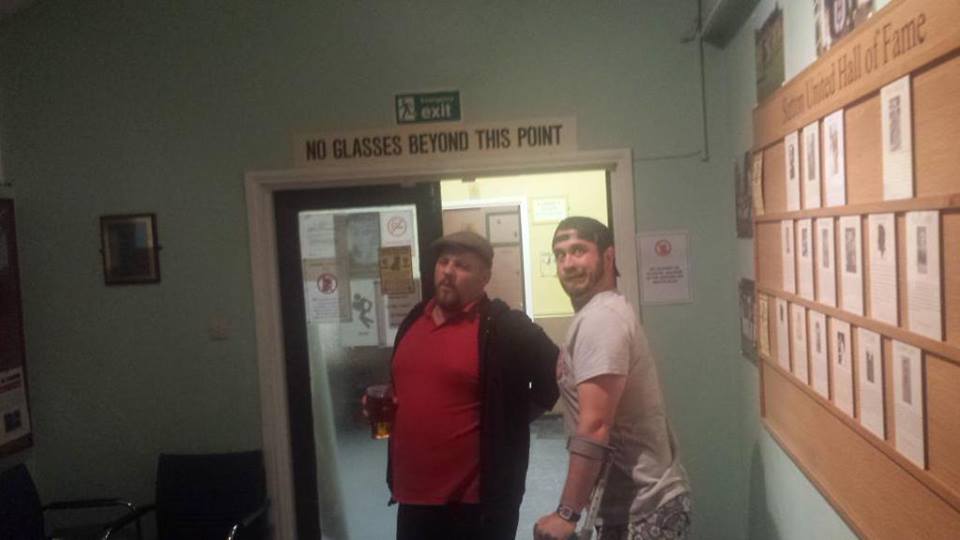 Couple of wrong'uns
However on said night when we hit the evening lights of
Sutton, actually The Moon on The Hill, a funny moment happened. Whilst waiting
to enter said establishment- I was asked to remove my hat, but there I am stumbling
about on two crutches, the crutches were okay, but a hat, Jesus really is
Weatherspoons that up market these days? And well that's about as good as it
got for the knee recovery, that and swanning about at home for 5 weeks. At least
it was sunny, not often seen here in Blighty- 5 weeks of sun.
So off the pitch down at Gander Green Lane, there's been
many changes taking place, the most important one being saying good bye to the
hallowed turf, and a replacement plastic 3G thing going down in its place. Well
at least now we've gone 3g/4g whatever it's called we shouldn't have any games
called off (we hope!). There have been other bits and pieces of work going on,
the changing rooms have a lick of paint, as has the VP's Lounge, even the
crumbling car park has been tarted up a wee bit. Oh and how could I possibly
forget, those dug outs, you know the ones that everyone on the forum moans
about all the time, even the plastic on the rears have changed to hopefully
stop the whiners and cry babies….here's hoping.
Enough of the nitty gritty and let's get back to business, today's
first home game of the pre season allows us to entertain Bristol Rovers, so
with my all new shiny season ticket in hand, I fired up the Golf and headed on
down to the Club.
Lines!
On arrival, the usual suspects could be found in the bar. Well
actually that's a lie, the only recognisable face was that of Burgess. Seeing
as the majority of the crew had ventured down to Winchester for yesterdays psf
they must have been suffering from the night before. Myself and Burgess headed
off to the club shop to pick up a new shirt for this season, not a bad shirt
for forty notes, just a shame the club crest is printed on again, but hey you
can't have it all. Returning back to bar, Dukey and Greek had turned up,
followed by Loffers, and Taz surprisingly considering he mentioned he was 50/50
as to whether he could be arsed to make it (his Mrs was at work, so no excuses
really). After a quick drink I and the old man headed out to have a look round
at the new pitch.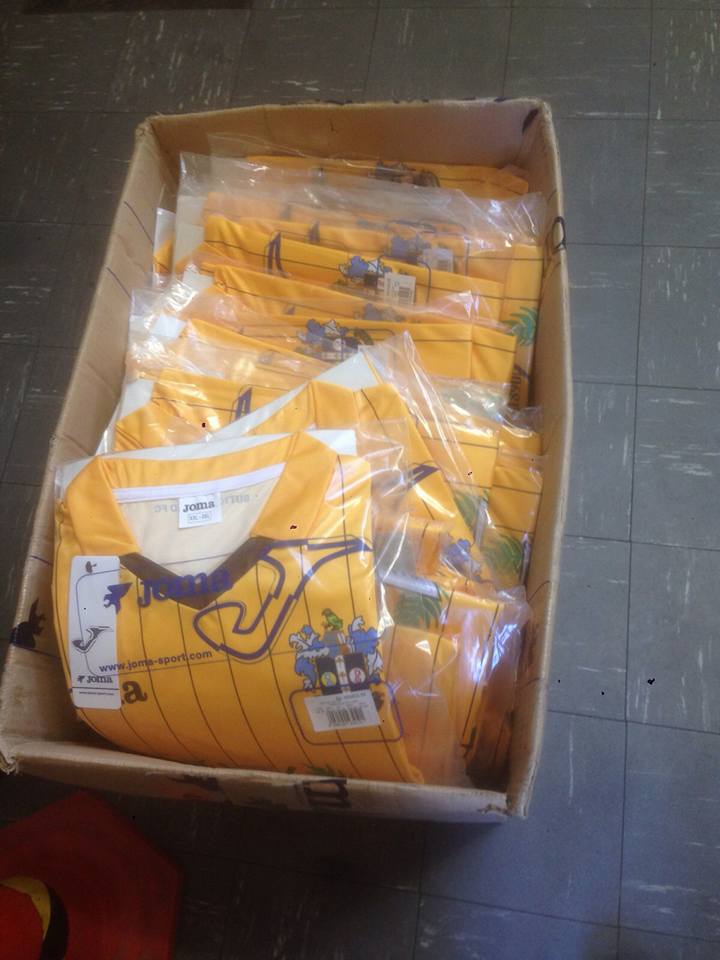 New kit ahoy.
We were both convinced that the new pitch is a few meters
shorter than that of last season, but maybe my eye sight is a bit dodgy. I wait
to be corrected on the dimensions.
With the game due to kick off at an earlier time of 1pm we
headed off for a brew and took stand on the Shoebox only to move down to the
Rec end behind the goal for the first half. With the first half under way we
started off brightly for a high tempo pre season against a decent Bristol
Rovers side. It did take us a little while to get ourselves involved in the
game, and match the tempo; however I was impressed with the way we were dealing
with things in midfield. We looked pretty sharp at times, the training sessions
clearly showing a bit of spark. We created a number of chances in the first
half I'd say about 4 or 5, some coming from some decent pass and movement play,
and even a shot on target from Southam.
We concede a goal from a well taken free kick, which I completely missed
as I was showing old Percy to the porcelain (think I'm turning into Chalmers)
as Dukey would say- oh well no major loss, it's only a friendly game after all.
Not much else today for the first half other than we look pretty good going
forwards, we've kicked the bad habit of playing the ball back, and instead are striving
to go forward and keep the ball moving.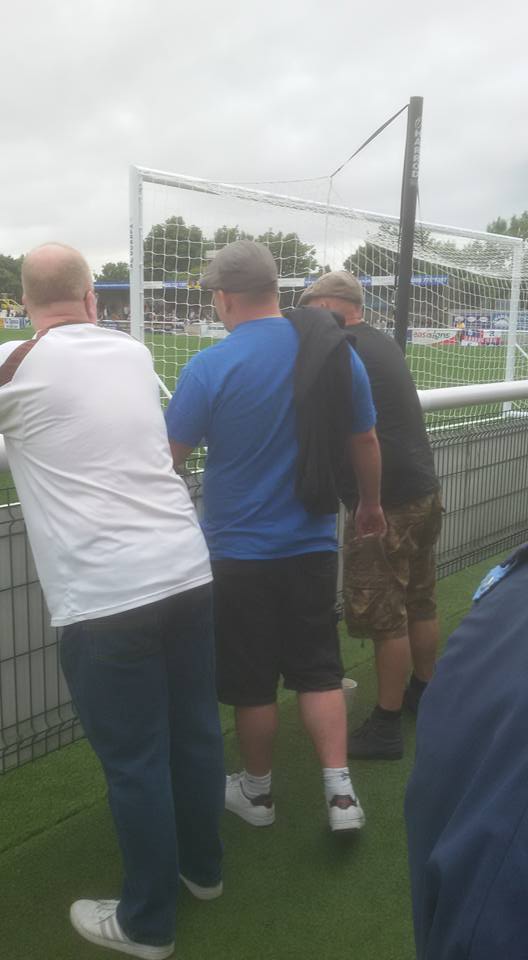 Seething masses…
Second half underway, and a
number of changes in personal really had an effect on our style of play,
our tempo had dropped off a little and we looked to be struggling at times,
giving away possession, and not quite linking up as we had done in the first
half. But not to be a sour note on it,
these pre season friendlies are designed to give everyone a run out, and see
what they are capable of. A little lack of concentration from the back four not
quite sure who was to blame in moment of madness but a square ball across the
back four led to an easy tap in for Rovers, to take the lead to two. Some more changes in Sutton's line up, we
bring on a young looking prospect by the name of Wright who plays up top. At
first he seemed to get muscled off the ball, but once he got himself into the
game he had some promising moments, hopefully he will stay with us, and become
a future star. Our only real moment of glory was a penalty duly taken by Jamie
Collins, who went for placement to his right rather than power which was saved
by the Rovers keeper, but was tapped into the net on the follow up,
and that was pretty much it for this one. Once I get to grips with the change in personnel
for this season I'll bring you a more detailed write up, but after all today
was only a friendly so no need for major details.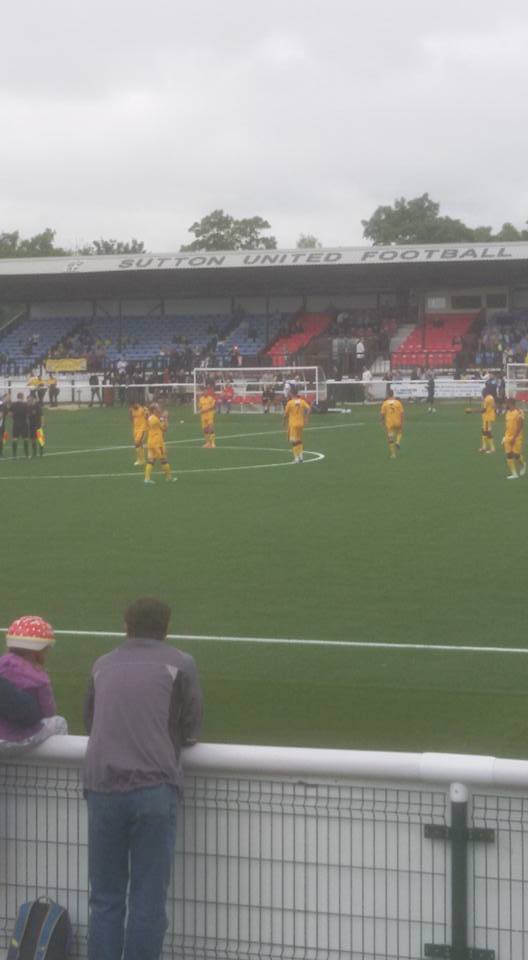 Narrow view of the action…
Not a bad turn out of supporters for today's game given the
weather had changed to a bit of rain, and the Wimbledon final was on the telebox.Onto Tuesday night, when we entertain Palarse at The Lane,
and I believe Totts will be covering that one.
Juan