Bloody hell. It's not even the end of July yet and we're packing in the fixtures like nobody's business!
Last night we were over at AFC Wimbeldon (usually for such fixtures it's the bigger side that plays away we understand? We'll let you draw your own conclusions here) where we rather stupidly left Dukey largely unsupervised for the night as the rest of us, well, couldn't be arsed. Then tonight we're hosting the contents of Upton Park's creche for another workout.
Still, games like this one are important. If that fucking twat Greg Dyke gets his way, this could well be a first team fixture in the near future.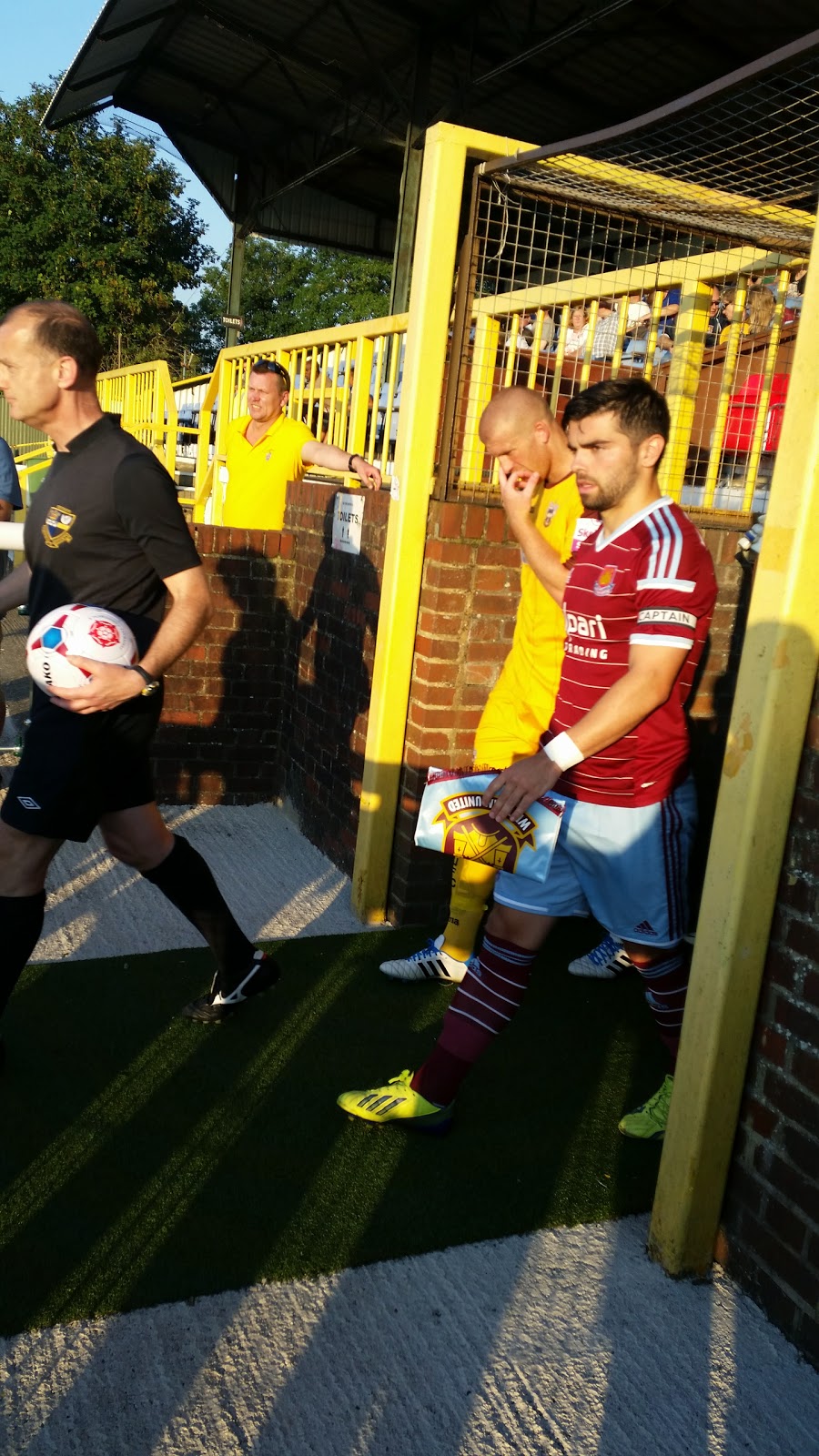 Here they come…
Now, if I were in my early 20's, doing both games in this little summer double header would be a dead cert. No doubt accompanied by many social beverages of the beered variety. But I'm not in my early 20's. I've just turned 40. And as such, am now genetically programmed to find most, if not all, PSF's boring as fuck. So with this in mind, it became a simple choice. Go to Kingston for the AFC game which will cost me a tenner, plus beer money, plus feeling like death on the early shift Wednesday thanks to the beer intake. Or go to the West Ham fixture as it's 5 mins up the road by car, would involve little beer (and feelings of death the following day) due to driving and with my season ticket, be absolutely free to get in to.
When in doubt, free always wins I say.
Thankfully the Dukester had been kept in check by the ever wise Totts at the Wombles and was thus still at liberty. So after a brief textual exchange, I found myself agreeing to give him a lift down to GGL. A quick dip home for a deodorant shower and a change into some summery shorts so as not to deny the local female population the delights of my fine legs and it was off to pick up my literary colleague. Helpfully, he decided to wait down the road from his gaff to facilitate an easier pickup. Unfortunately, this was a junction with a mini roundabout and loads of traffic. Meaning I couldn't stop, had to use a side turning about 100 yards away and then sit waiting while his Dukeness negotiated his way to me from the other side of the road, all whilst clutching a glittery little blue bag. About an hour later, I finally had my passenger and was able to continue the journey.
With an early finish from work meaning an earlier than normal arrival at Stade de GiGi-El, Tom found to his dismay that this meant the bar at the club had yet to open. Not prepared to look desperate for a beer by hanging around and growling at the shutters seperating him from pintage he instead joined me on my stroll to Roses Tea Hut to assist Mr X in setting up. Naturally, we took the shortest route. Straight across the pitch. Of course, the assembled pro's of West Ham who were out on the green baize absorbing the historic ambience of our gorgeous stadium looked on in envy as our two fine specimens of male manhood strode purposefully towards the tea hut.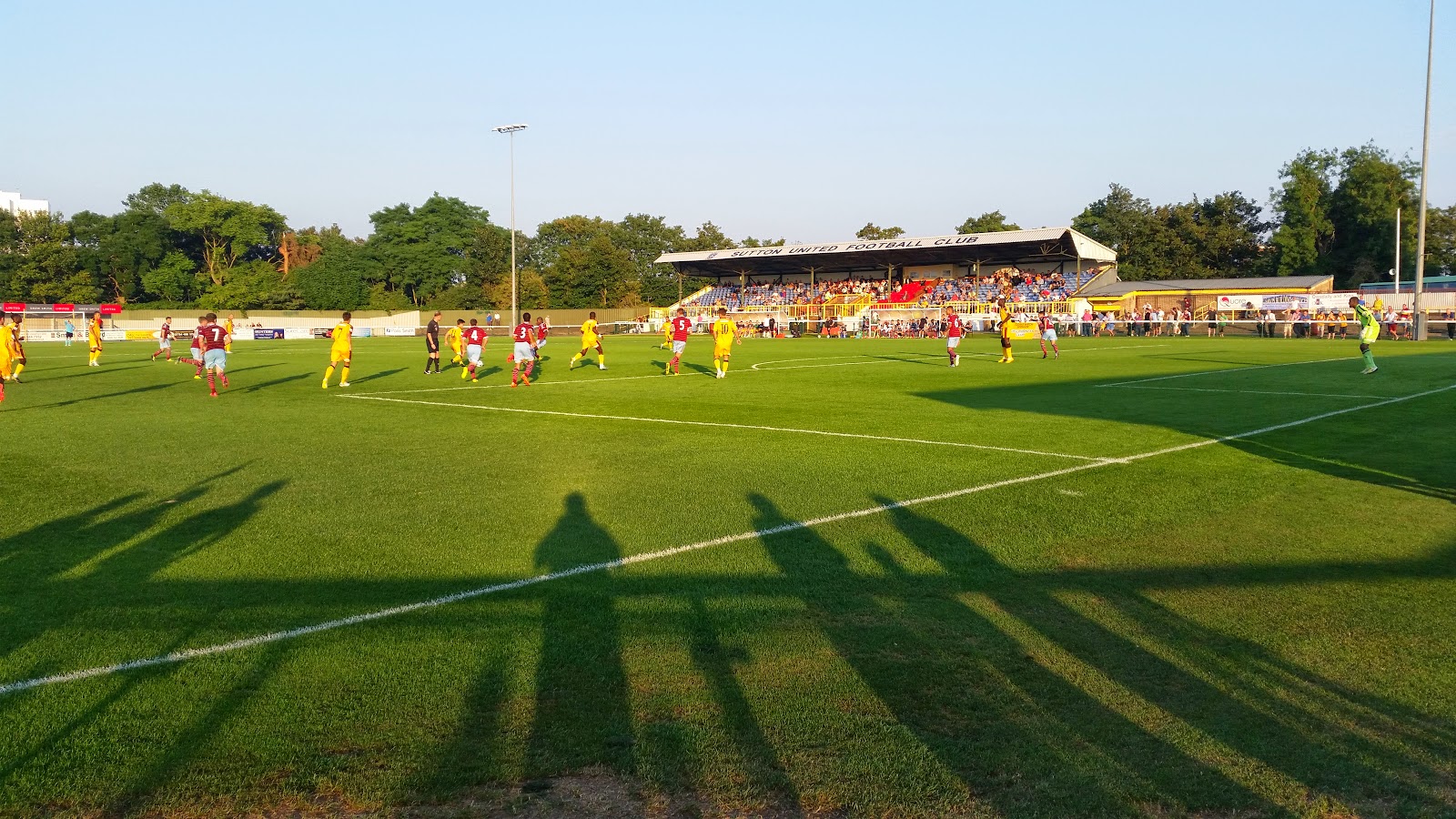 Shadows…
Breathe easy lads, we're not your oppo for tonight. Bet we had you worried there for a minute though eh? Thought so.
On the way over, the purpose of the glittery blue bag is finally revealed. It's full of foreign fag packets Tom has purchased for our colleague Mr Budd who collects such curios. Naturally, they're all empty, Dukey having no doubt tabbed the lot whilst supping cider outside a public house somewhere. Most are from our little adventure in Belgrade back in May, although there are a couple of Hungarian efforts too.
Fag packet collecting as well as supporting a Non-League football team? Cool. As. Fuck.
We get Roses assembled in double quick time and then take a nice stroll around back to the bar for a well earned pint. Sadly, we find it's still not fucking open when we arrive, so we perch on the pool table and abuse each other for several minutes while we await the shutters to go up. Pre-match refreshments & some vital Panini swappage are undertaken along with many compliments fielded regarding my natty mid-90's SUFC away shirt I'm sporting for tonight's event, the rather stuffy players bar starts to become a little uncomfortable so we head outside into the evening sun where there's at least some sort of breeze. Now's as good a time as any to check the teams.
Starting: Lovelock, John, Jonade Meade, Shitta, Max Kontic, Clough, Hoban, Hibbert, Reindorf, Taylor, Dylan Bowella
Subbing: Haysman, Dundas, King, Spillane, Wellard, Shaquille Hippolyte-Patrick, Brandon Johnson, Emil Salama
As you can see, there were one or two unfamiliar names on the list. Naturally, we held up Gandermonium's immaculate reputation for attention to detail by immediately digging around for info on them. And by that we mean we looked at each other for a minute, shrugged our shoulders and commented on what a lovely evening it was. Hey, if it's useful information you want, that's what the official site is for. Amusingly, the West Ham side includes 'A. Trialist' at number 10 in their starting line up. Very secret squirrel that. No doubt he'll be either shit or shit hot.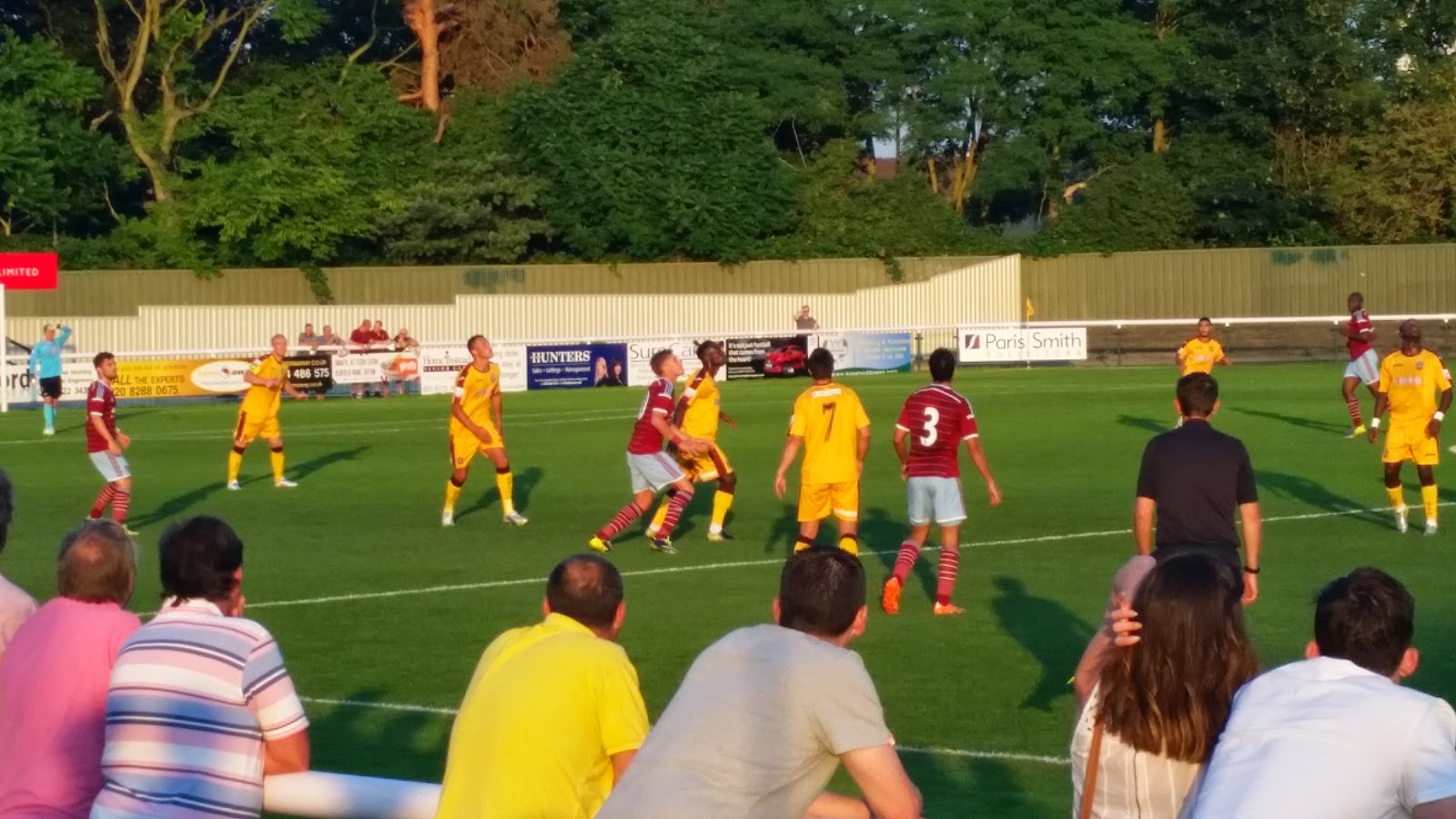 Spot the ball….
We shoot towards the GGL end first half and as I stroll round I bump into some old friends and engage in some chit chat down by the corner flag. As we converse, the U's start brightly with Hoban and Hibbert looking particularly lively. It's the Romanian import (later nicknamed 'Ceausescu' somewhat inevitably by Dukey) who has the first impact, with a neat bit of footwork and a good turn on the touchline making him space for a cross into the box. Sadly, Jamie Taylor loops his header harmlessly over, with Jesse behind him probably in a better position. Another chance isn't far behind, Hibbert skipping away down the left and crossing low to the near post, but Jesse can't keep the effort down and it flies over.
The West Ham kids come more into things after a while and have a couple of half chances, but we still look the more threatening. Jesse connects well with a cross from the right, but straight at the keeper and Hoban lifts the ball over the target after being played in by Taylor. The Hammers only other real threat comes from a free-kick a way out that Tom deals with no problems at all. Half time is the usual dull lull with a slow stroll round to the new end to await further action.
The second 45 gets underway with the visitors in a livlier mood, the youngsters obviously having loaded up on fruit shoots and gobstoppers at the break as Tom has to save well soon after the restart. Our best chance comes as one of our subs, a lad by the name of Jonade Meade (formerly of Arsenal and with a Champions League appearance to his name apparently) skips down the flank, cuts in and his shot is beaten out. It drops to Hoban a few yards from goal, but rather than tuck the chance away, the youngster air-shots horribly and the danger is clearer. Worse, 30 seconds later, the raid down the right that produces ends in a low ball across into the space where Meade should be and the mysterious 'A. Trialist' is there to tuck the ball away. His team mates mob him quickly, lest his super secret identity be revealed now he's drawn attention to himself.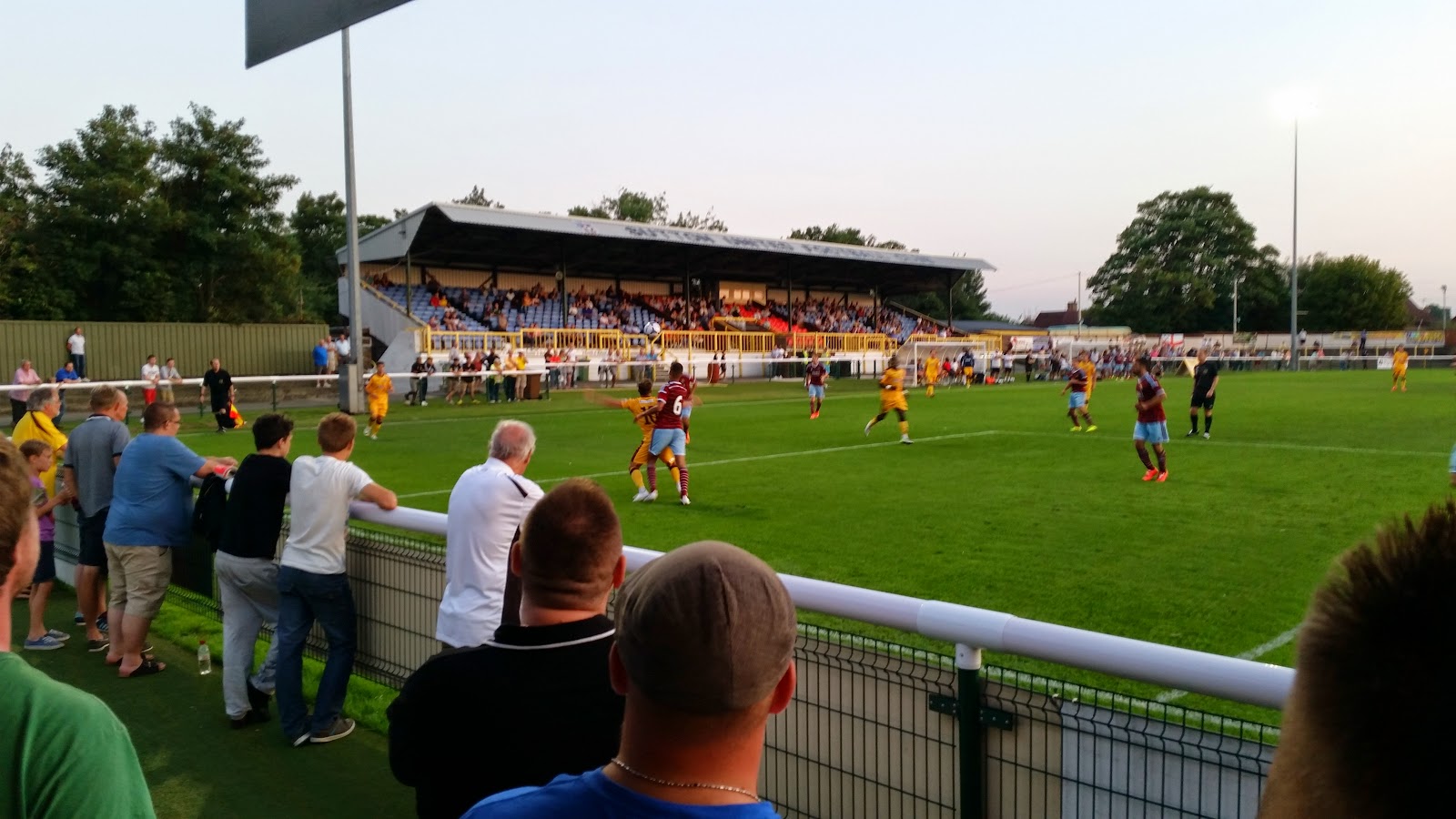 On the attack….
From here, things get a bit boring. Mainly because both sides electing to make as many subs as it is humanly possible to do in the remainint 35 mins or so. The visitors show us how it's done though, with one substitution making no less than nine changes. Unsurprisingly, Robert up in the PA box elects not to even try and announce all those. After the changes, chances are at a premium and the game flows a lot less. Near the end, the Hammers should put the result beyond doubt when Kontic trips someone in the box, but of course Tom Lovelock is in goal, so they're ultimately doomed.
At the far end, we all smugly smile as Tom not only saves the original effort but the follow up too. The boy should get an England call up just for this alone as his spot kick stopping record is unreal. Just lob him on the bench and in the unlikely event the national side ever gets far enough into a major tournament again to be involved in a shoot out, simply do a Van Gaal and get him on! Winner!
Little else happens, although 3 of the old Sutton yoof lads get some game time for us, which is nice to see but ultimately too late to really have any effect.
So another narrow defeat, but another workout and to be honest, I'm starting to hanker for the season proper now. Hate all these half arsed practices with 20 players being used. I'm old and forgetful, how the fuck am I supposed to keep track of who's gone off and come on? Silly. It's bad enough with only 3 subs in league games!
With Roses shut up, it's back to the bar and a quick shandy while we watch a rather odd looking opening ceremony for the Commonwealth Games up in Glasgow before I have to play taxi man to Dukey and Greek, who arrived late and now begged for transport home.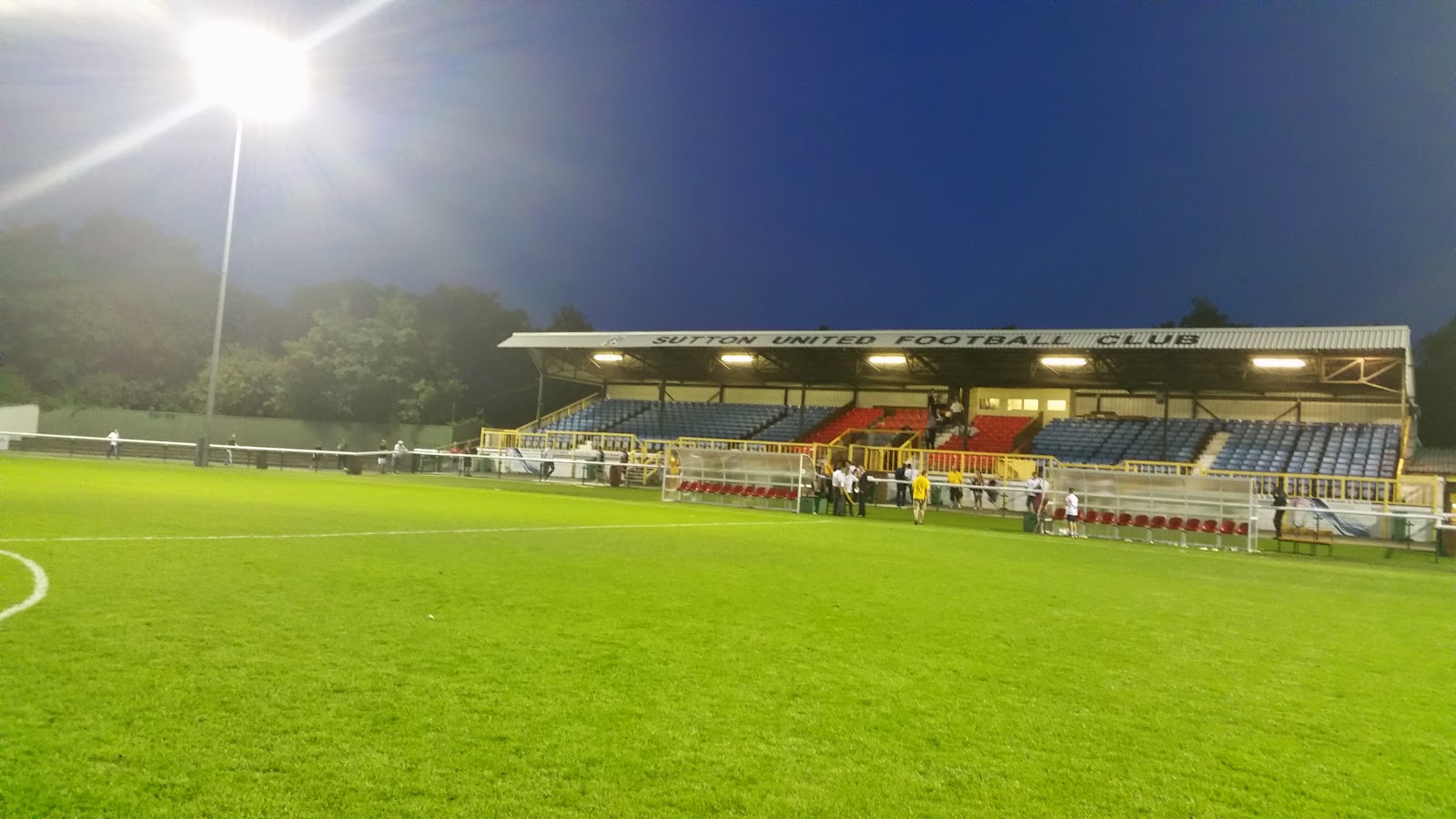 Dunnit look nice?
Hopefully, saturday's game down at Maidstone will involve a more settled side so we can get a better idea of where we stand. Of course, a few of us shall be travelling due to the fact it's a day on the gas and a new ground. Just what we like.
It's not just the team who need the practice you know….