AHOY! El Capitan Juan here again…
With the season drawing near to a close, with just two league games left to play, let's rewind the clock and go back in time for a look at the away fixture Vs Concordia Rangers! Back in August 2013, the early stages of the season. The Gandermonium Crew took a trip down to Concords ground, for what could only be described as a dire nil nil draw, reading back the report, not much to add to that other that a few drunken tweets, and of course the usual piss artist trickery the firm always get up to.
Bringing you back now into April 2014, with just two games left of the Skrill South Division, our last home game of the season takes place this Bank Holiday Monday, at Gander Green Lane. We need the 3 points to cement our 2nd place finish, to give us potentially the home advantage in the play offs. So without further adieu I bring you Monday Night Fever….
It's a funny old feeling waking up on a Monday morning, and not having to think about the working week, but instead the difficulty of deciding what type of bread do I toast up. Brown is the healthy option, white a more savoury/pudding option. This ladies and gents, is a first world problem. With the kettle boiled and body loading up on it's caffeine fix. I grab my clobber and head for the door. I've decided that since the good weather gods are with us, that I'd ditch the car and train action for today, and instead go green, and inflate the tyres on Juan's fully fledged tarmac eating beast, it's basically a road bike! So with my Lycra sticking to me like Velcro, I head off down the back roads of Banstead and Cheam. Stopping off at the local Salisbury's on my way through to pick up some supplies, and Bosch within 15 minutes rock up at the bike shed, opposite the main entrance.
A quick Superman like change in the Gentleman's facility's, and I head off in the direction of the bar to carry out my duty to the club and country, a pint of the cold stuff !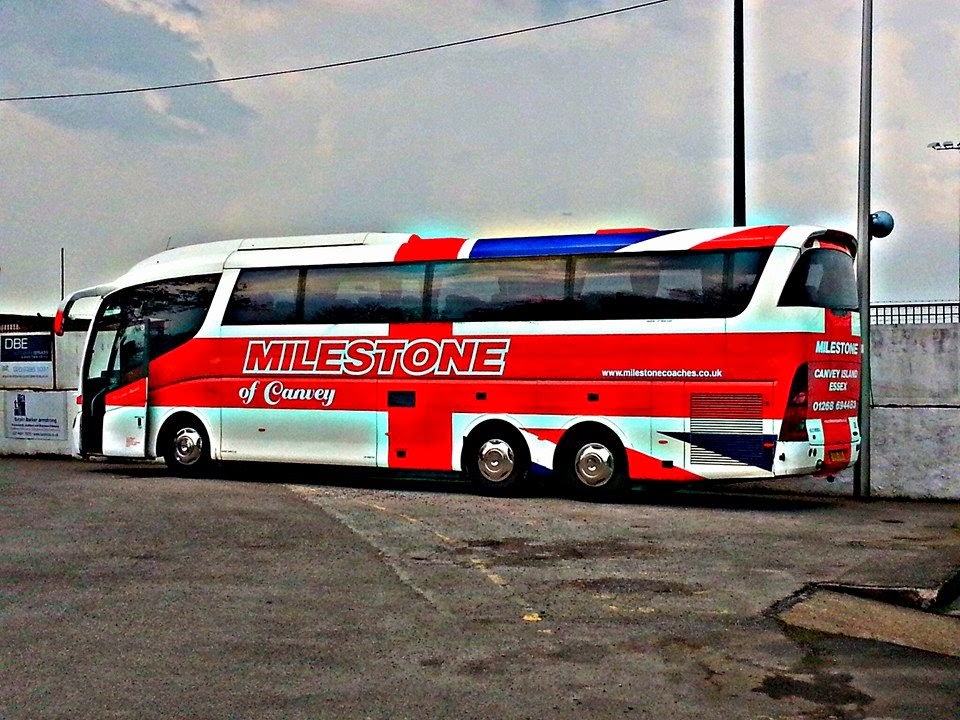 Juan's Coach fetish continues…oh dear !


Stickergate.
Some time passes, and the usual faces start to appear, ordering their pre match pints. Today's talk of the town is Panini Stickers ( the word stickers is no longer allowed as it causes upset to certain person(s)) adhesive small sized squares that go in an album. So with our small sized adhesive squares in hand, some of us fellow collectors exchange our squares for some we need to help our albums along. Yeah, cause we are all above the age of 30, and collecting stickers is for kids right….? So we are big kids, and what? I'm now shy of approx 170 stickers shy of finishing my Brazil World Cup Album. And you know what I've spent far too much on this thing, but sod it, I've never completed one, so I'm determined to finish this one damn it!
On the subject of stickers, I watched that Frost/Nixon film the other night, you know it's all about that Watergate scandal, Nixon and his dodgy dealings. Well I reckon I've got enough material to bring out our own film, titled Stickergate, which will include Dorchester Town, a Coach, and a drunken Scouser. That's got BAFTA winner written all over it!
90 odd minutes of your time.
So the line up for this one is : Brown, Haysman, King, Spillane, Philpot, Sinclair, Sawyer, Scannnell, Dundas, Taylor, McCallum.
Both teams come out of the starting blocks, coming out strong. You could see that Concord had come here to play football, rather than parking the bus like some other teams do from the of. Within the first 5 minutes or so, Concord go on the attack, hitting the upright of the post. Concord looking like a well drilled, established and hard working squad, Concord continue to press us and we seem to drop off the boil and pace, lacking in composure in the middle of the park, failing to keep hold of the ball. Perhaps signs of tiredness and late season-itis are kicking in early into this game. We do however manage to settle in periods and create a few attacks, but really lack that final ball. Ben King coming down the left flank and feeding into Taylor who lays the ball off back toward Macca's feet, who turns blind on goal tries to go his own way on goal instead of looking for the lay off, but his shot is cleared away in a surge of desperation from Concord. Concord again seem to try their luck on the counter, stretching our back four to their limits, but again the attack is seen off.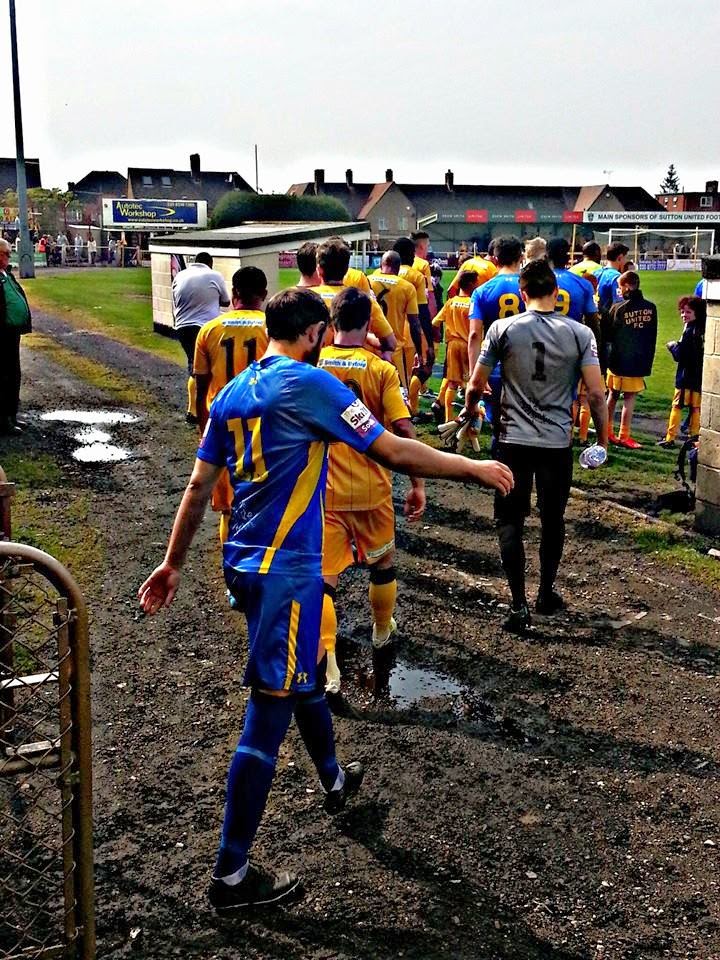 You put your left leg in, your right leg out…
Probably best to point out that our back four is a make shift effort, pulling Mickey blue eyes back into defence, and also Sawyer back from his natural position into defence, A rising start, Issac is pulled in from the Ressies, and shows us that he is more than capable of stepping up to this level. Ben King also a break through from the ressies is lined up in the back for for his 5th appearance. Now Concord did have their fair share of attempts/attacks today but the makeshift back four kept them at bay. Lets be fair to our back four they've probably never played a competitive game together, and by my reckoning I reckon they did alright together today- so hats off to 'em. I would expect to see Ben & Issac to become regular features possibly in the play offs, or in pre-season next year.
Back onto the game, Concord continue to press us, and Jason (should have been MoM) is called into action making an outstanding double save. Brown without doubt one of the best keepers I've seen in a while. I've lost count the amount of times he has kept us in games.
With the first half coming to a close you could feel that this was a right old repeat of previous games. where the first half has been a bit dullard! Still, plenty to gain, nothing lost yet, positive mental attitude as Del Boy said on more than one occasion!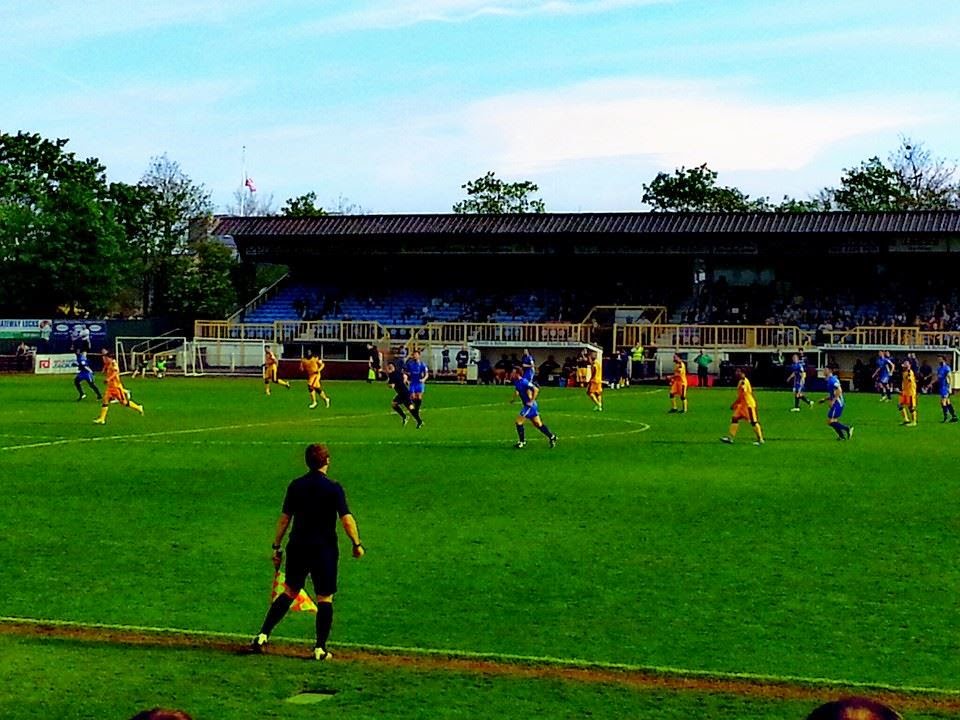 ACTION, ACTION, ACTION !
Both teams come out in the 2nd half, clearly up a gear. We seem to look brighter and more positive about what were doing both on and off the ball. Some clear instructions must have been giving in the dressing room at half time. We are keeping hold of the ball better and create better space and time in the middle of the park. However Concord, still looking to create something here, do just that. Sawyer out of position and off his man, leaves a gap, and the ball is threaded past him, leaving him some ten yards to make up as the Concord striker surges forward. Sawyer makes his ground up, and gives a little hustle and a slight shoulder barge, and the Concord striker goes to ground. Shouts for a pen are heard around the ground, but nothing given. From my vantage point, it looked like one to me, we've seen them given for less. Still I guess these things even themselves out over the course of a season.
Onwards- again we lack concentration at a crucial point, and the communication between King and Mickey goes AWOL and we are again opened up like a cheap tin of Lidl beans. The Concord fella latches onto the ball and goes across the box, an easy finish for the likes of JT, but for some reason he drags it further across the box, and hesitates at the vital moment.
Seeing away the danger, we make a few changes in personnel, to brighten up the prospects. Marv and Slabbs join the party. Marv bringing his pace, and Slabbs chucked up top to hold the ball up. This works, we see Marv back at his near best, taking on the right back, and going pass the full back, but forgets to take the ball with him. Some more game time down at Whitehawk, and I reckon he'll have his touch back!
Sutton finally manage to break the deadlock on the 70 odd minute, with an injection of pace from Ben King down the left channel who goes right down to the bye line, and swings in a looping cross deep into the box. Dundo drops of his marker and heads the ball back across the 6 yard box beating the keepers reach, and the ball ripples the top left hand corner of the net. Well, we cracked it, we were knocking and finally it came off.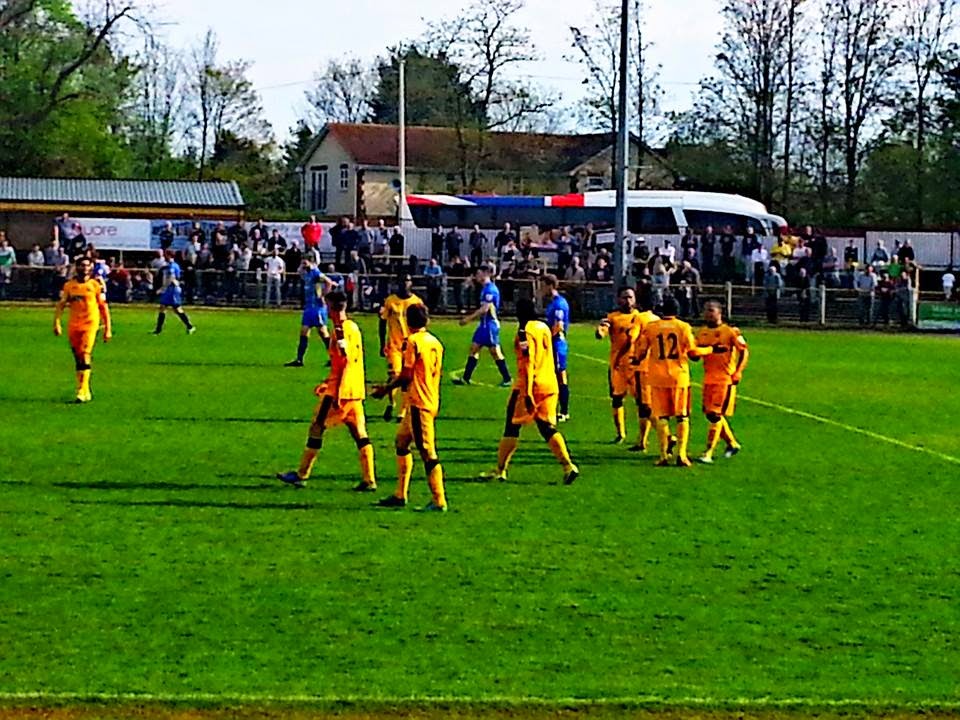 Tag, you're it !
Hats off to Concord though as they keep their heads high and continue to get something out the game, but we stand tall, and keep all three points.
Dudkey.
Back at El Rancho SUFC Bar, and the norm is on the agenda, couple of beers and the Strikers Are Key Draw is GO GO GO. You could see that every face in the packed out bar wanted to get their hands on the prize. Three and half grand, that would be a nice little something eh. 5:45 on the clock, AB steps us and gives us his weekly spill, followed by the legend that is Dos, with a little thank you for the supporters this year, and so is invited Mrs Dos to pull out this weeks ball, lucky number, or not so lucky for Bobby Childs as the keys he selects fails to deliver the goods, so the dollar rolls over to the end of season do Where one lucky winner maybe mugged by Mr Duke Dudkey outside.
Pint glass empty is was time to say laters to my fellow Gandermonium Firm members and make haste on the bike for home. During the ride home, I had a epiphany a really stupid fucking idea. That once I got home I'd carry on my bike ride, down to Thames Ditton, and well the rest is history.
Over to Deputy "Dudkey" Duke for Whitehawk.
Juan.