So here we go! Here we go, here we go! The time has come for
our first mid-week home fixture, than none other than the mighty Staines on
Thames. Well, it better be a more interesting display of football than that on
show at Eastleigh, on Saturday just gone I can tell ya! I mean not one, not one
bloody shot on goal, that I counted. My lips hadn't really touched the golden nectar,
and my eyes certainly weren't deceiving me, well I hope they weren't.
I didn't count one shot that tested Eastleigh's man between the sticks, this does not bode well with 'ol Juan. Yeah, yeah I know we were missing a couple of key men in our starting line-up, and yeah I know it's the first game of the season so things can be a tad shaky at the start, but come on boys your better than Richard Hills moody posse!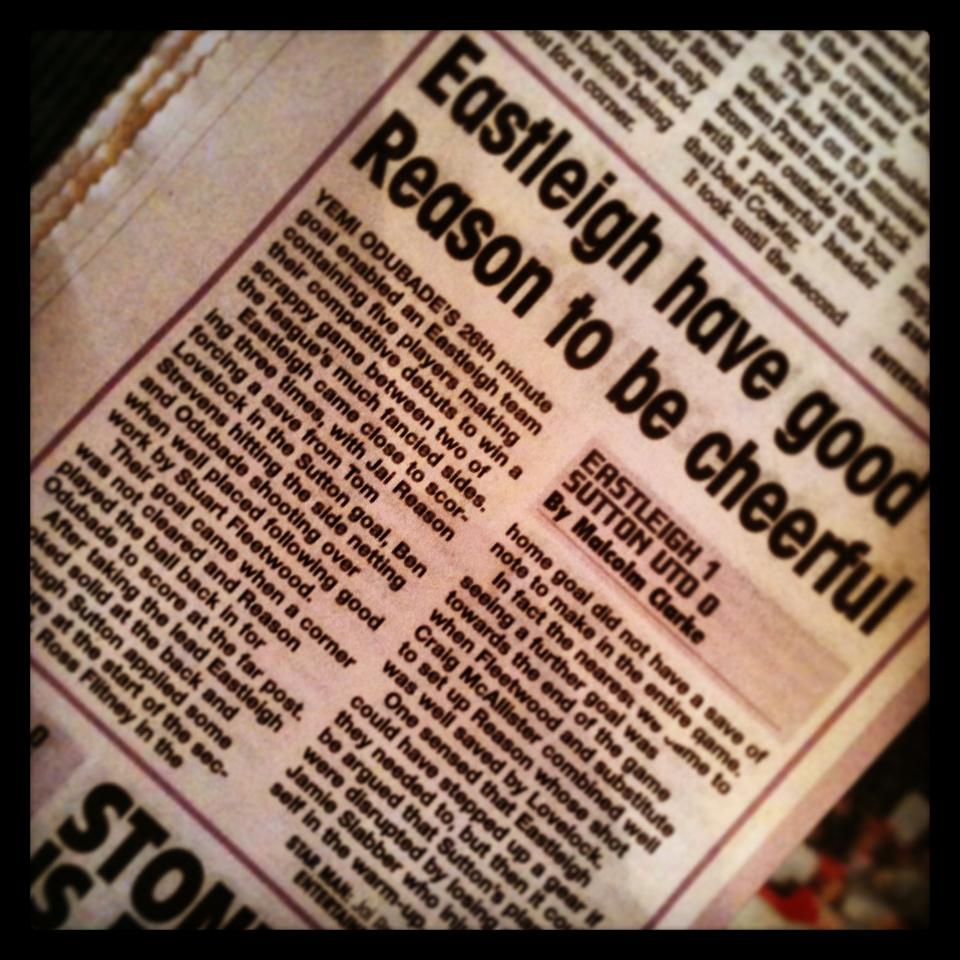 As if we needed reminding…..
Right so that's my Saturday rant over and done with. I knew I should have joined
the boys for a couple of pre-match beers, bit instead 'er in doors put me under
strict orders to be ready at 7:30 pm sharp, as she fancied going out! Well I
can tell you all now-this did not occur, with my mood following Saturdays game,
all that occurred was 8 of 10 Cats does Countdown-now that's Saturday night
entertainment for you right there! Would have preferred drinking with the lads,
but I gotta please annoy her too… So looking back at Dukey's epic write up on the Eastleigh game, it looks as thought the boys did themselves proud and certainly drank a few for the team. Me …Jealous…yes, yes, very much so!
Back to the beautiful game! So we all love
the game deep down, we just hate losing is all. I'm sure tonight's fixture will
prove that….right, are you with me? So tonight is our first home fixture of the all new, all
singing, all dancing Blue Square Skrill South. So we'd better make this
one a good one! So Junior Juan is joined this fine evening my Papa Juan (honest we aren't a family of Smurfs- the old man just wanted a mention in this write up…cheeky old fella) with pen to paper, I bring you Sutton Vs Staines Town.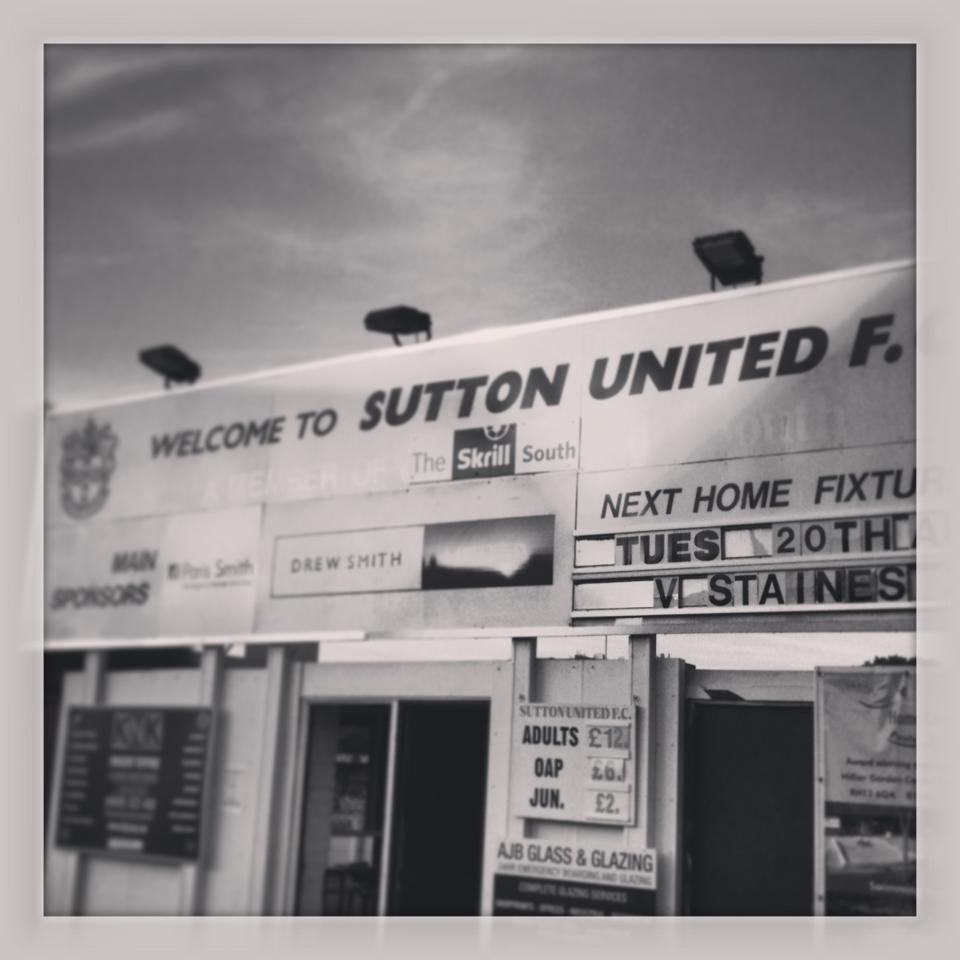 Juan goes all Ingmar Bergman on us….
Tonight's Line Up as follows: Lovelock, Nelson, Rents, Stuart, Swaibu, Scannell, Riviere, Fuseini, Dundas, Taylor, Williams. Subs: Folkes, Binns, Mcdonald, Sinclair, Shaw.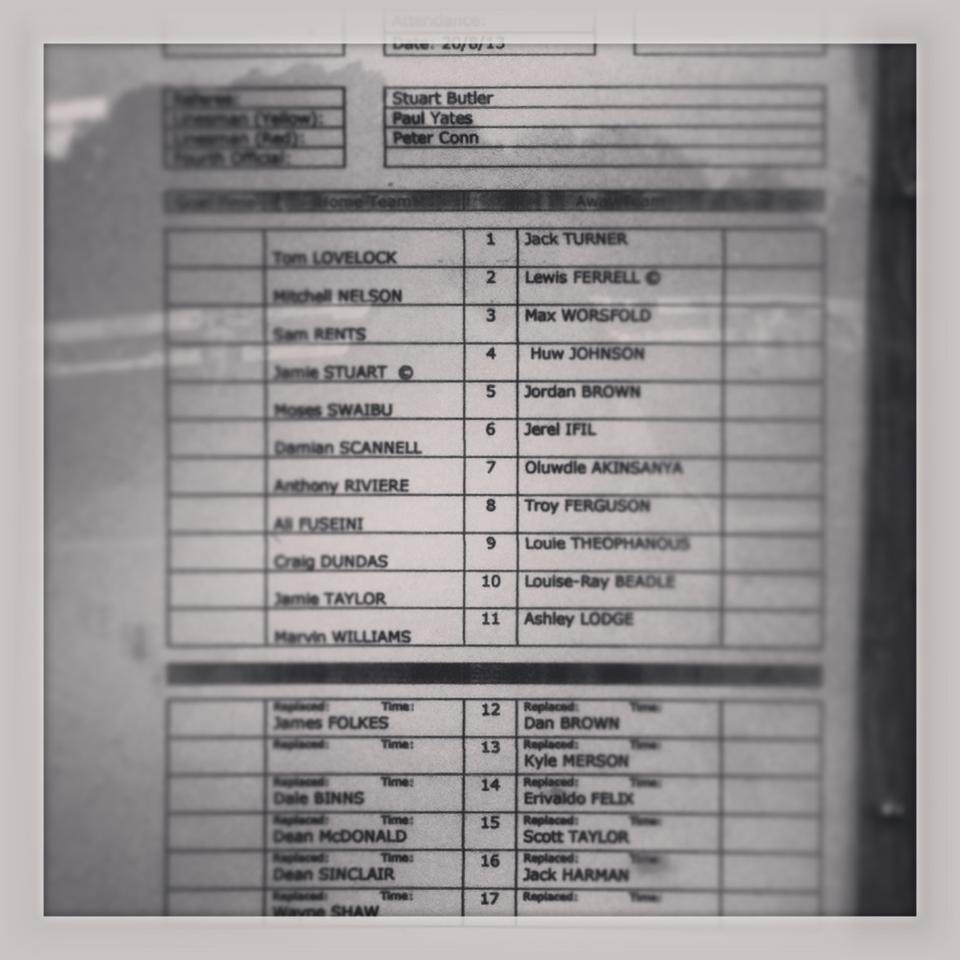 Teams innit….
So Sutton get under way, this time straight from
the off, with some fast paced movement, and Scannel on his debut,
linking up well with Taylor down the right channel. The ball however is
cleared away by Staines only for Nelson to deliver
the ball back into the box, via his trademark long throw. Again Staines
clear away the danger. Sutton continue to press, with Ali again taking
control, and marshalling the midfield, and pushing through the middle of
the park, and making a run down the left channel. Ali, sends in a cross
into the box, towards the direction of Taylor,
who brings the ball down onto his chest, and whilst under pressure
releases a shot, which goes onto to hit the bar. With Staines panicking
to clear the ball, Sutton can't quite get a foot to the ball to smash it
into the back of the net. Sutton looking a much
better side than what was on offer at Eastleigh on Saturday passed.
Clearly the Gaffer has had stern words with the boys.
With Ali looking hot to trot, he places Marv
through. Marv with his usual magic, of twists and turns, goes past his
man, and releases a shot from his left boot, which is collected by the
hands of Staines Keeper. Sutton looking much , much
better and a hell of a lot livelier, with a high tempo from the off,
something which has been lacking in the last couple of games. For a
couple of minutes Sutton drop of the accelerator allowing Staines to
press, Nelson at the back caught day dreaming, allowing
Staines an opportunity on goal. With Lovelock storming off his line to
break down the attack, Sutton literally clear the ball off the line to
safety.-phew!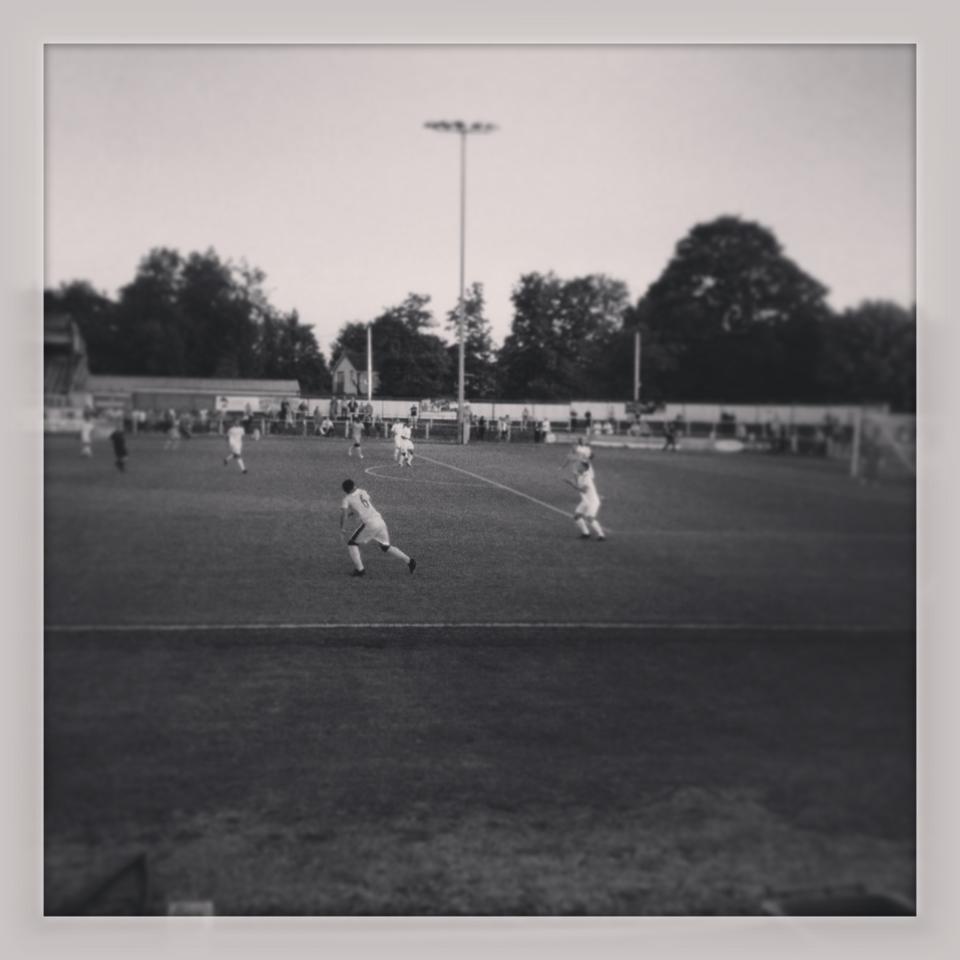 Why use an iPhone when you've got a box brownie?
Sutton on the break again from the middle of the
park, Dundo playing a sweet pass into the on running Jamie Taylor, who
is bought down, on a clear goal scoring opportunity, both Ali and Rents
line up to take the free kick, about 8 or so
yards from the edge of the area. Rents plays the dummy step over, and
Ali, curls the ball from his right boot, over the wall, but is again
into the hands of Jack Turner.
With the first 20 minutes gone, Sutton are
definitely looking like a well refined squad, putting together some real
classy football. Marv's again continuing to tear up the left channel,
ghosting passed his man, swings in an out curling
cross, and with Taylor ghosting passed his man, finds some space, and
throws himself into the air, and connects his head to the ball with
power and precision, and there's nothing Jack Turner can do, even at
full stretch to prevent the ball from going into
the top left hand corner of the goal.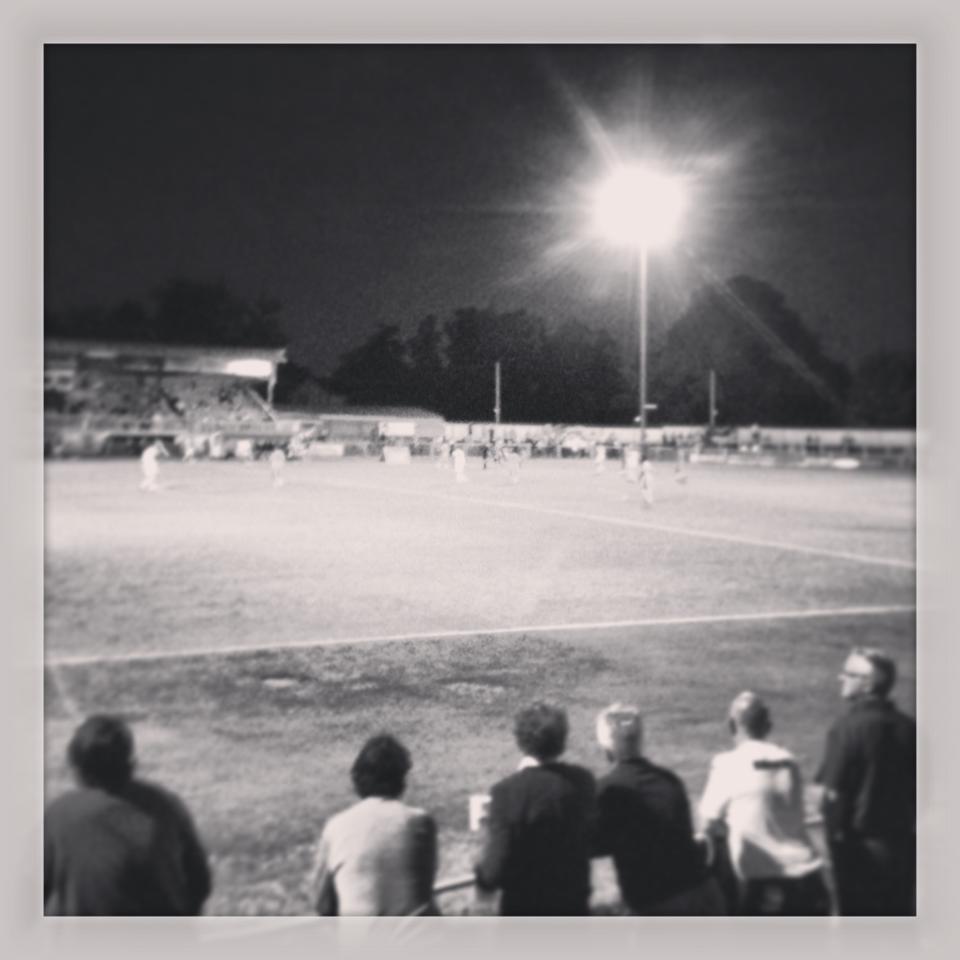 Harold Lloyd & Charlie Chaplain just out of shot…..
Sutton 1-Staines-0
With the one goal advantage, Nelson again caught
sleeping-and with Swaibu , not impressed with Nelsons lack of
concentration tells him to get his act together. Staines continue to
press, by lumping the ball up to their big fella up front,
this time he manages to turn Nelson, and heads in the direction of
Lovelocks goal. Lovelock not resting on his laurels, again steams off
his line to narrow the angle down, Staines have a pop at goal, but
Lovelock clears the danger to safety. Sutton not holding
back, continue to strive forward, this time Scannel playing in a ball
to Marvs feet. Marvs again turning his man in the box, is muscled off
the ball, and goes down in the box, for a penalty appeal. Nothing given
probably went down a bit easy, still you got
to try.
Staines again start press Sutton down the right
channel, and Stuart under a small amount of pressure clears the ball
away, only to be taken out, literally brick walled by the Staines fella,
and extremely late challenge.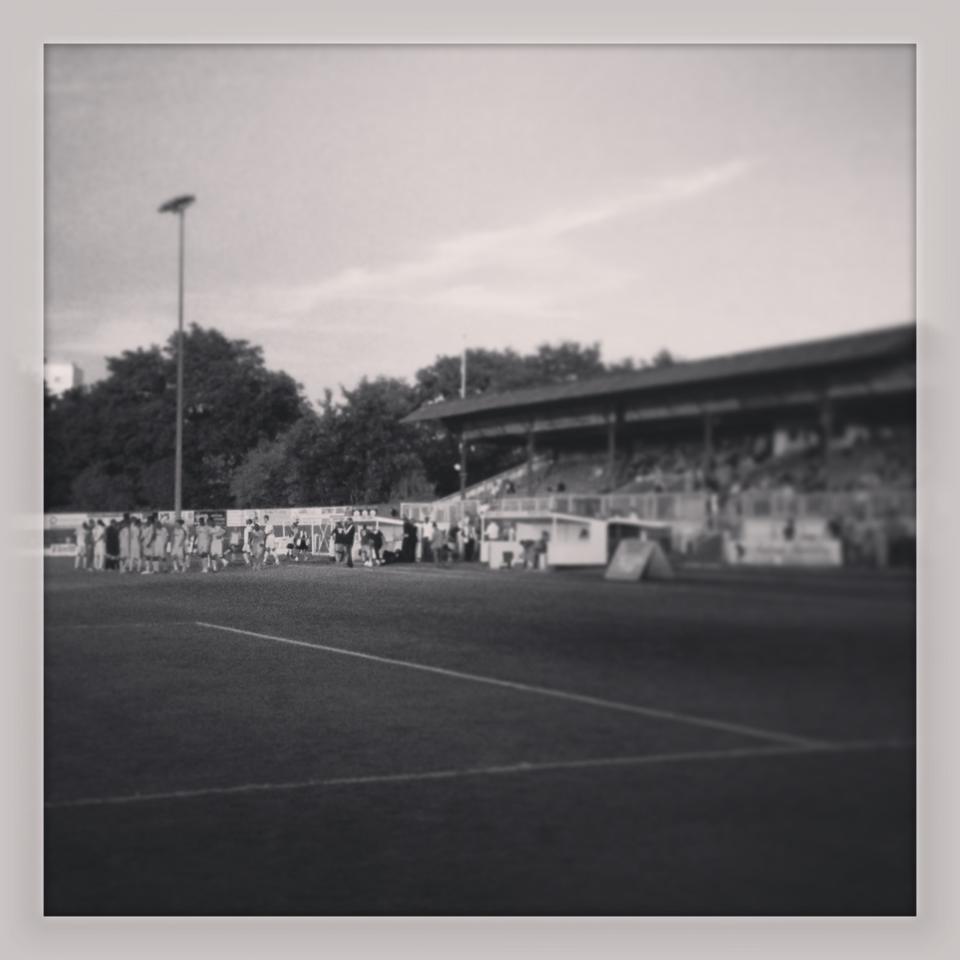 Laurel & Hardy are in the stand…..
Whilst Stuart is
receiving treatment, the man in black has to consult his colleague on
the by-line for some detailed information on the incident. Some three
minutes pass, and the ref has to look at the numbers on the back of the
shirts, to show the RED to Staines number 10,
cheerio, cheerio, cheerio. With Staines down to 10 men, Sutton continue the
attack, with Scannel taking on and beating his man down the right
channel, and with a twist and turn inside, sends in a low dinked cross
into the box, which is again cleared away by Staines.
Sutton continue to hold the ball up well in the middle of the park-Duns
carrying out the task in hand, using his strength and muscle, again
playing Marvs in, so he can gain open the Staines back four up.
A first half substitution sees Jamie Stuart
replaced by James Folkes, clearly the early collision on Stuart has
taken the wind out of him. The substitution sees Nelson moving into a
centre half position and with Folkes into the right back/
wing back position, clearly under orders from the Gaffer to play the
surging forward wing back technique. Folkes immediately, takes on board
the Gaffers instructions, and runs a good 60 yards down the right
by-line, and sends in a cross, which beats the first
man, and goes past every Sutton rising head.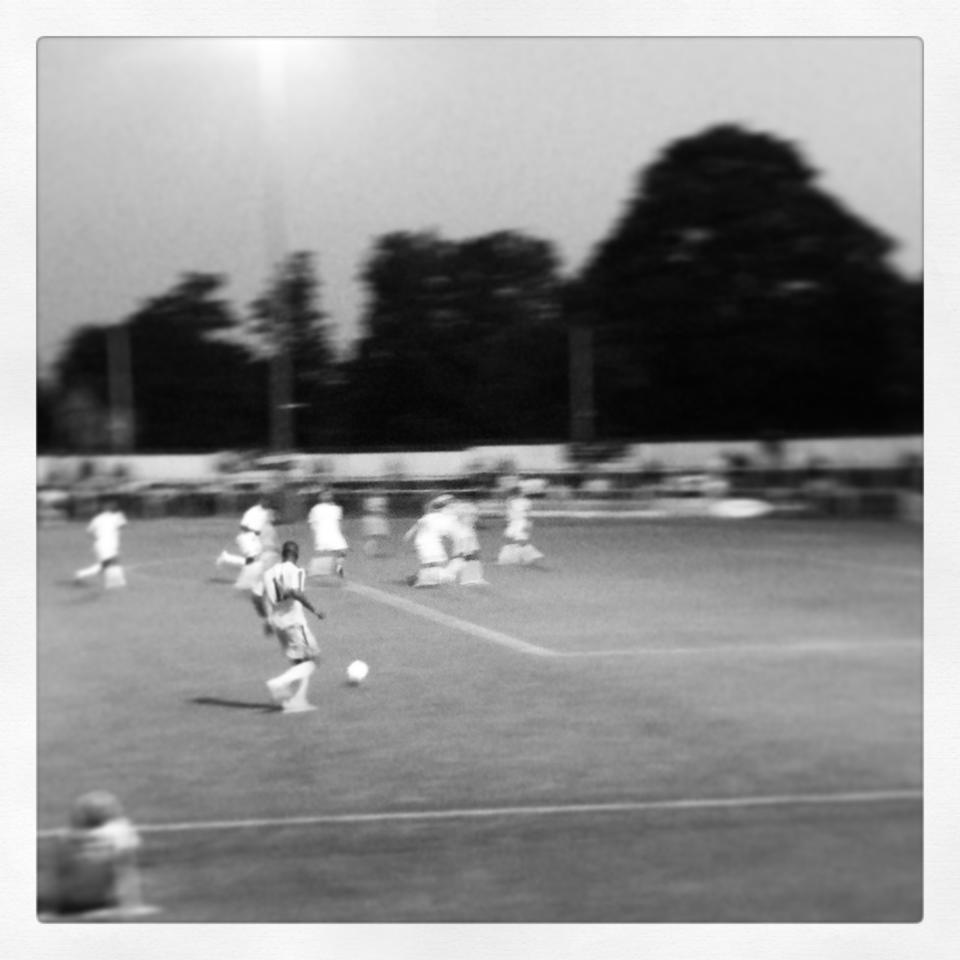 Oh for the age of colour film….
With the second half underway, Sutton pick up
from where they left off, as seen in the first 45, pressing hard, and
not allowing Staines much time on the ball. However when Staines are
given the opportunity to win the ball back from the
middle of the park, they continue forward with a run down the Stand
side, and release a shot from 30 yards out, which is clearly a shot of
hope. Sutton again, not holding back create the second goal , by a
screamer of a pass from Rents to Marvs, timing his
run well down the left channel, looks up and sees Taylor making his run
into the box, leaving his man standing still. Jack Turner leaves the
safety of his 6 yard box, and tries to prevent Taylor from connecting
with the ball, but Taylor manages to get a cheeky
toe to the ball and dinks it passed Turner, and the ball rolls into the
bottom right hand corner of the net.
Sutton 2-Staines 0.
Just a made a note of Taylor's well worked goal, I
look up to a further goal celebration, which goes down as a Dundo goal,
with the ball laid at Dundo's feet, he turns, swivels and fires a shot
into the back of the net.
Sutton 3-Staines 0.
A further change for Sutton, Scannel replaced by
McDonald. A great display of football from the new signing, very
impressed with his touch, ability and work rate-let's hope we keep him.
A slight lack in concentration following the
Sutton change, allows Staines to press down the right channel, and with
some quick movement on and off the ball, allows Staines to create some
space on the outside of the box. Moses sticks in
the challenge to prevent the fella from firing a shot. The ball stops
on the spin, and Rivs is caught on his heels, and the Staines striker
collects the dead ball, and with a left foot strike beats Lovelock at
stretch.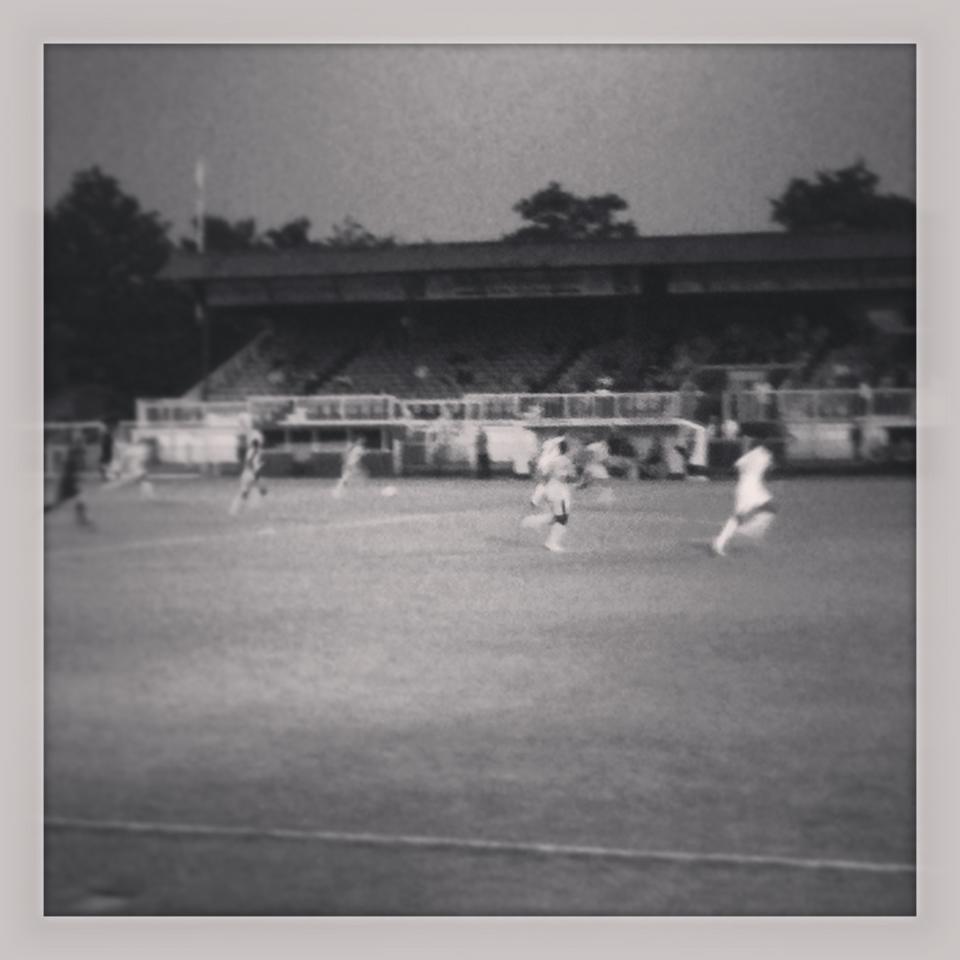 Is that Bigfoot?
Sutton 3-Staines 1.
Sutton continue with further waves of attack,
placing the Staines back four under pressure, putting together some
great chances, and through balls, some really enjoyable, sexy football. A
further change for Sutton, Rivs is replaced for
Sinclair. Not standing on ceremony, Sutton continue to pull the Staines
back four to pieces, and the 4th goal commeth, it all just
looks too easy to be honest, we really did pull them apart didn't we. I
mean even the E.I.C showed us all his excitement…"we're
going to murder this lot!" So I ditched the pen and paper, and enjoyed
watching the rest of the game!
So all is forgiven with regards to the
performance at Eastleigh, this is sexy football. We have landed, let
the goal scoring fest long continue onto Saturday v Bishop Stortford.
Oh well, I guess it will all come out in the wash after all …eh Staines!
To top off the good work, Marv & Dos are awarded, Manager & Player Apr/May.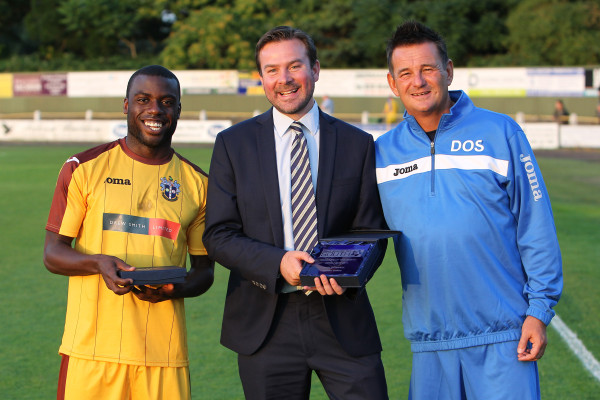 Blue Square? Who are they?
Right the last instalment in this update, is of course a little bit of a player bio, on Our New Signing,
Damian Scannell (born 28 April 1985 in Croydon, Greater
London) is an English footballer of Northern Irish and Jamaican descent who
currently plays for Sutton United. Earlier in his career he played for Fisher
Athletic, Eastleigh, Southend United and Dagenham & Redbridge. Scannell was
educated at Oasis Academy Shirley Park, Croydon, between 1996-2001.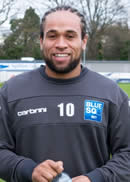 Another new face…..
Scannell made nine appearances from the bench in the 2007–08 season as Southend
United made the League One play-offs. Scannell had a very impressive pre-season and was rewarded with his first
league start against Peterborough United on 9 August 2008. Southend won 1–0.
Scannell joined League Two side Brentford on a two month loan on 27 November.
He made just one start and one sub appearance before returning to Southend on 8
January 2009. After impressive substitute appearances Scannell was given only his second
league start for Southend against Carlisle United on 21 March and scored his
first professional goal in a 3–0 win.
In March 2010 Scannell's season was prematurely cut short when he broke
his fifth metatarsal in Southend's 3–0 win over Walsall. On 24 June Scannell rejected a new two year contract with Southend, he
instead signed a two year contract with Dagenham & Redbridge on 29 June
2010. On 7 December 2011, after making 34 appearances and scoring 2 goals for
Dagenham, Scannell made a return to Eastleigh, before joining Sutton United.
That's all from the one they call Juan…for now…