Snow, frozen pitch, match postponed, rehashed old shit on Gandermonium , blah blah blah. You know the drill. Still, looking on the bright side, you get to read the second of my reports about the Australian A-League from my business-come-lounging around trip back towards the arse end of 2008.
No really, that is a bright side. Seriously! Look, just humour me here ok?
This effort was knocked up in departures, on the flight home as I tossed it off in business class and in the lounge at Hong Kong (hey, you didn't think I'd fly all that fucking way in cattle class did you? I have some standards!). Mainly chucking back all the free booze and nibbles I could get my little freeloading hands on inbetween tippy tapping away on the ol' laptop. Suffice to say I've not been sent anywhere further than Edinburgh since then. And certainly not business class.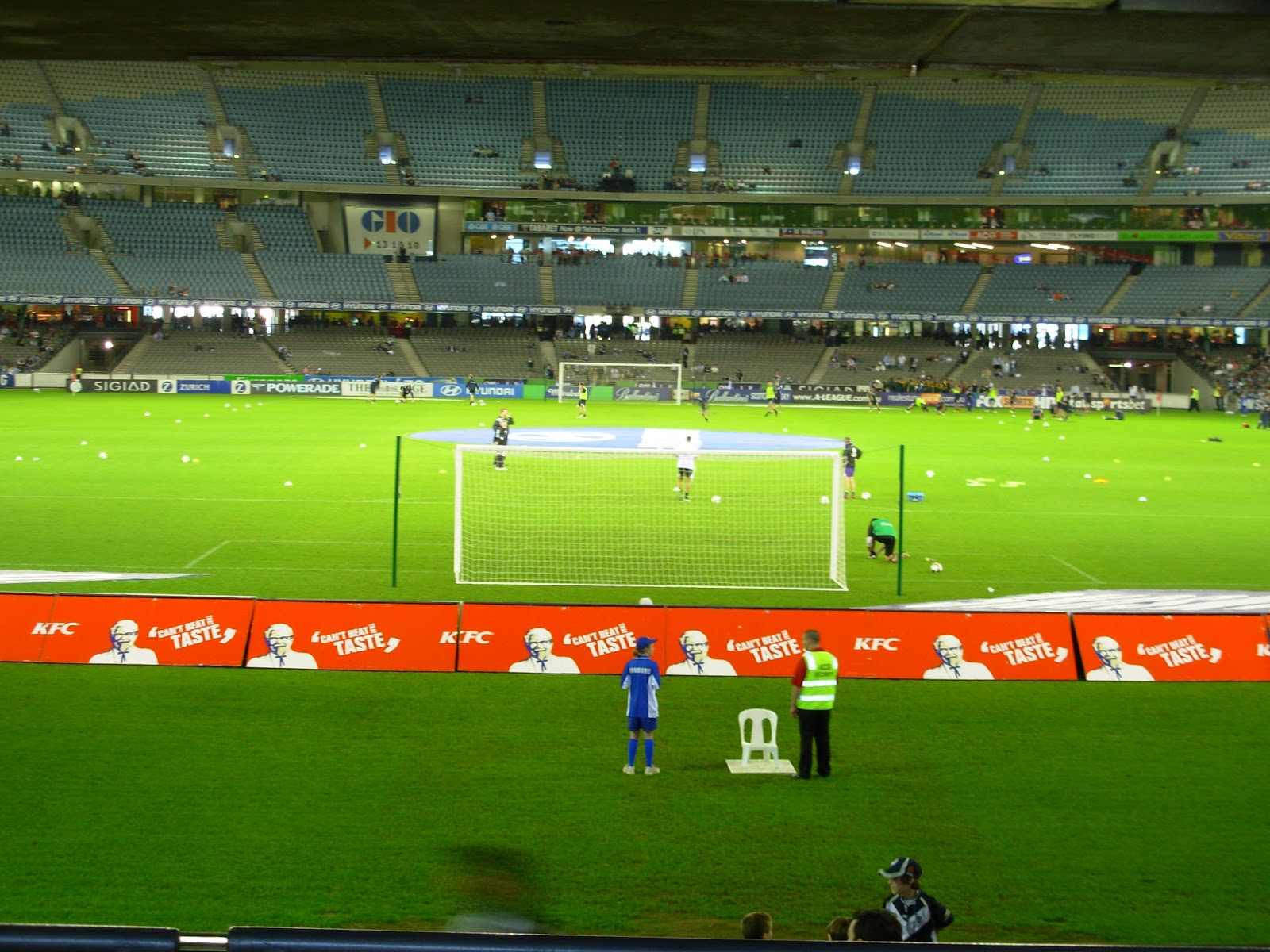 Looking down to the North End of the Telstra Dome…..
Melbourne Victory 4 Perth Glory 0
A-League, 4th November 2008

Last weekend I dipped my toe in the hurly burly of Australia's premier association football competition, the 'A-League'. And I wasn't massively impressed if I'm honest.


The home team, the Victory, managed to get themselves properly mugged by a well organized and disciplined, yet mid-table Queensland side. And they also failed to impress me by not only fielding a grade-A cunt like Kevin Muscat in their side, but also making him captain.


Still, I was desperate to see a game of football. And any port in a storm as the saying goes.


They also say a week is a long time in football. And it certainly is if you've knobbed off down the Great Ocean Road for a week and seen some lovely scenery and stuff. I think it was this that helped soften my mood towards the rather incorrectly named Victory and after my week's relaxing along the coast, I decided that I would indeed pop back for their next home game on the Saturday. The fact that they were playing the bottom team and I had plenty of time to kill before my late flight back to London also helped a little. Well, a lot actually.


Today's oppo are Perth Glory. And I've actually seen them play already on this trip. They were being shown on the tellybox when I arrived in Melbourne 2 weeks ago, playing away at the Wellington Pheonix. Of New Zealand. In the Australian A-League.

Errr…..


What I saw was even less impressive than what I witnessed in the flesh from their hosts today at the Telstra almost a week later. Only more so. Perth won their clash against the Phoenix 1-0 thanks to a penalty, to record their first win of the season no less. But the Aussies Kiwis of Wellington were admittedly just as terrible and it was only their inability to deal with the strapping figure of the finely monikered Eugene Dadi up front that prevented the dullest of dull 0-0 stalemates.


This does little to endear them to me. Mainly as I'm pretty used to following a crap side away from home and watching them get bummed in the gob lately. So I decide that today, I'll be staying neutral. I've done the rooting for a load of rubbish thing for the last 4-5 years and I certainly can't root for a side employing Muscat.


So, an impartial observer I shall be. Oh yes. Like the UN or something.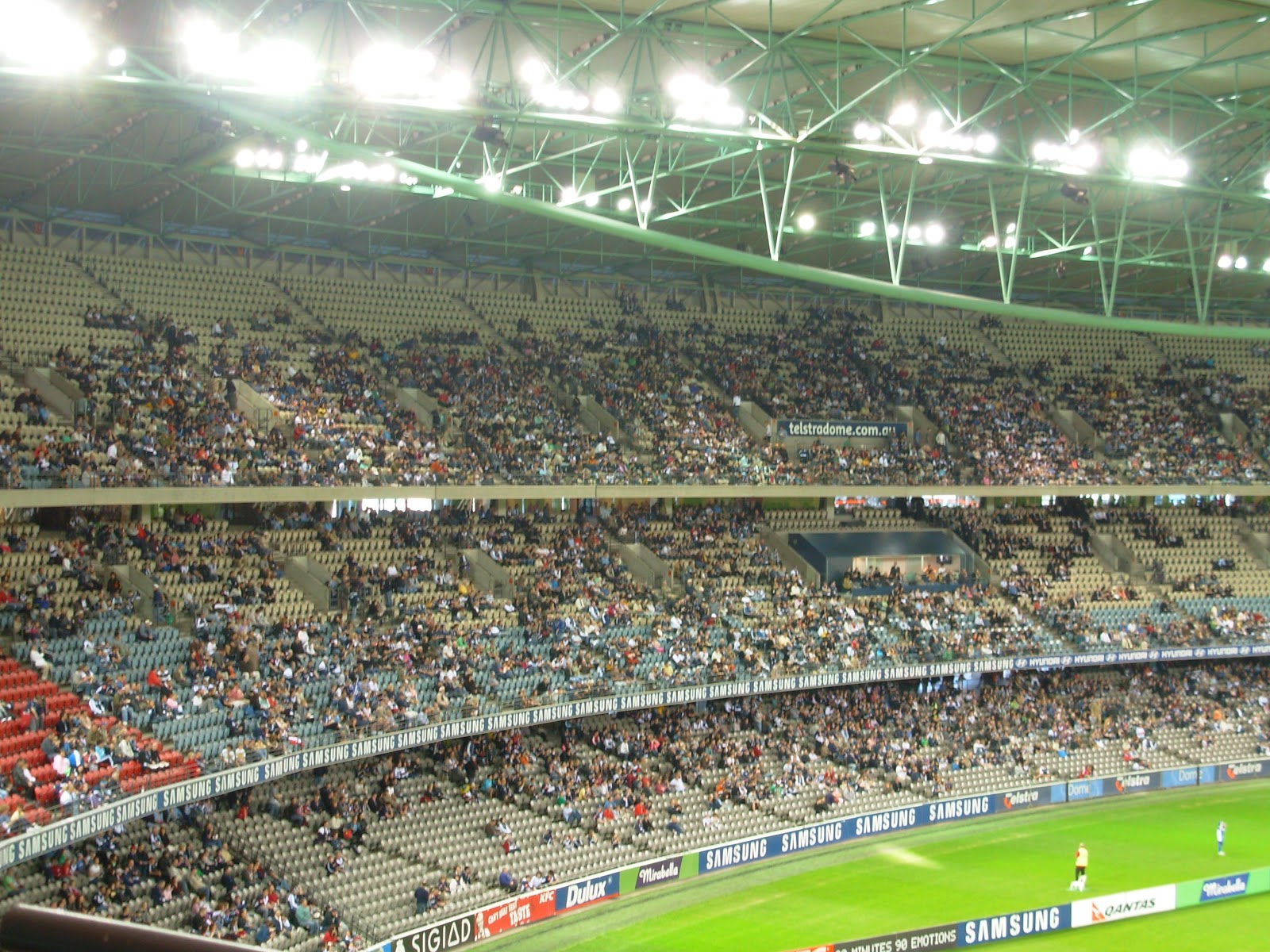 Bit quieter than last week….
I take the same route down to the harbourside as last time, poncing it on the free tourist tram down to the Dome, just like the home fans. Shocking behaviour really. But something I'd definitely take advantage of week in week out if such a thing ran in Sutton, especially if it ran from the pubs at the top of the High Street right past the ground. Every 10 minutes. Oh yes.


Thanks to knowing the drill better, I arrive a bit earlier than I was last time. Knowing that KO was actually at 5 and not 5.30 as I'd assumed with the game against the Roar last week helps mainly. So I've got plenty of time to wander in and explore the facilities a little having handed over my Aussie dollarage with it's little window. Once inside, I soon spot the club merchandise shop on the right just past the turnstiles, so I wander over for a look.


Now, I'd considered adding a Melbourne shirt to my collection of weird & wonderful, but on further thought, the fact it's predominantly blue and that the main sponsor is Samsung put me right off. The last thing I want to be doing is having fucking Chelsea fans talking to me if I were spotted wearing it back at home. Having said this, their silver away shirt is very nice, but they completely ruin it by having a printed badge on it. Whilst the home shirt has an embroidered one. What the fuck? And as for the prices!


On the website, a home shirt can be had for $100 Aussie. That's about 50 quid give or take some pennies with the current exchange rate. Here in the Telstra, they're marked up at $130. Which frankly is a rip off. That's 65 quid. Just for the shirt. And if it's the away shirt you want, 65 quid for a shirt with a fucking printed badge.


Back home, that sort of folding would get you any Premier League shirt in Sports Direct, with a number and the name 'Supercalifragilisticexpialidociuos' printed on the back. So naturally, I decide to pass up this opportunity. Even the scarves are $30.


So, with my wallet remaining firmly in my pocket, it's time to find a seat.


Having decided that Perth are likely to be toilet given their league position, I've chosen not to try & attempt to sponge into the 'away end' for a laugh. Also, I've actually looked at the map of Australia properly before the game this time and having seen that Perth is on the West coast of Oz, I'm thinking that they're likely to take as many away from home as Thurrock. So, if as expected they get bummed, I don't fancy having 12-15,000 people pointing & laughing at me and my 3 new mates from Perth. So it's up to the gods on level 3 again for me.


This time, I sit the other side of the goal, mostly to try a different spot and to try & avoid the clueless persons I had sat near me last time. None of whom seemed to know feck all about the game. Thankfully, I find what looks a nice quiet spot, just to the right of the South end goal. Another bonus of having got here a bit earlier this time is I get to actually hear the 2 line ups announced. And also, the really great Melbourne team 'song'.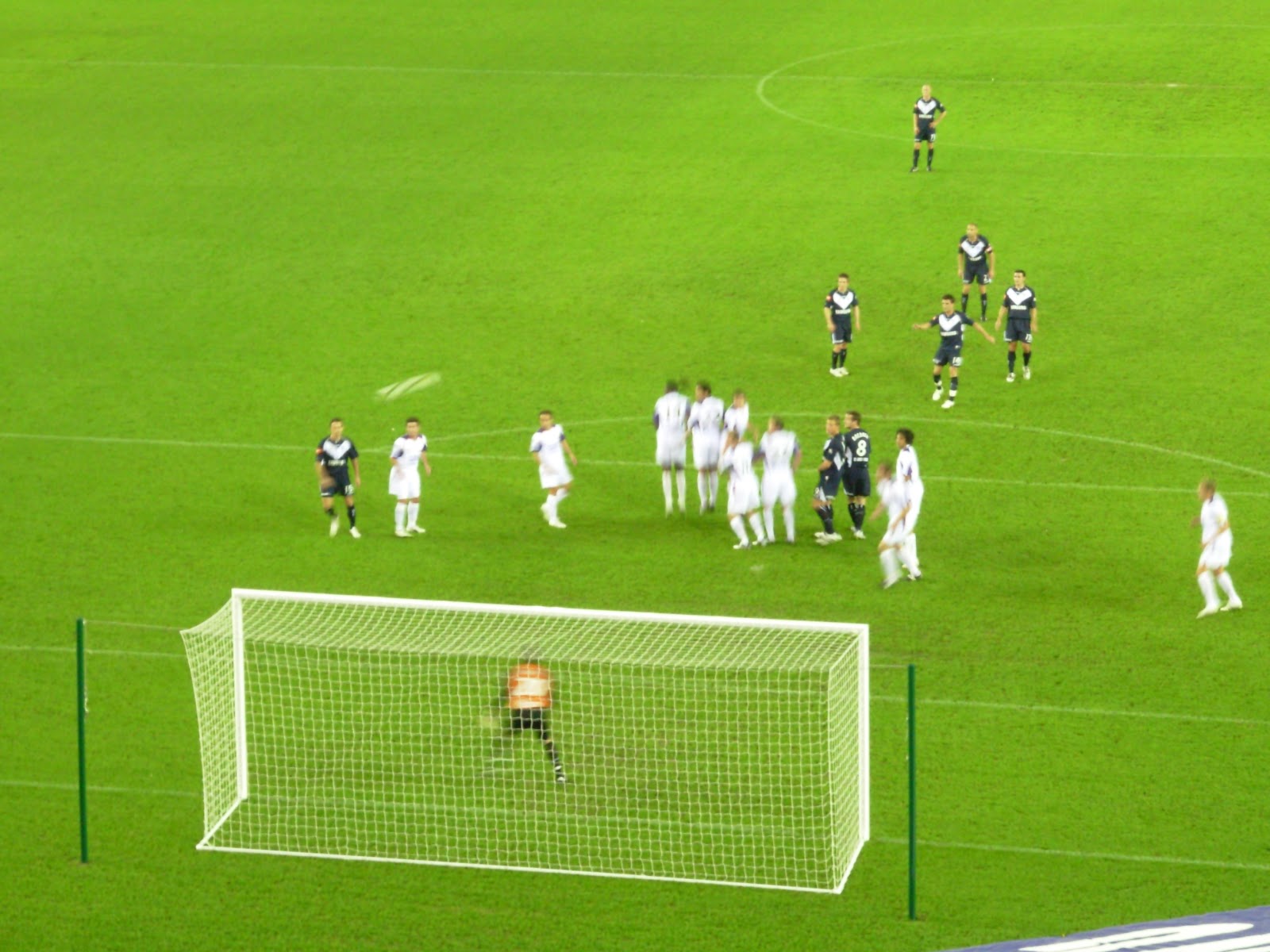 Match Action! You gotta have match action!
Actually, I lie. It's shit. Really really shit.

Seemingly like all teams in this part of the world do, regardless of sporting code, the Victory have to have a rousing team song to go with their equally pony made up by a marketing committee name. Now usually this seems to take a well known tune and adds some really cheesy lyrics to it. In the case of my hosts this evening, their tune is 'Scotland the Brave'. It really is bad. So bad in fact that I can't help laughing. Not at the song itself (well, alright a little bit) but at the mental image of a Scot like Windy going loopy when he heard how they'd managed to defile a piece of his nations musical heritage. How the hell have the Scots not had a word with the Aussie foreign office over this outrage?


Hmmmm, come to think of it, I might buy him a copy on the way out. Although in second thoughts, given the prices down there, it'll probably cost the same as a chart CD in HMV.

On the subject of our neighbours to the north back home in the UK, this just reminded me. Whilst in Oz, I've noticed something strange about the A-League. Most of the teams seem to be managed by Scots. In fact, the only one I've found so far that isn't is Adelaide United. Who've got the expected Eastern European sounding bloke in charge. But the others have all been bossed by Sweaties. And tonight's combatants are no exception. Both managed by Haggis eaters.


Now, I've seen a number of SPL matches in the past. Perhaps I've inadvertently stumbled onto the reason why a lot of what I've seen so far hasn't been that good? Either that or they're bloody cheap.


It seems the home side are missing 6 starters tonight. Some through injury and some through the fact they've failed to finish the last 3 games with the full compliment of 11 players. And staggeringly, not one of those 3 suspended is Kevin Muscat. What are the odds on that eh? Millions to one, surely?


As kick-off nears, I notice that the stands are a little emptier than they were on my last visit. There's certainly not going to be the 22,000+ crowd from the Queensland game that's for sure. Although I'm not sure if this is to do with the performance that night putting floating locals off the shit Pom sport, or the fact that last week was the day after the AFL grand final and so probably attracted a few interested people crossing codes to see what this 'soccer' lark is like and keep the festival of sport going that bit longer.


Fortunately, before kick off, the rather tedious and cringeworthy announcement over the PA by both skippers pledging to respect each other, fair play, the environment & small furry animals I witnessed last time out has been binned and instead we just get the standard 'respect' handshakes malarkey. And then we're off.


Melbourne again look lively from the off, moving the ball confidently in those little triangles. Perth on the other hand, look a bit nervy. And they've set up 4-5-1 as well with a big lad up front, so given the relative league positions, they're not taking many chances here. But after a few minutes, their lively looking no4 has overlapped down the right and whipped in a cross towards the near post. Dadi, the big no9 I mentioned earlier, gets up in front of his man and directs a header down on goal. The 'keeper is initially going the wrong way, but just manages to adjust in time and sticks out an arm to make a very smart stop, pushing the effort away to safety.

And that's about as adventurous as the Glory will get for some time.


From here on in, it's pretty plain that Perth are here for what they can get. If that's a point, so be it. But you can see from their body language along with their always slightly rushed defending that they're not even too confident of that and it really only should be a matter of time before the home side score. I know this sort of approach well as I've seen us do it enough times over the last couple of years.


A couple of openings come & go before around 20-25 minutes in, Melbourne somewhat inevitably take the lead without really doing much special. The Perth no2 goes gallivanting off up the field before rather poorly losing the ball deep in Melbourne territory. Well out of position, the home side eventually exploit the gap. With the visitors all over the place, the attack comes down the Perth right and a low ball across the 6 yard box from the bye line is rather pathetically stabbed towards the edge of the box by a stretching defender and the blue shirted no8 picks his spot from about 15 yards, cracking it into the corner.
This is where my question about atmosphere from the first game is answered. And t it has to be said, he noise made for a sub-20k crowd, rattling around in a 50k stadium, to celebrate the goal is impressive. Although I'm sure that big roof being closed again helps keep it all in. Perth's body language after the goal says it all. It's the same thing I saw all last season. "Fuck it. We're behind, so we're going to lose now". And to be honest, you could probably get up and leave the game right now confident in the knowledge that you know the outcome, you just won't see all the goals.


Perth try really hard to play as badly as they can now. Passes all over the shop, clearances hit straight into the air or directly to oppo players and so on. But somehow, they and their truly awful no2 (If he's a defender, then I'm the Duke of York) manage to keep the score to just the one goal. Then as it seems the break will come with no further punishment, Daniel Allsopp is slipped in on the left after a quick passing move carves open the Perth defence. The 'keeper does well to block the initial effort, but can do nothing about the follow up and Allsopp makes it 2-0. If it wasn't already game over. It almost certainly is now.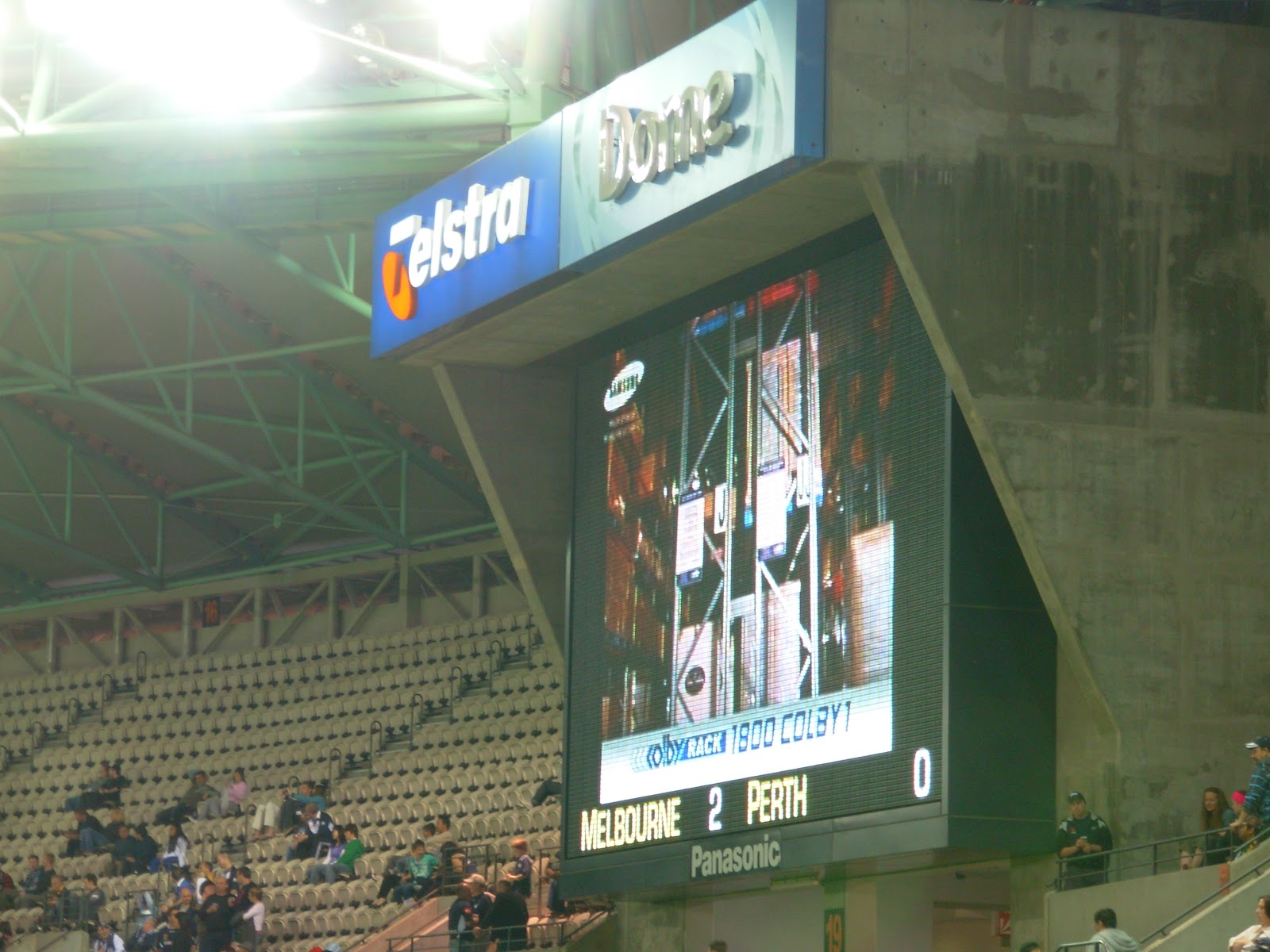 Not going well for the shit town in Scotland….
That's all the damage done for the first half and Melbourne make the lengthy walk back to the dressing rooms at Half Time two goals to the good. To amuse myself over the break, I take a wander down to the 1st level to observe the Aussie 'soccer' fans half time ritual. Also I need a piss. Having taken care of business, I decide to seamlessly blend into my environment by purchasing a pie and a pint before mooching back to my seat. The purchasing part is dead easy. You just walk up, grab grub from one of the warm displays, followed by a pre-poured pint with a lid on it from the fridge, cough the dineros and Bruce is your Uncle. No stuttering, Hugh Grant style Pommy nonsense trying to get sorted here. Lovely. Back in my seat, the pie looks a little anemic, but it's at least hot whilst not taking the roof of my mouth off and pleasantly full of actual stuff. According to the wrapper, I've purchased a 'Meat & gravy'. Not sure what meat though, as it doesn't say. Probably Kangaroo. Or wombat. Maybe Dingo.

Either way, it goes down a treat with the pint of Carlton Draught I've purchased to compliment it.

This is also a lesson our major stadia catering outlets could learn from. There were no queues and it's actually not half bad. And the price as ok too. About 4 and a half quid for a beer and the pie. Very civilised. You'd pay more than that just for the fucking watered down beer over here.


The half time entertainment I mentioned last time round involving the inflatable tubes race is given a slightly surreal edge this time out as the organizers have pulled 2 immigrant kids out of a group on a visit with a local charity. And they can barely speak English, much to the bemusement of the bloke with the microphone who simply gives up trying with any build up or banter when they stare back at him in utter confusion and terror at his jokey questions.


Hilariously, when the race starts, this pair of lads start pushing the inflatable tube along from the outside with the announcer shouting at them that they actually need to climb in and do it. Finally, when they realise this and climb aboard, they basically tumble around inside like 2 kittens in a washing machine first to one end, then back to the other.


Still, they seem to enjoy it and so do several thousand others who sit pissing themselves laughing at this nonsense on the big screens.


Perth are out of the changing rooms early, no doubt having been steeled with a few choice Scottish expletives, but any hopes of salvaging vaguely anything from the contest are soon destroyed. Within 30 seconds of the restart, they concede a free-kick and defend it terribly. After a moment's chaos, the ball lands on the knee of a Melbourne defender and rather lamely bobbles into the net for 3-0. All that's missing is the big screens displaying 'GAME OVER, Insert Coin'.


From here, the home side really should step on the gas and murder their woeful oppo, but they don't. They keep playing, still making those pretty little triangles, but with little penetration and fail to add to their tally until about 20 minutes to go. In the end a simple ball over the top finds Allsopp, he outstrips the defender and coolly fires across the 'keeper into the far corner from 12 yards. 4-0.


Sadly, the expected massacre still doesn't materialize and they further faff about for the remaining 20 minutes. Although they do have several reasonable opportunities that are spurned along the way.


Perth at this point are adding little to the contest apart from falling over a bit and struggling with the concept of even kicking a football. They're a very poor side and deservedly bottom. So I instead turn my attention to the crowd. And with this my second visit to a Victory game, I think I'm starting to understand the sections a little better.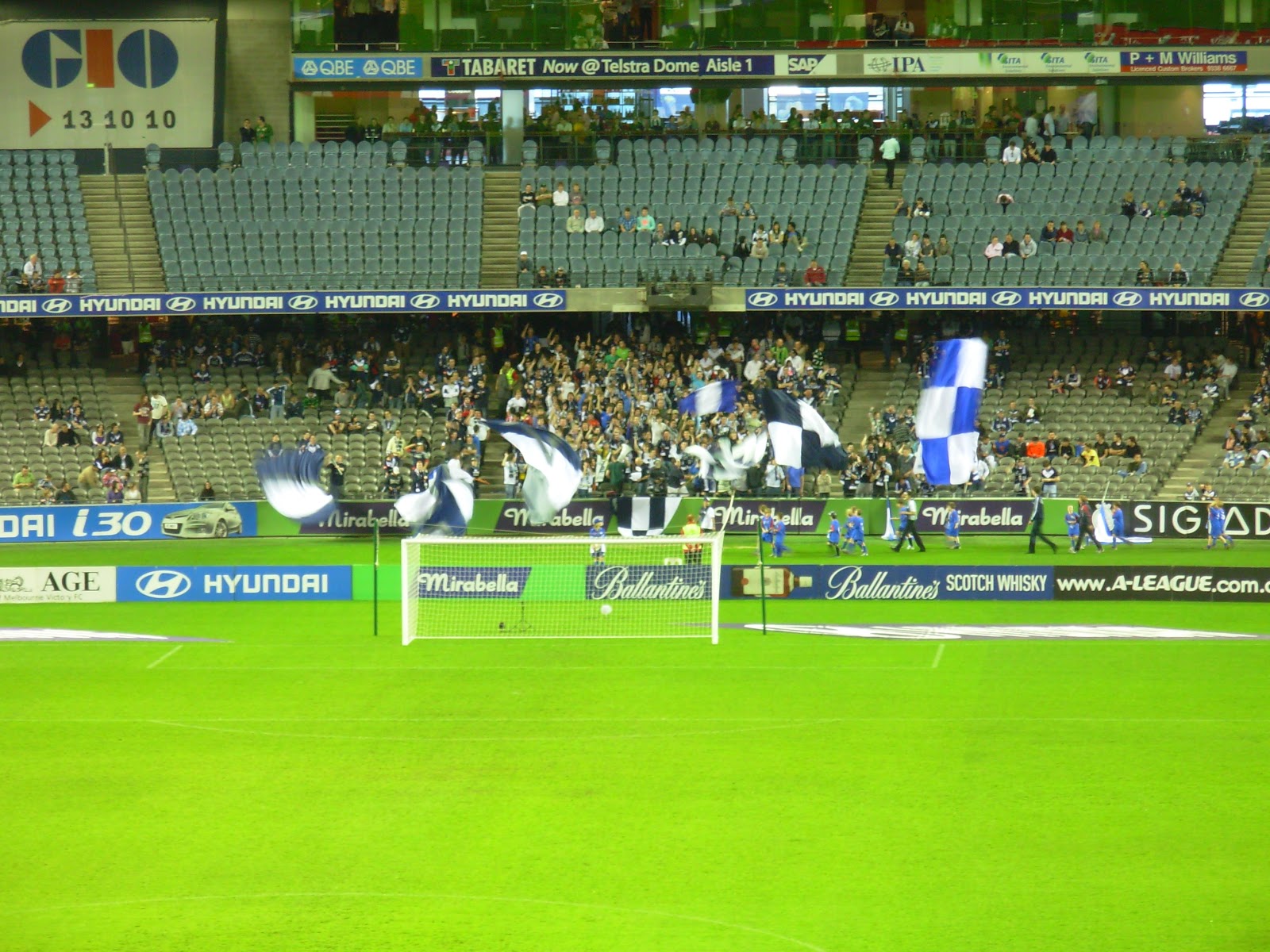 "Siiiiit down shut up. Sit down shut up!" The North End Ultras in full flow.
The crowd behind the North end goal are the noisiest, but seem to style their support on the European model of having a drum, lots of bouncing up & down, big flags to wave and loads of organized set piece chants that all sound the same and that you're completely unable to decipher. The sort of nonsense I can't really relate to and dull people like Palace fans think is awesome. The fans in the South end beneath me though, they seem to have adopted a more familiar British style. So slightly disinterested, but usually coming out with understandable, more off the cuff chants and with bags more humour when something that actually happens during the game warrants it. One example that does bring a smile to my face is one I would have started myself. Having thought only a few minutes before that a chorus of "Shit town in Scotland, you're just a shit town in Scotland" would be just perfect, some geographically aware wag below realizes the same and kicks it off.


I'm not sure the 3-4 people sat in the 'away' section who I take it are Perth fans really get it. The chant of "Your support is fucking shit" also has that hint of irony about it. The South end mob also largely ignore the ever more tedious North end chants that require them to give a response. Which I like. I guess this is the section where the Brit ex-pats and your bog standard aussie would sit, feet up, with a beer, taking the piss occasionally. And were I a regular, probably where I'd be as well. Maybe there is some life here after all?


The rest of the ground seems to be families and kids. Who occasionally shout and wave their flags, but little else. Still, as bums on seats go. It's not that bad.


Meanwhile, back in the game, Melbourne have made a couple of subs and are just going through the motions now. They've got their points, boosted the old GD a bit more and they really can't be arsed to really hand out a spanking. This allows Perth a bit more breathing room and they at least start to play a little bit. Whilst it cannot be denied that they are rather terrible, you have to at least give them credit for keeping going to the end looking for a goal.


And but for an acrobatic save by the 'keeper, a hugely deflected looping effort really should sneak under the bar to give them some reward. As it is though, the home side keep their sheet clean, keep 11 men on the pitch for a change and at the final whistle, their 4-0 win returns them to the top of the A-League at the expense of Sydney, who are on Asian Champions League duty this weekend.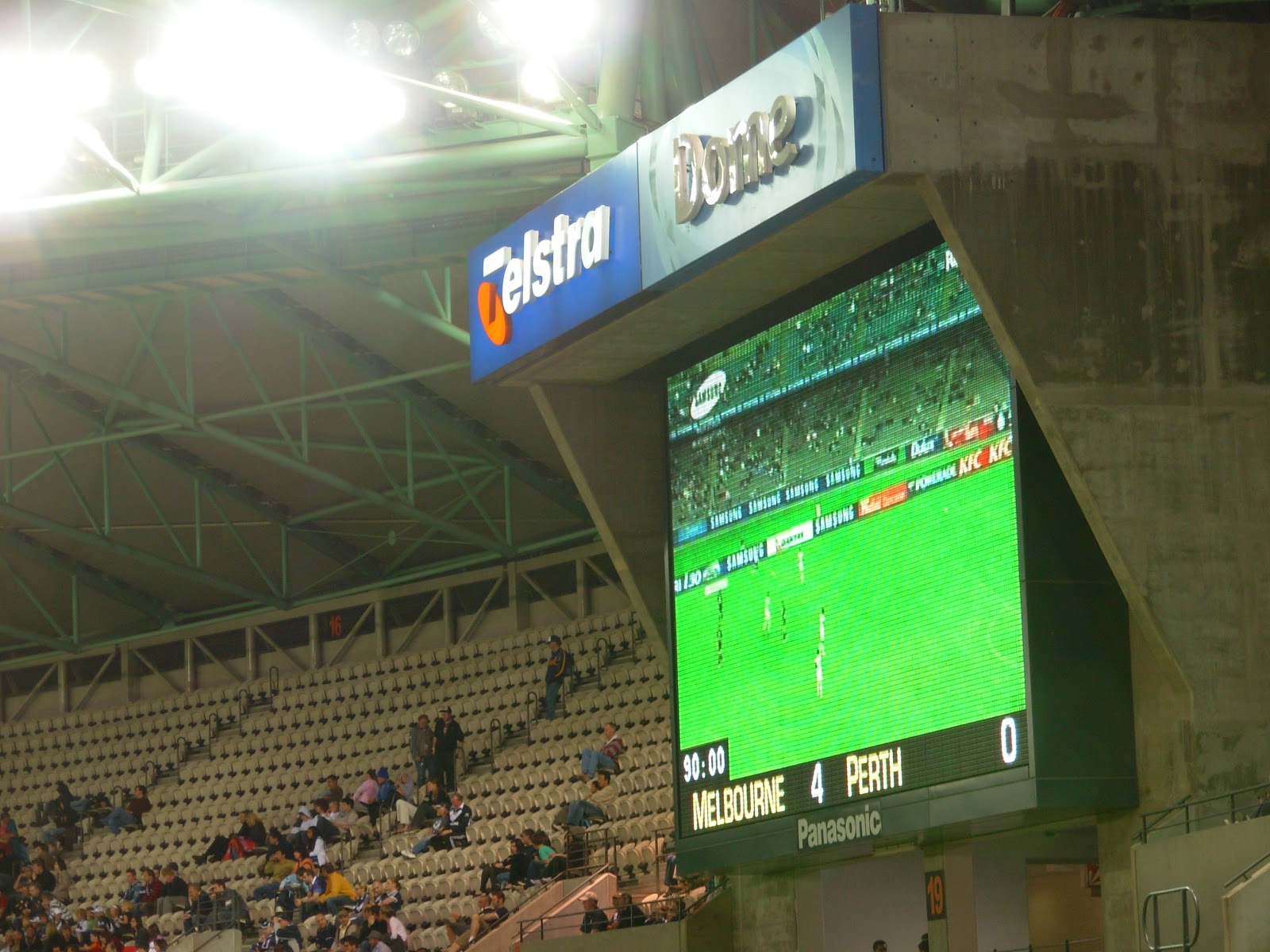 Dunno what the Aussies call it, but where I'm from that's a 'good pumping'
And what better reason to have that fucking terrible song of theirs again pipe up over the PA. Having heard enough earlier, I take that as my cue to leave. Quickly.


Besides, I've got a plane to catch. Athough I bet I'll be humming Scotland the fucking Brave in Business class all the way back to London now.


Bastards.

Taz