We're not bored. What gave you that idea? That we've done 3 updates in one day? Yeah, ok. We're bored.

Here's a little diversification of the Gandermonium universe for you (one of a few we're looking into). The first non-SUFC report we've ever done. The old site was very much Sutton orientated (unsurprisingly) and there was never any real scope in it's format to include little tit bits such as this.
Now? Ah, screw it. Why not. Football's football and it's SUFC angle is er……me. As I wrote it.
This missive I coughed up whilst holed up in a Melbourne hotel back in 2008. I'd been shipped out for a weeks work, along with a weeks hols after (hey, if I'm going all that fucking way, I want some me time!). Unfortunately, a hire car fuck up left me stuck in Melbourne on the first day of my break and so with time on my hands, this was the result.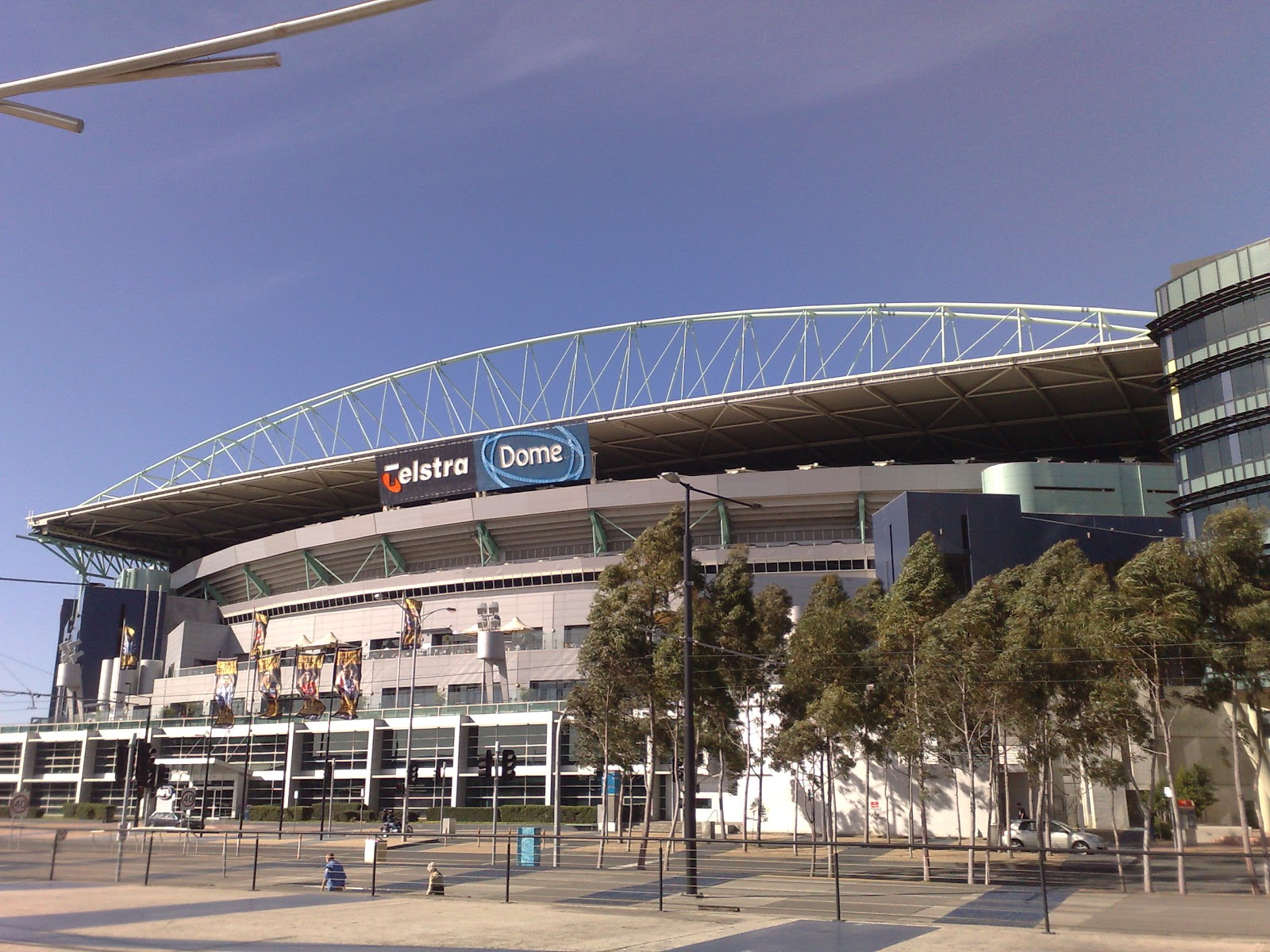 Telstra Dome. Home to Rugby, AFL, Cricket. Oh and football…
Melbourne Victory 0 Queensland Roar 2
A-League, 28th September 2008

Being on the other side of the world in Oz tends to make getting your regular football fix a bit difficult. Especially as the locals in Melbourne prefer a brand of 'Football' that involves an egg shaped ball, a round pitch and 8 posts. Or fucking rugby. Which is just weird.

More of that another time though as despite this, all is not lost on the Association Football front. The colonials have kindly provided a facility known as the 'A-League' to keep the ex-pat Poms and other European immigrants happy with their dose of 'Soccer'. And in Melbourne, this means going to see their local outfit 'The Victory' playing out of the impressive Telstra Dome down in the Docklands area.

But before we go any further, can I just state for the record that the club's name is shite. Really shite.
I'm sure that when they formed the league, the name was thought up as it resembled the name of the state of which Melbourne is the capital. Victoria as well as to give the side a 'dynamic, winning' image. Still, beggars can't be choosers. And besides, the old school semi-pro Victorian League has sadly wrapped up it's season already, so it's the Victory or nothing where yer actual football is concerned.
Amusingly, since I wrote this, Melbourne went on to gain another shockingly monikered A-League outfit. Melbourne Heart. Which sounds more like an easy listening radio station than a football team. Then after a couple of years, they became part of the new Man City 'worldwide franchise' and dropped the 'Heart' bit and changed to 'City'. Much better I think you'll agree.

Melbourne (I'm not calling them by that other name) are no slouches at least and have the distinction of being A-League champions from the previous year and also captured the pre-season cup for this season. But, despite this success, it's nowhere near enough to attract sufficient fans to fill the 50,000 capacity Telstra Dome. Which is handy in one respect, as it means tourist losers like me can just rock up on a whim and buy a ticket to see the best 'Soccer' team in Oz. And having bunked on the free tourist tram down to the Dome (don't worry, the locals all do it as well the bloody tightwads.) I'm at the ticket desk a few minutes before kick off. And for the paltry sum of 20 of your finest Aussie dollars with their little windows in them (10 quid), I'm in.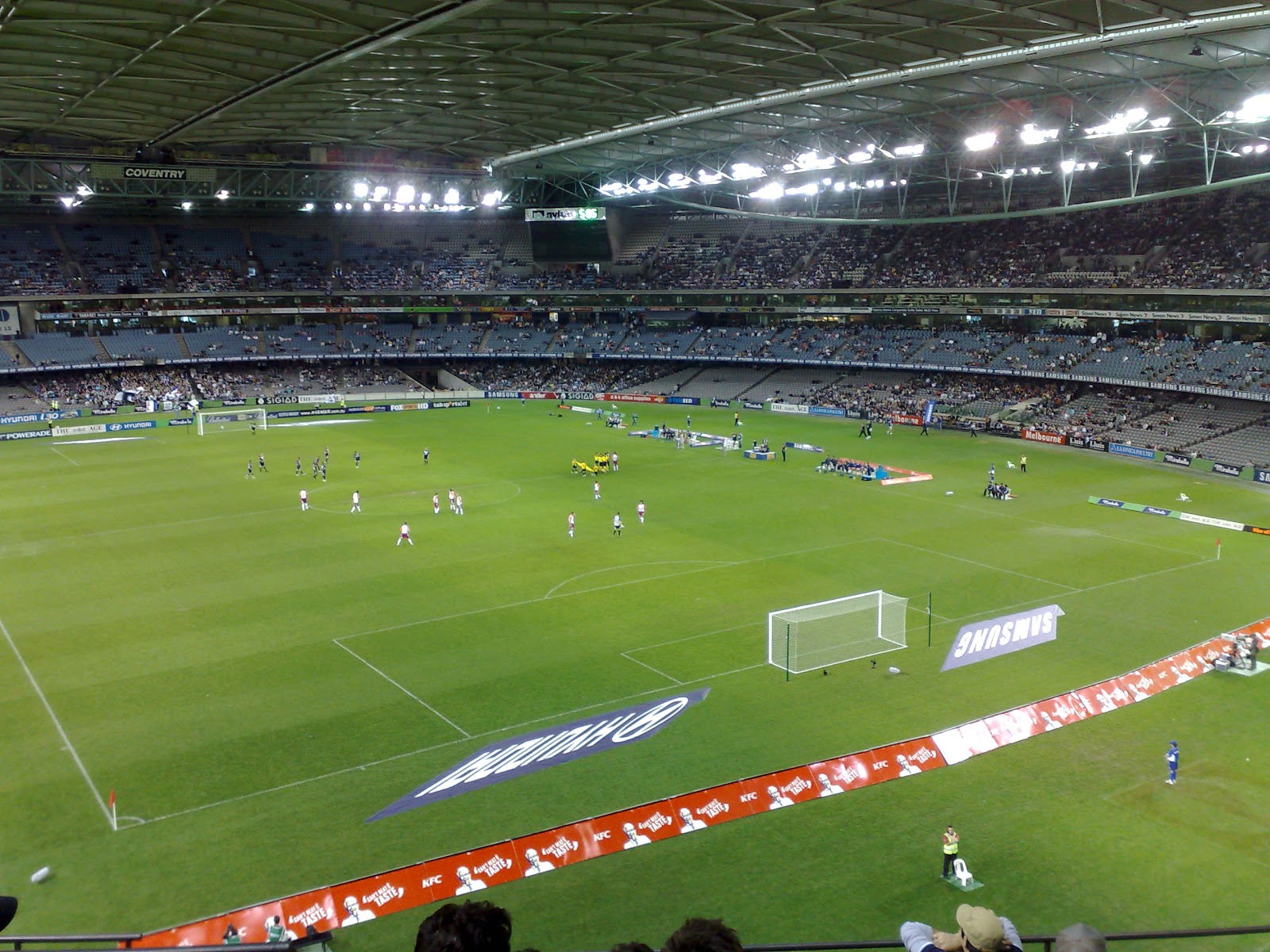 Anyone got any binoculars?
The stadium is much like the Stad de France in design, in that once through the turnstiles, you're just a short few steps across the concourse to the seats in the lower tier. Unfortunately, those ones behind the goal aren't open to me. They're apparently for members only. Bah! Apparently my pikey 20 dollar ticket gets me a seat anywhere I like on the 3rd tier and certain places on the second.

Keen not to miss kick off, I head up to the third level rather than piss about working out where I can and can't go on the 2nd floor and take up a seat overlooking the corner flag. The view is good and the stadium itself is impressive. The roof is also closed (a first for me), so I'm hoping for a couple of goals to hear what sort of noise you get in here. I'm also glad that I've chosen to sit up in the gods as the view from the bottom tier down the sides looks fucking terrible. The Telstra has that big oval playing surface used for Aussie Rules (I think they've also played T20 cricket in here too!) and the football pitch is marked out in the middle of this. This means the sidelines are a good 30 yards from the stands and there's an even bigger gap behind the goals as well.

It's a bit like someone has dumped the Millenium stadium on top of the Croydon Arena. Apparently the tickets for that bottom tier are also more than twice the price of mine at 47 dollars. Strange. Roof closed or not, I'm not hoping for a much of an atmosphere though from the sparse crowd.

While the teams come out and then both skippers undertake a tedious "I pledge to play fair and respect my opponent & the baby Jesus" type speech over the PA (I shit you not. And to think we moan about the 'Respect' crap at home where they have to just line up & shake hands!) I gaze around the huge arena trying to locate the true lifeblood of the game. The away fans. And given that their side plays in bright safety jacket orange, I'm guessing they shouldn't be impossible to spot.

Now, to be honest at this point I'd not really got a clue where Queensland is in relation to Melbourne. But with Sydney and Adelaide a good days drive away, I'm thinking I'm safe in guessing it's not exactly a local trip and as such, the Roar won't be turning up properly mob handed. And I'm right. Eventually, away down to my right on the bottom tier, with a section all of their own I spot no more than 15-20 people clad (as I'd guessed) in the bright orange of their club colours.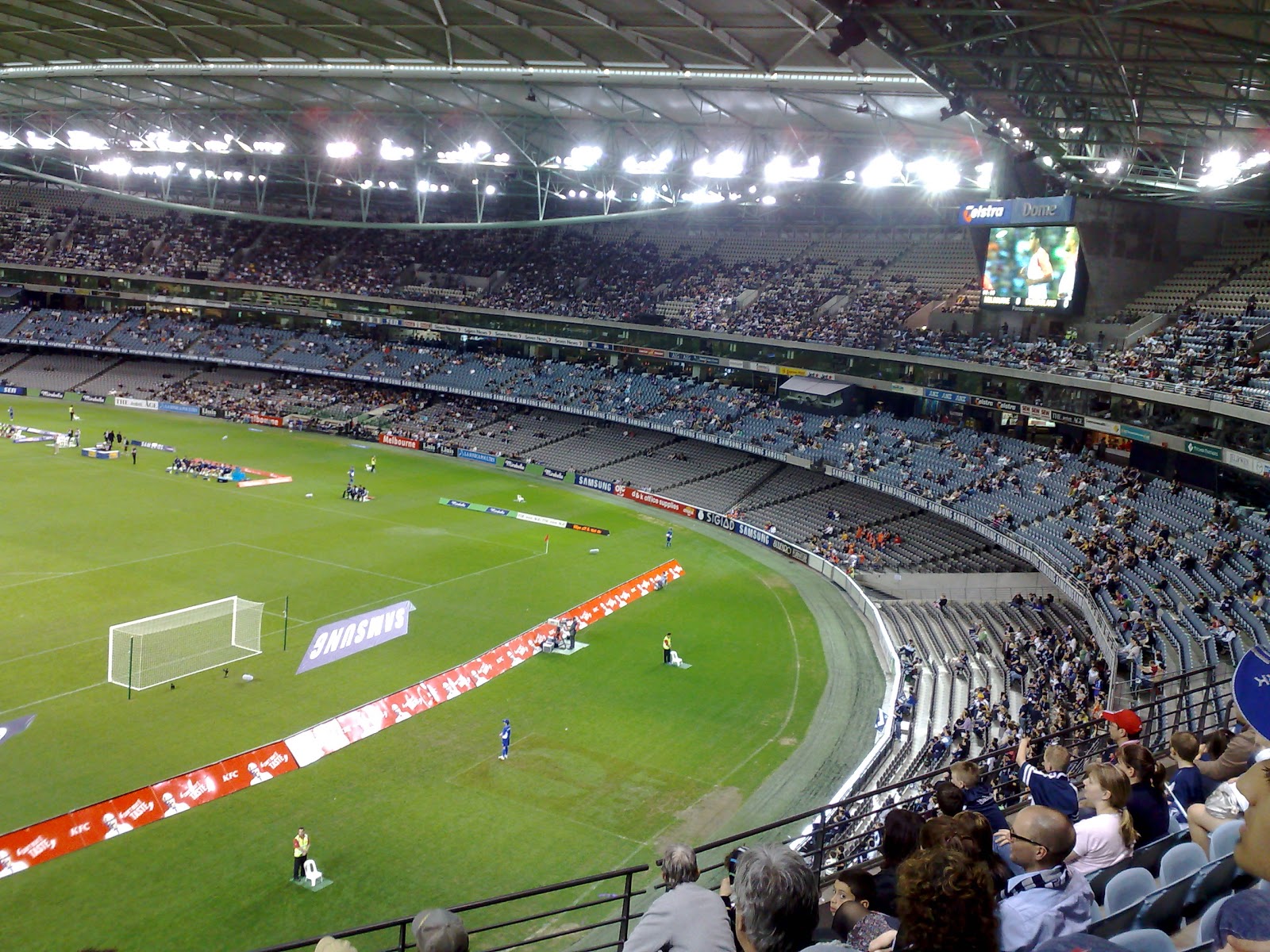 Is that all you take away?
Brilliant. I smirk to myself, thinking of the many times I've tramped fucking miles to watch my team with a few other hardy souls and been vastly outnumbered. Kindred spirits. I hope that their side are at least able to muster a goal this evening, simply so they can go home with some sort of reward that the the trip was at least worth it in some way should the result not go their way.

The home side make the most of the early running and look a reasonably useful outfit. They move the ball fairly swiftly and accurately and look to get behind the visitors defence down the flanks. But, a couple of ill-timed runs ruins a couple of moves with offside flags. These decisions are roundly abused by those around me and a lot of others in the ground. Now, if you're on the lower levels, you could be excused because of the shite view, but we're up in the gods and can clearly see the defensive line.

I'm soon convinced that most of the people around me really don't have a fucking clue about the sport they're watching.

Although I have to admit they're all spot on with a huge handball shout when a ball in from the right hits a defenders outstretched arm at the near post. Quite how the ref misses it I'm not sure, but I hope he had a look at the replay on the big screen above moments later, as he waited for the corner he'd awarded instead to be taken, to see what a sitter he's missed

My earlier concerns about the rubbish name had, I must admit, also trickled down to my expectations of the support. I had a horrible feeling it would be all drums, flags and ra ra ra songsheet type chants. And I'm not that far wrong to be honest. The North end of the ground seems to be their 'Ultras' section (come on, lets face it, they're always 'Ultras' when there's drums, big flags being waved and scarves twirled) as they do most of the singing, naturally none of it relates to actual events on the pitch. But they do try to involve the fans below me by starting a chant aimed at identifying which part of the ground they're in. In fact, this is how I know which are the North & South ends. The South lot don't seem that bothered really.

As the game ambles on, the home side look on top, but there's little tempo to the match and Queensland have at least settled after a wobbly first 20. Then from nowhere a ball over the top sends the visitors no9 sprinting clear into space. 1 on 1 with the 'keeper, the Melbourne man spreads himself well and blocks the effort with an outstretched leg.

This seems to raise the Queenslanders morale a bit and whilst they're not able to match Melbourne's crisp passing, their busy 'away team' effort more than makes up for it and this in turn leads to their own approach taking the simple option as opposed to over complicating. A couple more half chances come their way and one man blazes over on the volley when well placed about 10 yards out. Then near the break, a header from a free-kick thumps back off the Melbourne bar.

Half time eventually comes and I've got a feeling that the home side, who have created very little despite getting behind the Queensland defence a couple of times and playing some nice triangles are flattering to deceive.
It'll be great, I've got us seats right on the halfway line! Oh….
Goalless at the break, the half-time entertainment is at least mildy amusing, involving 2 teams of 2 lads plucked from the crowd rolling 2 big inflatable tubes down the touchline in the vast space between the pitch and the stand to 2 flagpoles. Here they raise a Hyundai flag and roll back to the start line. Silly, but I guess at least it beats bloody cheerleaders or a crossbar challenge.

Melbourne seem to feel they're missing something and make a change at the start of the half. But despite this, the visitors look the more likely side with their no nonsense approach. At least the hosts create a bit more around the box though, but it's not until the 70th minute that the Queensland 'keeper has a real save to make. A pass across the edge of the 18 yard box is deflected into the channel on the right and the lively Melbourne no12 darts in. But the 'keeper is off his line quickly and saves with his legs.

Now, I'm no A-League expert, but in watching local telly in my hotel this week even I've been able to work out that Sydney United (United. Now there's a decent football name!) don't look a bad side & the Victory have had a problem keeping all 11 men on the pitch recently, with a player sent off in their last 2 games.

They continue that run with about an hour gone when in the space of a couple of minutes, their no16 first lunges in for a ball he'll never win in a million years and collects a yellow, before sprinting after a ball over the top and theatrically throwing himself to the ground at the slightest touch from a defender soon after. Even from my position about 5 miles away and a thousand feet up in the gods it looks like a blatant dive and the ref, who's not had the best game so far if I'm honest, at least gets this one right, producing a second yellow and Melbourne are down to 10 for the 3rd game running.

Understandably the locals aren't happy. And in some ways I can understand, as a Queensland defender has escaped a certain caution for a clumsy challenge a moment or two before the second yellow for their lad, but most around me don't seem to have the slightest clue why the card has actually been given and why their man is now on his way to crack open the shower gel and be first into the bar after the game. Although to their defence, the big screen fails to display a replay of the event for the first time that evening, which is odd given that it was perfectly happy to show the ref making a pigs ear of the handball shout earlier.

Queensland scent blood and set about trying to make the extra man count. Their busy full back at no16 is now getting up at every opportunity to support the attack. Their big no11 really should score when a lovely touch takes him past the centre back and in on goal. But with just the 'keeper to beat he hesitates and ends up in a big heap of him, a chasing defender and the aforementioned 'keeper with the ball going the other way.

"Fucking sort it out Muscat!!" some bloke in front of me shouts, no doubt enraged at this comical mess.

Muscat? As in Kevin 'psycho defender who used to play for Wolves & should be locked up for some of his challenges let alone still playing' Muscat? Fuck me. He must be slipping. Few years ago, had a bloke skinned him like that, he'd have cut him in half, stamped on his face and spat on the still quivering corpse.

Getting old Mr M? Or was it the fact you'd already been booked earlier for a stupid foul??

Hmmmm. Fancy dan football but no end product, ill disciplined, undeservedly level at home to the 'underdog' and captained by a cunt like Kevin Muscat? Looks like I just silently started rooting for the visitors.

C'mon the Roar!!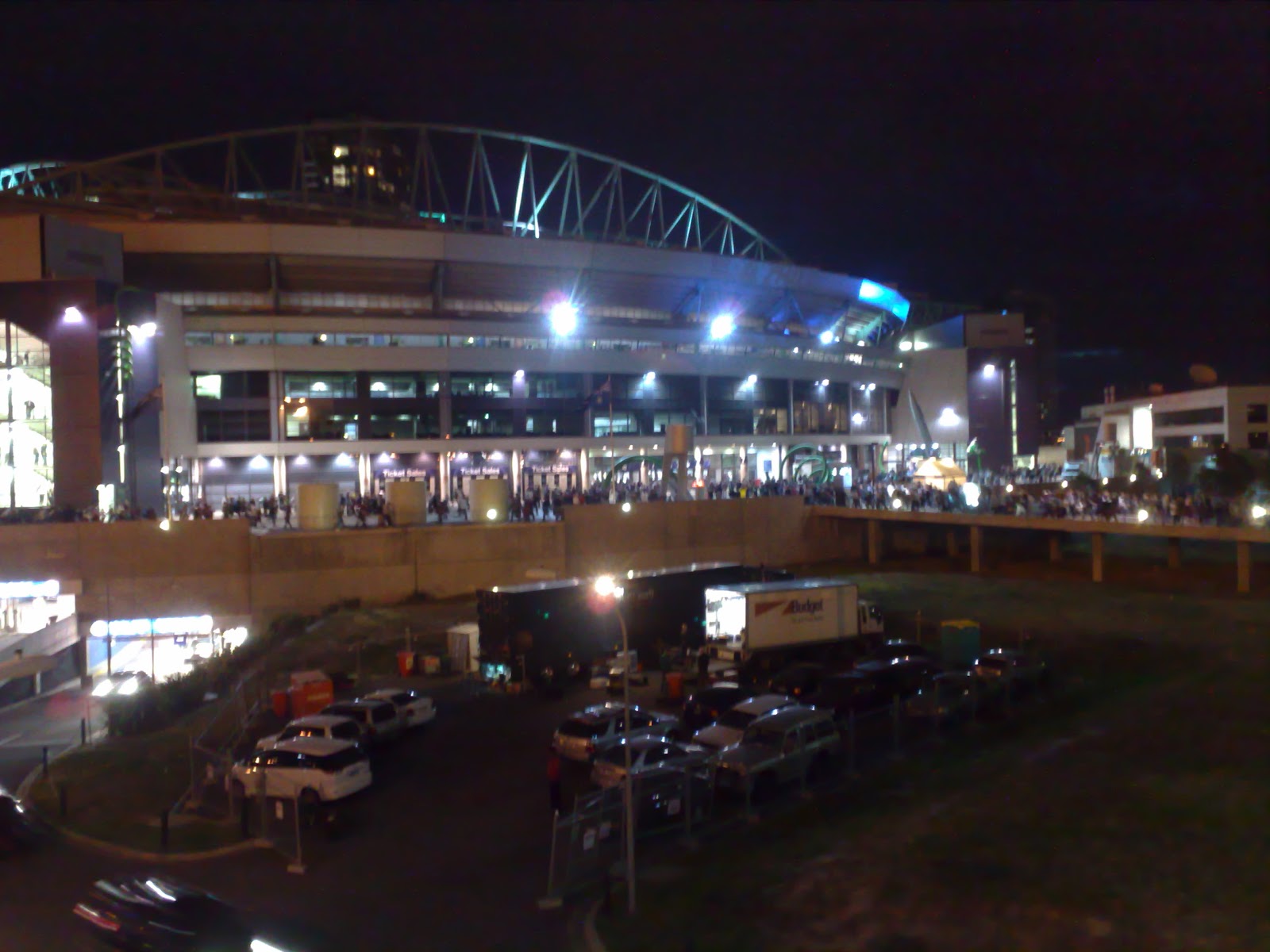 Bye bye Telstra Dome.


10 minutes left and just as the thought of "Just my luck to pick a sodding 0-0" enters my noggin, the wonderfully named Tarj Minicon, not long on as a sub, picks up a through ball on the right and dances through the defence and across the 18 yard box. Managing to retain his balance after a crude last ditch lunge tries to stop him, he slots a cool effort inside the near post. 1-0 Queensland.

I must admit it takes a fair bit of self restraint to stop myself from jumping up, punching the air and going "Fucking get in there my son!" quite loudly. Still, I need not have worried. A quick glance down to my right reveals about 15 people in bright orange shirts leaping about like absolute lunatics. A big grin spreads across my face and I mutter as neutrally as possible "Good goal" whilst I give a small nod of respect to the travelling fans.

Marvellous. As is the just about audible chant of "You're not singing any more" that follows soon after. Well, I think I heard it. Or did I imagine it?? I certainly hope I didn't.

Melbourne push for an equaliser and to be honest, I half expect one. They barely deserve it and they do have recent form, as in their last game they nicked a draw in the 93rd minute when also a man down. I sit and hope that Queensland can hold out. And despite some rather nervy defending on their part it looks like they will do just that as injury time is about to expire.

Then a ball down the flank finds their no7 on the left and he turns, knocks it past Muscat who is far too tight to his man for a defender of his ageing years and darts into the 18 yard box. Shrugging off the attentions of the old Aussie hatchet man breathing down his neck, he dummies the covering defender in the middle and toes the ball under the 'keeper from 6 yards. 2-0 and not so much G'day Melbourne, more G'night.

Again, the grin reappears on my face as that tiny orange clad bunch down in the corner go mental once more. Sadly, if they broke into a chorus of "We can see you sneaking out!" as the bulk of the home support takes this as their cue to flood towards the exits, I didn't hear it. But I kind of hope they did.

Melbourne have enough time to kick off again before the final whistle blows and a crescendo of boo's from what remains of the 22,000-odd crowd echo down from the stands.

Oh well, fun's over. Time to go 'home'.

As I leave, the big screens are advertising Melbourne's next home game which is this Saturday apparently at 5pm. Hmmmm, my flight home isn't until almost 11pm that same day and the game would finish at about 7. And as I've only got to be at the airport 90mins before departure…

It's certainly very do-able. Although if do decide on a repeat visit, I think I'll be aiming for the away end if possible.

All in all, the A-League is pretty much as I expected. The football was of an ok standard, if a little lacking in tempo, but that could just have been this game. But it's a 5 year old league trying to make an impact on a country with at least 3 sports favoured in front of it, so it's still early days. Not clashing with the AFL season will be a big help though, especially in these here parts.




What was nice to see where the number of kids in attendance. Now normally this would annoy me at a game, but in this case it at least bodes well for the future of the A-League as the only way to really build a fanbase and suchlike is to get the youngsters involved. But, if I'm honest, if I were an ex-pat in Melbourne, I think my real allegiances would probably be more with a state league side like the Knights as it'll be in a stadium more suitable for the game than the enormadome I've just been sat in. But as their season doesn't seem to clash with the A-League, I'm sure the lure of football in the 'off season' of my first choice would certainly tempt me along to a few games.

Oh well, I guess I should try & pop back next weekend. Give 'em another chance.

Taz