Since yesterdays FA Trophy game was cancelled at Maidenhead. I thought it was about time to start the first of many Blogs to come (Thanks to Taz for setting this up).
Gandermonium is now the phoenix from the flames!
Due to yesterdays game being cancelled, I thought I would bore you all with a little history lesson, on how I found the club, and enlighten you with my passion and addiction for Sutton. So sit back, drink your tea, and try to stay focused…here we go.
So back in the late 80's, some where near to '87,'88 the oldman decided I was at the right age to be introduced to the Famous Sutton United! So on a cold winter Saturday he decided to take me to a home game (I can't remember who we were playing at the time). But as a young lad trying to see over the top of the hoarding around the ground it wasn't easy, as well as trying to compete with the old style flood lights that were situated in rather odd places around the ground!
I can remember (just about) standing near to, what I think was called the 'shoebox' outside the old tea hut-now since long gone! Now , the new one is re-named after Rose, lovely lady! Now the shoebox, never had I seen as a young lad, so many people crammed into a small area/terrace, but that's where all the noise was coming from, so that's where the oldman liked to stand!
This must of been quite a few years before the Securicor/Dean Kirby stand was built at the Gander Green Lane end of the ground.The oldman has informed this morning that there were no such thing as terraces in the days when he first frequented the ground, only railway sleepers to stand on-how things of changed, somethimes I think he is still stuck in the dark ages!
On the subject of terraces, hopefully not long too go until the Collingwood Rec side re-development is underway!
So after watching a season of football down the lane, it was time for a younger looking Juan to step as Mascot-see embarrassing photo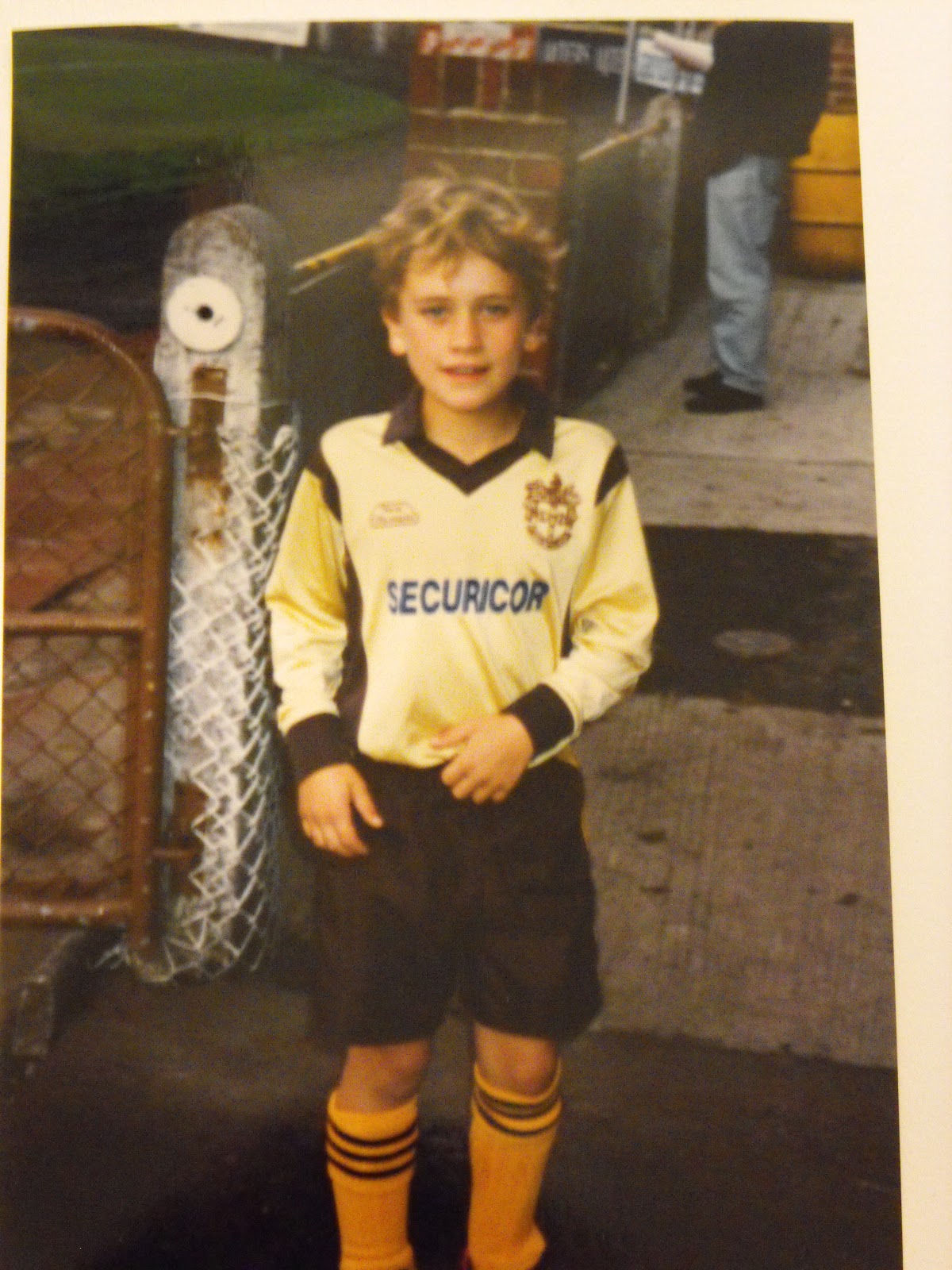 Juan, looking sharp…
I did have the Reed mascot kit too, but god only knows what's happened to that! I think one of the games where I featured as a mascot was Sutton Vs Weymouth, as I managed to find the signed programme the other day. So after putting in quite a few appearences as a mascot it was time for me to begin my terrace supporting years…
So moving on quite a few years-hopefully I haven't sent you to sleep just yet, I met a couple of chaps, the first being Mr Dukey , and this is how my name (Juan) came about, I don't know how, and I never will, but it's stuck! Thanks Dukey! So they after spending every Saturday in the summer months, carrying out renovation works down the lane with Dukey and Taz, Juan had passed his initiation and was on his way into becoming one of the elite, hardcore Sutton Fans.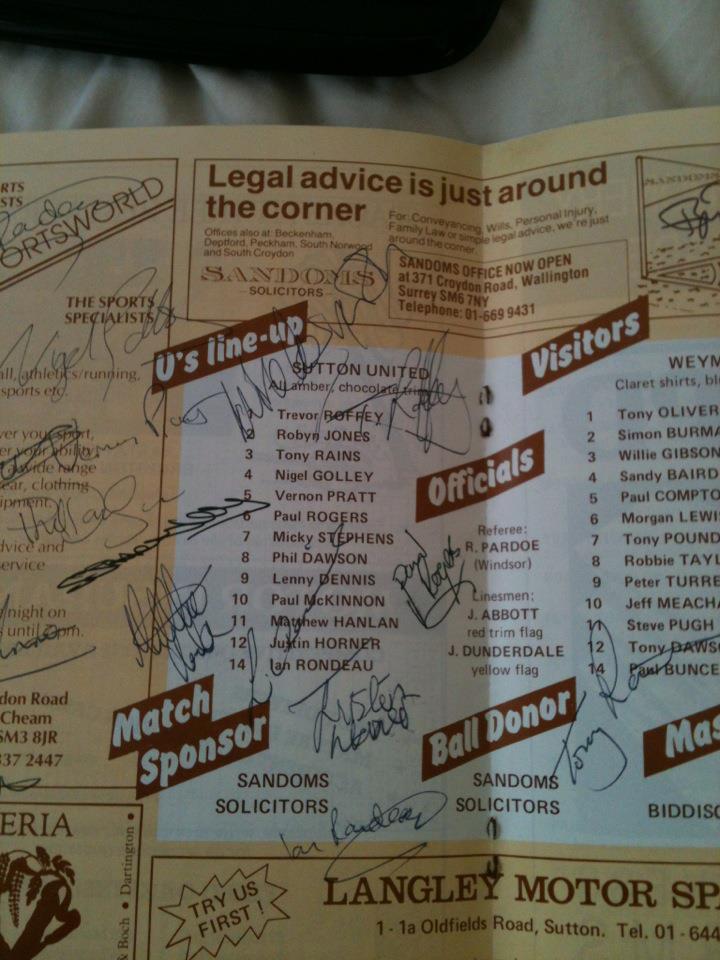 Some sod's scribbled on your prog mate….
Moving on swiftly….nearer to the present day. Juan finally broke his away day drinking/shenanigans with the Sutton Firm/boys (as Dukey likes to call it) this year at Truro away!
The look on Dukes face when I walked into the pub in Truro will never be forgotten by me, one of dismay, disbelief, but yet at the same time…he knew the time had come for him to get Juan shitfaced…and I quote Duke.."your out with the boys now, this you will never forget" and I never will Duke!
Not to bore you for too much longer,so that was me hooked after just one game of watching the mighty Sutton, back in the late 80's, to the present day…so enough of my old sob historical/ bedtime stories, onwards to the football. In the fine spoken words of Mr Duke roll on the Surrey Senior Cup…it's history!
I promise the next Blog will be more game, and drinking related!!
Juan