I've said it before and I'll say it again, I can't stand doing these midweek home entries right after another home game. No one bloody reads them anyway and with good reason as there's rarely anything worth spouting bollocks about barely 72hrs after you've just summed up a week with the best you can muster. I definitely won't be missing these ones when we wrap this cobblers up in a couple of weeks and you can be sure it'll be strictly away crap only as and when I feel like it from here on out next season and beyond, you mark my words.
As it is, it's a dull day with my nose to the grind stone as I once more continue my one man back to the office rebellion and flick the v's in the direction of that Victorian pipe cleaner arsewipe Mogg by spending the day grafting from my own front room, purely because I can't be bothered with racing back from up in the smoke to GGL for this one. In fact, one of the highlights of the day is SLO Loffers letting us know on the Whatsapp that some large & long standing potholes in the car park in the PROWS have actually been repaired. Yeah, I know. Non stop Rock n' Roll round here. The general excitement of the day also isn't really lifted much at all by my spending the afternoon sat doing management training modules online thanks to a recent promotion I've somehow managed to bag at my gaff. Yes, you heard that right ladies and gents, I'm actually going to be paid to be in charge of people soon. For real. Nope, I've no idea how either, so you've wasted your breath posing that one.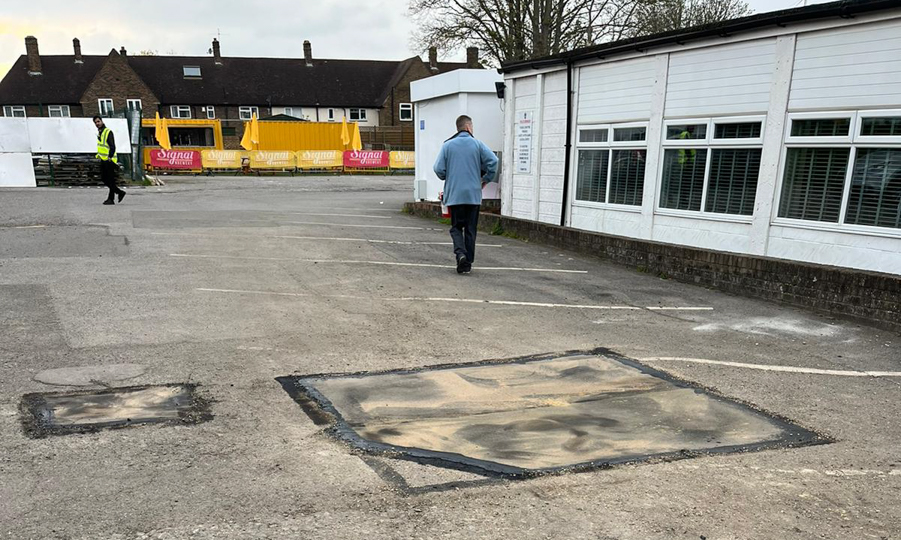 Having had my fill of management speak for one day, I wrap up and get my arse ready to dip out the door at 6pm. There's a fish & chip van down at GGL in the Fan Zone tonight and I'm bang in the mood for a chippy tea as it happens. So I jump in the motor and as I do so, notice the slow puncture on my rear tire is still a slow puncture, so I have to pop into the BP on the way through for some air. Naturally, with a semi-flat, I end up following a police van all the way from outside HQ right to the petrol station where it costs me the grand sum of a fucking quid for about 30 seconds worth of air to re-inflate the tire. Chores done, I'm back on the road and soon after the car is dumped in it's now usual spot by Homefields primary and I wander down to Gander Green Lane. As I do, I curse the whole way there as it's absolutely Baltic out tonight and I've definitely worn the wrong coat for the occasion. Still, chippy tea Taz old son, chippy tea!
Given the weather, it's no real surprise the fan zone area is a bit quiet, mostly providing seating for a few people scoffing their dinner. I chat with SLO Loffers while I wait for my food and with it served up, I elect to sod off indoors to eat it as, well, it's fucking freezing out here. In the Players, I find Magnum, Southampton Steve, 4Days and Lil' Chris enjoying a pint and I squeeze onto the table to feed my face. Sadly, chippy tea is a major let down with the chips not being the proper chippy chip type and the fish is average at best. 5/10 on Tazadvisor that and no mistake. And bang goes what I was fully expecting to be the highlight of the evening! We settle in for a natter and as we do, I check in for the game on the Futbology app. This then puts up a little message advising me that this is my 600th game at GGL. Oh no my little appy friend, it's far far sadder than that and is probably at least twice that number in reality, I just haven't told you about all the older crap yet! Steve then crows over his 251 grounds being 3 more than my own total, which is fair enough to be honest given that a large proportion of his ticks will be top tier stuff with Saints and all sorts of exotica from abroad with England, whereas the majority of mine will be the likes of Hendon, Harrow and fucking Bishop's Stortford. Quality and quantity.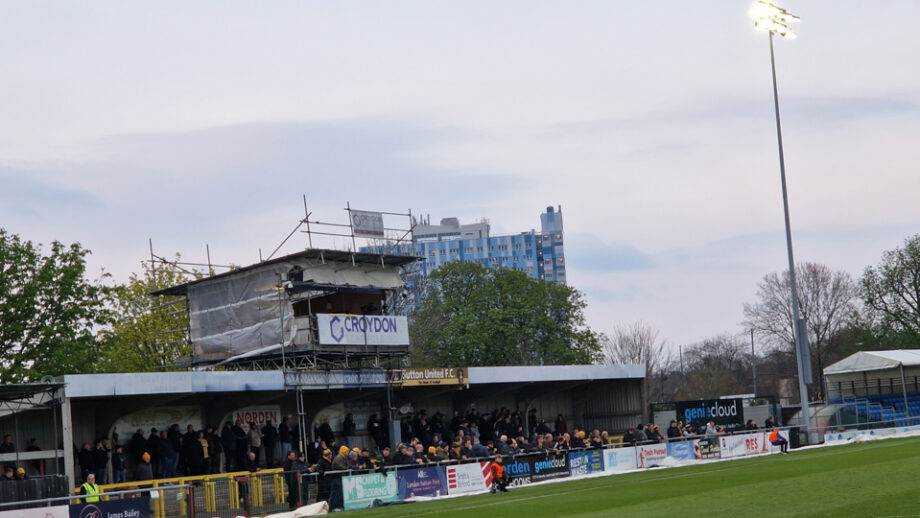 As Tatey appears and catches up with those present, the word on the street reaches us that they're also struggling for numbers tonight injury wise. Could this be our chance of a shock three points? No one's convinced. "That'll be a shit 1-0 home defeat then without a shot on target again!" I chuckle as we check our own line up for tonight's contest. Ben's back in after joining the fatherhood club and Rob Milsom replaces Sam Hard Hart in defence. Donovan Wilson returns up top and Lee Angol is nowhere to be seen. God I hope he's not another one made of biscuits and only able to play 1 in 3. We really need bodies available regularly if we're to be able to really compete in this division. But enough of this chit chat, I s'pose we'd better go watch some League 2 heavy petting?
Rose, Milsom, Kizzi, Rowe, Goodliffe, Beautyman, Smith, Randall, Ajiboye, Bugiel, Wilson. SUBS: Dickinson, Hart, Gambin, Kouassi, Dennis, Dundas, Boldewijn
As we pass the megastore, a bored MrX leans against the doorframe and given there's nothing like the queues from Saturday at the turnstiles tonight, I'm assuming he's not exactly been rushed off his feet where Sutton United tat is concerned. And once inside the ground, it's obvious why. Should be at least about 1500 less than the weekend in. The GGL end is pretty quiet and the Curva is almost deserted. Clearly the season drifting to it's conclusion with nowt to really play for and it being cold out has made a few minds up for this one and can't say I overly blame 'em really. Still, the visitors have brought several hundred along this evening and they're making a decent racket up at the Rec end, so that's something. Here's hoping they bought lots of pints beforehand eh? We've got a 1000 more seats to pay for soon after all!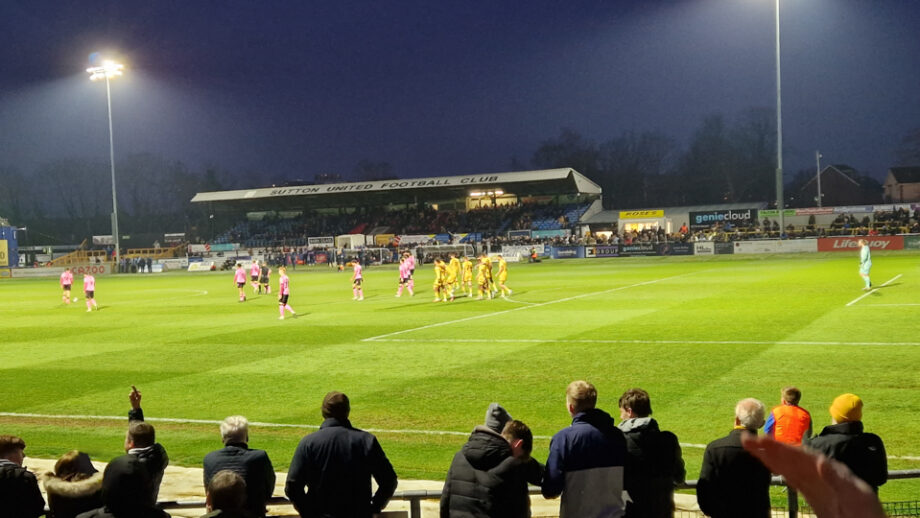 The game underway, we start bright and our old mat David Rock in the middle sets his stall out inside 30 seconds by awarding a goal kick instead of a pretty obvious Sutton corner. Yes, lovely to see you again too David, you fucking massive bell. What ensues is a lively first 45 and in which we put in one of our better recent performances. For once, we've got a grip in midfield with no Easty there and we're passing it pretty well to boot. Wilson has one break from deep and then picks out Randall in space only for his square ball in the box to be cut our for a corner and soon after, Dave picks up seconds from a half cleared corner and tries his luck from 20 or so. Sadly, it's straight at the keeper, but it's an effort on target after barely 10 minutes and certainly gets a few of us more excited than it really should have. They have a couple of promising attacks not quite bear fruit and then Ali has our best effort so far, rattling the upright with a crisp low volley after a ball in is only half headed clear.
Of course having been the better side, well you know what's coming next if you've been here any longer than 5 minutes. A long throw from the stand side, flick on near post and it's nodded in close range in the middle. Away end goes barmy and home end mainly goes "Fucks sake" and those that don't go with variations of "That's how you take a long throw". The lads keep going though and whilst not quiet as fluent as before the goal, we're still in the contest. Sadly though our non-existent attack lets us down. Two promising little moments where we get in behind with Randall and then Wilson, produce balls across the box and there's no bastard in a Yellow shirt within a country mile of it to even trouble the oppo goal with an effort let alone tuck it away. It really is something that has to be remedied next season. Either midfielders need to be on their toes arriving late or fucking strikers need to be busting their balls to get on the end of stuff like that. Seriously. Still, with the board up for added time already, we keep plugging away and get our just rewards on the whistle. A tackle on the edge of our box has them screaming for a free kick but Mr Rock waves play on, we break and find Dave wide, he has a dart, takes his man to the by-line and clips in a cross. Harry has his stooping header blocked but the ball drops to Donovan and he pirouettes 8 yards out before bludgeoning the ball high into the onion bag. Get. The. Fucking. Fuck. In. There. You. Beauty.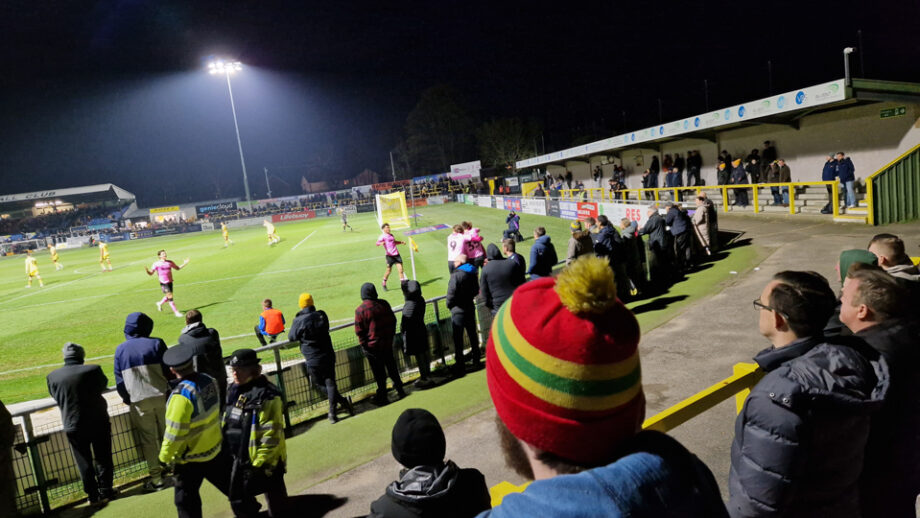 So level at the break and despite the cold, most of us agree that it's been an enjoyable old ding dong and well worth the effort. We just need to get our arses in gear from the restart and get into this lot again as they're definitely there for the taking. Yeah, easier said than done, as we well know. From the off, we just don't look anywhere near as at it as we were first half and it looks like their midfield has had a sort out, with Harry and Ali not getting anything like as much joy as before and Randall & Dave largely shut out wide. Then shortly after the break, we fuck up and we're back to square one. Simple ball down the middle and Coby mistimes it on halfway, clattering their man. Rock again lets the game go and the loose is immediately pinged into the channel for a runner. He gets wide and then dribbles in a properly lame old cross along the 6 yard line, but it's slightly behind the covering Milsom and he makes a right old Loch Ness of it, teeing up the lurking striker to slot it low through Rose's legs.
From here, we never really quite get back into it. They have a couple of decent little sighters to put it to bed, but we cling on and Rose makes a couple of saves. Largely though, we spend much of the half going left to right and back to Jack with no real penetration whilst we cop a couple of yellows from the increasingly erratic ref for fuck all whilst they of course get nowt for similar carry on. Our best moments are Coby getting flagged off after meeting a free kick with a diving header at the back post and Dave somehow not finishing back stick when a throw in is let run across the face of goal after a couple of untimely slips. Not sure what happened, but with a goal kick resulting, we can only assume any effort was saved by the keeper and then came back off him last. Much of the rest of the half if huff and puff from us and I guess we're so out of gas currently that Matt elects to make no subs than for a knackered Ben Goodliffe with a minute left. Hilariously, Rock only adds 3 at the end despite there being a goal, about 347 subs and him taking at least a minute at a time to dole out each of his several yellows this half. Naturally, Frakey's doing his nut somewhere off to my right on the Curva.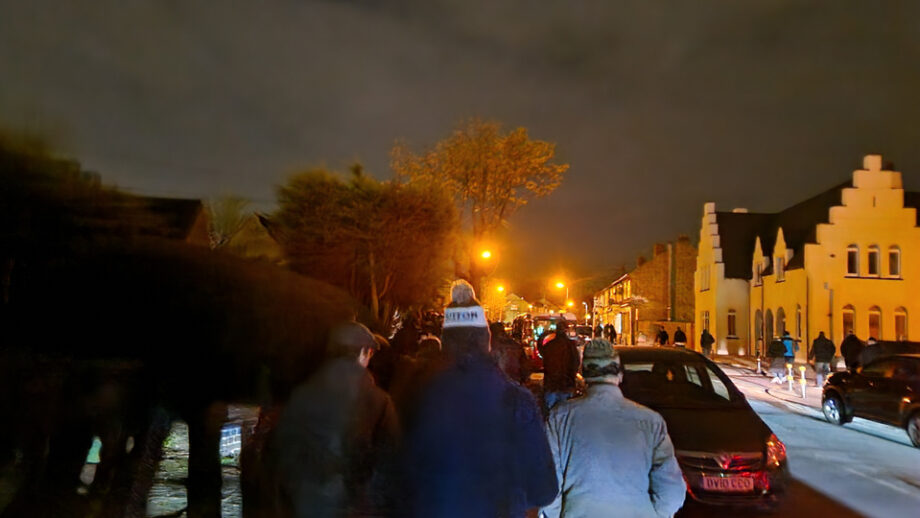 Final whistle and the away end is well pleased with their night's work. And so they should as results elsewhere mean they're now up to 2nd. Orient have also secured promotion tonight down in Gillingham despite getting done 2-0. Elsewhere, Rochdale keep their hopes alive with a late late goal against Tranmere and Colchester share a 0-0 with Crawley, which of course sets up an absolute classic for us up in Essex at the weekend. Can't wait. With no desire to hang around for another shandy and an early start in the morning, I do the off straight at the final whistle and with Magnum offering to taxi Steve back to his gaff, this means I can head straight back to HQ with the minimum of fuss and start knocking this crap up. As it is, I'm back indoors before Mickey's little hand has touched 10 and I wander in the door to find Mrs Taz preparing to head to Bedfordshire. "How was your chippy tea then?" she asks innocently, bringing back to mind the biggest disappointment of the evening.
Yeah. Cheers love.
Taz