Yeah, I think it's fair to say Saturday's jaunt to middle earth had a good few people questioning their sanity come Sunday. Probably looking up reasonably priced therapists as well. And that's after one we didn't lose! But, that's the game. We know the risks we run, to mind, body as well as wallet. But we do it anyway. And naturally, after a slogger like the weekend, there's only one thing to do. Get your big boy trousers on and get right back on that League 2 horse. No doubt just to have the fucker pitch you off into the dirt once again. Hold that thought.
This one against Grimsby was of course due to be played out this Saturday at the magical, historical surrounds of Gander Green Lane, but sadly it seems that the Mariners are a proper bunch of billy big bollocks as this apparently was not a big enough occasion for their fishy selves and they instead sacked us off for an afternoon waving some inflatable haddock around at an FA Cup Quarter Final against Brighton. Earned after turning over Steve's mob Southampton thanks to two of the shittest pens you're ever likely to see (his words not ours by the way). Which is I think you'll agree, is a proper fucking outrage. Sacking us off that is, not beating Southampton. I mean, it's only the Quarters lads, whoop de doo. Even we've been in that draw! And as for Brighton itself, it's basically Cleethorpes with a bigger pier. Big fucking deal. Can't see the appeal personally, but hey, your loss.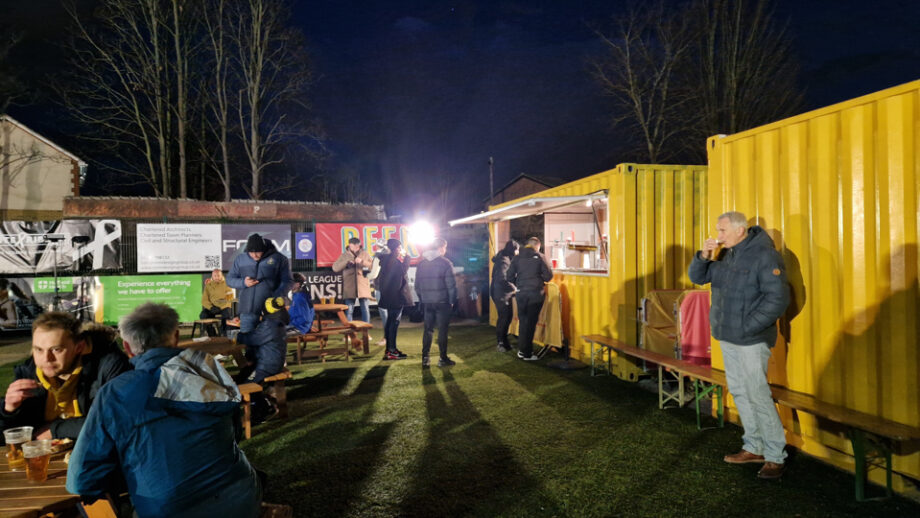 Still, this change of plans meant that they'd have to come to us the Tuesday immediately before the aforementioned big cup game and with us eyeing the play offs a touch of late, a few people got all excited and saw that arrangement as favourable to our own ends, as the visitors would no doubt turn out their under 11's, we'd trample them to death in proper 4-4-2 fashion and continue our unstoppable march to League 1. Yeah yeah. Those people seem to have forgotten this is Sutton United we're talking about here. We love tossing it off against sides our nans should allegedly be beating. The old bastards amongst us still recall Slough's side assembled over about 48hrs coming to GGL opening day and nicking a win thanks to an OG despite spending the entire 90 minutes looking every inch a collection of lads that had literally just met. Then for the more modern era amongst you, there's that Truro game at home a few years back in Connie South. You know the one. They rocked up skint with 11 fit lads, no subs. That didn't end well for us either. So yeah, I think we've established where we're going with this.
Before this meeting however, GGL was the scene to some Premier League high falutin' the night prior as Brentford and Arsenal under 21's slogged it out on the hallowed turf in some cup competition or other. God knows why we got chosen, but hey ho. As long as the PL's paying, we're cashing the cheque. The big attraction here, apart from Per Mertsacker being on the Gooners staff of course, was the possible appearance of one of David Beckham's oddly named offspring. Turns out Romeo Beckham is on the books at Brentford this season and of course, with him possibly featuring, the old PROWS grapevine was alive with rumours of old golden balls himself gracing the old lady with his presence. As it turns out, the rumours were true and DB7 rocked up to witness an apparently fucking awful game that Brentford nicked in the last minute via a penalty. And Romeo? Well, let's just say that his contribution was limited. In that his arse remained firmly parked in the dug out for the duration. Daddy must have been so proud! Anyway, here's hoping AB was about to tap him up for a return sometime soon and a visit to the strikers are key chair. We reckon even he'd look alright in blue sequins.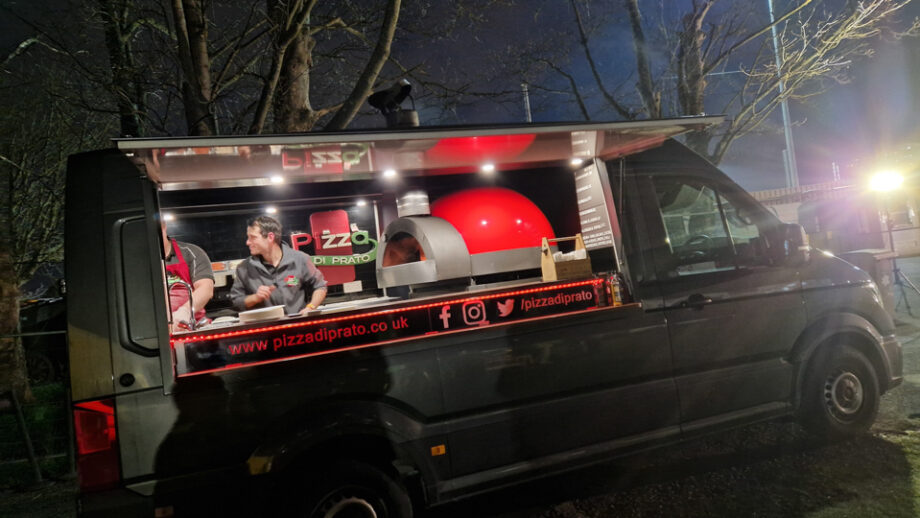 Right, enough filler bollocks. Back to the you know what. As is becoming customary for these home midweekers, I'm again spitting in the face of our overlords 'back to the office' convention and spending the day grafting from the comfort of HQ. No commuting, no trains, no dashes for kick off and no fucking about getting home sharpish after. It's an absolute no brainer quite frankly. Still, the old WFH doesn't mean I'm tossing it off and sadly an early leave is not workable. Slave driving bastards, actually making me work all of my hours. Even worse come 6pm as I'm packing up, as Mrs Taz insists that I visit the shops pre-match to pick up some essentials. And not wishing to risk her wrath of returning home empty handed after the game as Saino's are clean out of peppers and that Hovis bread we like, I decide to forgo dinner and head out right away. There is some logic to my madness however, as this means I can shop and by the time I hit the Republic, the parking Stasi will have knocked off and I can ditch the car in the usual spot without penalty. That and there's a pizza van at the fan zone tonight, so I'll have plenty of time to get scranned up before kick off. Plan? Plan.
I get the shopping list fulfilled with a quick stop off in Carshalton High street and with the goodies dumped in the boot, I'm on my way towards paradise. Sadly though, I have to endure getting stuck behind some dozy twonk in a builders van who's either on their way home from an 18 hour crack or has finished work with a couple of fragrant woodbines. They are half asleep at the lights at the Windsor Castle and crawl into Sutton doing no more than 20 the whole way. Then hitting the lights past the Post Office on the one way, they literally come to a halt despite them all being clearly green. Wakey fucking wakey mate. Some of us need feeding! So it's with relief that I finally ditch my moving roadblock just before Gander Green Lane and get parked up before walking down to the ground. Bit nippy out innit. Still, not as bad as Crewe I guess. As I walk up the drive I find Robbo ambling in and he's quick to commend the reportage from the weekend. Much appreciated squire! We then hit the fanzone to check out the pizza wagon and find Magnum already loitering with an order on the go. I pump for a Chicken and Pepper setup and after it's had a proper 2 minute knock up in the old over, it comes out piping hot and is soon being pushed into my fat little Hank Marvin face. Again, like the Swedes, it's a touch rich price wise, but it's fresher than this evening's air and a decent feed, so I can't complain. And like I said before, beats a dog burger.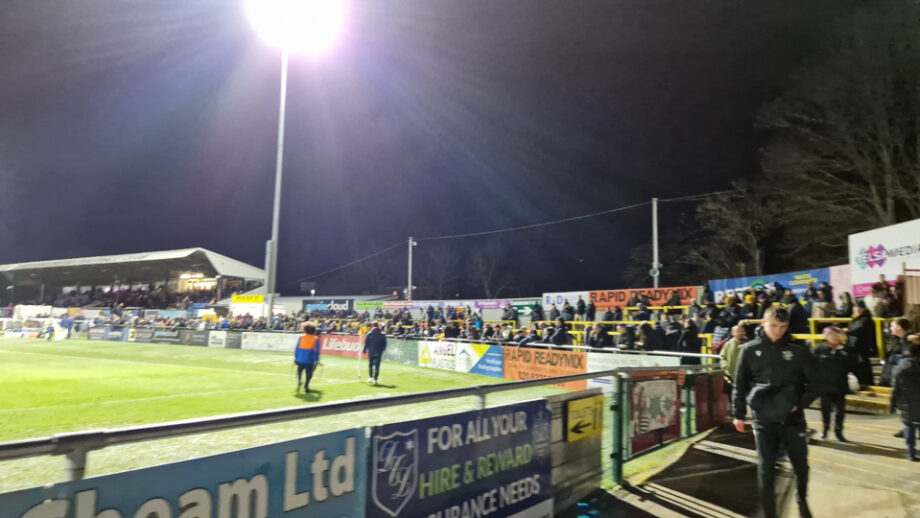 Fed, I head into the bar to deal with the watering part and fortunately catch Indy at the bar with his card out. Oh, don't mind if I do mate! We catch up from the weekend and fill in those unable to make the trip of the true drama of it all. And by that I mean the post-match Northern Rail fuckery, as everyone had more than copped the impression the game was a load of bollocks. I take time to inform Deano that he in particular would have been fuming, not because of the train issues out of Barrow, but because his mates at Avanti pulled back a 12 minute deficit to arrive 5 early into Euston and thus would have denied him his near perfect awayday delay repay record with the Italian shysters for this season. I also take time to speak to Papa Beckett and reassure him that we'd looked after his little soldier and made sure he got home all safe and sound. "Yeah, worse luck!" he grumbles. Hey, if it's disposal you're after mate, we charge for that sort of shit. And it ain't cheap. Burgers, 4 Days & Lil' Chris are in too we sink a couple before we pluck up the courage to head out into the cold as kick off looms. As we hit the turnstiles, the stewards are again in action, patting down any small child in a couple mile radius to make sure they're not smuggling fireworks into the ground.
Rose, Kizzi, Milsom, Rowe, Goodliffe, Beautyman, Smith, Ajiboye, Randall, Angol, Dennis SUBS: House, Eastmond, Kouassi, Dundas, Hart, Boldewijn, Wilson
With Omar failing a late fitness test and Easty effectively taking the night off so as to make absolutely sure he doesn't rack up a 10th yellow before the cut off this week and cop another 2 matcher, we're forced to make a bit of a reshuffle. Despite this, we start bright and get the ball wide both sides early doors, but final ball again is the killer and we don't create anything of note. Here the fact that the visitors have fielded about 4 of Saturday's starters, no doubt with the Brighton game in mind, once more causes us some confusion. As with a couple home games lately by Matt's admission, we've set up to play a side who then end up completely changing formation and it means we spend the first 45 trying to work shit out. This is no different, mainly as how can you prep properly when you don't have a clue who they'll be fielding? And so after that bright first 5 fizzles out, the rest of the half is pretty dour fare, with them looking far more fluent and us struggling either with a poor touch or the final ball being rather lacking. They have a couple of sniffs, but nothing too serious, then on half hour just after Beauts has hooked a nod down from Angol in the box over the bar, we don't deal with a long ball, the flick on or the seconds and their lad just runs onto it and holding off his man, prods it past the advancing Rose.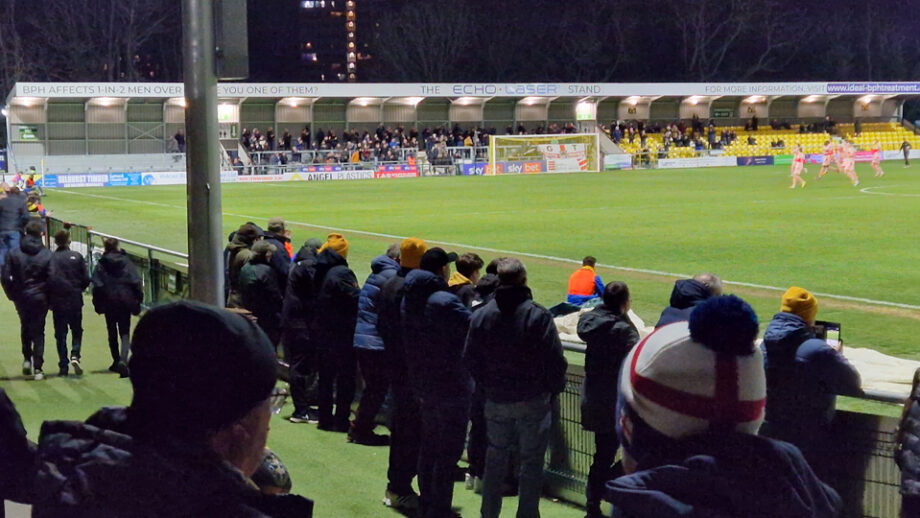 The only other real things to note from this latest less than inspiring half is the visitors pink kit, which is a right twat to pick out under the floodlights and their number 9, who looks like he too should have got a pat down from the stewards on the way in looking for pyro. Other than this, Steve keeps us up to date with Erling Haaland's latest acts of goal scoring butchery for City out in Leipzig. At the break we mostly grumble, move about a bit, stamp feet to get warm and reminisce about when we were young enough to play ourselves. Not well, you understand. Just play.
The second half we start a little livelier and for 10-15 we look better. But the best we can manage chance wise is Matt Dennis going short for a throw, turning and driving across into the box. But his low shot at the near post is decently saved with his legs by the keeper. And that's about the sum of it really. We huff, we puff but we resolutely do not blow the house down, meanwhile the oppp run down the clock in all the usual ways that people apparently think we do nothing but and that we probably even invented. Matt chucks on subs to try & mix it up, but it's just one of those days at the office where nothing we do has any real impact. Meanwhile the ref caps off his own less than stellar evening by managing to award them a free kick after Ali jumps to head the ball, does so and is then clattered by an oppo player. The mind boggles.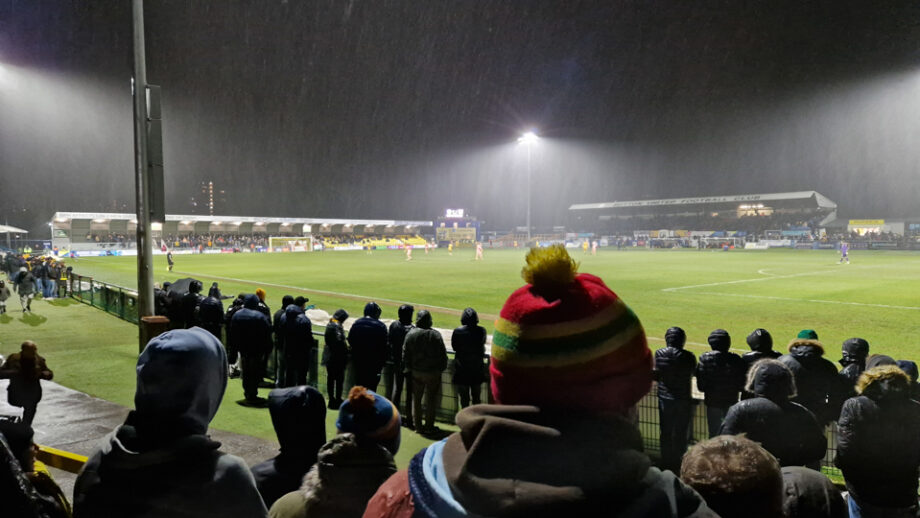 Then after enduring 7 minutes of added time, the ref blows up for a rather lacklustre defeat. Keen to get out of the cold, I immediately set off for the motor with Steve in tow looking for a lift back to Croydon. As I run him back, it sounds like all the results effecting out destiny have gone our way this evening, so it's definitely feeling like a missed opportunity. Still, we remain 1 point off the play off spots, so could be worse.
Having dropped Steve back at his, I'm soon parked back up at HQ and heading indoors to chill out and get this malarkey started. Mrs Taz is of course eagerly awaiting my return. "Good game?" she equires. "Pizza was decent!" I reply.
Kinda looking forward to that Saturday off now if I'm honest.
Taz